Stroopwafel Ice Cream comes fully loaded with hints of bourbon, a river of caramel sauce and chunks of stroopwafel throughout. One of life's pleasures.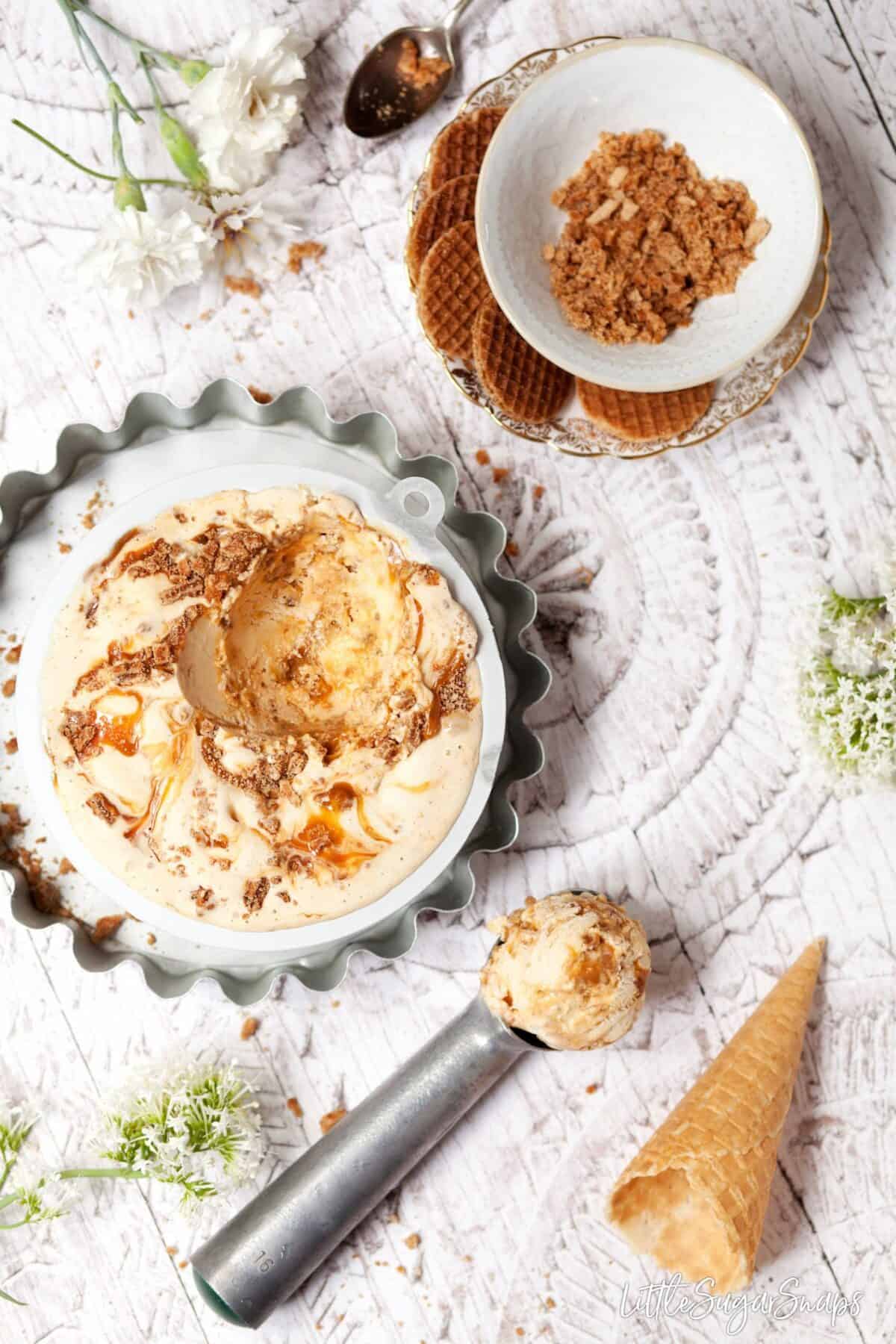 This Stroopwafel Ice Cream was a spur of the moment creation really. I felt inspired to make a bourbon ice cream this summer after trying some in San Fransisco in the spring. Of course, all the details of that ice cream have faded from my mind now, so I set about dreaming up some likely contenders to spruce up plain old bourbon ice cream.
I've always found bourbon and caramel to be great friends, so that part was easy. Though I'm usually a sucker for smooth ice creams, this time I decided to add a little bite to the texture to conterbalance the silky caramel and smooth ice cream. I came up with a couple of likely contenders – Stroopwafel and Amaretti cookies. The decision was unanimous amongst all taste testers – Stroopwafel. Hands down. By a mile.
The result of my culinary meandering is an ice cream that is scoopable straight from the freezer. Gentle boozy notes of bourbon chime through the smooth and creamy ice cream base that has been generously rippled with bourbon caramel and tiny chunks of stroopwafel cookies. This homemade bourbon ice cream is rather flamboyant and it far surpassed my expectations.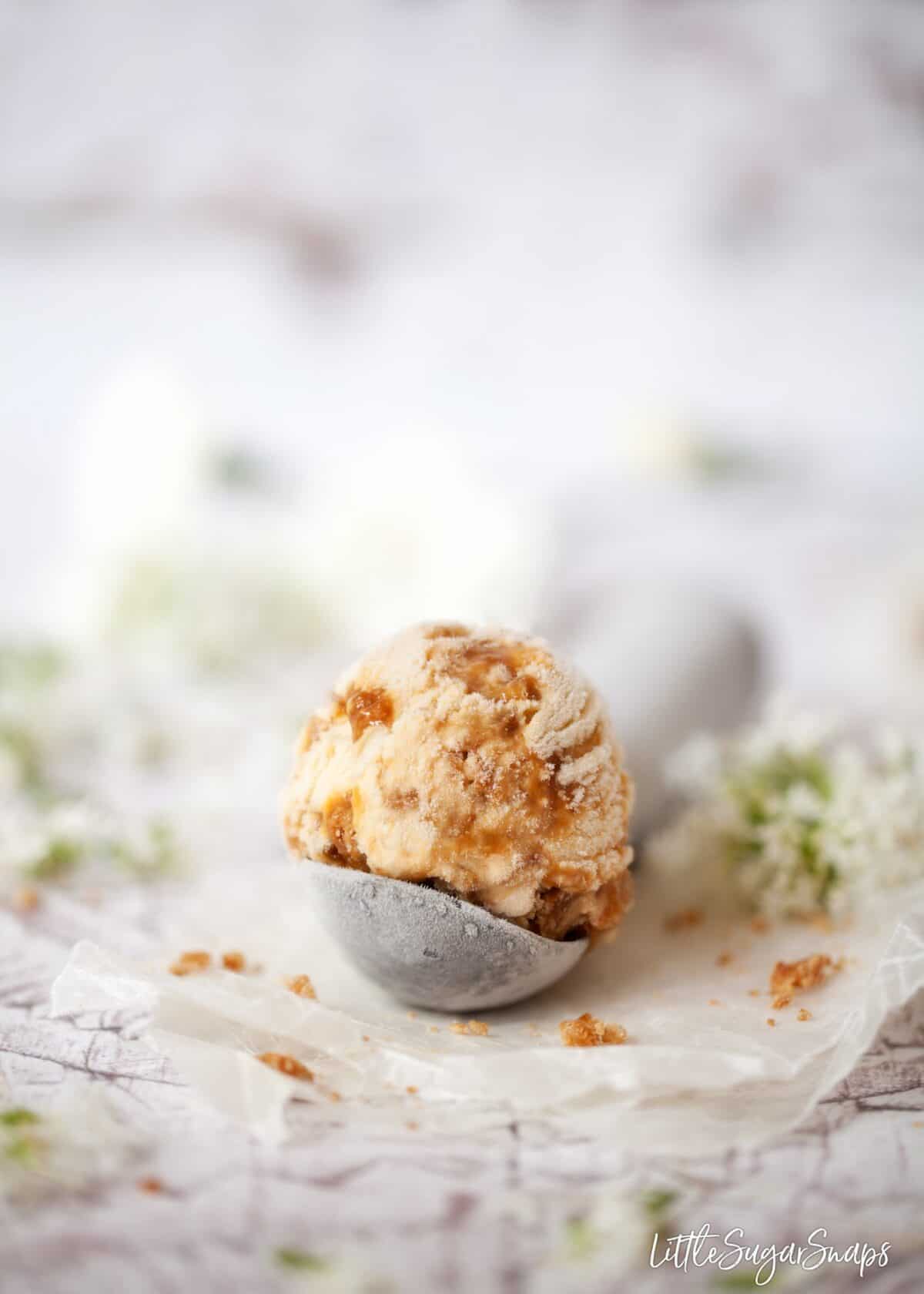 What is Stroopwafel?
Stroopwafel (pronounced Str-oh-hope waaavel) originate from the Netherlands – Gouda to be precise – around the turn of the 19th century. These wonders were invented accidentally really, as a way for bakers to use up scraps. And blimey, what an invention.
Essentially, the stroopwafel is two layers of cooked dough (the waffle) sandwiched together with a caramel syrup. Sigh.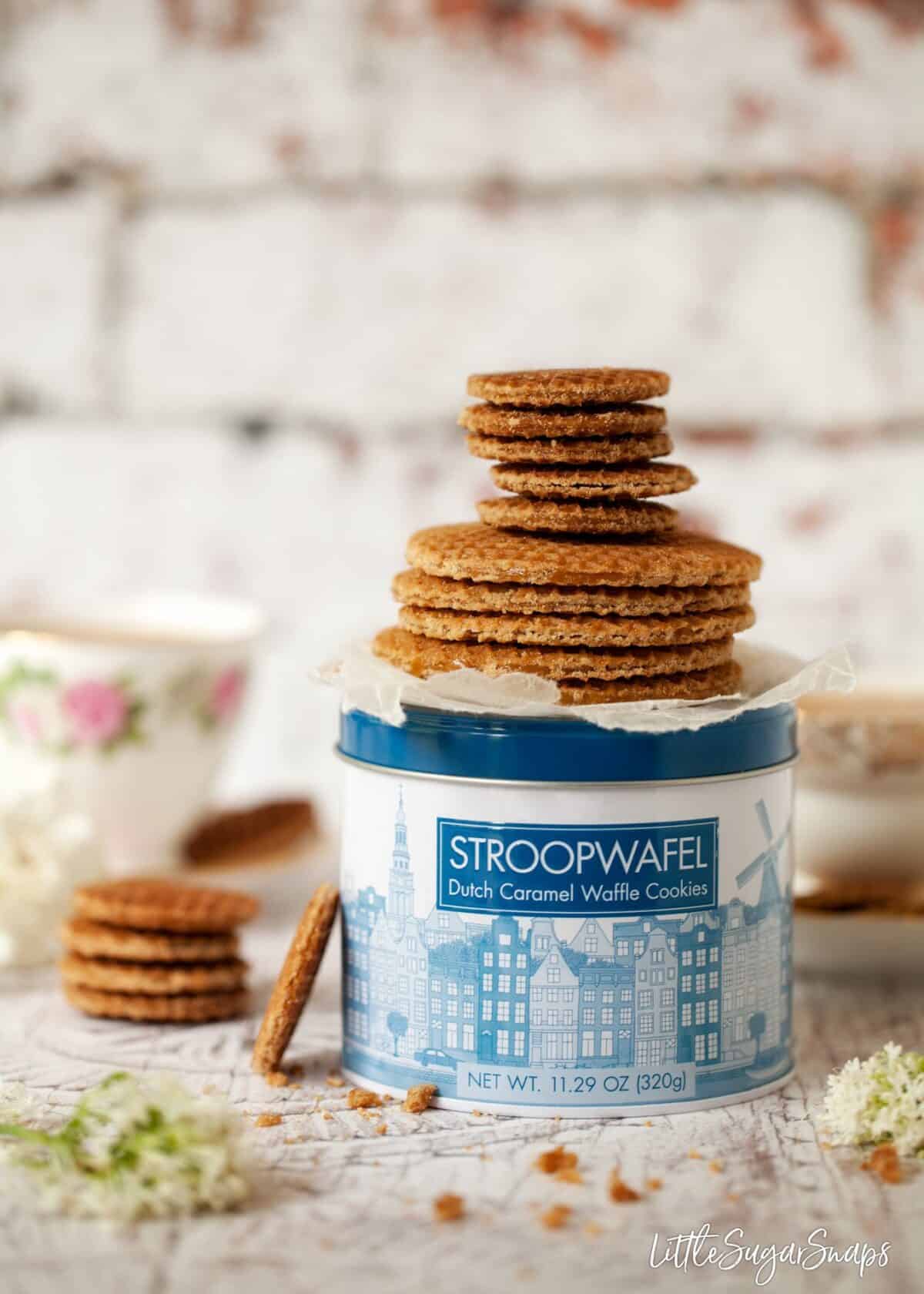 Stroopwafels are sold across The Netherlands on the streets, at markets, and in stores. They are also widely available in supermarkets around me now. That's just as well, since, having seen contestants on The Great British Bake Off attempt to make these a few years back, this is one bake I'm happier to leave to the experts.
These delights can be eaten at room temperature, or better still, warmed first by placing over a cup of hot coffee or tea. Wait. You haven't done that yet? Please do, I insist.
How to Make Stroopwafel Ice Cream
So… I'm going to assume you all run out to the store and stock up. But for anybody with serious time and inclination, it is possible to make your own stroopwafel.
But I say thank goodness for supermarkets stocking Stroopwafel these days. With store bought cookies, this ice cream is a breeze to make. There are really five simple steps:
Make the caramel
Prepare the ice cream base
Churn the ice cream (either in a machine or by hand – I give instructions for both methods in my recipe card)
Chop the cookies – the smaller the better
Ripple the ingredients together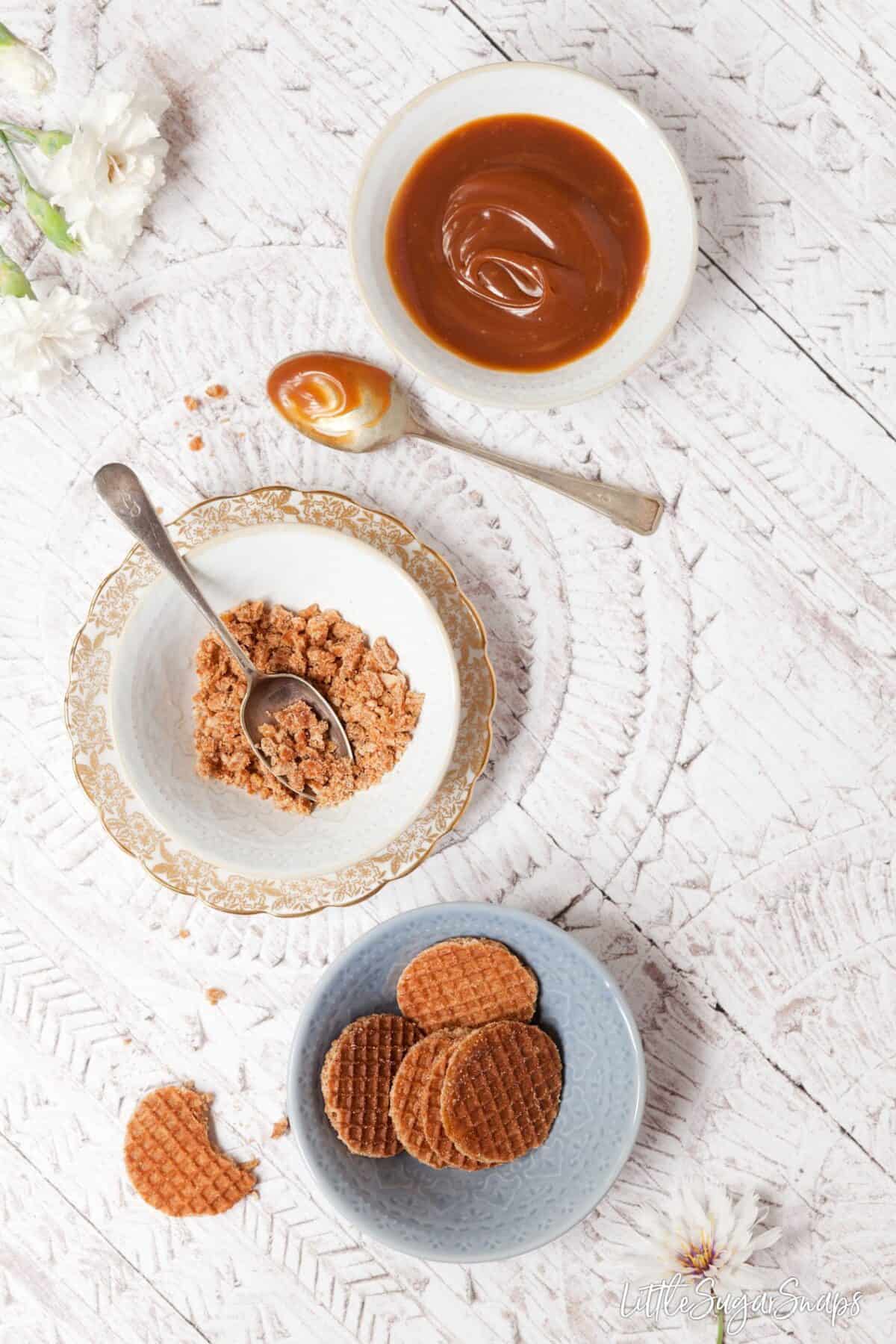 I'm being deliberately short here. Making ice cream is simple but takes a little time. Mainly because everything must be well chilled before it goes into the ice cream churner. Full details are provided in my recipe card.
The key point to take away from this how to section is to chop those cookies into tiny pieces. Nobody really wants ungainly lumps in their ice cream do they?
Can Alternative Biscuits be used?
As I alluded to earlier, the taste testing stage included a variation with Amaretti cookies. It was tasty, but did ramp up the boozy buzz somewhat. I would recommend using less Amaretti cookies (perhaps just 30g/ 1 oz).
Other options to consider are:
Digestives/ Graham crackers
Ginger biscuits
Chocolate chip cookies
Whatever you decide upon, do ensure you chop or crumble your cookie finely, so that dreamy, creamy ice cream texture can still shine.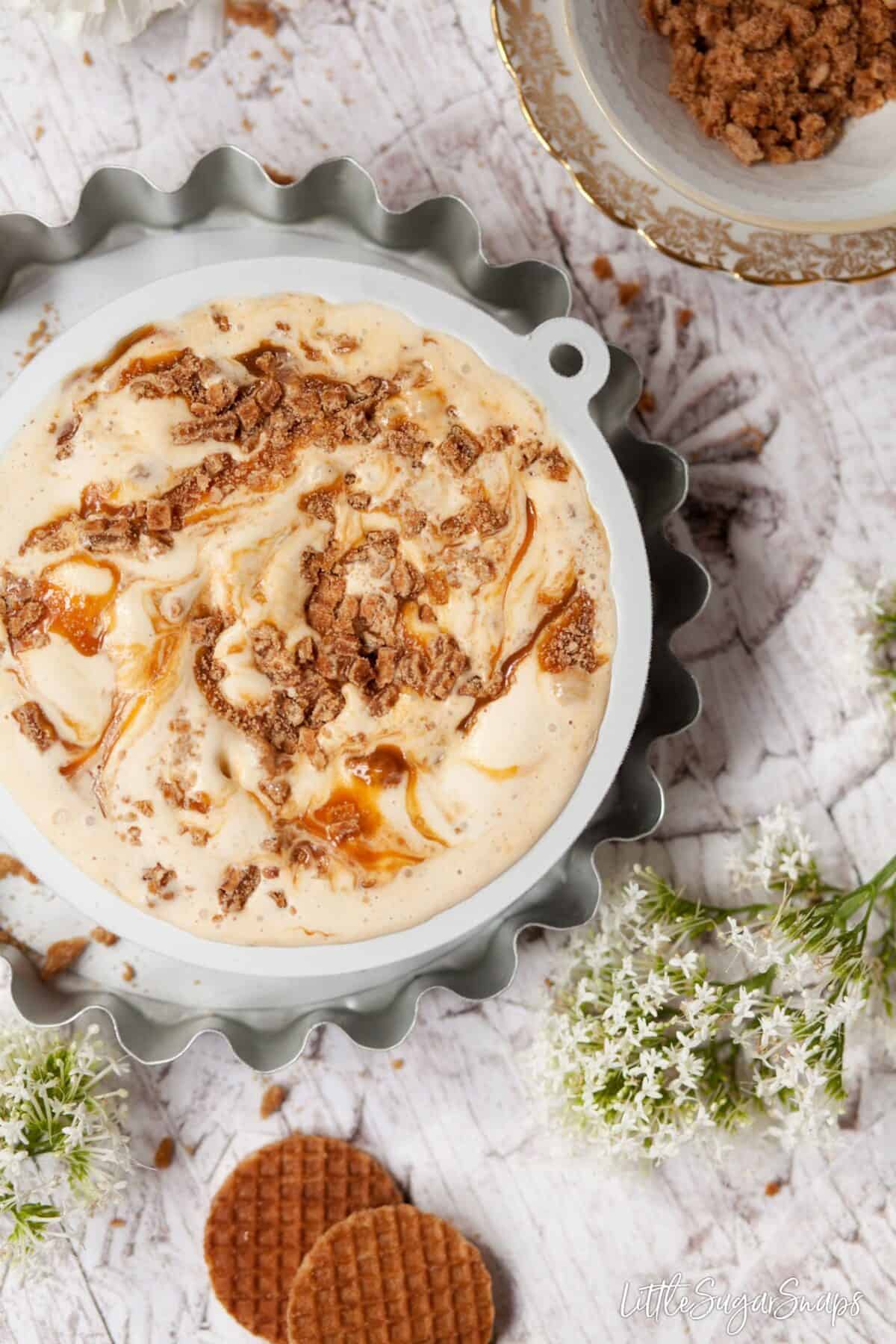 Looking for more ice cream recipes? You might like these: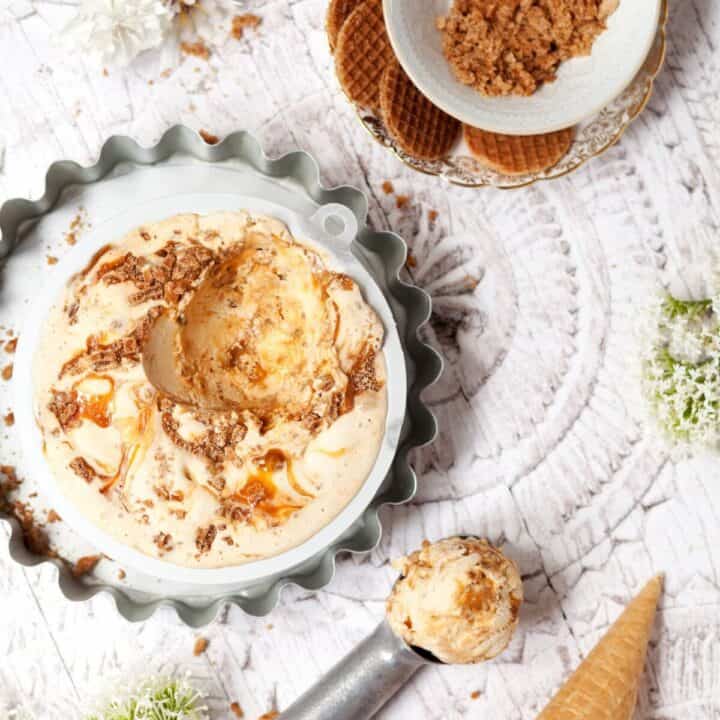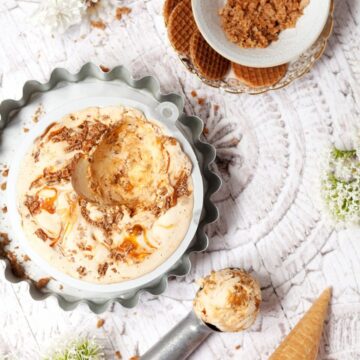 Stroopwafel ice Cream with Bourbon & Caramel
Fully loaded bourbon ice cream with a river of caramel sauce and chunks of stroopwafel throughout. One of life's pleasures.
Print
Pin
Rate
Ingredients
For the Ice Cream
250

ml/ 1 cup

Whole (full fat) milk

5

Egg yolks (large, free-range)

50

g ¼ cup

Golden caster sugar

50

g ¼ cup

Light muscovado sugar

250

ml/ 1 cup

Double (heavy) cream

1

teaspoon

Vanilla bean paste

2

tablespoon

Bourbon

60

g/ 2 oz

Stroopwafel biscuits
For the Caramel
80

ml/ ⅓ cup

Caster sugar (white))

80

ml/ ⅓ cup

Double (heavy) cream

⅛

teaspoon

Sea salt

½

teaspoon

Vanilla extract

2

teaspoon

Bourbon
Instructions
Make the Caramel
Make the caramel by putting the caster sugar (in an even layer) in a heavy-based saucepan and let cook over a moderate heat, swirling around the pan a couple of times to cook evenly. The sugar should first melt, then turn a lovely amber colour

Once the sugar has dissolved and the colour is deep amber, carefully add the cream. Take care as the mixture may bubble up. Don't worry if the caramel solidifies in places. Put the pan back on a gentle heat and cook for around 2 minutes more, stirring frequently until it is smooth. Do not let the caramel boil

Meanwhile, grind the sea salt in a pestle and mortar


Take the caramel off the heat and stir in the salt, vanilla and bourbon


Set aside to cool to room temperature, then cover and refrigerate for at least 4 hours so it is cold when rippled through the ice cream

Make the Ice Cream Base
Put the milk into a medium-sized pan (heavy based) over a medium heat and warm through

Whisk the egg yolks with the sugars in a medium bowl for 2-3 minutes until thicker and paler

Pour the warm milk onto the yolks, whisking continuously

Pour the custard mix back into the pan and cook, stirring constantly with a wooden spoon, until the custard is thick enough to coat the back of the spoon

Take off the heat. Pour the custard into a bowl or jug, cover with clingfilm (to stop a skin forming) and cool. Once cold, transfer to the fridge to chill overnight (or for at least 4 hour

When ready to churn remove the clingfilm from the custard, pour in the cream, vanilla & bourbon and stir until thoroughly combined
Making the Ice Cream Using an Ice Cream Churner
Pour the custard into your ice cream maker and churn according to the manufacturer's instructions, then refer to the final step below
Making the Ice Cream by Hand
Pour the ice cream into a suitable freezer-proof bowl, cover and put it in the freezer for 1-1 ½ hours. The sides should be beginning to freeze, but the centre will be soft and slushy

Remove from the freezer and, working quickly, use electric beaters to beat the ice cream until the ice crystals are uniform. Cover and place back in the freezer

Repeat this process 6-8 more times at 1-hour intervals – the better the texture will be the more the process is repeated. Afterwards, refer to the final step below
Add the Stroopwafel & Caramel to the Churned Ice Cream
Finely chop the stroopwafel

Put ⅓ of the churned ice cream into a freezer-proof container and spoon ⅓ of the caramel over it. Sprinkle ⅓ of the chopped stroopwafel over

Cover with half of the remaining ice cream followed by half of the remaining caramel and stroopwafel

Add one final layer of ice cream, caramel and stroopwafel, then swirl gently using a blunt knife

Cover with greaseproof paper and transfer to the freezer to firm up for at least 4 hours or overnight
Nutrition Per Serving (Approximate)
Calories:
399
kcal
|
Carbohydrates:
34
g
|
Protein:
5
g
|
Fat:
26
g
|
Saturated Fat:
15
g
|
Cholesterol:
242
mg
|
Sodium:
97
mg
|
Potassium:
124
mg
|
Sugar:
33
g
|
Vitamin A:
1092
IU
|
Vitamin C:
1
mg
|
Calcium:
109
mg
|
Iron:
1
mg
(Visited 2,160 times, 2 visits today)