For the ultimate afternoon-tea indulgence try out a Chocolate Cream Tea complete with chocolate chip scones, jam, clotted cream, a drizzle of chocolate sauce and, of course, plenty of tea. It's pure decadence for chocoholics.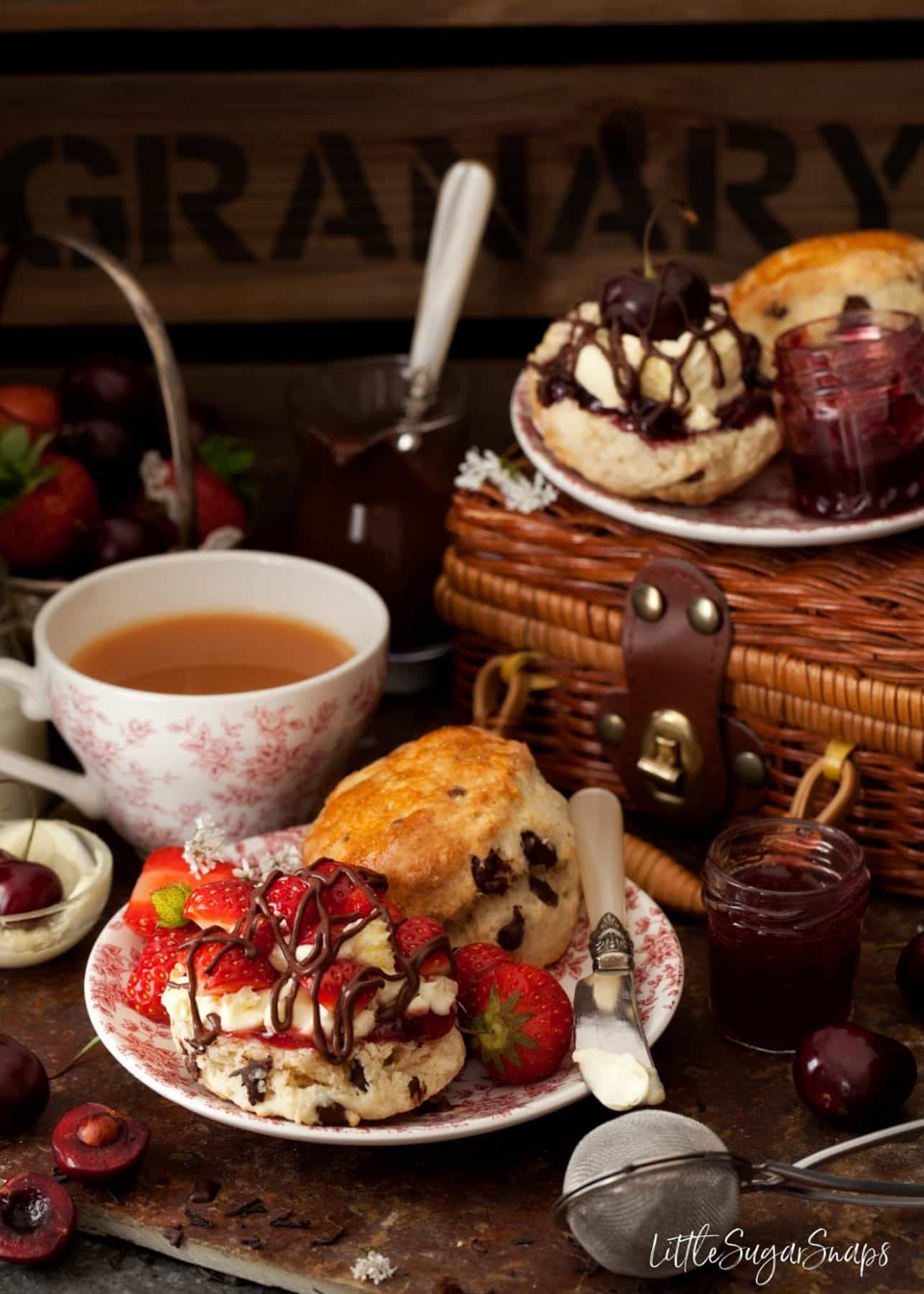 I've had a weakness for a Cream Tea since I was a small child. A very dear friend used to take me out for the day at weekends occasionally and in the summer, a day trip was never complete without a Cream Tea. Some habits last a lifetime. No matter how old I get, I can never pass up the chance to enjoy a Cream Tea. All that clotted cream and sweet jam. Not to mention a potful of tea. Absolute heaven.
I seem to be succeeding in passing the Cream Tea bug onto my children, but today I've gone the extra mile and made this traditional English teatime treat particularly child-friendly by including the magic ingredient: chocolate.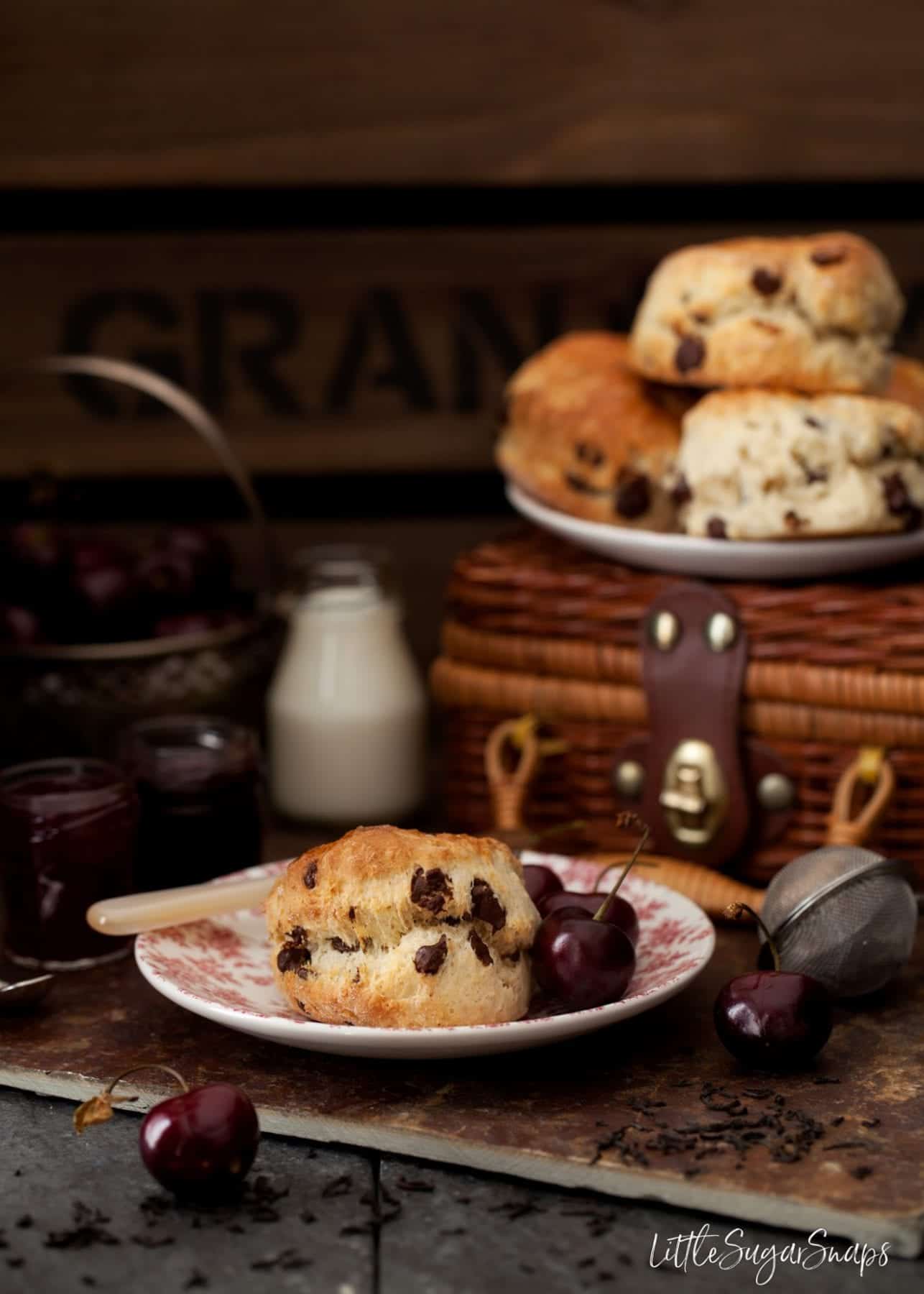 A conventional cream tea is already a full-on flavour indulgence incorporating:
2 plain scones (oh yessss)
jam (strawberry is traditional but cherry makes a pleasant change)
Clotted cream (the king of all cream)
A pot of tea
The Cream Tea is a national dish of beauty that needs treating with respect. I knew that adding a splurge of chocolate to this wondrous teatime delight was something that needed to be done cautiously to avoid disaster.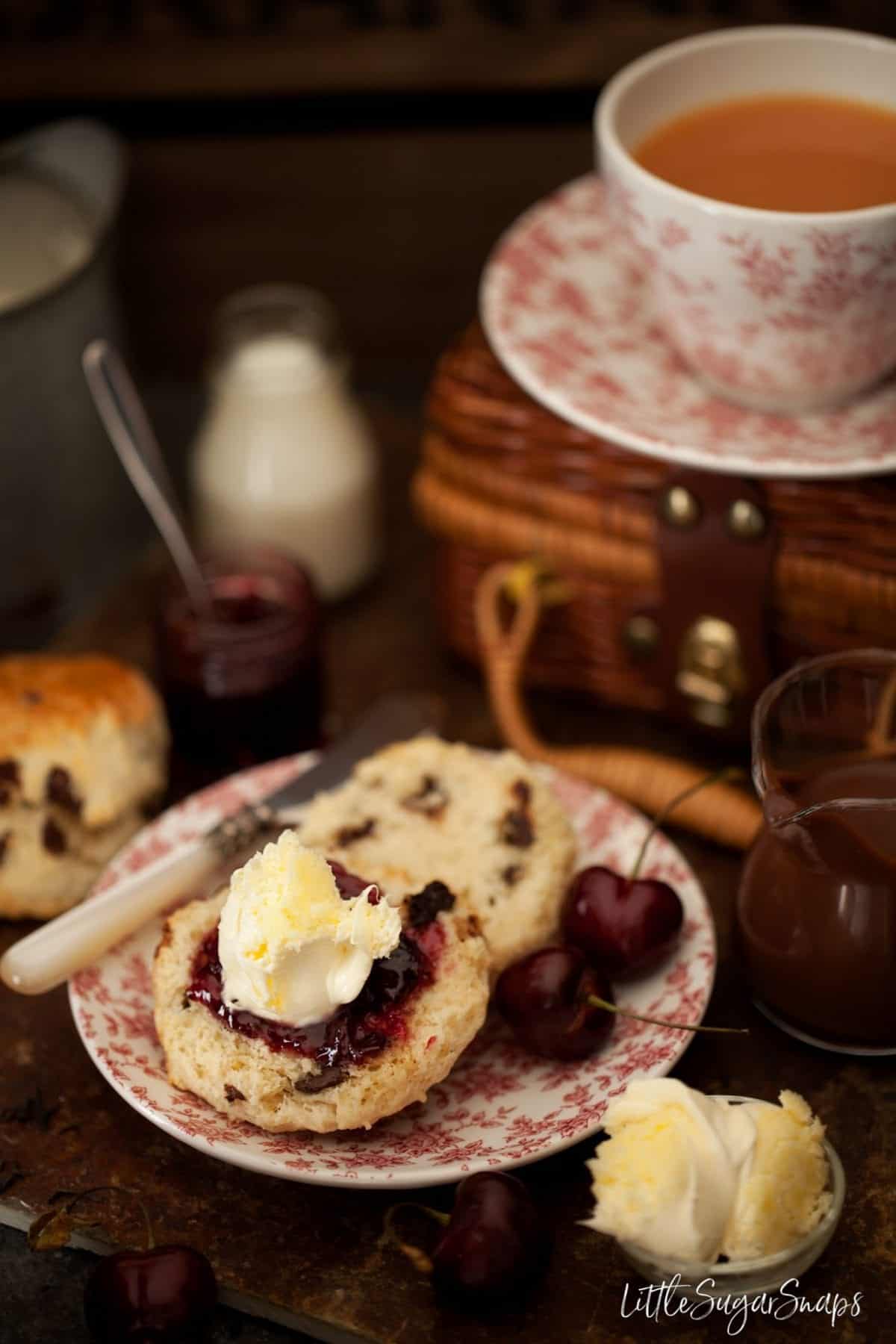 I briefly toyed with the idea of replacing the jam with chocolate spread in my Chocolate Cream Tea. But in the end, I felt that a Cream Tea really does warrant some rich & fruity, zesty sweetness from a scoop of quality jam. So, instead, I've added chocolate chips to a classic scone recipe and settled for a scant drizzle of dark chocolate sauce.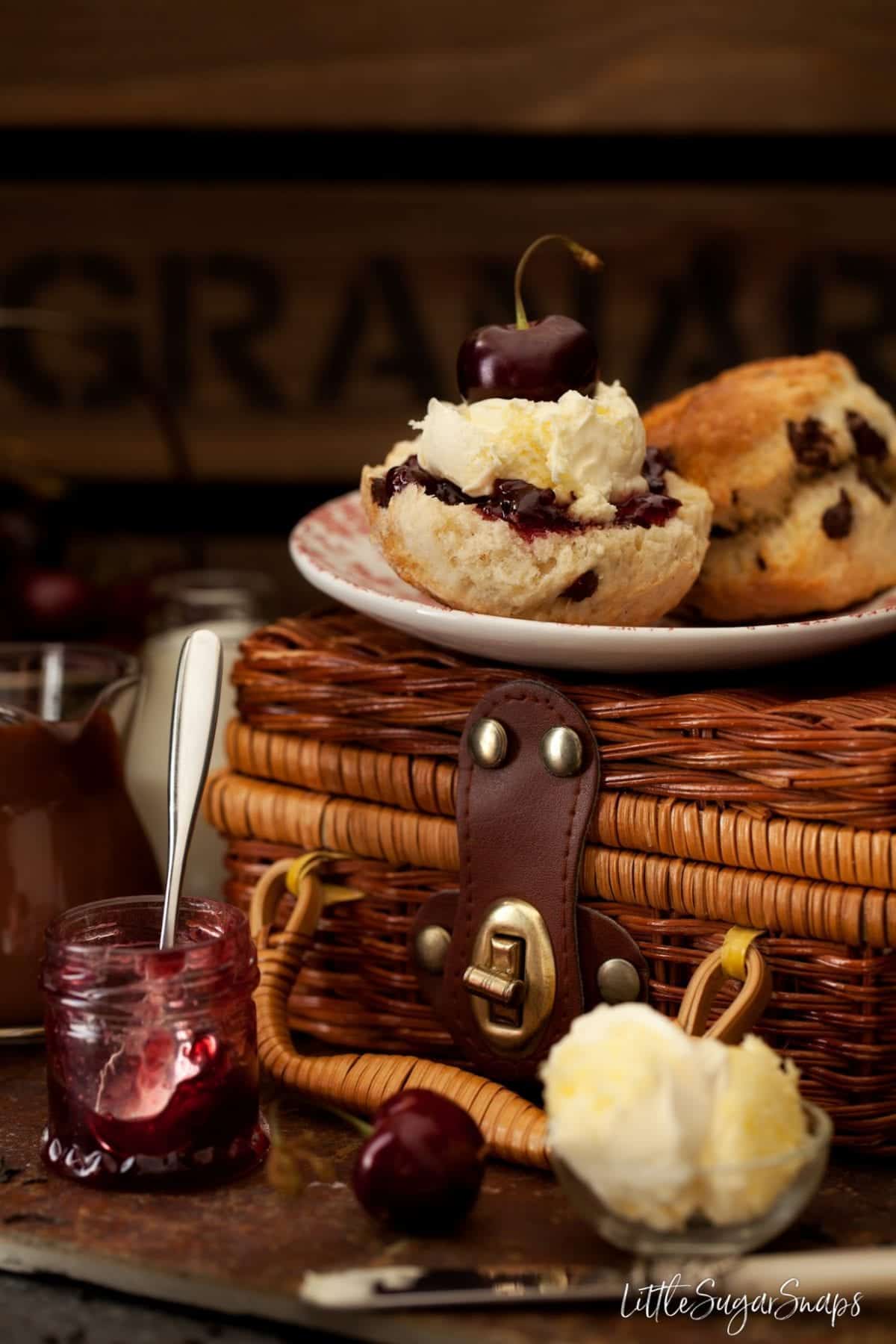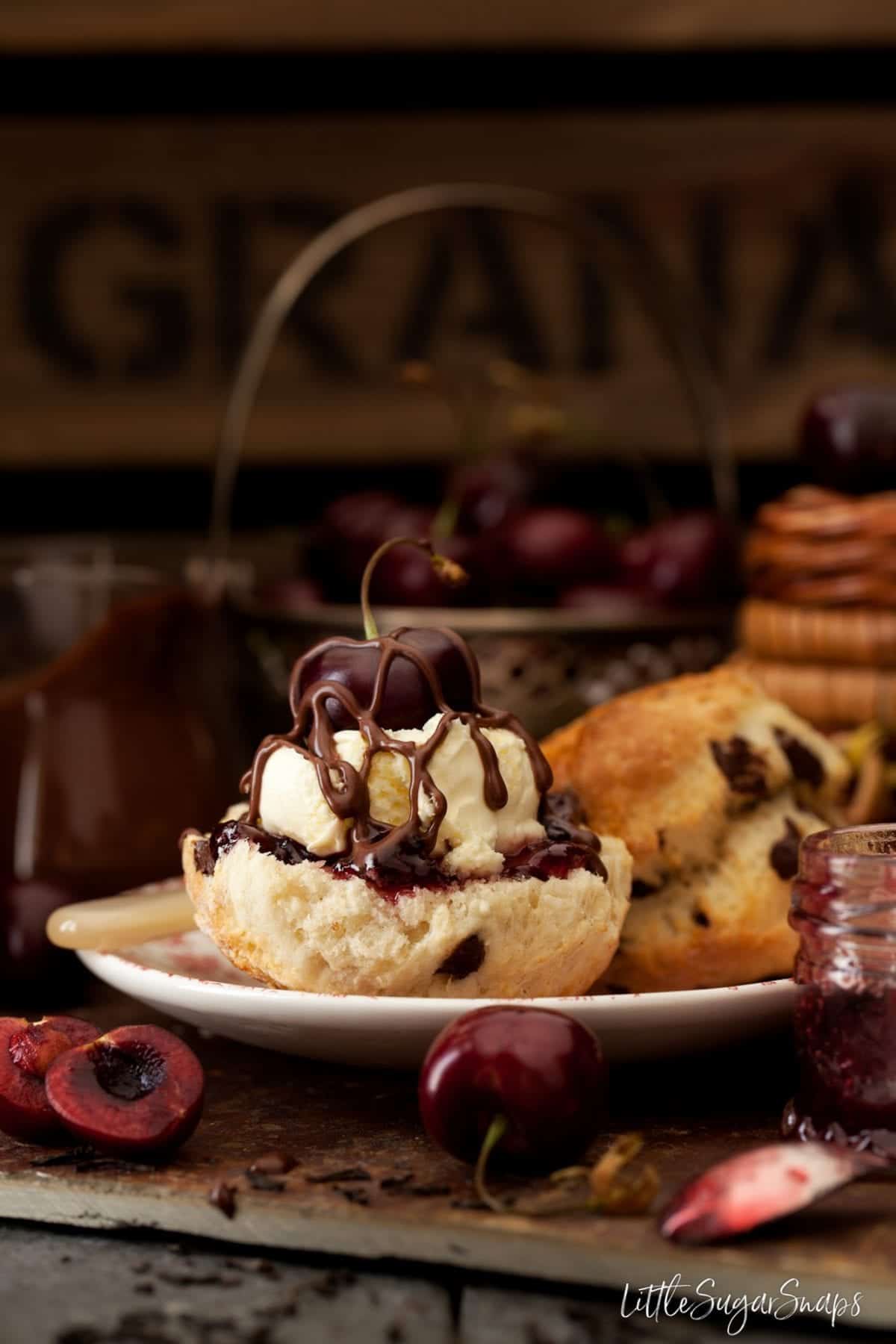 This is definitely a case where less is more.
A Chocolate Cream Tea is a gentle adventure for anybody finding themselves slighted addicted to the traditional treat. Paired with cherry or strawberry jam, the subtle use of chocolate adds a unique and fun dimension to a Cream Tea.
Confession: the humble scone has historically been a challenge for me. My endeavours always went wide, never rising upwards. But I've been researching ways to improve over the last few years and here's what I've discovered:
Using strong (bread) flour can give better strength and structure to scones than plain (all purpose) flour. That's what Paul Hollywood says and I'm inclined to agree. Try it and see what you think
Use cold butter so it melts when baking, not before. This helps achieve a good rise
Aim for a wet, sticky dough rather than a dry dough. Again, it helps the rise
Do not overwork your dough. Treat it gently to achieve light & fluffy scones
Do not twist your cutter as you stamp out the scones. Twisting inhibits the rise
Glaze only the top of your scones
Place the scones on the baking sheet almost touching. This helps the scones rise straight and evenly
Scones need to be eaten quickly. As in, as soon as they are vaguely cool and certainly within 24 hours
Armed with these tips for making scones, a Chocolate Cream Tea is well within your reach. Let's get that teapot warming…
Have you tried my Blueberry and Lemon Scones? I've also got some savoury Spelt Cheese Scones to tempt you.
Recipe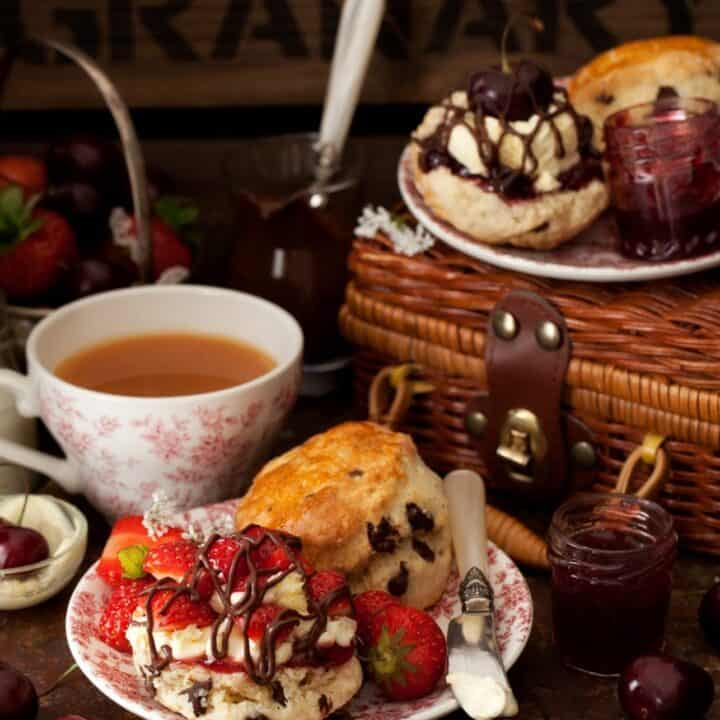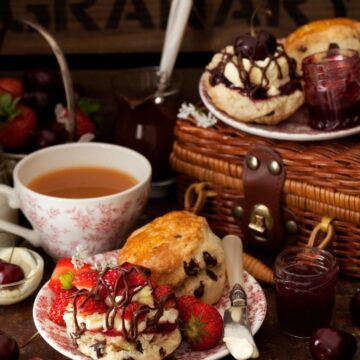 Chocolate Cream Tea with Chocolate Chip Scones
For the ultimate afternoon tea indulgence try out a Chocolate Cream Tea complete with chocolate chip scones, jam, clotted cream, a drizzle of chocolate sauce and, of course, a pot of tea. it's pure decadence for chocoholics.
Makes 8-10 scones (serve 2 per person)
Print
Pin
Rate
Ingredients
For the Chocolate Sauce
50

g/ ⅓ cup

Dark chocolate (chopped or chips)

50

ml/ 10 tsp

Whole (full fat) milk

1

tablespoon

Double (heavy) cream

1 ½

teaspoon

Caster sugar

1 ½

teaspoon

Butter

¼

teaspoon

Vanilla extract
For the Chocolate Chip Scones
350

g/ 2 ¾ cups

Strong (bread) flour

2 ½

teaspoon

Baking powder

60

g/ ¼ cup

Butter

3

tablespoon

Caster sugar

1

Egg (large, free range)

Whole (full fat) Milk (to make 225ml when mixed with the egg)

100

g/ ⅔ cup

Dark chocolate chips
To Serve
250

g/ 9oz

Clotted Cream

Jam (cherry or strawberry work well)

Fresh fruit (optional) – match with jam
Instructions
Put the chocolate, milk, sugar and butter into a small saucepan and heat gently, stirring, until the ingredients all melt and dissolve. Do not let the mixture boil

Take off the heat and stir in the cream and vanilla extract. Use a mini balloon whisk to beat until smooth. Cover the surface with clingfilm, to prevent a skin forming, and let cool. Chill until serving – allow 15 minutes for the sauce to come to room temperature

Any leftover sauce can be stored in the fridge for up to 1 week
Make the Scones
Preheat oven to 220C/ 425F/ GM7 and line a baking sheet with parchment

Weigh the flour, baking powder and butter into a medium-sized bowl. Rub the butter into the flour until no large lumps remain

Stir the sugar into the mix along with the chocolate chips

Crack the egg into a jug and top up to reach 225ml. Beat well. Reserve 1 tablespoon for glazing the top of the scones

Make a well in the flour mixture and pour in ¾ of the egg-milk blend. Use a blunt knife to mix the ingredients together gently, adding more liquid if necessary until a soft, slightly sticky dough has formed

Tip the dough out onto a floured worktop and roll out to 2cm thick. Use a 6cm fluted cutter to stamp out the scones. Take care not to twist the cutter as you cut since this hinders the rise in the oven

Gather up the scraps and reform the dough, kneading lightly. Re-roll and cut out a few more scones. Aim for 8-10 in total

Arrange the scones on the baking sheet close together (it helps them rise when baking). Brush with the reserved egg/ milk blend and transfer to the oven. Turn the heat down to 200C/ 400F/ GM6 and cook for 12- 15 minutes until well risen and golden

Transfer the cooked scones to a wire rack and allow to cool, then store in an airtight tin until ready to eat (within 24 hours)
Serve
Take the chocolate sauce out of the fridge 15-30 minutes before serving, depending how hot/ cold the weather is

Serve 2 scones per person with a portion of clotted cream, jam and chocolate sauce at the side. Don't forget a large pot of tea

Slice the scones in half and spread the jam & cream over the scones. Add a little fresh fruit if desired and drizzle a teaspoon of chocolate sauce over the top of each half
Notes
Scones are best eaten on the day they are made. If you have extras freeze them ASAP and allow to defrost at room temperature when ready to eat.
(Visited 96 times, 1 visits today)