Mint Chocolate Fridge Cake, (aka tiffin or Mint Aero Slice), makes a decadent departure from the classic no-bake chocolate cake. This rich, fudgy cake is loaded with chocolate, butter, biscuits and mint chocolate treats. Utter bliss.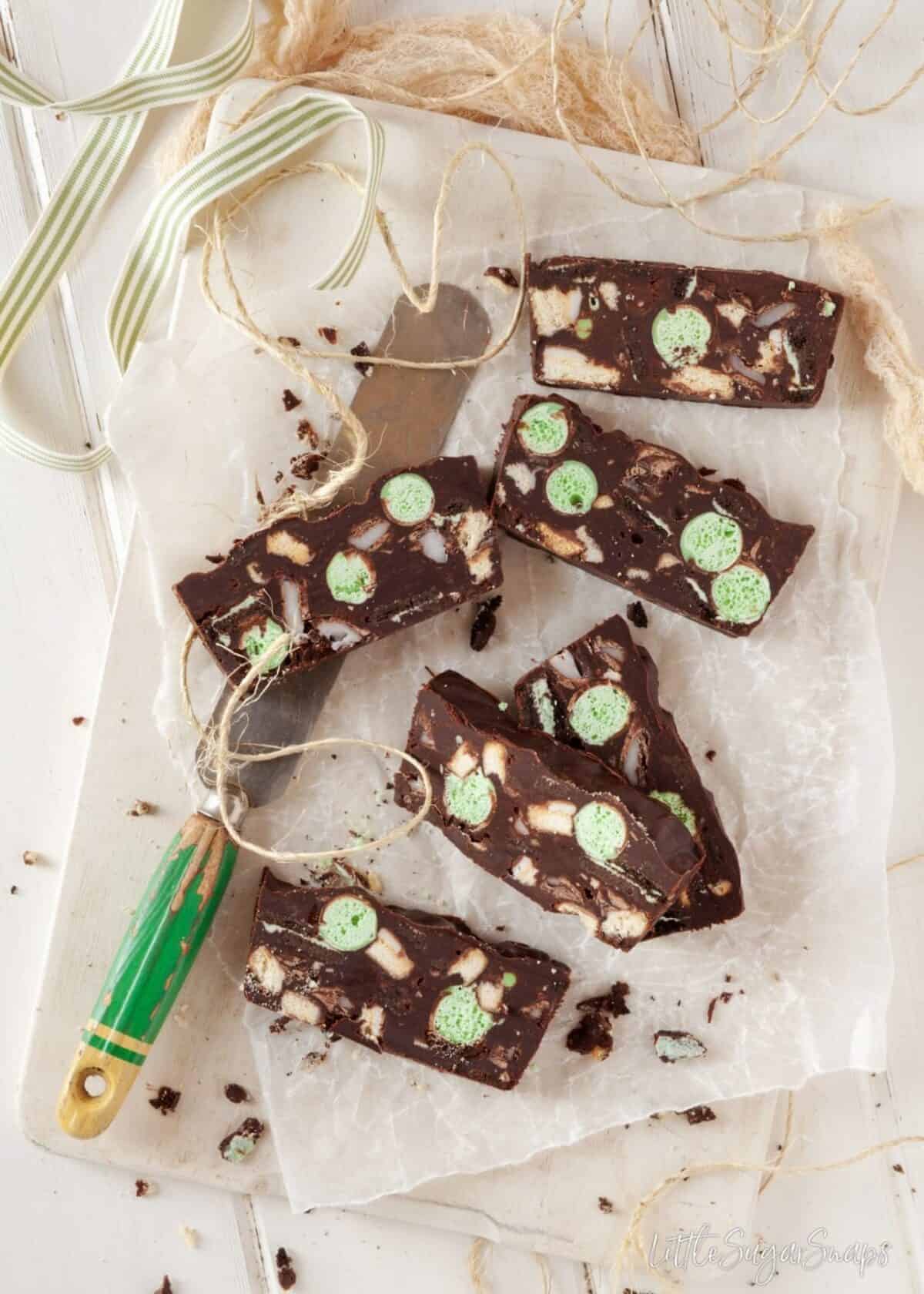 This post contains affiliate links. As an Amazon Associate, I earn from qualifying purchases.
The inspiration behind this Mint chocolate fridge cake comes directly from a birthday party.
Normally around April, I tell you all about my baking exploits during late March when my children have their birthdays plus a party each and I end up baking my body weight in cakes.
Well, this year, things were a little different. The star of the birthday season this year was a baking party. That was 4 girls who've been friends since they were 5 taking over my kitchen for numerous hours.
Between them, they baked enough sweet goods to stock a coffee shop. Nestled amongst cookies, muffins, bourbon biscuits, cornflake clusters and flapjack was a chocolate refrigerator cake.
Oh my. I can't recall the last time I ate a piece of chocolate fridge cake, but it was good. So good, in fact, that it got my mind racing. And, whenever chocolate is involved my mind always speedways itself straight to mint.
I'm a kid in disguise really.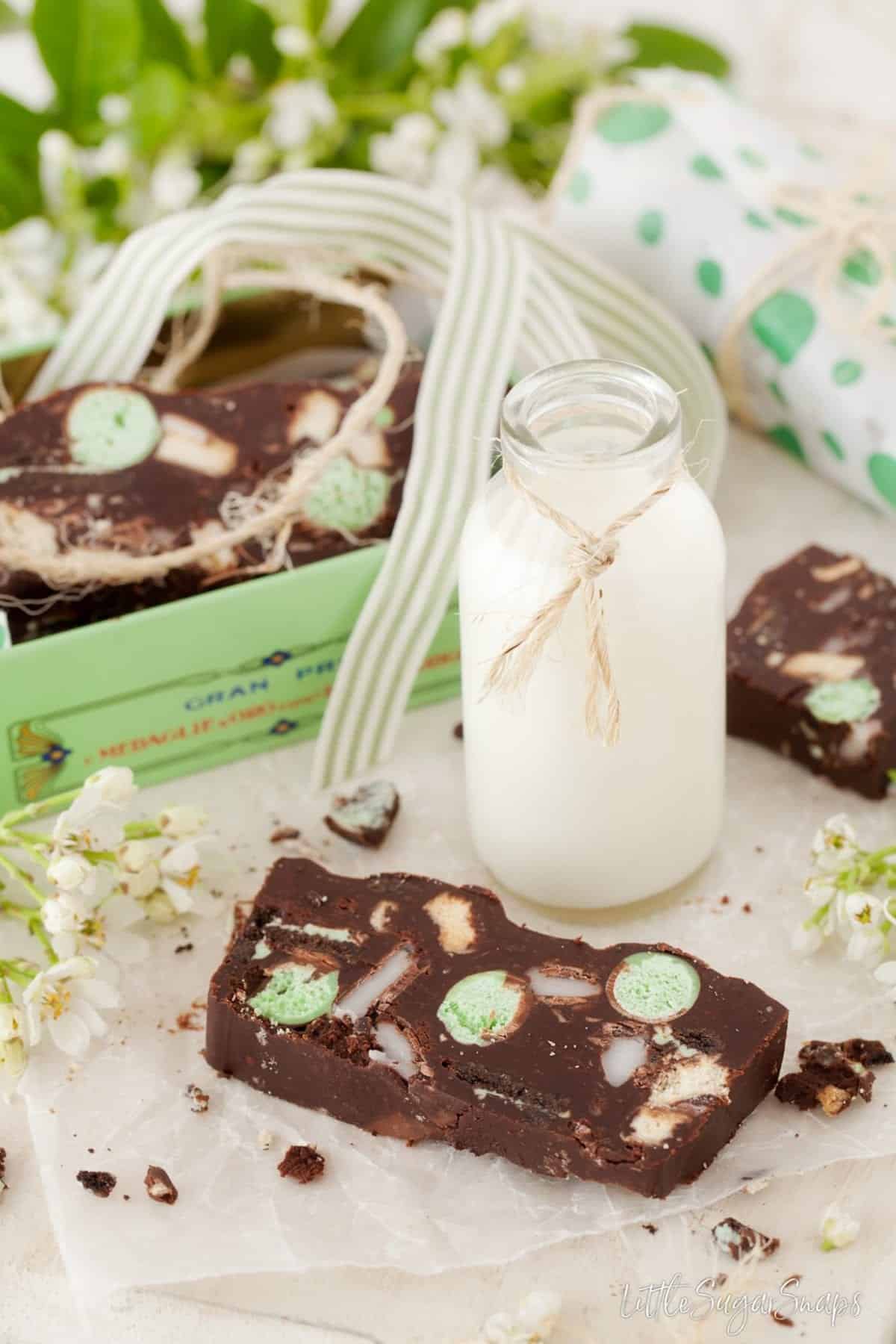 Several weeks later and I was ready to trial my notion. A straight chocolate fridge cake includes chocolate, butter and biscuits. Sometimes a little honeycomb might find it's way into the mix, or some dried fruit and nuts.
But I wanted my Mint Chocolate Fridge Cake to have a mighty minty bite. So I went all out. I've got two types of mint biscuits in here along with two varieties of mint chocolate.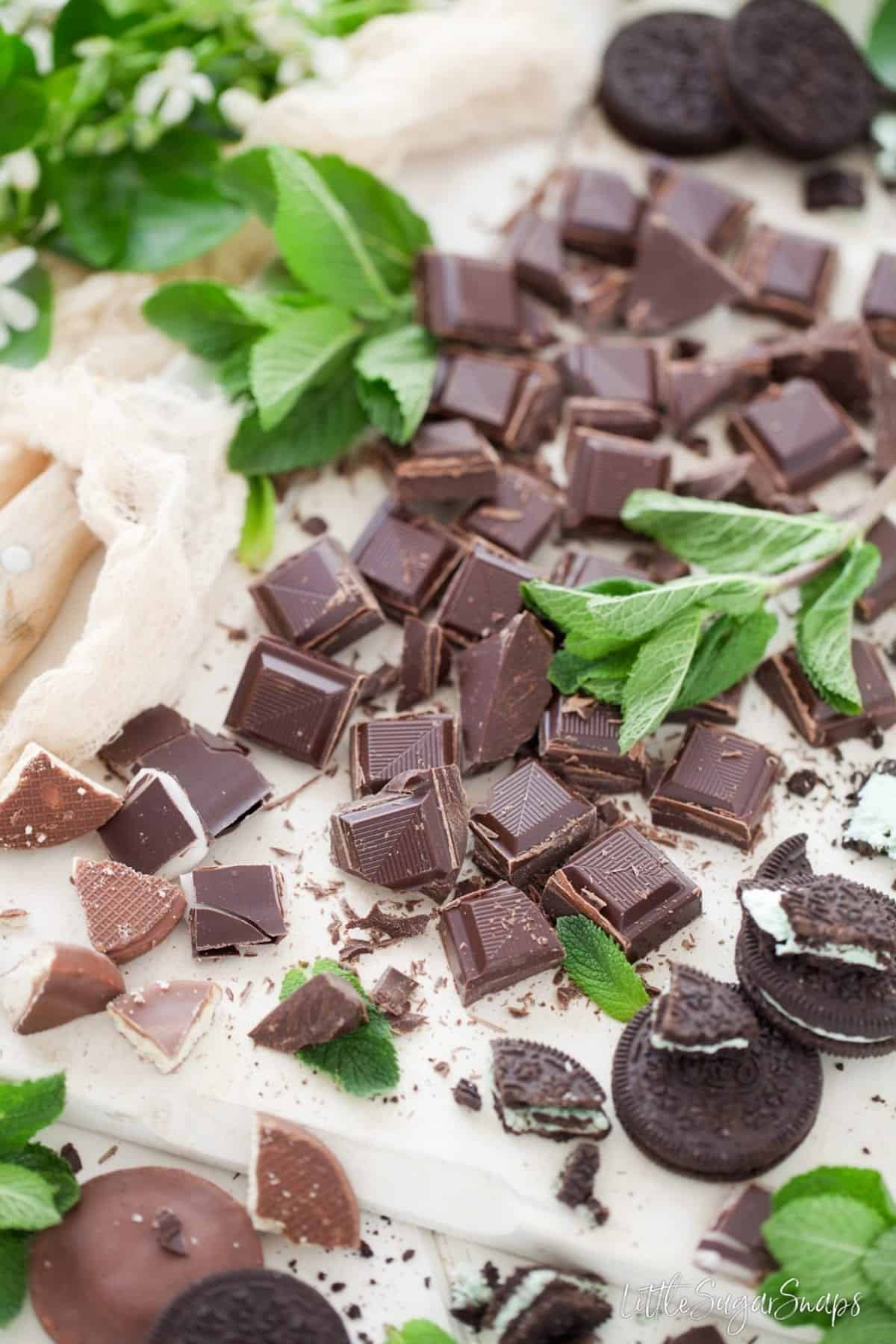 What you will need
My blend of goodies in this mint chocolate fridge cake includes:
I chose this mix for the minty flavours, variation in shapes and different colours. I know that these products are not all available worldwide, but I'm hoping you'll be able to lay your hands on similar products (see suggestions further down).
Just make like for like substitutions – biscuit for biscuit and chocolate for chocolate in the same weights.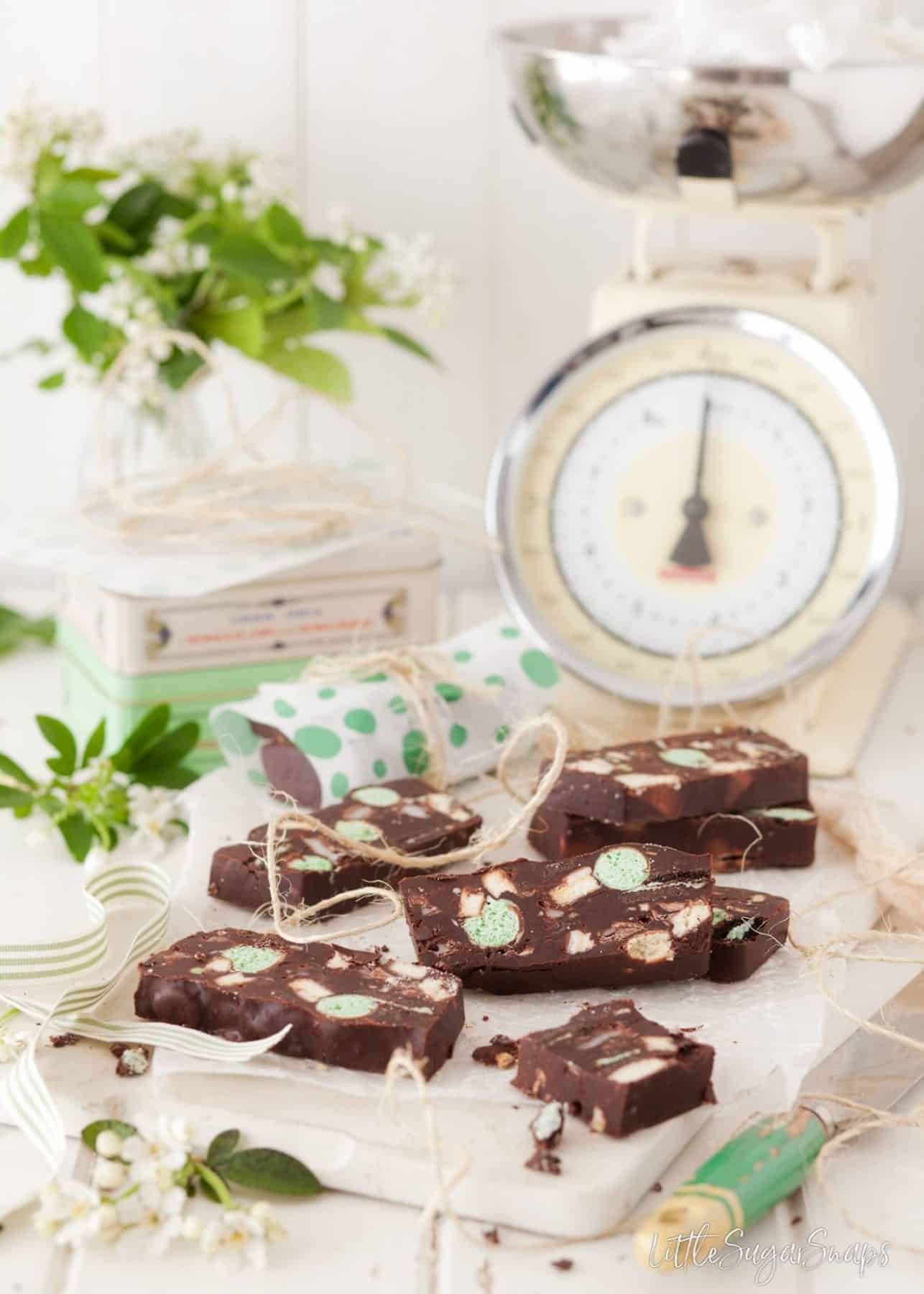 Instructions
I know it's tempting to run off to the supermarket, scoop your stash of minty goodies and get mixing, but I've got a big piece of advice to serve up before you make a start. You must respect your ingredients.
A lot of these minty treats will not stand up to being mixed ferociously and some do not even like heat. Instinct told me that the Aero Bubbles would rebel and end up in little green piles if I even thought about mixing them directly into the chocolate batter.
Here are my instructions for making this mint Aero slice style chocolate fridge cake. I suggest you read through fully before starting and follow them exactly
Grease a small loaf tin (1kg) and line it neatly with baking parchment
Put the butter, dark chocolate and syrup into a medium heatproof mixing bowl and suspend over a pan of barely simmering water (ensure the water does not touch the bottom of the bowl). Stir until melted
Crack the egg into a jug, whisk briefly and stir into the chocolate batter. Remove the bowl from the heat and let cool for 15 minutes, stirring once or twice
Break the biscuits into chunks (6-8 per biscuit) – scoop all the chunks and crumbs into a bowl
Chop the peppermint creams into pieces but leave the Aero Bubbles intact
When ready, tip the biscuit pieces into the chocolate batter and briefly stir with a large metal spoon to combine – 4 or 5 turns should be sufficient – avoid over-mixing
Do not mix the peppermint cream chocolate or the mint aero into the batter – they will melt and turn into a gooey (but still delicious) mess
Instead, spoon ¼ of this mix into the base of the loaf tin, ensuring the mix reaches the corners of the tin then spread ⅓ of the peppermint cream chunks and ⅓ of the Aero Bubbles over the base
Top with another ¼ of the chocolate batter – take care to ensure that the batter reaches the corner and the layer of peppermint chocolates are covered – use the back of a small metal spoon to guide the mix into empty spaces
Repeat with another ⅓ of the peppermint creams and Aero Bubbles and top with another ¼ of chocolate batter
Spread the remaining mint chocolates on the top and cover completely with the final ¼ of the batter. Carefully level using the back of a metal spoon
Wrap the tin in clingfilm and transfer to the fridge for around 6 hours to set
When ready, carefully remove from the loaf tin, remove the parchment and cut into 10-12 slices
It only takes a few more minutes to layer this cake up gradually in a tin and it's well worth that extra effort to retain those bubbly green balls in this visually striking mint Aero slice chocolate fridge cake.
Ingredient Substitutions
I've used ingredients that are readily available in the UK. Here are a few suggestions that should make good alternatives depending where else in the world you are based:
Biscuits
Chocolate
DOVE Dark Chocolate Mint Swirl Candy Bar
If you can get hold of mint Aero – either balls or bar – do get them – the colour and bubbly texture really do add something to this Mint Chocolate Fridge Cake (aka Mint Aero Slice).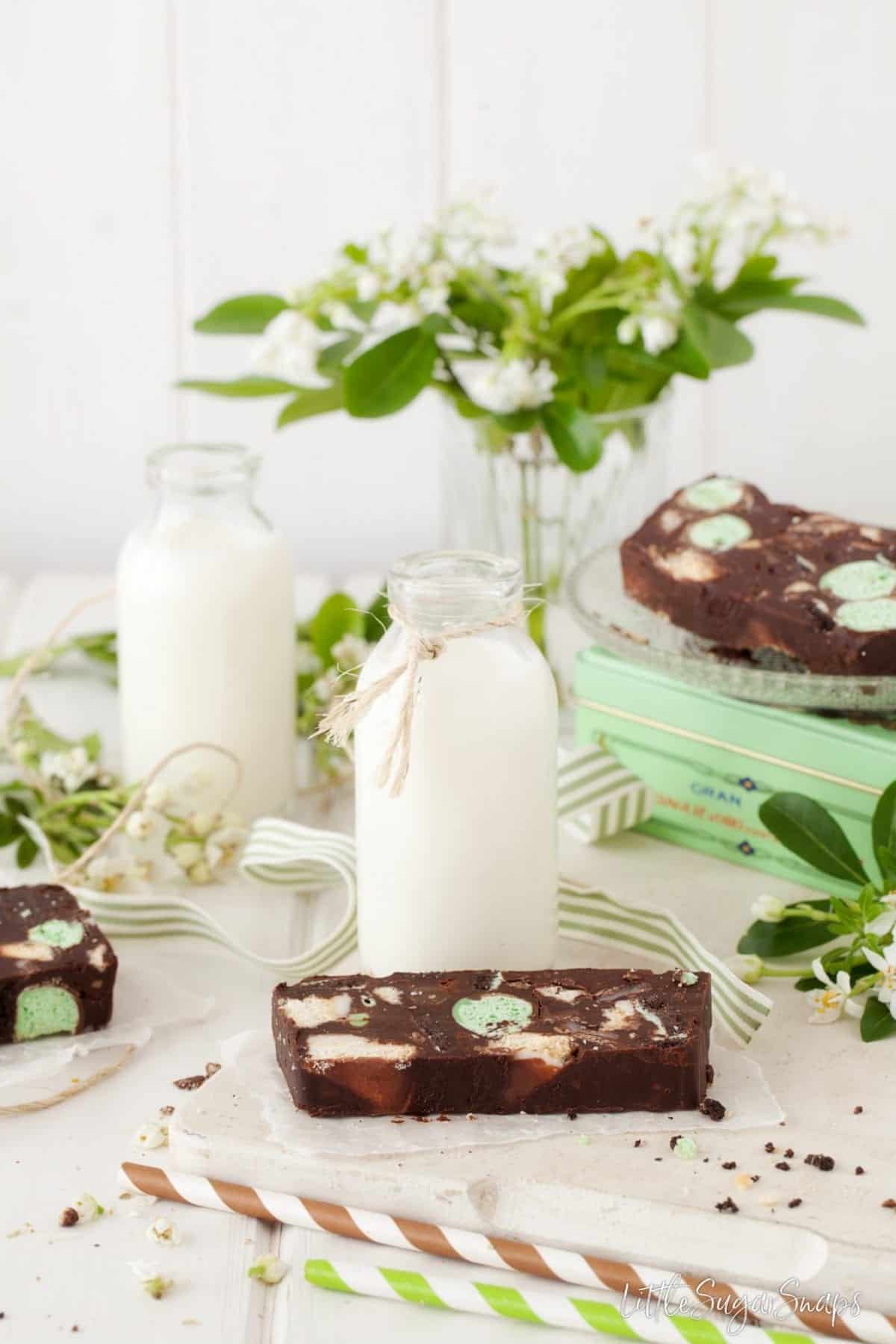 How to Store and Serve
Ensure you wrap this cake well before storing in the fridge since the aroma of mint carries easily to other food items.
It needs a minimum of 6 hours to set in the fridge but lasts for up to 1 week, so it's a great recipe to make in advance.
Once set this Mint Chocolate Fridge Cake can be sliced into small squares (or large bars) and pulled out of the fridge as and when required (24/7 in my case).
Do keep it refrigerated until ready to serve and return any leftovers to the fridge since it does soften significantly at room temperature.
Each slice of Mint Chocolate Fridge Cake delivers exactly what you would expect – rich, fudgy, chocolatey bites of bliss loaded with crunchy biscuits and intense bursts of peppermint. Immensely and intensely fun. Just what my 5-year-old self would have been hankering after.
More Chocolate Recipes to Try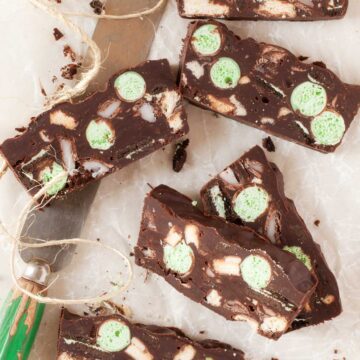 Mint Chocolate Fridge Cake
Mint Chocolate Fridge Cake, or tiffin, makes a decadent departure from the classic no-bake chocolate cake. This rich, fudgy cake is loaded with chocolate, butter, biscuits and mint chocolate treats. Utter bliss.
Please DO NOT mix the minty chocolates into the hot chocolate mix.
Print
Pin
Rate
Ingredients
100

g/ ⅗ oz

Butter

300

g/ 10 1.2 oz

Dark Chocolate (around 60% is fine)

1

tablespoon

Golden syrup (light corn syrup)

1

Egg

160

g/ 5 ½ oz

Mint biscuits (I used 6 Viscounts & 6 Mint Oreo biscuits)

100

g/ 3 ½

Fry's Peppermint Creams (or other mint fondant cream in dark chocolate)

80

g/ 3 oz

Mint Aero Bubbles (or other Mint chocolate)
Instructions
Grease a small loaf tin (1kg) and line it neatly with baking parchment

Put the butter, dark chocolate and syrup into a medium heatproof mixing bowl and suspend over a pan of barely simmering water (ensure the water does not touch the bottom of the bowl). Stir until melted

Crack the egg into a jug, whisk briefly and stir into the chocolate batter. Remove the bowl from the heat and let cool for 15 minutes, stirring once or twice

Meanwhile break the biscuits into chunks (6-8 per biscuit) – scoop all the chunks and crumbs into a bowl

Chop the peppermint creams into pieces but leave the Aero Bubbles intact

When ready, tip the biscuit pieces into the chocolate batter and briefly stir with a large metal spoon to combine – 4 or 5 turns should be sufficient

DO NOT MIX THE PEPPERMINT CREAM CHOCOLATE OR THE AREO BUBBLES INTO THIS BATTER (sorry to shout but this is really important)

Spoon ¼ of this mix into the base of the loaf tin, ensuring the mix reaches the corners of the tin

Spread ⅓ of the peppermint cream chunks and ⅓ of the Aero Bubbles over the base and top with another ¼ of the chocolate batter. Take care to ensure that the batter reaches the corner and the layer of peppermint chocolates are covered – use the back of a small metal spoon to guide the mix into empty spaces

Repeat with another ⅓ of the peppermint creams and Aero Bubbles and top with another ¼ of chocolate batter

Spread the remaining mint chocolates on the top and cover completely with the final ¼ of the batter. Carefully level using the back of a metal spoon

Wrap the tin in clingfilm and transfer to the fridge for around 6 hours to set

When ready, carefully remove from the loaf tin, remove the parchment and cut into 10-12 slices

Store in the fridge for up to 1 week. Remove from fridge 15 minutes before serving
Nutrition Per Serving (Approximate)
Calories:
216
kcal
|
Carbohydrates:
20
g
|
Protein:
2
g
|
Fat:
15
g
|
Saturated Fat:
8
g
|
Cholesterol:
38
mg
|
Sodium:
155
mg
|
Potassium:
115
mg
|
Fiber:
2
g
|
Sugar:
13
g
|
Vitamin A:
614
IU
|
Vitamin C:
3
mg
|
Calcium:
30
mg
|
Iron:
2
mg
(Visited 1,172 times, 3 visits today)