Pumpkin spice, nuts, chocolate and salt combine to create a luxurious and irresistible Chocolate Pumpkin Spice Granola. This is one decadent breakfast.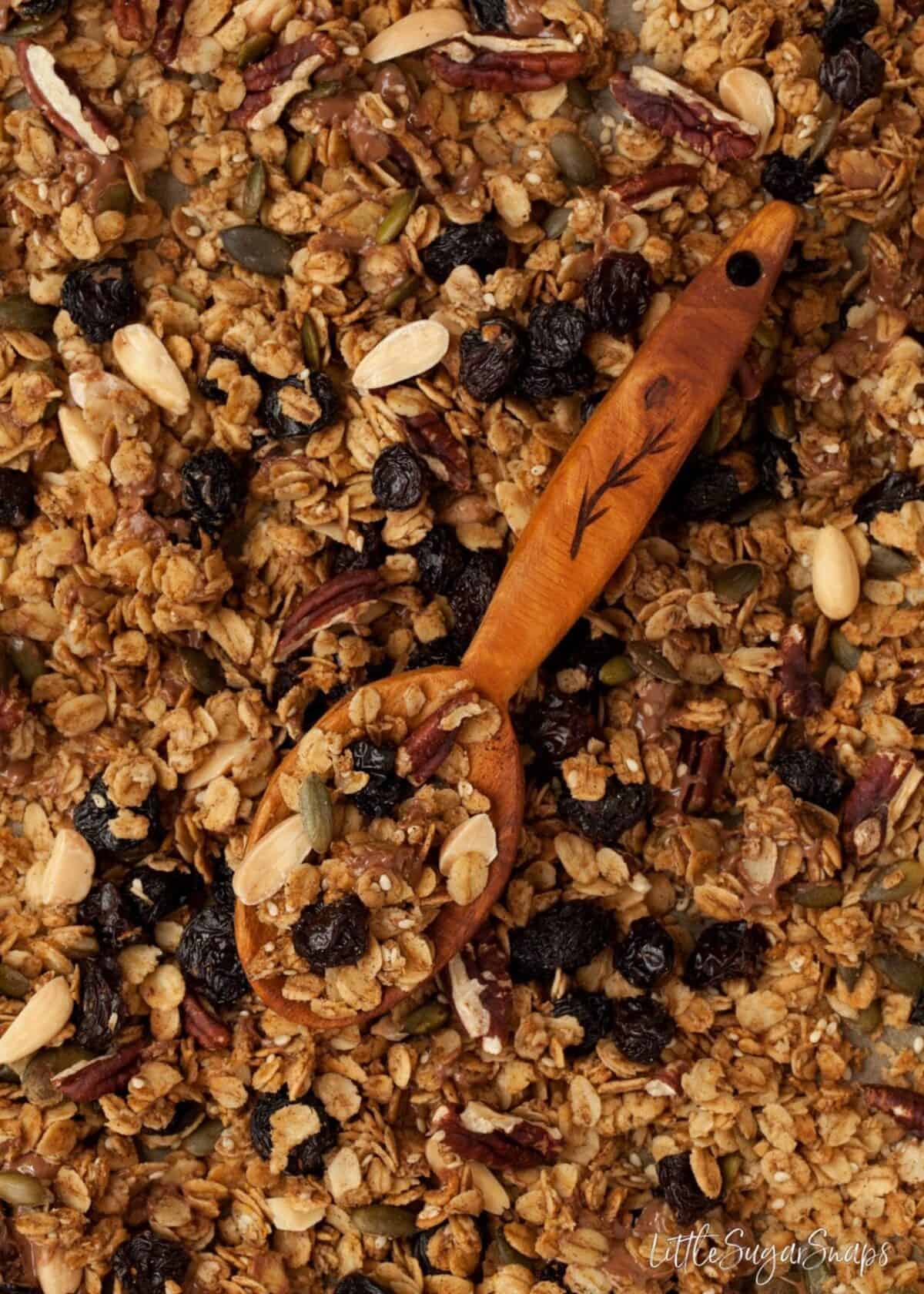 Normally I go all out to cut the amount of sugar from my family's breakfast options. I have a deep loathing for the so-called healthy cereals that contain so much sugar they are anything but wholesome. However, once a week, I relent. I close my eyes, hold my breath and let my kids have a cereal that they really want. Without naming brands, they usually wind up picking a sugar-laden variety that is either nutty, chocolatey or cinnamon spiced.
However, last weekend, it was my homemade granola that, without hesitation, won favour. Interestingly, it just so happens that the granola in question covered all these popular flavour bases.
You see, my latest granola wheeze is not my typical style. This Chocolate Pumpkin Spice Granola is the opposite of healthy. But it's oh-so-good and that is why I've made an exception to my health-minded rule and added it to my extensive catalogue of granola recipes. I admit it is the odd one out. The rest on the list all do their utmost to be nutritious. But this beauty is too good not to enjoy every once in a while.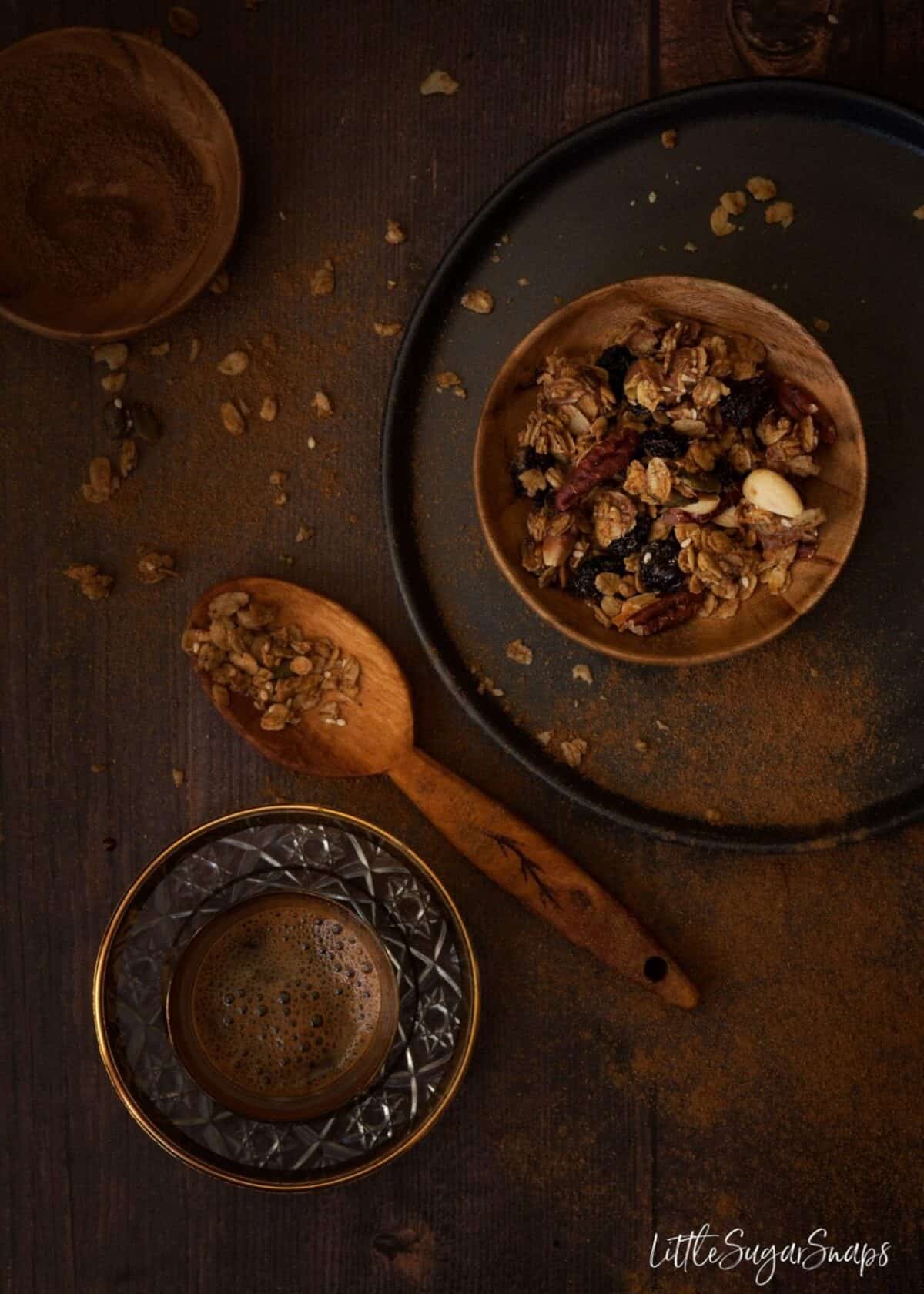 Chocolate Pumpkin Spice Granola really does embrace autumn… and the US obsession that is pumpkin spice.
Needless to say, this granola is full of seasonal spices, along with maple syrup & pecan nuts. And all of these flavours are enhanced by the addition of chocolate and salt. Yes, salt.
Somehow the salt seems to pair effortlessly with the chocolate, nuts and spice to create a rich, fully-flavoured breakfast treat. And I do stress the word treat. This granola contains more maple syrup than any other granola recipe I have created. It also contains chocolate chips and a generous blast of salt. So although I would not advise tucking into a bowlful of this Chocolate Pumpkin Spice Granola every day of the week, an occasional indulgence won't do you any harm.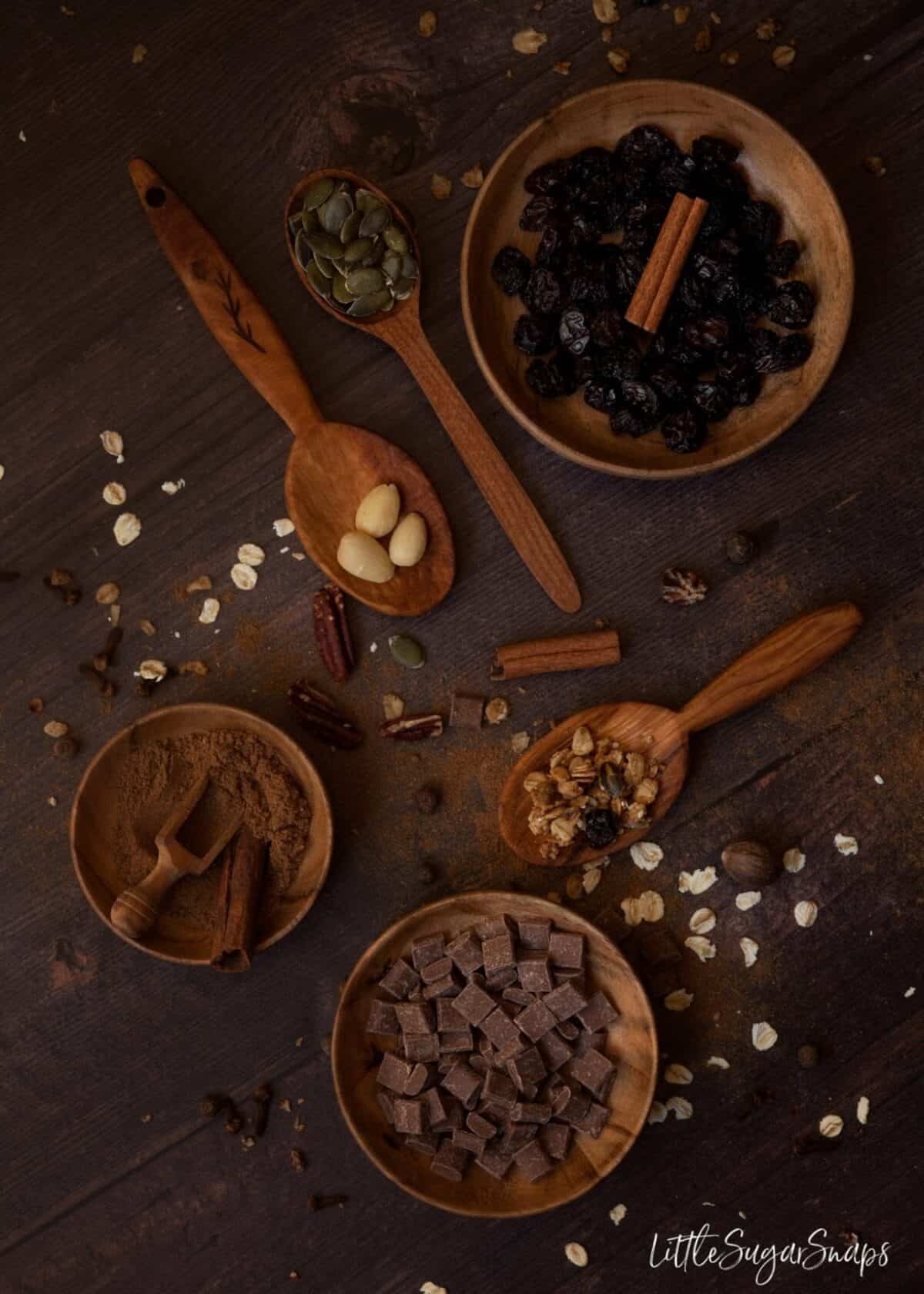 Warning: this is the kind of granola that is hard to resist. Don't blame me if a batch doesn't last long.
I've used my own pumpkin spice in this recipe, which blends cinnamon, ginger, nutmeg, cloves and a little mace. Feel free to use your own pumpkin spice blend, or alternatively try adding chai spice instead.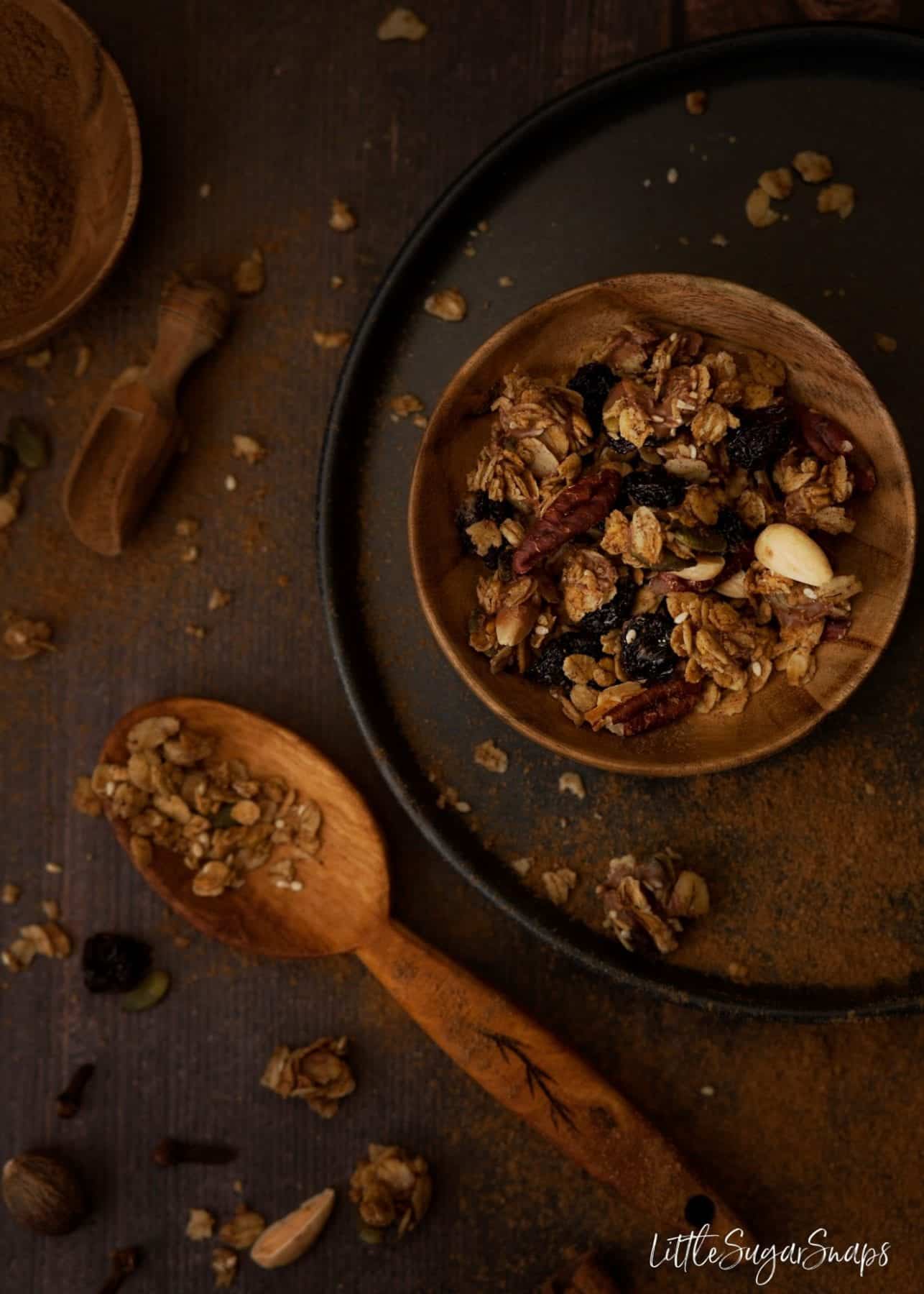 As far as granola recipes go, this Chocolate Pumpkin Spice Granola is pretty straightforward. My one tip would be to mix the granola very briefly and gently once the chocolate chips have been added. The chocolate needs to melt slightly and spread just a little. The aim is not to mix it in completely. Stirring just briefly allows the chocolate to blend sufficiently to flavour every mouthful and create clumps of sweetly spiced, salty, oaty and nutty granola joy (sigh). A few of the chunks may end up large, but these can be split once cooled.
My favourite way to serve healthy granola is with rich & creamy full fat milk and, let me tell you, this is also the best way to serve this decadent Chocolate Pumpkin Spice Granola. If you are going to splurge on breakfast, I say: don't hold back – go the whole hog. Every so often it's good for the soul.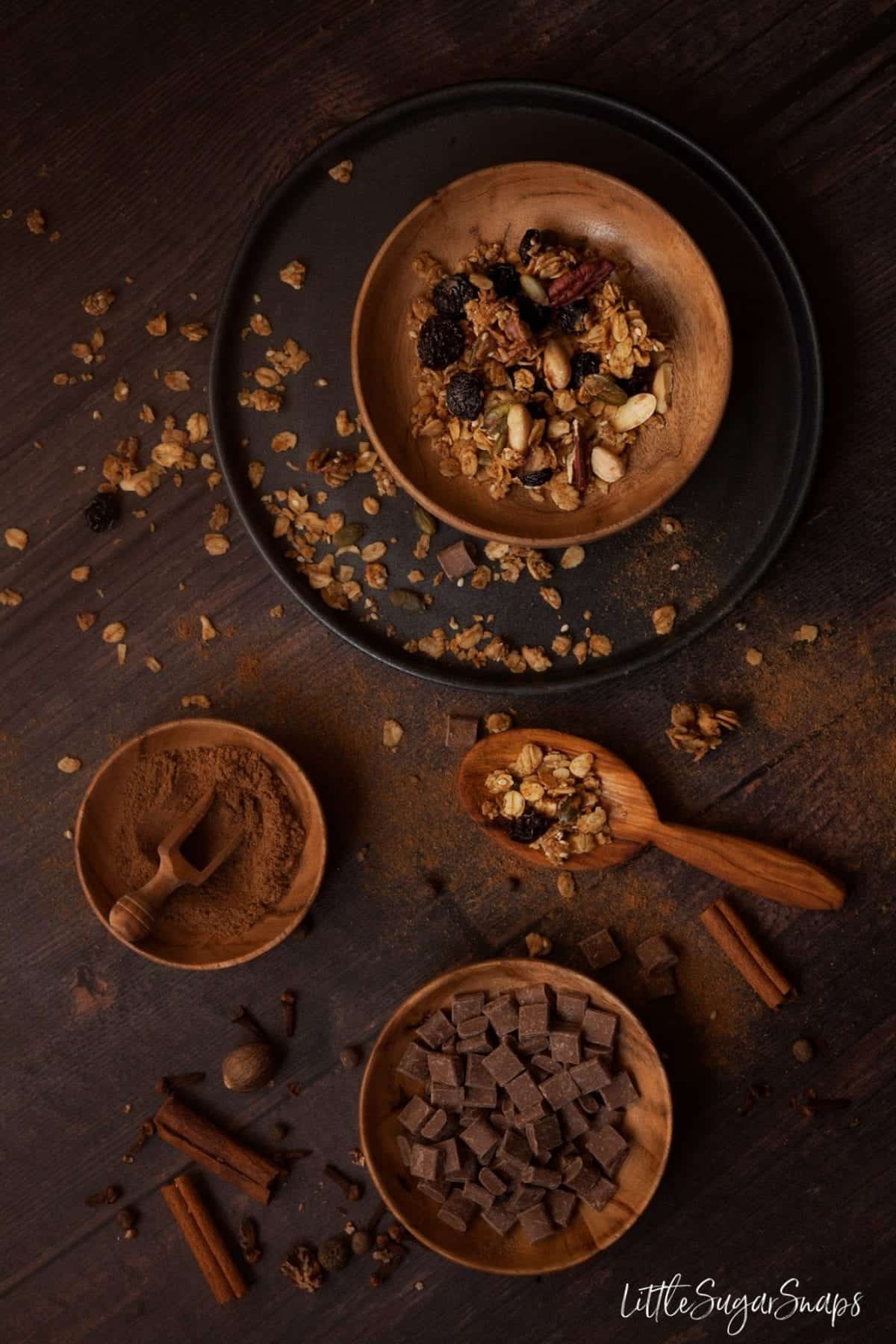 I have some healthier chocolate granola recipes to – try either my chocolate orange or my skinny chocolate versions. And if you're after my healthiest granola recipe, here it is: Spiced Apple Granola with Spelt. But there's no chocolate in this one.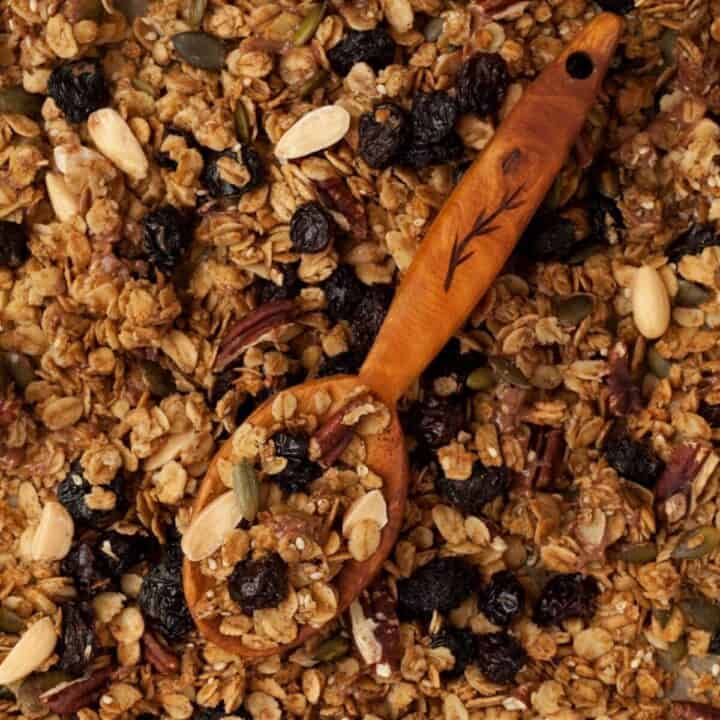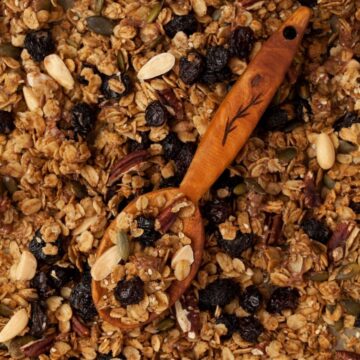 Chocolate Pumpkin Spice Granola
This is one decadent breakfast. Spices, nuts, chocolate, salt and oats combine to create a luxurious and irresistible Chocolate Pumpkin Spice Granola.
Print
Pin
Rate
Ingredients
150

g/ 1 ½ cups

Jumbo Oats

¾

teaspoon

Salt (fine)

2

teaspoon

Pumpkin spice

1

tablespoon

Sesame seeds

2

tablespoon

Pumpkin seeds

28

g/ 1 oz

pecan nuts (halved)

28

g/ 1 oz

Blanched almonds (halved)

3

tablespoon

Coconut oil

4 ½

tablespoon

Maple syrup

1

teaspoon

Vanilla extract

75

g/ 3oz

Raisins

50

g/ 2 oz

Milk chocolate chips
Instructions
Preheat oven to 170C/ 325F/ GM3 and line a baking tray with baking parchment

Weigh the oats, salt, spice, seeds and nuts into a large bowl. Stir to combine

Put the coconut oil & maple syrup into a small saucepan and heat gently until melted. Add the vanilla extract

Pour the liquids into the dry ingredients and mix well. Tip onto the baking sheet and spread out

Bake for 15 minutes, then turn the oven down to 150C/ 300f/ GM2, gently turn the granola using a metal spoon and return to the oven for a further 20 minutes, turning halfway through the remaining cooking time. The granola should be golden and crisp (if not let cook for a few more minutes)

When cooked remove from the oven and sprinkle with the raisins and chocolate chips. Let sit for 1 minute, then gently and briefly toss the granola with a metal spoon – enough to spread the chocolate slightly, but avoid mixing it in vigorously

Let cool completely. Break up any large chunks of granola and store in an airtight jar for up to 1 month
(Visited 123 times, 1 visits today)