This Black Forest Granola tastes so chocolately and indulgent that it's hard to believe it's actually healthy. Full of oaty, nutty & fruity goodness and laden with Black Forest flavours, a jarful won't last long once the family finds out about it.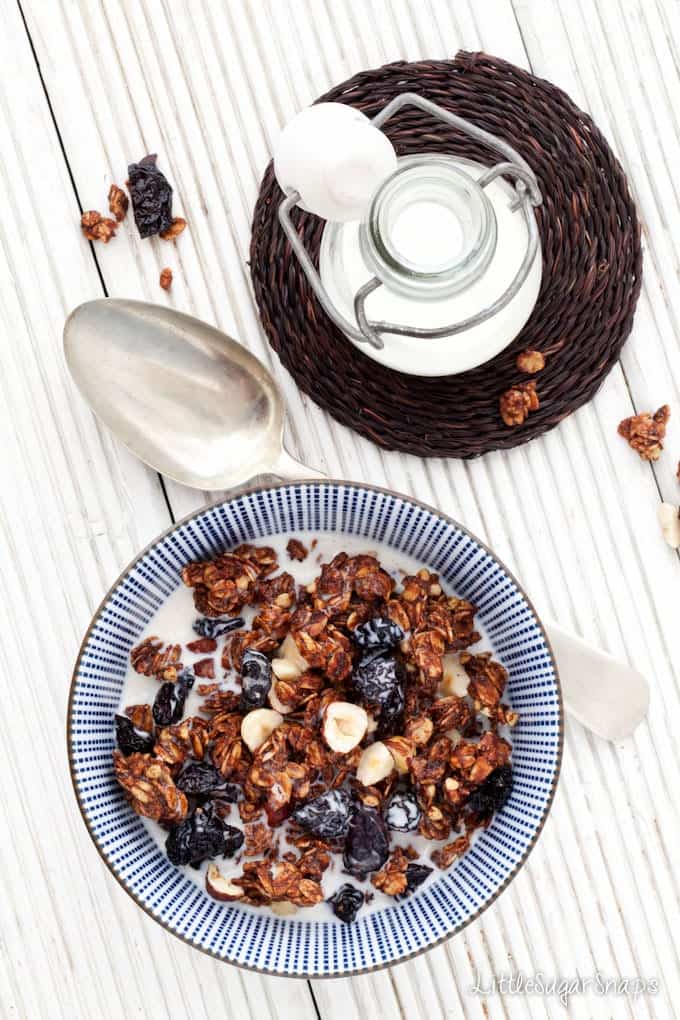 I keep meaning to get around to an overnight oats recipe since they are the latest food trend. Failing that, perhaps a modern twist on some classic & wholesome porridge. I've had this intention for the best part of a year, but the truth is, I like my morning oats crisp and baked. On that note, please welcome my latest addition to my growing granola family: my healthy spin on Black Forest Granola.
I think you'll like this. There are plenty of the expected chocolate and cherry flavours wrapped up in these baked oats, but less of the sugar you would normally associate with any recipe labelled Black Forest.
That means this chocolate breakfast is yours for the taking. Whenever the mood takes you.
My wheeze is that I've replaced regular chocolate with cocoa powder and cocoa nibs. This gives an intense chocolate taste without the need to add too much sugar since both cocoa powder and nibs are virtually sugar free.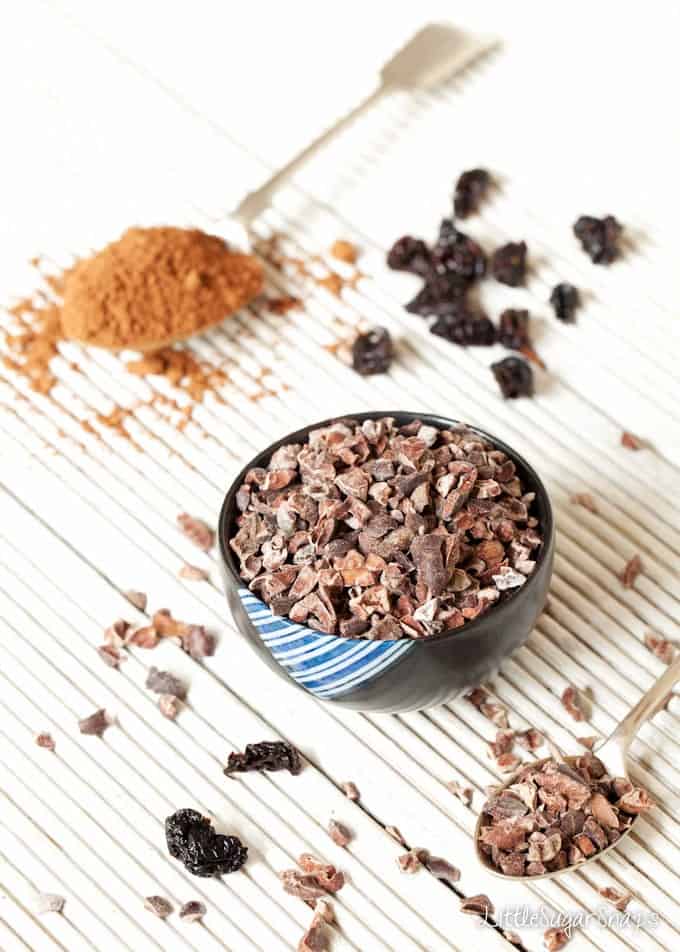 To sweeten the granola I've added a little agave nectar and plenty of naturally sweet & intensely flavoured dried cherries. And that really is enough to balance those robust chocolate notes.
Chocolate chunks are encouraged to take an early morning hike. Go on…. shoo.
Whenever I make granola I like to try to incorporate a mix of extra goodies that bump up the health rating of each serving. This time, I've added some hazelnuts along with a few poppy seeds and, believe it or not, buckwheat groats.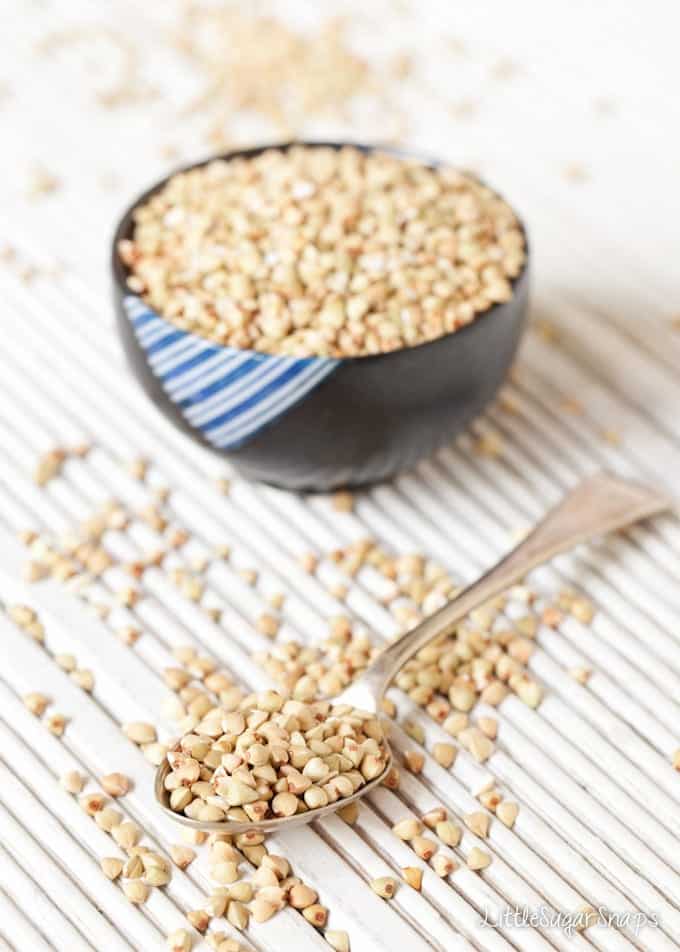 I've only just discovered that buckwheat groats do not need to be boiled before consumption. You can call me slow off the mark, I won't be offended. Anyway, once enlightened I re-evaluated my pouch of buckwheat. After staring at it intently for several minutes, then trying to crush a few pieces between my fingers, I tentatively took a nibble. I half expected to loose a tooth, but no, it was crunchy and perfectly edible. It was quite pleasantly crispy actually.
Excited by my discovery, I decided to give buckwheat a starring role in my Black Forest Granola. And because I know you're desperate to find out more about buckwheat, here are a few health benefits to consider:
Buckwheat contains many heart-healthy compounds including: rutin, magnesium, copper and fibre
Buckwheat is particularly rich in rutin which helps cut the risk of heart disease by preventing the formation of blood clots, decreasing inflammation and reducing blood pressure
It is also a good source of magnesium which improves blood flow and nutrient delivery while lowering blood pressure
Buckwheat is high in insoluble fibre which can help women avoid gallstones
But moving along swiftly, this healthier Black Forest Granola tastes like an indulgent breakfast treat. If it lasts until breakfast time (hands off), it goes great with plain yoghurt but I think this granola absolutely shines with a splash of full-fat milk.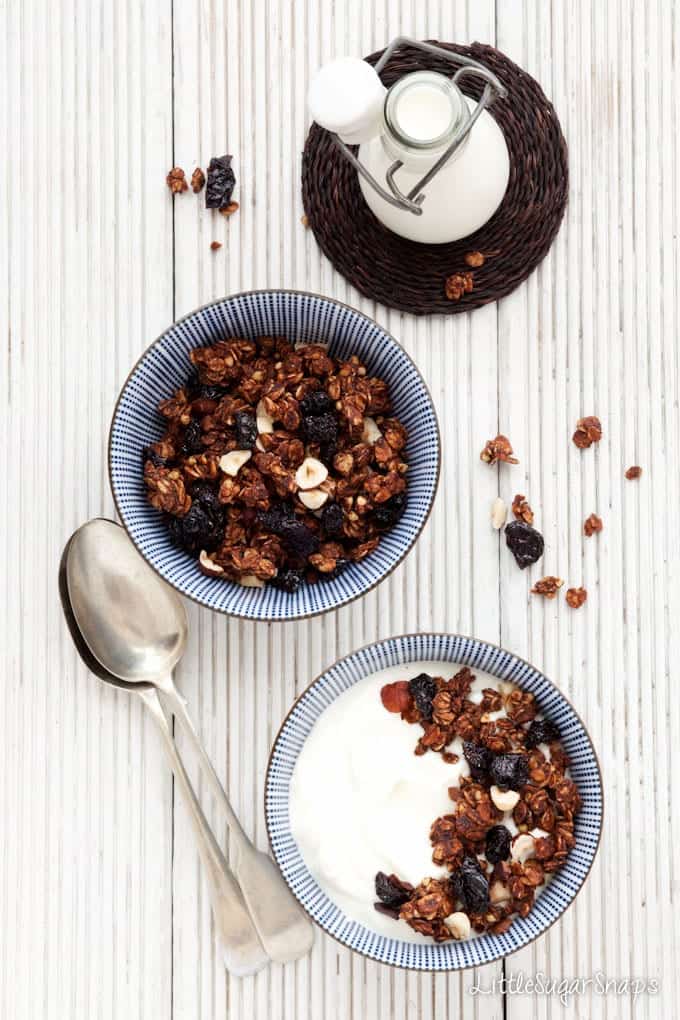 And you know what, although it's healthy, it would still make a wonderful gift. Just pile some into a pretty jar, attach a label and your Besties will love you forever more.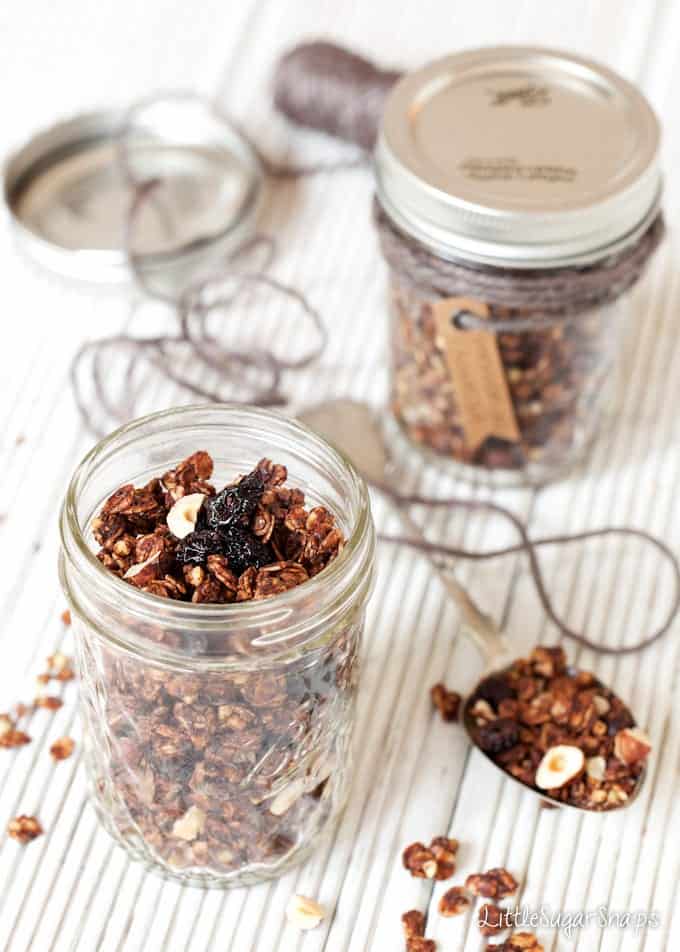 Want more granola? I have a whole family desperate to meet you:
[easy-image-collage id=3706]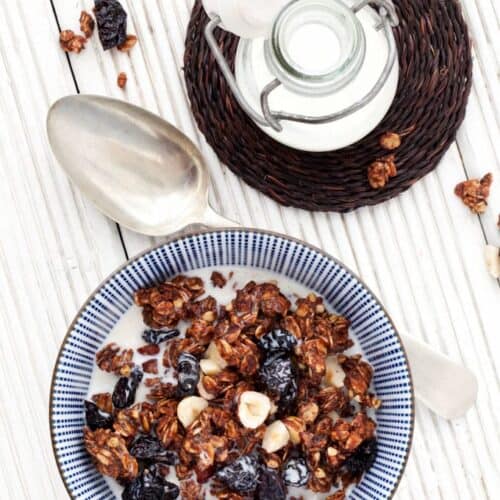 Healthier Black Forest Granola
This Black Forest Granola tastes so chocolately and indulgent that it's hard to believe it's actually healthy.
Print
Pin
Rate
Ingredients
3

tbsp

Coconut oil

3

tbsp

Agave nectar

180

g/ 2 cups

Jumbo rolled oats

3

tbsp

Buckwheat groats

2

tbsp

Cocoa powder

1

Egg white

1/2

tsp

Vanilla extract

1

tbsp

Poppy seeds

100

g/ 2/3 cup

Dried cherries

3

tbsp

Hazelnuts

2

tbsp

Cocoa nibs
Instructions
Preheat the oven to 170C/ 325F/ GM3 and line a baking sheet with baking parchment

Measure the coconut oil and agave nectar into a bowl and microwave until melted (alternatively put into a small saucepan and heat on the hob until melted). Stir in the vanilla extract

Meanwhile weigh the oats, buckwheat, cocoa powder and poppyseeds into a medium bowl. Stir

Once the oil and agave have melted, poor onto the oats and mix well

Whisk the egg white until very frothy and stir into the oat mixture

Spread the oats onto the baking parchment and cook for 30 minutes, turning the oats midway through to ensure an even bake

Meanwhile chop the hazelnuts roughly and cut the cherries in half

After 30 minutes, stir the cherries, nuts and cocoa nibs into the granola

Cook for 5 more minutes then remove from the oven and let cool completely on the baking sheet

Transfer to an airtight jar

Keeps for 1 month
(Visited 80 times, 1 visits today)