Spiced buckwheat porridge is easy to make and packed full of goodness. This naturally gluten-free breakfast is ready in 20 minutes but can also be cooked ahead of time and reheated.
This recipe was first published in February 2020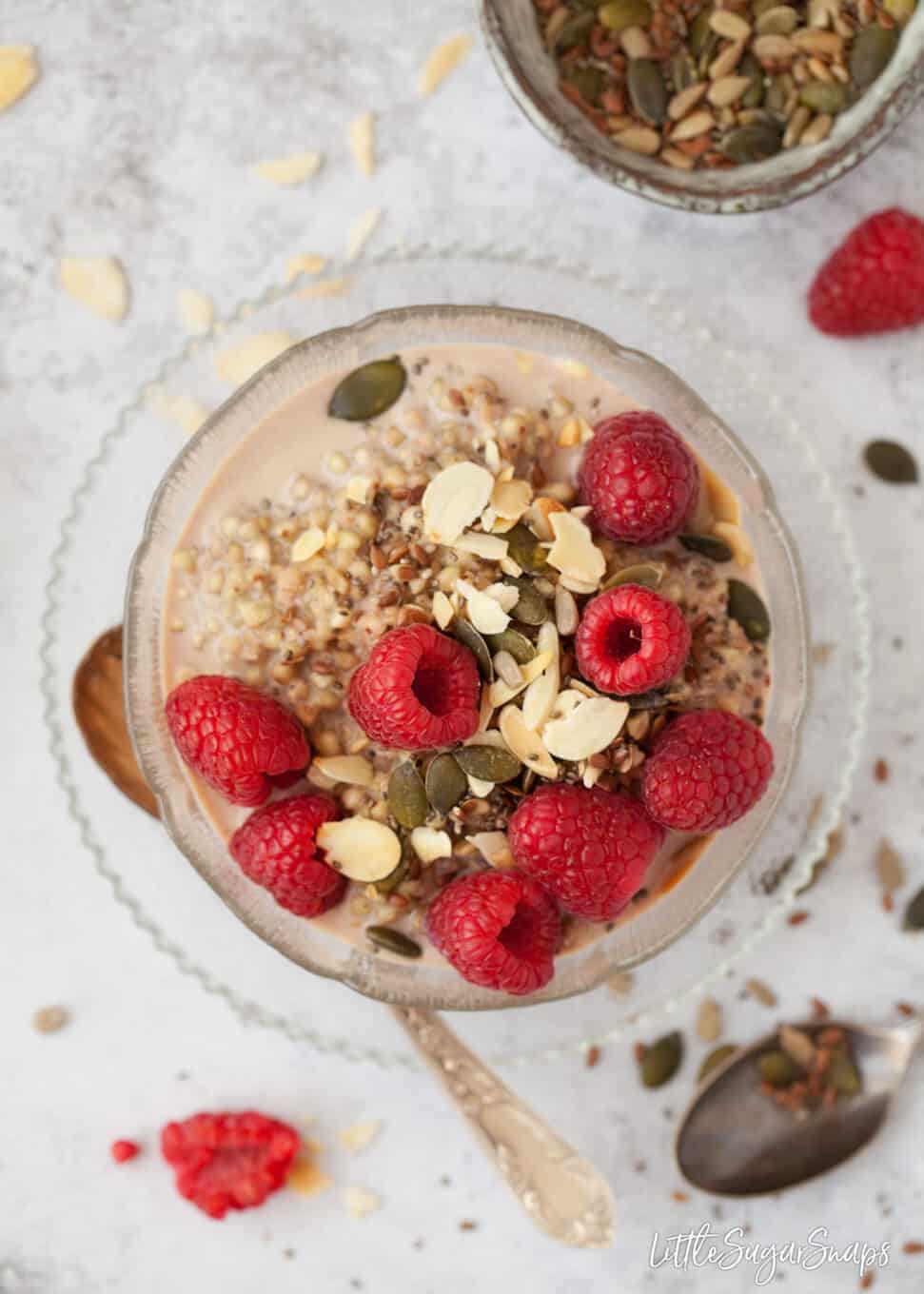 I have a love-hate relationship with traditional oat porridge. Though I always love the look of it, I just cannot get along with the texture. I find it far too gloopy for my liking.
But at last, I've found a solution to my breakfast woes with this spiced buckwheat porridge.
What Makes this recipe special?
I have a long list of positives about this buckwheat porridge:
this recipe takes just 20 minutes to prepare
and it's a wonderfully healthy breakfast option
it's naturally gluten-free
and it comes loaded with nutrients
But for me, the best feature of this gluten-free porridge is its texture.
Unlike oat-based porridge, this version is not sticky or gloopy. Instead, the buckwheat softens in the milk it is cooked in but retains a definite bite to it. Some would describe it as slightly chewy.
I've added a little chai spice to my recipe and sweetened it very slightly, but it can be made with just 2 ingredients (buckwheat and milk) and still be regarded as delicious.
Ingredients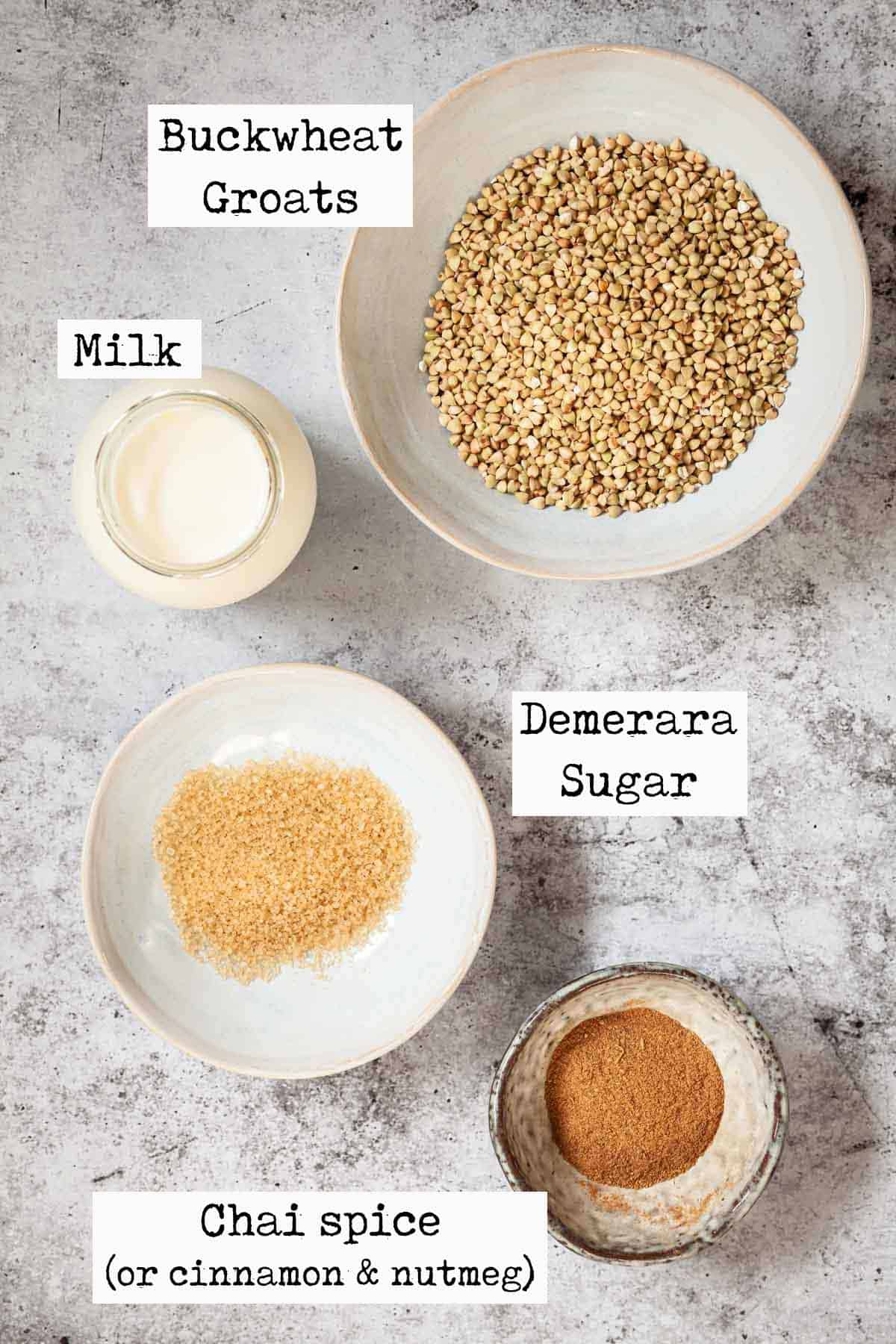 Despite its name, buckwheat is unrelated to wheat. It's actually a fruit seed, classed as a cereal grain, and it is gluten-free. So it makes a good choice of grain for people who are sensitive to wheat.
Home cooks can typically find buckwheat in the form of flour, flakes or groats. My gluten-free porridge is made using groats – essentially this is buckwheat in its whole form.
Buckwheat groats are usually stocked in the supermarket in the rice & grains section. Failing that, try the gluten-free aisle.
These nobbly looking groats have a distinct nutty flavour and lend themselves equally well to both sweet and savoury recipes.
Buckwheat is also highly nutritious:
It's a healthy source of protein, fibre and energy, especially when in its whole-grain form (the groats)
Whole-grain buckwheat is also loaded with vitamins and minerals.
Unsurprisingly, with these character traits, there are numerous health benefits accredited to eating this popular superfood.
All in all, buckwheat is a fantastic ingredient to consume regularly, so weaving some into a tasty and easy to make breakfast is really just sensible planning in my view.
Step By Step Instructions
It's incredibly easy to make this gluten-free buckwheat porridge:
Step 1: Put the groats into a saucepan with the spice and sugar
Step 2: Add the liquid (I recommend full-fat milk or a dairy-free milk replacement)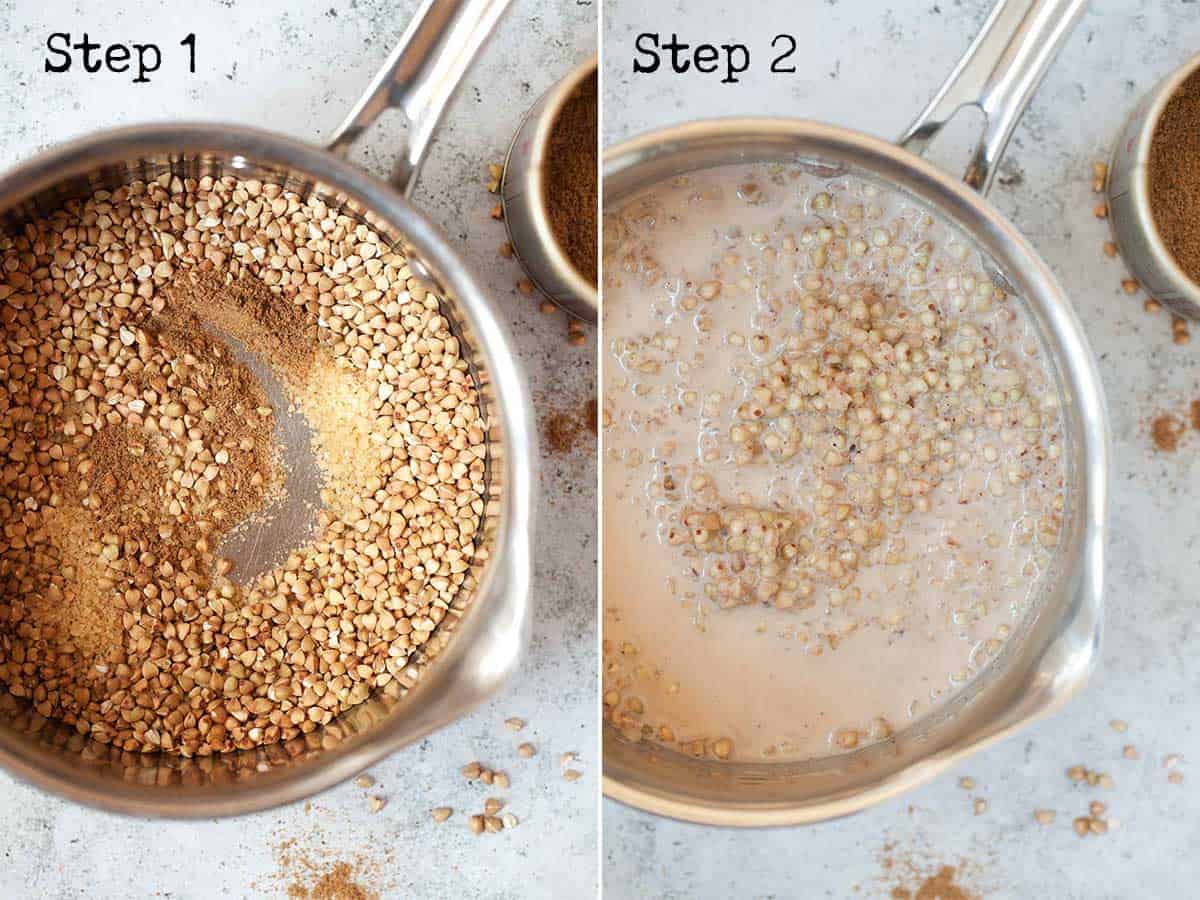 Step 3: Simmer for 10 minutes, stirring every few minutes, then turn off the heat, cover the pan with a lid and let stand for 10 minutes
And that's it. After the standing time the buckwheat porridge is ready to serve.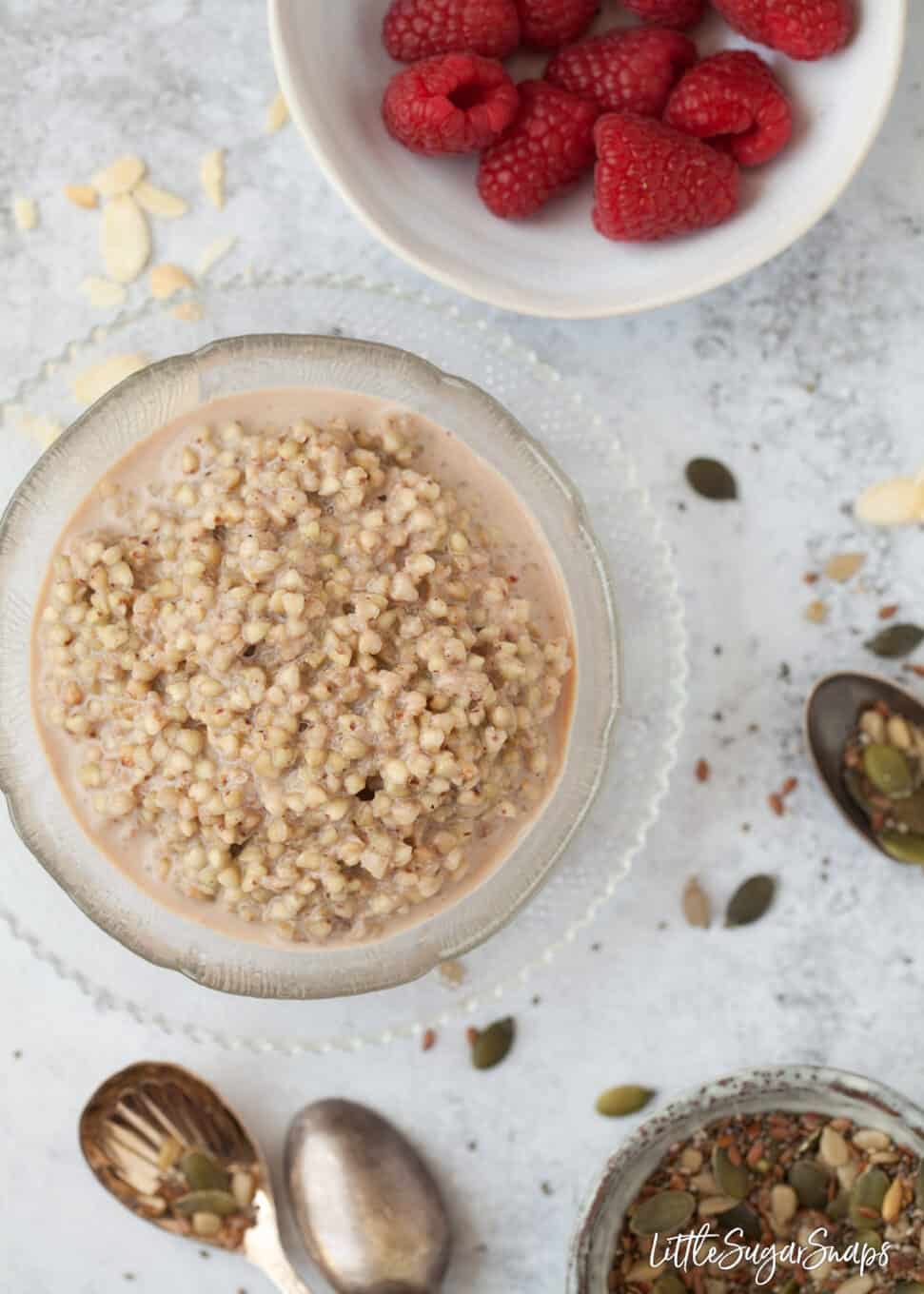 Cooking Tips and FAQs
Tips
Don't forget to stir the pan regularly, to avoid the groats sticking to the bottom of the saucepan. Treat it as you would a risotto
And rather like a risotto, I like my buckwheat porridge with a little bit of bite. If you prefer it very soft, cook for a few minutes longer (though I would avoid cooking beyond 20 minutes as the groats can turn mushy beyond this stage)
Once ready to serve, add a little more liquid if you prefer a looser consistency to your porridge
You can choose to omit the sugar at the cooking stage and just sweeten at the end if preferred. Once cooked, add a little at a time, tasting as you go, until it is sweet enough for you
Before adding extra sweetness to the base porridge recipe, think about your toppings. Remember that fruits contain natural sweetness, so you may not need as much sugar in the porridge as you might think
If you are intending to make a large batch to store and heat up as required, remember that the buckwheat will continue to absorb liquid as it sits in the fridge. This means that at the point of reheating, a splash of additional milk may be required to return it to the desired consistency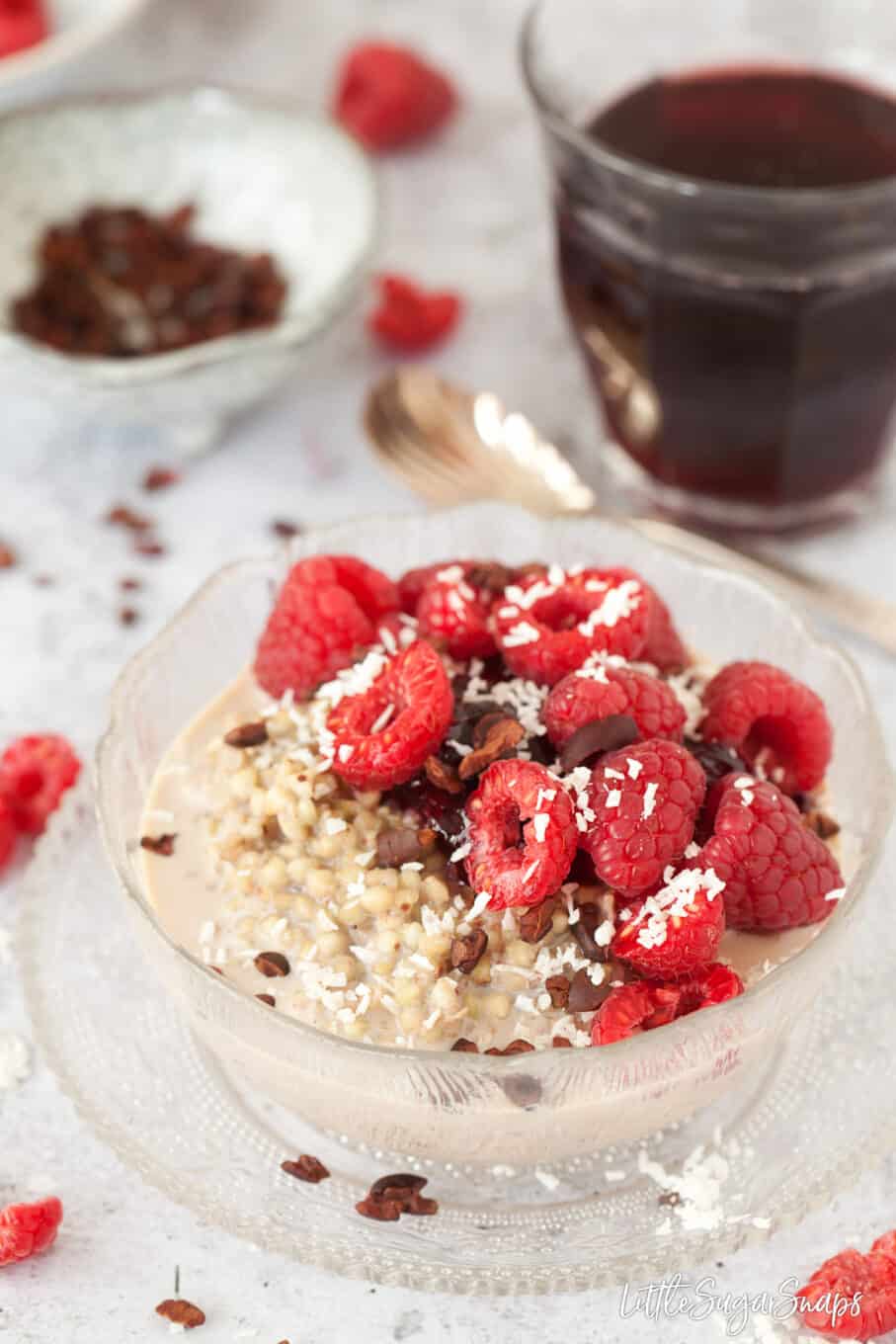 Frequently Asked Questions
Do I need to Toast the Groats?
Some people recommend toasting the groats before cooking, but this is an entirely optional step.
What Other Sweetener Can I Use?
I've used a tiny amount of demerara sugar to add just a hint of sweetness, this can be replaced with white sugar, light brown sugar, maple syrup, agave syrup or honey.

Or the sweetener can be left out altogether.
Can I use Water Instead of Milk?
If you are looking for an altogether lighter breakfast, the milk can be replaced with water. Just ensure that the ratio of groats to liquid remains the same ( 2 ½ cups liquid per cup groats or 625 ml liquid per 160g groats)

And of course, it is perfectly fine to use non-dairy milk if you are after a vegan buckwheat porridge.
Can I Make this in Advance?
Though I would always recommend cooking this recipe on demand to ensure optimum texture, it is possible to make this porridge ahead of time and reheat it as required. Store it in the fridge in a covered pot for up to 3 days. Reheat gently before serving, adding a splash more liquid to loosen as necessary.
How to Serve
This buckwheat porridge can be eaten just as it is, but I like to top mine with a variety of healthy goodies.
Try any of the following:
fresh berries
mixed seeds
flaked coconut
toasted cacao nibs
fruit compote
nuts
roasted plums
tropical fruit such as pineapple and mango
dried fruits
My favourite combinations are:
raspberries, mixed seeds & almonds
berry compote, raspberries, toasted cacao nibs and coconut
I find the natural sweetness imparted from the fruit toppings sufficient in this healthy yet creamy gluten-free porridge recipe, but an additional drizzle of honey or maple syrup could also be added if desired.
More Buckwheat Groat Recipes
If you are concerned you'll be buying another store cupboard ingredient for just one purpose, don't be.
They can be cooked in liquid to soften them or eaten just as they are. Topping a salad with a few raw groats in lieu of croutons adds some definite crunch. Or try adding them to muesli.
This grain is very versatile and can see you through from breakfast to supper time. Take a look at these buckwheat groat recipes for inspiration:
More Exciting Breakfast Ideas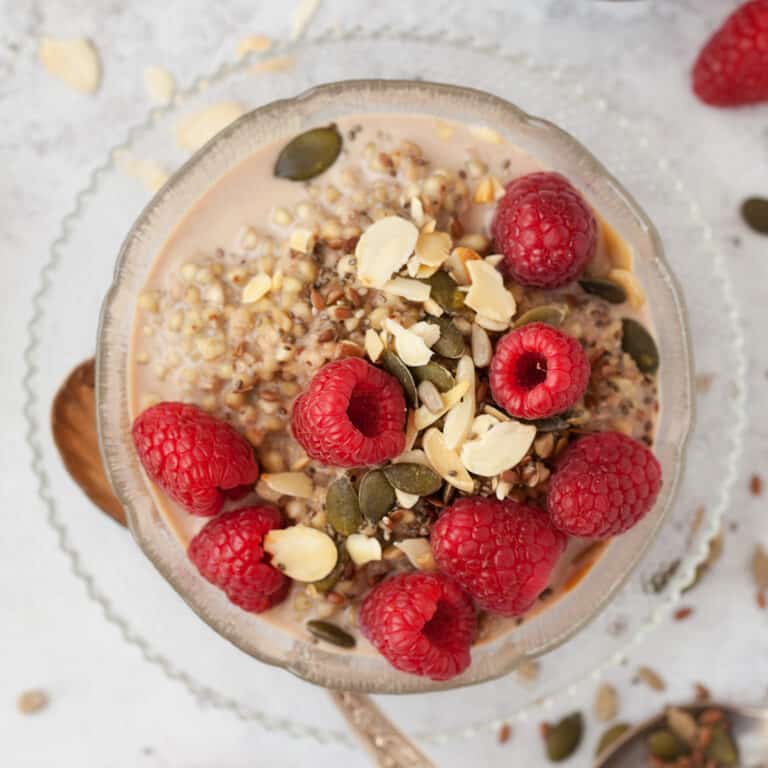 Spiced Buckwheat Porridge
Spiced buckwheat porridge is an easy to make breakfast packed full of goodness. This comforting dish is best served warm and topped with fresh fruit and perhaps some nuts or seeds. Made with simple store cupboard ingredients, this naturally gluten-free breakfast can also be made ahead of time.
Print
Pin
Rate
Ingredients
160

g/ 1 cup

Buckwheat groats

625

ml/ 2 ½ cups

Whole (full fat) milk

or dairy-free milk alternative

½

teaspoon

Chai spice

or ⅜ teaspoon cinnamon + ⅛ teaspoon nutmeg

2

teaspoon

Demerara sugar
Instructions
Put the groats into a saucepan with the spice and sugar and milk

Put onto a medium heat, bring to a gentle simmer and cook for 10 minutes, stirring every few minutes

Turn off the heat, cover the pan with a lid and let stand for 10 minutes before serving

Serve with toppings of your choice (see my suggestions in the body of this post))
Notes
Don't forget to stir the pan regularly, to avoid the groats sticking to the bottom of the saucepan. Treat it as you would a risotto
And rather like a risotto, I like my buckwheat porridge with a little bit of bite. If you prefer it very soft, cook for a few minutes longer (though I would avoid cooking beyond 20 minutes as the groats can turn mushy beyond this stage).
You can choose to omit the sugar at the cooking stage and just sweeten at the end if preferred. Once cooked, add a little at a time, tasting as you go, until it is sweet enough for you
Before adding extra sweetness to the base porridge recipe, think about your toppings. Remember that fruits contain natural sweetness, so you may not need as much sugar in the porridge as you might think
If you are intending to make a large batch to store and heat up as required, remember that the groats will continue to absorb liquid as it sits in the fridge. This means that at the point of reheating, a splash of additional milk may be required to return it to the desired consistency
Nutrition Per Serving (Approximate)
Calories:
483
kcal
|
Carbohydrates:
77
g
|
Protein:
20
g
|
Fat:
13
g
|
Saturated Fat:
6
g
|
Cholesterol:
31
mg
|
Sodium:
136
mg
|
Potassium:
781
mg
|
Fiber:
8
g
|
Sugar:
20
g
|
Vitamin A:
506
IU
|
Calcium:
368
mg
|
Iron:
2
mg
(Visited 694 times, 1 visits today)