Buttery, crunchy, elegant. The flavours in these Chai Tea Shortbread biscuits are gentle, lovely, warming spices combined with notes of black tea.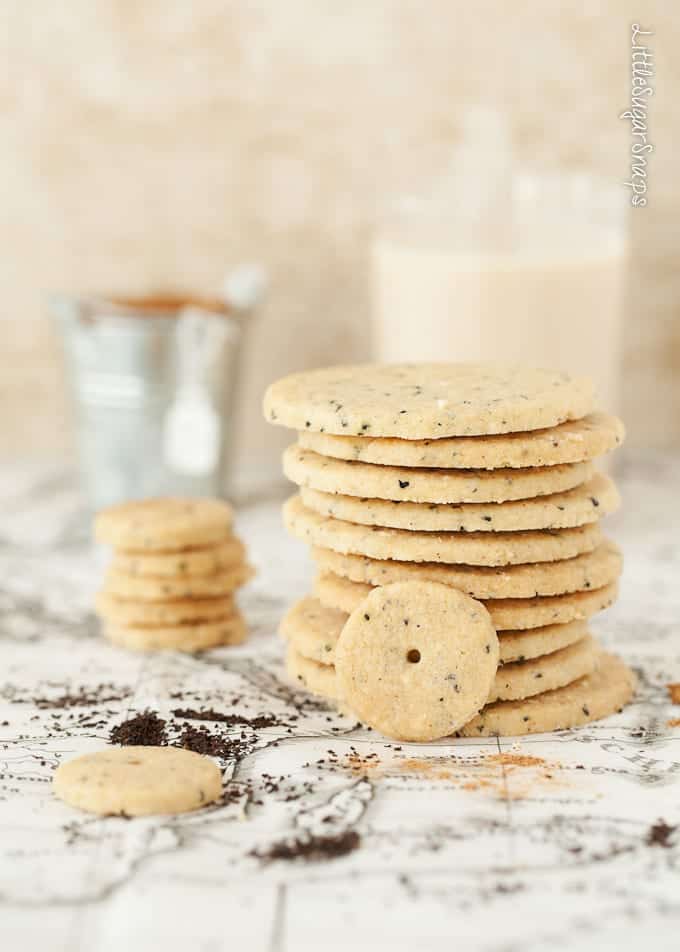 Buttery, crunchy and just right for an afternoon nibble. A few rounds of Chai Tea Shortbread are perfect for when you want to sneak off and lull yourself into a state of lazy cosiness helped along by a good book, a cup of tea and a sophisticated biscuit. The flavours are gentle, lovely, warming spices combined with notes of black tea.
However, there is a dark side to these shortbreads that you cannot guess from their innocent looks. Are you ready for some fun?
Try saying 'Chai Tea Shortbread' out loud, three times over and quickly. Maybe it's just us, but in our house we've called these biscuits:
• Shy Tea Shortbread
• Tai Chi Shortbread
• She Shy Shortbread
• Chai Chi Shortbread
Of course, these verbal slips happen just when you're least expecting them. And always when you're going to be most embarrassed. Instead of impressing your guest as you proudly offer them a Chai Tea Shortbread, out pops the silly phrase, leaving you feeling slightly daft and your guest choking on the crumbs as they try to hold back that giggle. Take my advice – get someone else to pass the plate around and spare your own blushes.
I can forgive these biscuits their evil, tongue-twisting, dark side though, since they more than make up for themselves in taste and texture. I love to snuggle up with a Chai Tea Latte on a cold day, so putting these flavours into a biscuit was always going to work for me. My spice mix includes cinnamon, ginger, nutmeg and allspice.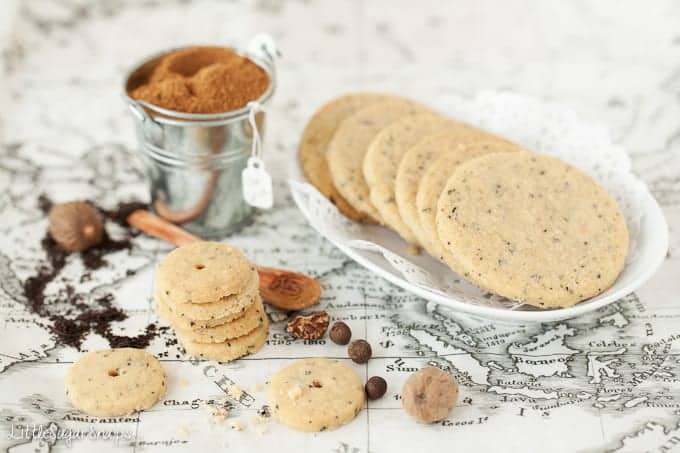 My Chai Tea shortbread is rich in butter yet once baked they are crisp and light. To achieve this texture, I've used '00' flour, which is more finely ground than plain (all purpose) flour. In fact, it feels rather like talcum powder. If you don't have '00' you could use plain flour instead.
I've made a mini version of these shortbreads too, which look ultra cute when served in a little pile alongside a glass of Chai Tea Latte. My girls actually ignored the large shortbreads and just wanted the fun-size ones. Talk about conning them – they thought that I must have gone slightly loopy as I never usually let them have 3 biscuits in one go.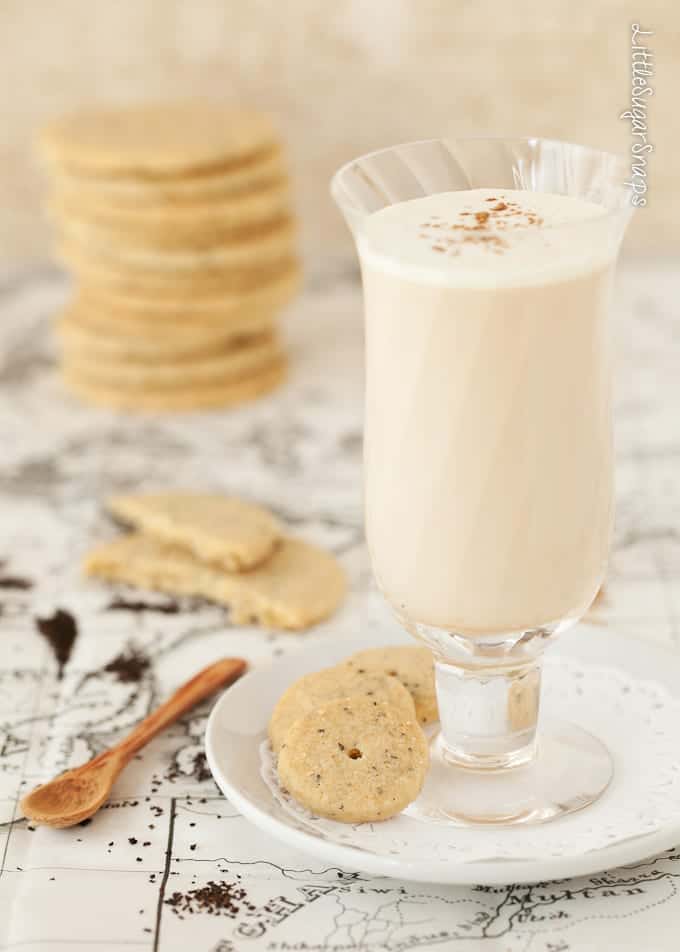 Leaving aside the Chai Tea Shortbread for a moment, I have some very exciting news to share with you today. Please bear with me a moment, while I toot my own horn and reveal that tonight is the final of the Pink Lady Food Photographer of the Year competition and that one of my images is in that final. I'll admit that I'm a little excited.
The Pink Lady Food Photographer of the Year competition is something that is very close to my heart. On a whim, I took part in the very first one in 2012. When I was told that one of my images had made it to the final, I was totally shocked. It was this experience, though, that made me realise how much I love to photograph food and gave me the confidence to act on that knowledge. Without the competition, I doubt that I would be writing this blog today.
Regardless of who wins overall, I'm just delighted to be part of this competition again. I'm also looking forward to seeing my image displayed in The Mall Galleries, London, at the awards reception later on today.
I do love the awards reception though… champagne… canapés… but also over 100 finalist's images on display. That's my kind of eye candy. It goes without saying that each year there are some outstanding images to see.
Update (September 2016): Head over to Pink Lady Food Photographer of the Year to see the winning entries from this year's competition. However, perhaps before you settle down into a cosy corner to savour those images, you should make some Chai Tea Shortbread to nibble on and write the afternoon off.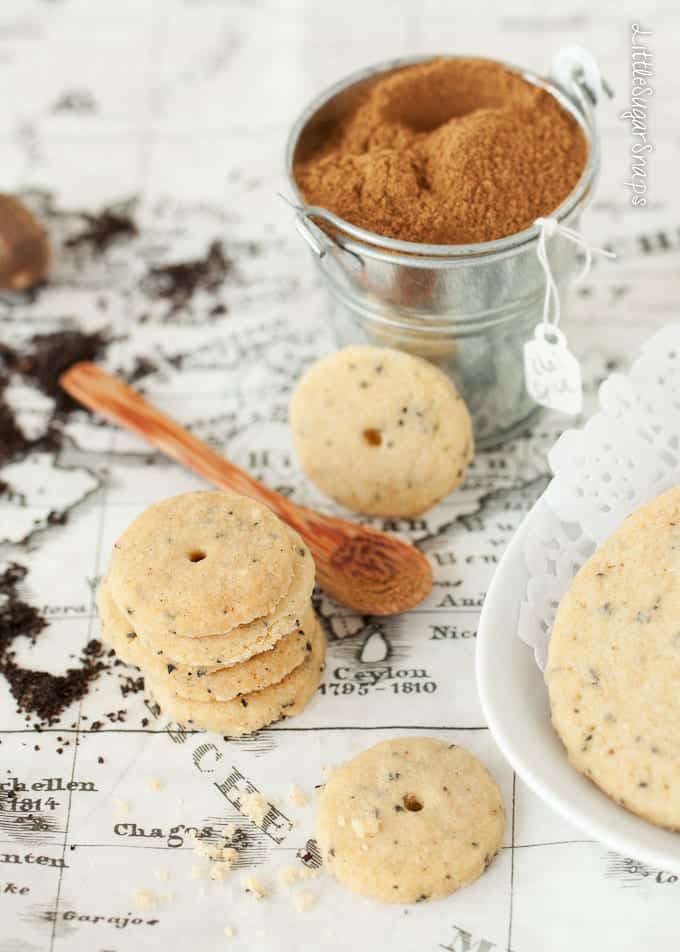 If you've enjoyed this post, please share it – you would make me very happy. You can also follow along to get notified of my future blog posts by email.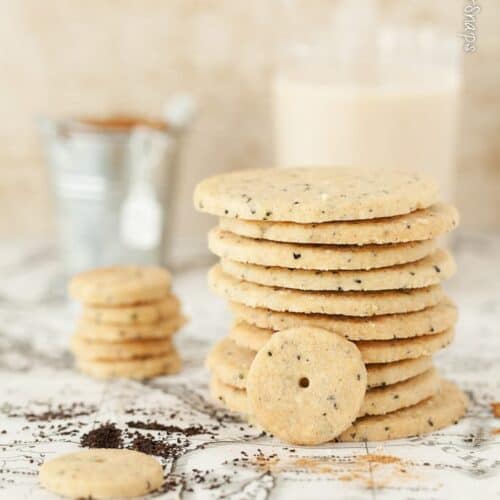 Chai Tea Shortbread
Buttery, crunchy, elegant. The flavours in these Chai Tea Shortbread biscuits are gentle, lovely, warming spices combined with notes of black tea.
Print
Pin
Rate
Ingredients
For the Chai Spice Mix:
2

tsp

Ground cinnamon

1

tsp

Ground ginger

1/2

tsp

Ground nutmeg

1/2

tsp

Ground allspice
For the Shortbread:
40

g/ 1/3 cup

rice flour

100

g/ 3/4 cup

'00' flour (or plain/ all purpose flour)

120

g/ 1/2 cup

unsalted butter - room temperature

20

g/ 1/8 cup

Icing (confectioner's) sugar

20

g/ 1/8 cup

vanilla caster sugar

1

tsp

black loose leaf tea (such as English Breakfast or Assam)

1/2

tsp

Chai Spice Mix
Instructions
Mix the ingredients for the spice mix together in a small bowl. The spice mix can be stored in an airtight jar for up to 3 months

In a medium sized bowl mix together the flours, sugars, tea and spice. Cube the butter then add to the bowl. Using your fingertips, gently rub the butter into the dry ingredients until it resembles breadcrumbs. Once you reach this stage, keep on rubbing until the mixture begins to stick together, then form a ball with the dough and gently knead to produce a smooth biscuit dough

Lightly flour a work surface and roll the dough out to approximately 5mm (1/4 inch) thick. Using a 6cm cutter, press out the biscuits. You can make the mini shortbreads from the off cuts if you have a smaller cutter (mine was 2cm). Reform any leftover dough into a ball and re-roll to cut out additional biscuits. You should end up with around 14-16 large biscuits by this stage. I don't recommend rolling out the leftovers a third time as the dough can get overworked and result in tough biscuits

Place the biscuits onto a non-stick baking sheet and chill in the fridge for several hours (or overnight) to firm up

Bake in a preheated oven (160°C/ 320°F/ GM 3) for 18-23 minutes. They are ready when they are just beginning to turn golden. Allow to rest on the baking sheet for 2 minutes, then transfer the shortbreads to a wire rack to cool completely

Once cool, store in an airtight tin for up to 5 days
Notes
Ensure you use loose leaf tea for this recipe. From experience, I can tell you that using the contents of a teabag does not give the best results, since this tea is more powdery than loose leaf and results in a drier, powdery biscuit.
(Visited 111 times, 1 visits today)