Chai shortbread cookies are gently flavoured with warming spices and subtle notes of black tea. Buttery & crunchy, these elegant chai spiced cookies are easy to prepare and great with a cup of tea, especially on a cooler day.
This post was first published in May 2015 and updated in April 2020.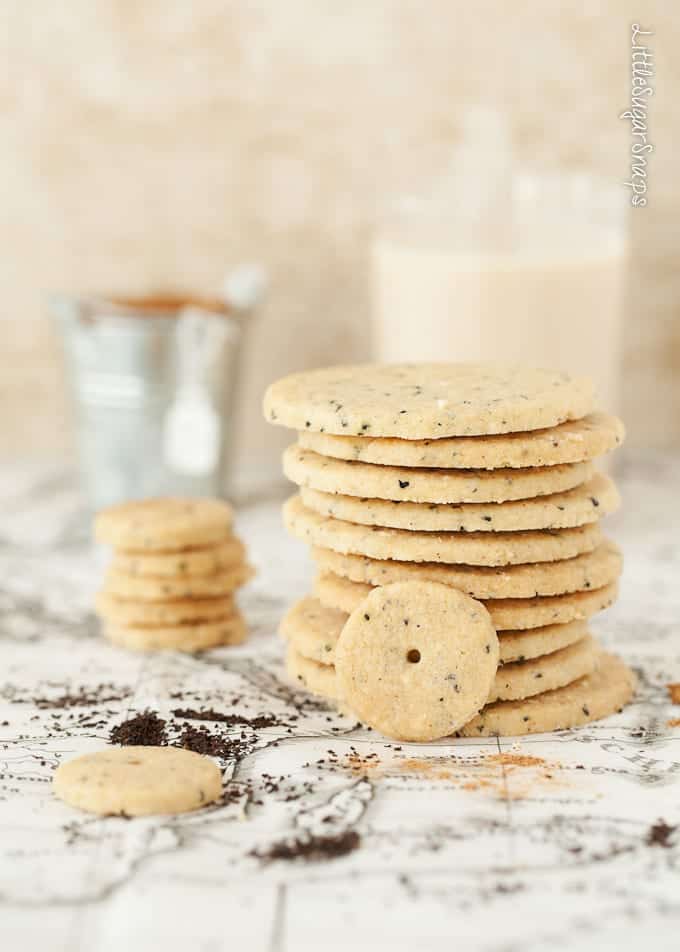 This post contains affiliate links. As an Amazon Associate, I earn from qualifying purchases.
Buttery, crunchy and just right for an afternoon nibble. A few chai shortbread cookies are perfect for when you want to sneak off and lull yourself into a state of lazy cosiness helped along by a good book, a warm drink and a sophisticated biscuit.
My drink of choice to snuggle up with on a bitterly cold day is a masala chai. So putting these flavours into a biscuit was always going to work for me.
Gentle & soothing spice flavours combined with notes of black tea make a great enhancement to a classic shortbread recipe.
If you need something slightly more bold and jazzy to serve alongside these lovely cookies then take a look at my Empire biscuits.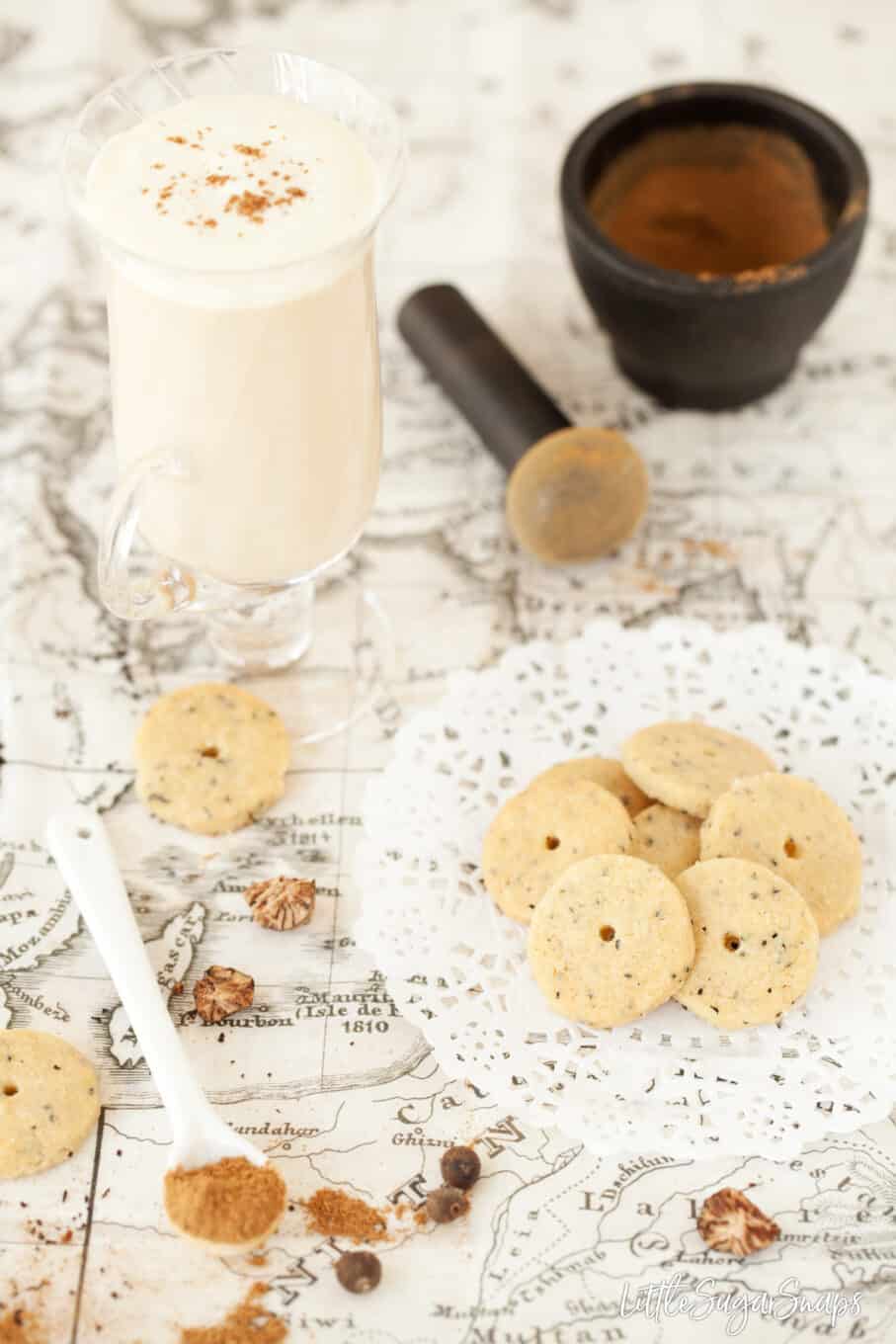 What is Masala Chai?
Chai is the Indian word for tea. Regular tea.
The definition of masala translates as a blend of ground spices used for cooking in Indian food.
So it follows that Masala chai is Indian for spiced tea. This is the sweet & milky version of tea that has been infused with the warming notes of umpteen aromatic & soothing spices. It is consumed daily by most households across India. Lucky them.
It is this spiced tea on which these chai shortbread cookies are based.
Confession: for years I mis-labelled these biscuits as chai tea shortbread. Essentially I called them tea tea shortbread. Oh my, how embarrassing. But I know I'm not alone in my shameful blunder. Time and time again I see chai tea latte or chai tea listed on coffee shop menus. Oops?
What Tea Should I Use?
These chai spiced cookies were developed with black tea in mind. Exactly what black tea might depend on what you have to hand but here are my top choices:
Whatever variety of black tea you opt for do ensure that you use loose leaf tea for this recipe. Please do not use the contents of a teabag.
Teabags typically contain a relatively powdery tea compared to loose leaf. When incorporated into this recipe for chai spiced cookies, this powdery tea will result in a drier and more gritty biscuit. Do yourself a favour and avoid this outcome by picking up some loose leaf tea for this recipe instead.
Ingredients Notes
The other key ingredient in these chai cookies is the spice mix. I've created my own chai spice blend using:
Cinnamon
Ginger
Nutmeg
Allspice
Feel free to use your own blend if you have a favourite or use store-bought..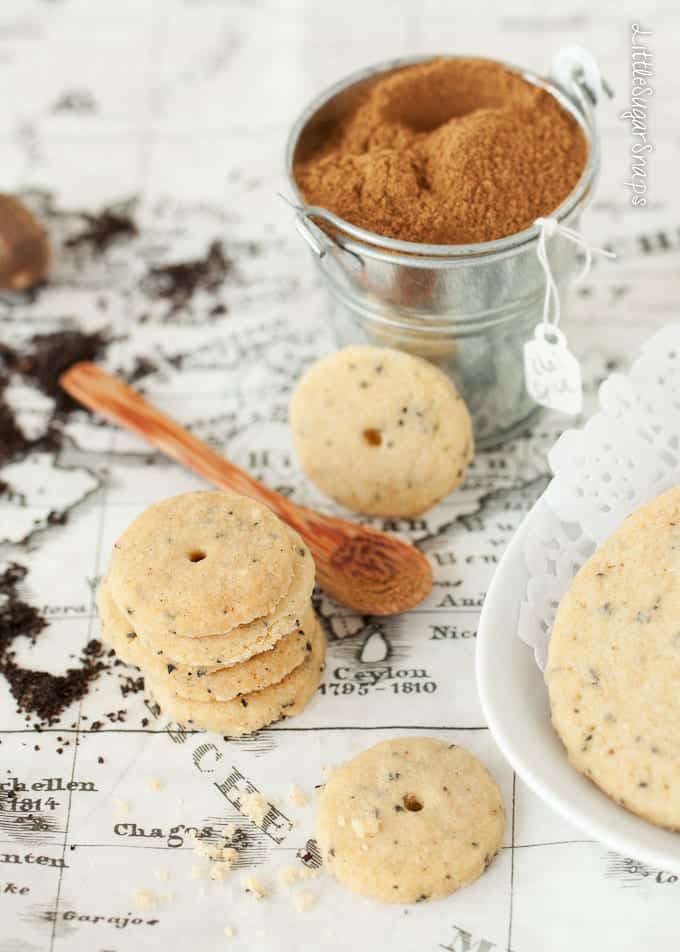 Aside from the black tea and the spice blend, these chai spiced cookies contain more commonplace baking ingredients:
Rice flour
'00' flour (or plain/ all-purpose flour)
Butter
Icing (confectioner's) sugar
Vanilla caster sugar
My chai shortbread cookies are rich in butter yet once baked they are crisp and light. To achieve this texture, I've used '00' flour, which is more finely ground than plain (all-purpose) flour. In fact, it feels rather like talcum powder. If you don't have '00' you could use plain flour instead.
Instructions and Tips
Making shortbread is an easy process, requiring very little in the way of equipment – just a bowl, a rolling pin and cutters suffice.
Mix the ingredients for the spice mix together. Decant into an airtight jar (it keeps well for up to 3 months)
Measure out the flours, sugars, tea and spice & mix together in a medium-sized bowl
Cube the butter then add to the bowl. Using your fingertips, gently rub the butter into the dry ingredients until it resembles breadcrumbs
Once you reach this stage, keep on rubbing until the mixture begins to stick together, then form a ball with the dough and gently knead to produce a smooth biscuit dough
Lightly flour a work surface and roll the dough out to approximately 5mm (¼ inch) thick
Using a 6cm cutter, press out the biscuits. You can make the mini shortbreads from the offcuts if you have a smaller cutter (mine was 2cm)
Reform any leftover dough into a ball and re-roll to cut out additional biscuits
You should end up with around 14-16 large biscuits by this stage. I don't recommend rolling out the leftovers a third time as the dough can get overworked and result in tough biscuits
Place the biscuits onto a non-stick baking sheet and chill in the fridge for several hours (or overnight) to firm up
Bake in a preheated oven (160°C/ 320°F/ GM 3) for 18-23 minutes. They are ready when they are just beginning to turn golden
Allow to rest on the baking sheet for 2 minutes, then transfer the shortbreads to a wire rack to cool completely
My top tip for making any shortbread is to take care not to knead the dough too much – overworking the dough will result in tough biscuits, so knead until just smooth and no more.
Similarly, don't be tempted to roll the dough out more than twice. Tough cookies will most likely result if you do.
For these chai cookies, remember to use loose leaf tea rather than the powdery tea found in teabags.
And finally, don't skimp on the chilling time – this step helps the cookies retain their lovely shape.
Storing Chai Spiced Cookies
These chai cookies keep well for 3-4 days if stored in a suitable airtight container.
To be honest I always find that when stored in tins my cookies lose their crispness very quickly. For this reason, I suggest wrapping them in foil and then storing these cookies in a fully airtight container.
These chai spiced cookies are deliciously aromatic, so it's also worth remembering to store them separately from other bakes to avoid contaminating flavours.
What Can I serve these Biscuits with?
It's obvious that these chai shortbread cookies would sit very nicely alongside either traditional black tea, a chai latte or an ice-cold glass of milk.
But if you are hankering after something a little different, give my chai spiced hot white chocolate, spiced steamed milk or my rum-laced masala chai a spin.
I've made a mini version of these shortbreads too, which look ultra cute when served in a little pile alongside a glass of Chai Tea Latte. My girls actually ignored the large shortbreads and just wanted the fun-size ones. Talk about conning them.
Find More Chai Spiced Treats
(Visited 692 times, 1 visits today)