This Pumpkin Pecan and Coconut Cake is perfect for autumn. It has seasonal spice, sweet pumpkin, chewy coconut & an amazing cinnamon and maple icing. This is one delectable pumpkin cake.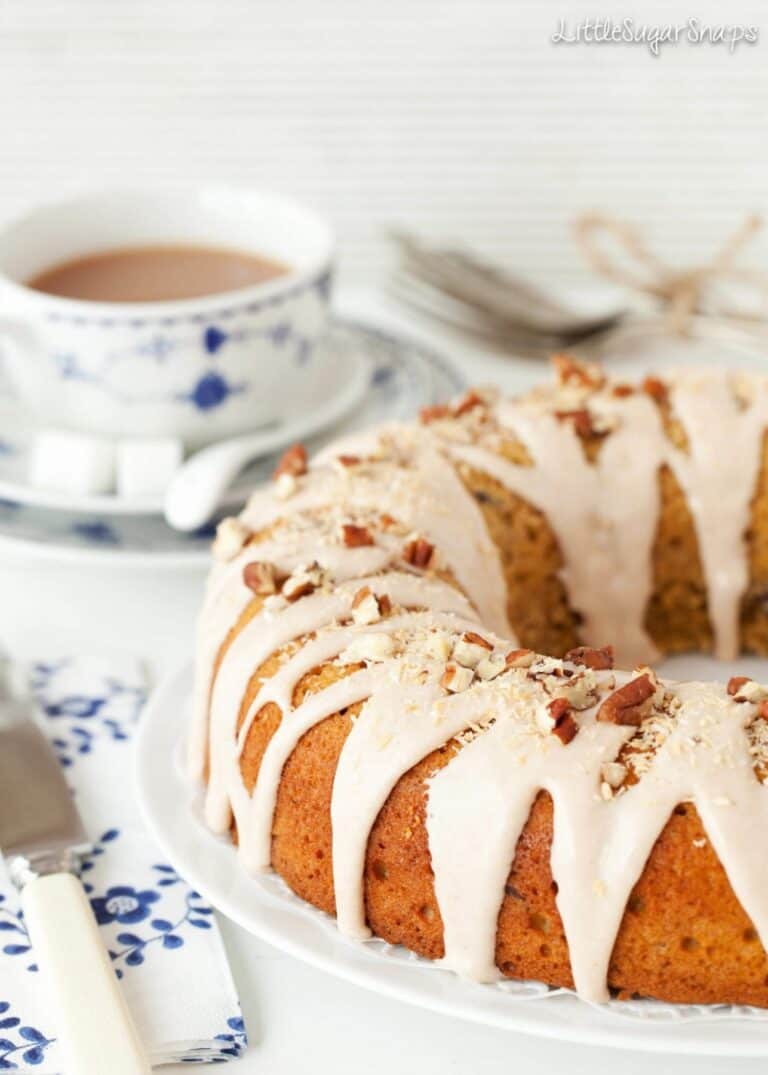 Mmmm, it seems I have a problem whenever I bake with pumpkin. Whatever it is, it always ends up large (remember the whoopie pies)?). Every time. Why? But with bakes like this Pumpkin Pecan and Coconut Cake I can't say I honestly care that it's so big. Sometimes it's best not to question and just enjoy.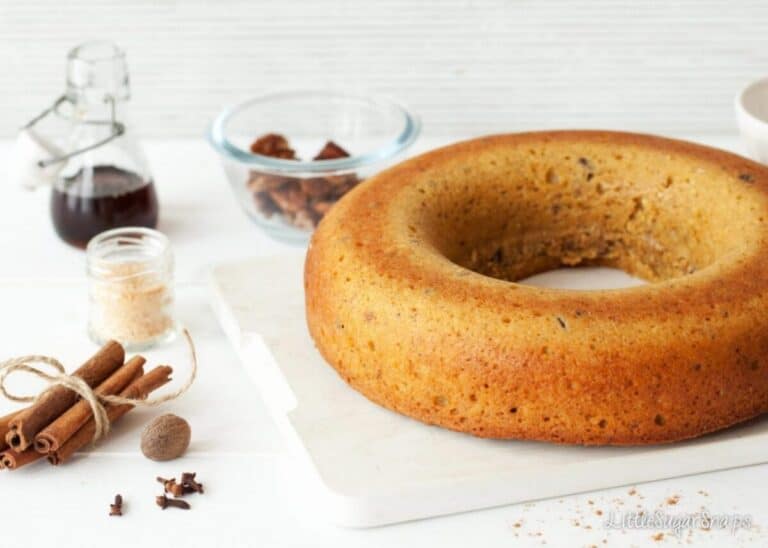 Ingredients for this Pumpkin Cake
When you consider all that goes into this cake, it's easy to see why it fits the bill perfectly for late autumn. There's
an inviting aroma of seasonal spices wafting around
sweet pumpkin
luscious soured cream
texture from the pecans and coconut
And… here's the clincher. It has an amazing cinnamon and maple syrup icing dribbled all over it (oh, yes). This Pumpkin Cake is one delectable bake.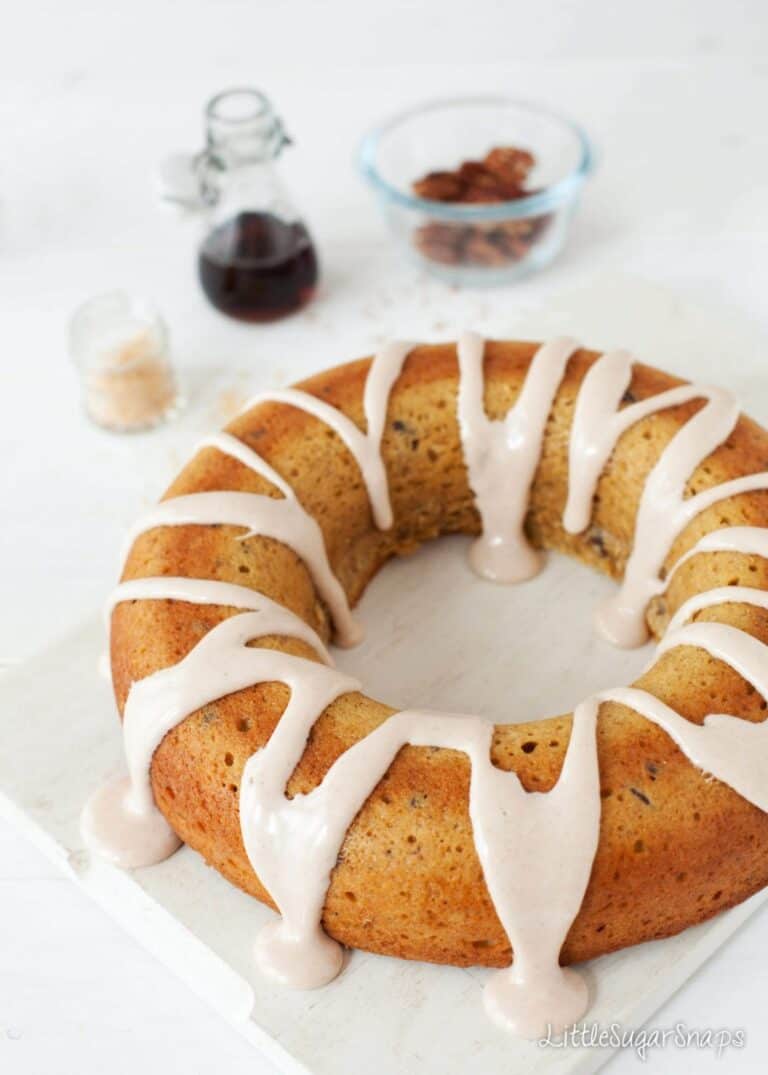 I'll admit, I did spend a lot of last weekend eating wedges of this cake. To be fair, it was a soggy weekend around me, so all I really wanted to do was stay cosy at home and um… eat comforting, autumnal things. I did go out get dragged out for a lovely walk when the rain eventually cleared and – bonus – the sun came out and we all got muddy. Time for home and er… more cake?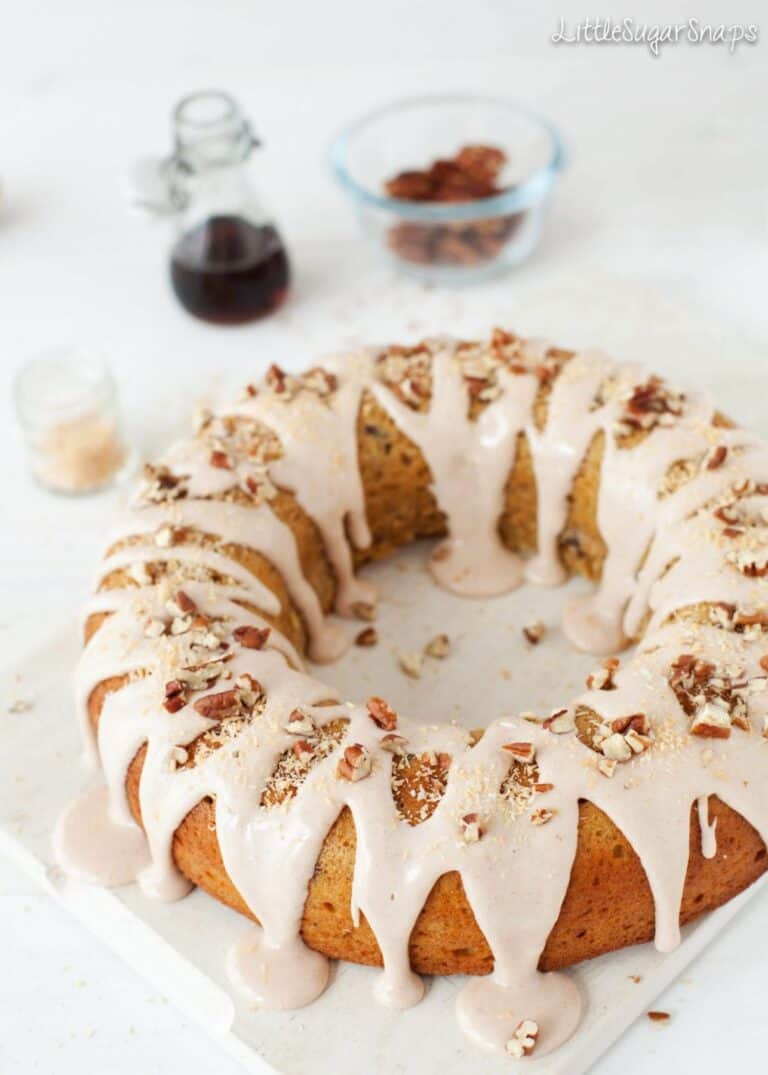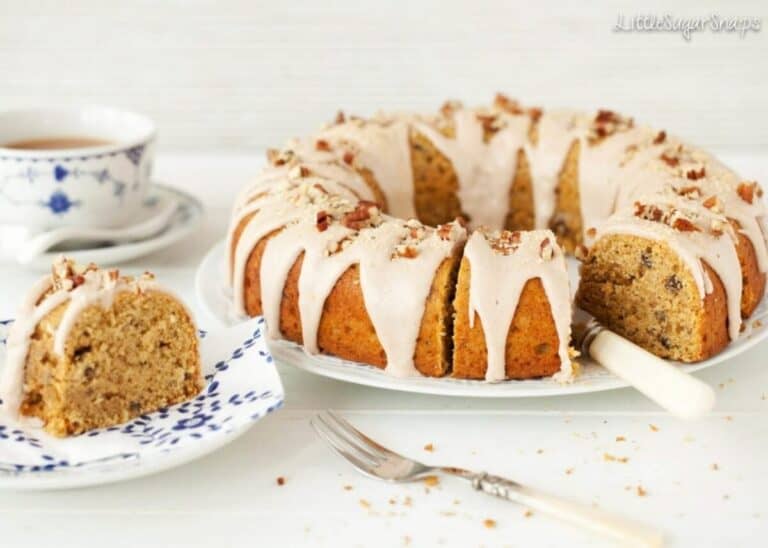 Having munched my way through a fair few chunks, I feel qualified to tell you the best way to enjoy this Pumpkin, Pecan and Coconut Ring Cake: serve it in fat slices along with a mug of spiced hot chocolate, whilst wearing big cosy slippers & snuggling beneath a fleecy blanket on the sofa. Perfect.Can't get enough pumpkin spice? Check out my pumpkin spiced granola. It's not particularly healthy, but it is totally scrummy.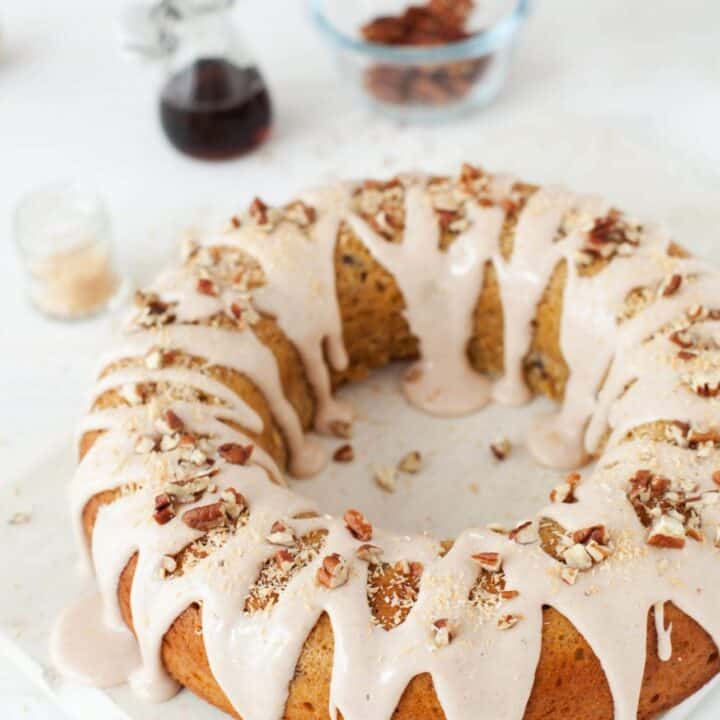 Pumpkin, Pecan & Coconut Cake
This Pumpkin Pecan and Coconut Ring Cake is perfect for autumn. It has seasonal spice, sweet pumpkin, chewy coconut & an amazing cinnamon and maple icing. It is one delectable cake.
Print
Pin
Rate
Ingredients
For the Sponge Cake
275

g/2 1/4 cups

Soft light brown sugar

150

g/ cup 2/3

Butter (softened)

3

Eggs – large, free range

125

ml

Soured cream

125

ml

Pumpkin puree* (see notes)

275

g/ 2 1/4 cups

Plain (all purpose) flour

1 1/2

tsp

Baking soda

1/4

tsp

Salt

1 1/2

tsp

Ground cinnamon

1

tsp

Ground ginger

1/4

tsp

Ground allspice

1/4

tsp

Ground mace

1/4

tsp

Ground nutmeg

1/4

tsp

1/4 tsp ground cloves

40

g/ 1/2 cup

Dessicated coconut

40

g/ 1/3 cup

Pecan nuts (chopped)
For the Maple Frosting
250

g/ 2 cups

Icing sugar (sifted)

1/2

tsp

Ground cinnamon

2

tsp

Maple syrup

4

tsp

tsp water

1

tbsp

Dessicated coconut

2

tbsp

Pecan nuts (chopped)
Instructions
Preheat the oven 170ºC/325ºF/ GM3 and grease the baking tin

Sift the flour, spices, salt and baking soda into a bowl

Combine the butter and sugar together in a large bowl with electric beaters for 3-4 minutes until fluffy and the colour begins to lighten

Add the eggs, one at a time, beating well between addition. Beat in the soured cream followed by the pumpkin puree

Using a metal spoon, fold half of the flour mixture into the wet mix, then fold in the remaining flour. Finally, fold through the dessicated coconut and the nuts until evenly distributed

Carefully spoon the batter into the prepared tin and bake for 30-40 minutes until lightly browned and a skewer comes out clean. (If, after 30 minutes, you are worried about the cake top burning, lay foil across the top)

Once cooked, allow to rest for 2 minutes, then turn out of the tin and leave to cool on a wire rack

Whilst cooling toast the dessicated coconut in a moderate oven (170ºC/325ºF/ GM3) for 2-3 minutes, keeping a close eye on it as it burns easily. Allow to cool

When the cake is cold, combine the icing sugar, ground cinnamon and maple syrup with enough of the water to obtain a smooth icing with a fairly thick pouring consistency – runny enough to trickle down the side of the cake, but not thin enough to soak in (think thick custard)

Drizzle the icing over the cake in a zig-zig pattern. Repeat the zig-zigs, but in the opposite direction

Finally, sprinkle the coconut and pecan nuts over the top
Notes
*Either canned or homemade pumpkin puree works well.
To make the pumpkin puree cut the pumpkin into wedges and remove the seeds. Wrap the wedges in baking parchment and roast at 180ºC/ 350ºF/ GM 4 for 30 minutes. Allow to cool, then scoop the soft flesh from the skin and blitz in a blender until smooth.
I used a baking tin with an outer circumference of approx 80cm/ 31″ (diameter 27cm/ 10″). If your tin is smaller than this, then the extra batter can be used to make sweet little cupcakes
(Visited 190 times, 1 visits today)