This Pumpkin Spice Bundt Cake is perfect for autumn. It has seasonal spice, sweet pumpkin, chewy coconut & an amazing cinnamon and maple icing. Though easy to make, this is one delectable pumpkin cake.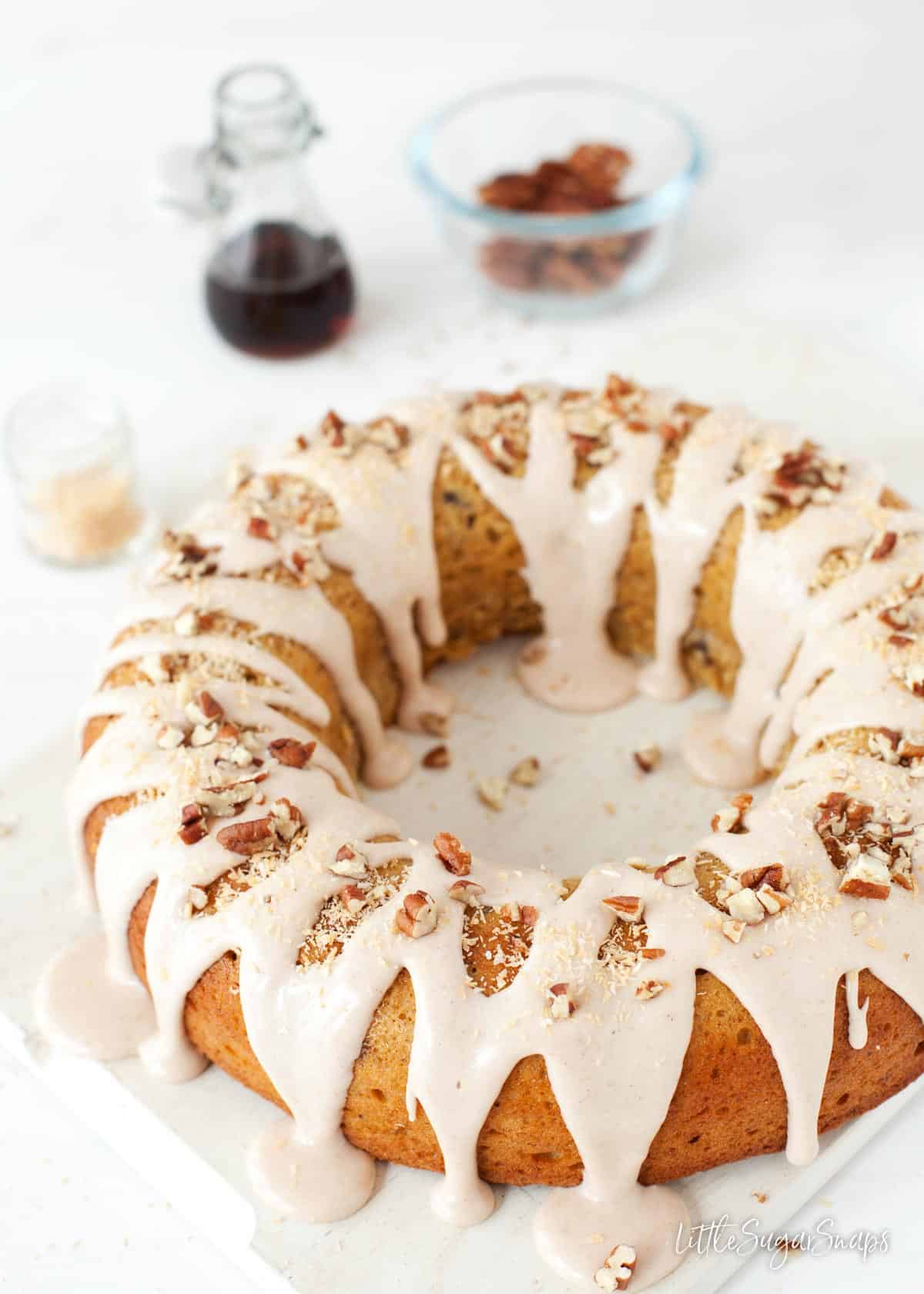 This post contains affiliate links. As an Amazon Associate, I earn from qualifying purchases.
There's no doubt that autumn is my favourite time of year for baking. Those cooler, crisper mornings bring out the desire in me to hunker down and create something nourishing for the soul.
And by nourishing for the soul I do, of course, mean a sweet treat.
This pumpkin spice bundt cake is a fine example of the kind of bake that satisfies my baking craving in the autumn. It is easy to make, needs no fancy decorating skills and it is laden with hidden goodies, including pumpkin.
But don't let the understated appearance fool you. This is one tasty pumpkin cake. Serve with a steaming hot cup of coffee or tea after a bracing walk for maximum enjoyment.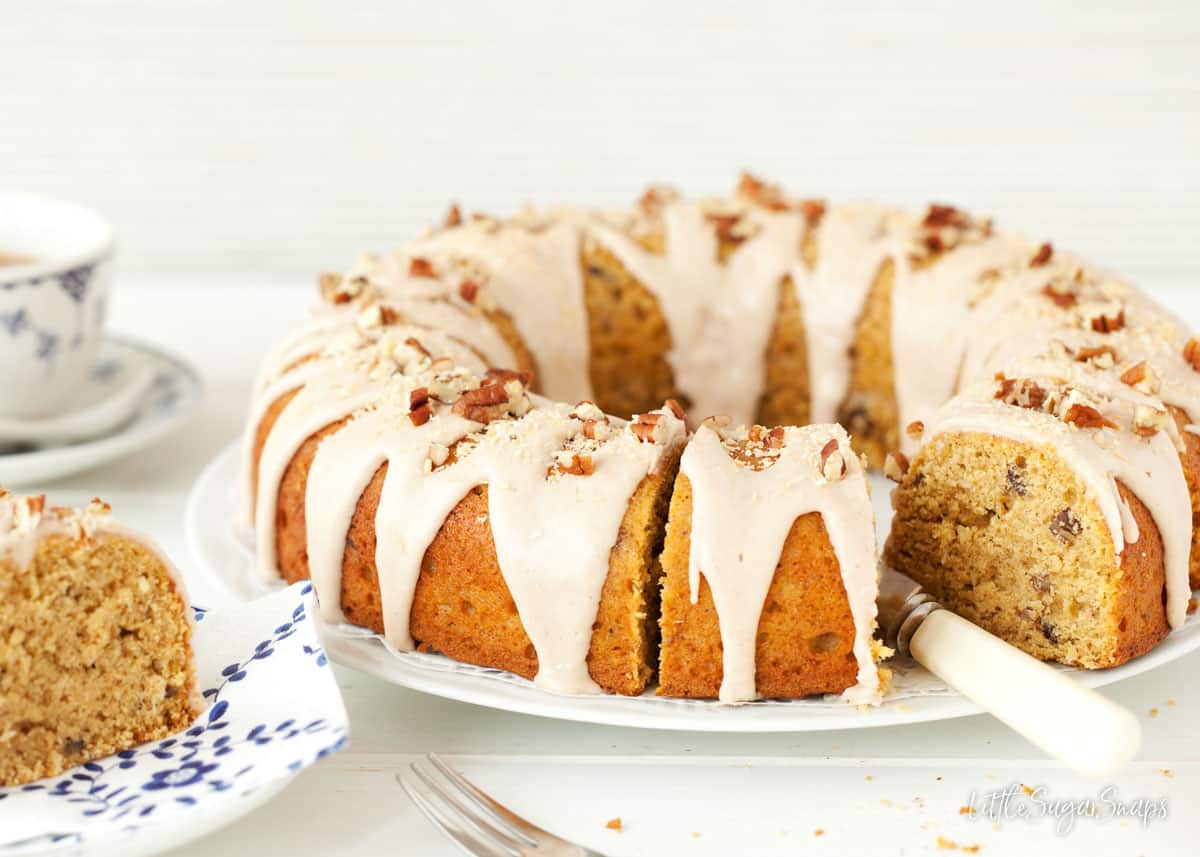 What Makes this Pumpkin Cake Special
When you consider all that goes into this pumpkin spice bundt cake, it's easy to see why it fits the bill perfectly for autumn. There's:
an inviting aroma of seasonal spices wafting around
a mild dose of sweet pumpkin that boosts both flavour and colour
luscious soured cream creating a soft and moist texture
added bite from pecans and coconut
And… here's the clincher. It has an amazing cinnamon and maple syrup icing dribbled all over it (oh, yes).
This pumpkin cake really is one delectable bake you do not want to miss out on.
Readers on a vegan diet might be interested in this alternative and those on a gluten-free diet might like to take a look at this bundt cake.
Ingredients Needed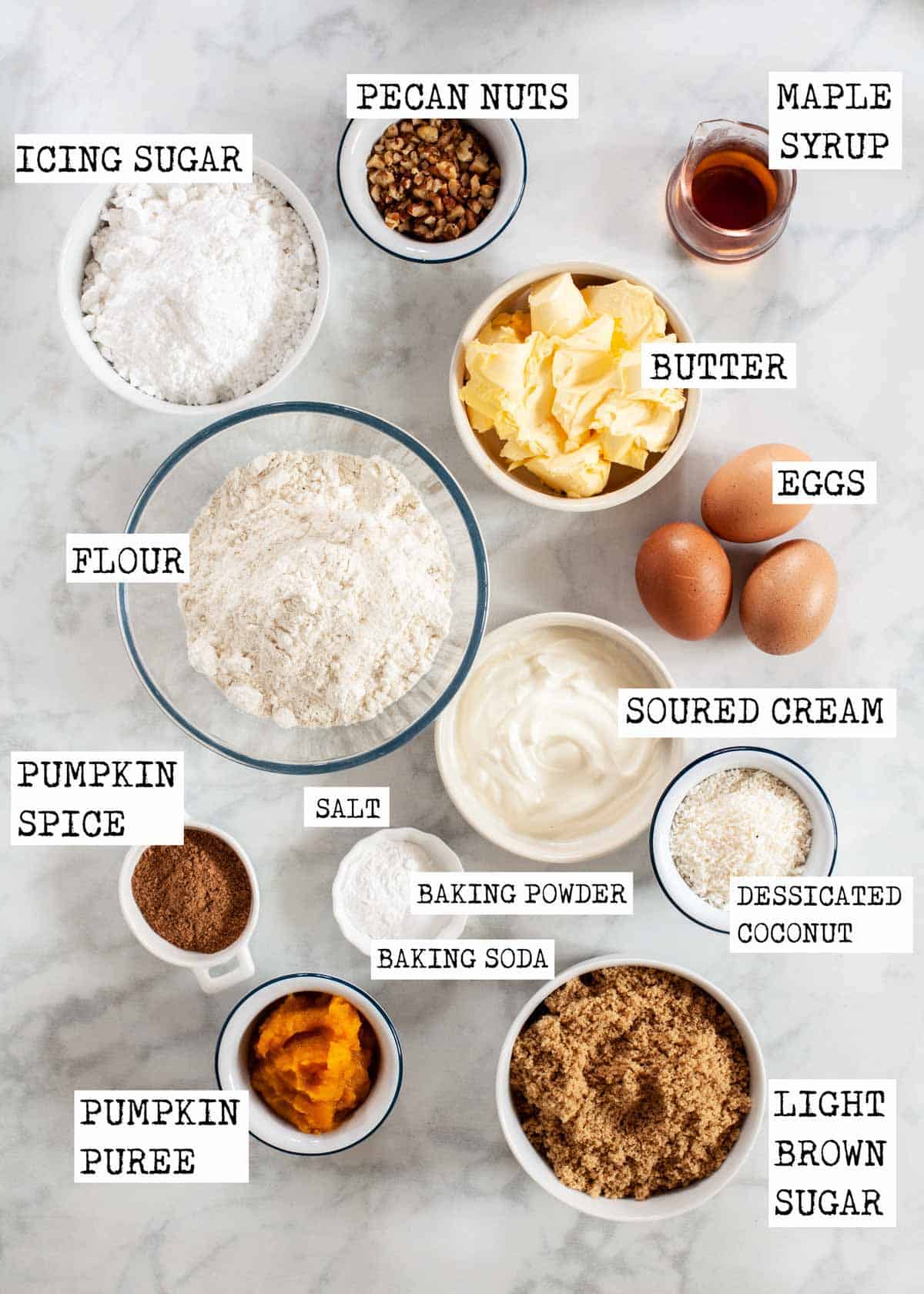 The recipe for this pumpkin spice bundt cake is fairly forgiving, meaning that a few substitutions are certainly possible:
Though you will note in the recipe details that I have listed the individual spices separately, feel free to substitute these with an equivalent amount (3 ½ tsp) of your favourite pumpkin spice mix
I used fresh pumpkin puree, although it's fine to use canned. If you want to know how to make fresh pumpkin puree, an easy method is detailed in my recipe for pumpkin whoopie pies
As far as the nuts go, pecans pair so well with the spices, pumpkin and coconut, but these can be replaced by walnuts
Similarly, if you have plain full-fat Greek yoghurt to hand, this can be used as a substitute for the soured cream
Step by Step Instructions
This pumpkin spice bundt cake is very easy to make and a breeze to decorate. Follow these instructions for a pumpkin cake packed full of seasonal flavour coupled with rustic charm.
Make the Cake
Step 1: Sift the flour, spices, salt, baking powder and baking soda into a bowl
Step 2: Cream the butter and sugar together in a large bowl with electric beaters for 3-4 minutes until fluffy and the colour begins to lighten, then add one egg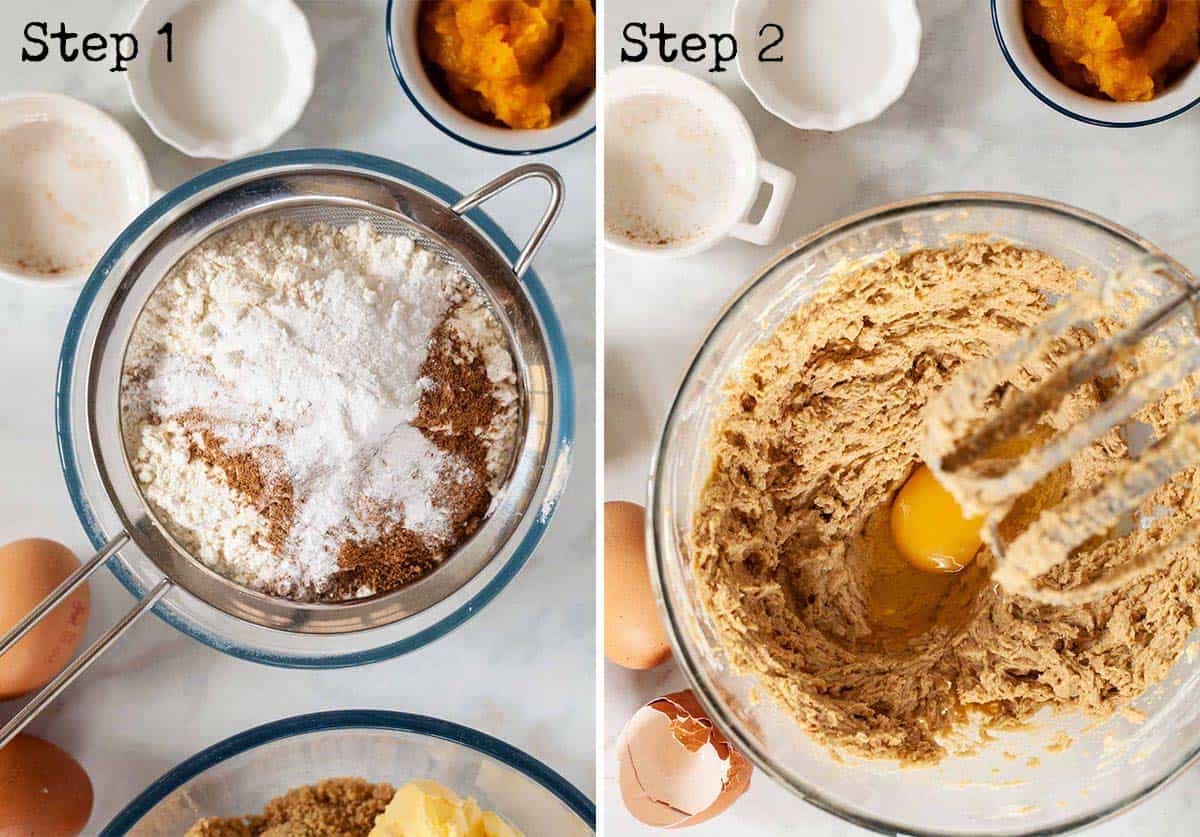 Step 3: Beat until combined then add the second egg. Mix again, then add the third egg and beat it in. If the batter begins to split during this process, mix in a spoonful of the flour to help re-bind the ingredients before continuing to add more egg (though it doesn't really matter since the cake will still bake up perfectly well)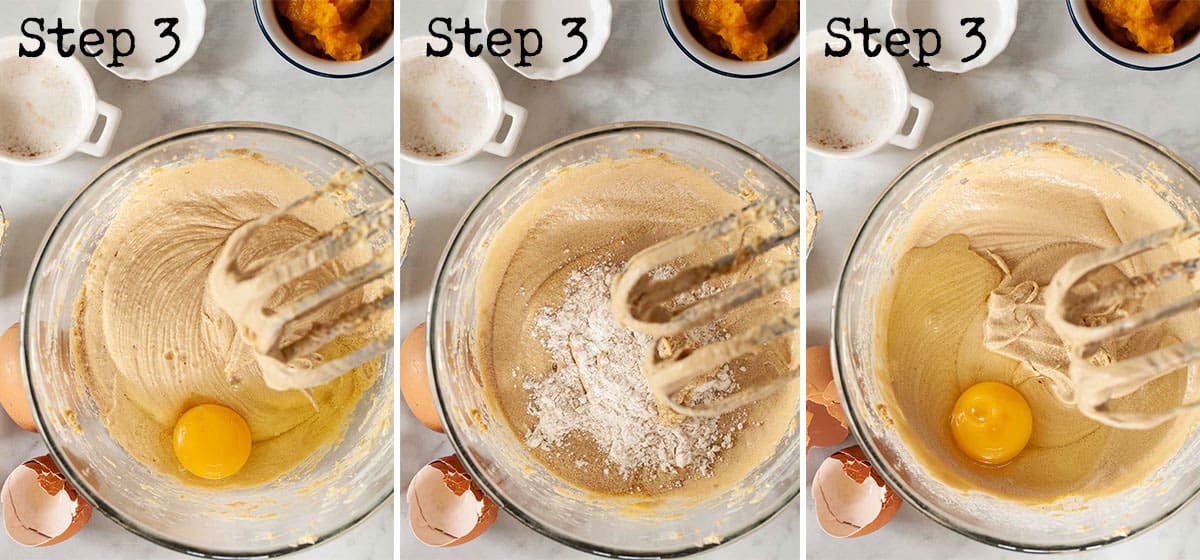 Step 4: Beat in the soured cream followed by the pumpkin puree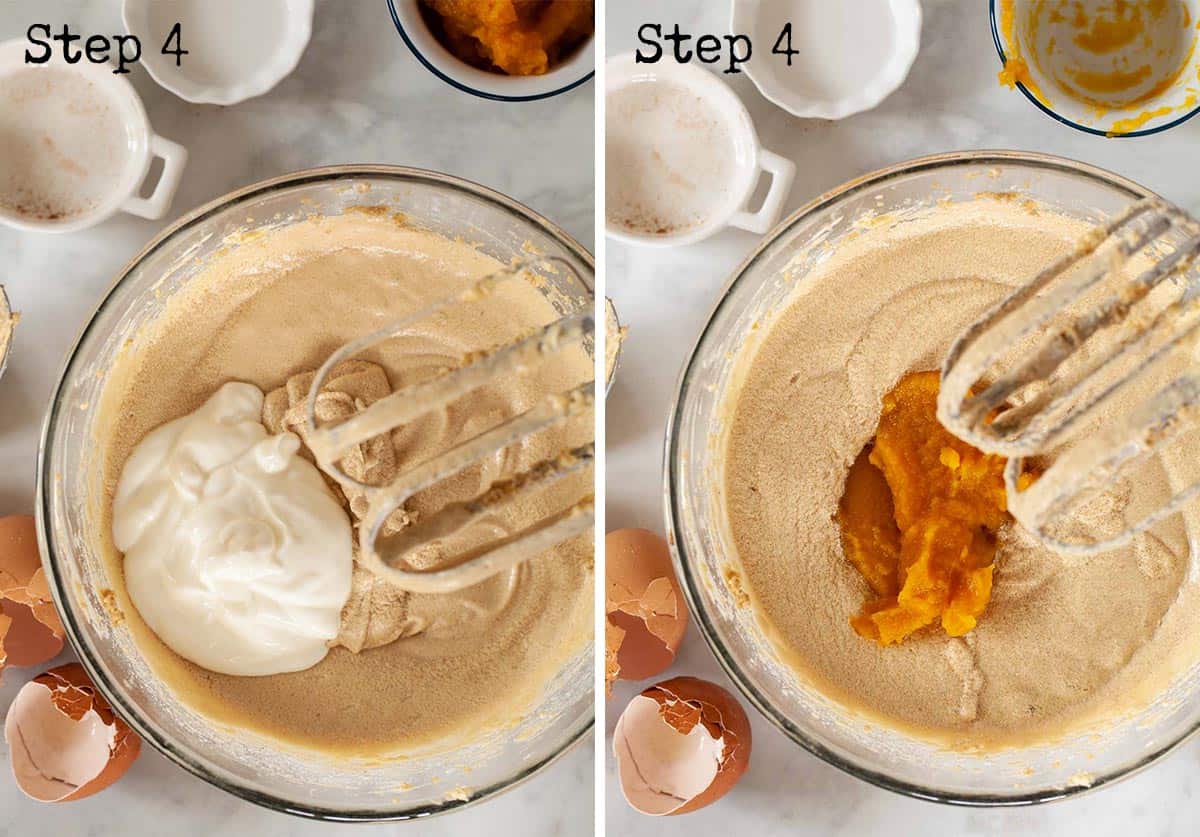 Step 5: On a medium speed, use the beaters to mix the flour into the wet ingredients
Step 6: Fold through the desiccated coconut and the nuts until evenly distributed
Step 7: Spoon the batter into a prepared tin and bake for 30-40 minutes until lightly browned and a skewer comes out clean. (If, after 30 minutes, you are worried about the cake top burning, lay foil across the top)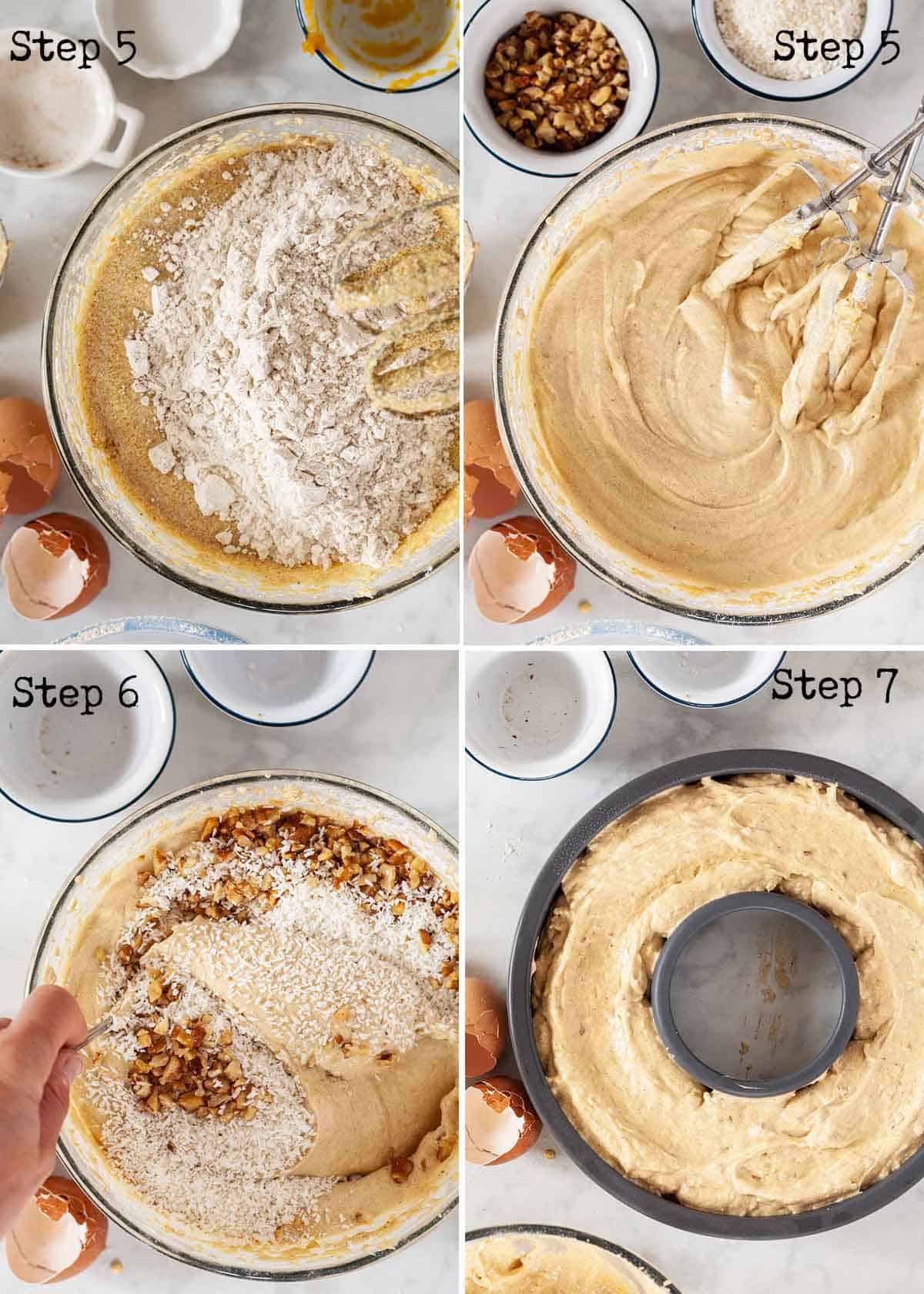 Step 8: Once cooked, allow the pumpkin cake rest for 2 minutes, then turn out of the tin and leave to cool on a wire rack
Add the Icing and Decorations
Step 1: Toast the dessicated coconut in a dry frying pan, turning and stirring constantly with a wooden spoon until golden all over. Allow to cool
Step 2: Sieve the icing sugar and ground cinnamon together in a small bowl
Step 3: Add the maple syrup and mix with half the water. Keep adding more water in ½ teaspoon increments until a smooth icing with a fairly thick pouring consistency is attained. It should be runny enough to trickle down the side of the cake, but not thin enough to soak in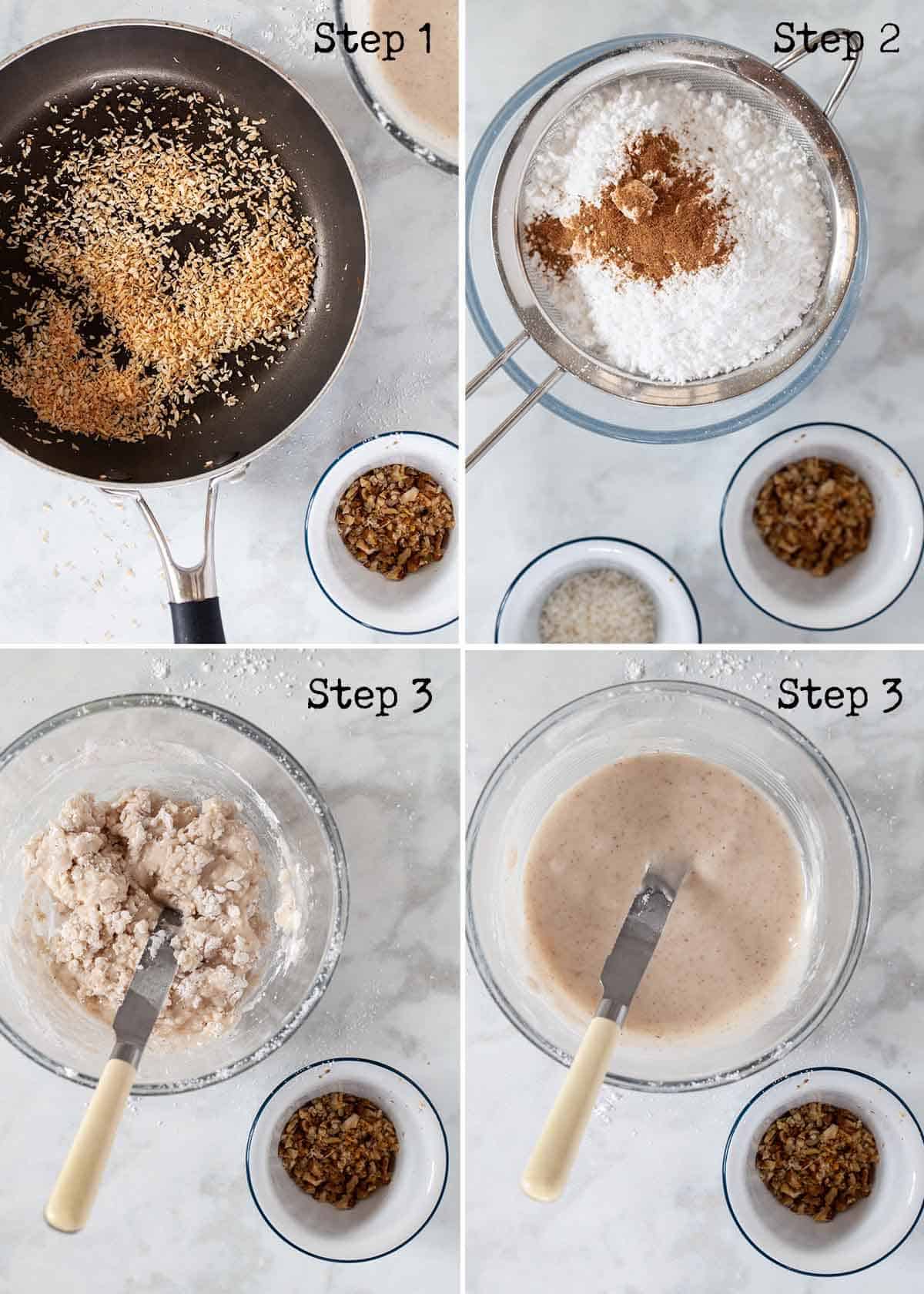 Step 4: When the cake is completely cold, drizzle the icing over the cake in a zig-zig pattern. Repeat the zig-zigs, but in the opposite direction
Step 5: Sprinkle the coconut and chopped pecan nuts over the top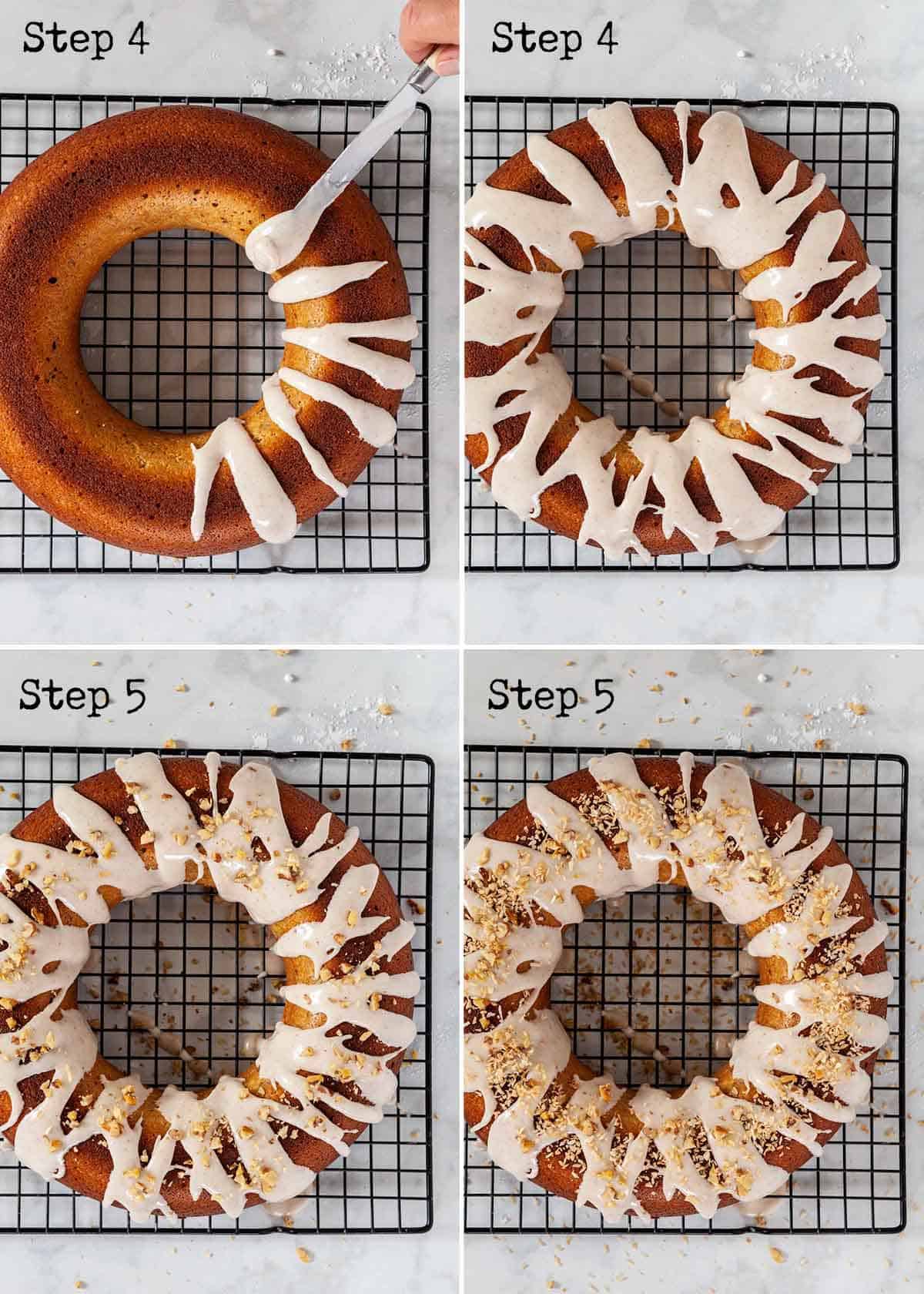 Baking Tips
When it comes to cake baking, I use tins I know I can rely on to produce an even bake and allow the cake to be released easily. As tins get older, sometimes their supposed non-stick properties can deteriorate
That said, regardless how old a tin is, I will always grease it. When using bundt tins, I find cake release spray convenient and easy to use. It's so easy to spray it into tricky corners
Bundt tins can vary in shape and size significantly. For this pumpkin cake, I used a round silicon mold with a 27cm diameter. I found that a 2 egg recipe was insufficient to adequately fill it, whereas the 3 egg recipe I have listed below was slightly too much. In instances like this, it's always better to fill the tin two thirds full and use any excess batter to make a cupcake or two
Because bundt tins vary in size and shape, treat my baking times as a guide only. Your cake may need more/ less time to cook, depending on the tin used
I strongly caution against opening your oven door too early during the baking process though. Aim for the first check at least 30 minutes into the bake. And keep the opening and closing of the oven door to a minimum. This reduces the risk of a part-baked cake deflating
If your pumpkin cake is taking longer to bake, and the top is beginning to brown too much, slide a piece of foil or parchment across the top. This will give a little protection to the top while the middle of the cake finishes cooking
Frequently Asked Questions
How do I know when this cake is cooked?
Since bundt tins vary significantly in size and proportions, I advise testing for doneness after 35 minutes using a skewer. When poked into the cake the skewer will come out clean, or with a few crumbs attached if the cake is baked through. If batter is still evident, then continue to bake the cake for another 5 minutes and test again.

My caveat to the advice above is that if you know your bundt tin usually takes say, 45 minutes to fully bake a cake, it is better to leave it until closer to this time before the first check. Remember, it is always best to limit the amount of times the oven door is opened when baking cakes.
How should I store this cake?
This pumpkin cake is best stored at room temperature. Wrap any cut ends with clingfilm and store in an airtight container and it will stay fresh for up to 3 days.

Alternatively, it can be made in advance and frozen provided it is not iced. Simply defrost and proceed to add the icing, nuts and toasted coconut.

It is not advisable to freeze this pumpkin cake if it has already been iced. Water icing does not hold up well once frozen and defrosted.
What else can I add to this cake?
Trust me, this pumpkin cake is gorgeous in the simplicity of the flavours already included. However, if you wanted to take things further, some dark chocolate chips, raisins or even dried cranberries, would be my top choice of additions.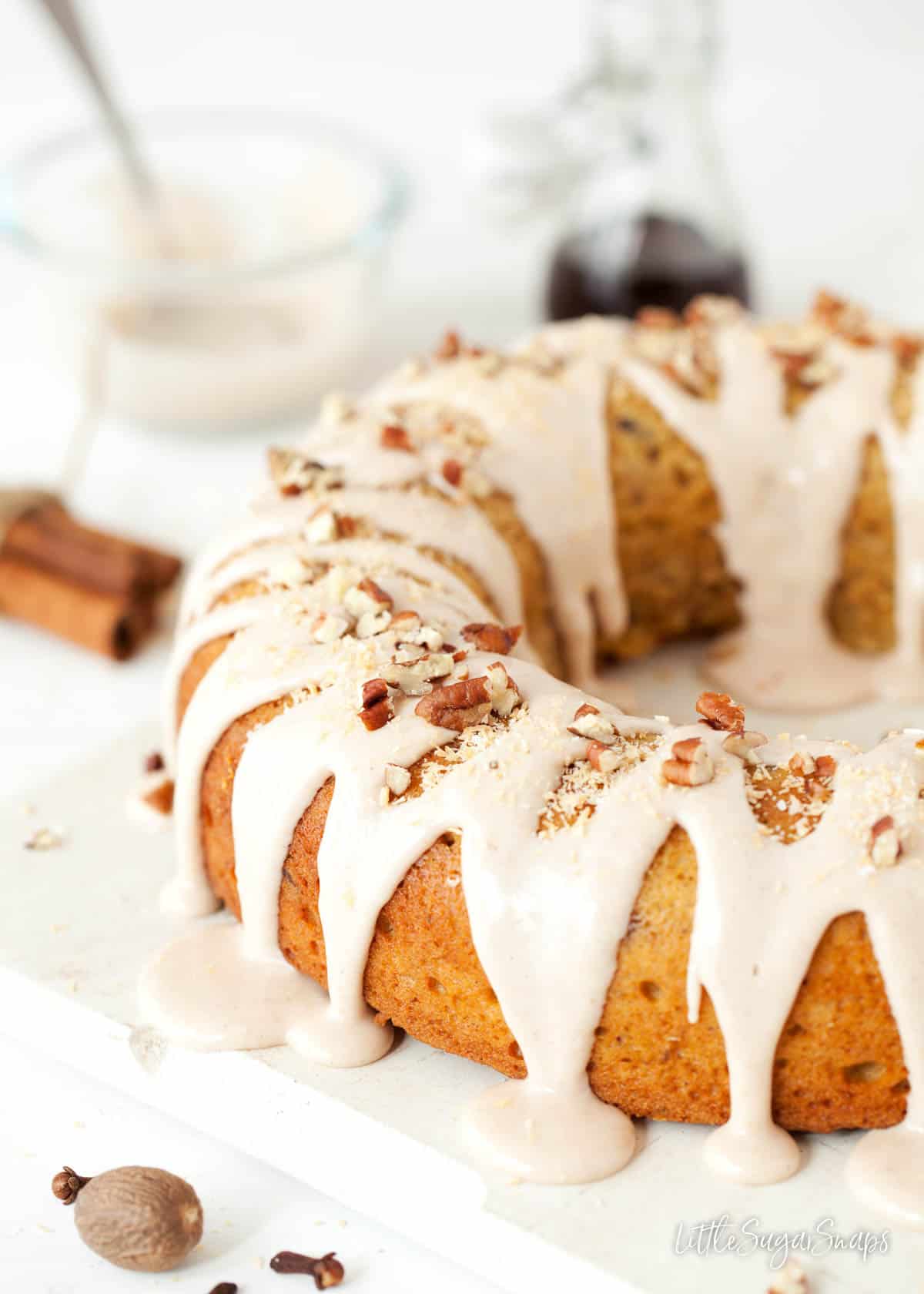 Can't get enough pumpkin spice? Then you'll love my indulgent chocolate granola.
More Bundt Cakes to Admire
If you've had your fill of pumpkin cake for now, consider baking one of these impressive bundt cakes next: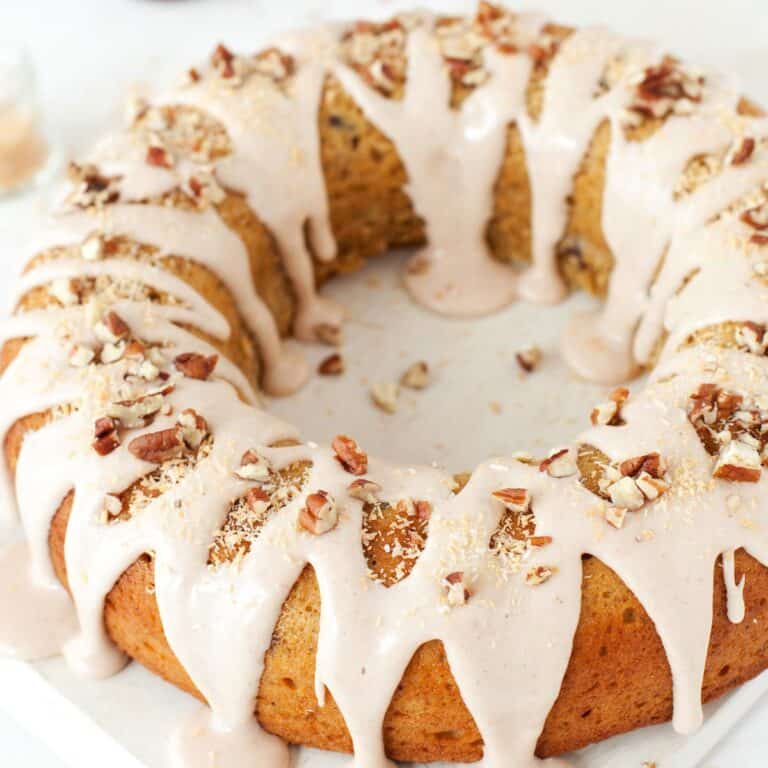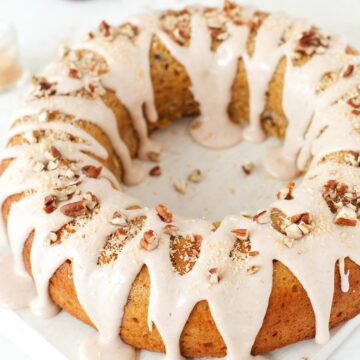 Pumpkin Spice Bundt Cake
This Pumpkin Spice Bundt Cake is perfect for autumn. It has seasonal spice, sweet pumpkin, chewy coconut & an amazing cinnamon and maple icing. This is one delectable pumpkin cake.
Print
Pin
Rate
Ingredients
For the Pumpkin Spice Blend
1 ½

teaspoon

Ground cinnamon

1

teaspoon

Ground ginger

¼

teaspoon

Ground allspice

¼

teaspoon

Ground nutmeg

¼

teaspoon

Ground cloves

¼

teaspoon

Ground mace

or use 3 ½ teaspoon pumpkin spice mix of your choice
For the Sponge Cake
275

g/ 2 ¼ cups

Soft light brown sugar

150

g/ cup ⅔

Butter (softened)

3

Eggs – large, free range

125

ml

Soured cream

125

ml

Pumpkin puree* (see notes)

275

g/ 2 ¼ cups

Plain (all purpose) flour

1 ½

teaspoon

Baking powder

½

teaspoon

Baking soda

¼

teaspoon

Salt

40

g/ ½ cup

Desiccated coconut

40

g/ ⅓ cup

Pecan nuts (chopped)
For the Maple Frosting
250

g/ 2 cups

Icing sugar (sifted)

½

teaspoon

Ground cinnamon

2

teaspoon

Maple syrup

8

teaspoon

tsp water

1

tablespoon

Desiccated coconut

2

tablespoon

Pecan nuts (chopped)
Instructions
Preheat the oven 170ºC/325ºF/ GM3 and grease the baking tin

Sift the flour, spices, salt, baking powder and baking soda into a bowl

Combine the butter and sugar together in a large bowl with electric beaters for 3-4 minutes until fluffy and the colour begins to lighten

Add the eggs, one at a time, beating well between addition. If the batter begins to split, mix in a spoonful of the flour before adding more egg

Beat in the soured cream followed by the pumpkin puree

On a medium speed, use the beaters to mix the flour into the wet ingredients

Finally, fold through the dessicated coconut and the nuts until evenly distributed

Carefully spoon the batter into the prepared tin (⅔ full) and bake for 30-40 minutes until lightly browned and a skewer comes out clean. (If, after 30 minutes, you are worried about the cake top burning, lay foil across the top)

Once cooked, allow to rest for 2 minutes, then turn out of the tin and leave to cool on a wire rack
To Decorate
Toast the dessicated coconut in a dry frying pan, turning and stirring constantly with a wooden spoon until golden all over. Allow to cool

Sieve the icing sugar and ground cinnamon together in a small bowl

Add the maple syrup and half the water. Mix well and keep adding more water in ½ teaspoon increments until a smooth icing with a fairly thick pouring consistency is attained. It should be runny enough to trickle down the side of the cake, but not thin enough to soak in

Drizzle the icing over the cake in a zig-zig pattern. Repeat the zig-zigs, but in the opposite direction

Finally, sprinkle the coconut and pecan nuts over the top
Notes
Substitutions
Use 3 ½ teaspoon of your favourite pumpkin spice blend instead of the spices listed above
Use canned pumpkin puree if you don't have fresh to hand
It's fine to use Greek yoghurt (full fat) instead of soured cream
Tips
I always grease my baking tin, even if it is brand new and nonstick. When using bundt tins I find cake release spray convenient and easy to use as it can get into tricky corners
Bundt tins can vary in shape and size significantly. I used a baking tin with an outer circumference of approx 80cm/ 31″ (diameter 27cm/ 10″). If your tin is smaller than this, then the extra batter can be used to make sweet little cupcakes
Never fill your tin more than ⅔ full – it is far better to repurpose the extra batter than have a cake rise up and spill over the baking tin in the oven
Because bundt tins vary in size and shape, treat my baking times as a guide only. Your cake may need more/ less time to cook, depending on the tin used
I strongly caution against opening your oven door too early during the baking process though. Aim for the first check at least 30 minutes into the bake and keep the opening and closing of the oven door to a minimum to reduce the risk of a part-baked cake deflating
If your cake is taking longer to bake, and the top is beginning to brown too much, slide a piece of foil or parchment across the top to give a little protection while the middle of the cake finishes cooking in the oven
Store at room temperature for up to 3 days (wrapped and in an airtight container). Alternatively, freeze before adding the icing
Nutrition Per Serving (Approximate)
Calories:
445
kcal
|
Carbohydrates:
65
g
|
Protein:
5
g
|
Fat:
20
g
|
Saturated Fat:
10
g
|
Cholesterol:
73
mg
|
Sodium:
308
mg
|
Potassium:
148
mg
|
Fiber:
2
g
|
Sugar:
45
g
|
Vitamin A:
2058
IU
|
Vitamin C:
1
mg
|
Calcium:
56
mg
|
Iron:
2
mg
(Visited 386 times, 1 visits today)