These easy to make Maine Whoopie Pies are packed with pumpkin & autumn spices and they have the most amazing marshmallow buttercream centre. Plain Delicious.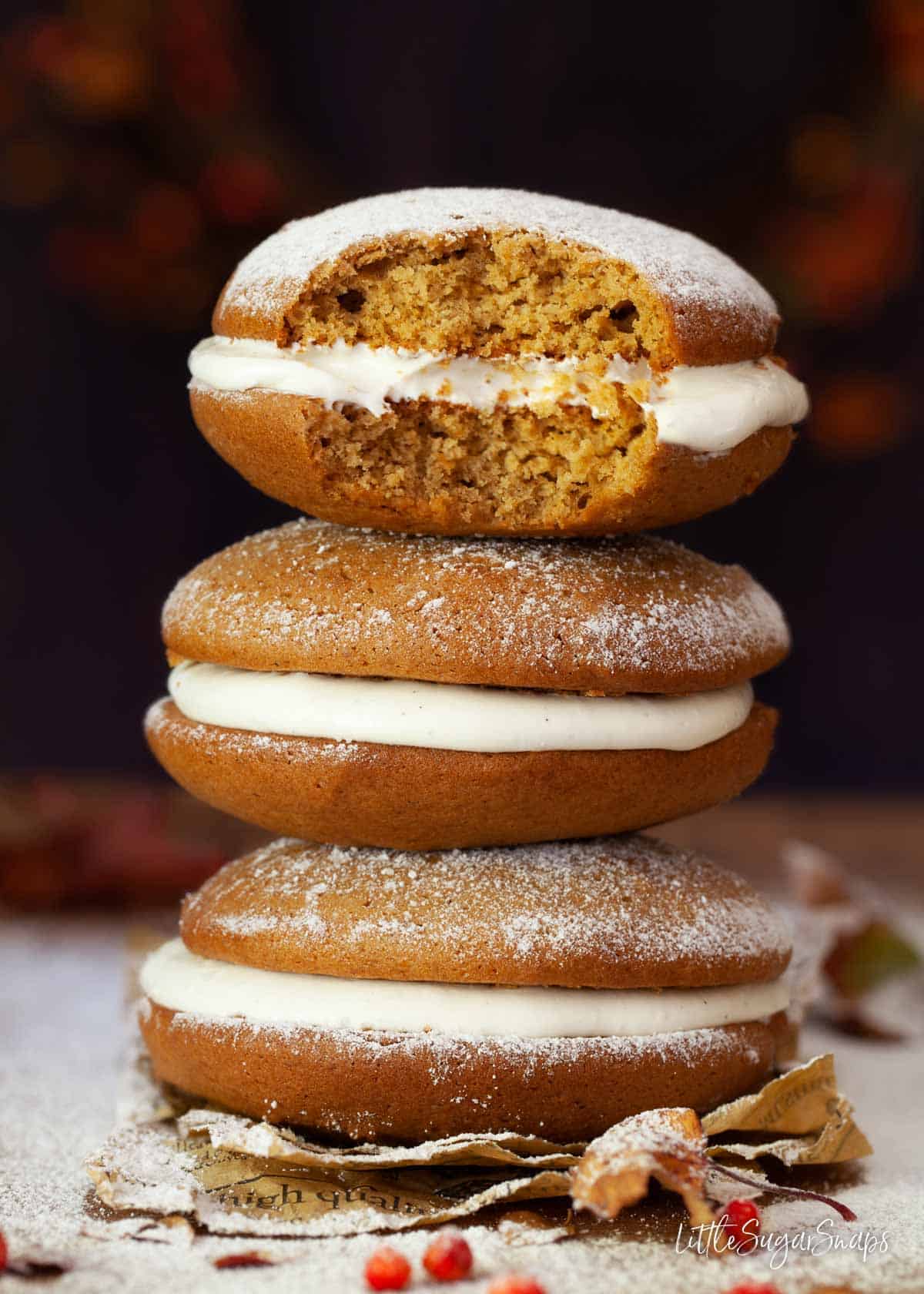 Crisp morning air and noticeably shorter days mean one thing – autumn has arrived. For me, this signifies a shift in baking patterns – everything must take on an air of cosiness, which brings me to these Maine whoopie pies with pumpkin.
Whoopie pies are the official State treat in Maine, USA. Don't you just love the idea of an official treat? My rendition, loaded with pumpkin and sweet spices, fully embraces the cooler season and they are a longstanding favourite with my family at this time of year.
Why this Recipe is Worth Making
Maine whoopie pies are really a cross between cakes and cookies. Each one comprises two domes of cake that are sandwiched together with a creamy filling.
I like to think of them as free-form individual sandwich cakes as you just dollop the cake batter straight onto baking trays and away you go. No fiddling with paper cake cases involved. Easy!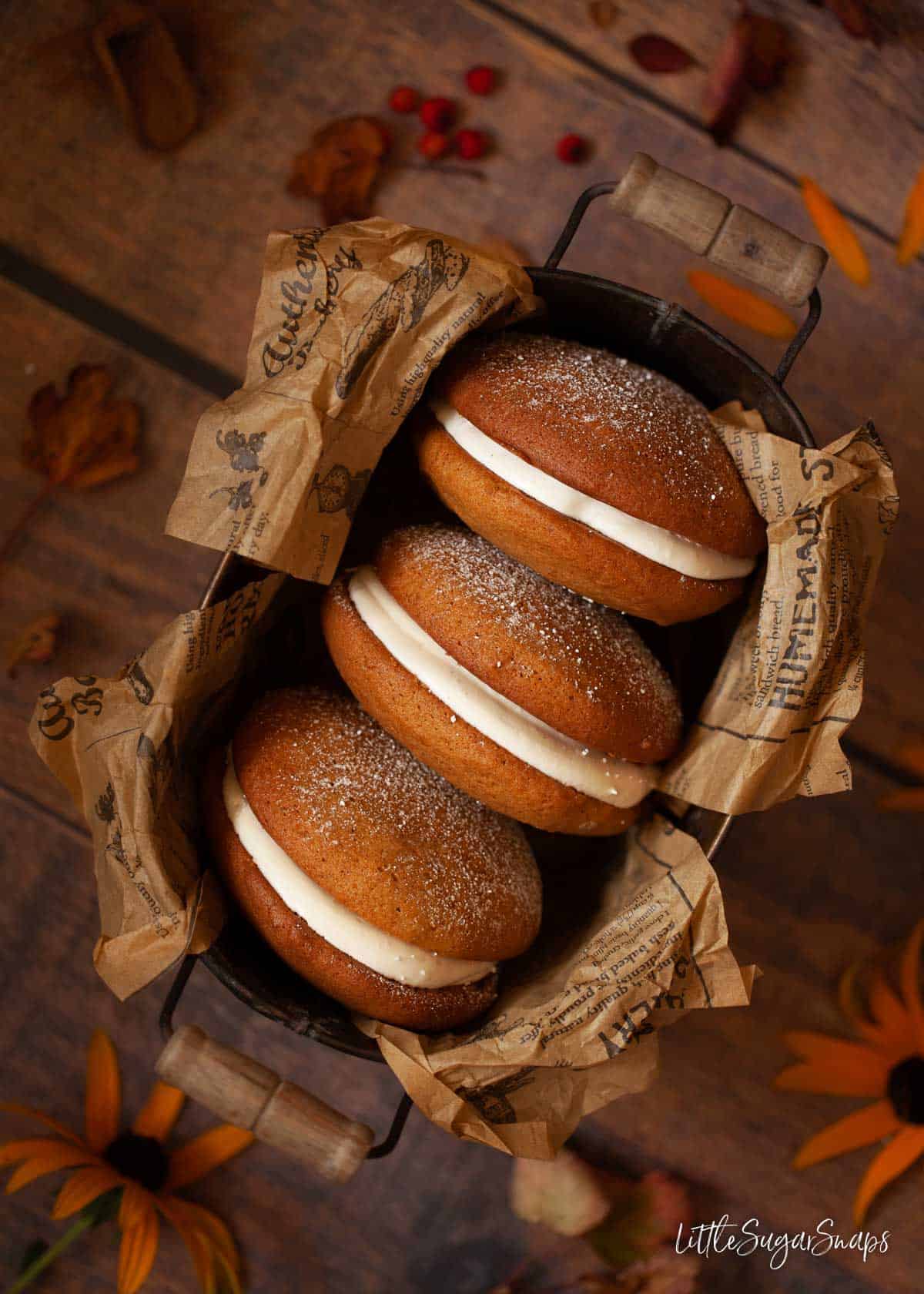 These pies contain three elements that make them irresistible:
fresh pumpkin that delivers a delicate sweet flavour and imparts a wonderful autumnal hue to the batter
pumpkin spice – cinnamon, cloves, ginger, mace, allspice and nutmeg all mixed up in a bowl filling your kitchen with a warming and cosy aroma
the filling – closely related to buttercream, but involving vanilla and marshmallow – posh buttercream, if you like
These are the star components in this straightforward and rather charming adaptation of Maine whoopie pies.
Ingredients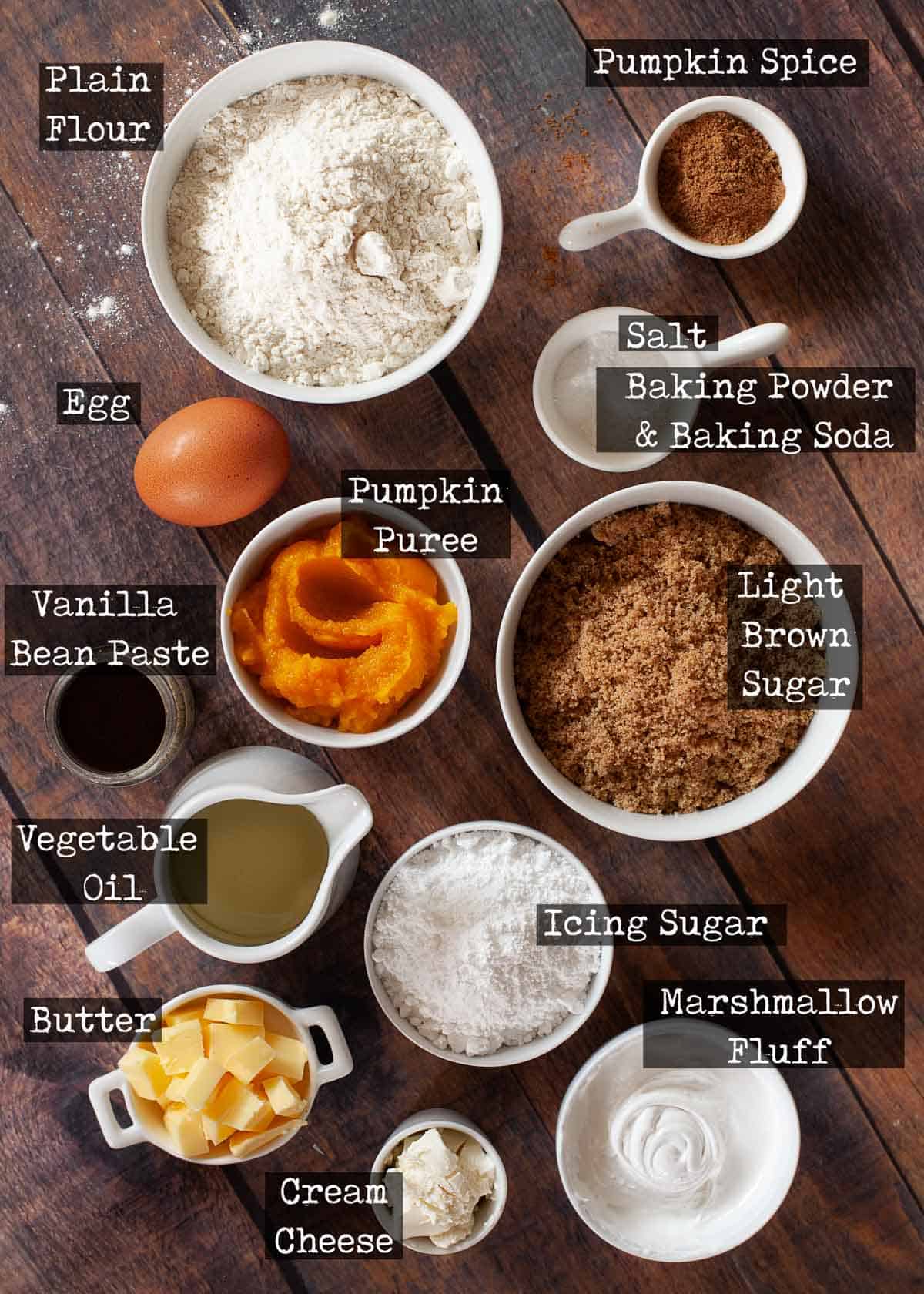 I've chosen to make a fresh purée for these pumpkin whoopie pies as I much prefer fresh to canned, especially in this recipe. You can, however, use canned purée if that's your preference or if fresh pumpkin is out of season.
Pumpkin purée freezes very well, so I tend to cook the whole pumpkin up and save the leftovers for other baking projects.
Do ensure that you select a pumpkin that is intended to be eaten. Not only are culinary grade pumpkins a better size (not too large) they are also much tastier than the larger pumpkins grown for carving.
As the flavour of spices can quickly deteriorate, I always make my own pumpkin spice mix. And I make it in small batches, so that I'm guaranteed a fresh hit of flavour.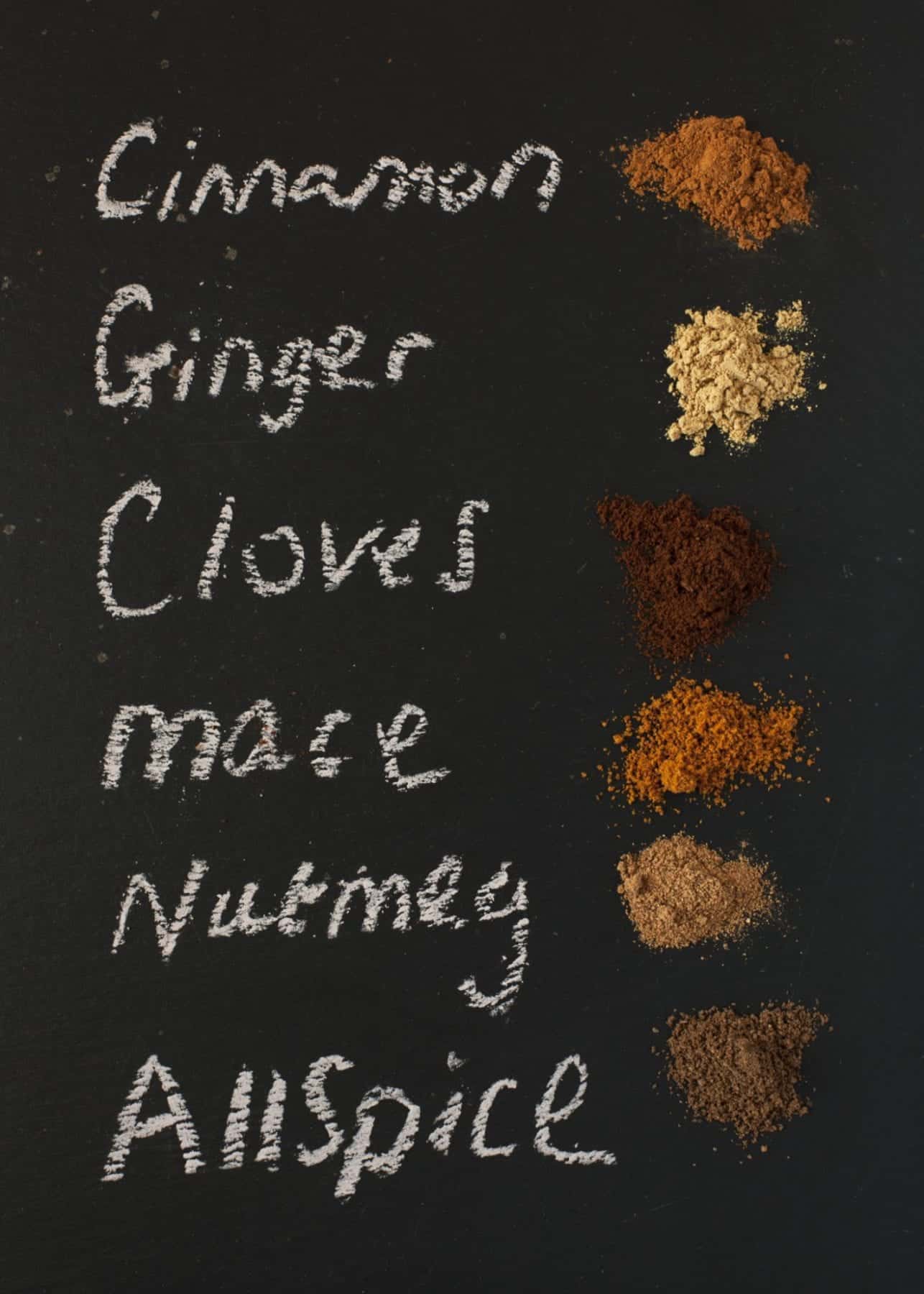 I've included my own blend in the recipe below, but, if you already have a favourite pumpkin spice mix, feel free to use that instead.
And if you are looking for something fun to bake with the kids to use up leftover pumpkin puree and pumpkin spice take a look at these easy Pumpkin Pie Twists.
Step By Step Instructions
Though easy to make, there are a few stages to complete when making these Maine whoopie pies:
Make the fresh pumpkin purée
Mix the pumpkin spice
Bake the pies
Make the buttercream and sandwich the pie halves togehter
It's great if you can get the first stage done well in advance to give the purée time to cool completely.
Stage 1: Make the Pumpkin Purée
Step 1: Cut the pumpkin in half vertically and scoop out the seeds
Step 2: Place cut side down on a baking tin lined with parchment and roast for 60-75 minutes at 200C/ 400F/ GM 6 until the flesh is soft when poked with a sharp knife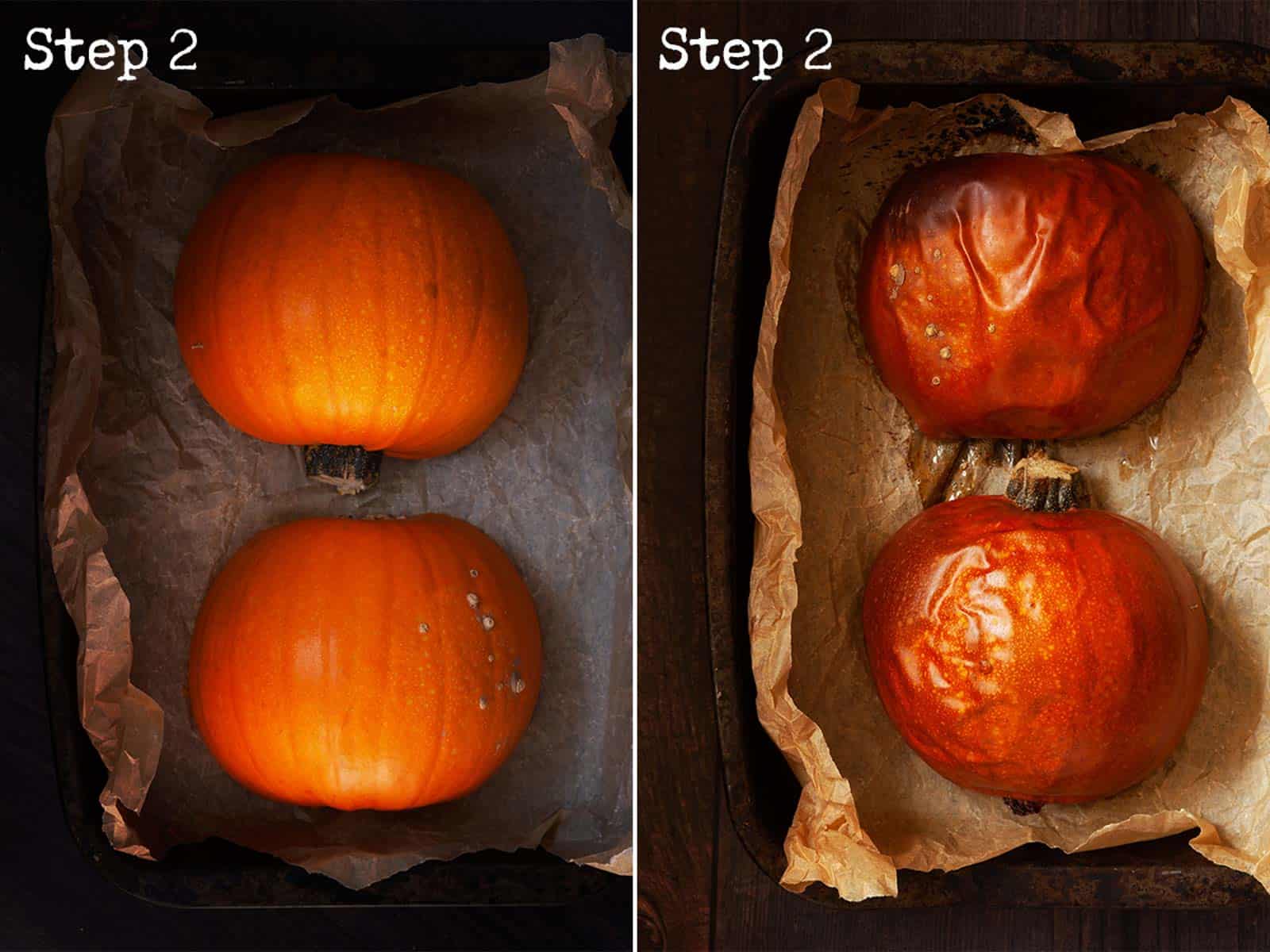 Step 3: Let cool slightly, then scoop out the flesh and purée it all in a food processor until smooth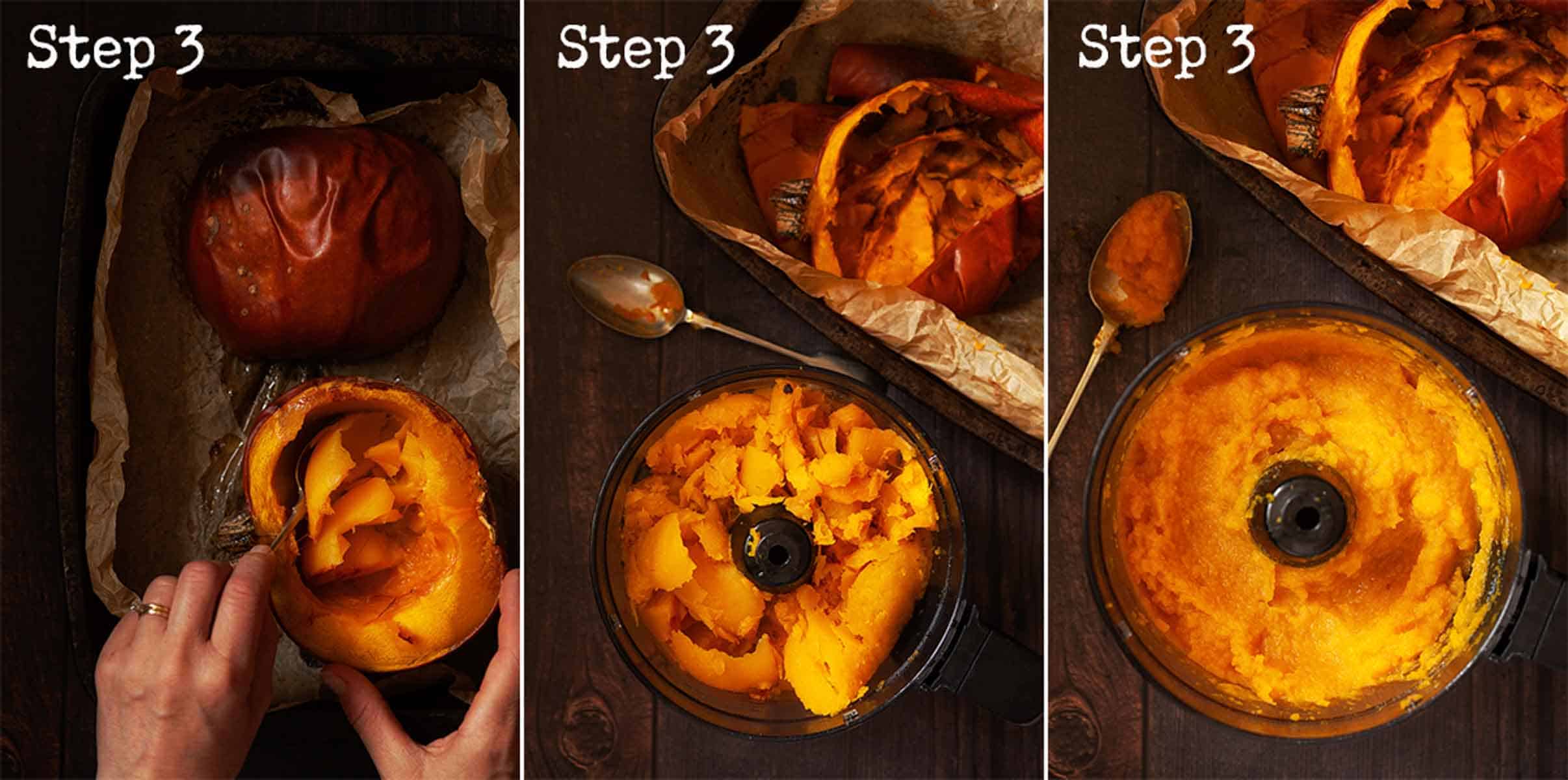 Step 4: Let cool completely, then store in the fridge until ready to use
Stage 2: Make the Pumpkin Spice Mix
Nice and easy – simply mix all the spice blend ingredients together and store in an airtight jar (keeps for around 3 months).
Stage 3: Make the Pies
Step 1: Sift the flour, baking powder, bicarbonate of soda, spice mix and salt together into a bowl. Set aside
Step 2: Put the oil, sugar and vanilla bean paste into a large bowl and mix with electric beaters until well combined
Step 3: Add the pumpkin purée and mix briefly
Step 4: Crack the egg in and give another quick beat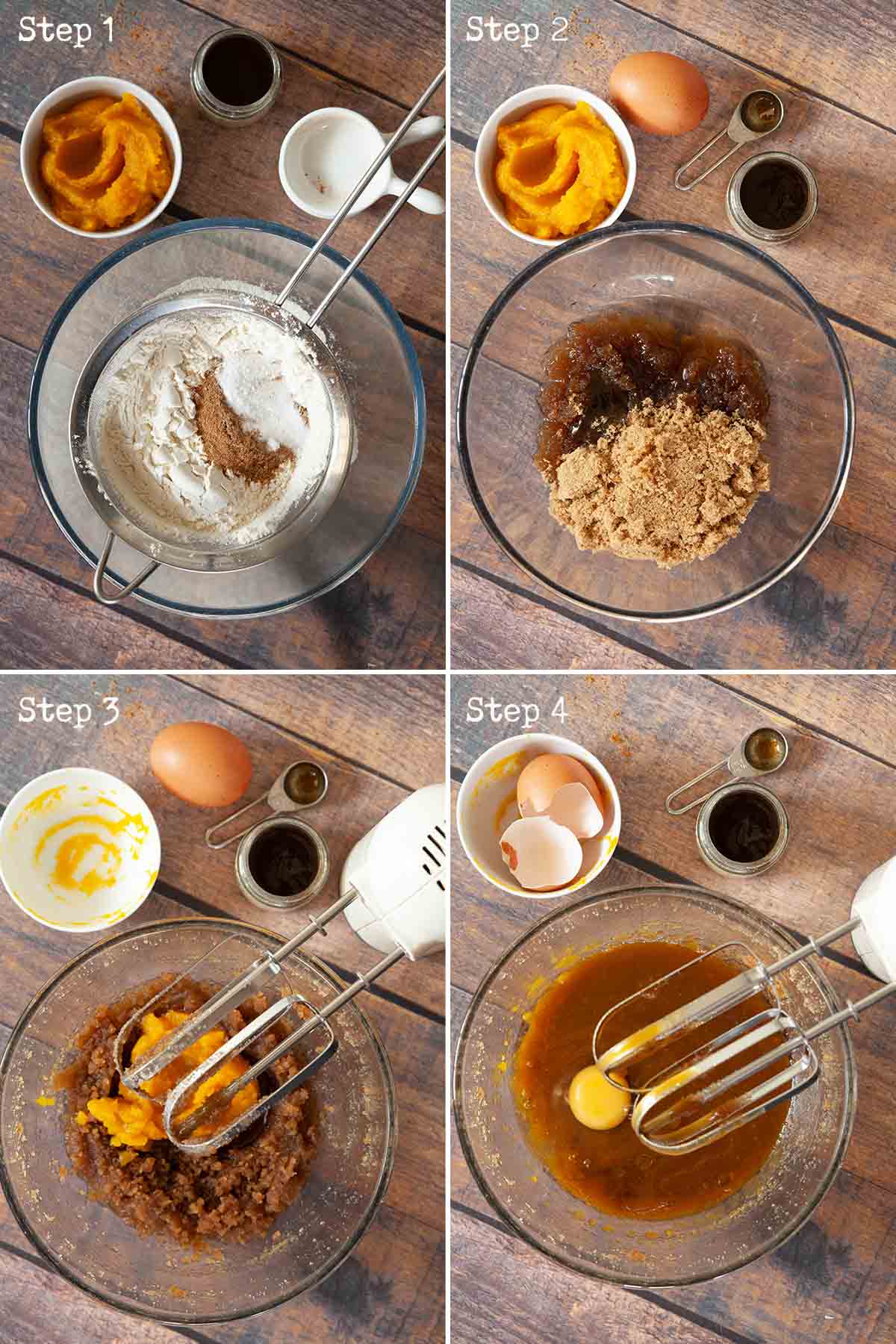 Step 5: Add half of the flour mixture and blend well on medium speed, scraping the edges of the bowl to incorporate all dry ingredients. Add the remaining flour and mix again, being careful to not overbeat
Step 6: Use a dessert spoon or ice cream scoop with a release mechanism to drop about 1 ½ tablespoon of the batter onto prepared baking sheets, about one inch apart.(Use less batter for smaller cookies)
Step 7: Bake for 12-14 minutes, until golden and springy to the touch. Cool on the baking sheet for a minute then transfer to a wire cooling rack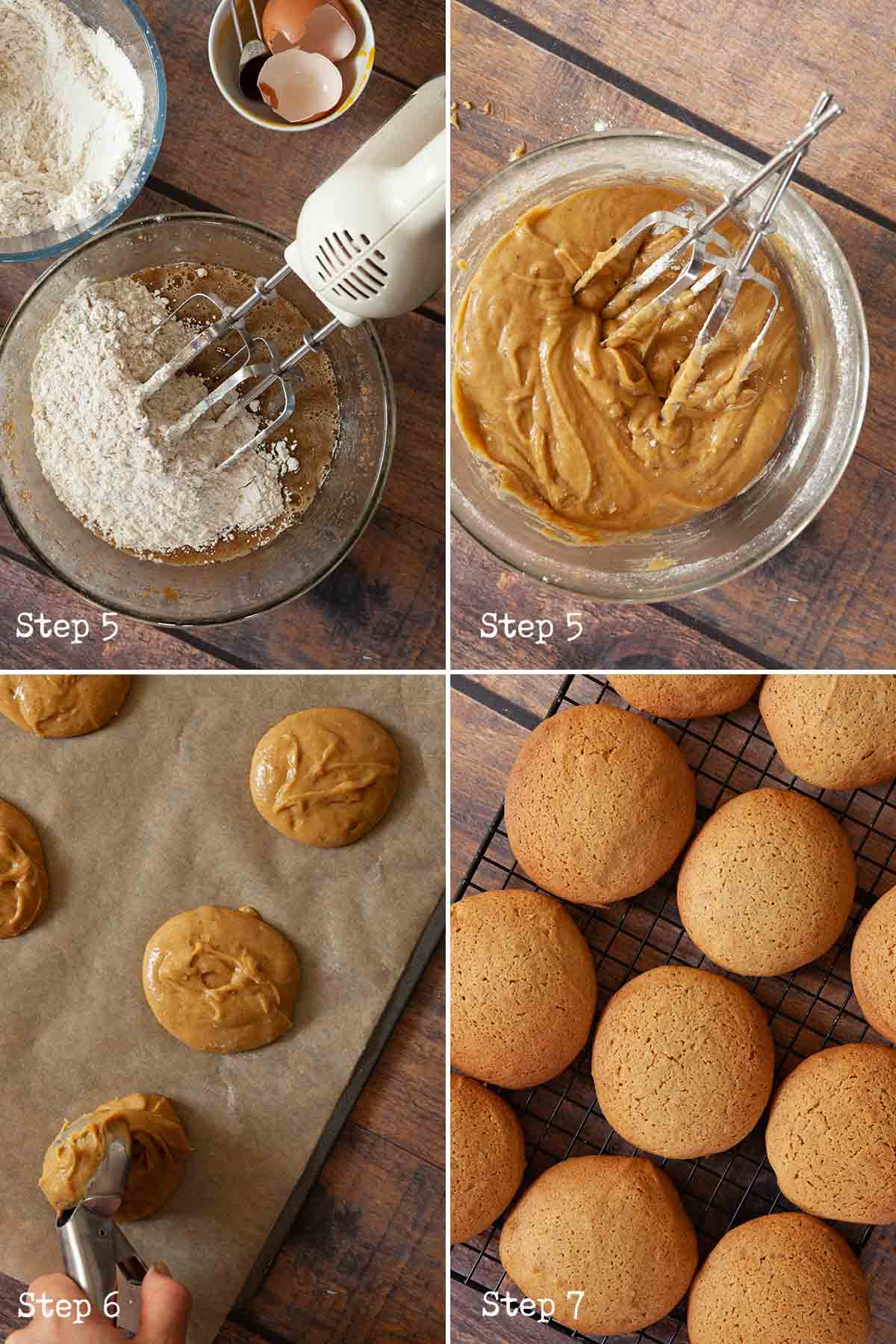 Stage 4: Assembling the Pies
Step 1: Make the filling by sieving the icing sugar and beating together with the butter
Step 2: Next beat in the cream cheese and the vanilla bean paste
Step 3: Mix in the marshmallow fluff and beat until completely smooth
Step 4: Once the cake domes are completely cool, pair up similar shapes & sizes, then pipe buttercream onto one half and sandwich the two halves together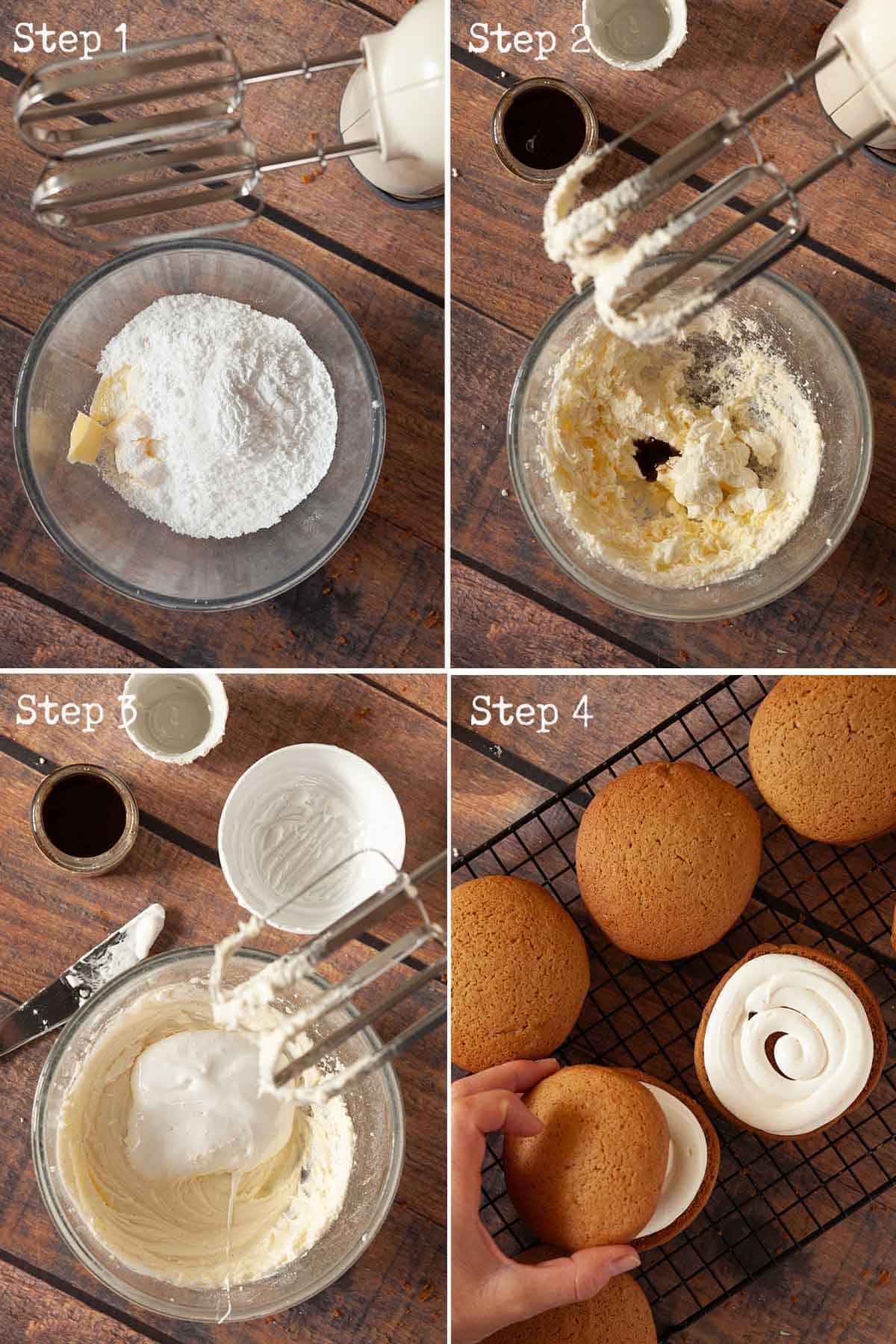 When ready to serve, dust the tops of the pumpkin whoopie pies with a little icing sugar
Expert Tips and FAQs
Expert Tips
These Maine whoopie pies are very easy to make, but as with most bakes there are a few things to keep in mind when making this recipe to ensure success:
It is vital to allow the pumpkin puree to cool to at least room temperature before using it in this recipe otherwise it will activate the baking powder before the pies get to the oven. Use either room temperature or chilled puree instead
When it comes to putting the mixture onto the baking sheet you can either use a spoon, a cookie scoop or even an ice cream scoop. Just keep in mind the size of the tool you are using in relation to how many whoopie pies you intend to make and swap for a smaller/ larger tool as necessary
I don't recommend piping the mixture onto the baking sheet as this will deflate the air that has been beaten into the batter
Ensure you create an even number of cake batter portions on the baking sheet so you don't' have a lonely pie dome leftover
I've stated that the recipe makes 8 large pies, These have a diameter of approximately 6-7 cm. You can, of course, make smaller pies. This recipe could comfortably produce 10-12 such pies
When assembling the whoopie pies, rather than randomly picking up a large dome and sandwiching it together with a smaller dome, do take the time to pair domes of similar shapes & sizes. The end result will look better if you do
Finally, to produce a lovely neat finish to these Maine whoopie pies, pipe the buttercream onto one dome of each pie before topping with the other dome. It looks so much neater than if the buttercream has been slathering on with a knife
Frequently Asked Questions
Can I use tinned pumpkin puree?
It is certainly possible to use tinned pumpkin puree for this recipe.

Opinions vary as to whether tinned or fresh puree is better when it comes to baking. I guess that's down to personal preferences.

Tinned pumpkin is certainly more convenient, but if you have the time to make fresh, I'd always advocate that.
How do I store them?
As the buttercream contains cream cheese, I do recommend storing these pumpkin whoopie pies in are airtight container in the fridge. Return them to room temperature and dredge with icing sugar before serving.
Can I freeze them?
These pies do freeze, but the flavour of the pumpkin spices may be slightly muted as a result.

To freeze, simply open freeze the pies and transfer to a freezer bag when fully frozen. Remember to label and date the bag and aim to consume the pies within 2 months.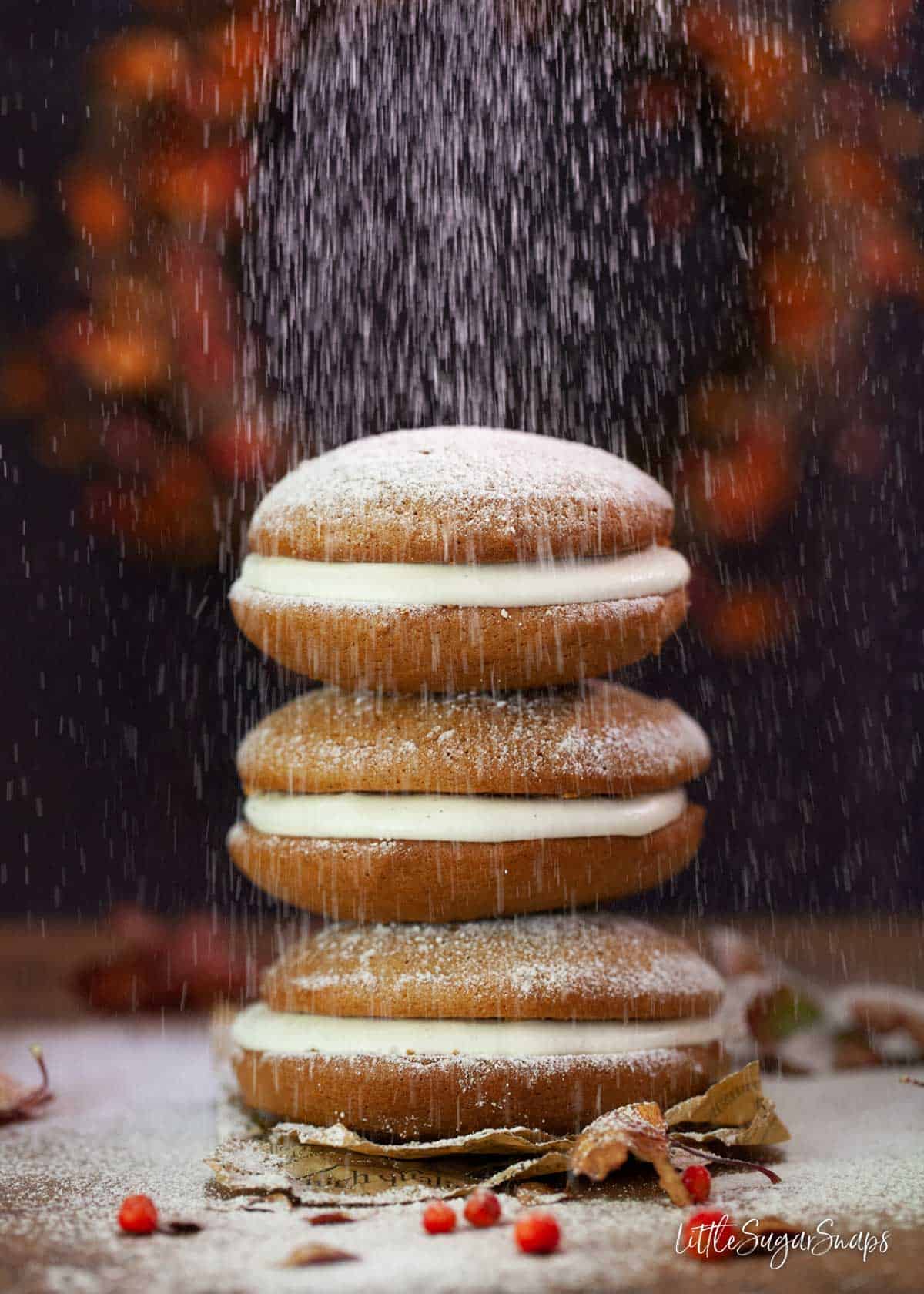 Have you spotted my other recipes featuring pumpkin spice?
If you like the sound of these Maine whoopie pies with pumpkin you may also like the following recipes:
If you tried these Maine whoopie pies with pumpkin please give it a rating below. Don't forget to share your creations with me on Instagram too – I love to hear how you've got along. Use #littlesugarsnaps and tag me @jane_littlesugarsnaps.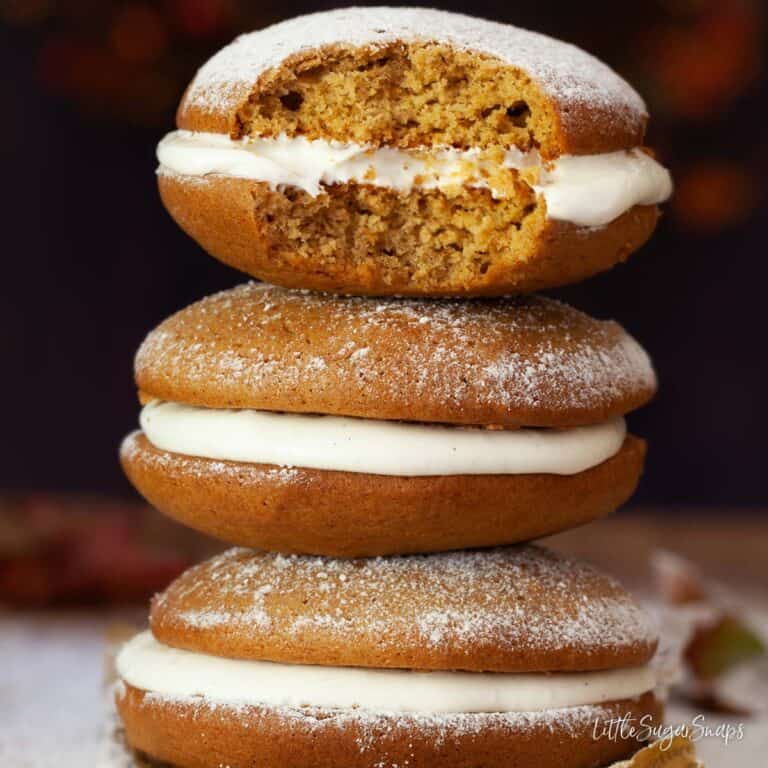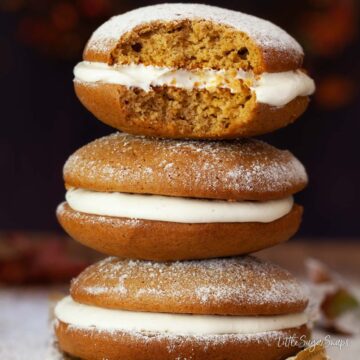 Pumpkin Pie Whoopie Pies
These Maine Whoopie Pies are packed with pumpkin & autumn spices but they also have the most amazing marshmallow buttercream centre. Plain Delicious.
Print
Pin
Rate
Ingredients
For the Pumpkin Puree
1

Pumpkin

suitable for culinary use
Spice Mix (see notes)
3

teaspoon

Ground cinnamon

2

teaspoon

Ground ginger

½

teaspoon

Ground allspice

½

teaspoon

Ground cloves

½

teaspoon

Ground mace

½

teaspoon

Ground nutmeg
Sponge
275

g/ 2 ¼ cups

Plain flour

all-purpose

¼

teaspoon

Salt

½

teaspoon

Baking powder

½

teaspoon

Bicarbonate of soda

3

teaspoon

Spice mix

120

ml/ ½ cup

Groundnut oil

(sunflower is a good alternative)

200

g/ 1 cup

Soft light brown sugar

½

teaspoon

Vanilla bean paste

1

Large egg

100

g/ ½ cup

Fresh pumpkin purée

(see notes)
Posh Buttercream
60

g/ ¼ cup

Butter

softened

120

g/ 1 cup

Icing sugar

(plus extra for dusting)

60

g/ ½ cup

Cream cheese

½

teaspoon

Vanilla bean paste

75

g/ 10 tbsp

Vanilla marshmallow fluff

(near the peanut butter in most supermarkets)
Instructions
Make the Pumpkin purée
Cut the pumpkin in half vertically and scoop out the seeds

Place cut side down on a baking tin lined with parchment and roast for 60-75 minutes at 200C/ 400F/ GM 6 until the flesh is soft when poked with a sharp knife

Let cool slightly, then scoop out the flesh and purée it all in a food processor until smooth

Let cool completely, then store in the frdge until ready to use
Make the Pumpkin Spice Mix
Mix all the spice blend ingredients together and store in an airtight jar (keeps for around 3 months)
Make the Whoopie Pies
Pre-heat the oven to 170ºC/ 325ºF/ GM 3 and line 2 baking sheet with baking parchment

Sift the flour, baking powder, bicarbonate of soda, spice mix and salt together into a bowl

Put the oil, sugar and vanilla bean paste into a large bowl and mix with electric beaters until well combined

Add the pumpkin purée, mix again, then add the egg, followed by a final beat

Add half of the flour mixture and blend well on a medium speed, scraping the edges of the bowl to incorporate all dry ingredients. Add the remaining flour and mix again, being careful to not over beat once all dry ingredients have been incorporated

Using a dessert spoon/ cookie scoop or small ice cream scoop place neat blobs of the cake batter onto baking sheets – aim for circles around 3cm in diameter and spaced at least 3cm apart as the mixture spreads significantly in the oven. Aim for around 8 portions per sheet.

Bake for 12-14 minutes, until golden and springy to the touch. Cool on the baking sheet for a minute then transfer to a wire cooling rack
Assembling the Whoopie Pies
Make the filling by sieving the icing sugar and beating together with the butter

Next beat in the cream cheese and the vanilla bean paste. Finally mix in the marshmallow fluff

Once the cake domes are completely cool, pair up similar shapes & sizes then use the buttercream to sandwich them together

When ready to serve, dust the tops with a little icing sugar
Notes
The ingredients for the spice mix will give you enough to make this recipe about 3 times
If making your own pumpkin purée, you will end up with plenty of leftovers. These can be stored in the fridge for up to 5 days, or frozen. I suggest freezing in 100g portions, so they can be pulled out one at a time and used in baking several times over
It is vital to allow the pumpkin purée to cool to at least room temperature before using it in this recipe otherwise it will activate the baking powder before the pies get to the oven
You can use canned pumpkin purée if desired
When it comes to putting the mixture onto the baking sheet you can either use a spoon, a cookie scoop or even an ice cream scoop. Just keep in mind the size of the tool you are using in relation to how many whoopie pies you intend to make and swap for a smaller/ larger tool as necessary
I don't recommend piping the mixture onto the baking sheet as this will deflate the air that has been beaten into the batter
Ensure you create an even number of cake batter portions on the baking sheet so you don't' have a lonely pie dome leftover
I've stated that the recipe makes 8 large pies with a diameter of approximately 6-7 cm. You can, of course, make smaller pies. This recipe could comfortably produce 10-12 such pies
When assembling the pies take the time to pair domes of similar shapes & sizes. The end result will look so much better if you do
Though you can apply the buttercream with a blunt knife, a neater finish can be achieved by piping the buttercream onto one dome of each pie before topping with the other one
Nutrition Per Serving (Approximate)
Calories:
536
kcal
|
Carbohydrates:
76
g
|
Protein:
5
g
|
Fat:
25
g
|
Saturated Fat:
8
g
|
Cholesterol:
45
mg
|
Sodium:
246
mg
|
Potassium:
150
mg
|
Fiber:
1
g
|
Sugar:
46
g
|
Vitamin A:
2263
IU
|
Vitamin C:
1
mg
|
Calcium:
60
mg
|
Iron:
2
mg
(Visited 576 times, 1 visits today)