Masala Chai Syrup is a sweet, dark & intense syrup that is useful for flavouring drinks and recipes with a delicious blend of Indian spices. Who needs coffee-shop chai latte when this syrup is so easy & cheap to make at home.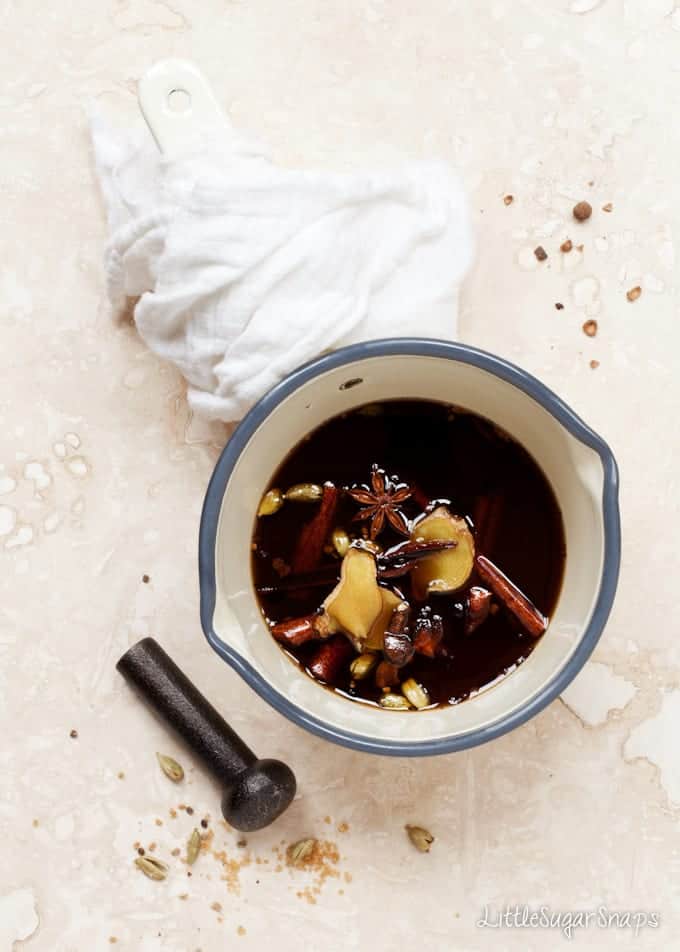 Well hello Autumn. I'm very pleased to be welcoming in the new, slightly cooler season this week because it means I can legitimately pull out certain spices and start slipping them into drinks willy-nilly again. I'm talking about the likes of cinnamon, ginger and nutmeg to name a few of those spices. These just happen to be at their most comforting during the nippier months of the year.
Today I'm pairing these well-used cosy spices with a few extras:
Cardamom
Cloves
Allspice
Star anise
Coupled with a hint of vanilla and a dark, sweet base, made from demerara sugar, this mix of spices creates a wonderful Masala Chai Syrup. It is dark, sultry, sweet and highly flavoured.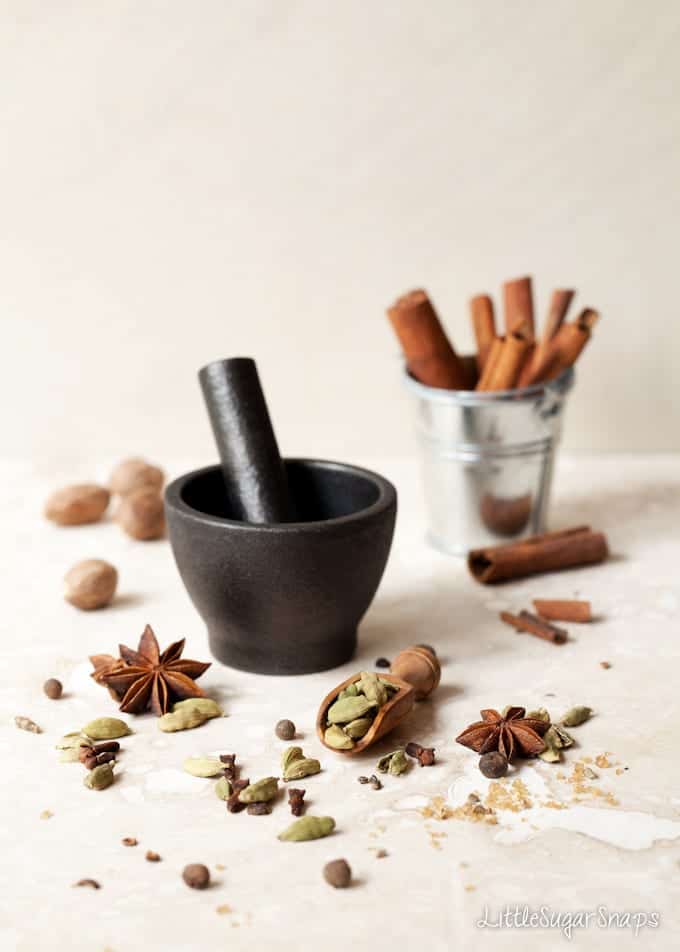 Traditionally, Masala Chai is a mix of hot black tea infused with Indian spices - usually including cardamom, cinnamon, cloves, ginger, and black pepper. Over the last few years, it seems to have etched out a cosy and permanent place on the blackboard menus in chain cafes across the UK.
I happen to have a weakness for this drink, so I've been working on a number of recipes based on it. My Masala Chai Syrup is at the heart of several of these recipes.
Before I go any further, I've got to go all nerdy and pedantic on you because I need to explain something - sorry.
You see there's a problem with the title Masala Chai Syrup and I just can't ignore it:
My syrup does contain masala (spice)
But it does not contain chai (tea)
So if we want to get technical, I have no business using the word chai in my syrup's name.
The problem is that I've not once come across a Masala Tea or a Masala Latte in coffee shops around me. I can, however, find a Chai Latte, or a Chai Tea, or even a Chai Tea Latte at the drop of a hat.
Following a logical train of thought, since chai translates as tea in numerous languages, it could be argued that what we are actually asking for in these instances is
a Tea Latte
a Tea Tea (hahahaaaaa)
or a Tea Tea Latte
And there lies my rather awkward issue. Should I also mis-use the word chai or not?
Some (me) would argue that, illogically, chai does now seem to be the accepted word to use when asking for the type of drink that is flavoured with these wondrous Indian spices. So, to avoid confusion, I've decided to keep chai in my recipe title:
Masala Chai Syrup. It's catchy. I like it.
And there is nothing to stop us adding it to our next cup of chai tea.
Confession: I may have accidentally without thinking things through properly technically called some cookies Tea Tea Shortbread last year. Okay, I admit it. Indeed they are labelled Chai Tea Shortbread. I'm sorry (and blushing). Regardless they are still worth munching on.
Okay, I'm calm now.
Returning to the point. This Masala Chai Syrup is tea-free. That means it can be used in a variety of drinks and recipes that would not pair so well with tea. And lucky you, I have a couple of drink recipes coming your way very soon.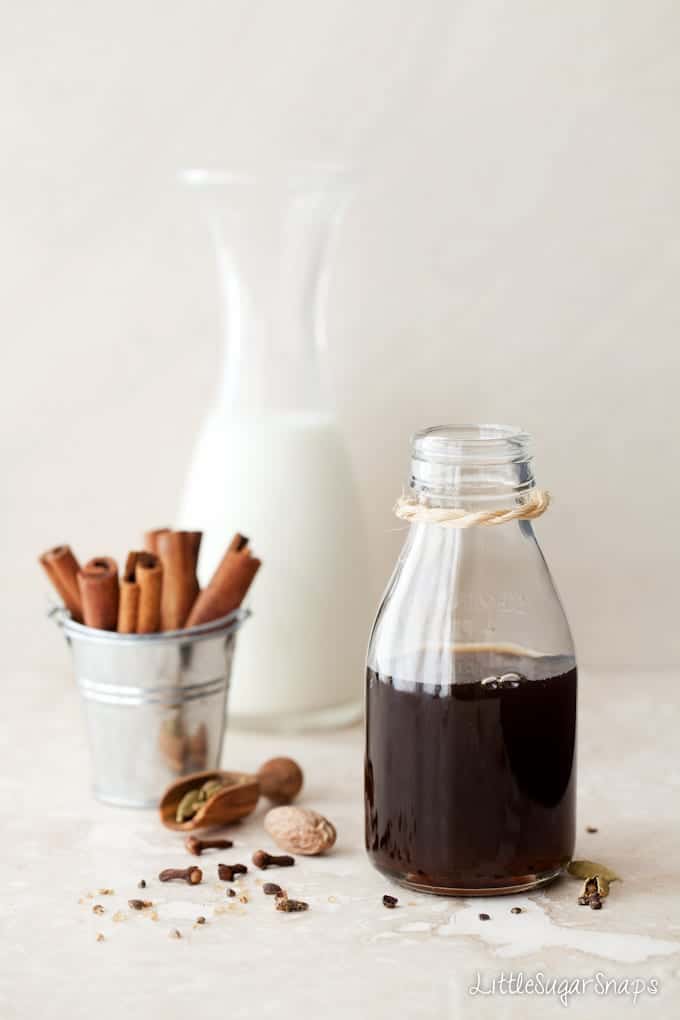 I've deliberately made the flavour of this sweet syrup fairly intense. Only a little is needed to impart those sensational notes of spice to the drink and it keeps the drink from getting overly sweet.
Check back soon for two comforting, cosy drinks using this Masala Chai Syrup. Names yet to be decided…. oh the pressure.
Bonus: as I've been writing this post I've been thinking of other ways to use the syrup. I'm wondering how porridge studded with raisins and drizzled with Masala Chai Syrup might work out. I'll let you know.
It's also lovely as a flavouring to plain yoghurt. If you'd like to have a go at flavouring your own yoghurt and cutting down on sugar, read up here.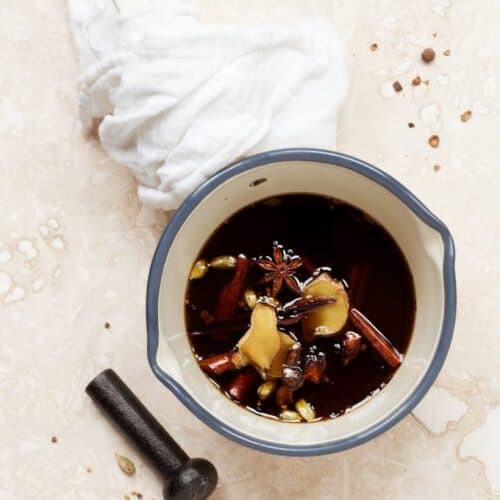 Masala Chai Syrup
Masala Chai Syrup is a sweet, dark & intense syrup that is useful for flavouring drinks and recipes with a delicious blend of Indian spices. Who needs coffee-shop chai latte when this syrup is so easy & cheap to make at home. Use a little (2-3 tsp) to flavour hot drinks
Print
Pin
Rate
Ingredients
100

g/ demerara sugar

100

ml

water

1

large cinnamon stick

(15cm)

8

cardamom pods

4

cloves

½

clove

nutmeg

2

allspice berries

1

star anise

3

slices

fresh ginger

(1mm thickness) - approx 7g in total

½

tsp

vanilla extract
Instructions
Begin by putting the sugar and water into a small saucepan and place on a medium heat to dissolve the sugar

Meanwhile prepare the spices - snap the cinnamon stick in half and then hit it several times in a pestle and mortar to break it up a little more (don't grind it). Tip the chunks of cinnamon into a small bowl

Next split the cardamom pods (a swift whack with the pestle should do the trick). Add the split pods and seeds to the cinnamon

Put the cloves, nutmeg and allspice berries into the mortar and give them a gentle bash with the pestle. Again, do not grind to a powder

Once the sugar has dissolved, tip the dry spices, including the star anise, along with the slithers of fresh ginger into the pan and bring to the boil, then remove the pan from the heat

Let steep for 2 hours then strain to remove the chunks of spices

Stir through the vanilla extract and pour into a bottle

Store in the fridge for up to 4 weeks
(Visited 885 times, 10 visits today)