Take your tea drinking to a new level with rum masala chai. Delightfully spiced, deeply comforting and with a hint of alcohol, this is one sweet tea drink you should not pass up the chance to try.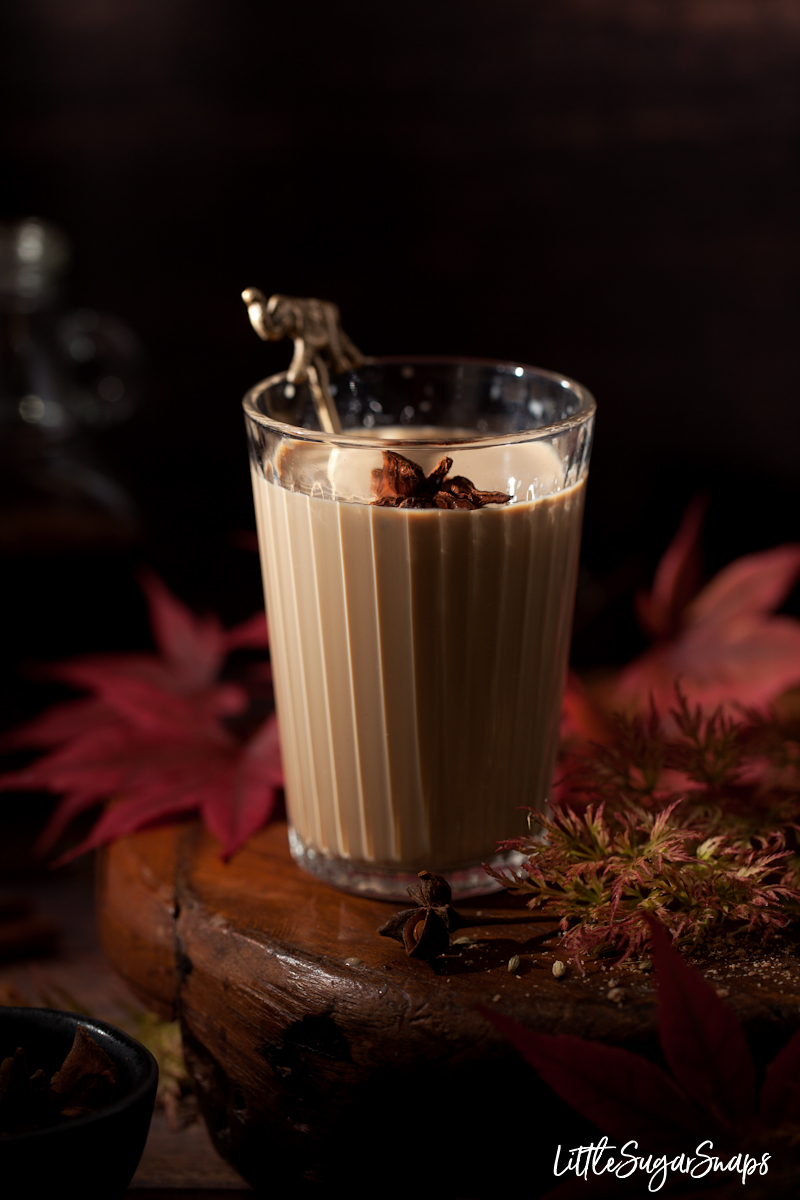 Honestly, I cannot remember the first cup of masala chai I tried. I can only assume that it was not that noteworthy. However, my children have grown up adoring it. Truth be told, this is how I got them into drinking tea of any kind. Over the years I've tried numerous spice blends at home, and finally settled on one we all love. These days, masala chai is something that my family associate with comfort, love and special times.
Although I have a number of chai spice recipes on here, I did not, until now, have my interpretation of masala chai laid down. In line with tradition, I wasn't content to put up just any old regular version. There had to be a twist. So I've played around to create a boozy masala chai.
In my opinion, this rum masala chai is my crowning glory of all my chai spice recipes. The base recipe for the spiced tea in itself is something that can be served to any tea drinker. But the tipple of rum that is added at the end – for the drinkers amongst us – really does elevate this already magnificent drink to another level. Somehow the rum managed to pull the spices out a little further, making them more pronounced.
If you like a robust hit of spice with a hint of alcohol to the warm drinks on a winter's eve, this drink should please you.
But here's the deal. I didn't intend for this boozy masala chai to be rum focussed. At the outset, I had bourbon in my mind. But as I see playing around and comparing as part of my job description, I served up a bourbon masala chai and a rum version alongside each other. Hands down winner? Oh yes, the rum.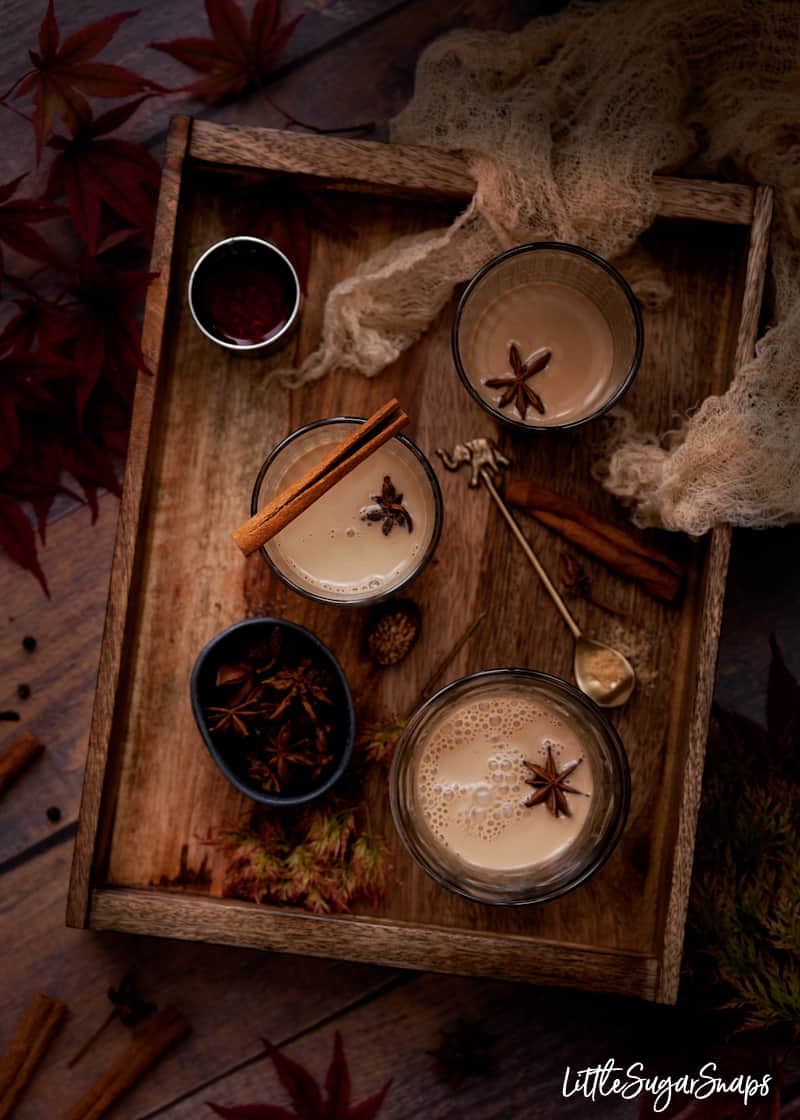 What is Masala Chai?
Masala chai is a combination of black tea, milk and a blend of aromatic spices and herbs.
It is India's most popular drink and it is quaffed daily by everybody. Masala chai is brewed at home, in Irani cafes and by Chai Wallahs (street vendors) who brew it on the street and sell it to locals and visitors poured from kettles.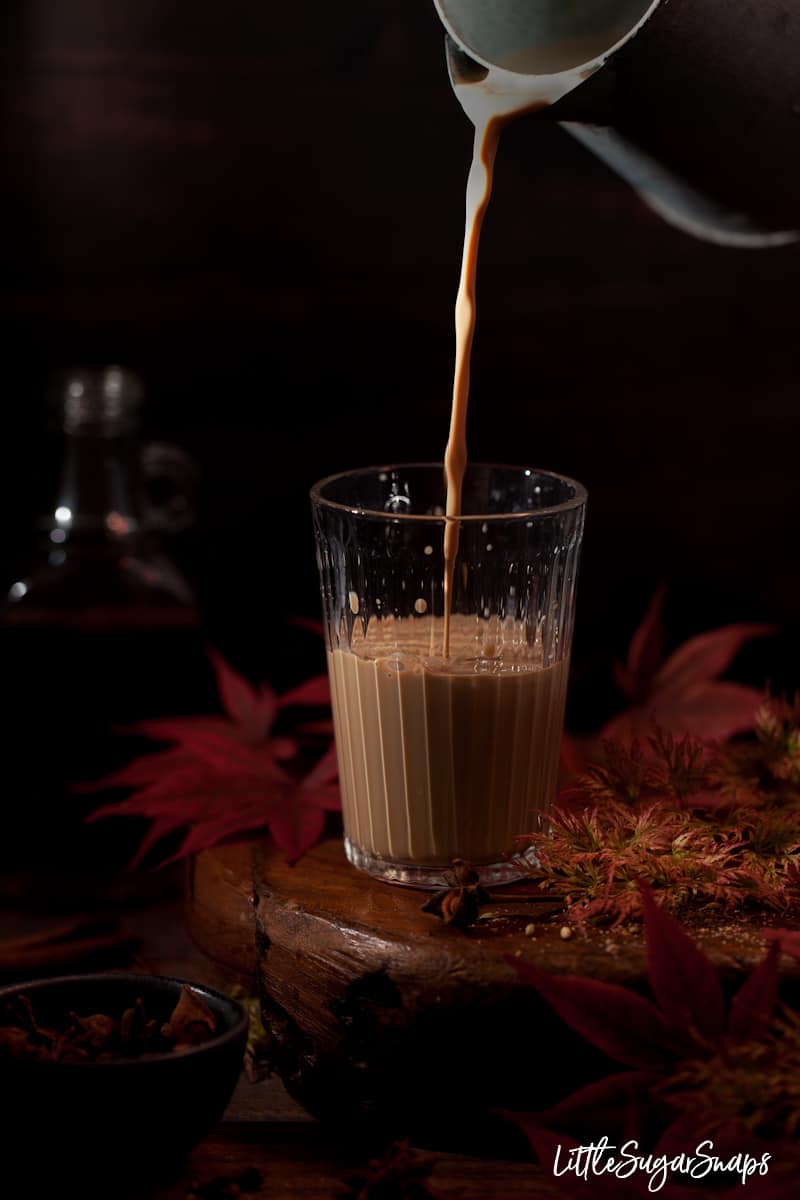 Though its origins are firmly rooted in India, this drink has gained a huge fan base across the world in recent years. It is now frequently avaiable in western cafes and coffee shops.
Masala refers to the spice blend whilst chai translates as tea. Unfortunately, and rather embarrassingly, many western coffeehouses have adopted the phrase chai tea or chai tea latte on their menus which essentially translates as ordering a tea tea or a tea tea latte. Er…. whoops.
What Does Spiced Tea Taste Like?
Authentic Indian masala chai will likely have a punchy hit of spice to the flavour with notes of anise, cinnamon and ginger shining through strongly.
Western variations can sometimes be milder in spice flavour.
The exact blend of spices included in masala chai varies hugely, depending on who is brewing it. Each cafe, Chai Wallah and even each home in India will have its own unique blend of spices tweaked in accordance with their own spice preferences.
Since sugar helps draw out the flavour profile of the spices, masala chai is usually served as a sweetened drink. Exactly how sweet again depends on who is making it.
Other ways to serve masala chai include:
black (no milk)
with a pinch of salt
and with a generous splash of condensed milk
Of course, boozy masala chai is a sound option too for cosy evenings. Just a small measure of rum or bourbon takes those spices to entirely new depths.
How to Make Rum Masala Chai
Making rum masala chai from scratch is not difficult, but it does take around 40 minutes. I like to make a double batch of masala chai up in one go and just keep it in the fridge to reheat as required.
Begin by selecting your spices. I've included: green cardamom, fresh ginger, cinnamon, cloves, black peppercorns, fennel seeds, star anise and vanilla
Optional: to intensify the flavours of the whole spices as the tea brews, give them a quick bash in a pestle and mortar to break them up/ crack them open. There is no need to grind them though
Place the spices in a large saucepan with 3 tea bags (I used Yorkshire black tea) and the vanilla pod (split open lengthways). Bruise the ginger and drop into the pan, then top with the water. Bring to the boil and simmer for 10 minutes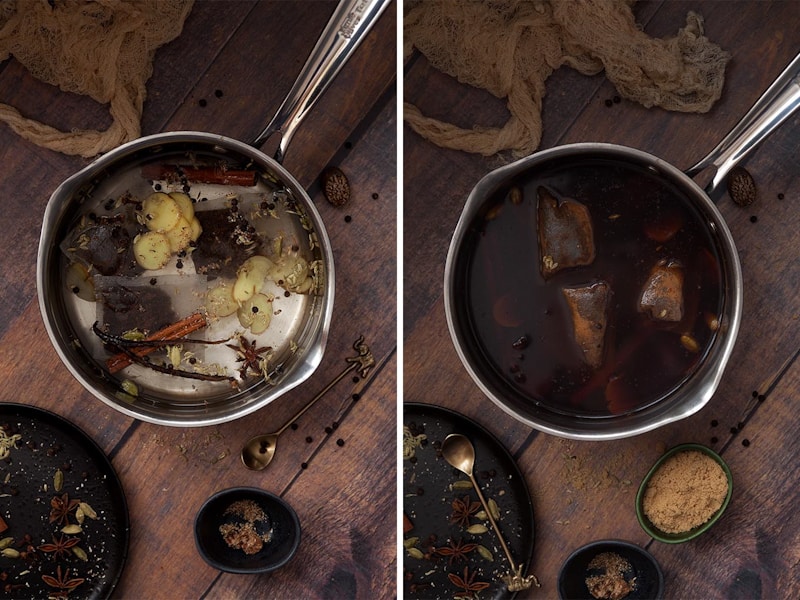 Next, add the milk and 2 tablespoon sugar, then return to the heat and simmer for a further 20 minutes. A skin will form, but dont' worry, everything is strained through a fine sieve (or nut bag) at the end
After 20 minutes check the sweetness and add a little more sugar if desired, then strain to remove the spices and milk skin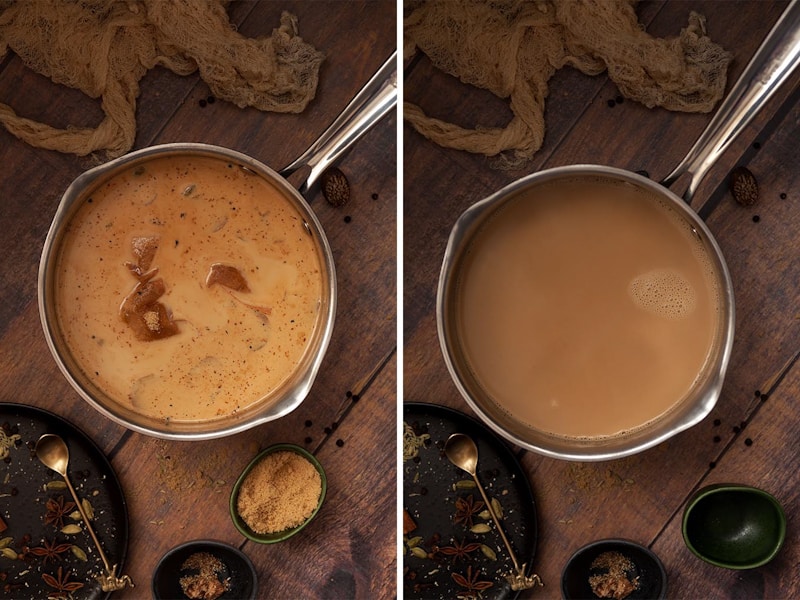 Serve this spiced tea just as it is to non-drinkers or add a dash of rum to turn this into a rum masala chai. Just a small about of alcohol really does enhance the spice profile of this comforting tea.
Alternatively, try out the bourbon masala chai. It's perfectly delicious too… just not quite as pleasing as the rum version.
What Type of Tea Should I Use?
Black tea is the order of the day for a traditional masala chai. Assam and Darjeeling are both sound choices, though a good old English breakfast tea works like a charm too. I used Yorkshire black tea, since I can rely on it to provide a strong brew.
For decaffeinated chai tea pick up some caffeine-free black tea or some Rooibos tea.
Can I vary the Spices?
The spices included are entirely up to you. There really is no right or wrong spice blend for masala chai, but green cardamom and ginger typically play a dominant role, alongside cinnamon and clove. Other popular additions include:
peppercorns
vanilla
nutmeg
allspice
star anise
fennel seeds
My rum masala chai has some delicious back-notes of black pepper, anise and ginger, with a touch of sweet & creamy vanilla mingled in. This is not the strongest spiced tea I've ever tasted but it's certainly not a shrinking violet on the taste front either. Expect to taste those spices.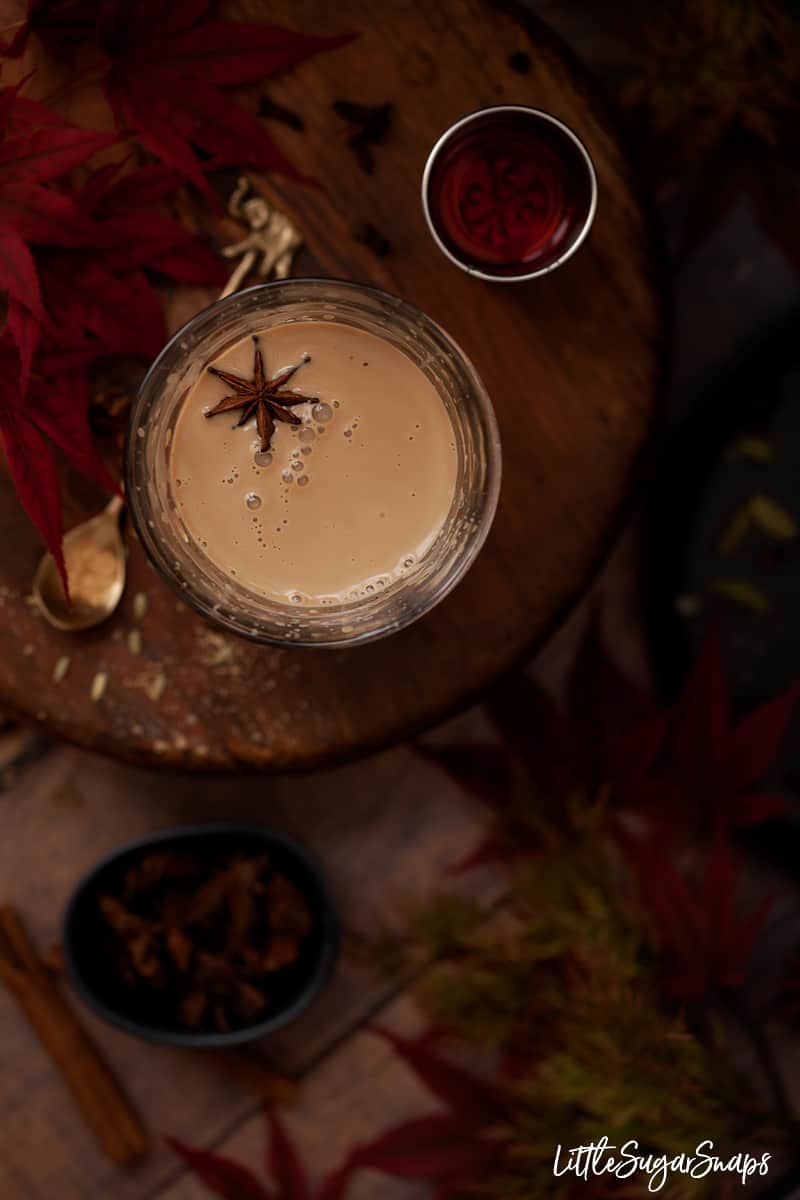 Looking for more chai spice recipes? Try these: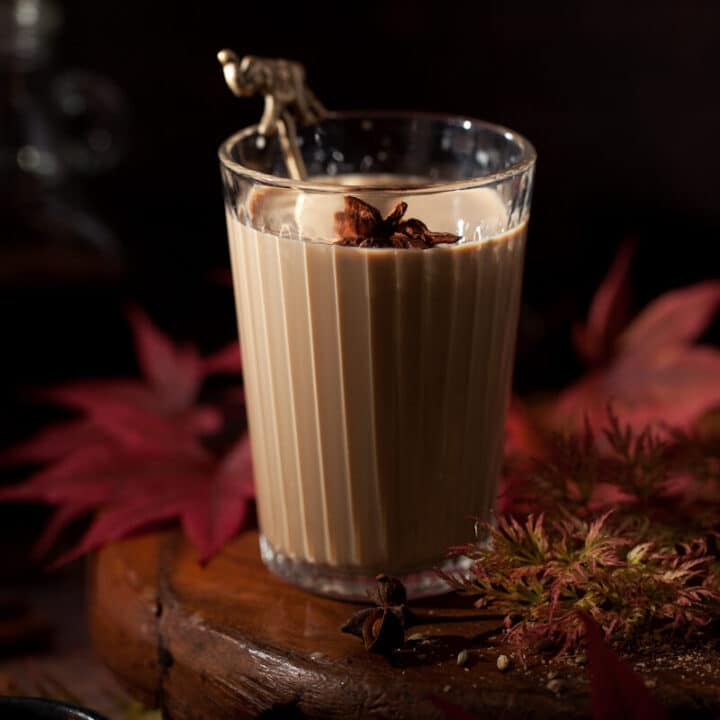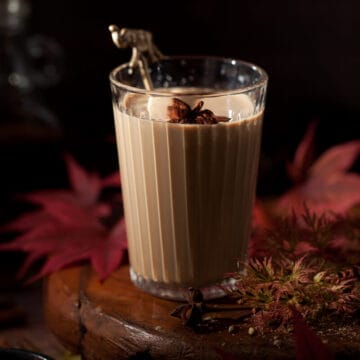 Rum Masala Chai
Take your tea drinking to a new level with rum masala chai. Delightfully spiced, deeply comforting and with a hint of alcohol, this is one sweet tea drink you should not pass up the chance to try.
Print
Pin
Rate
Ingredients
3

Tea Bags (black tea)

eg Assam, Darjeeling, English Breakfast

5

Green cardamom pods

12

Thin slices ginger

1 mm thick

2

Cinnamon sticks

each 10cm long

5

Cloves

1

teaspoon

Black peppercorns

add an extra ½ teaspoon for a more intense pepper flavour

1

Star anise

½

teaspoon

Fennel seeds

¼

teaspoon

Nutmeg

freshly grated

1

Vanilla pod

see notes

500

ml/ 2 cups

Water

2-3

tablespoon

Light brown sugar

500

ml/ 2 cups

Whole milk

60

ml/ 2 fl oz

Dark rum
Instructions
Optional: to release a stronger spice flavour roughly break up the whole spices in a pestle and mortar (or with the back of a rolling pin

Put the ginger into a large saucepan and gently bruise using a cocktail muddler. Add the vanilla pod (split with a sharp knife lengthways), the whole spices and the tea bags

Pour in the water, cook over a moderate heat for 10 minutes

Add the milk and 2 tablespoon sugar

Bring back to the boil and simmer gently for 20 minutes. Don't worry if a skin forms, this is normal and will be strained away later

After 20 minutes, stir and taste. Add more sugar if necessary

Strain the tea through a fine-meshed sieve or a nut bag

Serve as it is or with 1 tablespoon rum per serving. Garnish with cinnamon and/ or star anise

Any leftovers can be stored in a bottle in the fridge for up to 3 days
Notes
Vary the spice levels according to your personal preferences.
For a less peppery heat add half the amount of pepper. Want a deeper pepper flavout – add a little more.
Not so keen on ginger – half it.
The recipe as given produces a mid-spiced drink. I've had more fiery masala chai, but I've also had much milder drinks. Expect to taste pepper, ginger and anise.
Vanilla extract can be used in place of the vanilla pod. I always work on the basis of 1 teaspoon of vanilla extract being equivalnty to 1 vanilla pod. However, it's worth checking the guidelines on your bottle since the strength can vary according to the brand/ quality of the extract.
Nutrition Per Serving (Approximate)
Calories:
171
kcal
|
Carbohydrates:
20
g
|
Protein:
5
g
|
Fat:
5
g
|
Saturated Fat:
2
g
|
Cholesterol:
13
mg
|
Sodium:
66
mg
|
Potassium:
295
mg
|
Fiber:
3
g
|
Sugar:
13
g
|
Vitamin A:
203
IU
|
Vitamin C:
2
mg
|
Calcium:
188
mg
|
Iron:
1
mg
(Visited 2,576 times, 12 visits today)