Over-ripe strawberries get a makeover in this Roasted Strawberry Sauce. The transformation is spectacular & the flavour is amazing. You'll never throw out mushy strawberries again.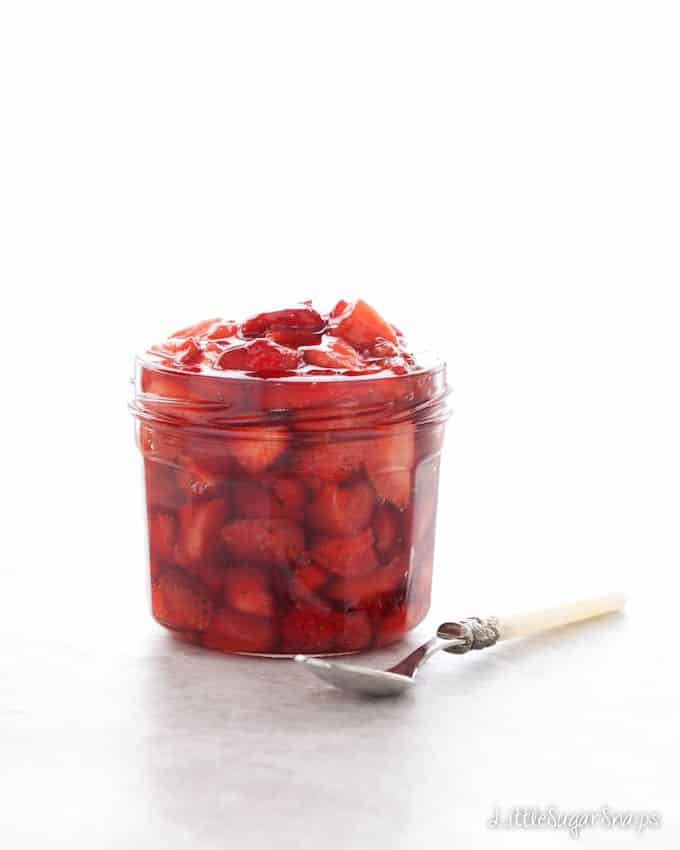 The trouble with summer is that it really is too easy for me to get carried away when I go grocery shopping. When I see all of those ripe & juicy, in-season berries giving me a cheeky wink from their space on the supermarket shelf then I loose all track of reality and end up buying far too much. Don't get me wrong, we can get through a lot of fruit during summer, but quite often, I misjudge the shopping. A few days later I'll find the proof when I come across the sorrowful remains of a punnet of strawberries languishing in my fridge. Soft. Squidgy. Unlovable. Normally, this over-ripe fruit ends up stockpiled in my freezer ready for smoothies. But a few weeks ago I discovered a new weapon in my arsenal against food (and cash) waste: Roasted Strawberry Sauce.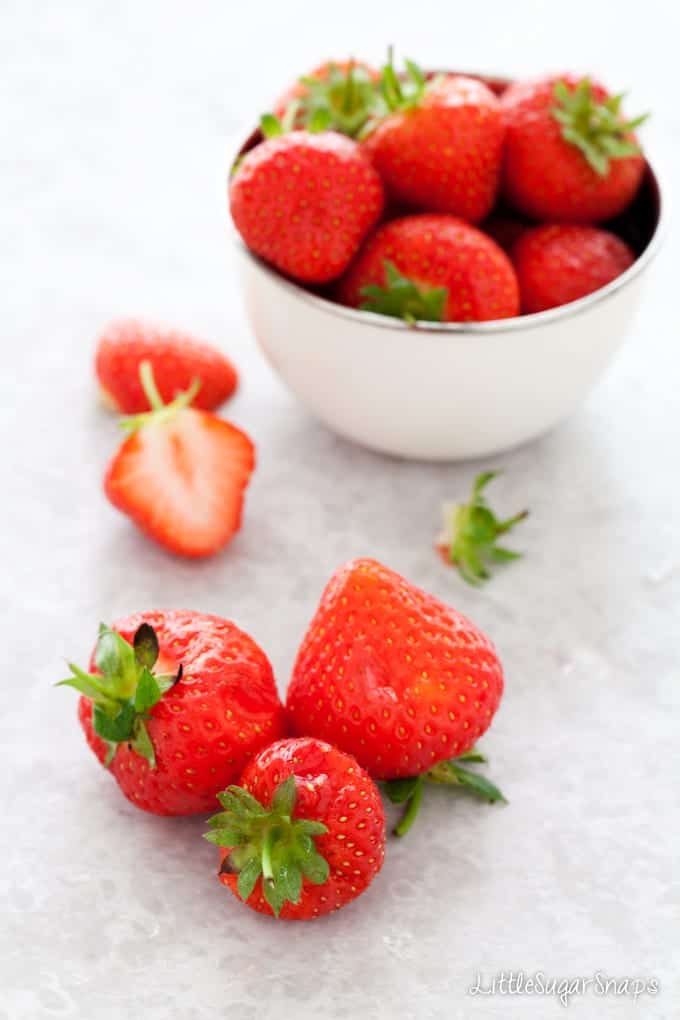 This sauce is really incredibly simple. Gently roasting those unfortunate, neglected strawberries with a little sugar transforms them. The sauce that emerges from the oven is really rather punchy and gloriously bright. The cooking process magically amplifies the sweet strawberry flavour and removes all evidence of their former woeful state.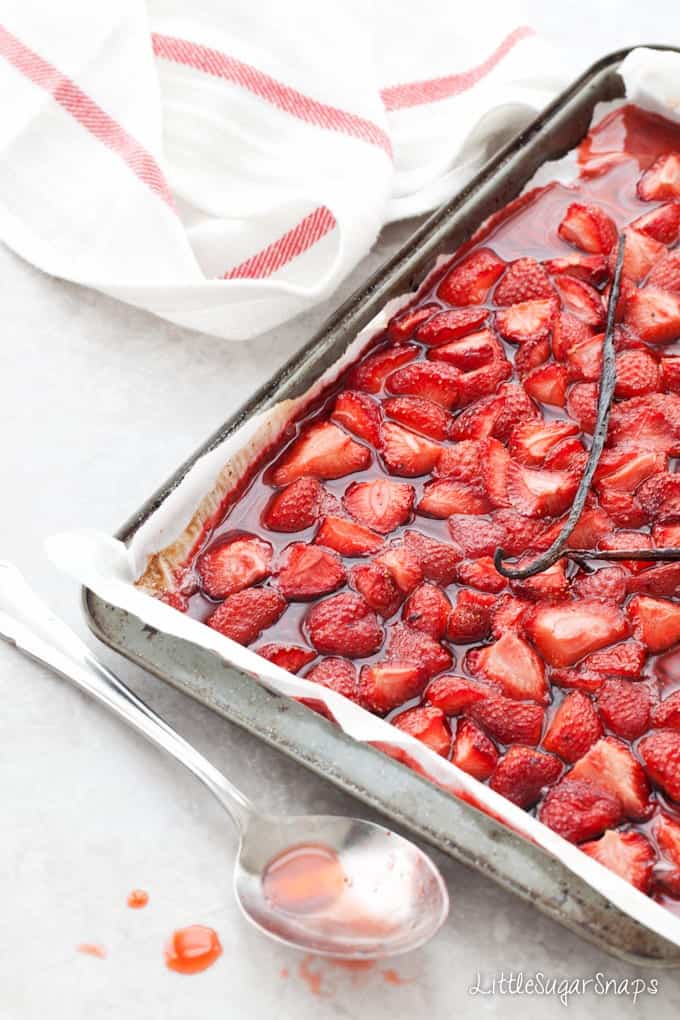 Once made, this thick, chunky Roasted Strawberry Sauce makes a great addition to a variety of sweet treats:
Ice cream
Pancakes
Waffles
Cheesecake
Trifles
Meringues
And that's just a few ideas.
Oh, I nearly forgot to mention that I slipped a few drops of Orange Blossom Water into the sauce to add a touch of the exotic to the party. It works well. You could substitute Rose Water or leave out the additions if you like – the sauce will still be fabulous.
I'll be using this Roasted Strawberry Sauce in my simple recipe for Strawberry Tarts next week – watch out for it. Better still, make yourself a batch so you're ready for me.
Just occasionally there's an interesting story behind the inspiration for one of my recipes. Are you ready for today's saucy background? Grab yourself a comfy chair…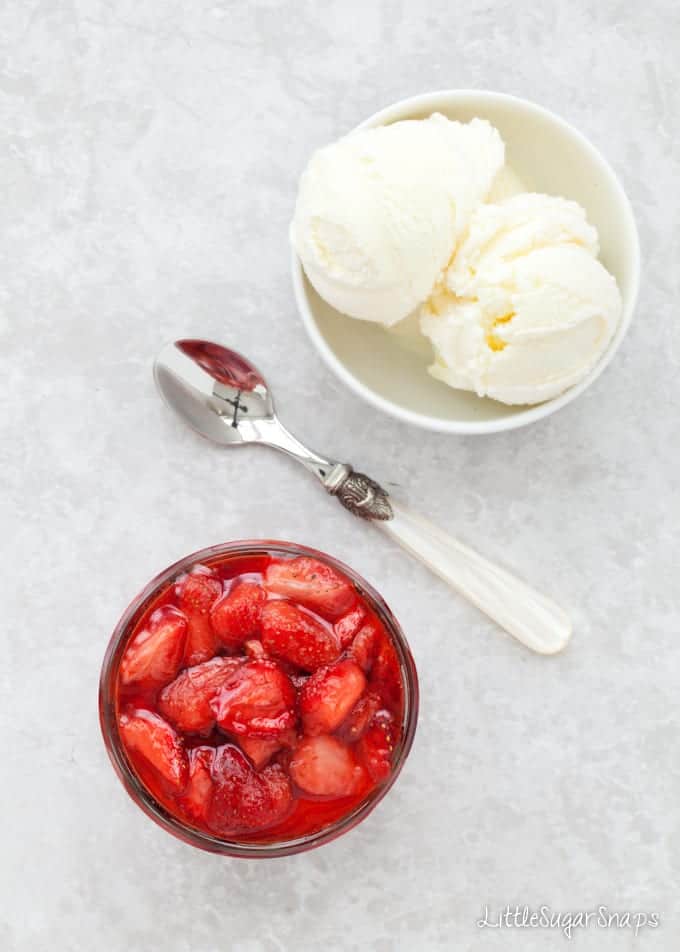 My motivation for this Roasted Strawberry Sauce came about after being asked by a fellow blogger and friend to support her in a campaign she is running throughout August for Action Against Hunger. Her aim is to raise awareness (and funds) for the many children within our world who die every single day due to malnutrition.
She got me thinking. I live a very comfortable life. My family live a very comfortable life. Everybody I know lives a very comfortable life – nobody I know struggles to clothe or to feed themselves or their family.
I am incredibly lucky. I know that. And I want my kids to grow up knowing how fortunate they are too. It doesn't happen often, but when my children get picky with their food for no good reason, I get frustrated. For years I've come out with some predictable lines to my kids when there have been unexplained leftovers in their lunch boxes. I'm sure you can guess a few of these choice classics….
"You don't know how lucky you are"
or
"Some children would be so grateful to have that, or any food, but they are literally starving"
Starvation and malnutrition are not easy concepts to get across to kids coming from a land of plenty, with access to clean water and three meals a day, every day. But knowing about the plight of other families elsewhere in the world makes me want to not waste the food we have and to appreciate it all the more. And I feel those are important standards for me to get my family to comprehend and nurture.
For these reasons, when Dini (the brains behind The Flavour Bender) asked for help with her campaign For Food.Against Hunger. I said yes. And so my Roasted Strawberry Sauce evolved in a bid to cut my food waste.
Thanks for listening to my interlude today. The project has really got me thinking about my kitchen habits and how I want to educate my kids about the world they live in.
First up is dealing with the food we waste. Making some Roasted Strawberry Sauce is a great way to get started. And bonus – it can even be frozen. But there are so many ways we can use up or preserve our food to minimise waste. Later this week I'll be sharing a season-by-season round-up on this topic. My aim is to cut my food waste drastically, whilst enjoying some new and delightful recipes. I hope I give you a bit of inspiration.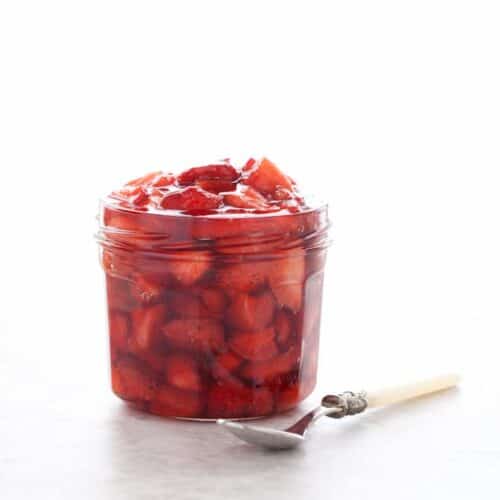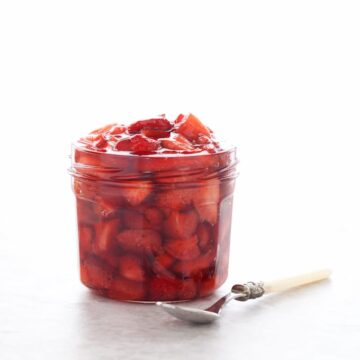 Roasted Strawberry Sauce & Action Against Hunger
Over-ripe strawberries get a makeover in this Roasted Strawberry Sauce. The transformation is spectacular & the flavour is amazing. You'll never throw out mushy strawberries again.
You can also make this sauce with ripe strawberries should you not have over-ripe ones to hand.
Print
Pin
Rate
Ingredients
600

g/ 21 oz

Over-ripe strawberries

3

tablespoon

Caster sugar

1

Vanilla pod

1

teaspoon

Orange blossom water – optional or substitute ½ teaspoon rosewater
Instructions
Preheat the oven to 140°C/ 275°F/ GM1

Remove the green stalks and roughly chop the strawberries – not too small

Lay the strawberries onto a baking tin lined with baking parchment

Spilt the vanilla pod and lay it over the strawberries

Scatter the orange blossom water over the strawberries, followed by the sugar

Roast for 40-45 minutes, stirring after 20 minutes, until the liquid is beginning to thicken

Scrape the seeds from the vanilla pod and stir into the sauce

Let cool and decant into a clean jar

Store in the fridge for up to 1 week or freeze immediately

(Visited 178 times, 1 visits today)