Coconut Mango Granola is easy to make, delicately sweet and loaded with wholesome goodies. It's a healthy breakfast option but it is not boring.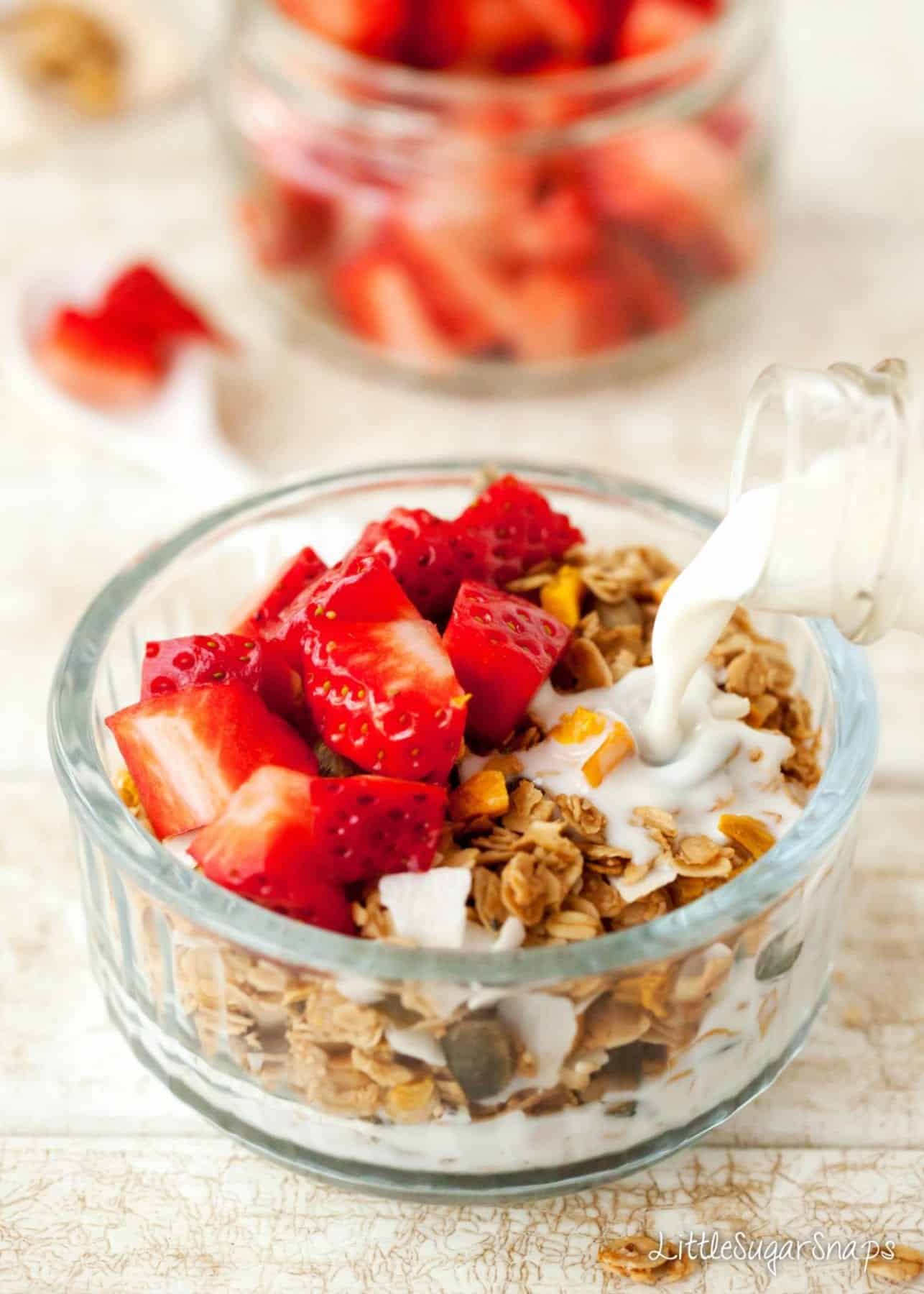 Granola: toasty, semi-sweet, golden oats, with full-fat milk and a serving of some fresh fruit at the side. This little medley has to rank in my top 5 of perfect breakfasts. I'd happily forgo the majority of cooked options for a serving of quality oats any morning of the week.
They have to be spot on though, as in:
Not just a bowlful of dry oats with a few seeds & nuts and a measly pinch of dried fruit thrown in. I do not want sawdust for breakfast
Not so sweet that they rival crunchy nut or frosted flakes on the sugar gauge – I'm not 5 years old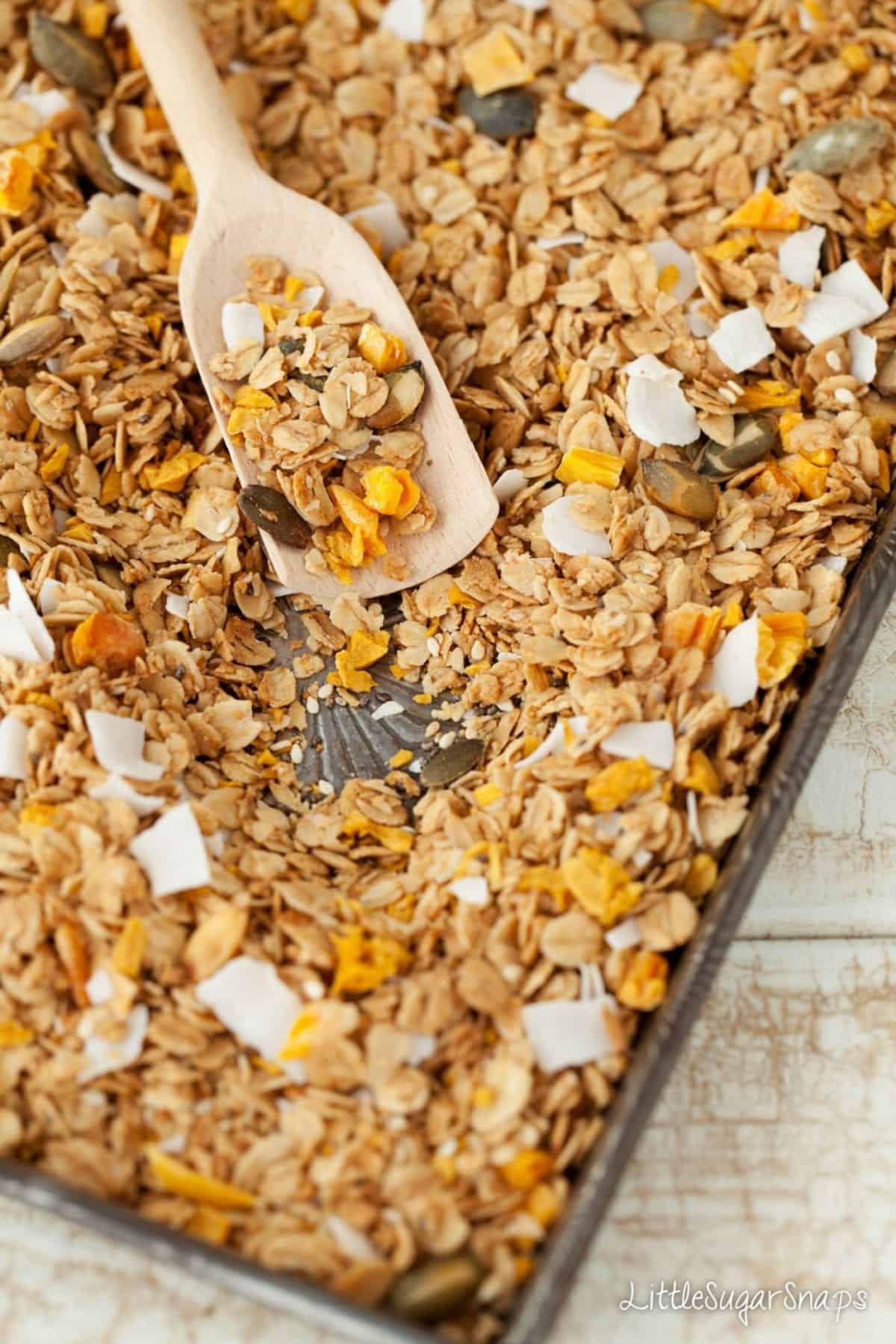 I enjoy just a subtle hint of sweetness in the oats and plenty of fruit content alongside to ramp up the flavour. Once you've got that bit right, all the health-boosting extras (seeds & nuts) just fall sublimely into place to create a beautiful breakfast. For me, the oats don't have to stick together in clumpy nuggets – that's a sure sign that a heavy-handed measure of fat and sugar is involved. Just baked golden and slightly sweet. No sawdust. Perfect.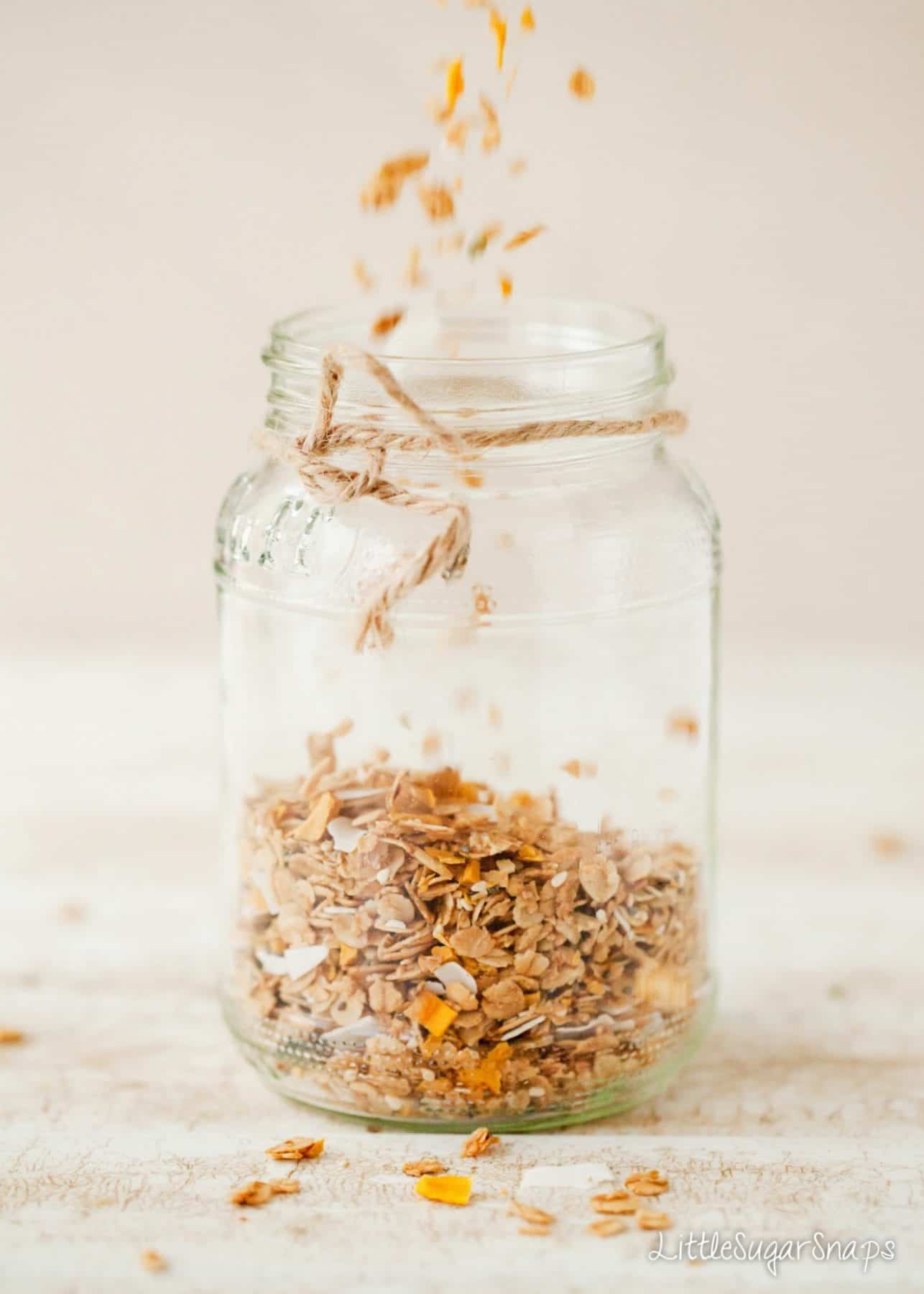 This Coconut Mango Granola has that delicate sweetness in the oats – provided by the maple syrup and the coconut oil. The mango provides a further hit of natural sweetness and the extras – coconut flakes, pumpkin, chia & sesame seeds – all add texture to the bite. It's pretty good, I think you'll like it.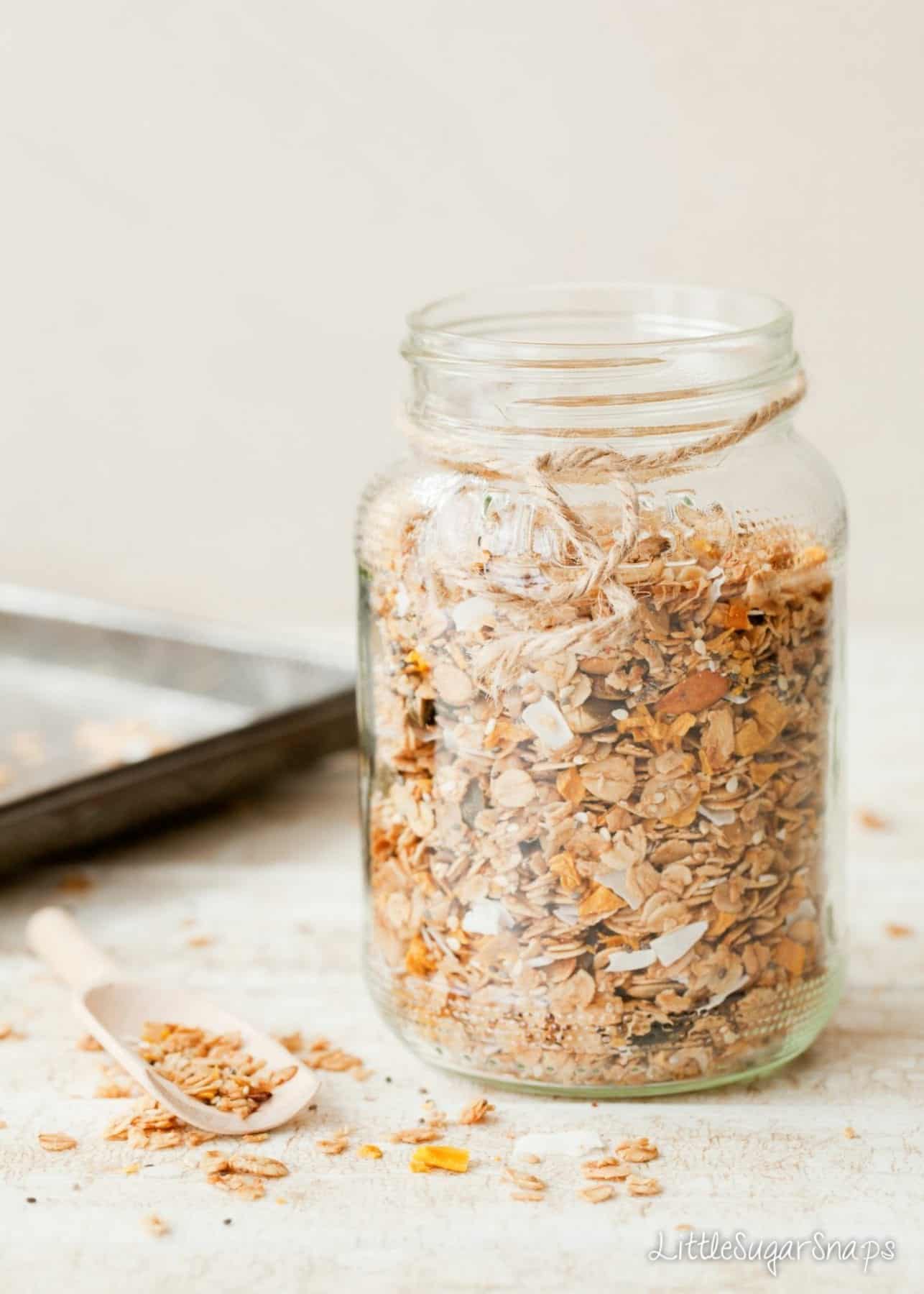 Homemade granola is a bit of a steal. It really is extremely easy and impressively quick baking. And if you serve some up to any guest staying with you overnight and I'll bet they're more than impressed at breakfast time.
Aside from reaping compliments from pals, there are more fab benefits of making your own granola:
you know exactly what you're putting into it (no hidden add-ins with weird names you don't recognise)
the sweetness level can be tailored to your taste preferences
you also get to create your perfect flavour combinations too
Number 3 just rocks – no more picking out banana chips for me. Ever. Is it only 2 weeks ago since I last mentioned my complete loathing of bananas?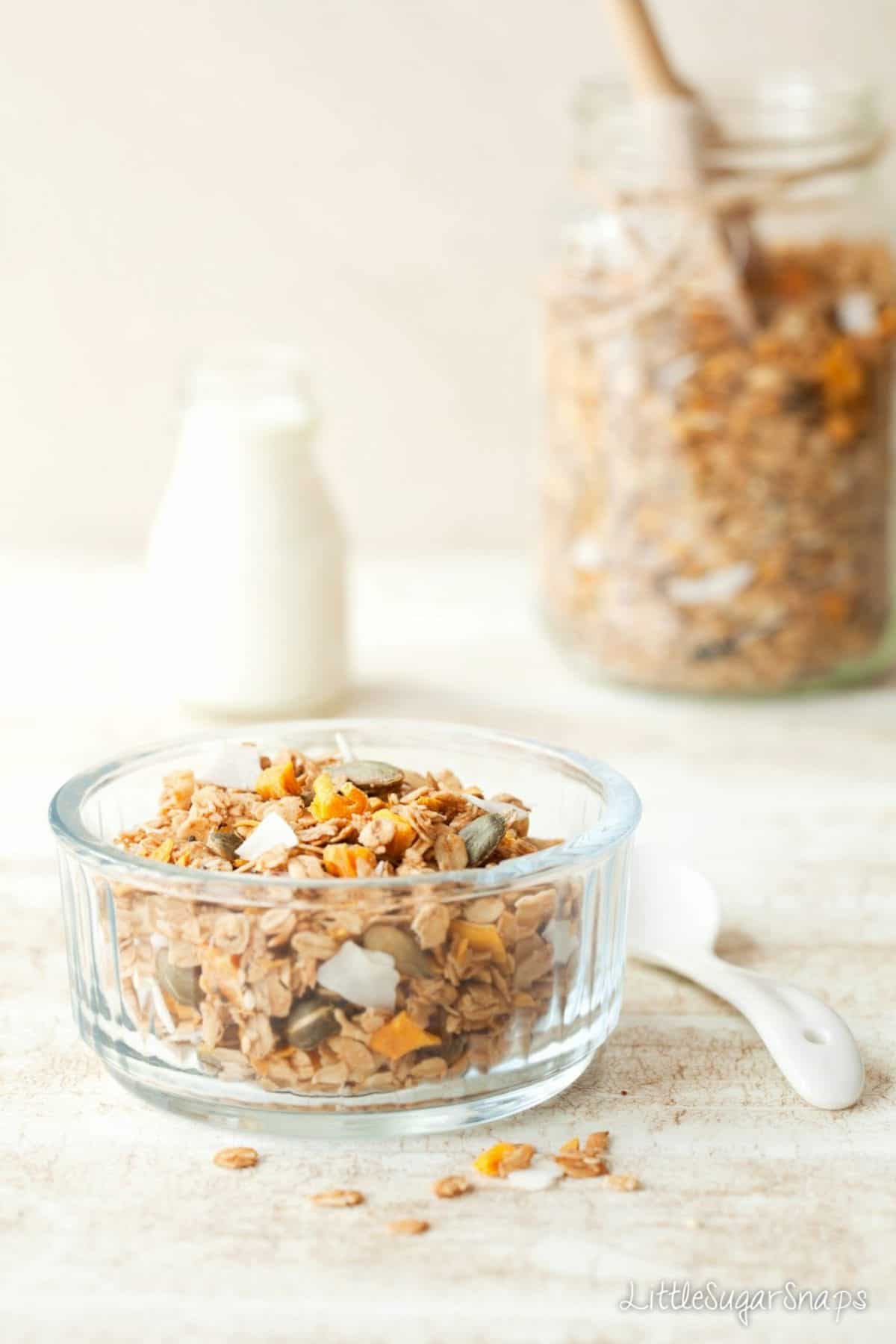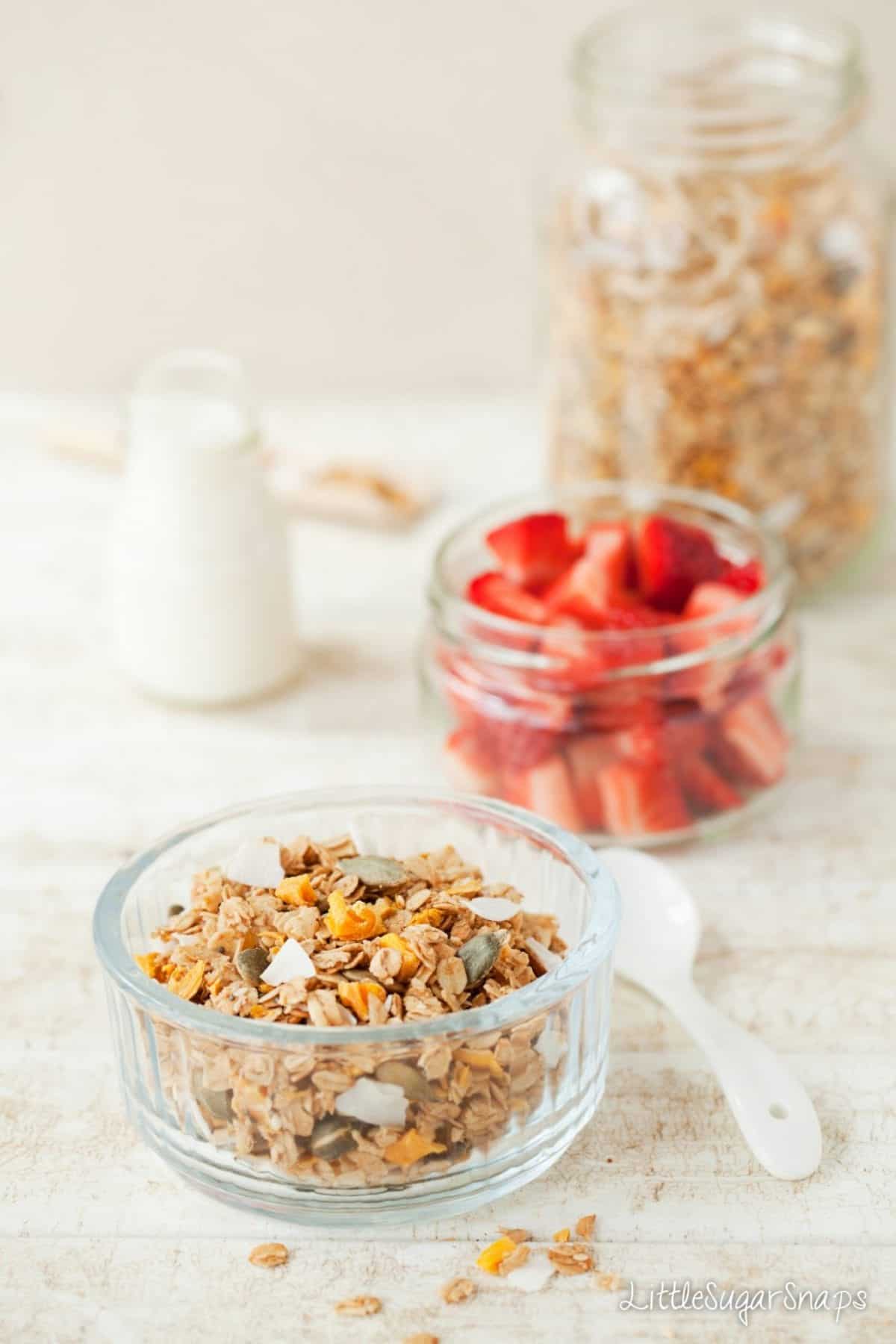 And did I mention that this granola is made with coconut oil? Yes, that ingredient that all newbie food bloggers run out and buy as soon as they have drafted their first post… and then wonder how to use it…. for months on end.
I'm thankful that I've finally got over that fear of opening the jar. This is one awesome breakfast to create with it. The coconut oil lends a subtle, sweet and nutty flavour to those wholesome oats (sigh).
I'll be making another batch of this Coconut Mango Granola very soon, as my oldest daughter can't resist taking some for her breakfast too. It seems our granola jar is close on empty all too quickly. In truth, I think we're both nearing granola obsession. When we're not eating it for breakfast, you can catch us dreaming up more flavours for me to develop. In fact, Hannah hit upon a good one the other day. It's perfect for autumn. Watch this space…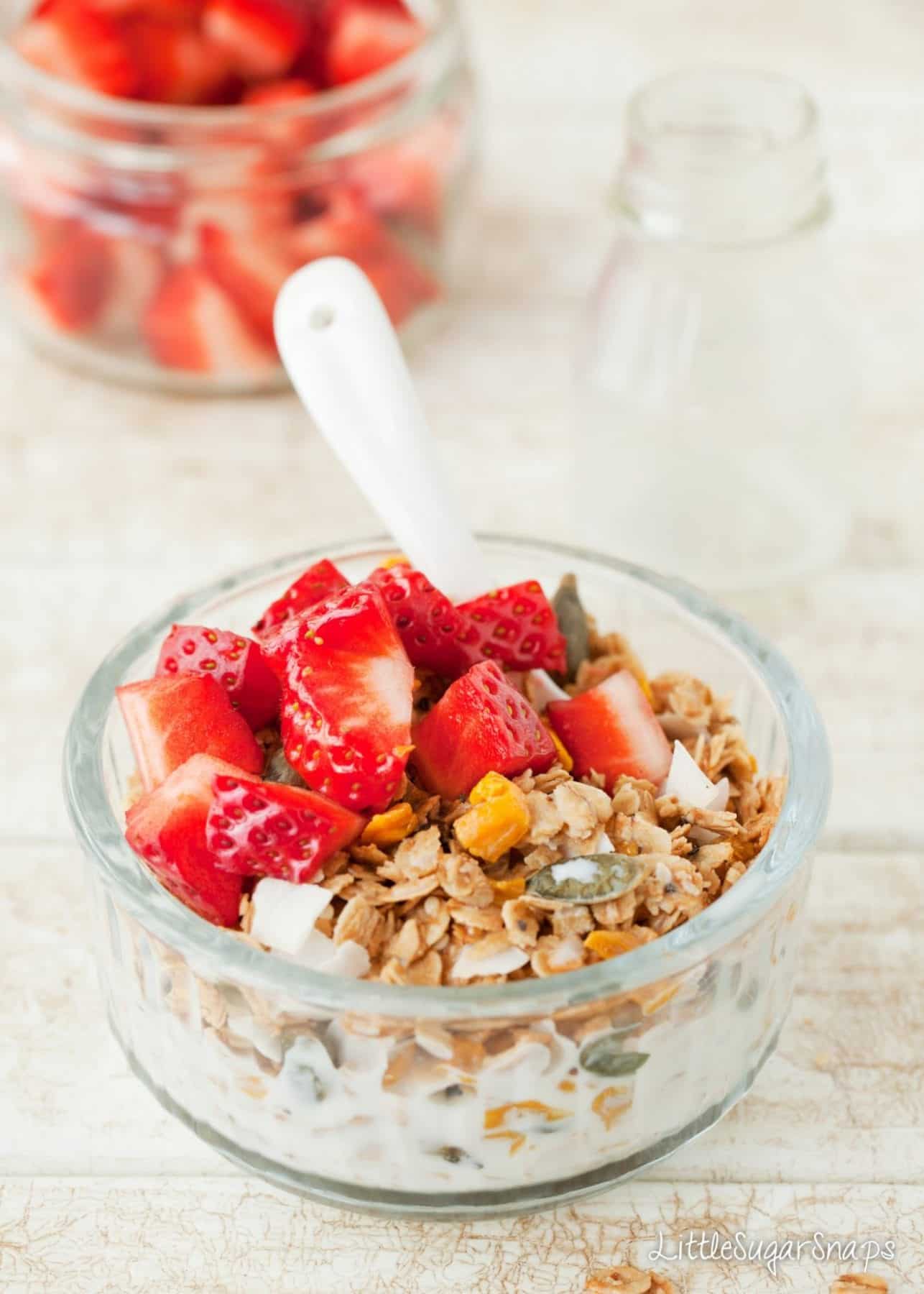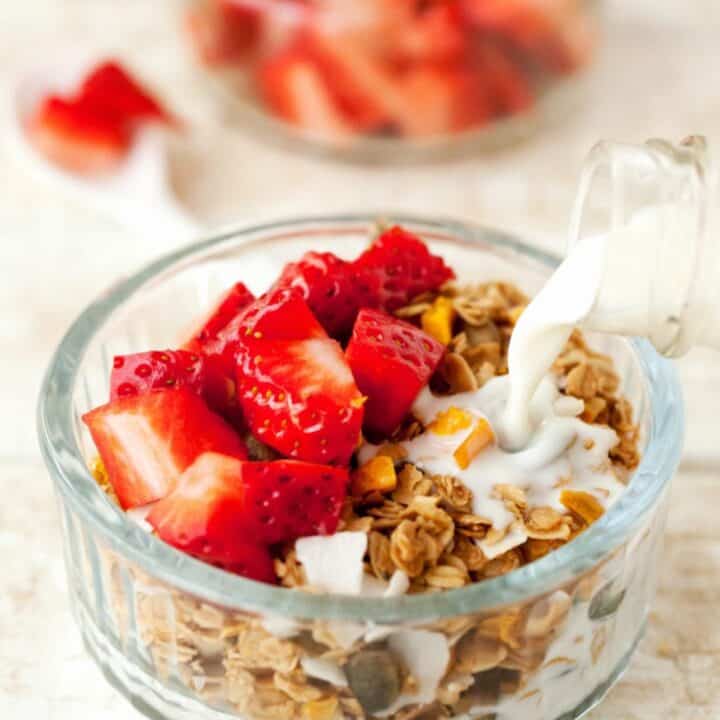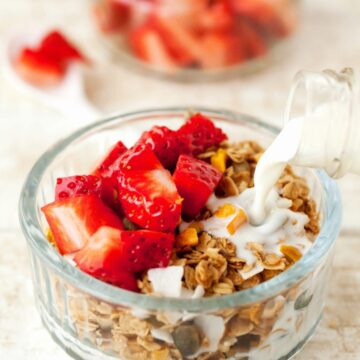 Coconut Mango Granola with Vanilla
Coconut Mango Granola is easy to make, delicately sweet and loaded with wholesome goodies. It's a healthy breakfast option but it is not boring.
Print
Pin
Rate
Ingredients
200

g/ 2¼cups

Jumbo oats

3

tablespoon

Maple syrup

3

tablespoon

Coconut oil

1½

teaspoon

Vanilla extract

3

tablespoon

Coconut flakes

50

g/ 2oz

Chopped dried mango

3

tablespoon

Pumpkin seeds

¼

teaspoon

Salt

(optional – see notes)

1

tablespoon

Chia seeds

(optional)

1

tablespoon

Sesame seeds

(optional)
Instructions
Preheat the oven to 170°C/ 325°F/ GM 3

Put the oats, pumpkin seeds and salt (if using) into a large bowl

Melt the coconut oil, mix in the maple syrup and vanilla extract and pour over the oats. Stir until all of the oats are coated in the liquid then spread onto a large baking sheet lined with baking parchment

Bake for 40-45 minutes, turning the oats every 15 minutes to ensure they cook evenly. They should all take on a beautiful golden colour. Once cooked, allow to cool completely on the tray (pouring them into a bowl or container could result in soggy oats)

Add the coconut flakes, and dried mango, plus the chia and sesame seeds. Store in an airtight jar for up to 2 weeks
Notes
1. The first time I made this granola, I forgot to add the salt. Being completely honest, I didn't miss it in the flavour, so I've continued to make it without, but it's up to you if you prefer to add a touch.
2. This granola is delicious served with fresh strawberries, which pair with the other flavours perfectly. A splash of cold milk or a spoonful of vanilla yoghurt completes the dish.
(Visited 110 times, 1 visits today)