This Green Goddess Smoothie with Grapes & Mint is easy to make, packed with goodness and delightfully slurpable.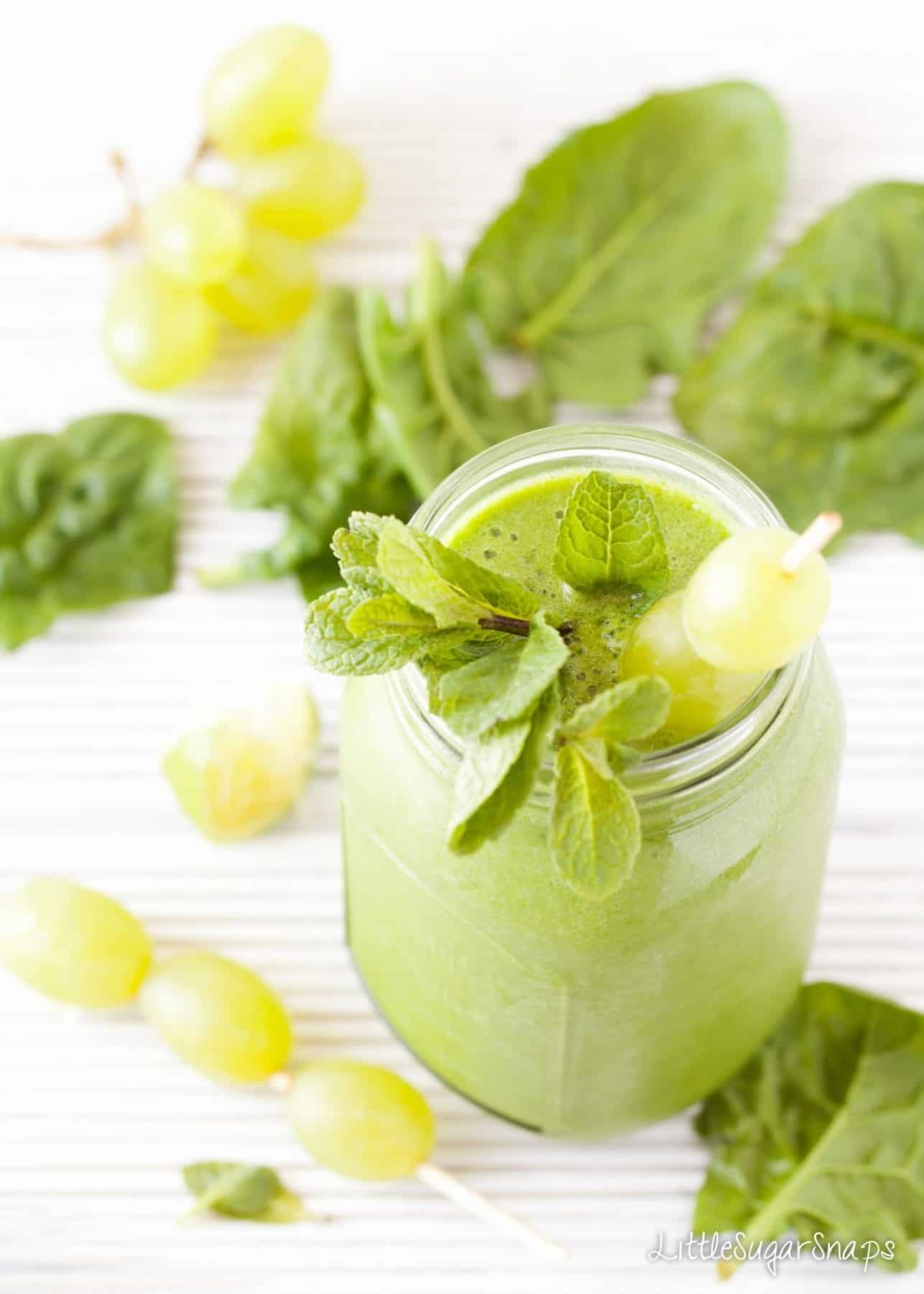 Seriously, until a few months ago, I never thought I would enjoy a smoothie with veg in it. But here I am, raving about a lip-smackingly refreshing glassful of green goodness: the Green Goddess Grape Smoothie. It was good. So good in-fact, that it was gone in two slurps:
slurp one: oh… I like that.
slurp two: ohhhhh…. it's all gone.
I think you get the picture. So what's in it to make it so delightfully slurpable? Well, for starters, there's pineapple, green grapes, coconut water and a generous squeeze of lime to bring the flavours together. Then there's the green stuff – spinach and mint.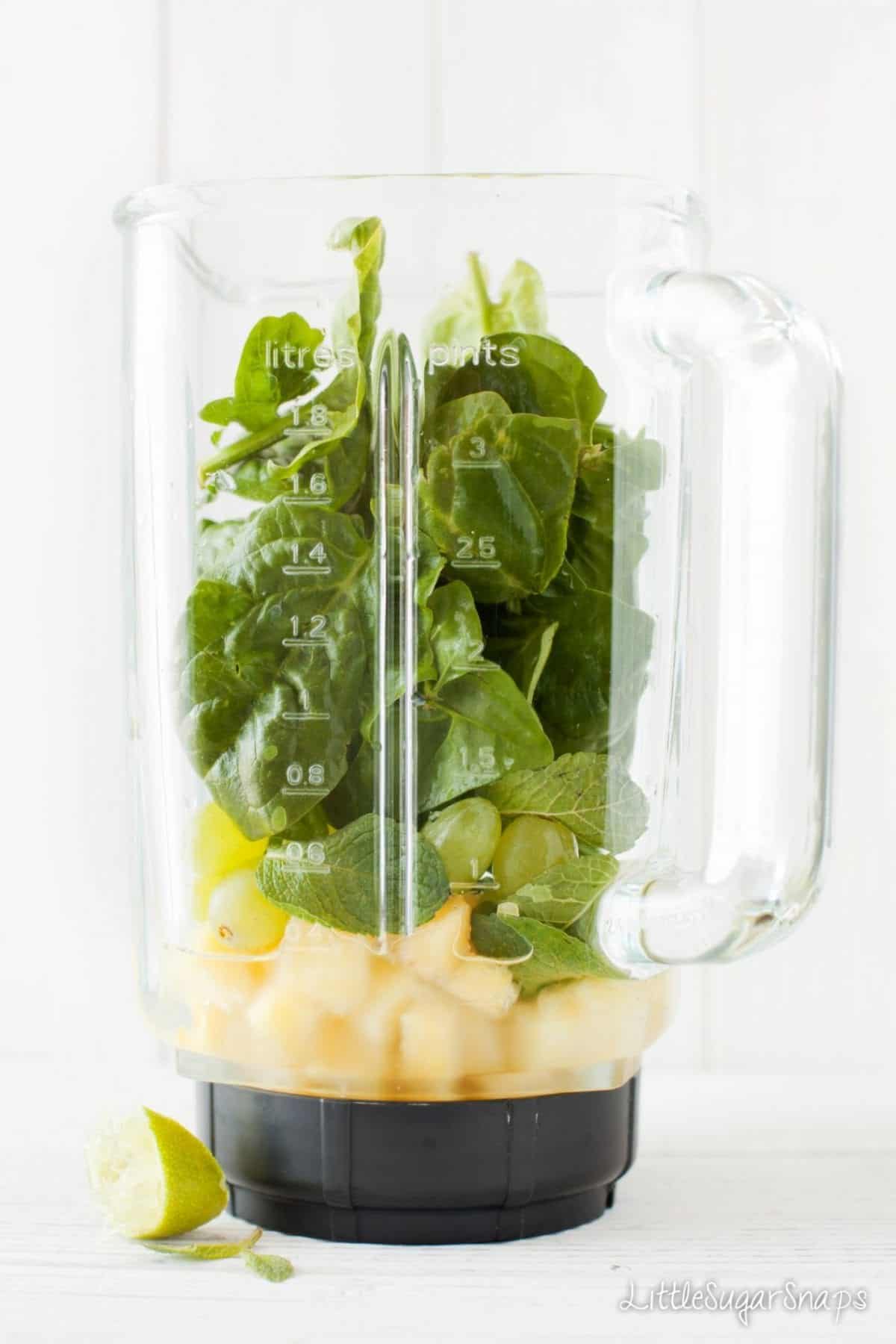 I always face a challenge when it comes to smoothies since I cannot face bananas (it's a smell/ texture/ taste thing). Finding a suitable alternative for a touch of creaminess can be tricky.
Since I wanted to keep this drink really fresh and light, I felt that yoghurt would be too much. Oats made the consistency a bit pasty and definitely not what I was after. Finally, I settled on just the tiniest dash of coconut milk – which was a bit annoying as the day before I'd thrown out the unused remains of a jar that had been sitting in my fridge for far too long. However, silver lining and all – I have now realised that freezing coconut milk in ice cube trays and adding the required quantity of cubes directly to the blender works a treat – bye-bye tropical food waste. 🙂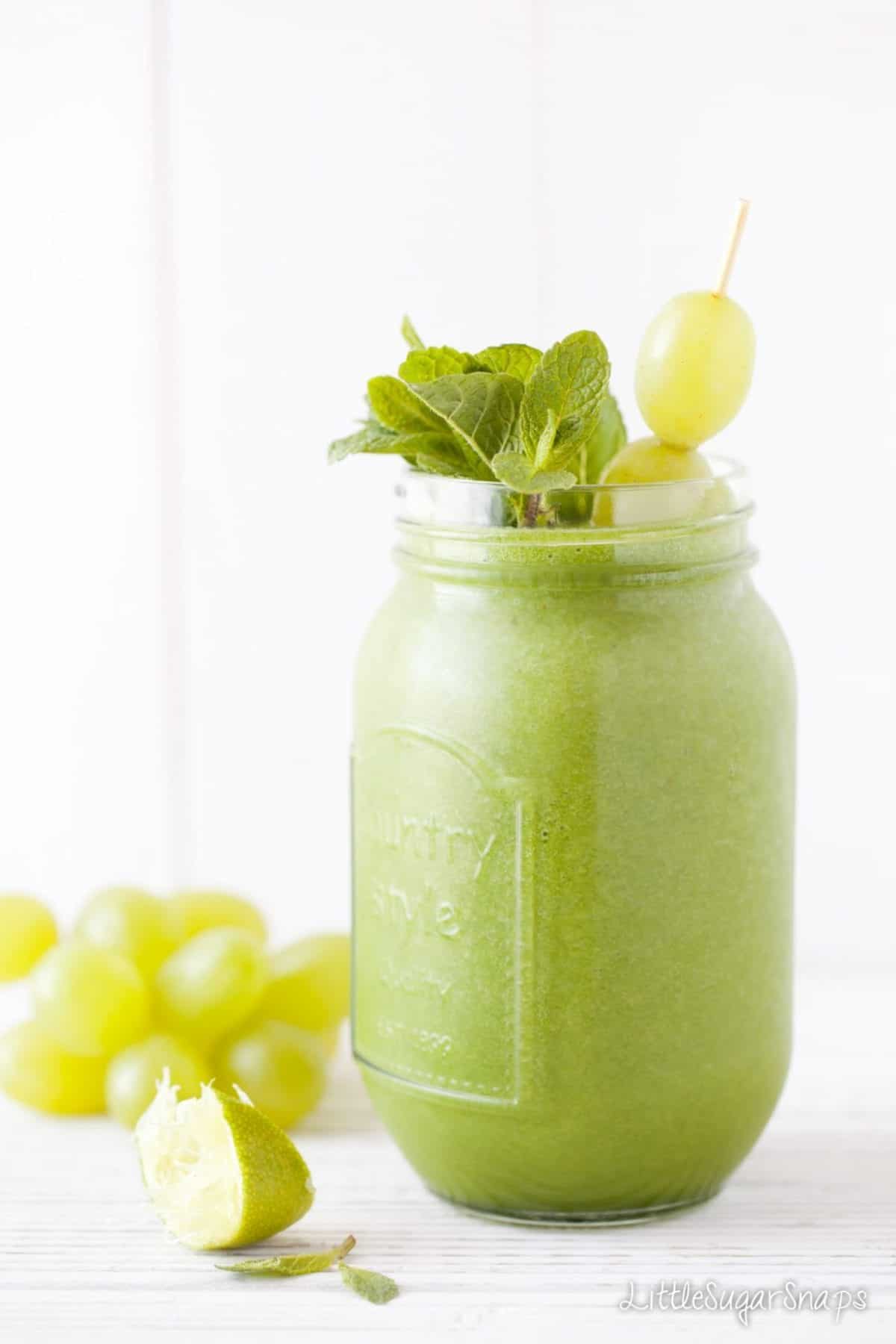 The flavours combine to create a drink that is refreshing, zesty, fruity and subtly minty. It also comes in a rather fetching shade of green – obviously – adding to the fun.
Are Green Smoothies Nutritious?
Green smoothies that contain leafy vegetables usually also contain some wonderful nutrients. Of course, this grape smoothie also boasts plenty of health benefits.
Confession: I easily get carried away reading up on nutritional facts and today is no exception – somehow a whole hour passed me by… shhhh.
I'll give you the highlights:
Spinach has long been hailed as a leaf with remarkable abilities to restore energy and increase vitality. That's little wonder given spinach is an excellent source of vitamin K, vitamin A, vitamin C, folic acid, manganese, magnesium, iron and vitamin B2.
Amongst the many health benefits of mint, it is a great friend to your tummy as it soothes indigestion and inflammation.
Pineapple and coconut I praised recently in my cold busting smoothie (in a nutshell: they give you a vitamin C boost and help re-hydration).
But it's the green grapes that blow me away:
Green grapes contain powerful antioxidants known as polyphenols, which may slow or prevent many types of cancer.
The high polyphenol content in grapes may also reduce the risk of cardiovascular disease. Apparently, the polyphenol helps prevent platelet build-up and reduces blood pressure.
Grapes have a high water content so they do help to keep you hydrated and your bowel movements regular.
Grapes also contain fibre, which is essential for minimizing constipation.
Wowzers, I have been totally under-estimating grapes for years. I'm off to blend some more of this grape smoothie right now. Want to slurp along too?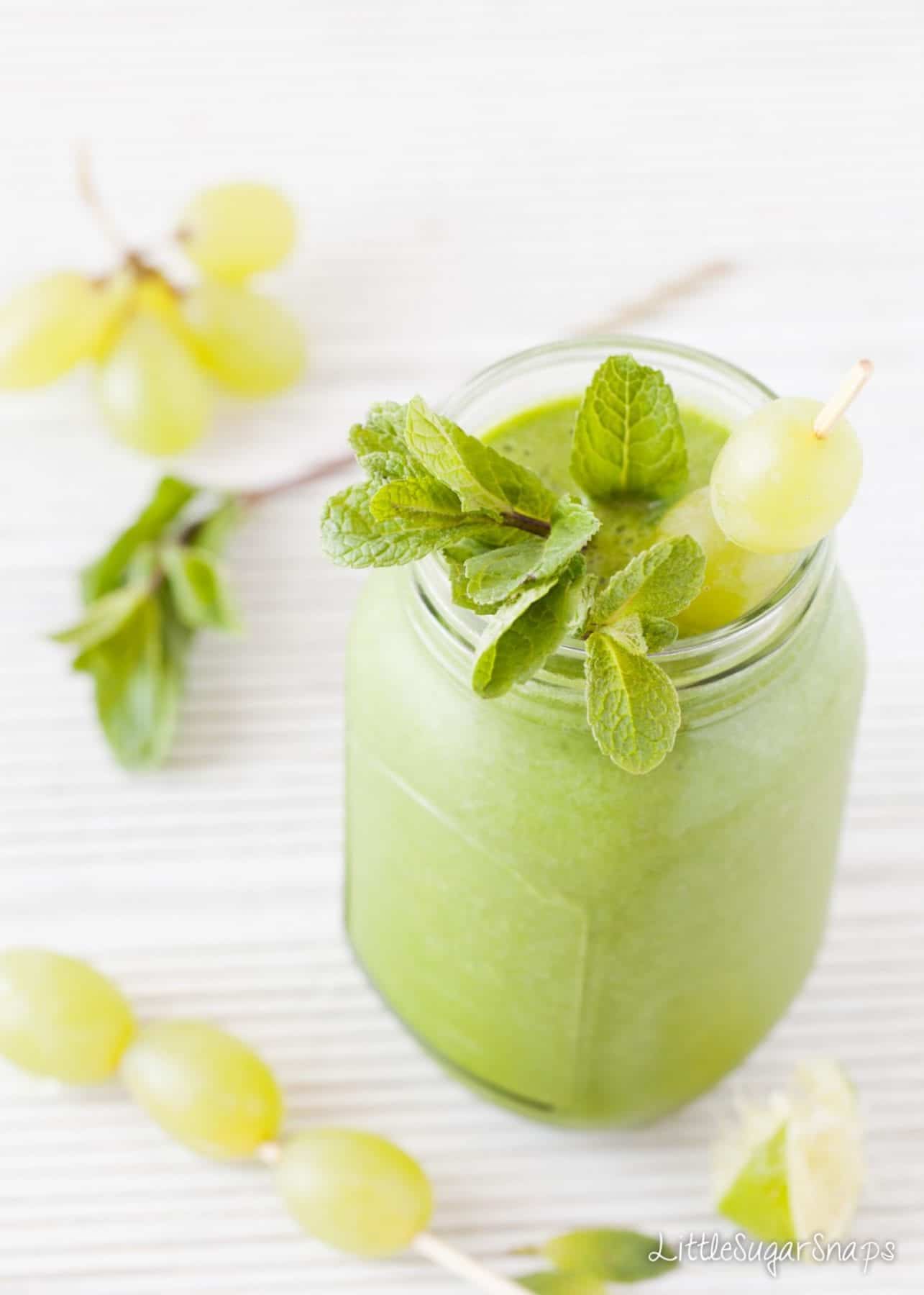 If you like green smoothies, be sure to check out my lime and mint smoothie. Or for fresh inspiration, take a look through my collection of cold drinks recipes.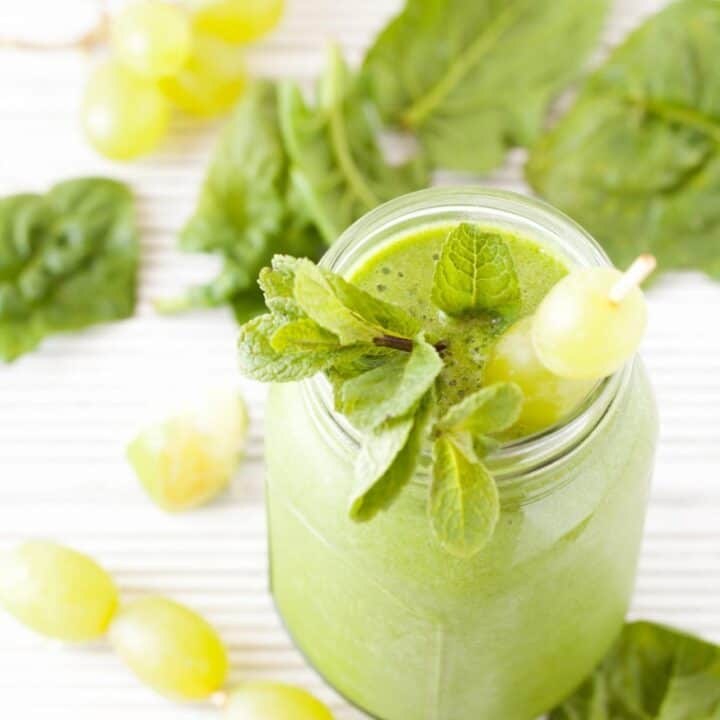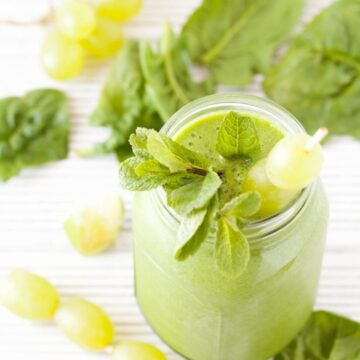 Green Goddess Grape Smoothie
This Green Goddess Grape Smoothie combines fruit, coconut water, spinach and mint to create a drink that is packed with goodness and delightfully slurpable
Print
Pin
Rate
Ingredients
125

g/ 5oz

Frozen pineapple chunks (see notes)

25

Green grapes (seedless)

125

ml/ 1/2 cup

Coconut water

A generous squeeze of lime juice (to taste)

5

Fresh mint leaves

1

Large handful of fresh spinach leaves (approx 50g/ 2oz)

2

tsp

Coconut milk (half fat is fine)
Instructions
Put all of the ingredients into a blender and whizz until smooth

Taste and add more lime juice if necessary
(Visited 1,192 times, 1 visits today)