This Apricot Mango Smoothie is packed with summer colour, flavour and goodness. Mellow mango & sweet, slightly tart apricots combine in this wonderful drink.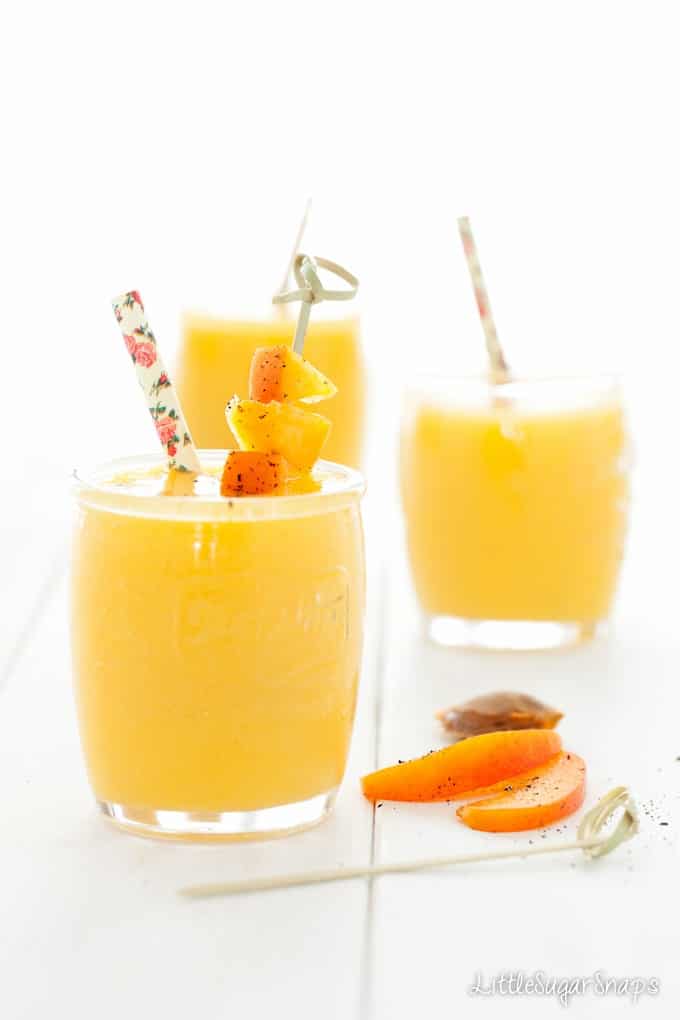 This Apricot Mango Smoothie is packed with summer colour, flavour and goodness. The mellow flavour of mango and the sweet, slightly tart flavour of apricot combine to create this wonderful drink. It will give your eyes and your taste buds a cheerful wake up.
Choosing fruit that is ripe, soft, sweet and juicy is the key to success for this drink. I added a hint of vanilla to accentuate the sweet mango, a touch of lemon to balance this sweetness and a shake of cinnamon to add a little extra intrigue to the overall taste.
I've recently moved away from using fruit juice as the liquid base in my smoothies. I find that using juice can lead to the entire drink being overly sweet and dominated by the flavour of the juice. I prefer to use either coconut water or water to let the true flavours of the drink shine through.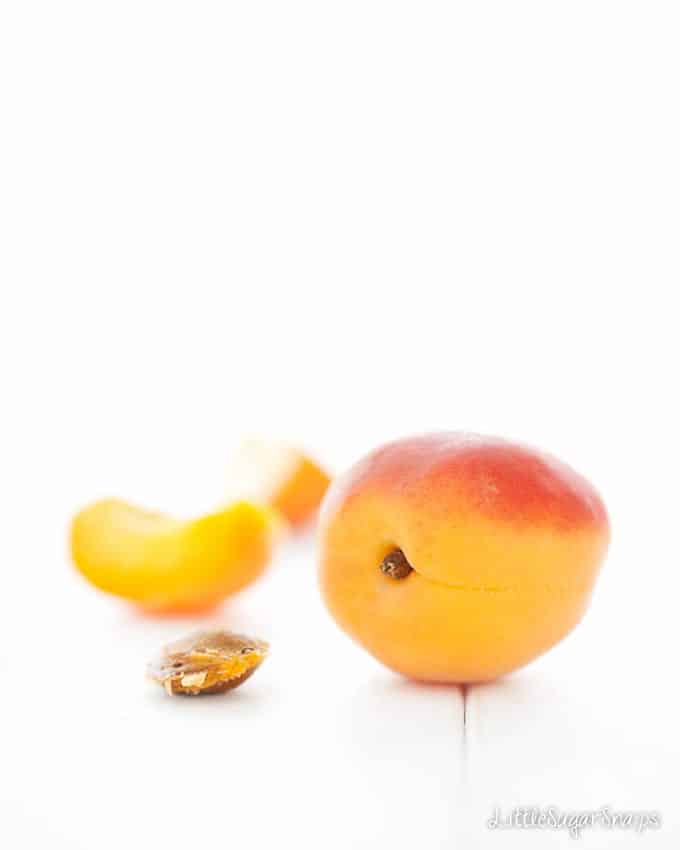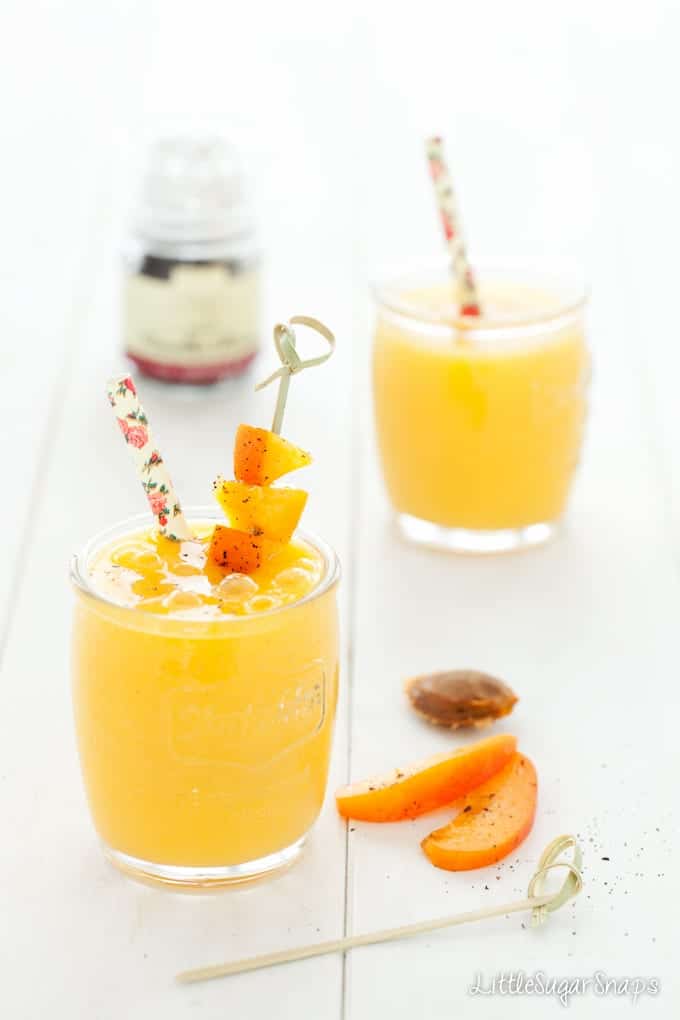 Have I told you that my kids are more than slightly smoothie obsessed? I think it's because they see a smoothie as a real treat. Err… what? It's like this: I hate the idea of my children having endless glasses of squash, fizzy drinks or too much juice than is really good for them on a daily basis.
For the majority of the week, I ensure that they drink milk twice a day and have one small serving of fruit juice. Call me old-fashioned, but I like to think of hot chocolate, milkshakes and other sugar laden drinks as being occasional treats.
There is no doubt that this philosophy of mine leads to a little bit of frustration for the kids ("but so-and-so has this drink everyday, why can't I?"). It also necessitates a bit of additional thinking on my part to keep their liquid diet interesting.
Sensible eating (or drinking) doesn't have to be shouldn't be boring. A bit of thought can keep a healthy diet exciting.
Sometimes I add some vanilla seeds & the tiniest amount of coffee to their milk; occasionally I'll turn their milk quota into a chai tea latte. They adore the date shake and an apple spin-off I whizzed up for them last weekend. Thrown into this healthy mix is, of course, the occasional smoothie.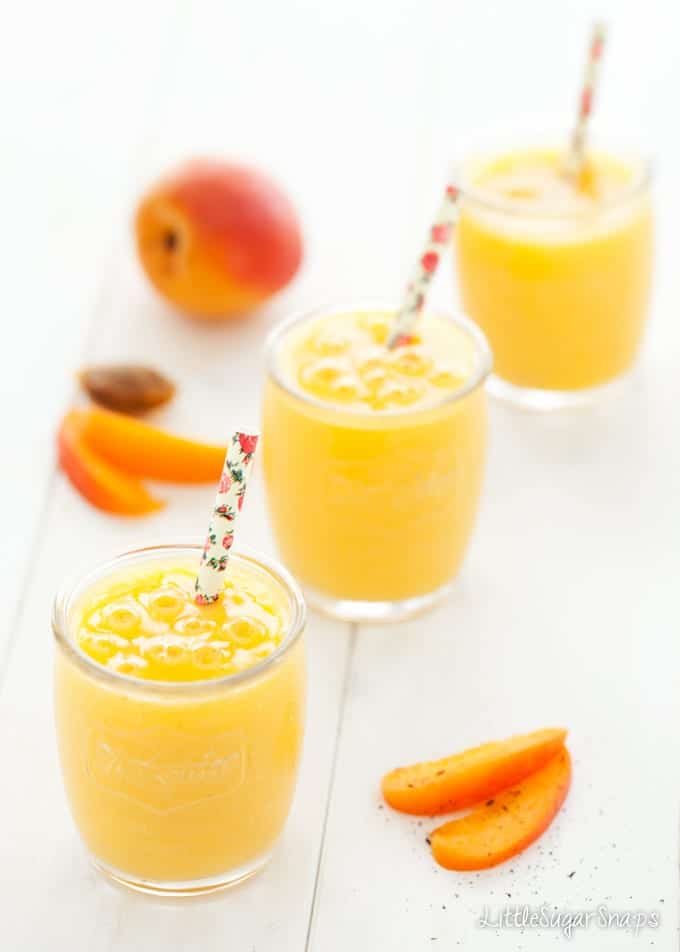 It's hard to describe how much they love, love, love their smoothies.
Whenever I mention the "S" word, their excitement reaches such a level that sometimes I wonder if I said something else instead…. Did I accidentally tell them they could eat an entire family bag of M&Ms?
Don't get me wrong, if my girls had free choice, you could guarantee that they would be dishing up lashings of coke and extra strength squash, just like you would expect. But they do also relish all of these other luscious drinks that offer great taste and much more nutrition. They win. I win.
Confession: I stick to my sensible drink principle for 90% of the time, but when I fall off the wagon, I do it in style. My girls go bonkers ? ? for drinks such as Candy Cane Hot Chocolate topped with piles of cream & popping candy or a coke float. When this happens, I think the entire village knows it's a 'treat day' in our house.
Okay, let's try to quickly forget that crazy Mum throws caution to the wind confession and get back to thinking about the vast choice of drinks you can quickly whizz up to supercharge what you're glugging. The Apricot Mango Smoothie is a fine example.
Apart from being fantastically bright and bursting with fruity yumminess there are other reasons you should get stuck into this Apricot Mango Smoothie:
Apricots are rich in antioxidants and help to eliminate free radicals and toxins from the body, strengthening the immune system
Apricots and mangoes both contain high levels of Vitamin A and Beta Carotene that are great for the health of your eyes. They help protect from macular degeneration and other eye diseases
The antioxidants, potassium and fibre contained in apricots optimize the health of the entire cardiovascular system including the heart
Similarly, the fibre, potassium & vitamin content of mangoes helps fight off heart disease
Mangoes contain fibre and water so help keep digestion on track
Because they contain vitamin A, mangoes are great for your hair – vitamin A is required for sebum production that keeps hair moisturised
Splash out. Feel virtuous. Treat yourself to this Apricot Mango Smoothie, it's not just for the children. Shhhhlurp……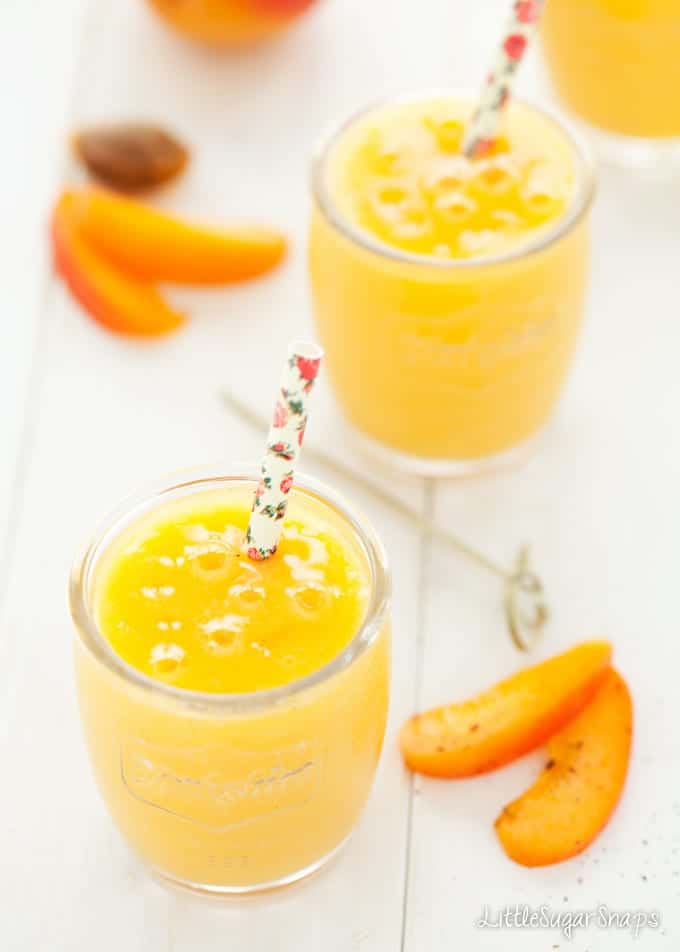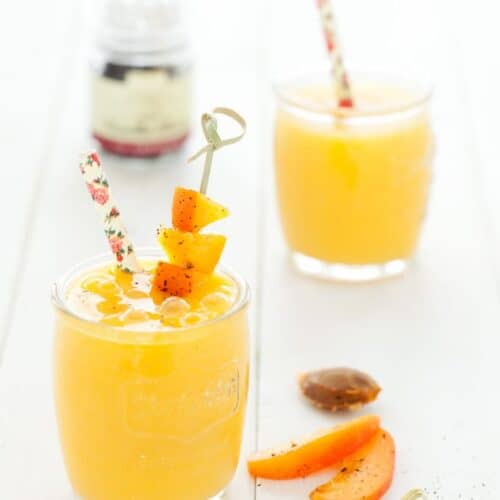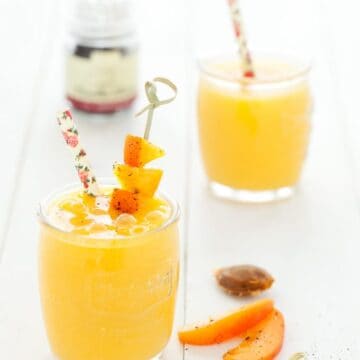 Apricot Mango Smoothie
This Apricot Mango Smoothie is packed with summer colour, flavour and goodness. Mellow mango & sweet, slightly tart apricots combine in this wonderful drink.
Print
Pin
Rate
Ingredients
150

g/ 1 cup

Apricots – de-stoned & chopped

(tinned or fresh)

150

g/ 1 cup

Mango chunks – preferably frozen

300

ml/ 1 ¼ cup

Coconut water

2

teaspoon

Lemon juice

1

teaspoon

Vanilla extract

Ground cinnamon – a generous shake
Optional extras:
A handful of ice

(recommended if your mango is not frozen)

Fresh apricot or mango to garnish

Vanilla flakes to garnish
Instructions
Add the apricot, mango, coconut water, vanilla and cinnamon to your blender (with ice cubes if using)

Blitz until the mixture is very smooth

Pour into 2 glasses and garnish with the fresh fruit & vanilla if using
Notes
1. Tinned apricots work fantastically in this smoothie. In fact, I prefer them to fresh (and it's not often I favour tinned fruit). 2. I garnished my smoothie with freshly ground vanilla flakes from a vanilla grinder. These little pots last a long time and are great for perking up drinks and cream.
(Visited 581 times, 2 visits today)