This blackcurrant smoothie with mango and mint is the perfect drink to refresh yourself with. Tart yet sweet and made with only 5 healthy ingredients - there is no need for added sugar in this beauty.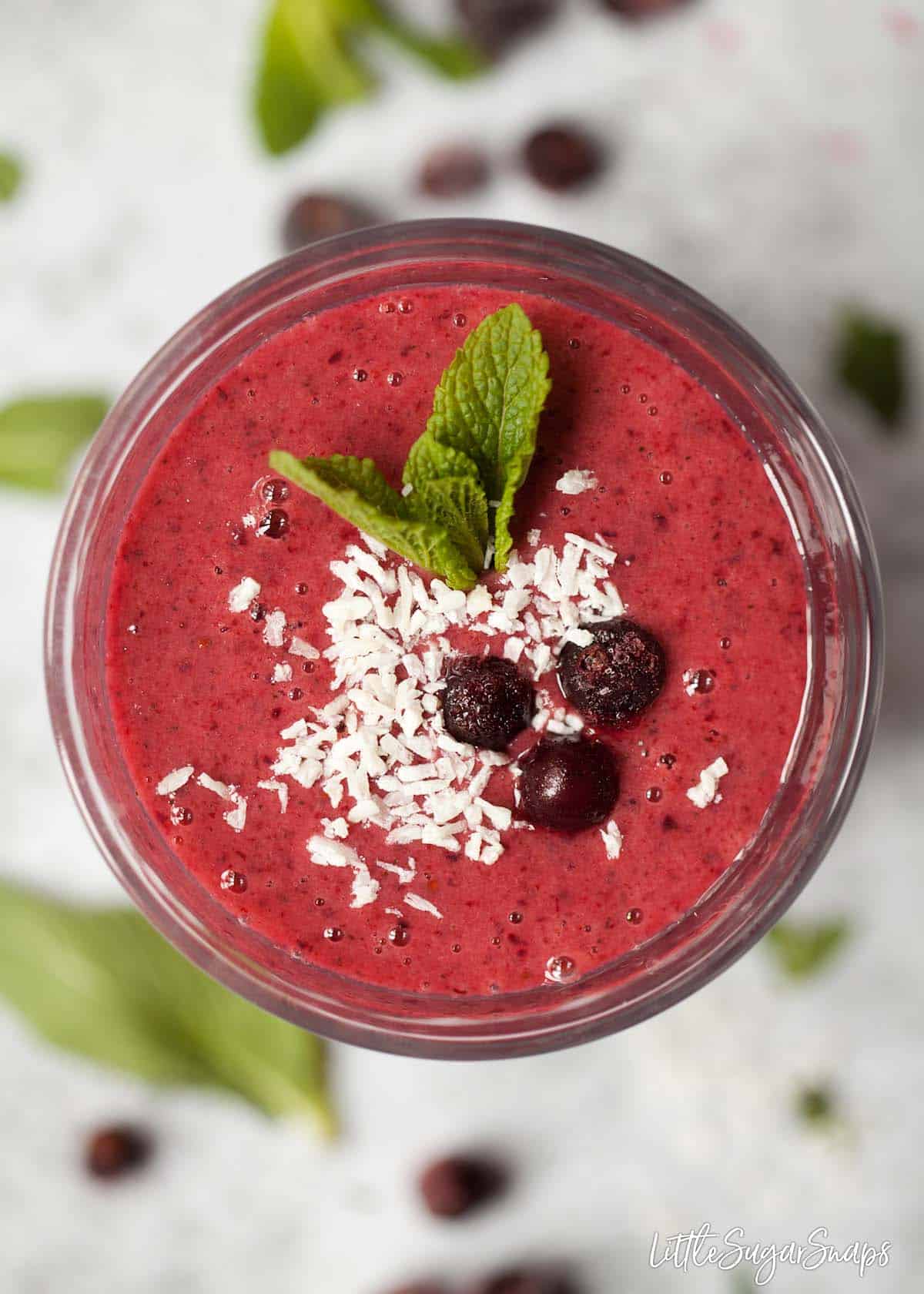 It's hard to say what my favourite thing about this blackcurrant smoothie with mango and mint is. On the one hand, it's a fantastic colour - a gorgeously deep blush pink. On the other hand, there's the taste. Fresh, lively and deeply fruity.
All in all, this quick and easy to prepare blackcurrant smoothie is a winner.
It can be made in the summer using fresh blackcurrants or in the depths of winter, made with handfuls of frozen blackcurrants that have been safely squirrelled away in the freezer.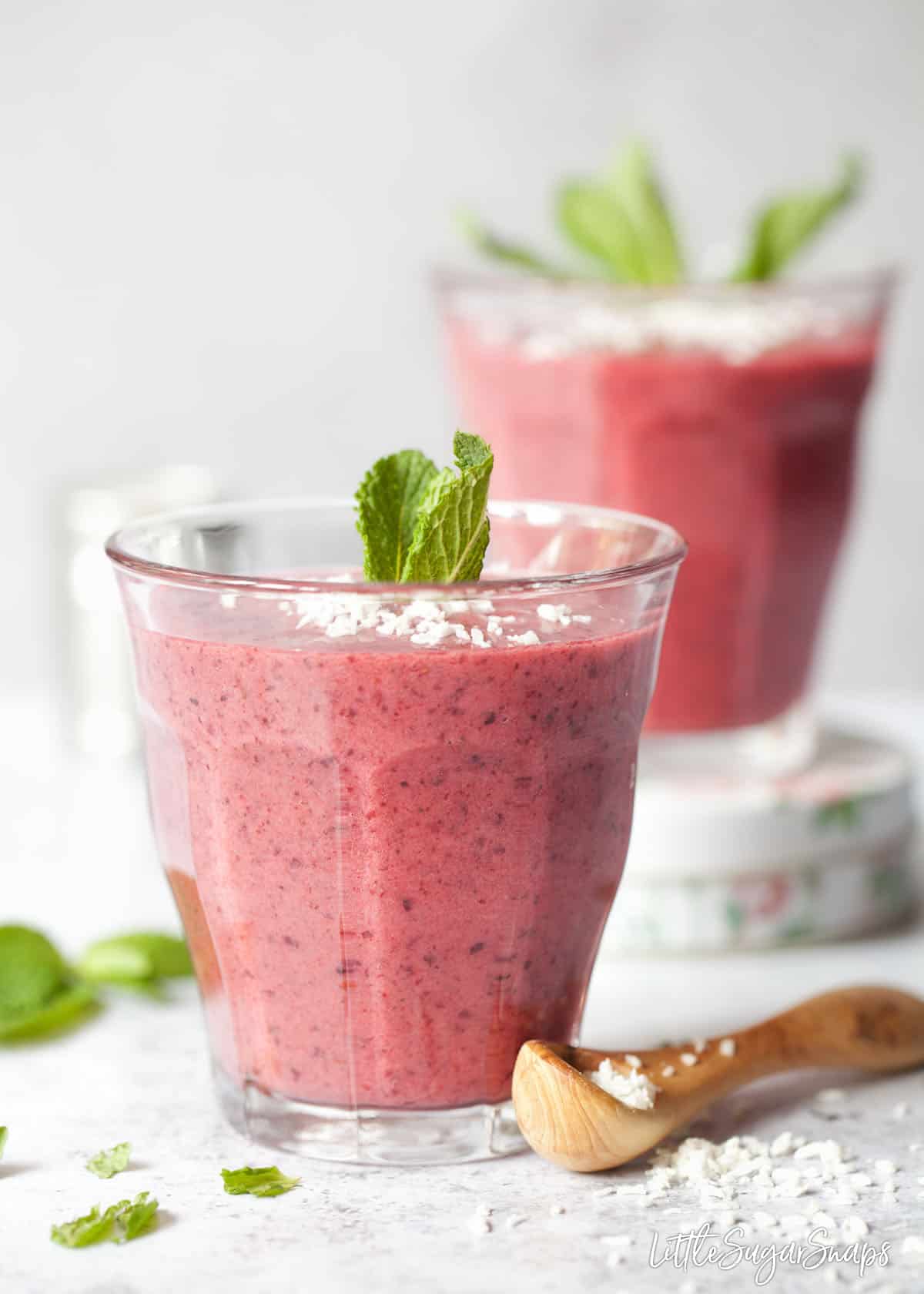 Keep on reading to find out what makes this vibrant blackcurrant drink so good and how it can be adapted to suit a vegan lifestyle.
Ingredients for this Drink
There are just 5 ingredients for this blackcurrant smoothie:
Mango
Blackcurrants
Mint
Coconut water
Greek yoghurt
If you look at the proportions of ingredients in this recipe, you'll notice that there is significantly more mango than there is blackcurrant. And yet I've called it a blackcurrant smoothie with mango and mint. Why?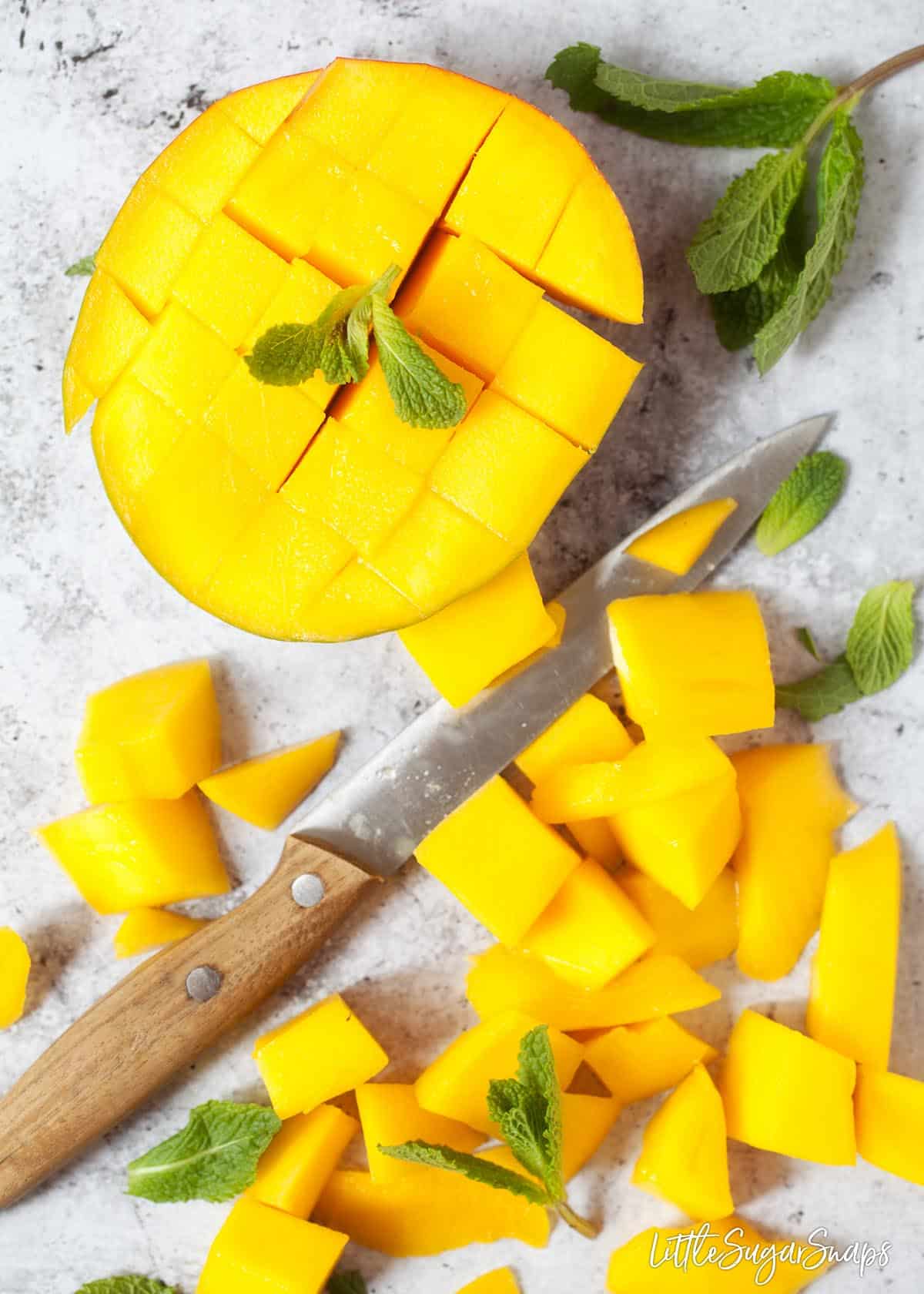 The reason is simple - blackcurrant is a very potent flavour. A little goes a long, long way.
The over-riding flavour in this drink is, without a doubt, blackcurrant. The mango adds a lovely waft of floral and tropical flavour, but more importantly, it serves to tone down the tartness of the blackcurrants naturally, without needing to pile in lots of additional sweeteners.
The mint is there to provide a hint of herbal freshness. Yoghurt contributes a touch of healthy creaminess. And as for the coconut water, well it beats plain water for refreshment every time.
How to Make this Smoothie
Like the majority of smoothies, this blackcurrant smoothie with mango and mint is quick and easy to make. A total doddle infact.
Simply put all ingredients into your blender and blitz until smooth. Pour into glasses and garnish as desired.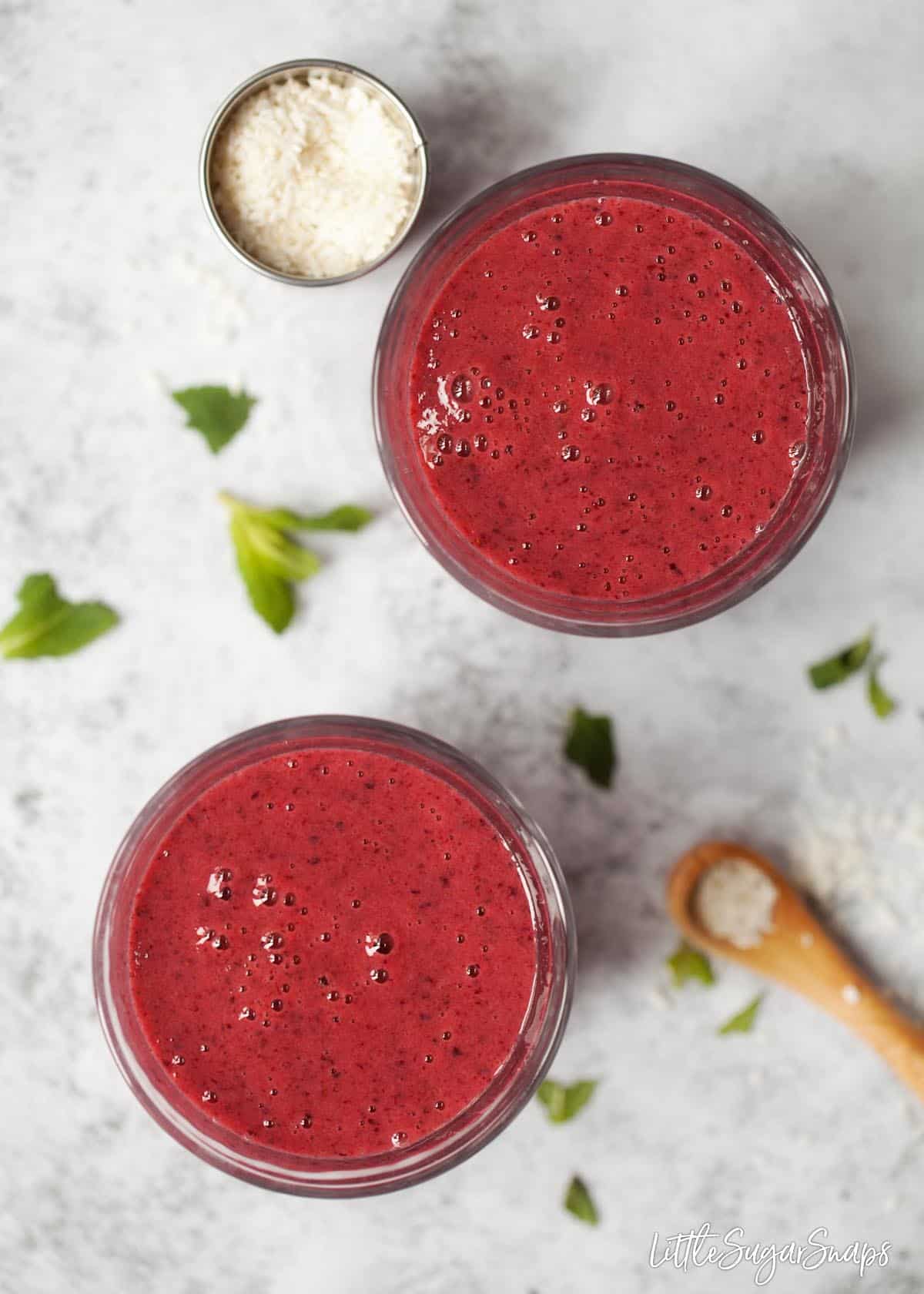 I like to top mine with a little dessicated coconut, frozen berries and fresh mint. Nuts and seeds work wonders too.
Raid your store cupboard and have some fun creating a drink that impresses before it's even been tasted.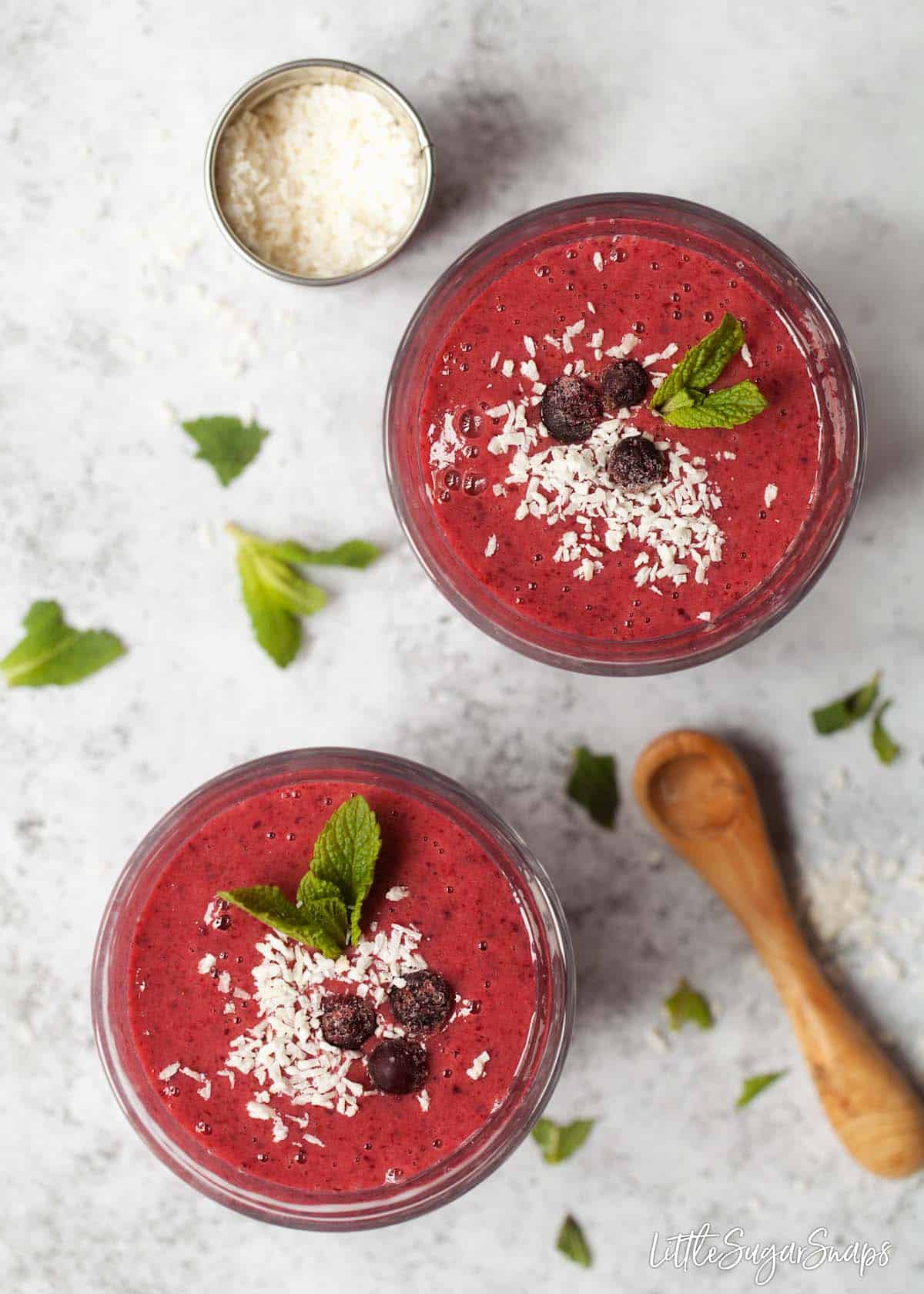 Are blackcurrants good for me?
Blackcurrants are very good for us. They are rich in anti-oxidants and bursting with vitamin C and can play a big part in keeping our bodies healthy. You can find out more at The Blackcurrant Foundation.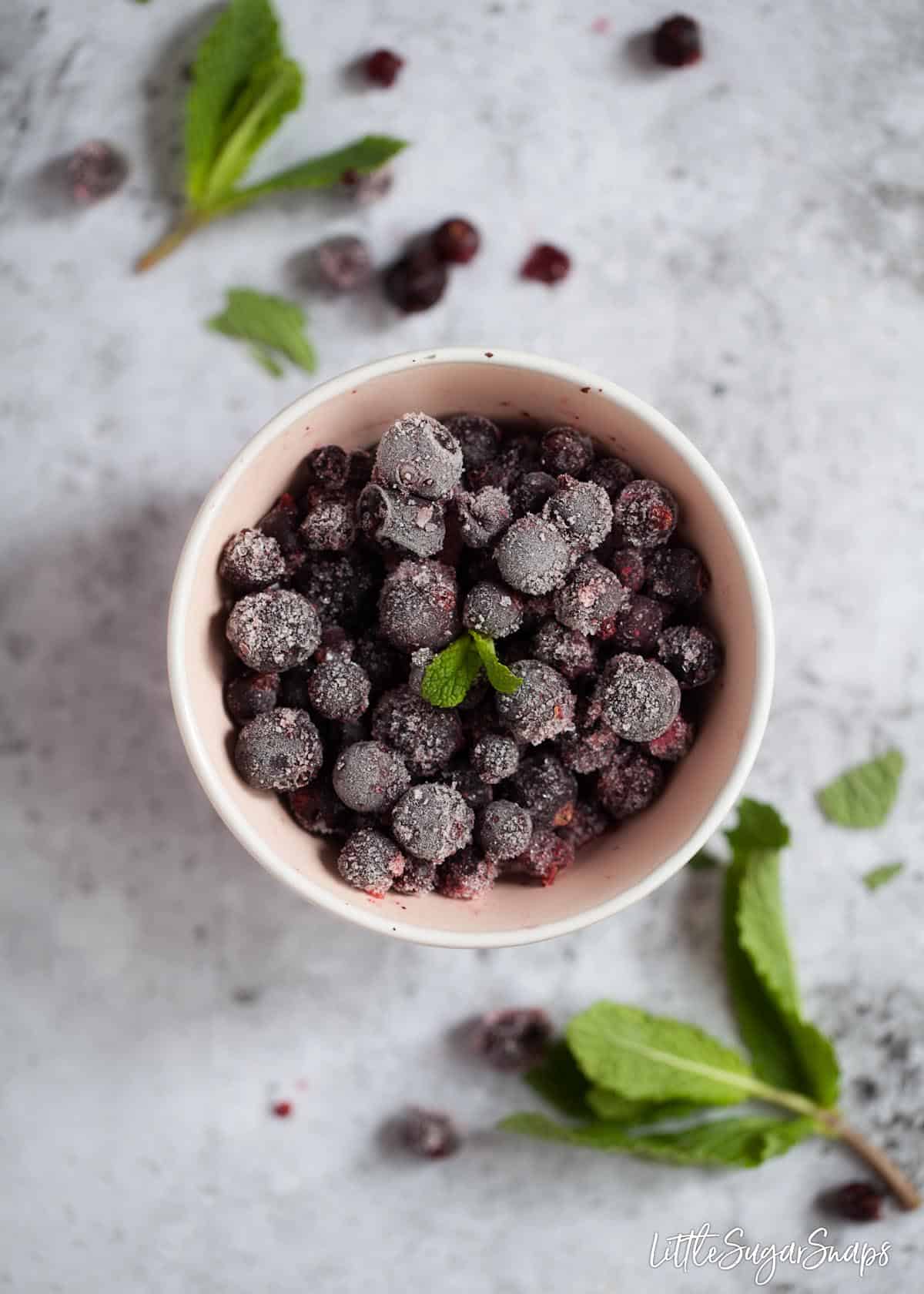 All too often though, we serve blackcurrants laden with sugar to help draw out their wonderful flavour whilst also tempering their inherent sourness.
But this blackcurrant smoothie has no added sugar included in the recipe. Instead, sweet mango is used to tame the tartness. So this smoothie is a great way to enjoy all of the flavour and health benefits of blackcurrants using only the naturally occurring sugar present in the fruits.
Can I use fresh blackcurrants instead of frozen?
I first made this recipe in winter using frozen blackcurrants. The summer blackcurrant season doesn't last long, so I always stash some away in my freezer to use year-round.
It is perfectly fine to use fresh blackcurrants in this smoothie though.
If using fresh blackcurrants, remember to chill all of the smoothie ingredients to ensure the drink is deliciously cold once blended.
You may also like to add a couple of ice cubes to the blender to help chill the drink and thicken it slightly in lieu of any frozen fruit.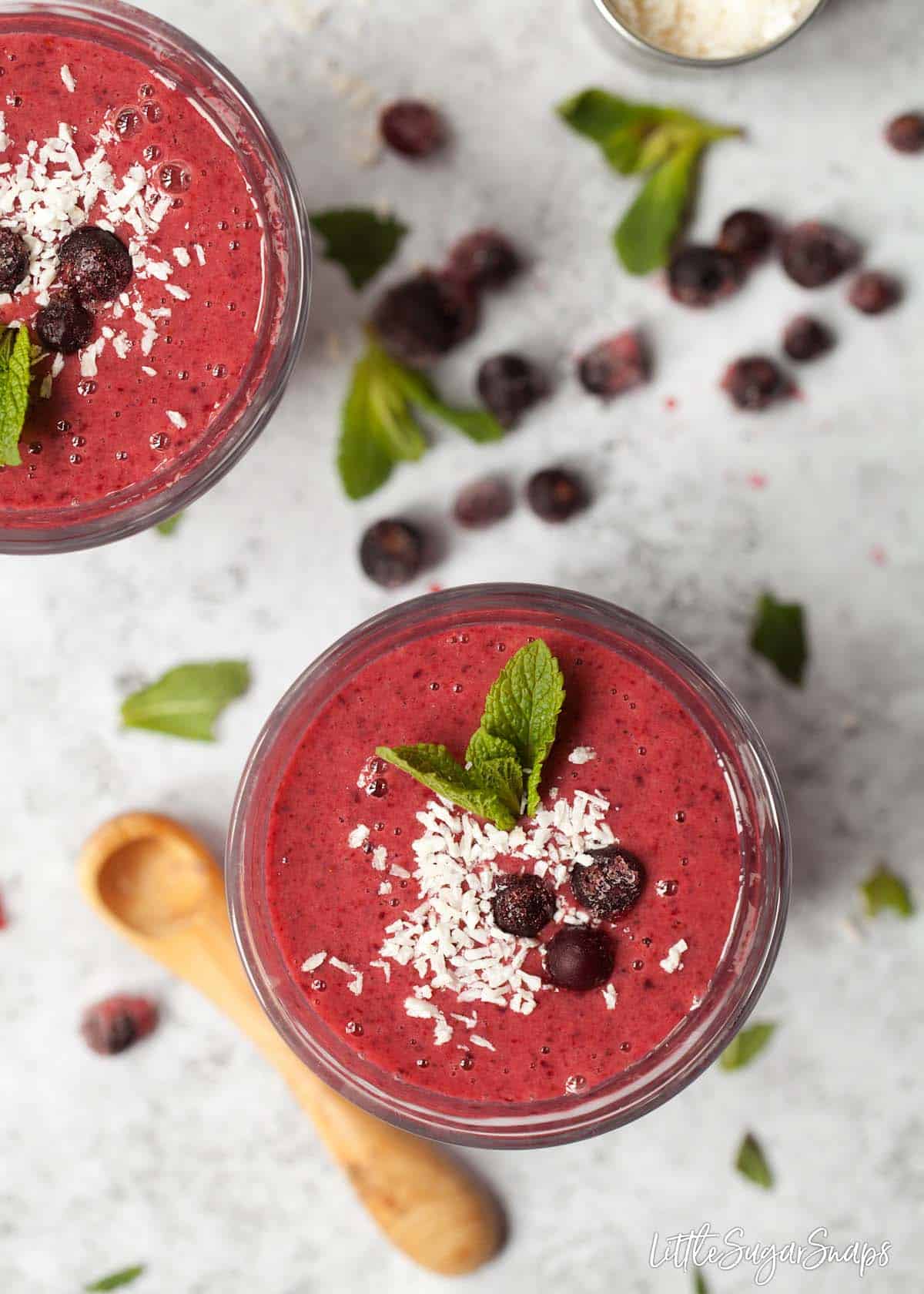 Can I store this smoothie in the fridge?
Since smoothies are so quick to make I much prefer to make mine and devour them straight away. Immediate consumption avoids any discolouration or separation issues that can arise when a smoothie is stored.
However, once blended, it is fine to store this smoothie in the fridge for 24 hours. It may need shaking up if the ingredients settle or separate over time and the colour may darken.
Can I add a sweetener?
Of course. If you find this recipe isn't sweet enough for your tastes, then a drizzle of honey or maple syrup will help. Do, however, keep in mind that adding a sweetener will add extra sugar to the smoothie.
If this is a concern for you, alternatively try reducing the amount of blackcurrant and increasing the amount of mango. It may be enough to tip the balance of tart and sweet flavours for you, making the addition of a sweetener unnecessary.
Can I make this smoothie vegan?
Yes you can easily make this blackcurrant smoothie vegan. Simple replace the dairy yoghurt with your favourite vegan yoghurt. It's best to use a plain variety, but coconut or, at a pinch, vanilla flavoured varieties will work too.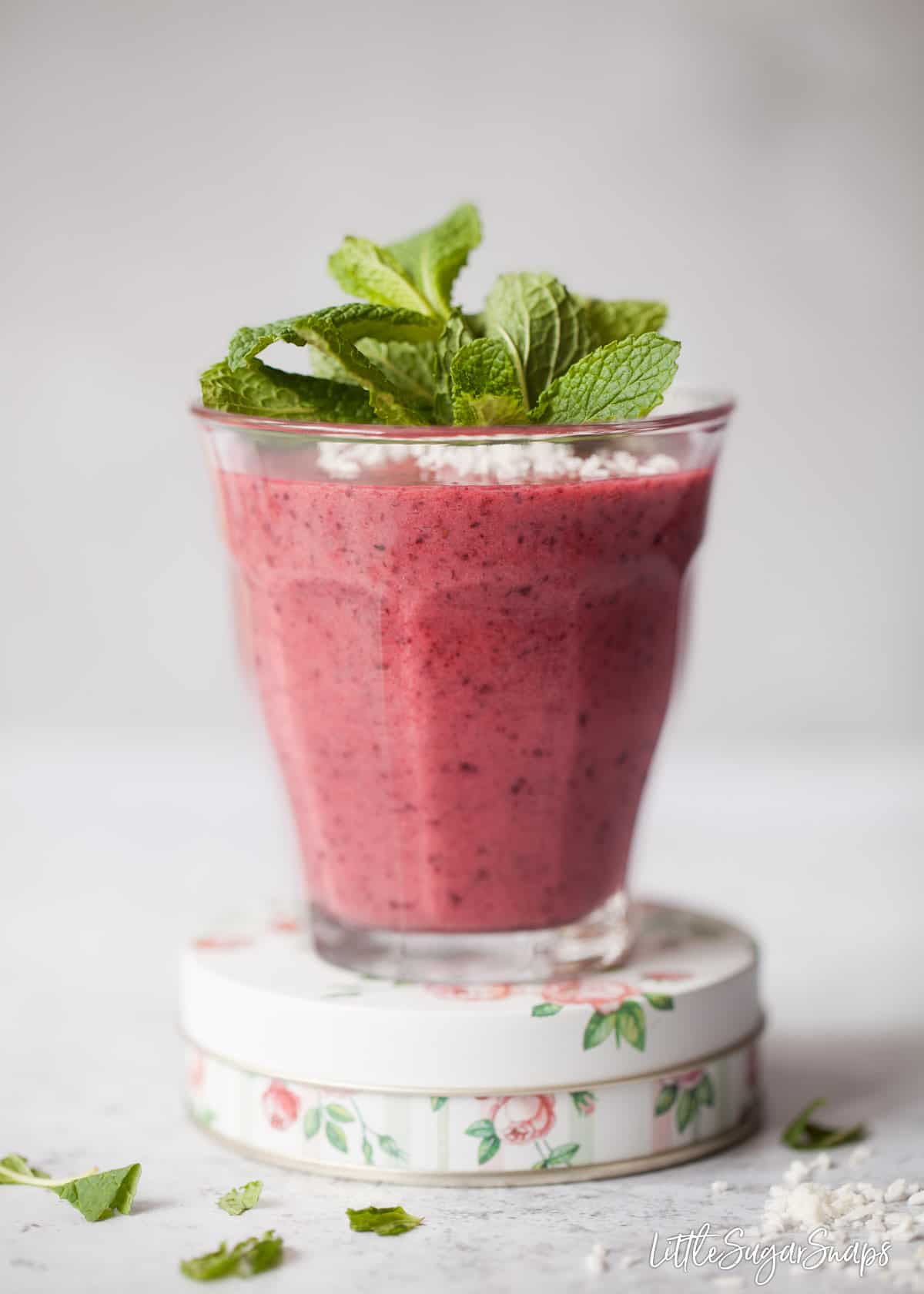 Find More Blackcurrant Recipes: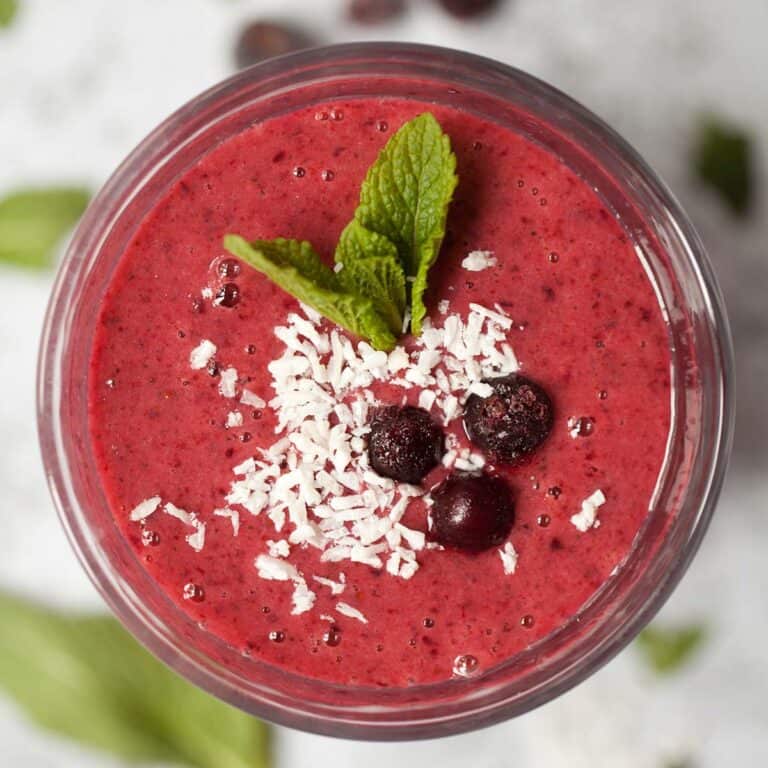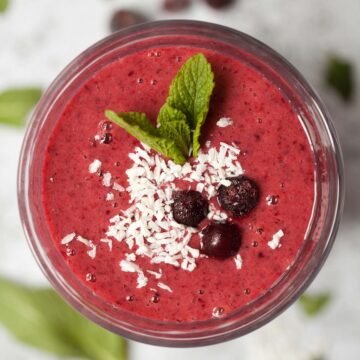 Blackcurrant Smoothie with Mango & Mint
This blackcurrant smoothie with mango and mint is the perfect drink to refresh yourself with. Tart yet sweet and made with only 5 healthy ingredients - there is no added sugar in this beauty.
Print
Pin
Rate
Ingredients
300

g/ 10.5 oz

Mango

peeled, stone removed

125

g/ 3.5

Blackcurrants

10

g/ 0.5oz

Mint leaves

fresh, removed from stem

375

ml/ 1.5 cups

Coconut water

3

tbsp

Greek yoghurt
Instructions
Put all ingredients into the jug of a blender

Blitz until smooth then pour into glasses

Garnish as desired - a few blackcurrants, mint leaves and coconut works a treat
Notes
Make it Vegan
Replace the dairy yoghurt with a suitable vegan alternative. Opt for plain, or coconut/ vanilla if plain is not to hand
Storage
This smoothie is best eaten fresh but can be stored in the fridge for 24 hours. It may discolour and separate. Simply stir or shake to bring the smoothie back together.
Nutrition Per Serving (Approximate)
Calories:
93
kcal
|
Carbohydrates:
20
g
|
Protein:
3
g
|
Fat:
1
g
|
Saturated Fat:
1
g
|
Cholesterol:
1
mg
|
Sodium:
105
mg
|
Potassium:
475
mg
|
Fiber:
2
g
|
Sugar:
13
g
|
Vitamin A:
990
IU
|
Vitamin C:
87
mg
|
Calcium:
67
mg
|
Iron:
1
mg
(Visited 82 times, 1 visits today)