A little bit in your face, this Coconut Blackcurrant Smoothie is as vibrant as the colour suggests. Sharp & tangy blackcurrants blend with coconut and vanilla to wake your body up in fine fashion.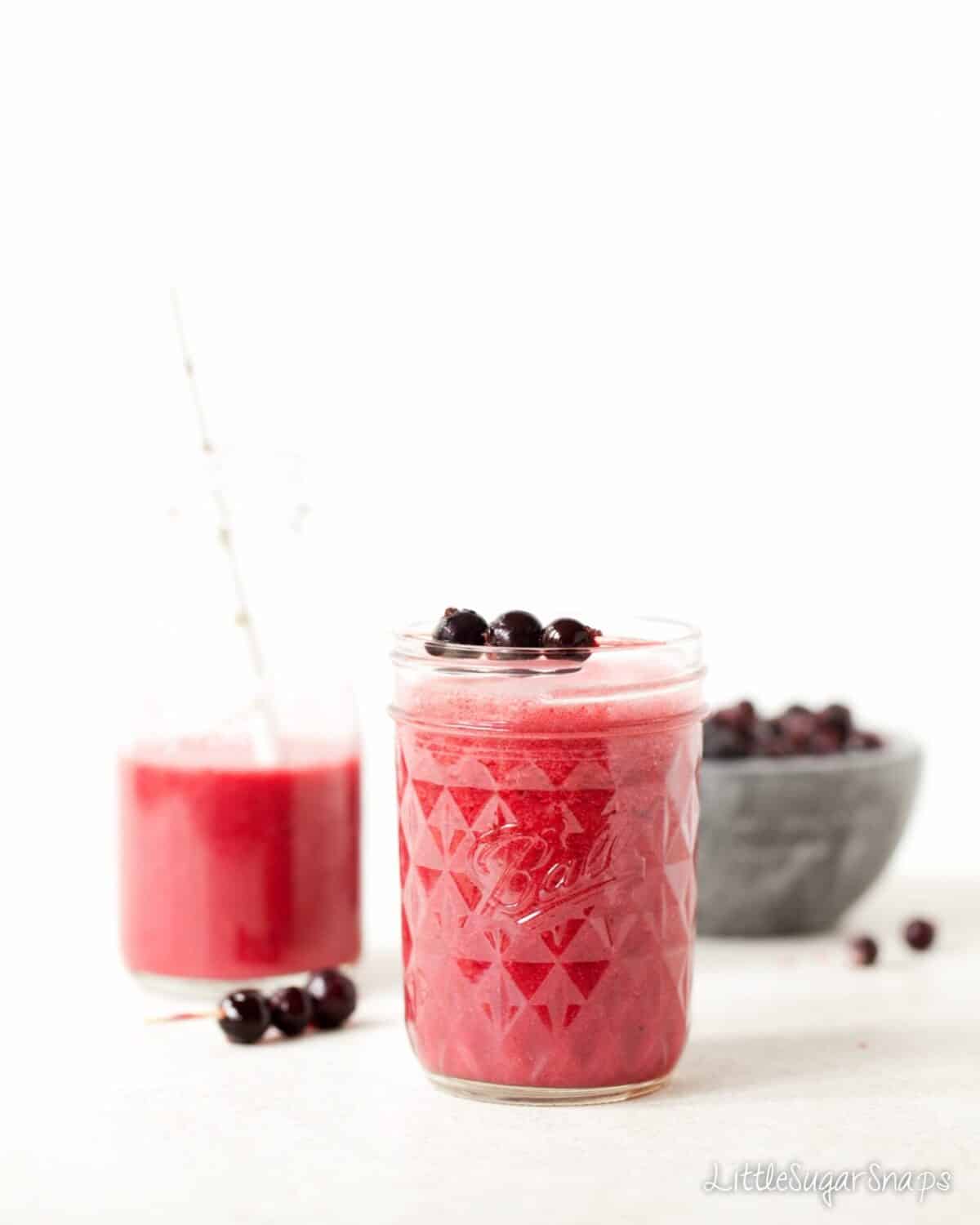 Sometimes I head into the kitchen feeling the need to create something. Quite often this feeling comes along when I want to treat my girls to something tasty and a little bit different but I don't necessarily want to splurge and give them something totally unhealthy.
This Coconut Blackcurrant Smoothie is the latest drink to emerge from one of these rapid brainstorming kitchen sessions.
At the time this latest urge struck, I really wanted to make a smoothie but I didn't have much fresh fruit to hand. So I raided the freezer and found a stash of blackcurrants. I decided to hone in on these berries and went with a one fruit flavour. Putting aside the fruit juice, I rounded out this tart fruit with the help of both coconut water and coconut milk.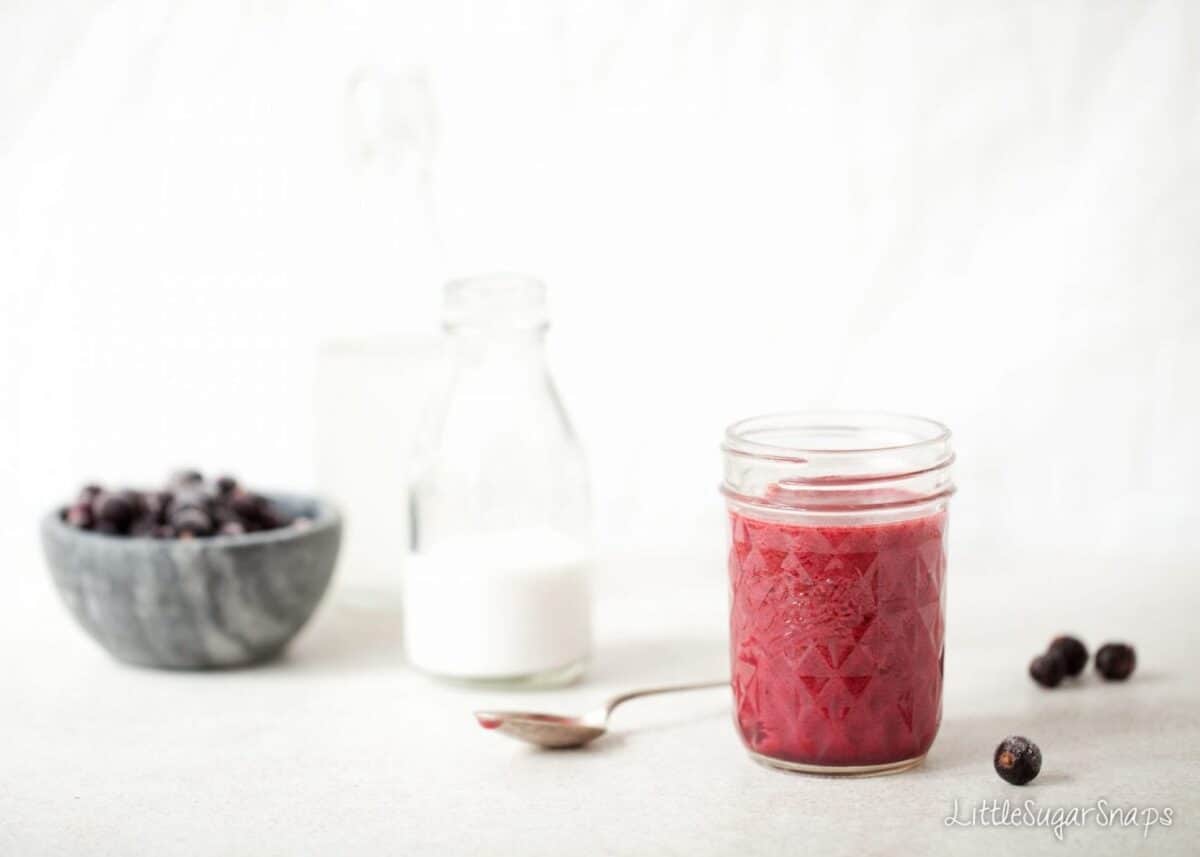 I used just ⅓ coconut milk to ⅔ coconut water. I wanted the drink to be creamy and full of sweet coconut flavour to counter-balance those tart blackcurrants, but not over-the-top rich. A final touch of vanilla and a squirt of agave syrup are the only other additions needed to create this drink.
This Coconut Blackcurrant Smoothie is no shrinking violet. It is in your face. Despite the creamy coconut and the mellow vanilla, those blackcurrants still leave a lasting, tangy impression.
I think this drink is best suited to:
Waking up – you… your tastebuds… your whole body
Post workout – when you really fancy rapid liquid refreshment
Hot days – when you don't want to entirely break from healthy eating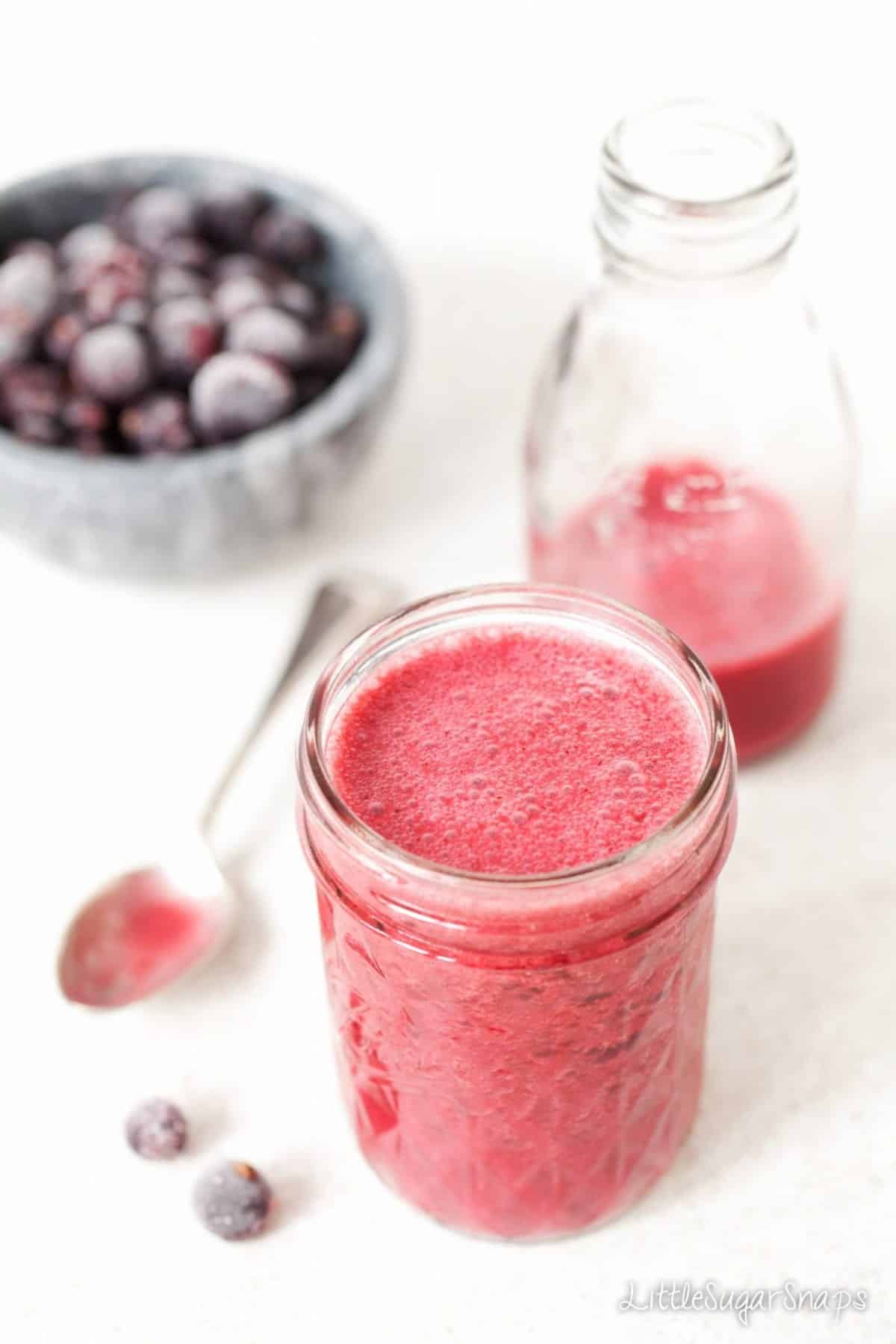 Of course, coconut milk is higher in fat than water and juice, but it does come with some plus points when consumed in moderation. Apparently it helps reduce inflammation and fight the viruses and bacteria that cause infections.
But I'm not going to linger on the pros and cons of the semi-treat that is coconut milk. I'm also going to swerve the current darling of the food world, coconut water. Instead, I want to delve into those juicy blackcurrants. It's been a while since I had a rant about health benefits. Are you ready to find out why blackcurrants are so good for you? Goodie. Here goes:
Blackcurrants contain a plethora of vitamins along with large amounts of vitamin C. This is great news for the immune system, boosting iron absorption, looking after body tissue and fighting off colds (phew)
Blackcurrants can help to promote healthy bacteria in the gut
Blackcurrants can help our eyes adjust to darkness more readily and they may also help maintain general eye health and vision
Who wants to blend a healthy(ish) treat with me?
If you are after something a little sweeter, give my blackcurrant and mango smoothie a go – it has no added sugar but you'd never guess.
Find More Blackcurrant Recipes to Try: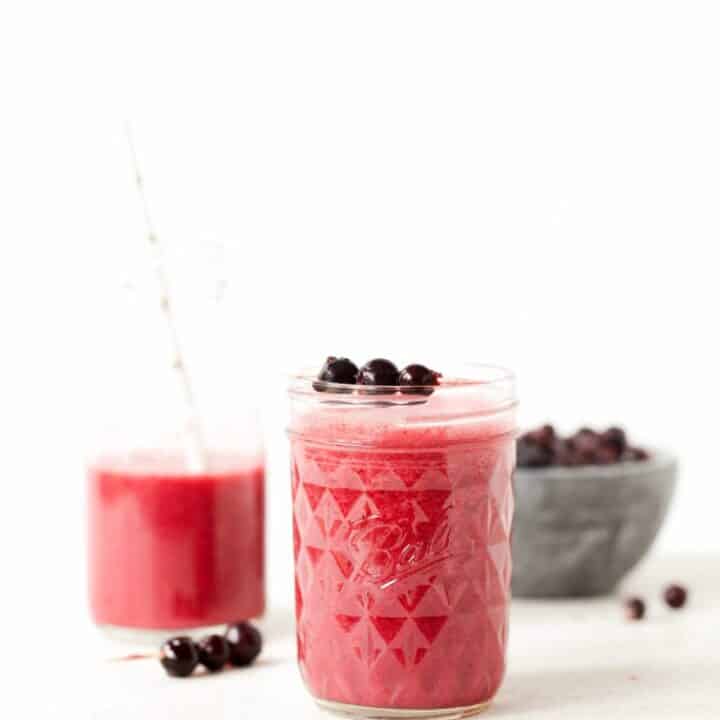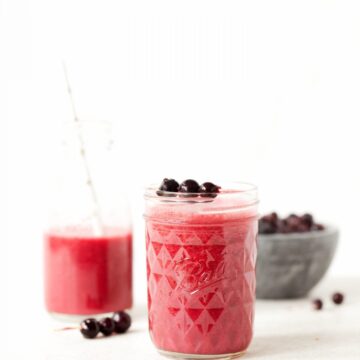 Refreshing Coconut Blackcurrant Smoothie
This Coconut Blackcurrant Smoothie is as vibrant as the colour suggests. Sharp & tangy blackcurrants blend with coconut and vanilla to wake your body up in fine fashion.
Print
Pin
Rate
Ingredients
125

g/ 1 ¼ cup

Blackcurrants

(fresh or frozen)

1

tablespoon

Agave syrup

(or more/ less to taste)

2

teaspoon

Vanilla extract

150

ml/ ⅔ cup

Coconut milk

(I used ½ fat canned but chilled carton coconut milk will be fine too)

300

ml/ 1 ¼ cup

Coconut water
Instructions
Put all of the ingredients into a blender with a couple of ice cubes

Blend until very finely processed

Push through a wire mesh sieve to remove pulp

Serve immediately (see notes)
Notes
This drink does separate naturally fairly quickly. Just shake or stir vigorously to re-mix the drink Store in the fridge in an airtight jar for up to 3 days. Shake well to re-blend before serving.
(Visited 386 times, 1 visits today)