A Beetroot Apple Ginger Smoothie is impossible to ignore. It is sweet, fresh & tangy and blends to a bright & cheerful shade of pink. Fun in a glass.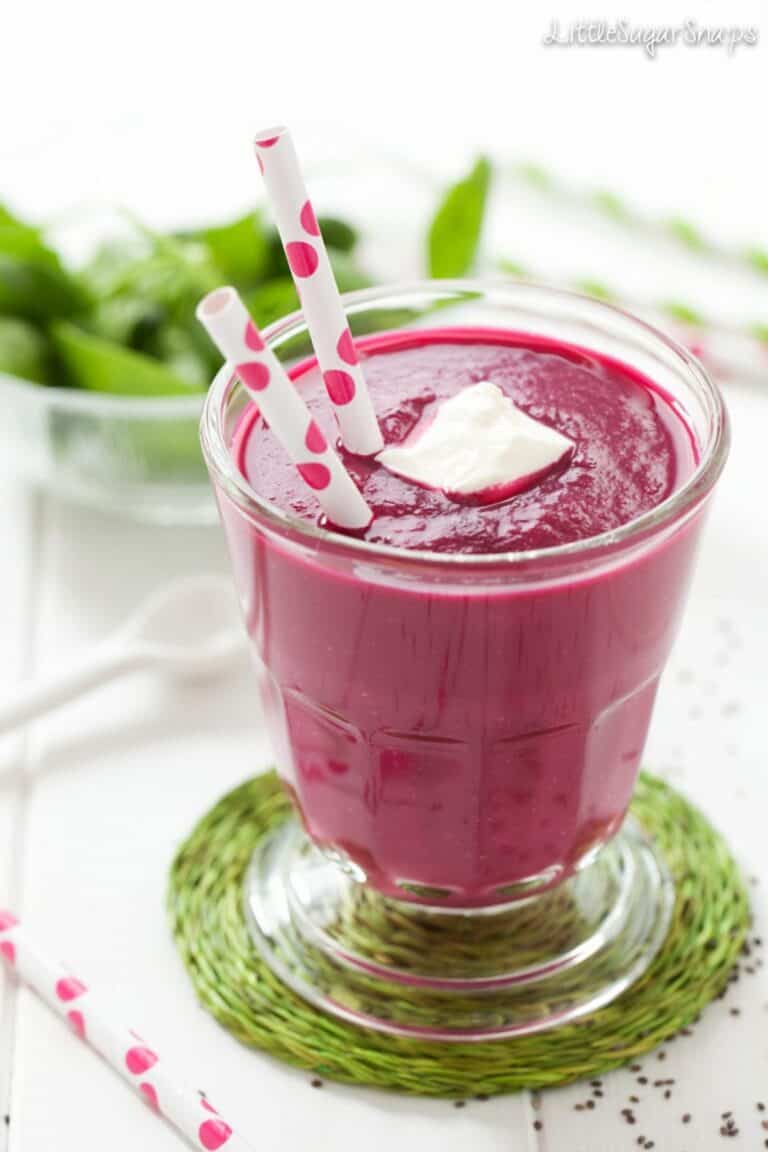 Meet my new friend, Mr Beetroot smoothie. He contains beetroot – obviously – but also apple, ginger, chia seeds, spinach and a pleasing dollop of yoghurt. Being rather pink and full of good stuff, this smoothie is the worst possible nightmare for the average 5-year-old boy, but to me, it's heaven in a glass.
Rewind a few months and I would have declared myself out of this particular smoothie combo too. Scarred in my early years by carrot juice (leaves me cold) and tinned tomato juice (makes me shudder), I was a firm member of the no-veg-in-my-smoothie camp. How things change.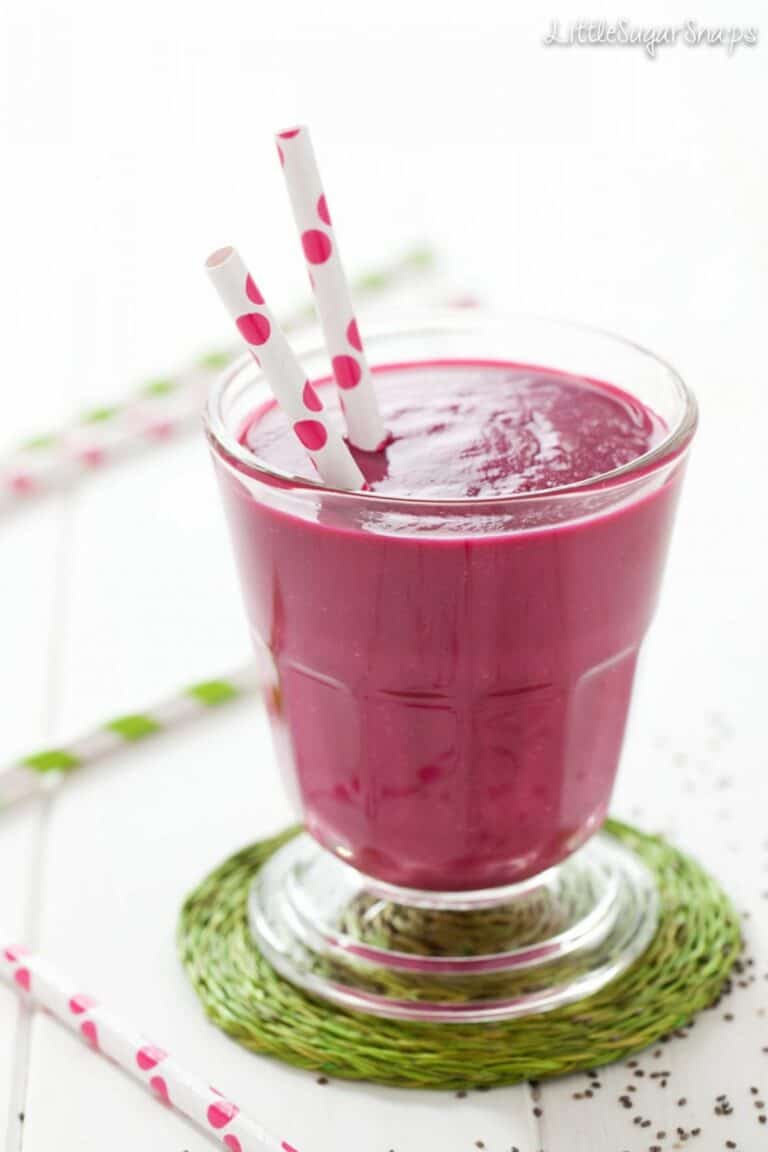 I like beetroot. I think it's the colour that sucks me in. It's really quite impossible to ignore it. All I've been thinking about for days has been how to get that colour into a smoothie that I would actually enjoy. Much tinkering later, I tested out this Beetroot Apple Ginger Smoothie on my unsuspecting guinea pig of a husband. First of all, he decided it sounded far too healthy and what was I thinking? Then he actually tried it.
First off, you get a fresh, sweet, tangy flavour. It does not taste like earth – poor old beetroot has a harsh reputation to contend with. The spinach and chia seeds just melt in un-noticed. Then the comforting warmth of the ginger shines through.
It got the thumbs up.
Not only is this Beetroot Apple Ginger Smoothie a luscious shade of pink, it is also very healthy: beetroot helps lower blood pressure; apples are packed with fibre; spinach is great for energy levels; ginger helps alleviate… um… flatulence and chia seeds are high in fibre, protein and omego-3 (wow, punchy little seeds). No wonder this drink blushes so pink.
All in all, this smoothie is a great use of beetroot. Have I convinced you to try it yet?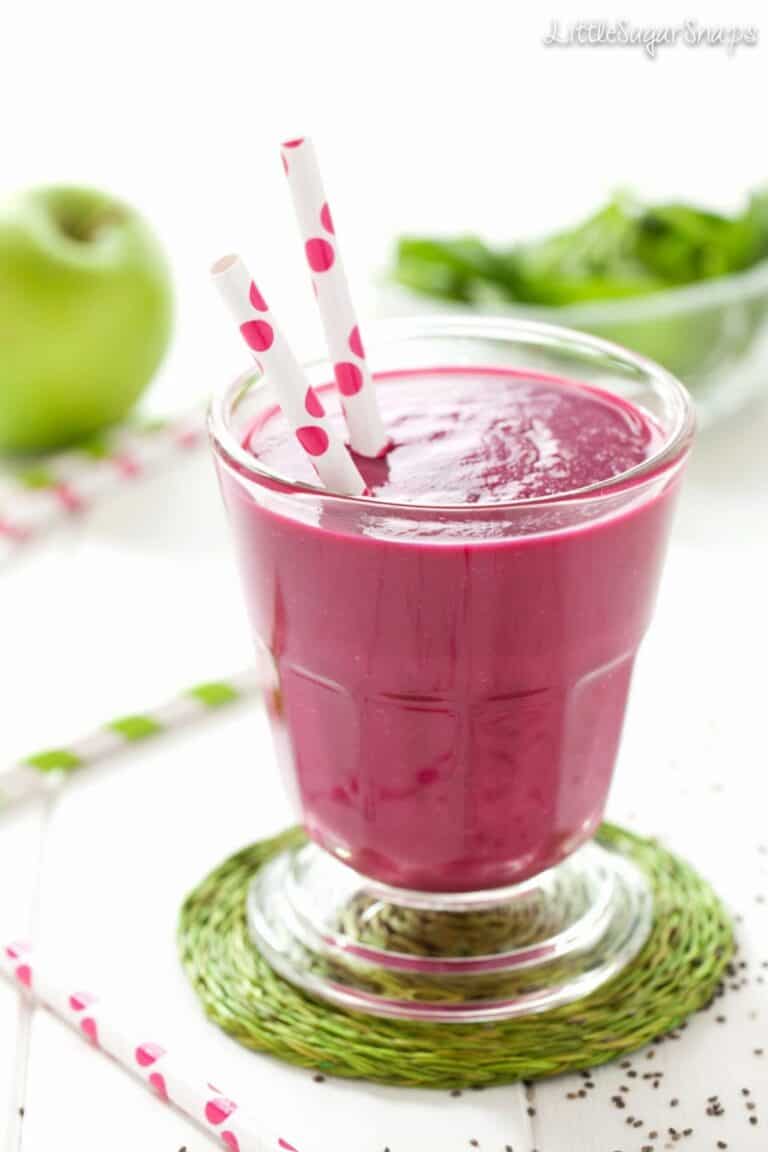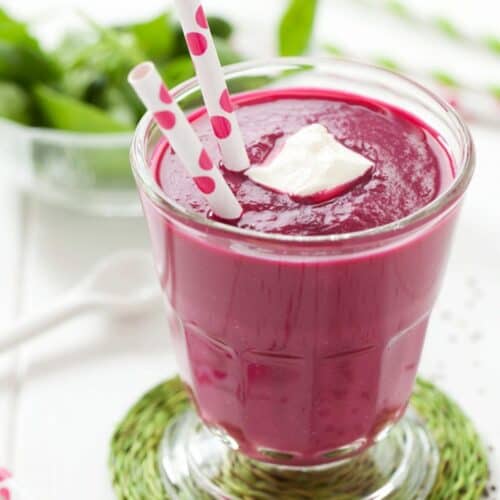 Beetroot, Apple & Ginger Smoothie
A Beetroot Apple Ginger Smoothie is impossible to ignore. It is sweet, fresh & tangy and blends to a bright & cheerful shade of pink. Fun in a glass.
Print
Pin
Rate
Ingredients
1

Medium beetroot bulb - roasted

, peeled & roughly chopped *(see notes)

1

Granny Smith apple - peeled

, cored & chopped **(see notes)

150

ml

Apple juice

5

g

Ginger

(about the size of a cherry tomato) – peeled and chopped

10

g

Chia seeds

2

tsp

plain yoghurt

10

g

spinach leaves

A Handful of ice cubes
Instructions
Put the beetroot, apple, juice, chia seeds and ginger into the blender and blend on full speed for 1 minute

Add the yoghurt, spinach and ice and blend again, on full speed, for a further minute. Blending two times really does help breakdown the beetroot to give a smoother drink
Notes
1. If, like me, you have a blender that is not of professional standard (e.g Vitamix) I recommend you roast the beetroot first to ensure a better texture in the smoothie - wrap in foil and cook for 50mins at 180ºC/350ºF/ GM 4. If you like a rougher textile go ahead and use the beetroot raw. 2. It's up to you whether you peel the apple. Again, if you have a top quality blender you can get away without doing so.
(Visited 152 times, 3 visits today)