Fun, colourful and ultra-quick to assemble, these mixed fruit breakfast bruschetta are the healthy answer to your breakfast woes.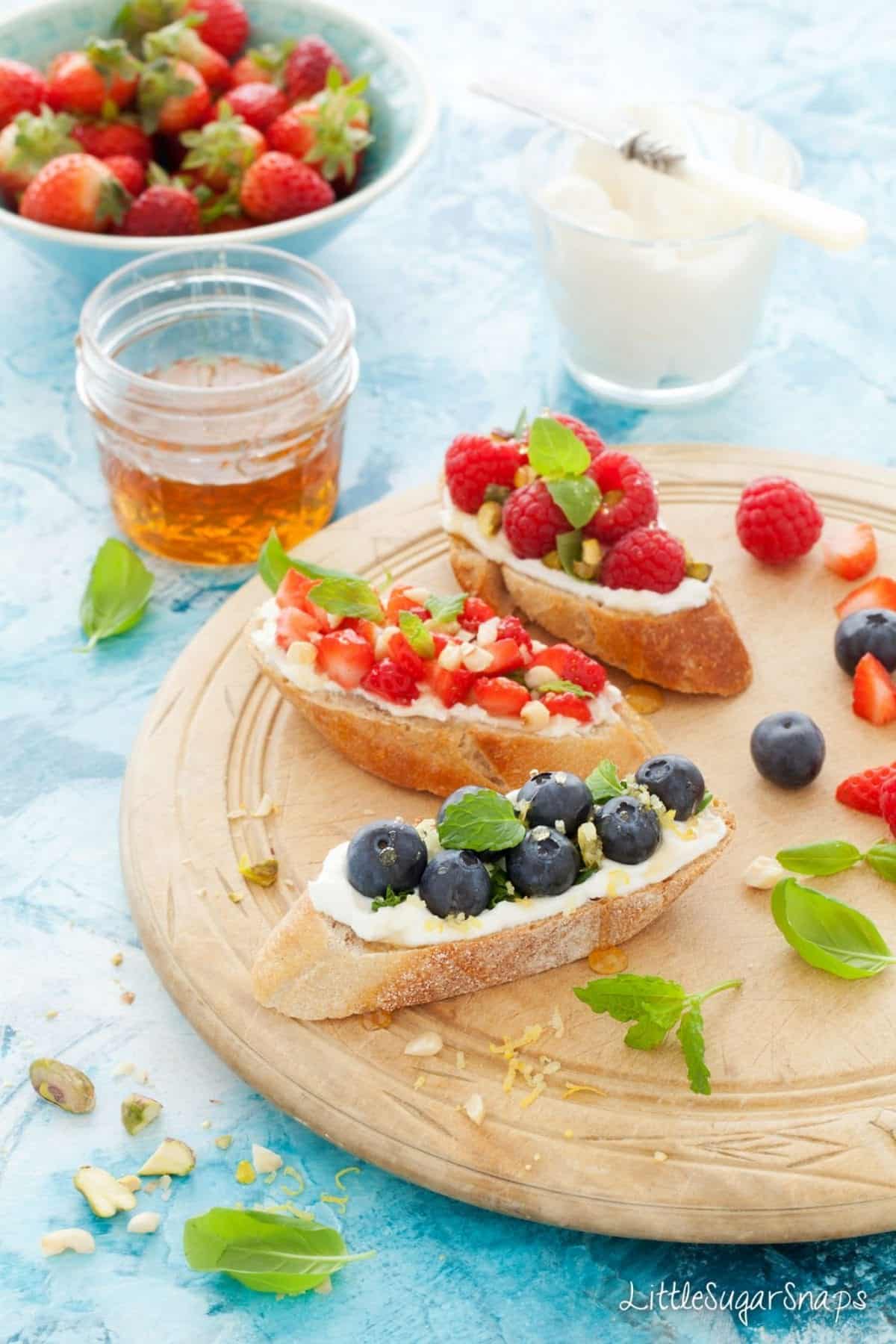 On the menu for today are these light, fresh and oh so pretty breakfast bruschetta. I've been eager to share these with you for a number of weeks.
These fruit bruschetta are wholesome breakfast fayre. Each toast is loaded up with a lavish slick of either light & fresh ricotta cheese or rich & creamy mascarpone. These toasts are then adorned with various fruity toppings and served fresh.
Like their savoury counterpart, these toasty bites could not be simpler to prepare. They are fresh, fruity and substantial. Move over full English fry up, these breakfast bruschetta can be ready in less than 10 minutes and they are a much fresher offering.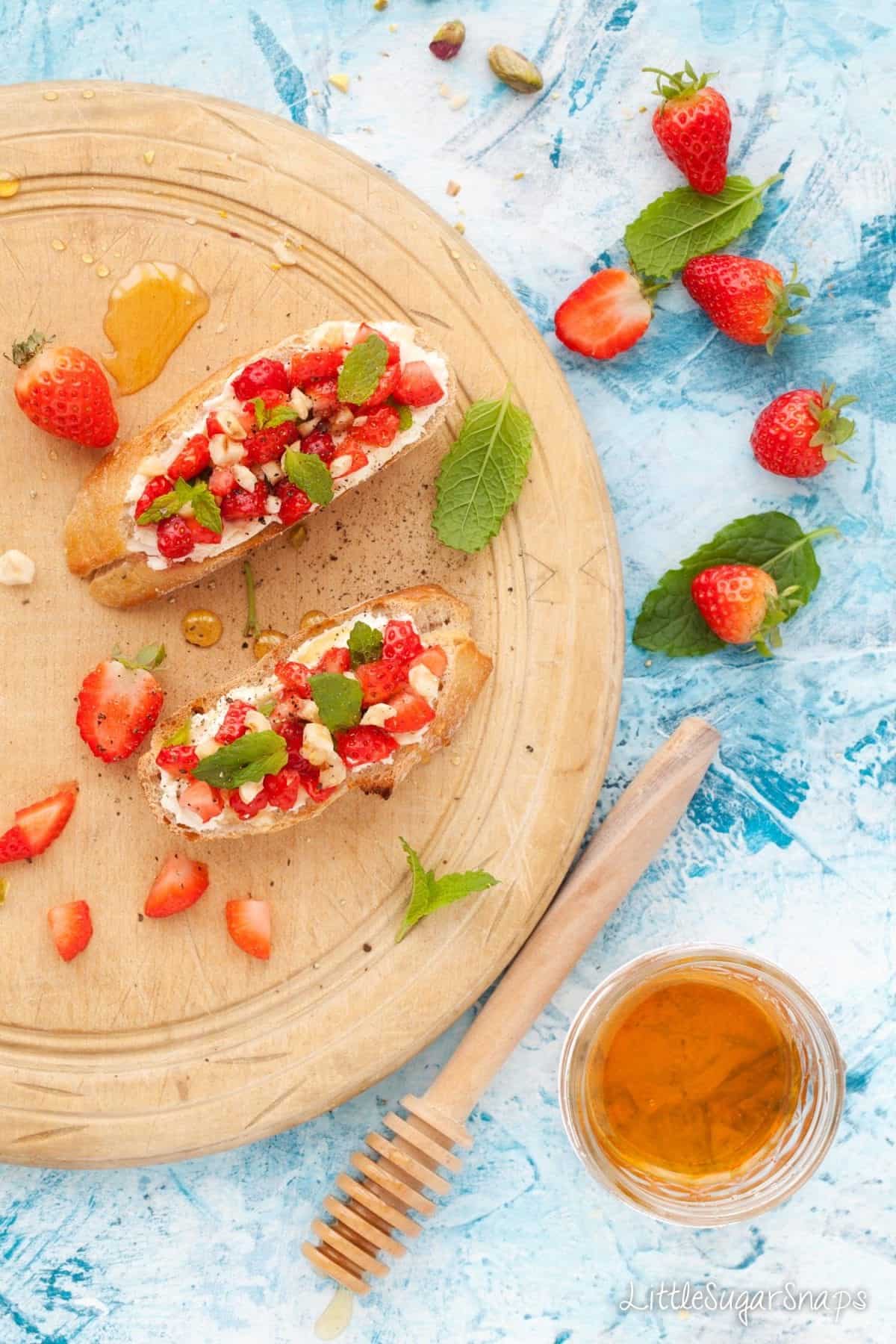 Ingredients
The ingredients for these breakfast bruschetta are simple and easy to get hold of. So ensure you pick premium quality for the best flavour, especially when selecting the baguette.
The toppings are really up to you. Here are my favourite three:
Strawberries, mint & hazelnuts
Raspberries, basil & pistachio nuts
Blueberries, lemon zest & mint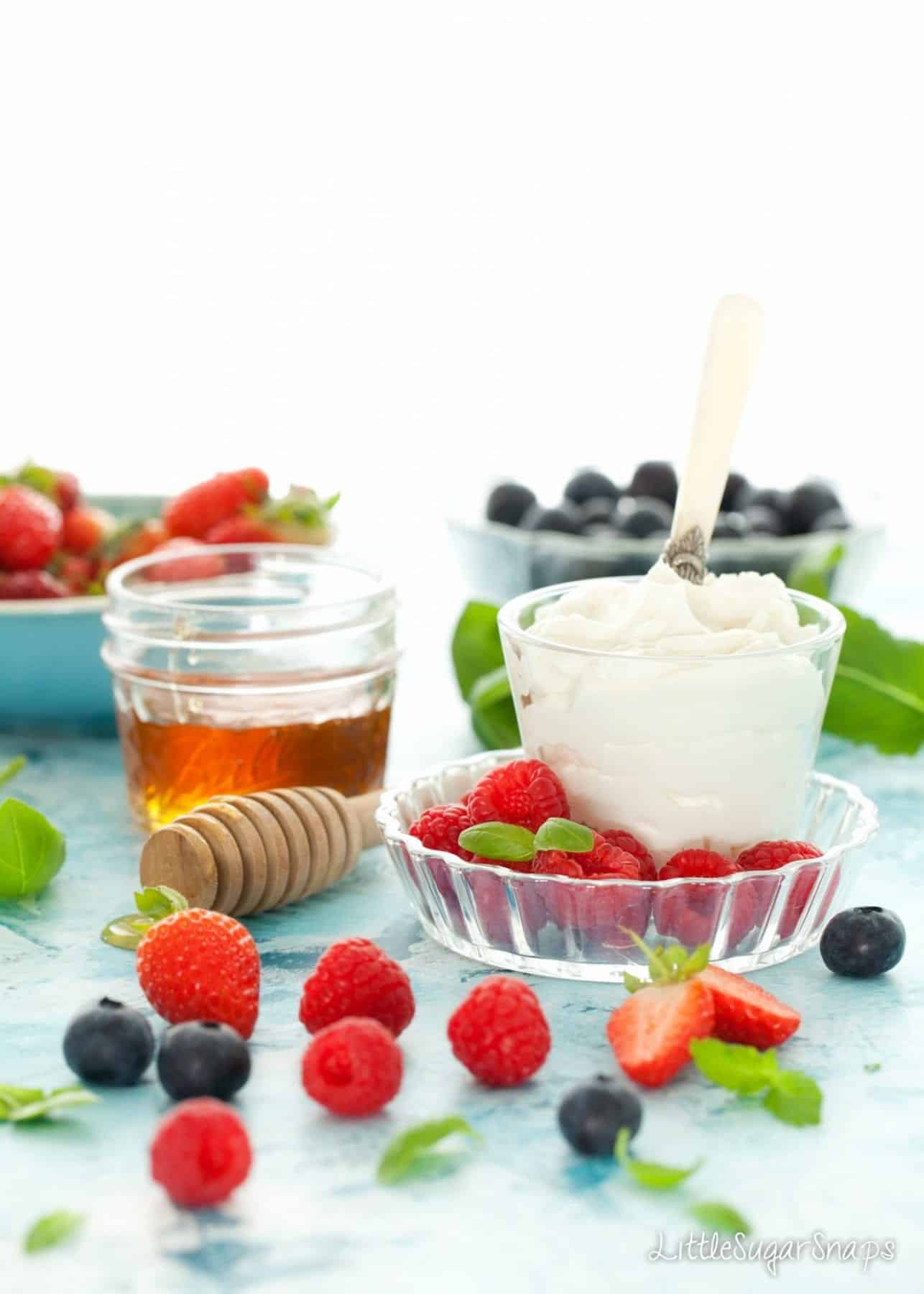 The only extra addition is honey and a little cracked pepper (for the strawberries), but both are entirely optional.
I like to make all three to create a mini buffet of fresh fruit breakfast bruschetta.
Instructions
These fruit bruschetta are incredibly simple to prepare:
Step 1: Begin by slicing the bread on the diagonal, then lightly toasting it on both sides
Step 2: Spread with mascarpone or ricotta
Step 3: Pile the fruit, fresh herbs, nuts, honey and seasoning onto the fruit as desired and serve straight away
This is a great recipe to get the kids involved with – they will love compiling their own breakfast bruschetta.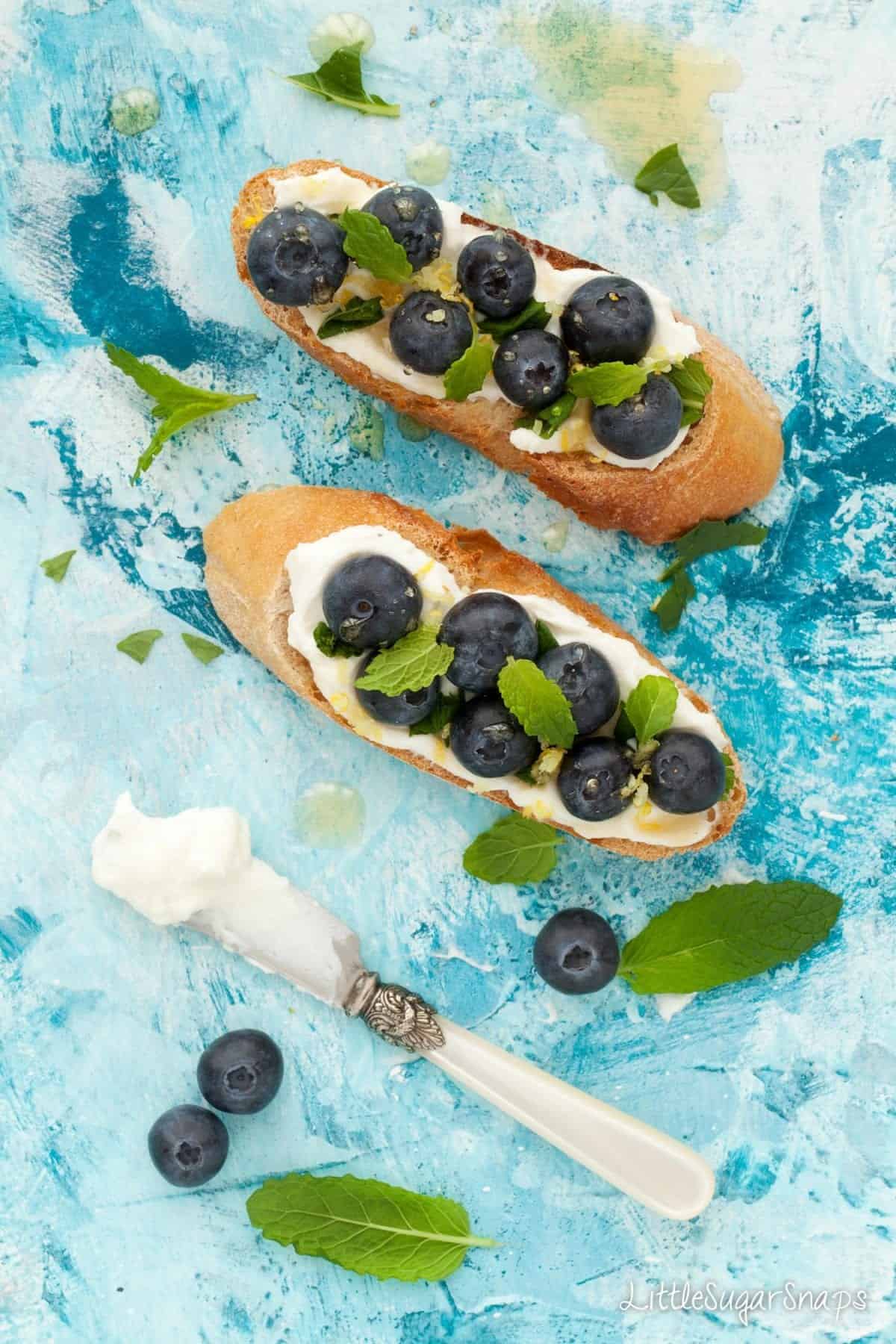 Tips and FAQs
Expert Tips
Because this breakfast bruschetta recipe is so simple, there are very few places that things can go wrong.
My top tip is to ensure you pick quality flavourful fruit and to serve these toasts as soon as they have been made to ensure they retain their crispness.
Frequently Asked Questions
Can I use frozen fruit
Honestly, I would always use fresh for these breakfast bruschetta. Frozen fruit does have a tendancy to emit alot of liquid, even once defrosted, and this would turn the toast soggy
What other cheese could I use?
Spreadable goats cheese would pair well with the strawberries. Regular cream cheese would also be an acceptable alternative. All fruits would work with this option.
Can I make them ahead of time?
I really don't recommend it as the toast will soften. Instead, prepare the toppings ahead of time and just compile everything at the last minute. It's really a very quick recipe, so ideal for making as required.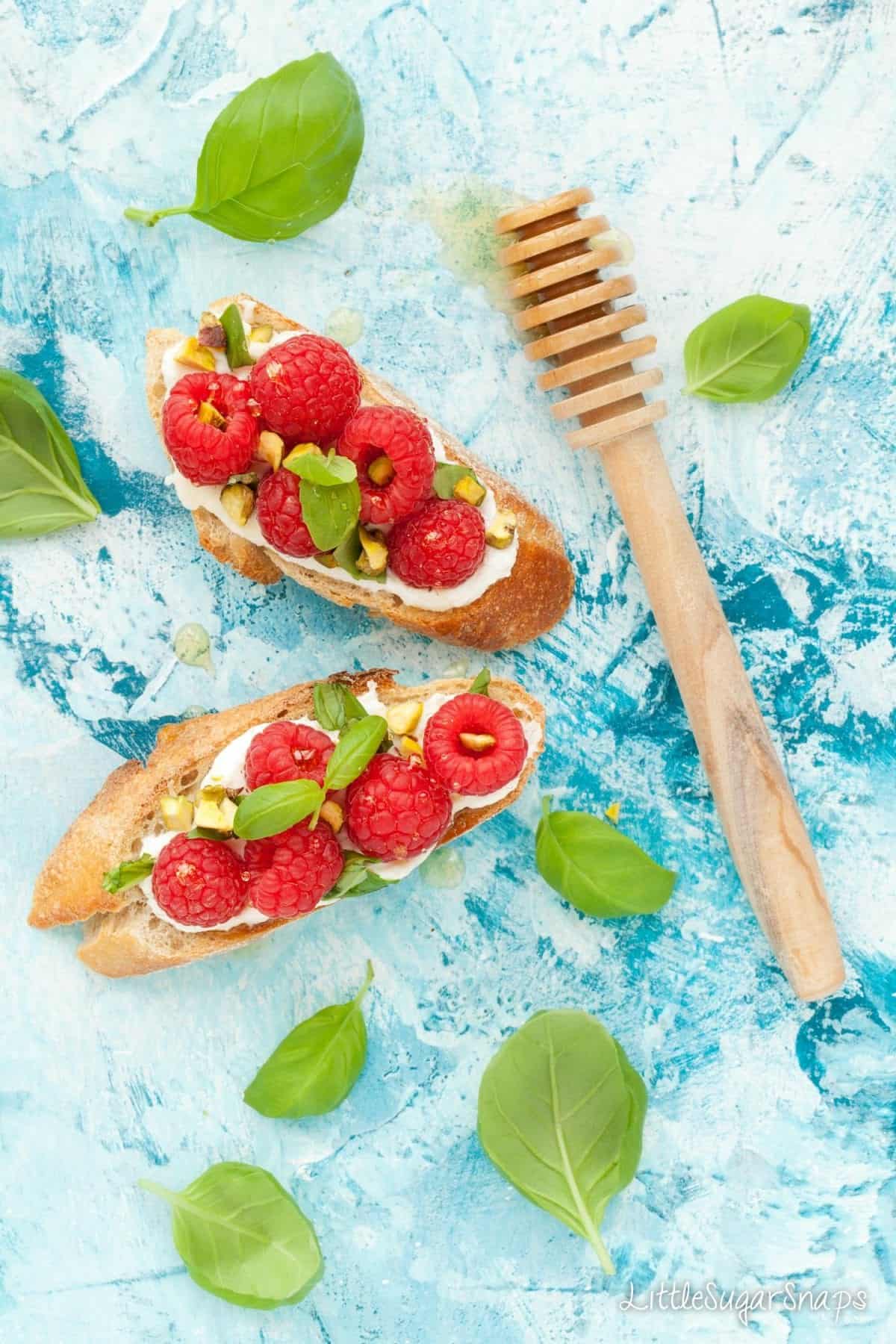 More Healthy Breakfast Inspiration: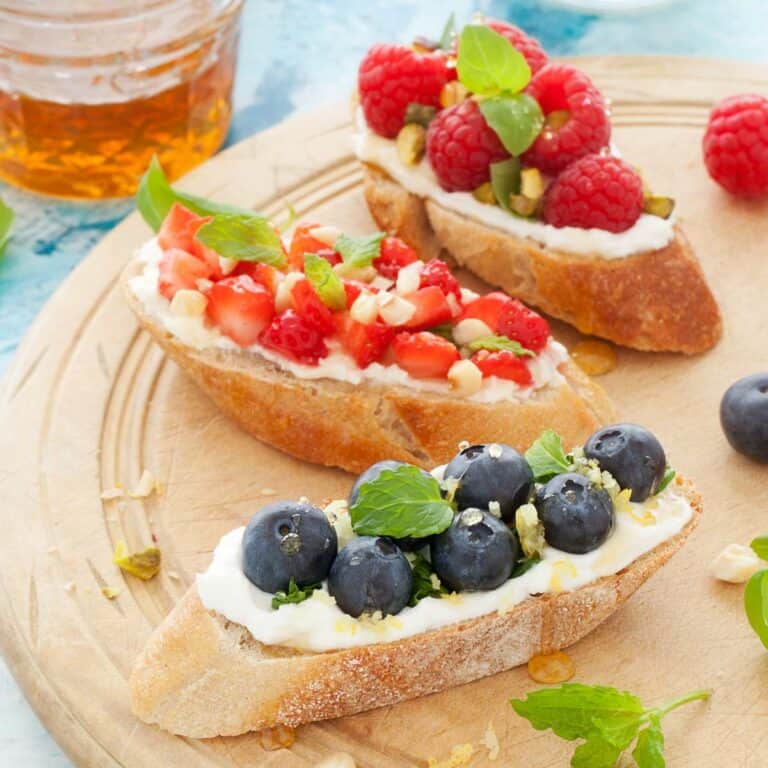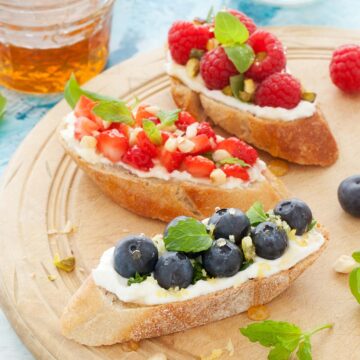 Mixed Fruit Breakfast Bruschetta
Fun, colourful and ultra-quick to assemble, these mixed fruit breakfast bruschetta are the healthy answer to your breakfast woes.
Print
Pin
Rate
Ingredients
Per person
3

slices

Baguette – 1cm thick, sliced on the diagonal (I used sourdough) – see notes

1 ½

teaspoon

Liquid honey
For the Strawberry Toasts
2

teaspoon

Mascarpone cheese

2

Medium strawberries – hulled, chppped small

2

Hazelnuts – finely chopped

2

Mint leaves

Freshly ground black pepper (optional)
For the Raspberry Toasts
2

teaspoon

Ricotta Cheese

5

Raspberries

2

Pistachio nuts – finely chopped

2

Basil leaves
For the Blueberry Toasts
2

teaspoon

Ricotta cheese

7

Medium blueberries

A little grated lemon zest
Instructions
Begin by lightly toasting the bread on both sides
For the Strawberry Toasts
Spread the toast with the mascarpone cheese

Rip up a mint leaf and scatter over the cheese

Pile the strawberries onto the toast

Rip up the remaining mint leaf and scatter on top

Drizzle with ½ teaspoon honey

Grind a little black pepper on top (optional)
For the Raspberry Toasts
Spread the toast with the Ricotta cheese

Rip up a basil leaf and scatter over the cheese

Arrange the raspberries onto the toast

Rip up the remaining basil leaf and scatter on top

Drizzle with ½ teaspoon honey
For the Blueberry Toasts
Spread the toast with the mascarpone cheese

Rip up a mint leaf and scatter over the cheese

Arrange the blueberries onto the toast

Rip up the remaining mint leaf and scatter on top along with the lemon zest

Drizzle with ½ teaspoon honey

Serve the toasts Immediately
Notes
Although I recommend baguette, any firm bread will do – just avoid pre-cut, supersoft loaves. You want something with a little bite. Also, remember to increase topping quantities if you use larger slices of bread
My top tip is to ensure you pick quality flavourful fruit and to serve these toasts as soon as they have been made to ensure they retain their crispness
Nutrition Per Serving (Approximate)
Calories:
172
kcal
|
Carbohydrates:
17
g
|
Protein:
5
g
|
Fat:
10
g
|
Saturated Fat:
5
g
|
Cholesterol:
20
mg
|
Sodium:
39
mg
|
Potassium:
37
mg
|
Fiber:
1
g
|
Sugar:
12
g
|
Vitamin A:
223
IU
|
Vitamin C:
18
mg
|
Calcium:
55
mg
(Visited 51 times, 1 visits today)