Fun, colourful, ultra quick to assemble and virtually healthy. These Mixed Berry Toasts are the answer to your breakfast woes.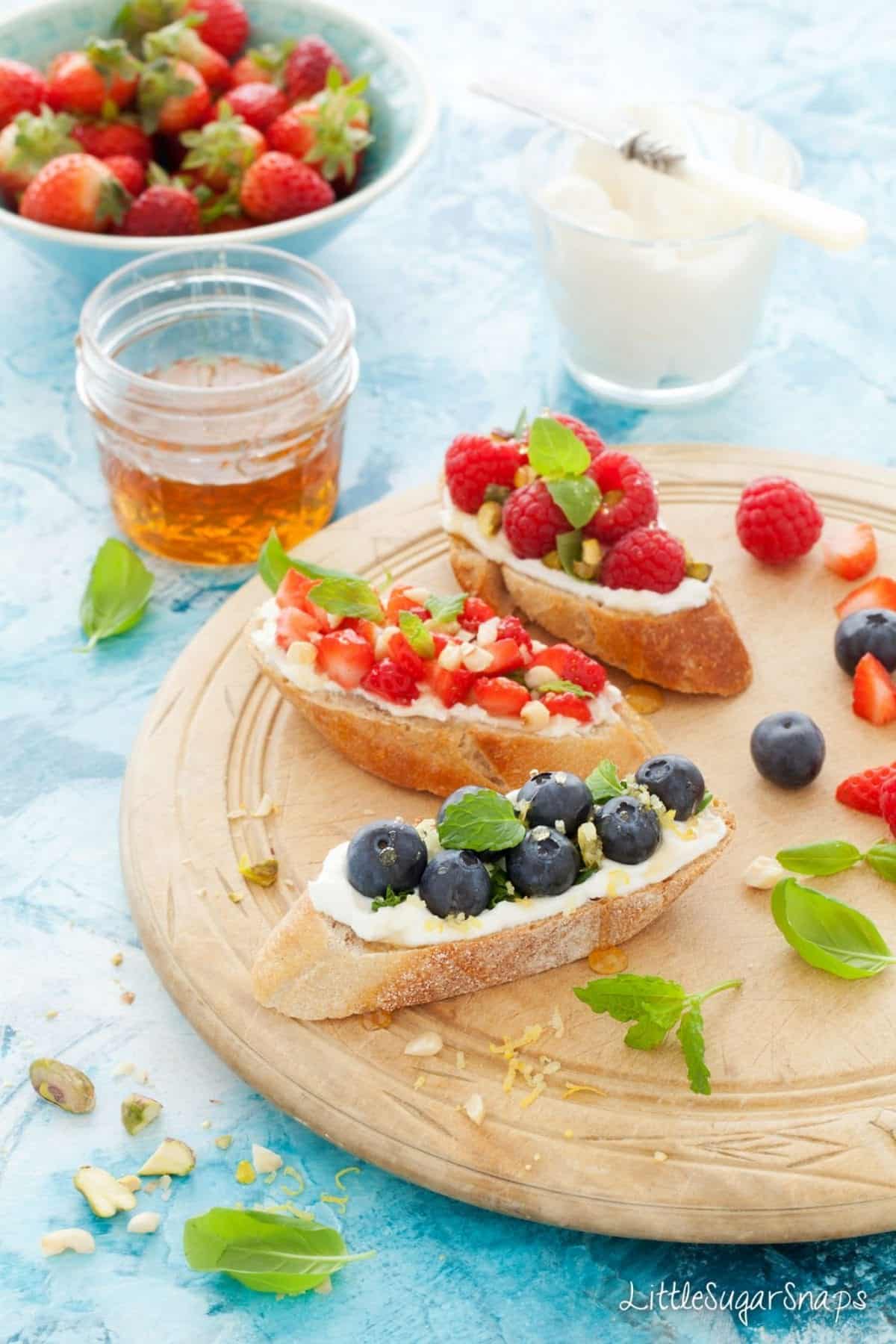 Ok, time to be honest. Although I'm going to be talking about these gorgeous Mixed Berry Toasts today, what I really want to be talking about involves alcohol.
I have had a stinker of a day – I burst a central heating pipe putting up a picture frame. It caused a massive leak and significant damage to my hallway wall. What can I say? Sometimes I amaze myself at my own prowess. So I'm hoping you'll empathise with me when I confess that what I really want to be talking about (and drinking) right now is a good strong cocktail.
But on the menu for today are these light, fresh and oh so pretty Mixed Berry Toasts. I've been eager to share these with you for a number of weeks. Here on LittleSugarSnaps I've been on a bit of an indulgence spree for most of the year to date. You may have noticed. So I recently made a deal with myself to share a few healthier recipes before summer and ice-cream season comes around. For this reason, despite my soggy event today, I'm sticking to the plan. I'm not going to break rank – that cocktail can sit on ice for a week or two longer.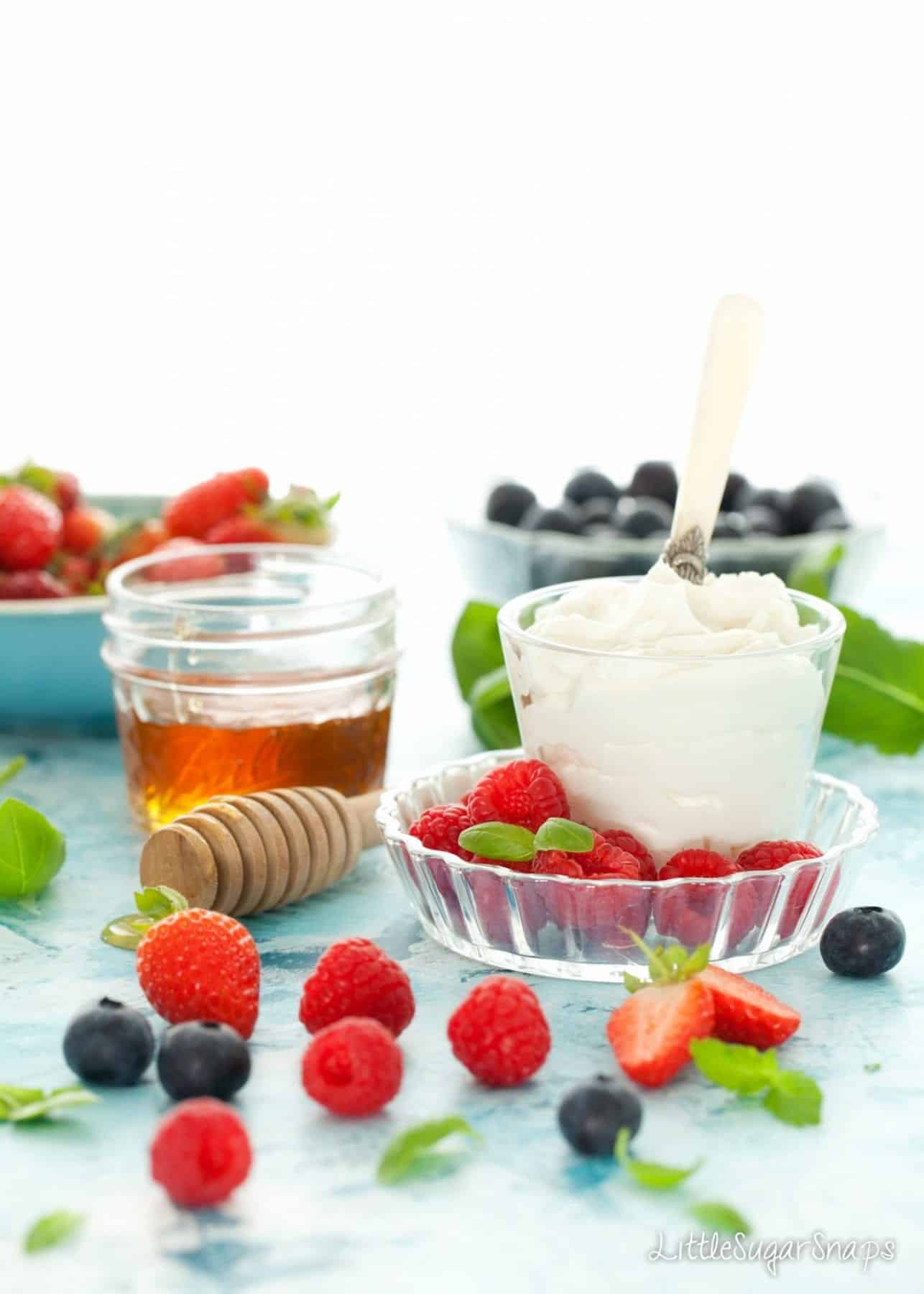 Let's talk about breakfast.
I'm really not a person who enjoys a typical English Breakfast – I'm talking about the Fry-Up. I may like various components individually, but a big plateful of hot, savoury, salty food first thing in the morning really doesn't get me all that excited. And then there's the cooking that's involved. Not to mention the lingering stench of tomato ketchup. It's not a place I like to visit often.
When it comes to breakfast I much prefer an abundance of fruit. If I feel like splurging, my weekend breakfast of choice would be pancakes or waffles with a stack of ripe & rosy strawberries, fruit sauce and a neat pile of whipped cream. If I'm feeling ultra healthy, I opt for Greek yoghurt, plenty of berries, a light sprinkling of homemade granola and maybe a drizzle of maple syrup. Life, my friends, sounds just like a dream apart from burst pipes.
These Mixed Berry Toasts fall somewhere in between this indulgence-virtuousness spectrum. Each toast is loaded up with a lavish slick of either light & fresh ricotta cheese or rich & creamy mascarpone. These toasts are then adorned with various fruity toppings:
Strawberries, mint & hazelnuts
Raspberries, basil & pistachio nuts
Blueberries, lemon zest & mint
A little trickle of honey across each toast is the final flourish. These Mixed Berry Toasts could not be simpler to prepare. They are fresh, fruity, substantial and make a great breakfast, especially when time is short.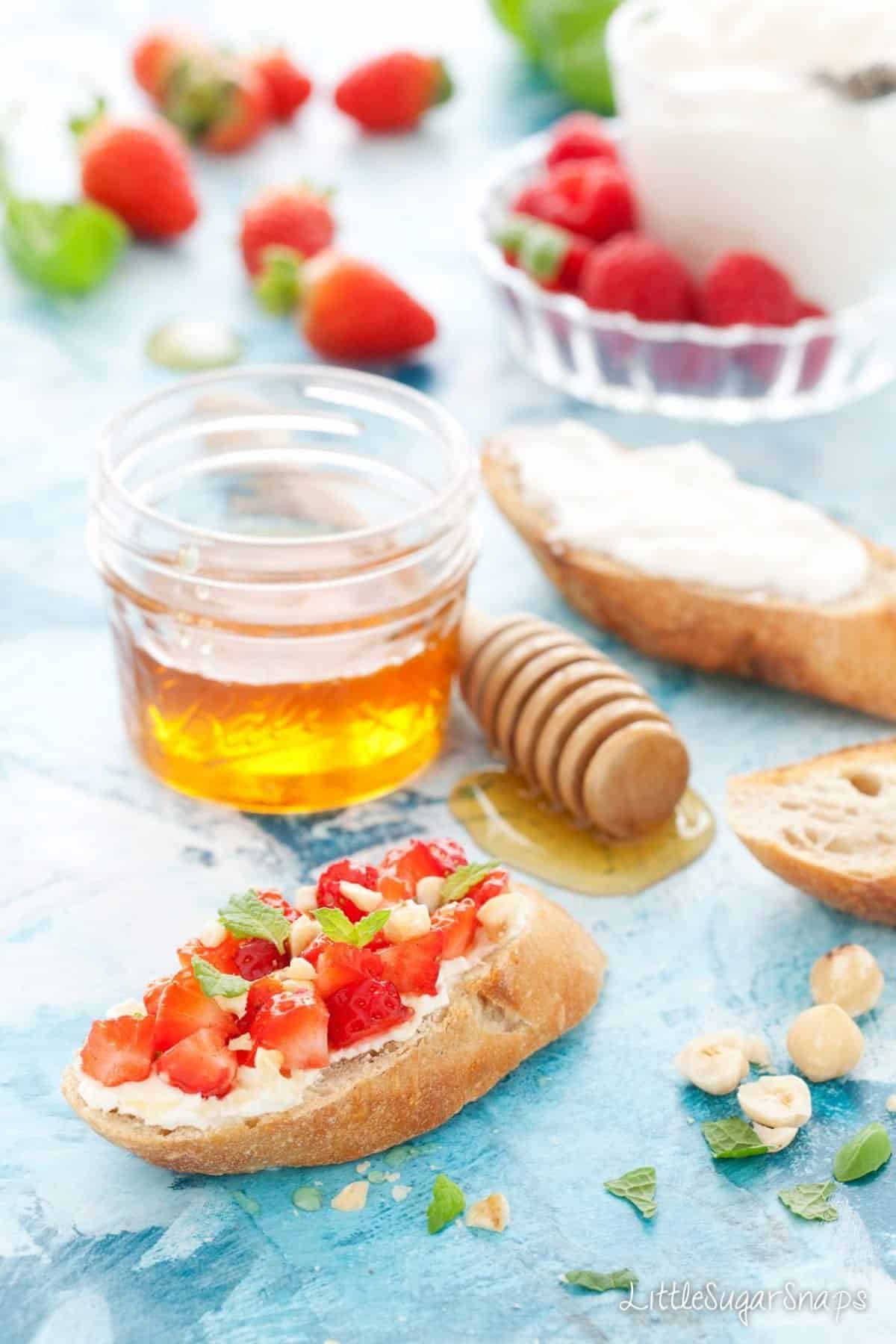 Picking a favourite is tricky. I do love variety. Strawberries and mint is a well loved classic. It tallies particularly well with mascarpone cheese and a grind of black pepper.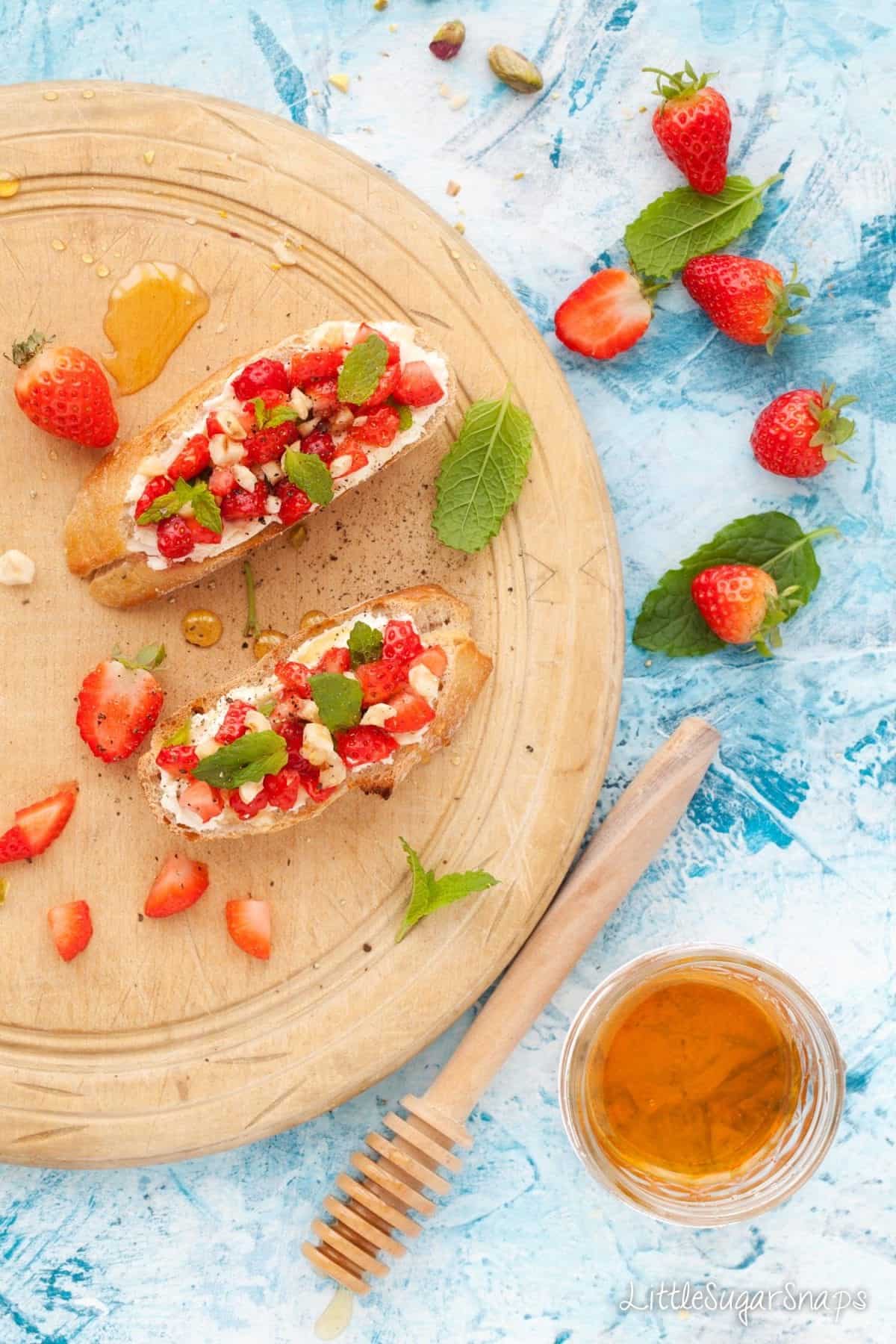 But I also like the very summery combination of raspberries and basil. It's slightly less obvious than pairing them up with mint (which, let's not ignore, is another lovely partnership).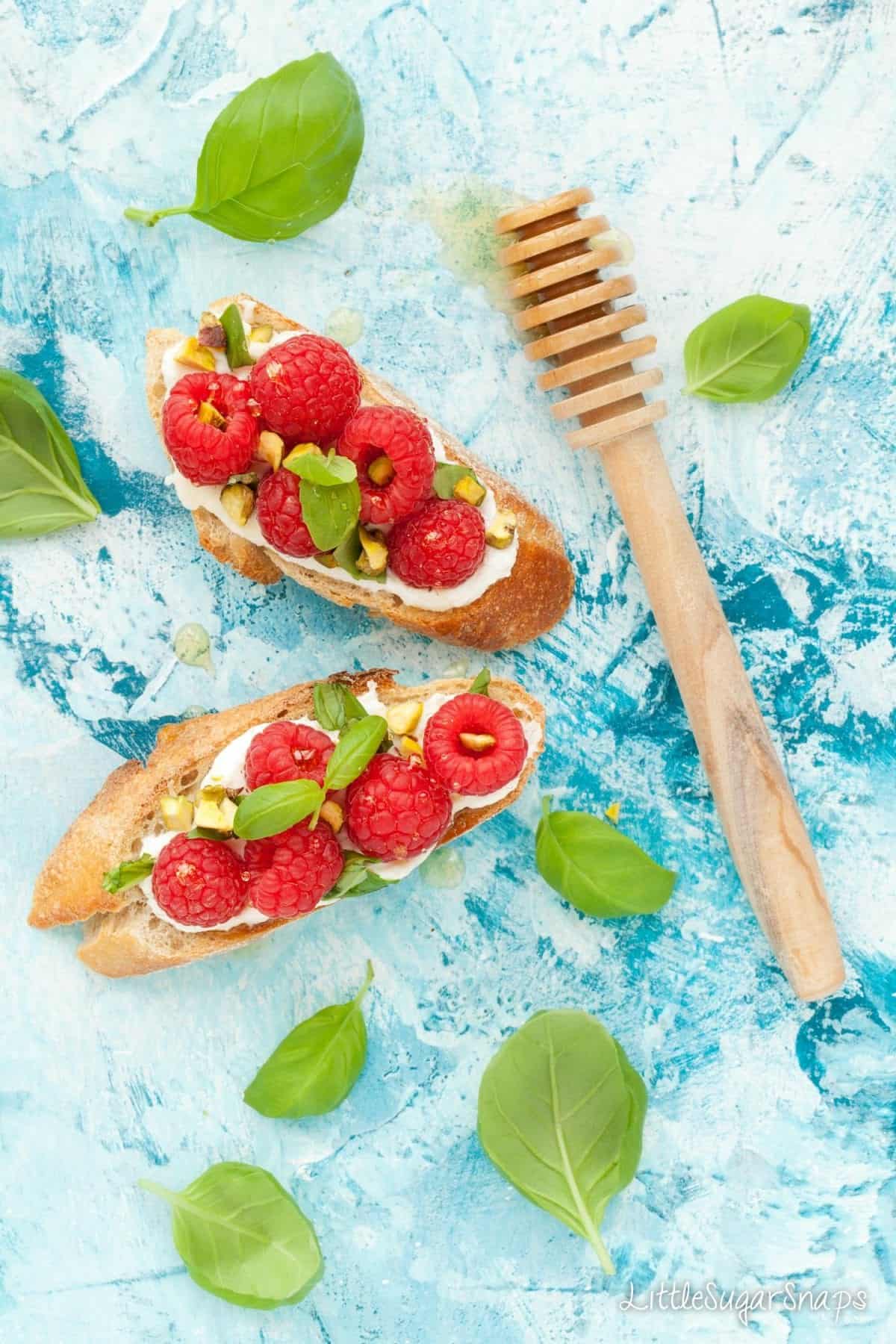 As for the blueberries and lemon, it was a spur of the moment team up that worked well. No need for nuts and lovely with either of the cheeses.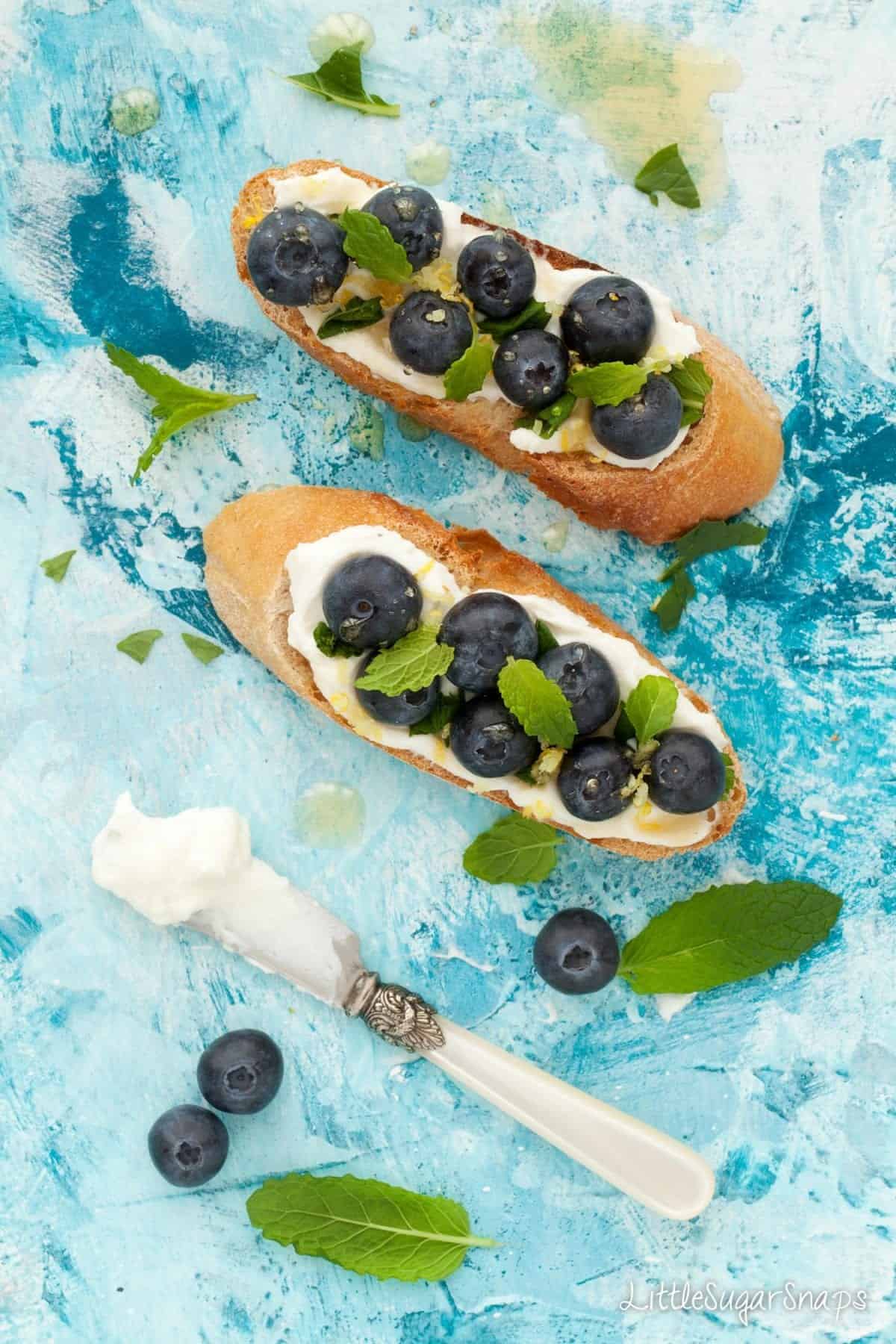 And there we have it, my (cocktail-free) mini buffet of Mixed Berry Toasts – you could get away with calling them Breakfast Crostini.
More Healthy Breakfast Inspiration: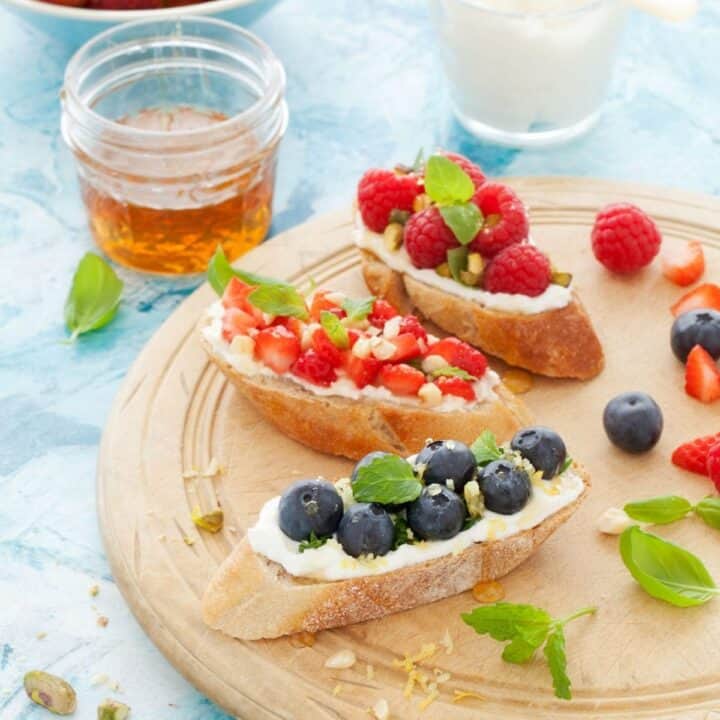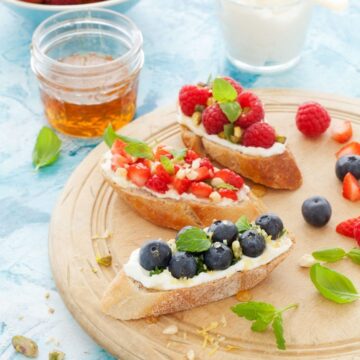 Breakfast Crostini: Mixed Berry Toasts with Soft Cheese & Nuts
Fun, colourful, ultra quick to assemble and virtually healthy. These Mixed Berry Toasts are the answer to your breakfast woes.
Print
Pin
Rate
Ingredients
Per person
3

slices

Baguette – 1cm thick, sliced on the diagonal (I used sourdough) – see notes

1 1/2

tsp

Liquid honey
For the Strawberry Toasts
2

tsp

Mascarpone cheese

2

Medium strawberries – hulled, chppped small

2

Hazelnuts – finely chopped

2

Mint leaves

Freshly ground black pepper (optional)
For the Raspberry Toasts
2

tsp

Ricotta Cheese

5

Raspberries

2

Pistachio nuts – finely chopped

2

Basil leaves
For the Blueberry Toasts
2

tsp

Ricotta cheese

7

Medium blueberries

A little grated lemon zest
Instructions
Begin by lightly toasting the bread on both sides
For the Strawberry Toasts
Spread the toast with the mascarpone cheese

Rip up a mint leaf and scatter over the cheese

Pile the strawberries onto the toast

Rip up the remaining mint leaf and scatter on top

Drizzle with 1/2 tsp honey

Grind a little black pepper on top (optional)
For the Raspberry Toasts
Spread the toast with the Ricotta cheese

Rip up a basil leaf and scatter over the cheese

Arrange the raspberries onto the toast

Rip up the remaining basil leaf and scatter on top

Drizzle with 1/2 tsp honey
For the Blueberry Toasts
Spread the toast with the mascarpone cheese

Rip up a mint leaf and scatter over the cheese

Arrange the blueberries onto the toast

Rip up the remaining mint leaf and scatter on top along with the lemon zest

Drizzle with 1/2 tsp honey

Serve the toasts Immediately
Notes
Although I recommend baguette, any firm bread will do – just avoid pre-cut, supersoft loaves. You want something with a little bite. Also, remember to increase quantities if you use larger slices of bread
(Visited 145 times, 1 visits today)