Ready for a fresh spin on your morning muesli? This stylish & elegant Pineapple Muesli blends dried pineapple, poppy seeds, hazelnuts and crushed rose petals. It is super quick and easy to make and one batch will keep you in healthy breakfast mode all through the working week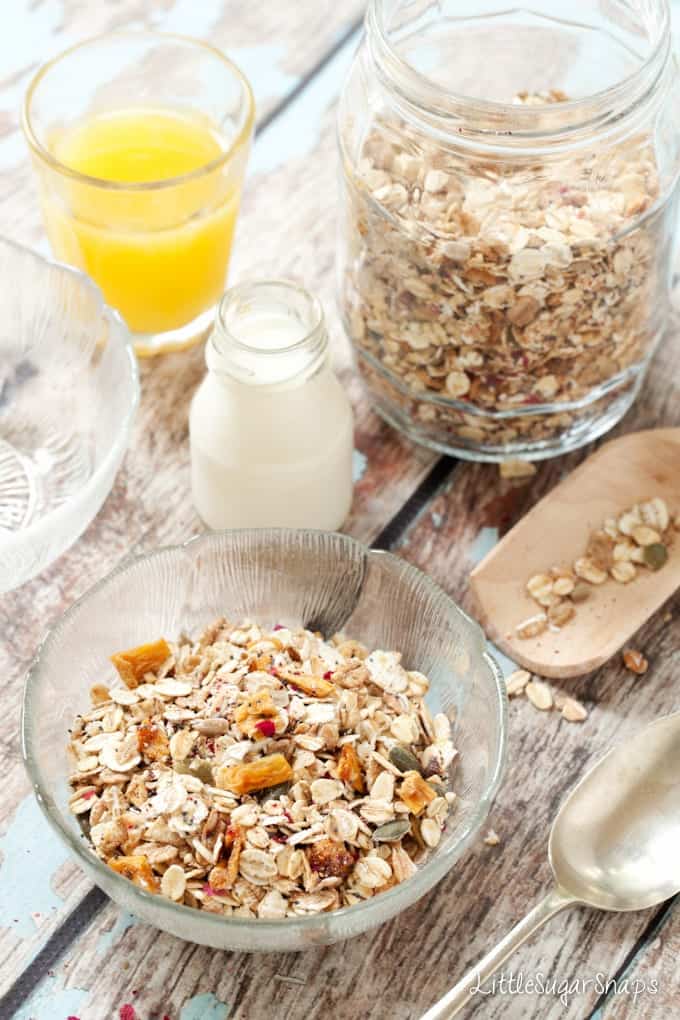 There's nothing like coming across something to eat on holiday that you enjoy so much you know you have to recreate the recipe at home. The food doesn't even have to be exotic. Just finding a different spin on something you eat regularly can be a fabulous find. My most recent travels took me to Vienna, where I found the inspiration for this simple Pineapple Muesli at a neighbourhood breakfast bar.
One of the many virtues of muesli is that it is so adaptable. Once you have your base, which you can tailor to your own whim (in my case oats, bran and spelt) you are free to throw into the mix anything your hungry heart desires and leave out anything you are less than 100% committed to enjoying. I can tell you that banana chips will never feature in my muesli (just read my about page to find out why).
But let's give special credit to two other fantastic muesli features:
and, and, and…..
It's ready in 5 minutes flat.
Just throw everything into a bowl, give it a mix and you're good to go.
Breakfast-time perfection
But back to the inspiration for my Pineapple Muesli.
A few weeks ago, I snuck away for a quick weekend visit to Vienna with my best friend (Hi Jo). It was our third trip to Vienna. It will not be our last.
The thing is, Vienna is an incredibly beautiful, friendly and safe city to be in. But more than that, it was the first city Jo and I visited together. Back in 2000, recently graduated and both in low paid jobs, we headed off on a budget break, complete with overnight stay on the airport floor due to an early morning flight. We were too young to care. We had enormous fun in this city and it remains one of the best holidays I've ever been on.
This time around, as we'd been twice before, Jo and I were very relaxed about sightseeing. We spent our time wandering around, rather than ticking off the list of Must-See's in our Guidebook. And of course, since our earlier visits, I've become more than a little obsessed about where we eat.
Holiday planning for me generally means reading up on the best places to eat, drink or buy food. Obviously, I'd already earmarked where I'd like to have breakfast on the first morning (Jo got little say).
Our destination was Corn n' Pops – a small neighbourhood café dedicated to Muesli. On the menu were no less than 11 different Muesli combinations as well as the option to compile your own mix. I have to say, I love places like this. Delicious, wholesome food, presented in an imaginative way get's my vote over limp croissants from coffee shop chains any day of the week.
In truth, my Pineapple Muesli is an amalgamation of my selection and Jo's selection. I opted for Pineapple, Hazelnut & Rose and Jo plumped for a blend of dates & poppy seeds.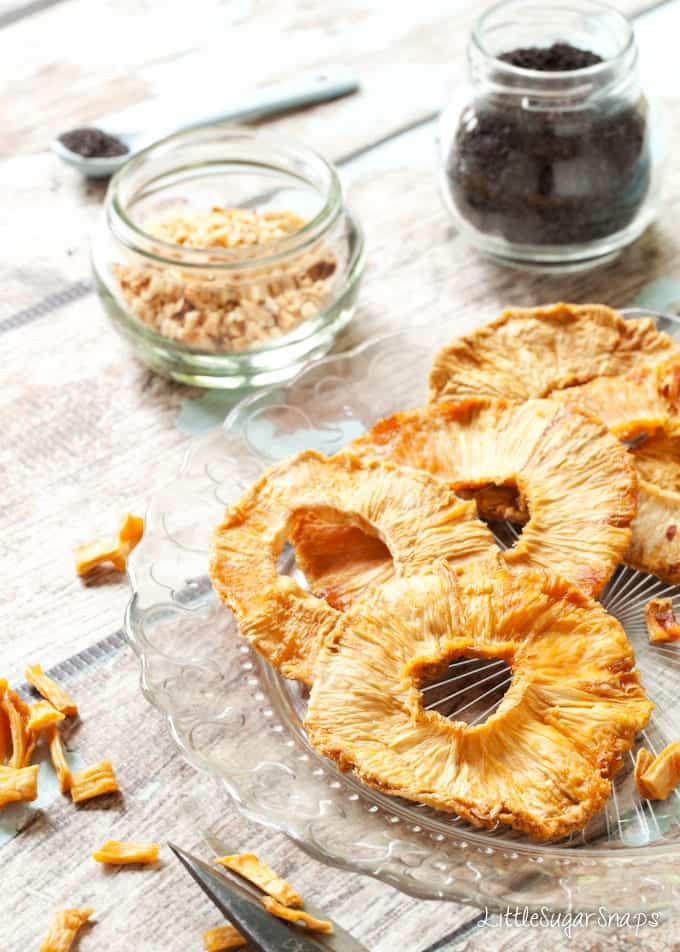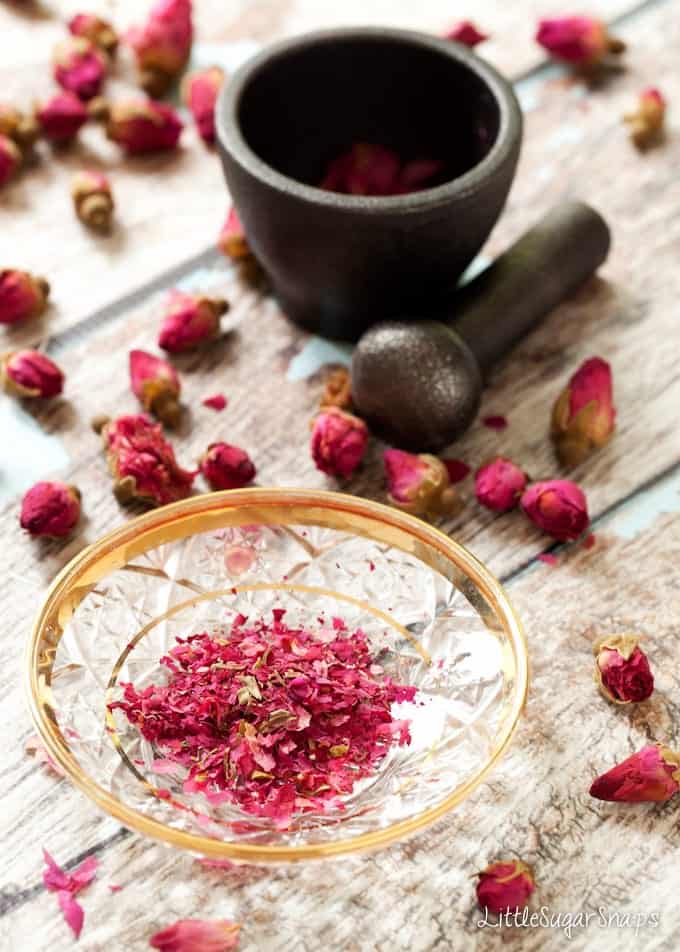 I have a thing for poppy seeds. They just do it for me and I was immediately jealous when I saw them floating about in the breakfast bowl opposite mine. There really was only one thing to do and that was to take the best from both muesli recipes and combine them. That's exactly what I'm presenting today. Pineapple Muesli with hazelnuts, poppy seeds and a hint of rose.
Visually, the poppy seeds and crushed rose petals make this breakfast true eye-candy. Taste-wise, the pineapple is sweet & tart and really stands up well to the wholesome oats, nuts and seeds in the blend. If you want a change from muesli loaded with raisins, this is it.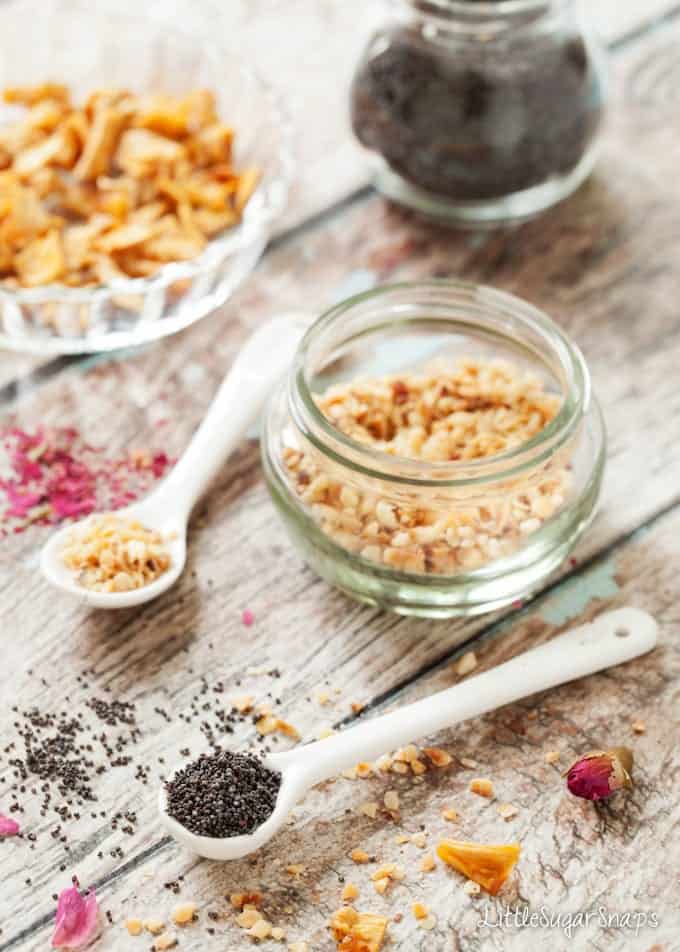 And did I mention this Pineapple Muesli is incredibly easy to make? Just 5 minutes of your time to land yourself a batch of virtuous muesli to see you through the working week.
So there you have it, my Vienna inspired take on muesli. A nutritious and delicious way to wake up your mouth in the morning.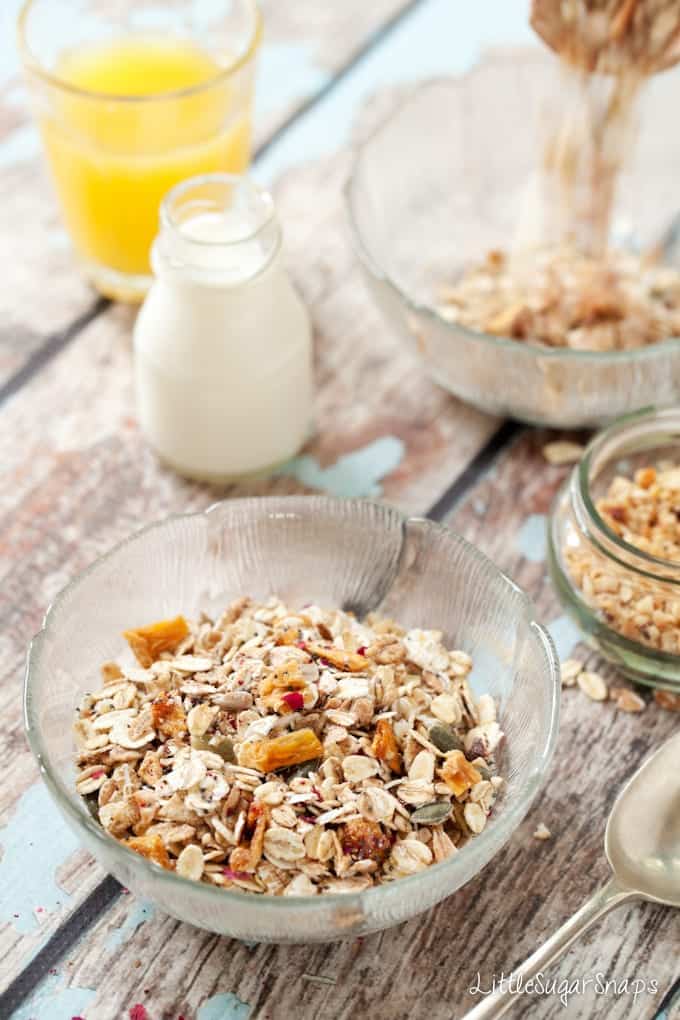 Having told you all about my amazing Pineapple Muesli, I could sign off now. But where's the fun in that?
Confession: much of our time on this, our third trip to Vienna, was spent hunting out food and wine…. and food and sparkling wine…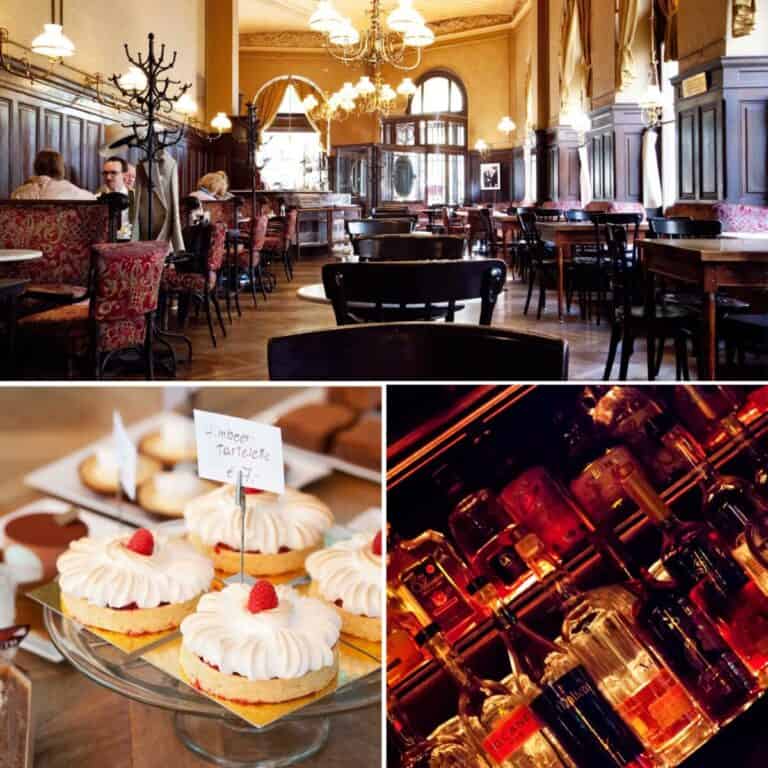 Here are the gems we discovered: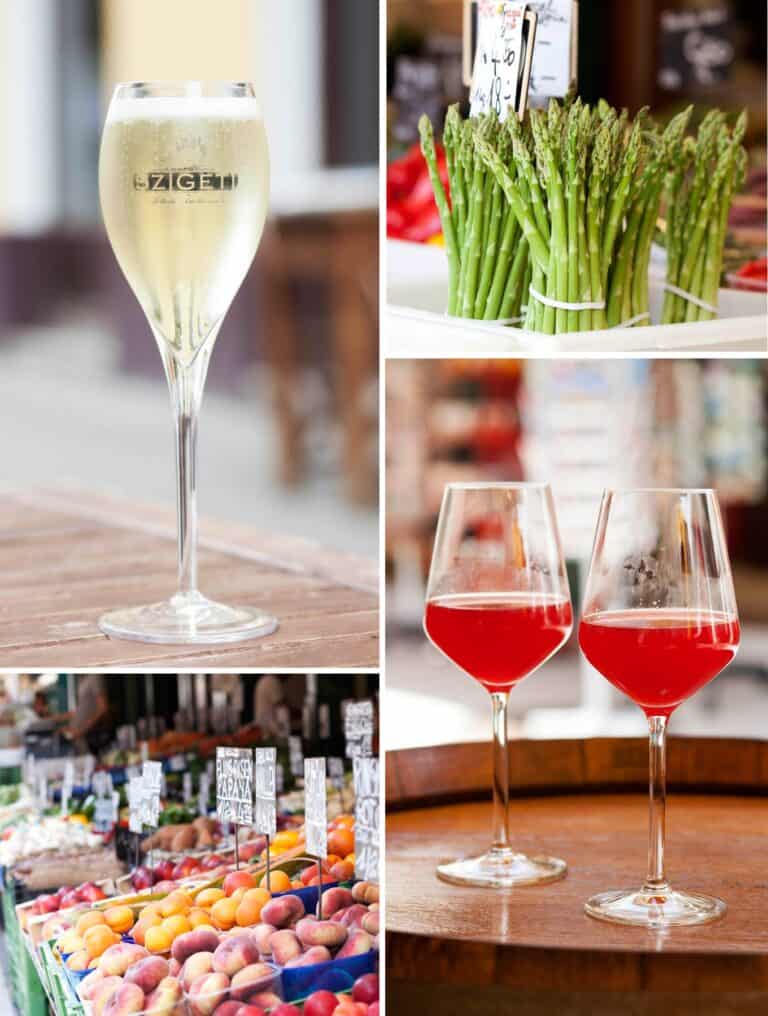 All in all, it was a fabulous third trip to Vienna with my bestie. I came away with more memories, a new recipe for Pineapple Muesli, and plans for the future to visit many more times. We're seriously hoping to be up to the journey when we are both 79. We may just need to ride the tram to get around that time.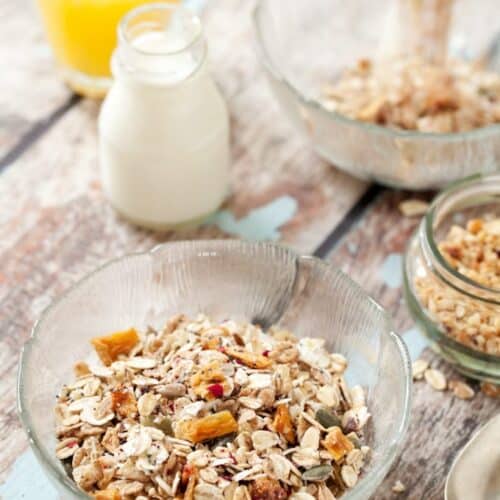 Pineapple Muesli with Poppyseeds, Hazelnuts & Rose
My favourite blend of muesli base consists 100g jumbo rolled oats, 50g wheat flakes, 50g barley flakes and 50g spelt flakes. Any mix of oats and flakes will be fine as a base for this Muesli - just ensure, when you buy it, that it does not already include dried fruits.
Print
Pin
Rate
Ingredients
250

g/ 9oz

Muesli base

(no dried fruit included) - see summary

50

g/ 2oz

Dried pineapple

1

tbsp

Chopped hazelnuts

1

tbsp

Poppyseeds

2

tsp

Crushed rose petals

(optional)

1

tbsp

Pumpkin seeds

1

tbsp

Sunflower seeds

1/2

tsp

Salt

(optional)
Instructions
Roughly chop the pineapple into small pieces

Put all of the ingredients into a large bowl and toss to mix

Store in an airtight container
(Visited 52 times, 1 visits today)