A few glasses of Apple Pineapple Ginger Juice will help you feel warm and toasty as you make the transition from light & fresh summer recipes to warming autumn recipes. Not all autumn drinks have to be warm or chocolate-laden.
Okay, so this is the first post I have written for well over 3 weeks, and boy, I feel out of practice. The last few recipes were written well ahead of time so I could trot off on my family holiday to Croatia and know that LittleSugarSnaps would keep updating itself whilst I was away.
Croatia was beautiful. It was also incredibly hot. Apart from one freak day when the temperature fell to 54F instead of the 93F we were slowly getting accustomed to. We were not prepared…
If I'm honest, I have been too hot all summer long. I know I should not really admit to that, given that before too long I'll be berating abysmal winter weather. But I really don't handle heat in excess of 77F too well at all. Unless there is air conditioning to hand. Which generally, for me, there is not.
I do, however, like to stay well hydrated during any heatwave that comes my way. So on our last morning in Croatia we made a beeline for a fun little juice stand in Split that we had been eying up the previous day. This place took it's juices and smoothies seriously. I sat there ogling the juice masticator they were using to create their incredibly fresh blends whilst I waited for my order to appear.
This machine was a far cry from the awkward gadget I spent a fortune on 15 years ago. (Said contraption ended up in the charity shop after just 2 years of tortuous use.) However, I have every intention of doing some research and casually dropping a modern (hopefully much improved) juicer onto my Christmas wishlist this year.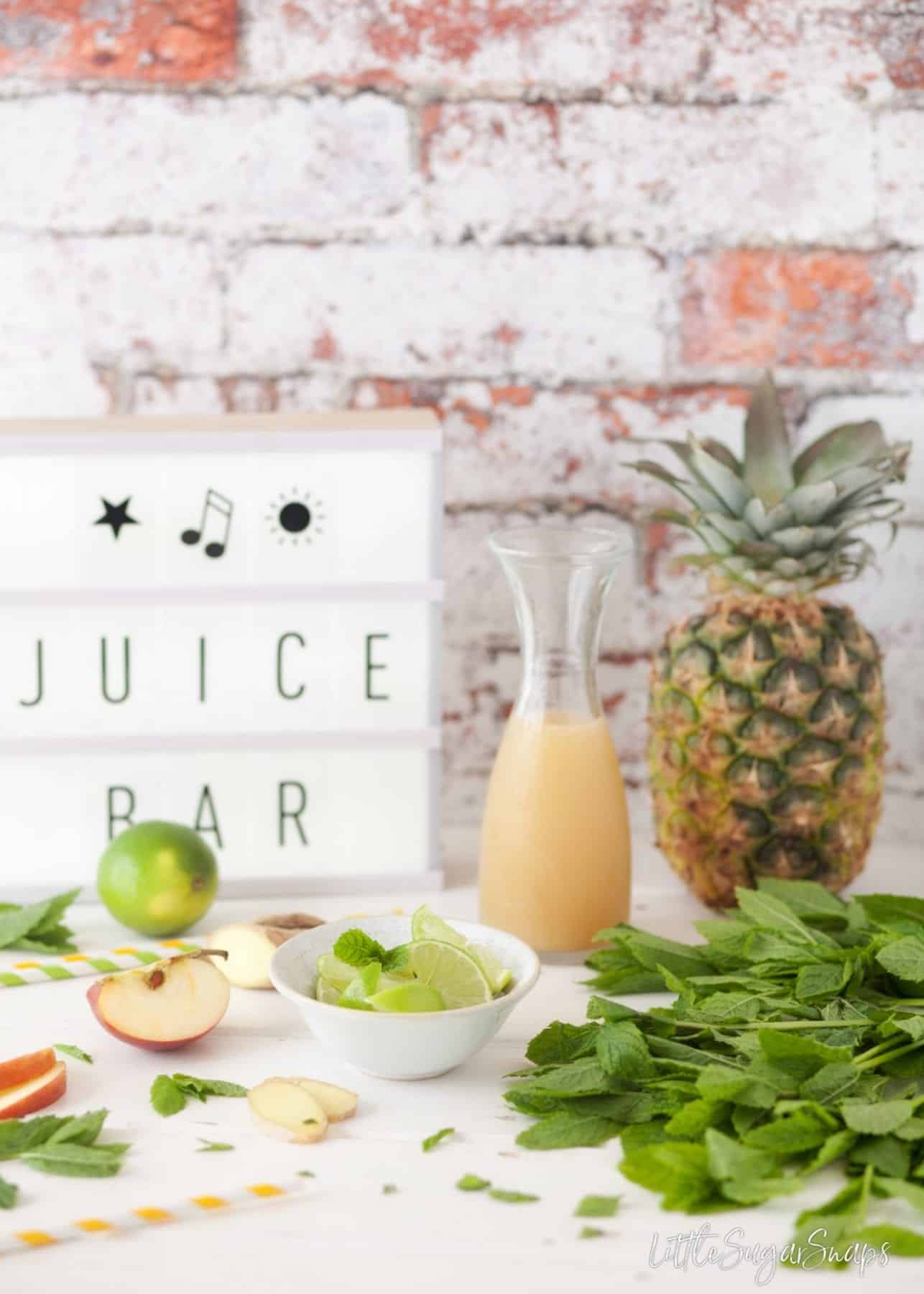 Anyway, my order speedily arrived and it came loaded with ginger. Ginger was not playing subtle – it was waving itself in my face with a big fat, friendly hello. Rather than gulp this drink down in seconds, which I'm prone to do with sweet drinks, the fiery force – alternatively known as ginger – commanded me to take my time over it. This, in turn, meant there was plenty of time for a favourite family pastime – people watching. Oh the fun that can be had… the speculations that can be made…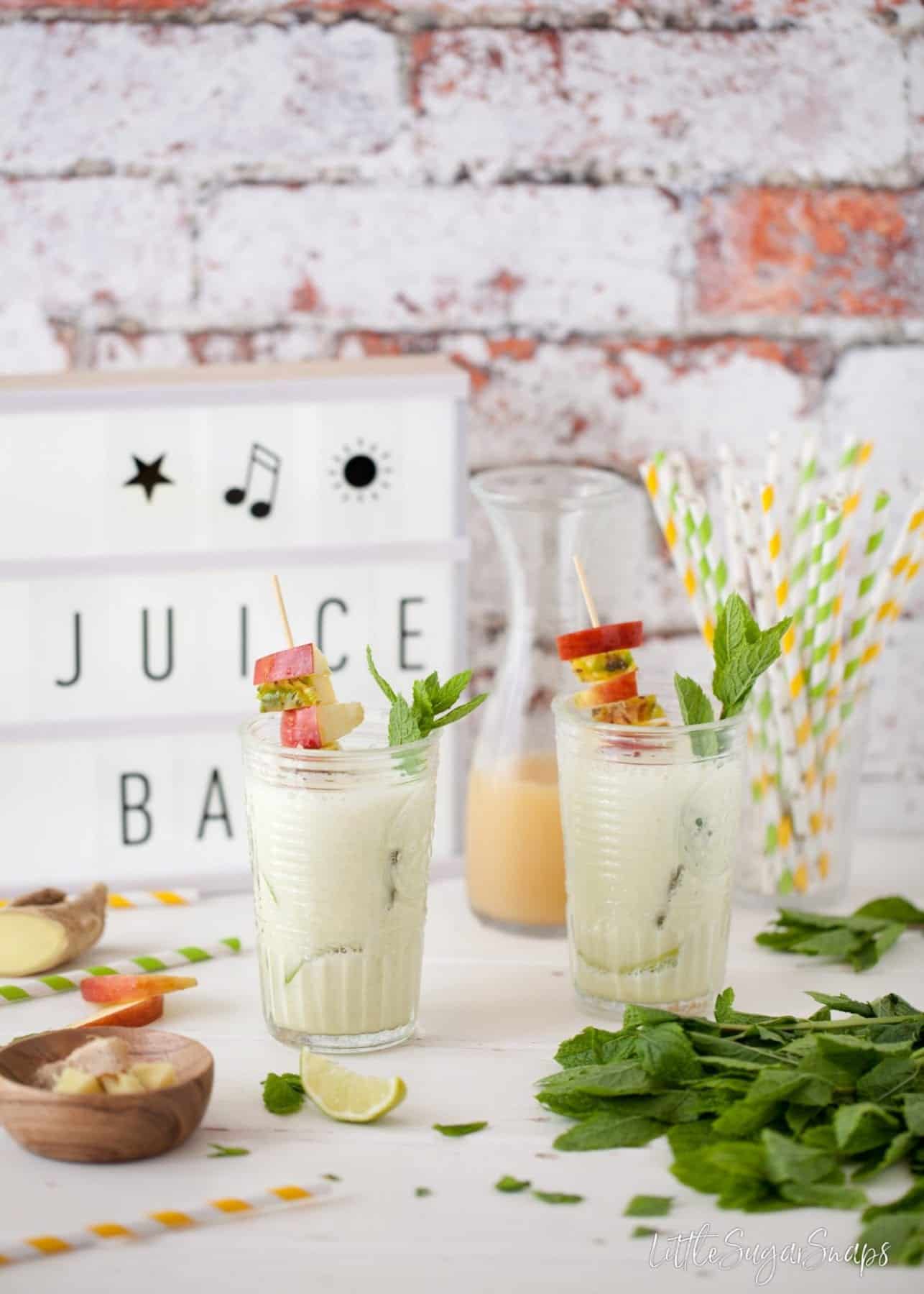 But I'm sidelining – let's get back to the drinks. As I sat in Split enjoying my gingery hit and the last few moments of my family holiday, I realised that a hefty whack of ginger is just what juices need to transport them into autumn territory. So what I have created is a fresh and zesty Apple Pineapple Ginger Juice that is fully loaded with the fiery punch of ginger. This drink is not shy in the heat department, but it still manages to taste revitalising and fresh.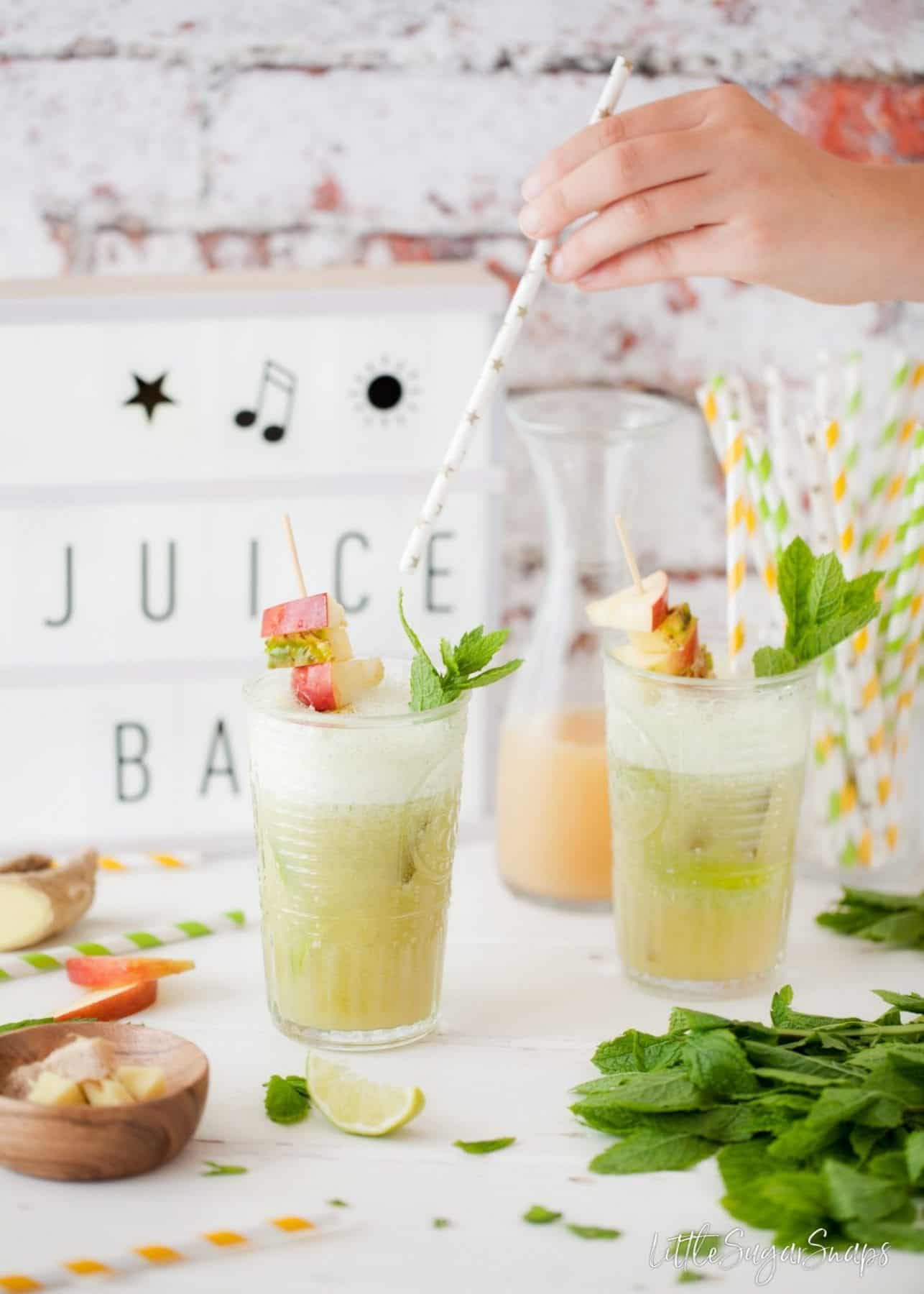 This juice comes packed with health benefits from the various fruit juices and the ginger, so it should help give your body a natural boost to ward off nasty bugs as the weather inevitably deteriorates. In fact, you can read all about the merits of ginger and pineapple here. You'll see that I went into quite a bit of detail on this subject, as I was prone to do in my early days of blogging.
Moving along, the good news is that the ginger can be tempered to your personal taste preferences. I've deliberately made ginger the star of the show in this drink, but you are more than welcome to tinker with the measure – adding less (or more) to suit your own inclination. Try halving the ginger for a much more subtle effect.
So before you go head-long into warm and cosy hot chocolates or pumpkin/ chai spiced drinks consider giving this Apple Pineapple Ginger Juice a go. It will warm your cockles nicely.
PS: Thanks to my hand models – Hannah & Milly – they are only available during the school holidays.
Fruity Drinks for All the Seasons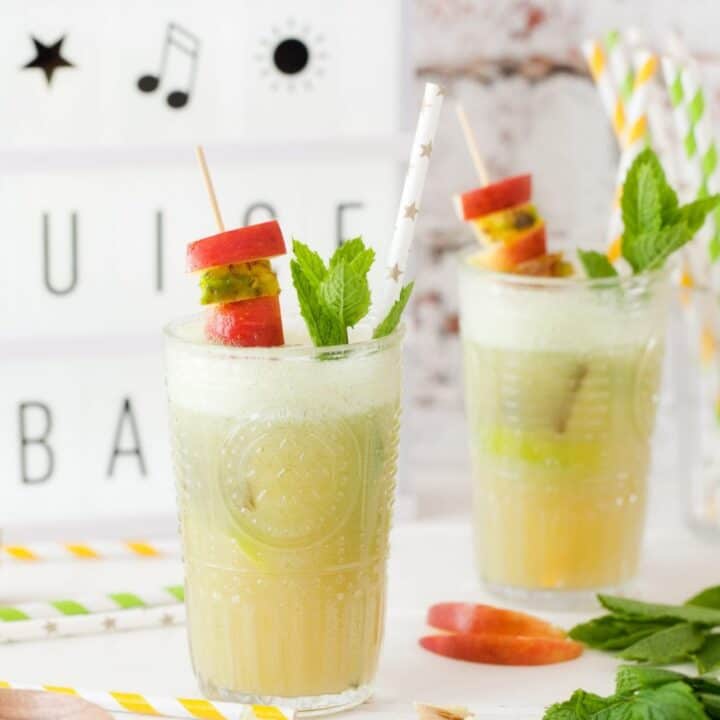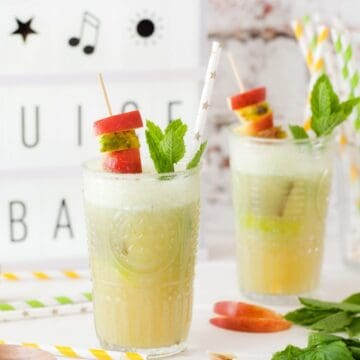 Apple Pineapple Ginger Juice with Mint and Lime
A few glasses of Apple Pineapple Ginger Juice will help you feel warm and toasty whatever the season
Print
Pin
Rate
Ingredients
300

ml/ 1 ¼ cup

Apple juice

300

ml/ 1 ¼ cup

Pineapple juice

10

g

Fresh ginger (peeled)

SEE NOTES

15

Mint leaves (large)

30

ml/ 2 tbsp

Lime juice
Instructions
Roughly chop the ginger and place in a blender with all other ingredients. Blitz on high speed for several minutes to ensure the ginger and mint are well broken down

Serve straight away, garnished with fruit skewers if desired

Alternatively, store in a screwtop bottle in the fridge for up to 3 days and shake well before consuming
Notes
You can vary the amount of ginger according to personal preferences – 10g gives a nice punchy hit of ginger heat. Reduce this amount for a more subtle ginger taste or omit it altogether.
(Visited 1,717 times, 10 visits today)