Packed full of goodness with tropical flavours mixed in. This cold busting pineapple smoothie will help send cold germs packing.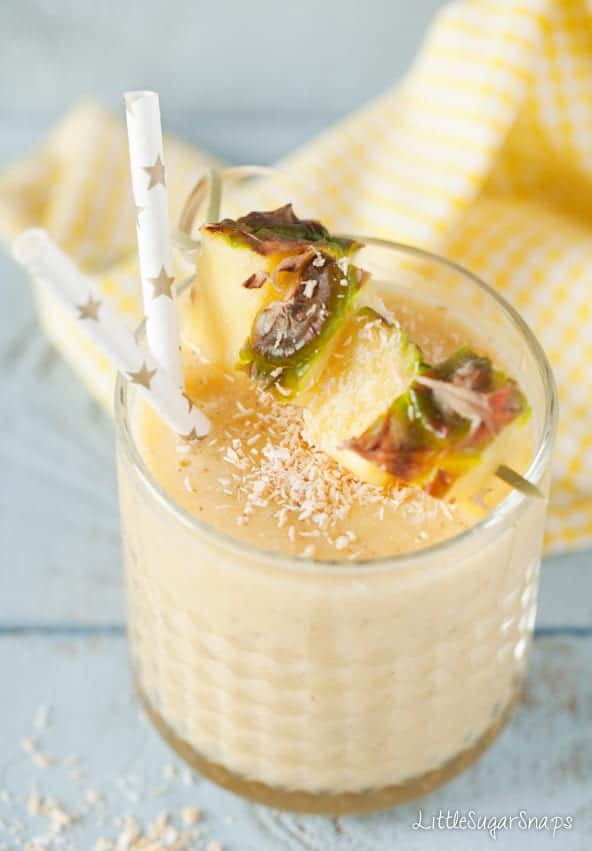 Waaaahey, it's a brand new year. Yesterday I spent the last day of the school holidays at home, snuggled up with my girls, which was lovely, despite us all missing our Christmas tree and having to resign the leftover chocolates to the cupboard until the weekend.
Being honest, I was craving sweet stuff all day, which as we all know, is what happens when you go cold turkey. Um…. no reference to Christmas dinner intended there at all.
Instead of caving into my cravings, I've promised myself a week full of healthy foodie delights such as this delicious and nourishing cold buster of a smoothie. It's packed full of naturally tasty ingredients to get my nutrition intake somewhere back to normal.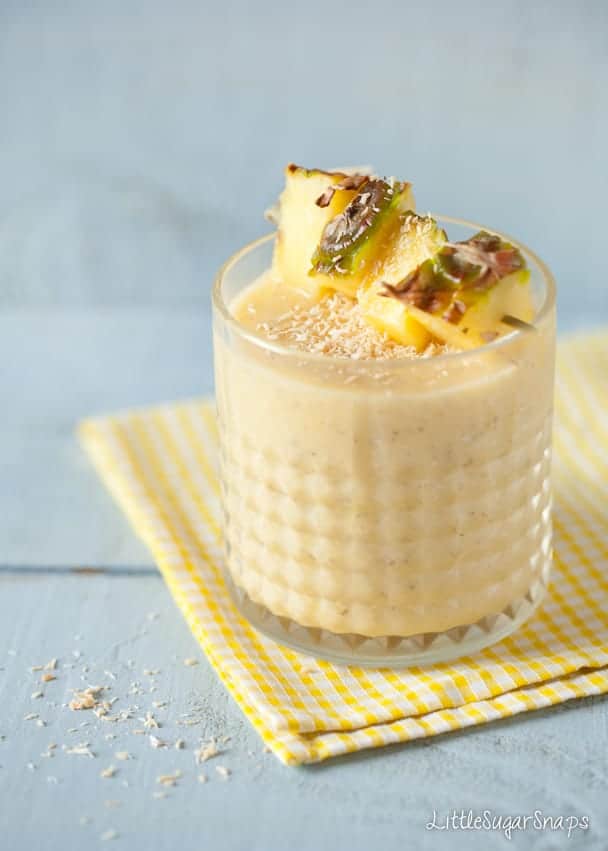 If ever there was a smoothie I wanted to shout about during January, this is it. January is my least favourite month – grey, foggy, chilled to the bone cold and also distinctly lacking in fairy lights. I think you get the picture.
This healthy drink is like a glass of sunshine with tropical warmth thrown in to cheer you up.
And though it's undeniably tasty to slurp, because this smoothie has so many ingredients that help to fight off, and cure, wintery cold ailments, it's one health drink that I'm on board with consuming.
How to Make a Cold Busting Pineapple Smoothie
Boy, this drink racks up some health points. I call it my Cold Busting Pineapple Smoothie and with good reason. This drink is laden with cold-fighting goodies including:
pineapple juice
fresh orange
ginger
chia seeds
A dash of coconut and a squeeze of honey round out the flavours in this cold buster of a smoothie.
Like most smoothies, it's as simple as throwing the ingredients into the blender and blitzing for a moment or two. I don't think anybody wants a complicated recipe when they are suffering from a cold.
There are plenty of reasons why this pineapple smoothie is great for a cold sufferer and I'd like to talk about this now, starting with the star of the show – pineapple juice.
Why is Pineapple Juice Good for a Cold?
Until recently I had no idea that pineapple juice is good for fighting a cold. Granted, I'd made the connection that it supplies a good dose of vitamin C but there's another reason why pineapple juice is so good to sup when a cold strikes.
It turns out that pineapple juice is also a fantastic source of bromeliad which helps prevent sinusitis and kick-starts the repair of a sore throat. So pineapple juice is good news for a cold sufferer.
Other Beneficial Ingredients in this Cold Buster Smoothie
Of course, I could tell you to go drink a glass of juice and be done with it. Instead, I've carefully compiled this smoothie to not only taste good but to include other ingredients all good in the fight against cold and sore throats.
Why stop at one cold-fighting goodie when you can bombard the germ with a whole range? Here's the low down on the rest of the ingredients:
Orange – more vitamin C, can't get enough vitamin C this month….
Ginger – brace yourselves, this one is not glamorous. Fiery ginger is not just great for giving a cold sufferer a warming hug in the throat. Apparently it's an effective cold relief as it encourages your body to have a good old healthy sweat. This sweat gets a bit of a detox going but also promotes a potent germ fighting agent to help fight off colds and flu. So the next time you have a cold and get some advice to 'sweat it out' now you know why and how to do it. (I've just been reading about the ginger bath, which takes this sweating theory to the extreme. I'll leave you to look that one up – it may be an acquired taste)
Chia seeds – I've mentioned these wonder seeds in my beetroot & apple smoothie post, but here I'm highlighting the level of anti-oxidants with strong immune boosting properties that they contain. This can only help to fight off those dreaded cold and flu germs.
Coconut – I put this in really just to add a hint of creamy luxury to the tropical explosion in your mouth and transport you to a warmer place in you mind. However, some reports suggest that since coconut water is a good source of electrolytes (needed for hydration), if you're feeling a little dehydrated, courtesy of your bug, the coconut water should help you out – bonus.
Honey. Hello golden, oozing, sticky, sweet honey. (Can you tell my fingers are still reaching out to that illicit cupboard?) I can't see how a small smackeral of honey in this smoothie can harm. Especially since it pairs with the other flavours so naturally. Obviously, honey also offers a fantastic soothing effect on sore throats. I've read that buckwheat honey is the best, but I have yet to find any around me.
This list of pretty much sums up why I'll be drinking the Cold Busting Pineapple Smoothie for much of the month to come. I'm living in the hope that I don't get a nasty chill – good luck if you follow suit.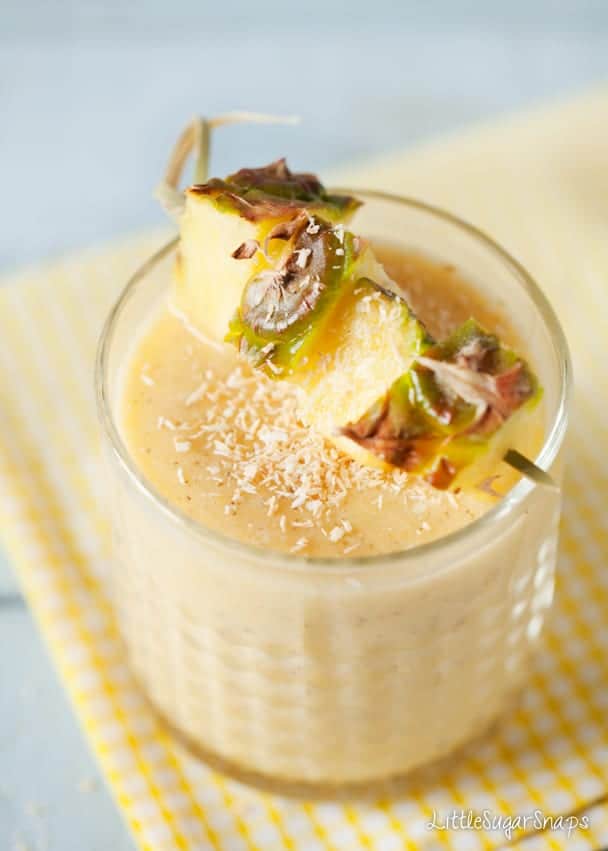 Try my other smoothies and drinks good for colds: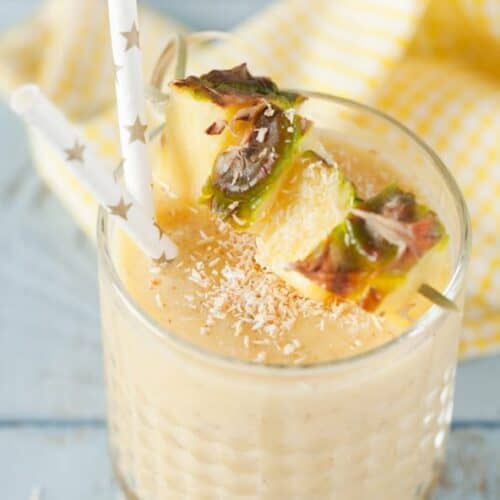 Cold Busting Pineapple Smoothie
Packed full of goodness with tropical flavours mixed in. This pineapple smoothie will help send cold germs packing.
Print
Pin
Rate
Ingredients
250

g / 1 ¼ cup

Pineapple – preferably frozen, cut into small chunks

240

ml/ 1 cup

Coconut water

2

Oranges – peeled, halved and seeds removed

10

g

Fresh ginger – peeled & chopped

4

teaspoon

4 teaspoon dessicated/ shredded coconut – unsweetened

2

teaspoon

Chia seeds

4

teaspoon

Runny honey

Handful of ice, (optional – depending how thick you like you smoothie, but recommended if your pineapple is not frozen)

Fresh pineapple & toasted dessicated coconut to garnish, (optional)
Instructions
Put all of the ingredients into a blender and whizz for 1-2 minutes until smooth

Divide between 2 glasses, top with extra pineapple and toasted coconut if desired and drink immediately
Nutrition Per Serving (Approximate)
Calories:
226
kcal
|
Carbohydrates:
51
g
|
Protein:
4
g
|
Fat:
3
g
|
Saturated Fat:
2
g
|
Sodium:
130
mg
|
Potassium:
694
mg
|
Fiber:
8
g
|
Sugar:
39
g
|
Vitamin A:
367
IU
|
Vitamin C:
132
mg
|
Calcium:
123
mg
|
Iron:
1
mg
(Visited 2,097 times, 11 visits today)