Strawberry tarts. Simple, summery and cheekily colourful. These tarts are your saviours when you want something fancy to serve to guests but don't want to be faffing around in the kitchen as they arrive.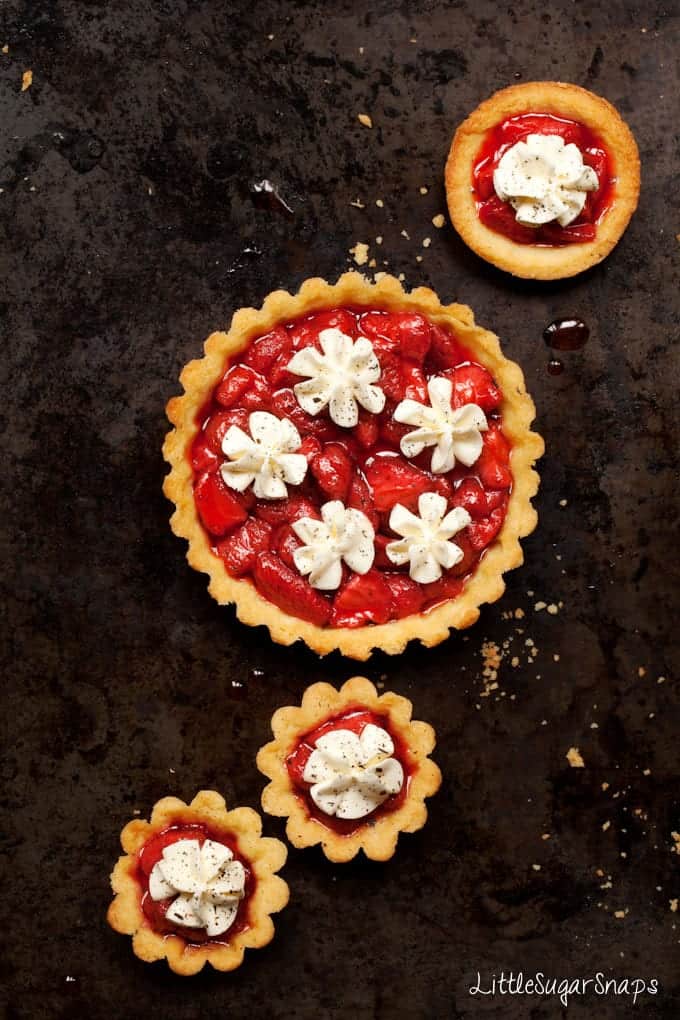 When it comes to summertime entertaining, I hate to be messing around for too long in the kitchen whilst guests are enjoying the good weather outside. With this in mind, I have some perfect little Strawberry Tarts to tempt you with this week. The pastry is make ahead. The filling is make ahead. So when it comes to time with friends (and sunshine) all these little gems require is just 5 minutes of your precious time right before serving.
At the heart of these Strawberry Tarts is my Roasted Strawberry Sauce. Thick, punchy and vibrant, this sauce is the ideal accomplice to crisp pastry shells.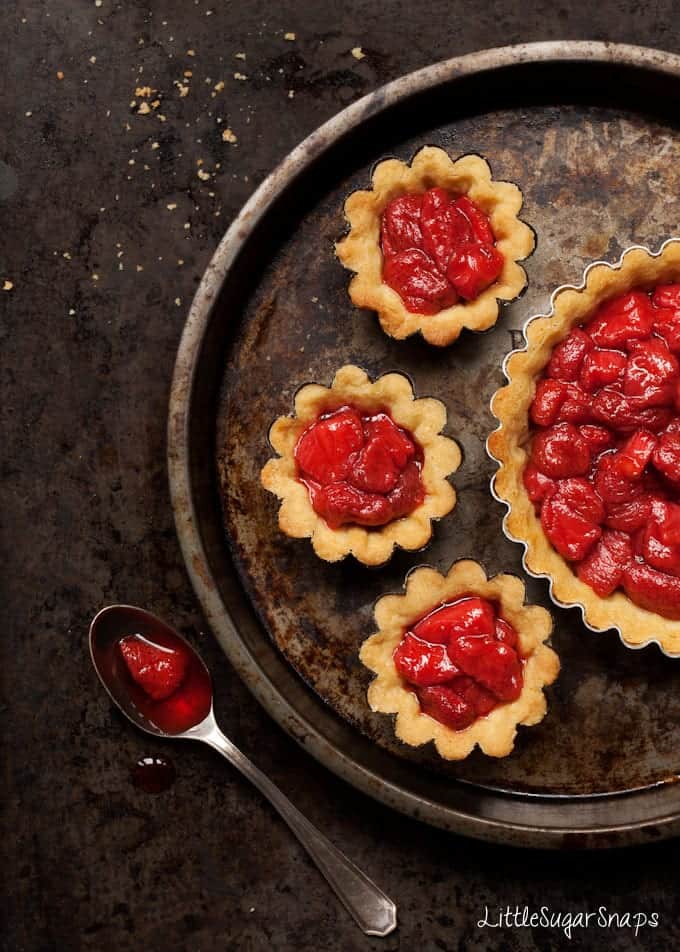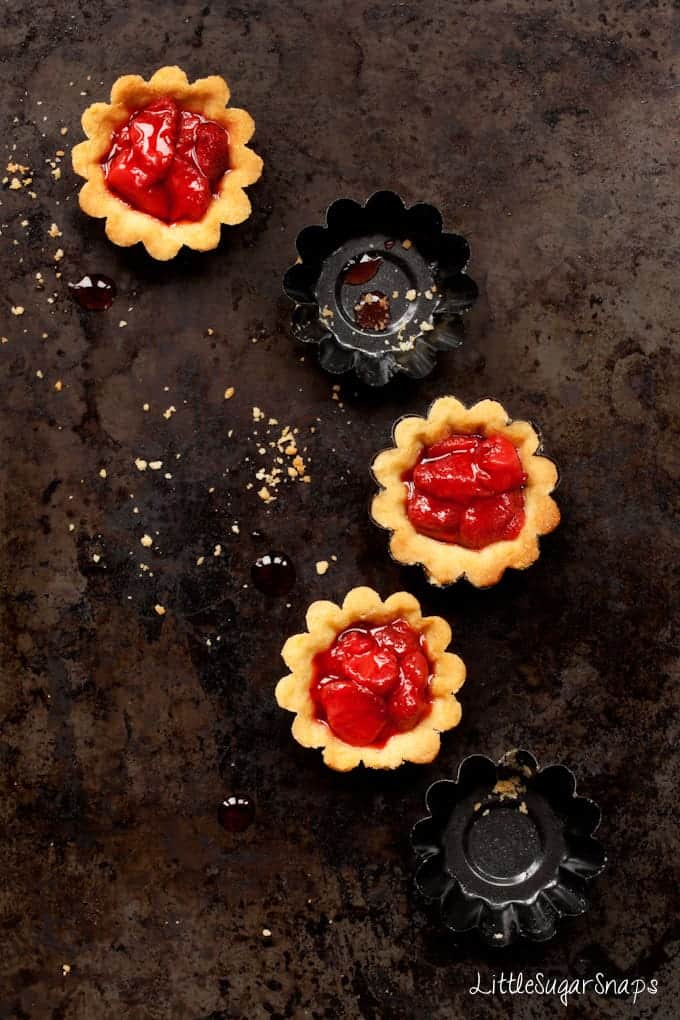 The pastry is light, crunchy and deliciously sweet. It pairs so very well with the fresh taste of summer strawberries. A delicate garnish of cream is really all this tart needs to be dressed for dinner.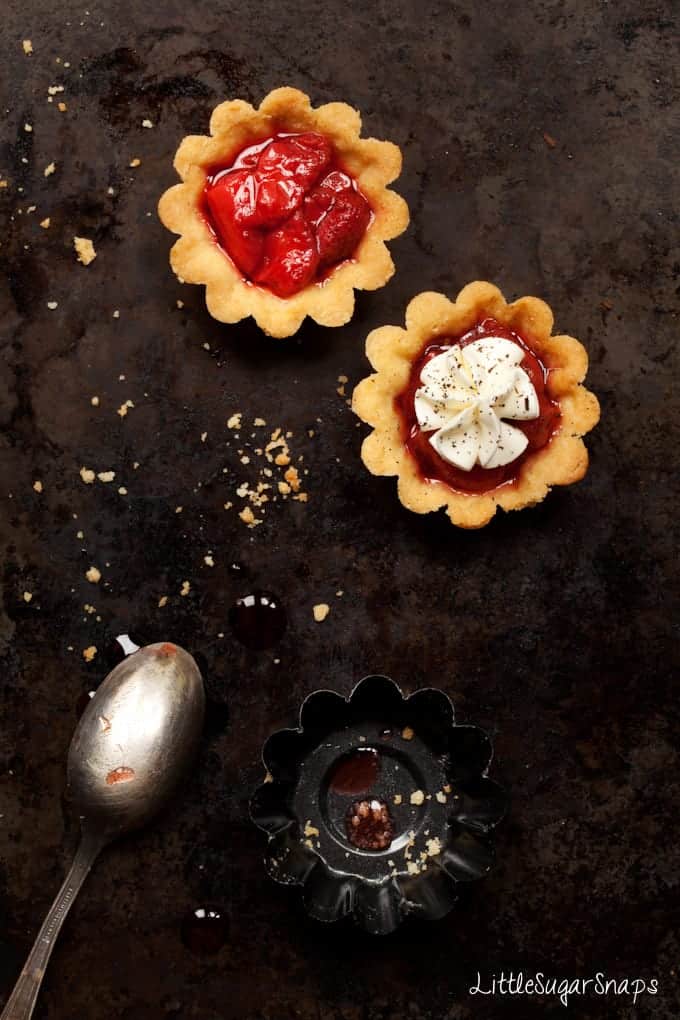 And bonus: I have a confession and a baking tip to share with you. The confession comes about because I've always struggled to keep my pastry shells looking neat and tidy after I have blind baked them. Since one of my traits is being a perfectionist, messy pastry cases really irritate me. I cannot stress that enough. Erghhhh.
I wasn't feeling confident when I started to bake these Strawberry Tarts, so I decided to sit down whilst the pastry was resting and Google a solution to my er… ungainly pastry cases. Mostly, I came up with all of the usual suggestions – chill, line with parchment or foil, fill with rice or beans or baking beans. I was getting stumped. And then suddenly I hit upon a suggestion I'd not heard of before: cling film.
Er… what?
My first thoughts were rather negative. I did expect it to melt into the pastry during cooking and just render everything inedible. So I googled some more and found numerous people all suggesting the same technique. There was only one condition: I must use quality cling film.
Confession: I have quality cling film in my kitchen cupboard because (oh the shame) my Mother bought me some for Christmas last year. It comes in a neat little cling film dispenser.
To set the record straight, my Mother is not totally warped, she just has a great cling film dispenser and has raved about it for years. Now I'm getting… let's say… quite old and I like being in the kitchen so much, she decided I really should have one of my very own. And just so you know, she did also buy me the cookbook from one of my favourite blogs – Homemade Memories by Kate Doran of The Little Loaf. I'd been hankering after that all year. #redeemed
Back to the cling film (yes, the one in the Mummy dispenser). The brand is Bacofoil and only Bacofoil cling film fits in this little dispenser of mine (I have tried supermarket brands – they don't quite fit). I consider Bacofoil cling film quality enough for anybody.
I approached my blind baking with cling film experiment cautiously. Well, ok, for the first couple of pastry cases I cautiously tried to avoid any cling film touching my baking pans, but then I lost patience and stopped fiddling about and it did touch my pans. That's just me.
Into the oven my tarts went, to return 10 minutes later with cling film that had miraculously not welded itself onto the tin or the pastry. Hurrah. It lifted up easily and the tart cases were far neater than I have previously ended up with. I consider that a success.
I've heard it said plenty of times that pastry is an art and that is so true. Previously my pastry has always tasted far better than looks would suggest. I suppose that's better than the other way around. But starting with these Strawberry Tarts, and armed with my trusty cling film dispenser, I'm planning on racking up at least a bronze medal on the pastry beauty stakes from now on.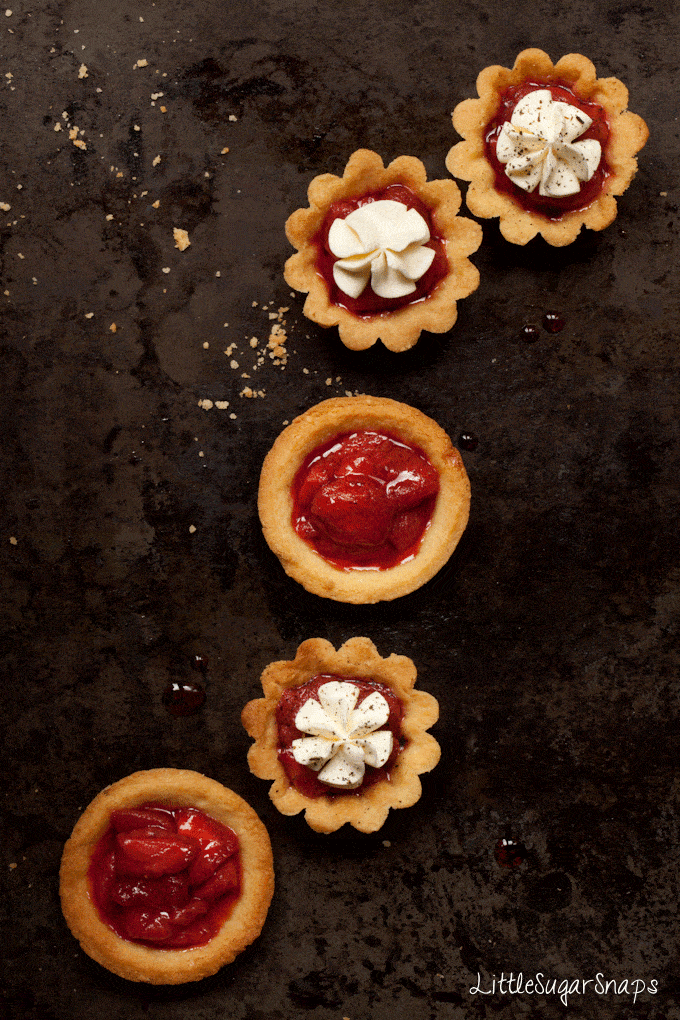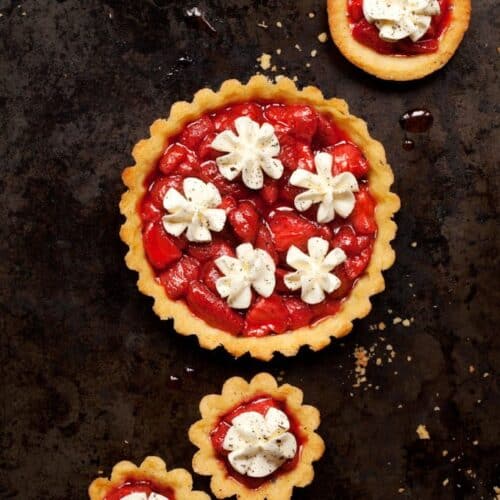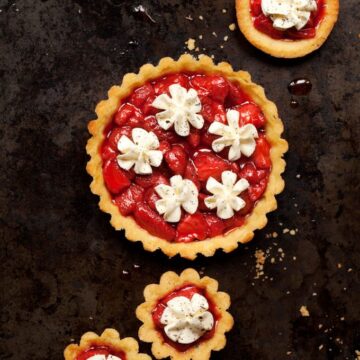 Strawberry Tarts
For these tarts you will need a batch of my Roasted Strawberry Sauce. Using a 12 hole mince pie pan would yield around 20 tarts. This number will vary depending on the exact size of tart tin used.
Print
Pin
Rate
Ingredients
Pastry
200

g/ 7oz

'00' Flour

85

g/ 3oz

Icing (confectionary) sugar

150

g/ 51/4oz

Unsalted butter – cubed

Large pinch salt

1

Egg yolk

½

teaspoon

Vanilla extract

(optional)
Filling
1

Batch Roasted Strawberry Sauce

100

ml

Whipping cream

Ground vanilla from a vanilla bean grinder

(optional)
Instructions
Cube the butter and drop it into a large mixing bowl containing the flour, icing sugar and salt

Rub in until the ingredients resemble breadcrumbs or damp sand

Add the vanilla extract along with the egg yolk and use a blunt knife to 'chop' the wet ingredients into the dry

Use your hands to bring the dough together, then briefly knead until the dough is smooth

Wrap in clingfilm and rest in the fridge for 20 minutes

Roll out the dough (2mm thickness) and cut circles the correct size to fill your tart cases. Take care to push the pastry gently into the edges and grooves of your baking tins. Prick the bases and transfer to the fridge for 45 minutes to firm up

Meanwhile preheat the oven to 170°C/ 325°F/ GM3

Line your tart cases with clingfilm/ foil/ parchment and add a layer of dried beans/ baking beans then bake for 10 minutes

Remove the clingfilm/ foil/ parchment along with the beans and return to the oven for a further 5-7 minutes until nicely golden all over

Set aside to cool

When ready to serve, scoop some Roasted Strawberry Sauce into each tart case. Whip the cream and use a wide star nozzle to pipe a delicate splodge of cream into the centre of each tart. Add a little ground vanilla (if using)

Serve immediately
Notes
The pastry cases can be kept, unfilled, in an airtight container for up to 3 days. Alternatively, they can be frozen – just refresh them in a moderate oven for 5 minutes once defrosted.
(Visited 254 times, 1 visits today)