Baileys chocolate mousse with coffee is light, airy, bubbly & very rich – it's chocolate heaven. Don't let this riff on mousse au chocolat dessert pass you by.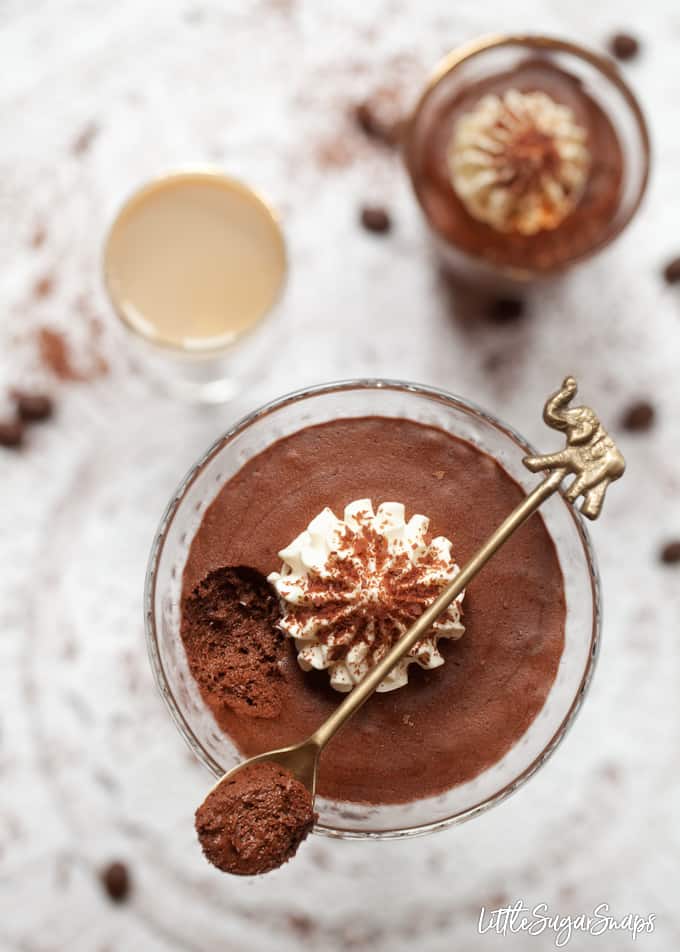 This Baileys chocolate mousse with coffee is a mere twist on classic French mousse au chocolat. It's just as decadent, rich and supremely intense as the original, just with a few subtle nuances added to the flavour profile.
It is rich and intense, yet light and bubbly.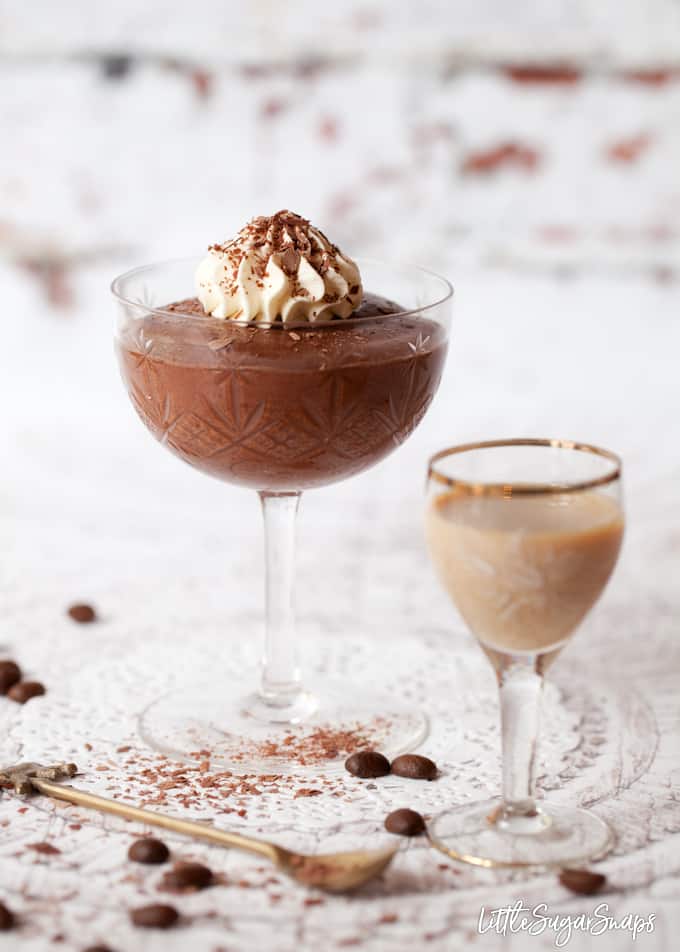 Everybody needs a simple yet stylish and always popular dessert recipe they can fall back on.
The classic recipe for French chocolate mousse is a prime example of such a recipe. It is one of the simplest desserts around and seems to remain in fashion as decade after decade rolls by.
My variation on this classic has been sweetened slightly and a dash of both coffee extract and Baileys serve to add sneaky grown-up undertones to the intoxicatingly full flavour of chocolate.
Ready in a flash, this Baileys chocolate mousse is one make-ahead dessert that should grace your table before too long.
And if you have a little longer to dedicate to a Baileys recipe, then take a look at my White Chocolate Baileys Cake – it's a bit of a showstopper. Or, if you fancy a change from chocolate altogether try my quick and easy Biscoff cheesecake.
What is Classic Chocolate Mousse?
Classic mousse au chocolat is a marvellous creation. Just 2 ingredients (egg and chocolate) blend together to create a dessert that is rich, decadent, refined and down-right hard to resist.
In this classic recipe for French chocolate mousse, egg yolk is beaten into melted chocolate and then whipped egg whites are folded in. After a couple of hours in the fridge, a light, airy and intensely chocolatey dessert is ready to be served.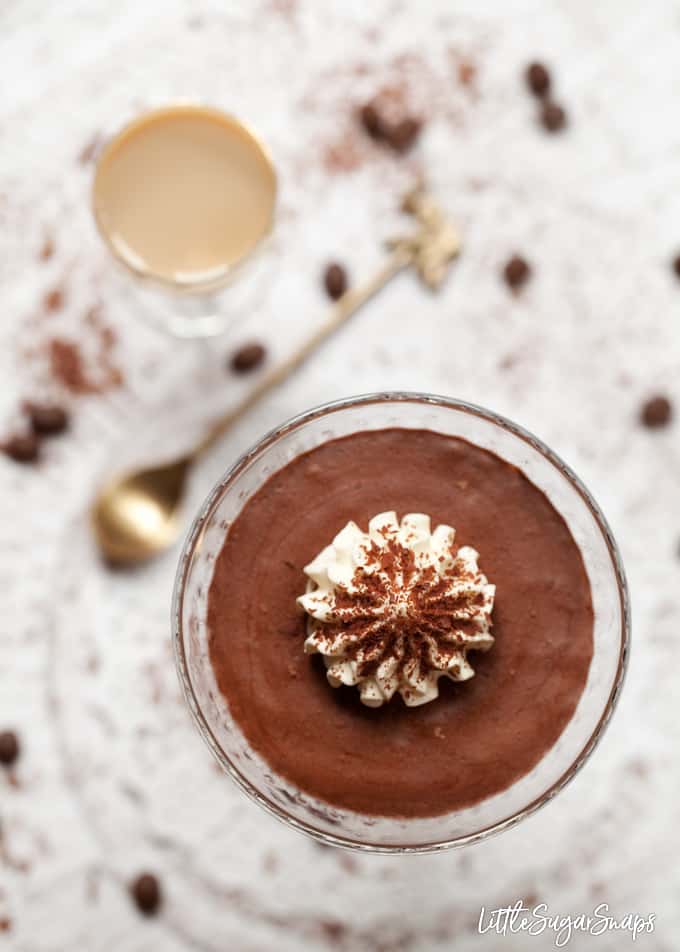 Plenty of other chocolate mousse recipes are knocking around, many involving cream and/ or butter and a few using gelatin to achieve a good set.
Although I love the simplicity of the classic French chocolate mousse recipe, I'll be honest, I do find that I prefer to sweeten it with a little sugar.
Call me wild, but I've also tinkered with the flavour by adding a little coffee extract and some Baileys Irish Cream. What can I say, these goodies are just naturals with chocolate. My Baileys chocolate mousse is really just an upgrade on the base recipe.
How to Make Baileys Chocolate Mousse
Making this mousse au chocolat typically takes less than 10 minutes:
Melt the chocolate
Whip the egg whites and beat in the sugar
Beat egg yolks, coffee extract and Baileys into the chocolate
Stir ¼ of the egg whites briskly into the chocolate
Fold in the rest of the whites gently
Spoon into glasses
It's important to keep the additional flavours subtle in this recipe. Splashing in too much coffee or alcohol will detract from the headline chocolate flavour (and likely render the mousse too loose). So measure these ingredients carefully.
I like to make individual servings of this dessert and use a mixture of pretty glassware. Once decanted into each glass, I cover and transfer to the fridge for at least 4 hours.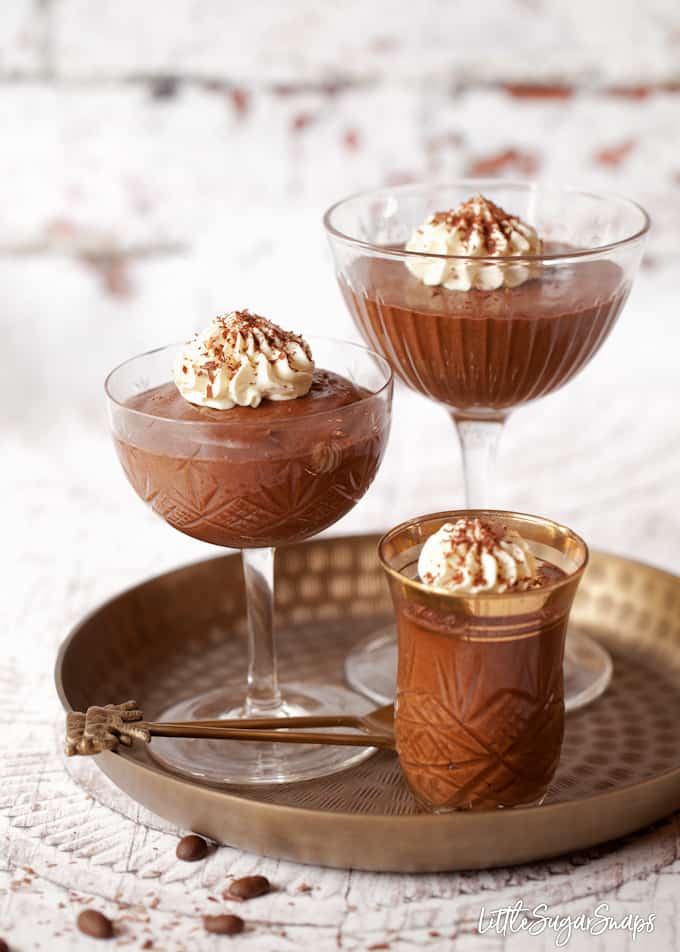 It is, of course, fine to make one large mousse and scoop servings out as required. It will take longer to set in one large bowl, so I suggest leaving overnight.
Is the Recipe for French Chocolate Mousse Vegetarian?
The recipe for Classic French chocolate mousse is vegetarian, but it is not vegan since it contains eggs.
Likewise, my boozy chocolate mousse contains both egg and a cream-based liqueur, so although veggie-friendly, it is not vegan.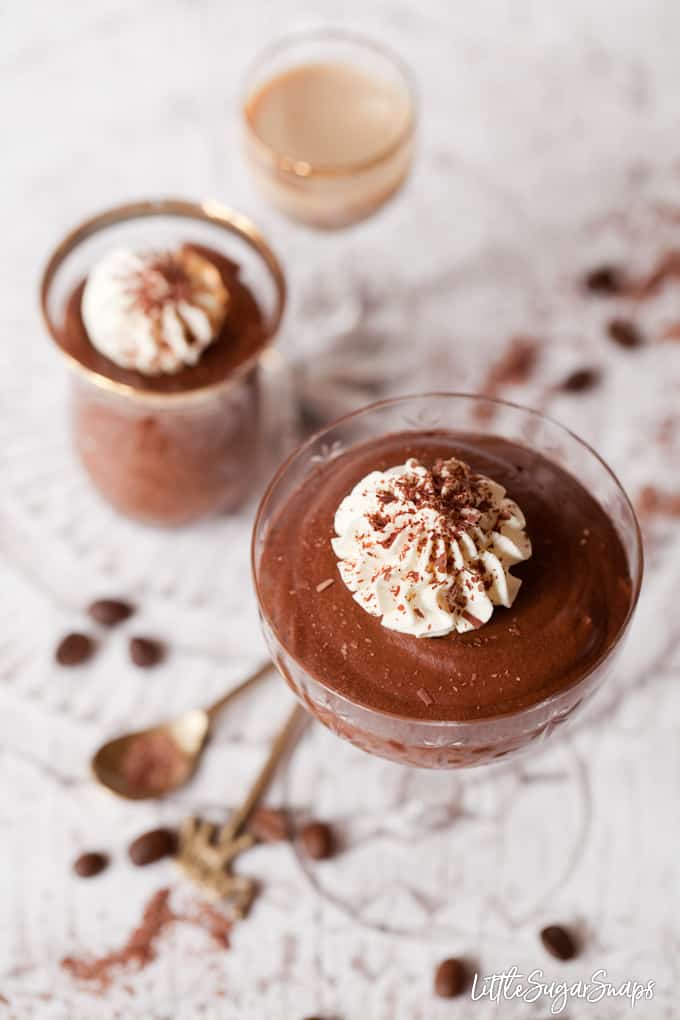 If you are looking for a vegan alternative, try this aquafaba espresso chocolate mousse from Supergoldenbakes.
Is it Safe to Eat Raw Egg in Mousse?
I won't lie, my recipe contains raw egg, which can be a source of salmonella and food poisoning if the wrong eggs are used.
Cases are rare and countless people around the world eat raw eggs frequently without issue (me included). Regardless, it's worth employing strict kitchen hygiene generally and sourcing eggs carefully.
Here in the UK, I suggest always buying eggs that are stamped with the British Lion mark (UK readers). All eggs that carry the British Lion mark come from hens that have been vaccinated against Salmonella.
Readers elsewhere should use pasteurised eggs to reduce the risk of salmonella.
All readers should follow their own judgement regarding the consumption of raw eggs.
Tips for Storing Chocolate Mousse
My chocolate mousse and the classic mousse au chocolat will keep fresh in the fridge for 3-4 days. If you can leave it alone that long.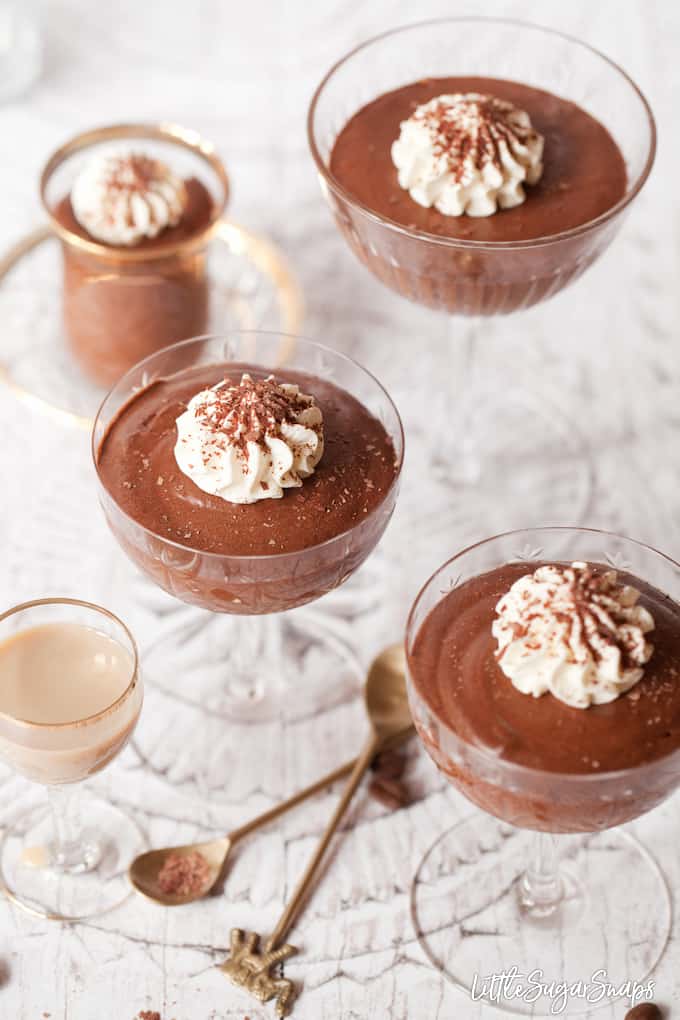 Other mousse recipes containing additional ingredients such as cream or butter will have their own set of guidelines regarding storage. Always read your recipe which should clearly state storage instructions.
Always ensure the mousse is covered before refrigerating to avoid other strong-smelling foods tainting it.
To enjoy this mousse at it's best, take out of the fridge at 30-60 minutes before serving to remove the chill and let those flavours sparkle.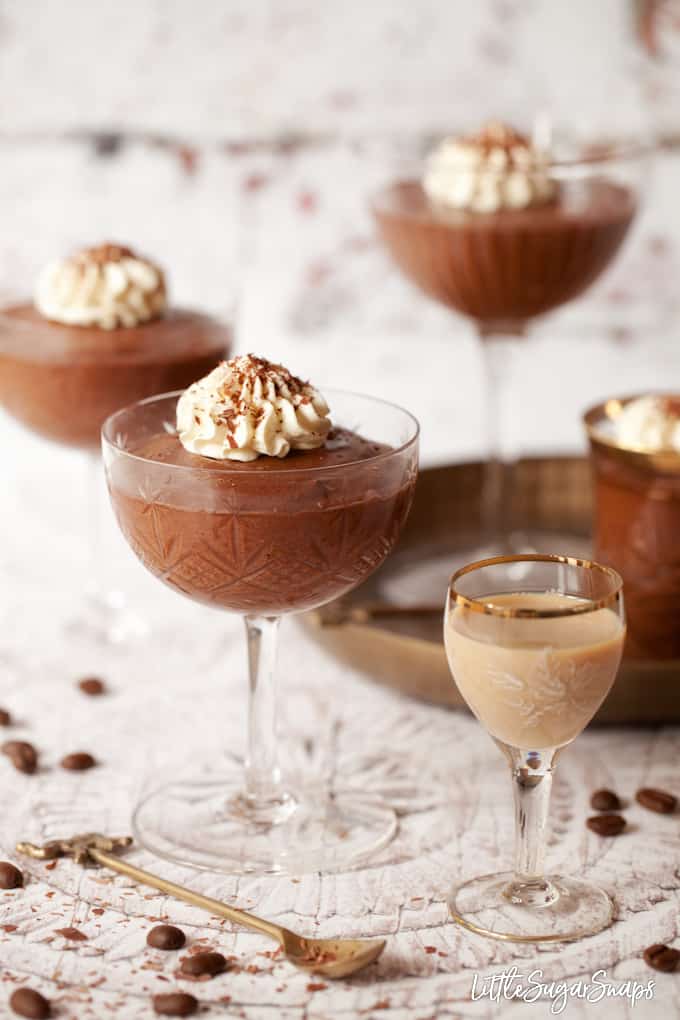 Find More Chocolate Desserts: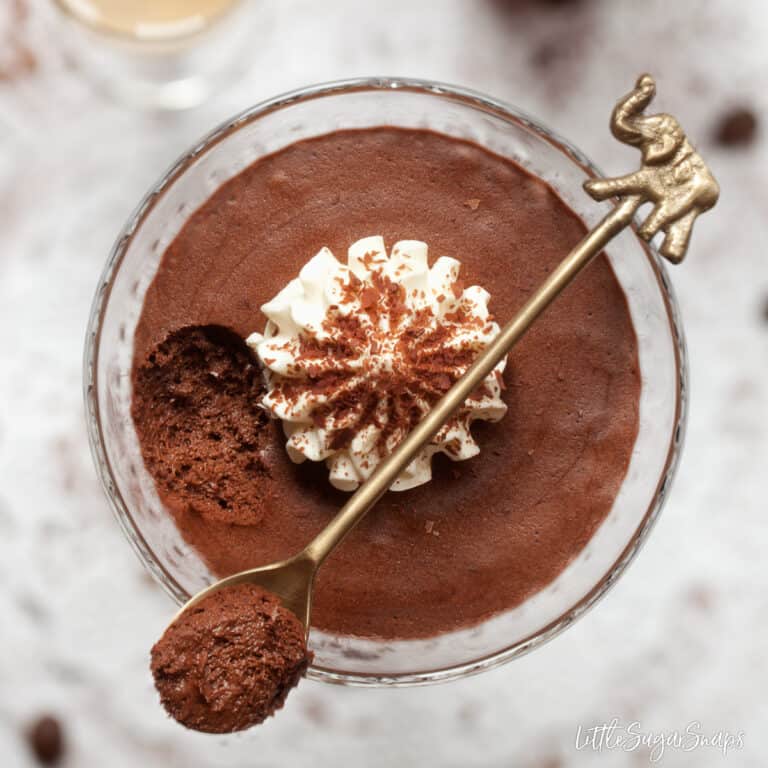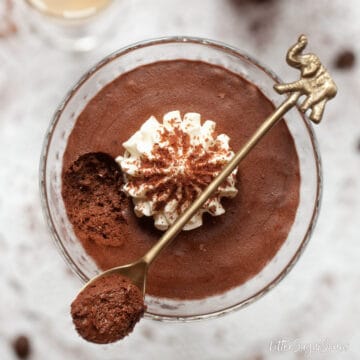 Baileys Chocolate Mousse with Coffee
Baileys chocolate mousse with coffee is light, airy, bubbly & very rich – it's chocolate heaven. Don't let this riff on mousse au chocolat dessert pass you by.
Print
Pin
Rate
Ingredients
75

g/ ½ cup

Dark chocolate

2

Eggs (large, free-range)

30

g/ 1 oz

Caster sugar

½

teaspoon

Coffee extract

I used Nielson Massey

2

tablespoon

Baileys Irish Cream Liqueur
Instructions
Chop the chocolate into small pieces and put in a heat-proof bowl

Melt – either using a bain-marie (double boiler) or in short bursts in the microwave

Meanwhile separate the eggs

Whisk the whites until foamy, then add the sugar, bit by bit, whisking until the whites are firm and glossy

When the chocolate has melted, remove from the heat and quickly beat in the egg yolks (I used a mini balloon whisk

Beat in the coffee extract and Baileys

Take ¼ of the whipped egg whites and beat into the chocolate mixture, then fold the rest of the whites very gently into the chocolate mixture. A large metal spoon is ideal for this. Take care not to overmix and deflate the mousse, but likewise, keep on folding until no streaks of white or chocolate remain

Pour into 4 glasses or ramekins, cover with cling film and transfer to the fridge to set

Bring to room temperature before serving and, if desired, add a little fresh cream and chocolate shavings
Nutrition Per Serving (Approximate)
Calories:
197
kcal
|
Carbohydrates:
18
g
|
Protein:
4
g
|
Fat:
11
g
|
Saturated Fat:
6
g
|
Cholesterol:
82
mg
|
Sodium:
35
mg
|
Potassium:
164
mg
|
Fiber:
2
g
|
Sugar:
14
g
|
Vitamin A:
119
IU
|
Calcium:
26
mg
|
Iron:
3
mg
(Visited 883 times, 3 visits today)