Liven up your stash of homemade jams by including a few jars of Amaretto Cherry Jam. It has all the juicy, dark and sweet flavours of cherry jam along with a lively buzz of almond flavour from the Amaretto. This jam is great on toast for a breakfast treat but it also makes a wonderful & luxurious filling for sponge cakes too.
This recipe was first published in June 2018 and updated in July 2020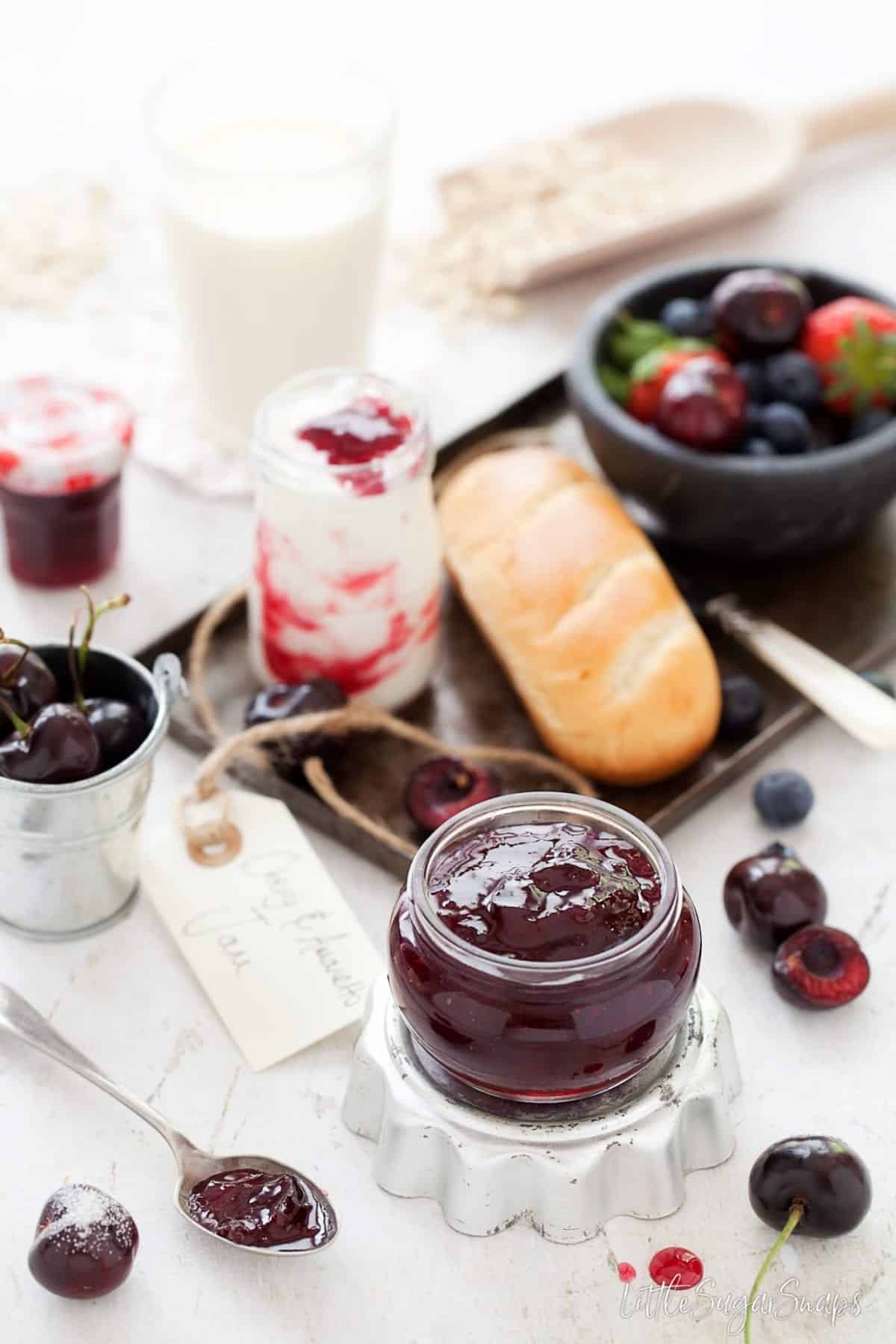 THIS POST HAS BEEN SPONSORED BY THERMAPEN. ALL OPINIONS AND TEXT ARE MY OWN.
Aside from being able to plunder a colourful and juicy fruit bowl every day, one of my biggest joys of summer is creating jar upon jar of homemade jams. Whatever gets stashed away is there for my family to dip into for the rest of the year, whether to top our morning toast or to pile into a homebaked cake.
The line-up in my store cupboard always includes high volumes of blackcurrant jam and cherry jam. These are our absolute family favourites. But it's always wise to create variety, so I've squirrelled away a couple of jars of Amaretto Cherry Jam this summer.
Oh sweet joy, this Amaretto Cherry Jam is a winner. It is just as sweet, dark and juicy as my usual cherry jam, but with a splash of almond flavoured luxury added by the Amaretto liqueur.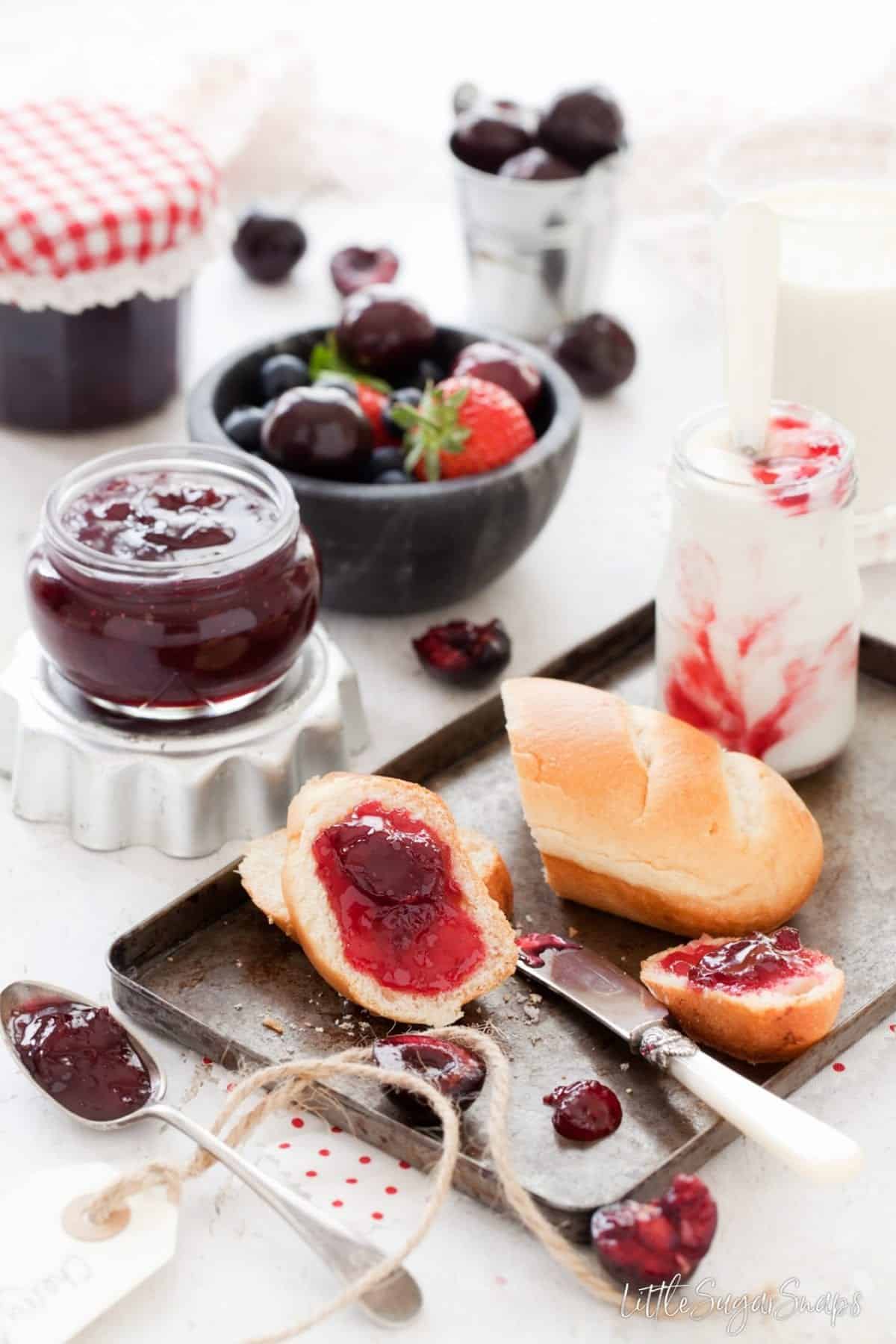 Equipment for Small Batch Jam Making
When it comes to making jam I have plenty of recipes that yield large volumes, but I actually prefer making my jams and preserves in small batches.
This is partly because I like variety, but I also find jam-making in small batches a relatively simple and speedy process. I can use normal sized pans that fit well on my hob, which means it's a breeze to get the jam to its setting point.
Before I discovered small batch recipes, jam making daunted me. But not anymore. If you're new to it, making a small batch recipe is an ideal way to get started. All you need is:
a medium-sized heavy-based pan
the ingredients
a food thermometer
empty jars (

sterilised

)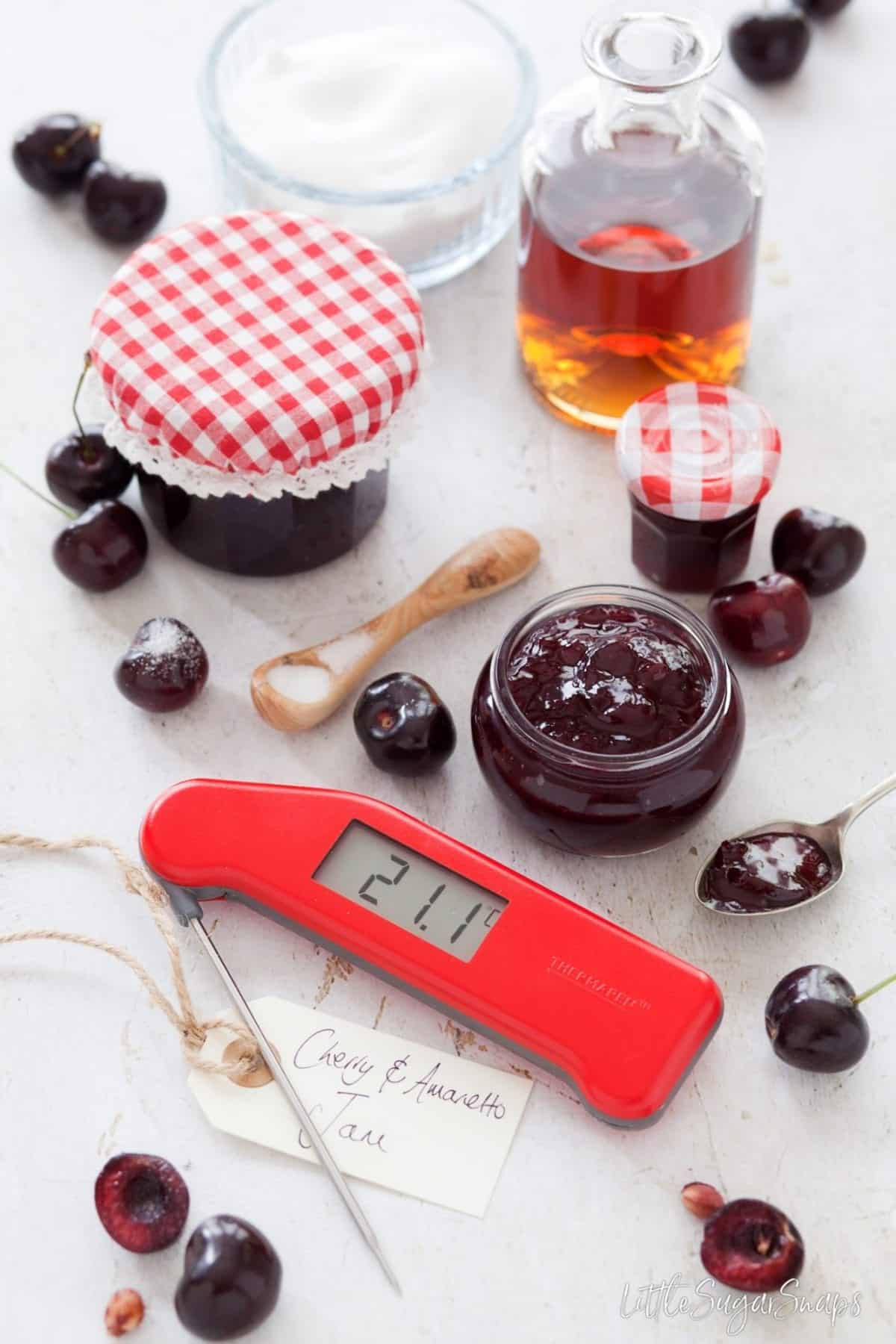 What is the Setting Point for Jam?
The trick to all jam making is to ensure that the jam is heated to setting point (105 Celcius/ 221 Fahrenheit).
Under-cooked jam will be very loose and runny. At the other extreme, jam that has been cooked to a temperature well beyond the setting point will likely end up very firm and difficult to spread.
The easiest way to monitor the temperature of jam as it cooks is to use a thermometer.
I use my Thermapen digital food thermometer – a British made probe thermometer that provides an accurate temperature reading in 3 seconds. It's incredibly easy to use and enables me to keep a close eye on my jam temperature to ensure it reaches 105 Celcius (221F).
For a limited time (19th Nov 2021 – 19th Dec 2021) Thermapen are offering my readers a 20% discount on full-priced items bought directly from them. Just use the code SUGAR20 at the checkout.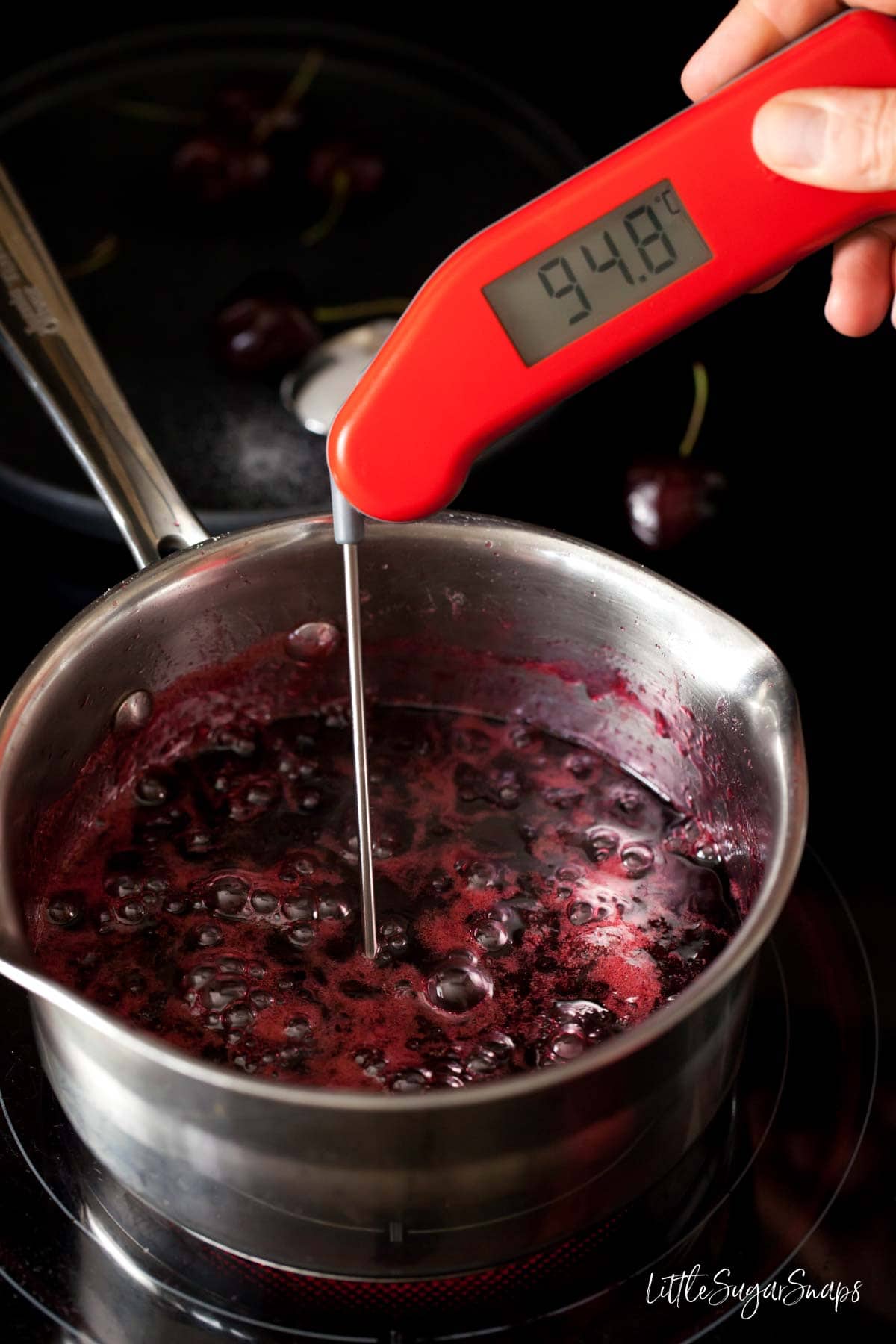 I've owned my Thermapen for around 3 years and it's one of my most used kitchen gadgets. It comes in handy when making caramel, testing if meat is cooked and to check that my homemade bread is baked sufficiently.
Ingredients
Many fruit jams are made with the addition of pectin for thickening (or jam sugar that included pectin). But jam can be made with just fresh fruit, lemon juice, and regular sugar.
Jam made without added pectin is a little softer and looser than jam made with pectin.
This Amaretto cherry jam is a great example of this style of jam. And it can be made any time, provided you have the fruit, with ingredients you probably have on hand already.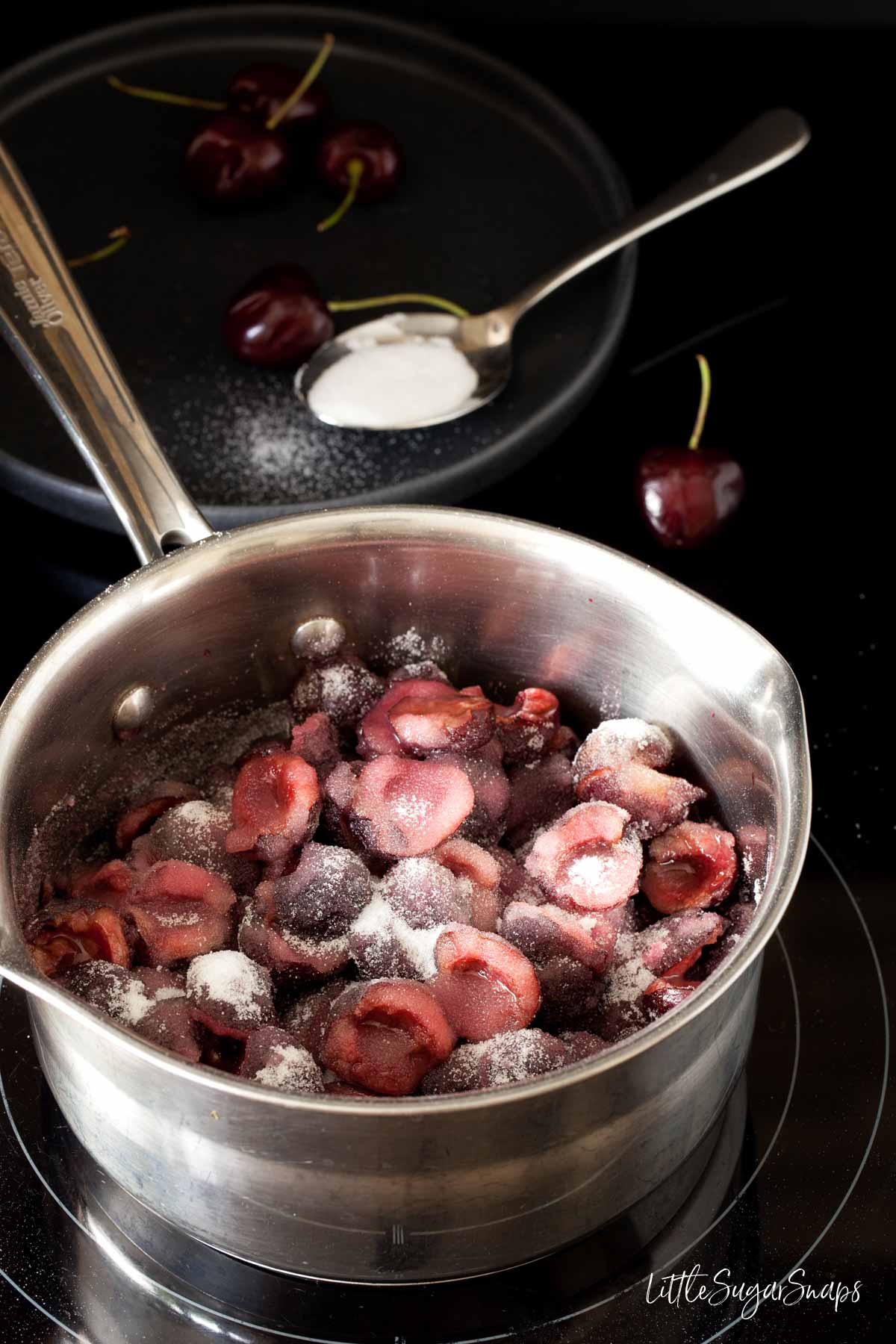 Black cherries – fresh and destoned. I'd always advise tasting the cherries prior to committing to making this preserve. You want tasty, sweet fruit for this recipe
Sugar – white granulated or caster sugar is ideal here. When it comes to jam-making, sugar not only sweetens the fruit, it also works with the pectin and acids naturally present in the fruit to form the gell structure we call jam. Sugar also acts as a preservative, helping to maintain the colour of the jam and deter the growth of mold
Lemon juice – this is included since sweet cherries are naturally low in both pectin and acid. The lemon juice is not there to impart citrus flavour to the jam. Instead it is there to give the sugar a helping hand in achieving the set. In this case, a soft set
Vanilla extract or paste – this ingredient is included purely for building a deeper flavour profile
Amaretto almond liqueur – again, strickly not essential, but the inclusion of this gorgeous liqueur does marry with the sweet cherries exceptionally well. I found 4 teaspoon sufficient to ensure the nutty flavour shines through. It doesn't overpower the fruit flavour or turn the jam excessively boozy for the sake of it. Feel free to leave it out if you prefer a more traditional cherry jam instead
Butter – this is the magic ingredient that can help to disperse any scum that arises while the jam is boiling. It should be added once the cooking is complete and just stirred through. You won't taste it at all.
Instructions
Prepare enough sterilised jars to hold 680g jam
Roughly cut the cherries and put into a medium-sized heavy-based pan with the sugar and lemon juice
Cook over a moderate heat, stirring frequently with a wooden spoon until the sugar has dissolved and the fruit has softened
Optional step: briefly pulse the fruit with a stick blender a couple of times to break the fruit up slightly. Take care not to over-process the fruit. The aim is to leave texture and lumps of fruit in the jam rather than reducing it to a puree
Add the Amaretto and the vanilla. Stir to combine
Return the pan to the hob and turn the heat up to medium-high. Allow the jam to bubble and boil, testing the temperature every few minutes with a food thermometer. I use my Thermapen to keep on checking until the setting point of 105C/ 221F is reached
Take the pan off the heat. Stir in the butter (if using) and allow to cool for 10 minutes before decanting into sterilised jars. Top with a disc of wax paper (optional)
Seal the jars immediately, turn them upside down and let cool completely before labelling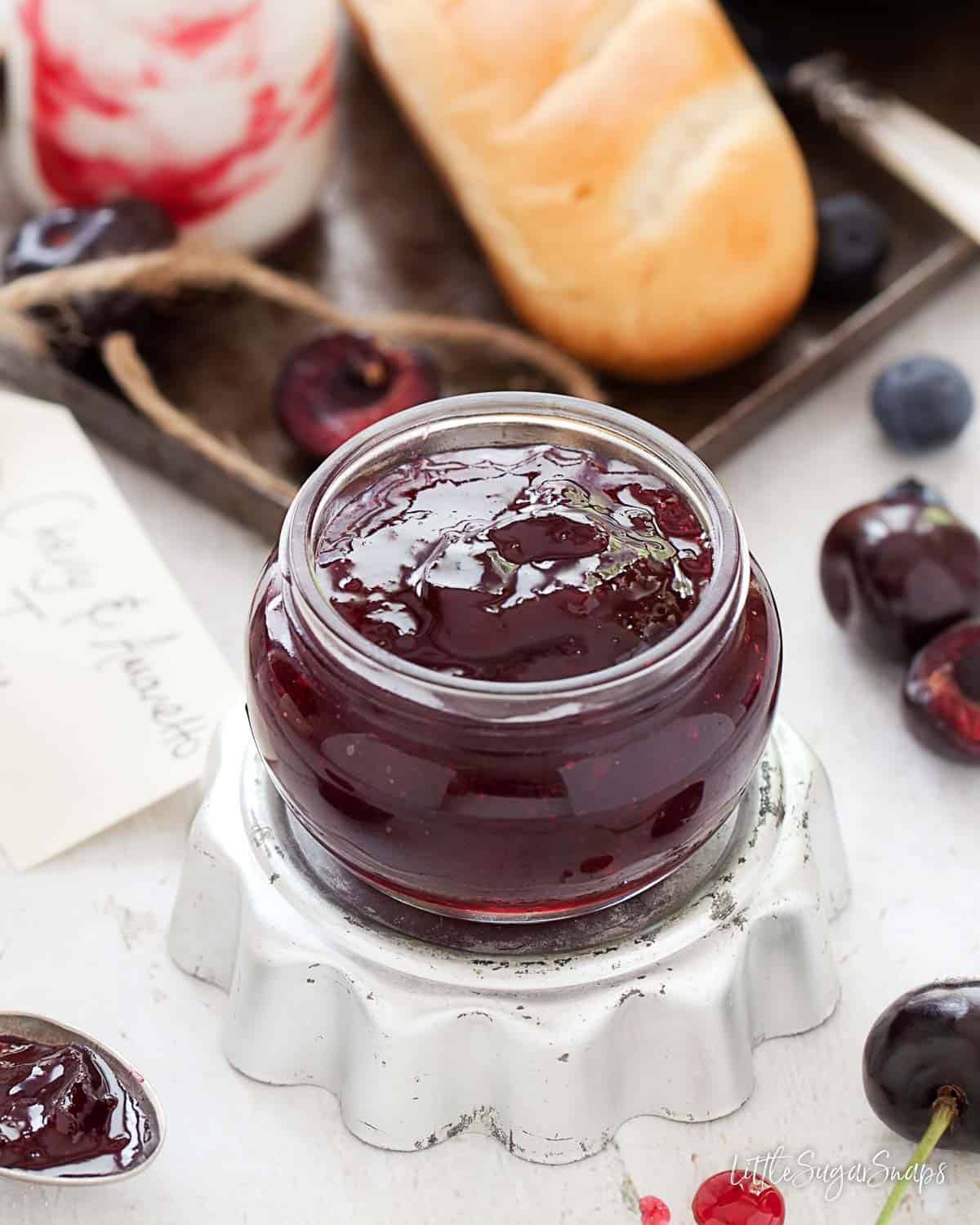 Do I have to Use Sterilised Jars?
If you are intending to store this jam for more than a few weeks, then yes, sealing it in sterilised jars to prevent the formation of bacteria is essential.
If, however, you intend to eat the entire batch within 2-3 weeks, it will be fine to store it in sealed containers in the fridge. Do let it come to room temperature before serving to ensure the flavours in this cherry jam really shine.
What Can I use Instead of Amaretto?
If this classic nutty liqueur is not for your tastes then it's totally fine to leave out the alcohol entirely.
Or try using an alternative such as brandy or rum. You may need slightly less of these more potent, straight-up spirits that the mellow Amaretto – try adding 2-3 teaspoons.
Sticking with sweetish liqueurs, orangey Cointreau or a splash of coconut liqueur would both work a treat in this cherry jam. A like-for-like substitution will work for these.
What Can I serve this with?
Once it's ready, I like to slather spoonfuls of this Amaretto Cherry Jam onto mini brioche rolls for a weekend breakfast treat. The subtle flavour of the almond liqueur muddled with the robust flavour of the dark, sweet cherries adds a touch of decadence to the jam and my breakfast.
Of course, it goes equally well with regular toast, crumpets and muffins. It also makes an exceptional conserve for a cream tea with scones and clotted cream.
I have imminent plans to pile this cherry jam into a Victoria Sponge Cake. With copious amounts of freshly whipped cream, obviously. Or maybe I'll pair it with chocolate cake. Decisions, decisions….
More Small Batch Jams, Conserves & Spreads to try: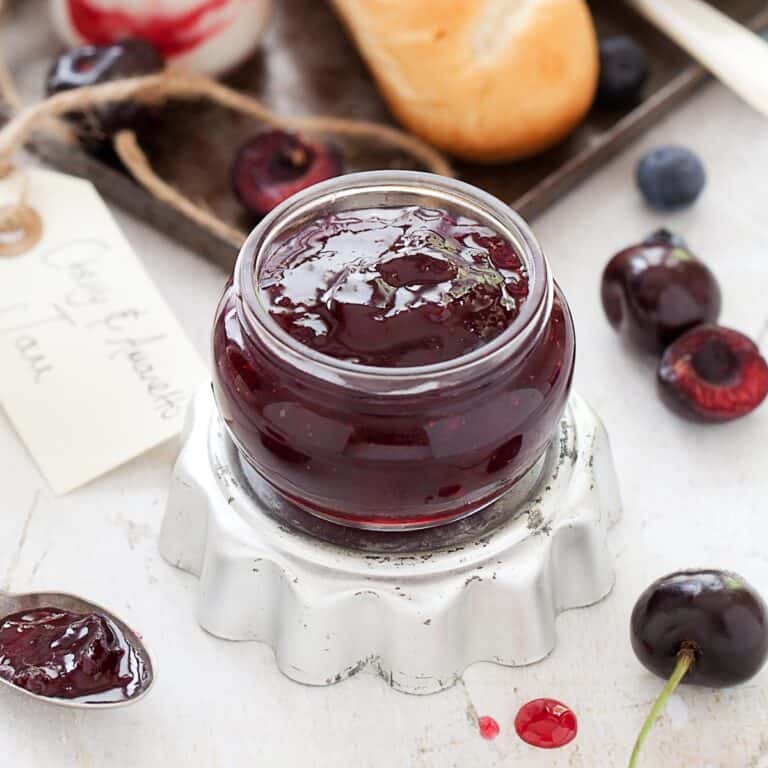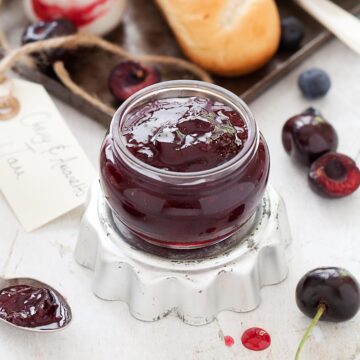 Amaretto Cherry Jam
Liven up your stash of homemade jams by including a few jars of Amaretto Cherry Jam. It has all the juicy, dark and sweet flavours of cherry jam along with a lively buzz of almond flavour from the Amaretto. This jam is great on toast for a breakfast treat but it also makes a wonderful & luxurious filling for sponge cakes too.
This recipe makes 2 x 340g jars (equivalent to 45 servings of 15g)
Print
Pin
Rate
Ingredients
700

g/ 1 lb and 8.5 oz (or 25 oz)

Stoned black cherries

400

g/ 2 cups

White sugar (granulated or caster)

8

teaspoon

Lemon juice

1

teaspoon

Vanilla extract or paste

4

teaspoon

Amaretto almond liqueur

1

teaspoon

Butter (optional)
Instructions
Prepare enough sterilised jars to hold 680g jam

Roughly cut the cherries and put into a medium-sized heavy-based pan with the sugar and lemon juice

Cook over a moderate heat, stirring frequently with a wooden spoon until the sugar has dissolved and the fruit has softened (10-15 minutes)

Optional step: briefly pulse the fruit with a stick blender a couple of times to break the fruit up slightly. Take care not to over process the fruit – the aim is to leave texture and lumps of fruit in the jam rather than reducing it to a puree

Add the Amaretto and the vanilla. Stir to combine

Return the pan to the hob and turn the heat up to medium-high. Allow the jam to bubble and boil, testing the temperature every few minutes with a food thermometer (I used my Thermapen) until the setting point of 105C/ 221F is reached. This will take around 10 minutes

Take the pan off the heat, stir in the butter (if using) and allow to cool for 10 minutes before decanting into sterilised jars. Top with a disc of wax paper (optional)

Seal the jars immediately, turn them upside down and let cool completely before labelling

Store in a cool place for up to 12 months. Once opened, refrigerate and use within 3 weeks
Nutrition Per Serving (Approximate)
Serving:
15
g
|
Calories:
47
kcal
|
Carbohydrates:
12
g
|
Protein:
1
g
|
Fat:
1
g
|
Saturated Fat:
1
g
|
Cholesterol:
1
mg
|
Sodium:
1
mg
|
Potassium:
35
mg
|
Fiber:
1
g
|
Sugar:
11
g
|
Vitamin A:
13
IU
|
Vitamin C:
1
mg
|
Calcium:
2
mg
|
Iron:
1
mg
(Visited 5,828 times, 32 visits today)