This chocolate cherry cake is a decadent and rather sophisticated bake. Each layer is sandwiched together with homemade cherry jam and vanilla Italian buttercream, before being wrapped in sumptuous chocolate Italian buttercream. Topped with silver and gold leaf cherries and sprinkles, this is an amazing Platinum Jubilee cake to serve up at your party.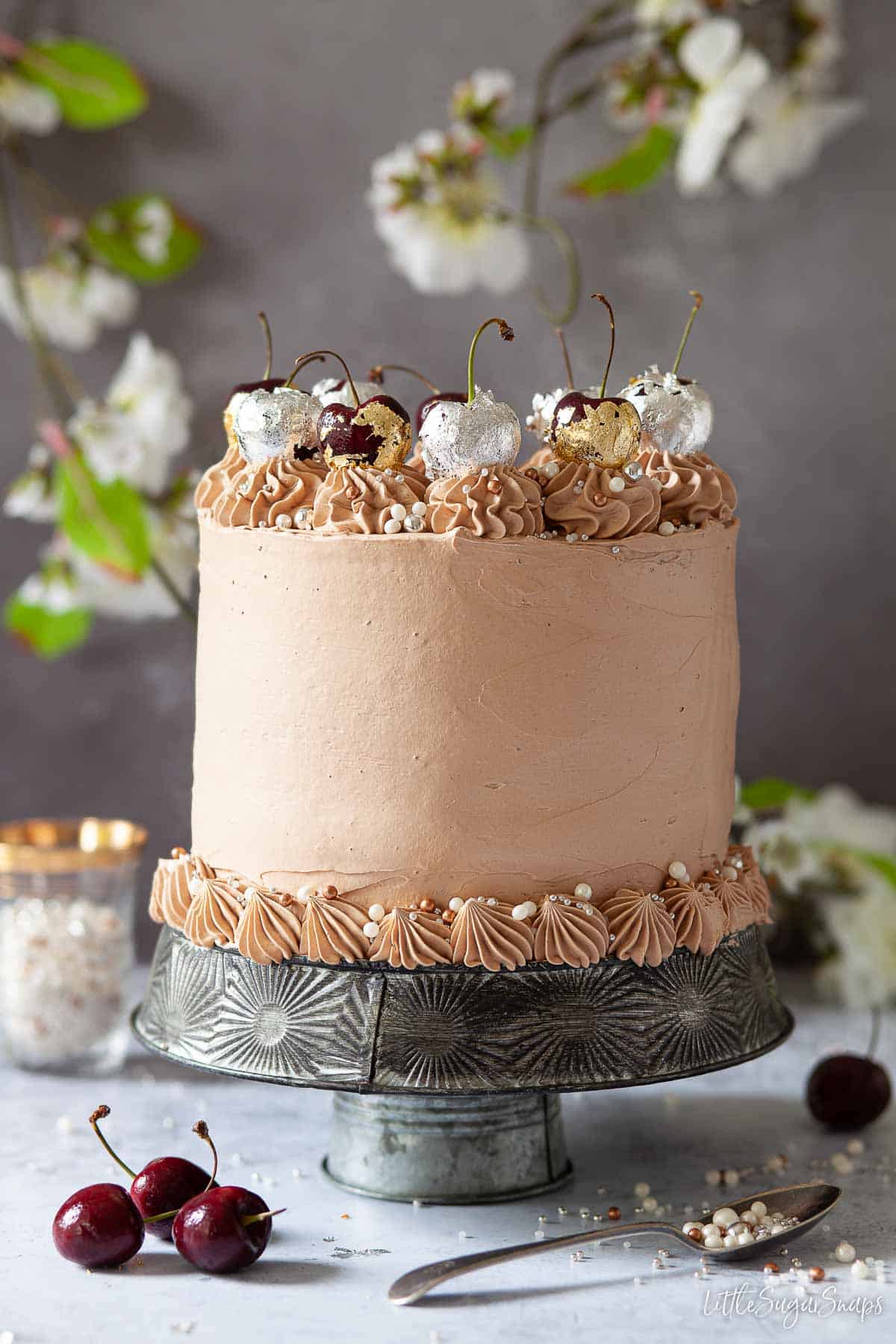 THIS POST HAS BEEN SPONSORED BY THERMAPEN. ALL OPINIONS AND TEXT ARE MY OWN.
Nothing says celebration to me like a gloriously decadent layer cake does. Getting ahead of the game, I've dreamed up this chocolate cherry cake with our Queen's Platinum Jubilee in mind. It's very apt because cherries jubilee were created for Queen Victoria's diamond jubilee celebrations. That said, it would be fitting to serve it at any celebration.
This chocolate cherry layer cake is perhaps the most impressive looking cake featuring yet on LittleSugarSnaps. That could be down to the silver and gold leaf-wrapped cherries that grace the top. Incidentally, those fancy gilded cherries are very easy to achieve at home.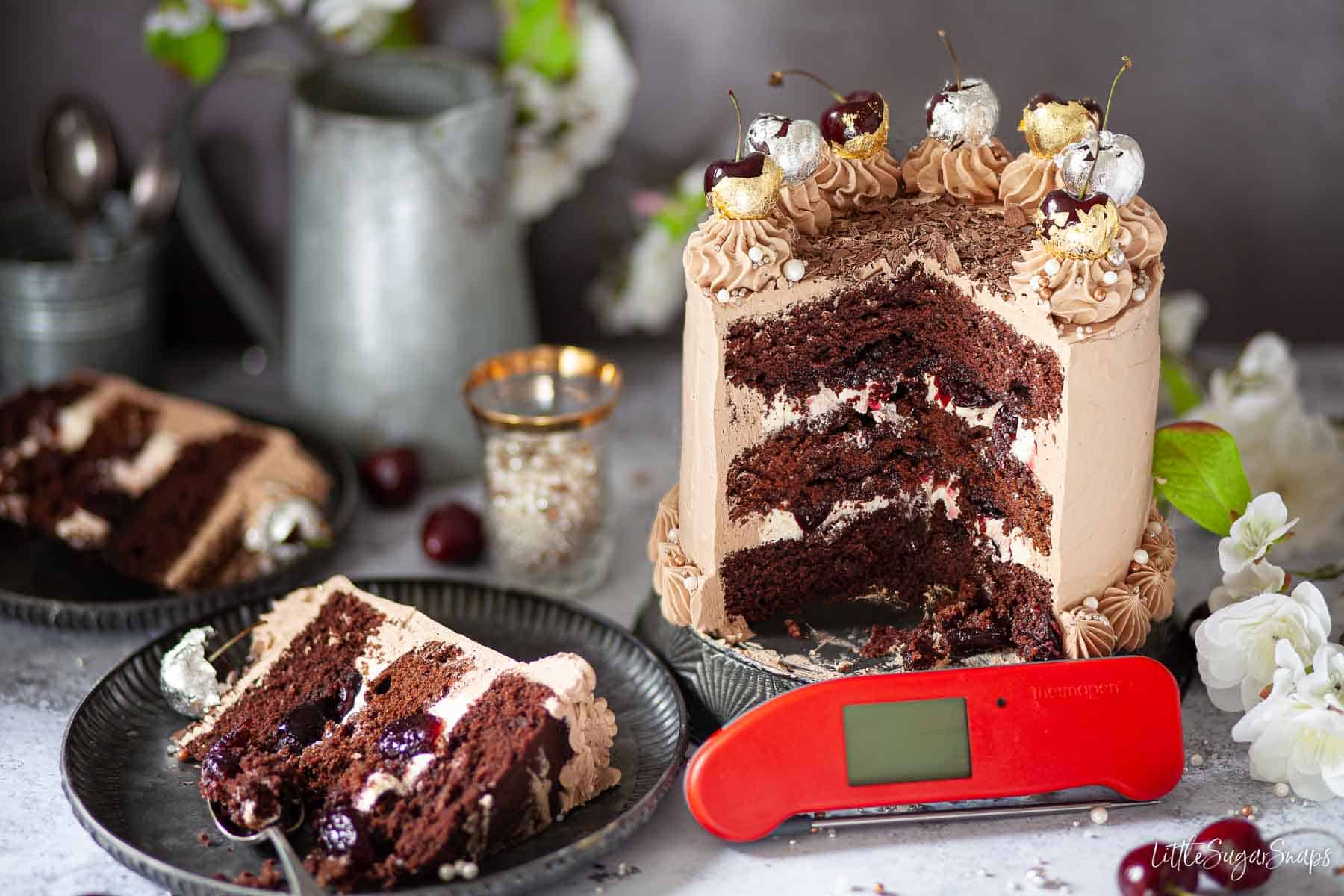 What makes this cake special
Let's take a closer look at this chocolate cherry cake:
There are 3 layers of rich chocolate sponge. As it's a celebration cake, I've used the separated egg technique (passed down to me by my Mum) to ensure it's the lightest, fluffiest cake possible
Inside of each layer is homemade cherry jam (you could alternatively use my Amaretto cherry jam)
There's plenty of silky smooth and not too sweet Italian buttercream. Vanilla buttercream is included inside of the cake, then chocolate is used to wrap and decorate the entire bundle. If you need more information about Italian buttercream, you can read up about it here
The top is adorned with fresh cherries wrapped in silver and gold leaf. It's a very easy yet fantastic way to create a stunning visual impact
And of course, there's room to include sprinkles too if you fancy them- it is a celebration cake, after all
In summary, if you are looking for a special cake that is going to impress looks-wise and taste-wise, this cherry chocolate cake is a fantastic option. I won't lie, it will take time to create, but the results will be worth your endeavours.
Also worth a look for special occasions is my Raffaello cake.
Ingredients and equipment notes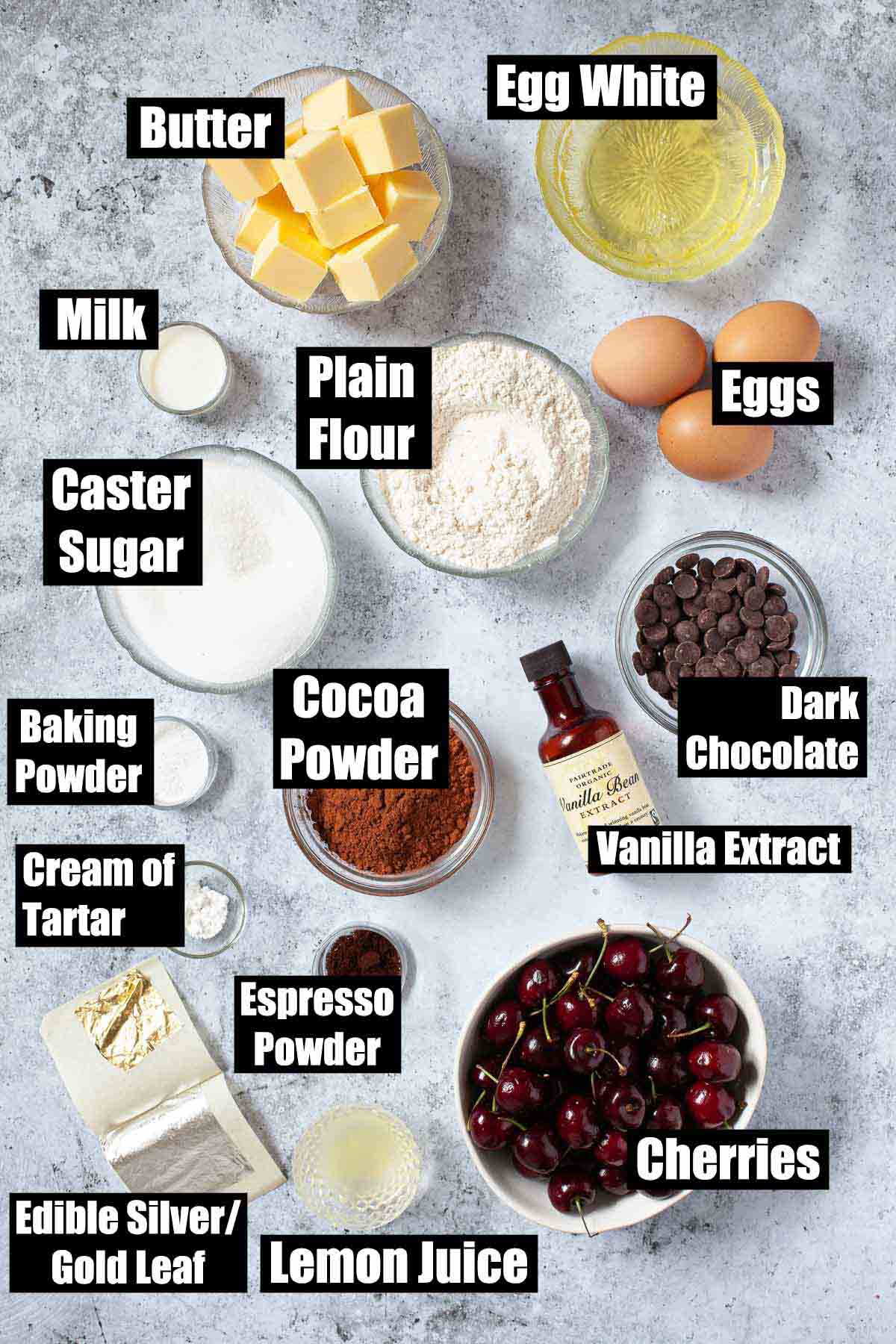 This cake is always going to be at its prime when fresh, in-season, cherries are used.
I've used plain flour and baking powder in this recipe. If you prefer to use self-raising flour don't forget to leave out the baking powder.
Although it's fine to use baking margarine for the sponge cakes it is mandatory to use real butter for the Italian buttercream. Not only does butter have a far superior taste, but it also has a firmer texture than margarine, which is required to make a buttercream able to hold its shape well.
Cream of tartar is added purely to help stiffen the egg whites. If you don't have any to hand, use an equal amount of white vinegar or lemon juice in place of it.
Edible silver and gold leaf is easy to get hold of in cake decorating shops and online. It's a little pricey but for a knock-out celebration cake such as this one, it's worth pushing the boat out for.
I highly recommend using a Thermapen One digital food thermometer when making this chocolate cherry cake. It comes in handy when making the jam, sponge cakes and buttercream.
I'm forever using my Thermapen for plenty of other uses too. So, without a doubt, it's my favourite kitchen essential. It's used by top chefs, home cooks, bakers and keen BBQ enthusiasts alike because it has such a wide range of uses. It's British designed & manufactured and comes with free traceable calibration certification and an improved 5-year guarantee.
The lovely team at Thermapen have put together a gift shop on their website. they have some fantastic bundles to select from, so hop over and take a look.
Step-by-step instructions
This chocolate cherry layer cake does involve 4 different stages, but the good news is that the jam and buttercream can be made in advance if you need to get ahead.
Make the jam
Set aside 10 cherries (preferably with stalks) for decoration
Remove the stone from the rest of the cherries and cut in half
Add to a saucepan along with the sugar and lemon juice
Cook gently, stirring often, for around 15 minutes until the sugar is dissolved and the fruit is soft
Turn up the heat and cook the jam to a temperature of 105C (221F) – this is the setting point. Use a digital food thermometer, such as the Thermapen One to check the temperature
Set aside to cool completely
Bake the sponge cakes
Cream the butter and sugar together until light and fluffy
Separate the eggs
Beat the egg yolks, milk and vanilla extract into the creamed butter
Sift the flour, baking powder, cocoa powder and espresso powder into the bowl and mix in
Whisk the egg whites to stiff peaks. Mix 1 spoonful of it into the cake batter then gently fold in the rest using a large metal spoon
Spoon into tins and bake. You can use your food thermometer to check the sponge is fully baked – it should read 95-98C (203-208F) when inserted into the centre of each cake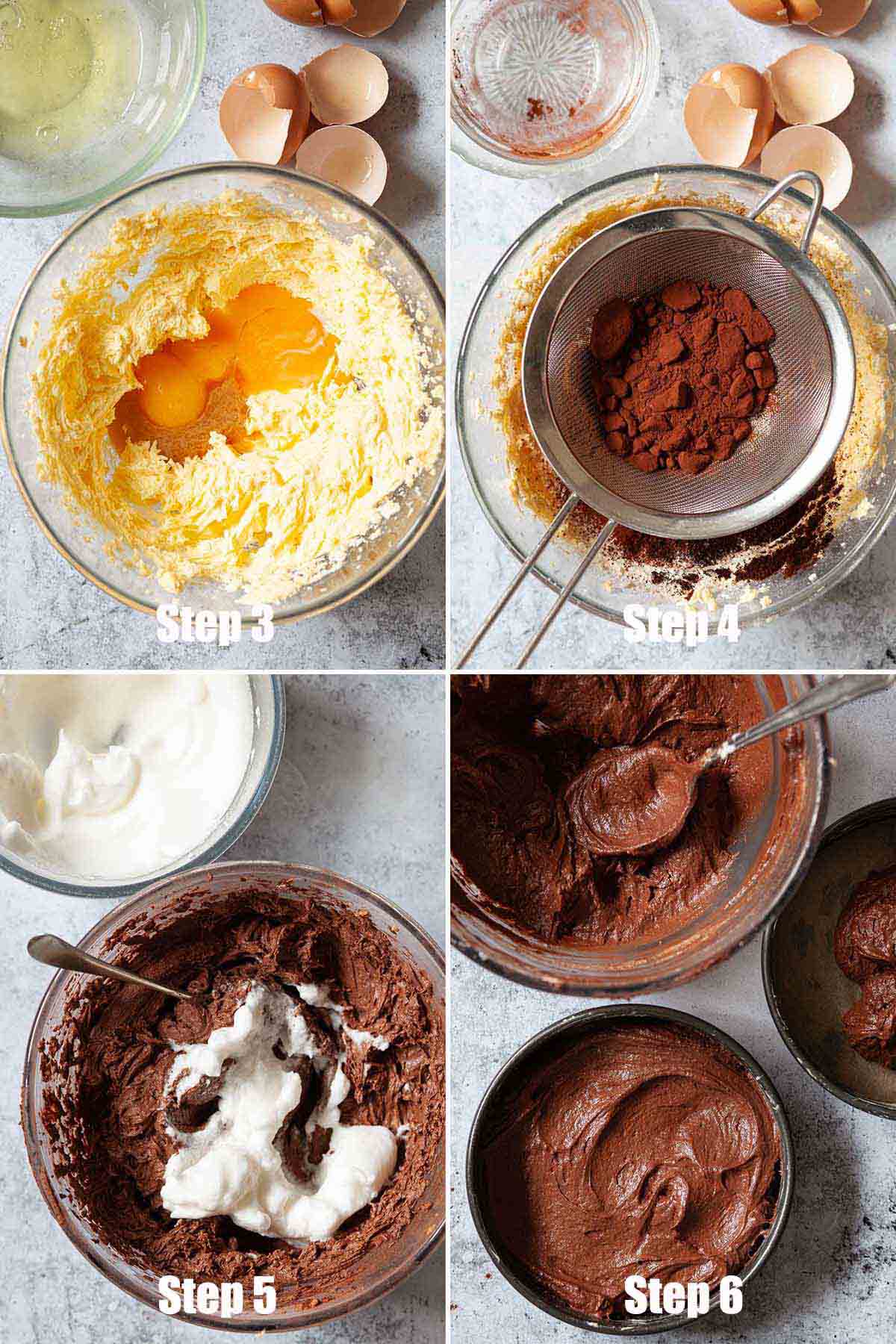 Prepare the Italian buttercream
Put ¾ of the sugar and the water into a medium saucepan. Place on medium-low heat and cook until the sugar dissolves
Whip the egg whites and cream of tartar to the soft peak stage then add the remaining sugar spoonful by spoonful and then keep beating to the stiff peak stage
Turn up the heat on the sugar syrup and cook to a temperature of 115C (240F). Again, the Thermapen One is a great tool to use to ensure the syrup reaches the correct temperature
Once ready, drizzle the syrup slowly into the stiff egg whites whilst the mixer is still running. Take care to pour the syrup into the side of the bowl directly onto the meringue and not onto the metal whisk (to avoid the risk of the incredibly hot syrup splattering you)
Continue to whip the meringue until it is lukewarm (25-28C/ 77-82F)
When it is ready melt the chocolate, stir until smooth and set aside
Add room temperature butter into the running mixer one chunk at a time, then add the vanilla extract
Take 1//4 of the buttercream out and set aside
Briskly beat a spoonful of the remaining buttercream into the melted chocolate. Spoon this into the mixing bowl and beat a final time until fully iincorporated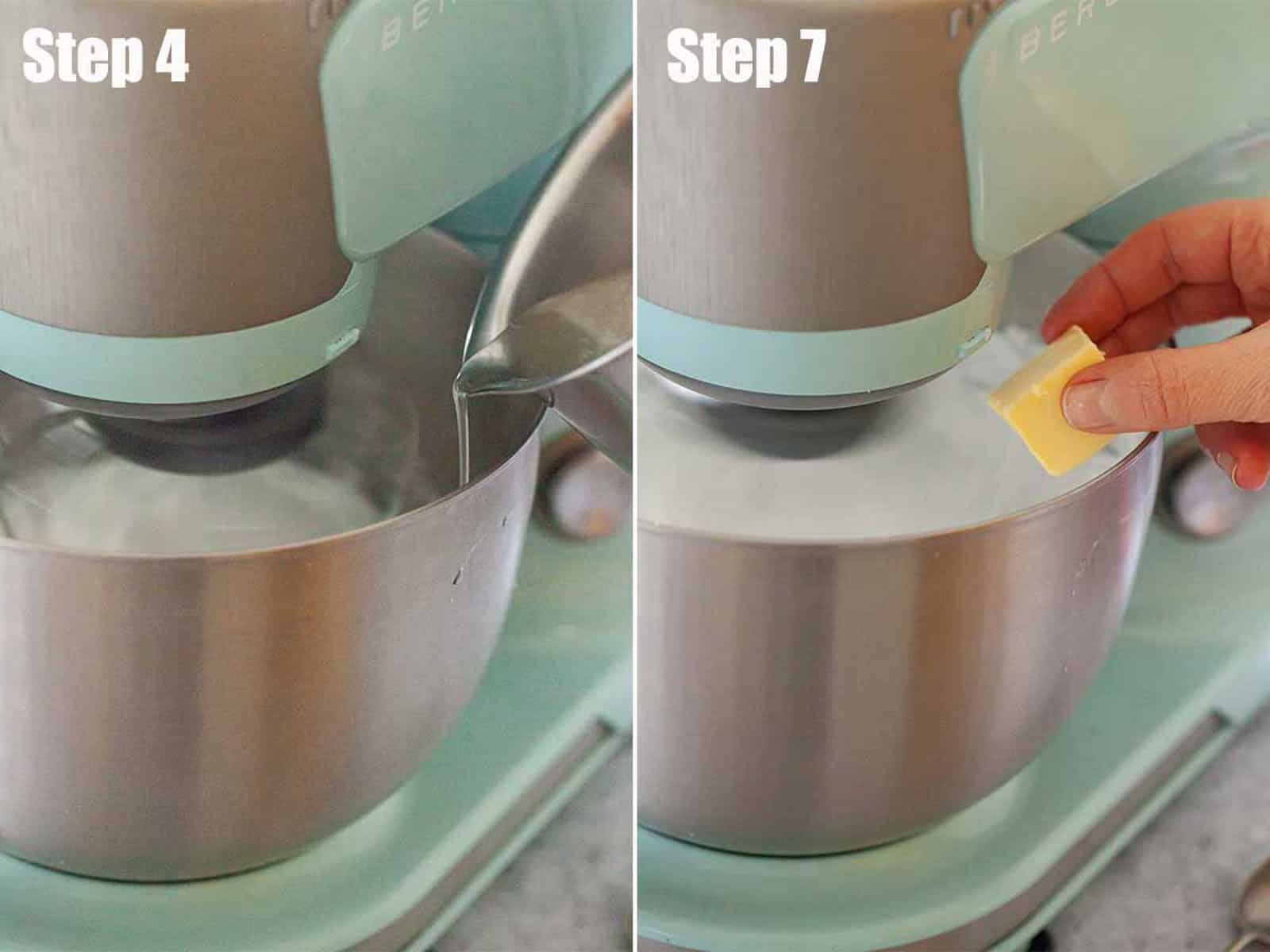 Assembling the cake
Lay one of the cake layers upside down (flat side up) and pipe a tall line of chocolate buttercream around the edge of it. Spread some of the vanilla buttercream into the centre and top with some of the cherry jam
Top with another layer of the sponge cake and repeat
Add the final layer
Use the remaining chocolate buttercream to cover the sides and top of the cake then pipe 10 rosettes around the top and small rosettes around the bottom edge of the cake
Cover the reserved cherries with silver and/ or gold leaf and use to top each rosette. I used 5cm squares and lay the cherry in the centre, then used the parchment the silver leaf was resting on to wrap it around the fruit. It was super simple
Optional: spoon chocolate flakes into the centre of the cake and scatter sprinkles around the edges of the cake
Expert tips
There's no doubt about it, there are numerous steps to making this chocolate cherry cake. But, if you follow the instructions carefully and keep the tips below in mind, you'll end up with a showstopper of a platinum jubilee cake on your hands:
The jam can be made in advance and stored in the fridge for up to 1 week before using in the cake
If fresh cherries are not available then the jam can be made using frozen cherries
If your jam has a lot of syrup (some cherries give off more liquid than others) then scoop the cherries out before placing them on the cake. It's best to avoid too much liquid on the cake as it may run out, spoiling the overall finish
Always grease and line your baking tins, even if they are non-stick. Your cakes will be so much easier to remove if you do
Note that the recipe specified should be baked in 6-inch cake pans. If you only have 8-inch pans then the recipe will need to be scaled up. See the recipe card for details
When baking the cake, use room temperature butter as it will be so much easier to cream with the sugar
Fold the egg whites into the batter as gently as you can to keep as much air in there as possible. Use a large metal spoon and keep folding in until no white streaks of egg white remain
Making Italian buttercream does take quite some time but it is straightforward and simple if done in a stand mixer. I'd advise against making it without one, unless you fancy standing around with handheld electric beater for around 45 minutes
Don't forget to stir some of the buttercream into the chocolate before adding it all into the pan. This helps reduce the risk of the chocolate seizing as it is mixed in
Once made Italian Buttercream can be stored in the fridge for up to 1 week. Allow to come to room temperature and re-whip before using. It may split at first, but keep on whipping for a few minutes and it will return to its smooth form
Using a digital food thermometer, such as the Thermapen One, really does take the guesswork out of baking this lovely chocolate cherry layer cake. It's handy for the jam, sponge cakes and buttercream
Frequently asked questions
Can I leave out the espresso powder?
By all means. The espresso powder is there to intensify and enhance the chocolate flavour in the sponge cakes. There's not enough in there to impart any noticeable coffee flavour though. But it can be left out if you really dislike coffee or if you don't have any espresso powder to hand.
I can't find fresh cherries, what can I use instead?
The jam can be made using frozen cherries. Let them defrost in the pan then snip them in half before proceeding with the recipe.

In place of the gilded cherries find some silver or gold-dusted chocolates and use these to top the cake instead.
Why is cooking the jam and buttercream to a precise temperature essential?
For the jam, cooking to the setting point (105C) is essential otherwise there is a risk that the jam will be significantly under or overcooked. This means it may not set at all or be too stiff to spread.

As far as the Italian buttercream goes, getting the sugar syrup to the right temperature (115C) is vital to not only render the egg whites safe to eat without baking but also to produce a stable, velvety-sticky meringue that can be used for making a particularly sumptuous buttercream.

So do yourself a favour and pick up a reliable Thermapen digital food thermometer and don't look back!
Do I need to keep this cake in the fridge?
Under normal circumstances, this chocolate cherry cake does not need to be refrigerated. It is best stored at room temperature.

However, in very hot weather, the buttercream may get very soft if left out of the fridge. In this case, do store the cake in the fridge but bring it out to come up to room temperature around an hour before serving.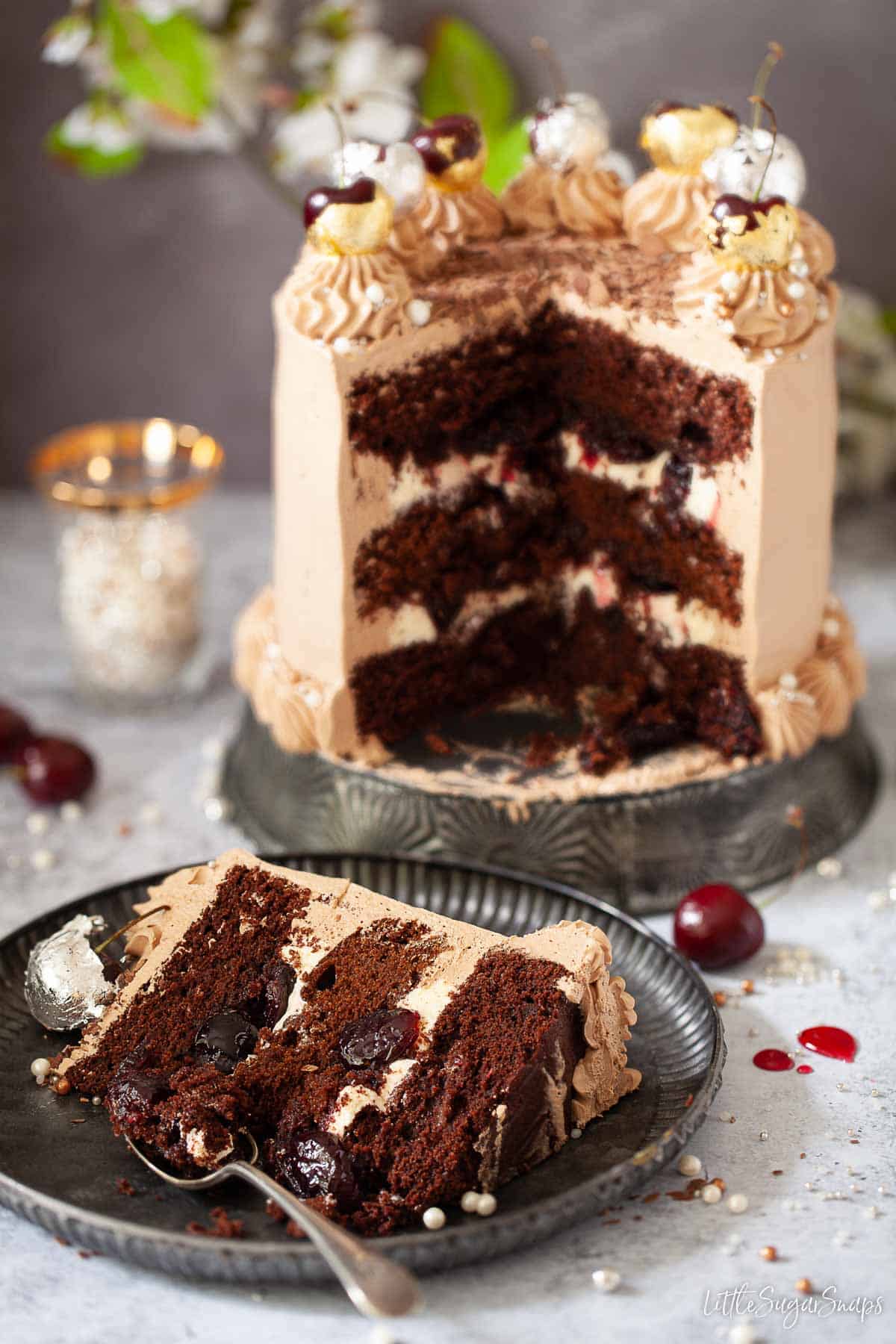 More tempting layer cake recipes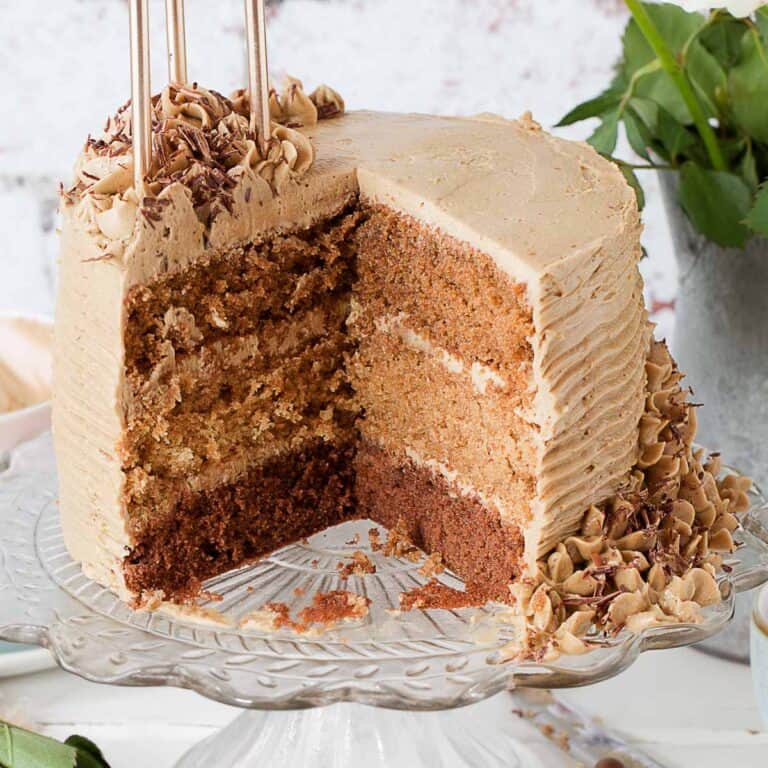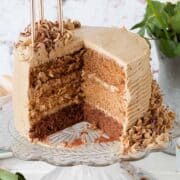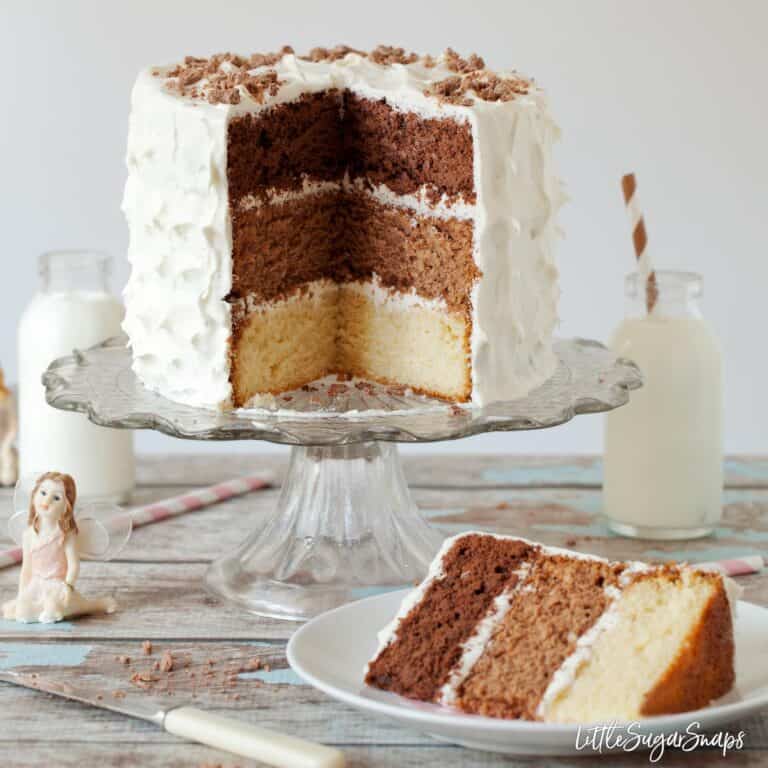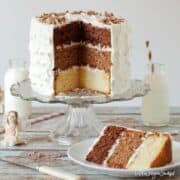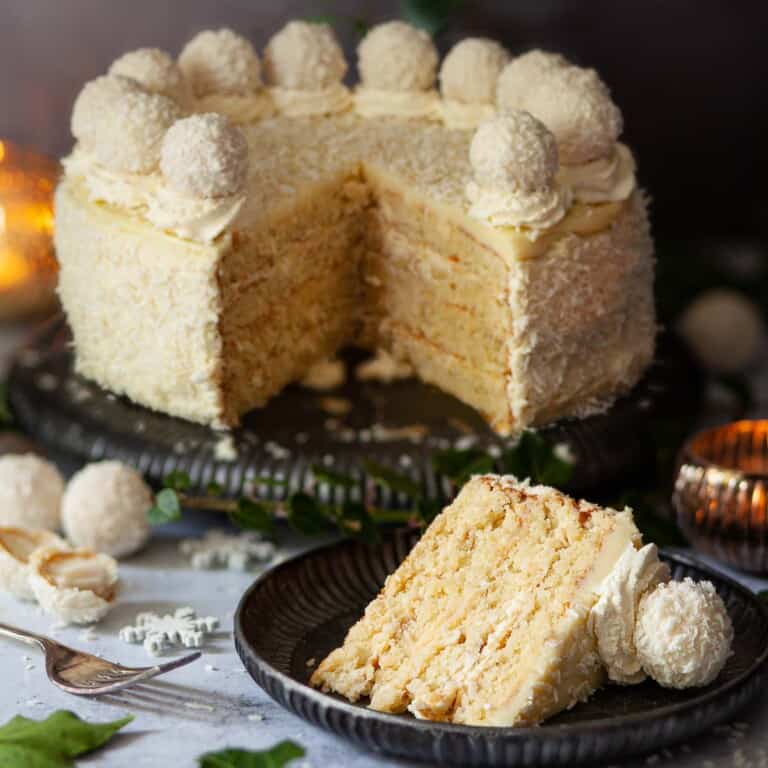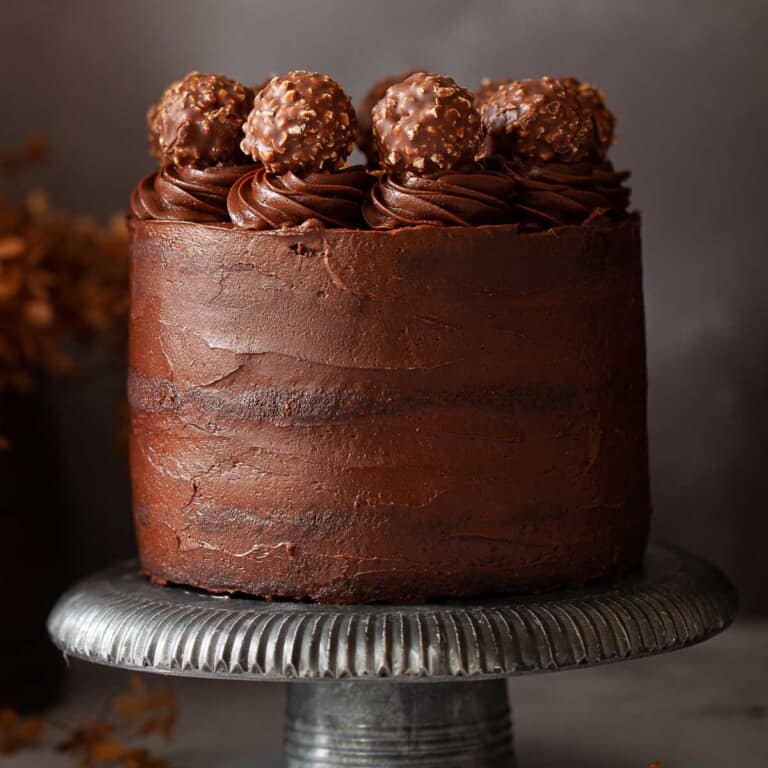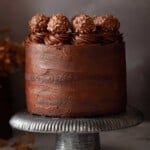 Have you made this chocolate cherry cake? Let me know how you got along by leaving a comment or rating below. You can also show me your creation on Instagram by tagging me @jane_littlesugarsnaps.
Why not sign up to receive LittleSugarSnaps newsletters to hear when new recipes are published? You'll get a free welcome e-book with my top baking tips and 5 favourite cake recipes. Or stay in touch on Facebook, Instagram or Pinterest.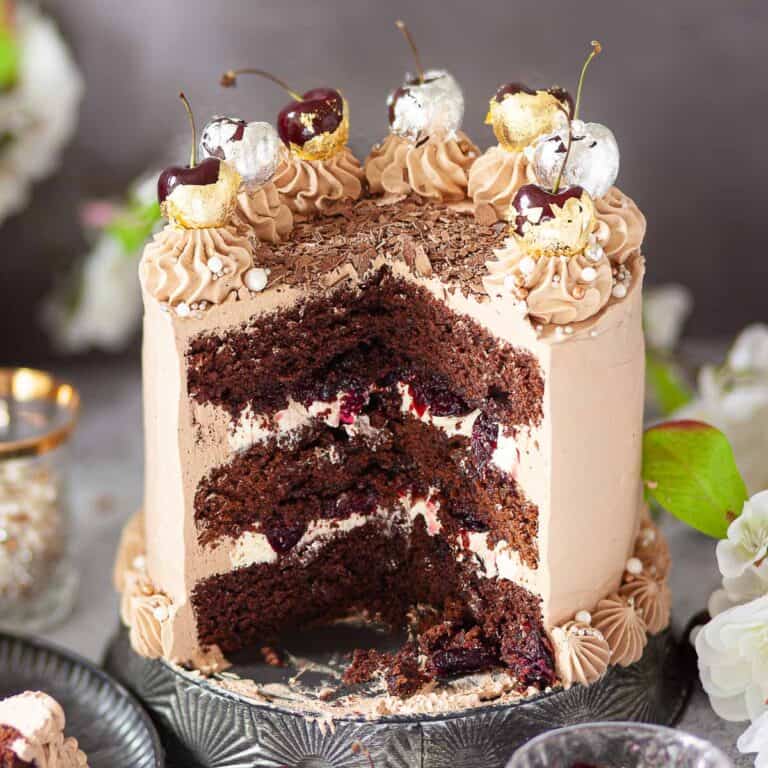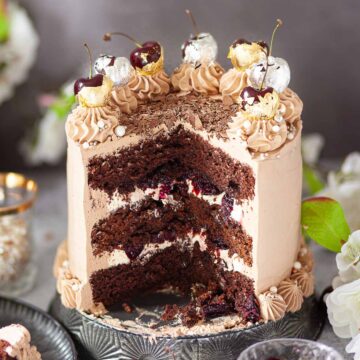 Chocolate Cherry Cake (Platinum Jubilee Cake)
This chocolate cherry cake is a decadent and rather sophisticated bake. Each layer is sandwiched together with homemade cherry jam and vanilla Italian buttercream, before being wrapped in sumptuous chocolate Italian buttercream. Topped with silver and gold leaf cherries and sprinkles, this is an amazing Platinum Jublieee cake to serve up at your party.
Print
Pin
Rate
Equipment
1 Thermapen One

digital food thermometer

3 6-inch cake pans

Stand-mixer
Ingredients
For the Jam
475

g

Cherries

200

g

Caster sugar

or granulated

4

teaspoons

Lemon juice
For the Sponge Cakes
180

g

Butter

room temperature

180

g

Caster sugar

3

Eggs

large, free-range

1

tablespoon

Milk

2

teaspoons

Vanilla extract

120

g

Plain flour

all-purpose

60

g

Cocoa powder

1½

teaspoons

Baking powder

½

teaspoon

Espresso powder
For the Italian Buttercream
4

egg whites

120g

¼

teaspoon

Cream of tartar

or lemon juice/ white wine vinegar

320

g

Caster sugar

95

ml

Water

400

g

Butter

room temperature

2

teaspoons

Vanilla extract

120

g

Dark chocolate
Decoration
Edible silver and/or gold leaf

10 sheets approx 5x5cm each

Chocolate flakes

optional

Sprinkles

optional
Instructions
Make the Jam
Set aside 10 cherries (preferably with stalks) for decoration

Remove the stone from the rest of the cherries and cut in half

Add to a saucepan along with the sugar and lemon juice

Cook gently, stirring often, for around 15 minutes until the sugar is dissolved and the fruit is soft

Turn up the heat and cook the jam to a temperature of 105C (221F) – this is the setting point. Use a digital food thermometer, such as the Thermapen One to check the temperature. For a firmer set jam cook up to 110C/ 230F

Set aside to cool completely
Bake the Sponge Cakes
Preheat the oven to 180C/ 350F/ GM 4 and grease and line 3 x 6-inch round cake tins

Using electric beaters cream the butter and sugar together until light and fluffy

Separate the egg yolks from the whites

Beat the egg yolks, milk and vanilla extract into the creamed butter

Sift the flour, baking powder, cocoa powder and espresso powder into the bowl and mix in

Clean your electric beater than use them to whisk the egg whites to stiff peaks. Mix 1 spoonful of it into the cake batter then gently fold in the rest using a large metal spoon

Spoon into tins and bake for around 20 minutes until well risen and springy when pressed lightly with a finger. You can use your food thermometer to check the sponge is fully baked. It should read 95-98C (203-208F) when inserted into the centre of each cake
Make the Italian Buttercream
Put ¾ of the sugar and the water into a medium saucepan. Place on medium-low heat and cook until the sugar dissolves

Meanwhile, whip the egg whites and cream of tartar to the soft peak stage then add the remaining sugar spoonful by spoonful and keep beating to the stiff peak stage

Turn up the heat on the sugar syrup and cook to a temperature of 115C (240F). Again, the Thermapen One is a great tool to use to ensure the syrup reaches the correct temperature

Once ready, drizzle the syrup slowly into the stiff egg whites whilst the mixer is still running. Take care to pour the syrup into the side of the bowl directly onto the meringue and not onto the metal whisk (to avoid the risk of the incredibly hot syrup splattering you)

Continue to whip the meringue until it is lukewarm (25-28C/ 77-82F)

When it is ready melt the chocolate, stir until smooth and set aside

Add room temperature butter into the running mixer one chunk at a time, then add the vanilla extract

Take 1//4 of the buttercream out and set it aside

Briskly beat a spoonful of the remaining buttercream into the melted chocolate. Spoon this into the mixing bowl and beat a final time until fully incorporated
Assemble the Cake
Lay one of the cake layers upside down (flat side up) and pipe a tall line of chocolate buttercream around the edge of it. Spread some of the vanilla buttercream into the centre and top with some of the cherry jam (if your jam is very juicy drain the cherries before adding to the cake)

Top with another layer of the sponge cake and repeat

Add the final layer of sponge cake

Use the remaining chocolate buttercream to cover the sides and top of the cake then pipe 10 rosettes around the top and small rosettes around the bottom edge of the cake

Cover the reserved cherries with silver and/ or gold leaf and use them to top each rosette. I used 5cm squares and lay the cherry in the centre, then used the parchment the silver leaf was resting on to wrap it around the fruit. It was super simple

Optional: spoon chocolate flakes into the centre of the cake and scatter sprinkles around the edges of the cake
Notes
The jam can be made in advance and stored in the fridge for up to 1 week before using in the cake
If fresh cherries are not available then the jam can be made using frozen cherries
If your jam has a lot of syrup (some cherries give off more liquid than others) then scoop the cherries out before placing them on the cake. It's best to avoid too much liquid on the cake as it may run out, spoiling the overall finsh
Always grease and line your baking tins, even if they are nonstick. Your cakes will be so much easier to remove if you do
Note that the recipe specified should be baked in 6-inch cake pans. If you only have 8-inch pans then the recipe will need to be scaled up. See the recipe card for details
When baking the cake, use room temperature butter as it will be so much more easy to cream with the sugar
Fold the egg whites into the batter as gently as you can to keep as much air in there as possible. Use a large metal spoon and keep folding in until no white streaks of egg white remain
Making Italian buttercream does take quite some time but it is straightforward and simple if done in a stand mixer. I'd advise against making it without one, unless you fancy standing around with handheld electric beater for around 45 minutes
Don't forget to stir some of the buttercream into the chocolate before adding it all into the pan. This helps reduce the risk of the chocolate seizing as it is mixed in
Once made Italian Buttercream can be stored in the fridge for up to 1 week. Allow to come to room temperature and re-whip before using. It may split at first, but keep on whipping for a few minutes and it will return to its smooth form
Using a digital food thermometer, such as the Thermapen One, really does take the guesswork out of baking this lovely chocolate cherry layer cake. It's handy for the jam, sponge cakes and buttercream
Scaling up this recipe for 8-inch cake tins
Make 1.5 x the quantity of jam listed
Double the cake recipe
Make 1.75 x the quantity of buttercream listed
Reserve 15 cherries for decoration
The cakes will take slightly longer to bake – check them around the 25 minute mark
Nutrition Per Serving (Approximate)
Calories:
878
kcal
|
Carbohydrates:
97
g
|
Protein:
7
g
|
Fat:
55
g
|
Saturated Fat:
34
g
|
Polyunsaturated Fat:
2
g
|
Monounsaturated Fat:
15
g
|
Trans Fat:
2
g
|
Cholesterol:
174
mg
|
Sodium:
459
mg
|
Potassium:
430
mg
|
Fiber:
5
g
|
Sugar:
79
g
|
Vitamin A:
1558
IU
|
Vitamin C:
4
mg
|
Calcium:
76
mg
|
Iron:
3
mg
(Visited 2,359 times, 5 visits today)