This Ombre Matcha Cake stacks up three layers of matcha sponge cake all wrapped up in silky soft white chocolate & mascarpone buttercream. Adorned simply with freeze dried raspberries and grated white chocolate this cake is stylish enough to serve for dessert.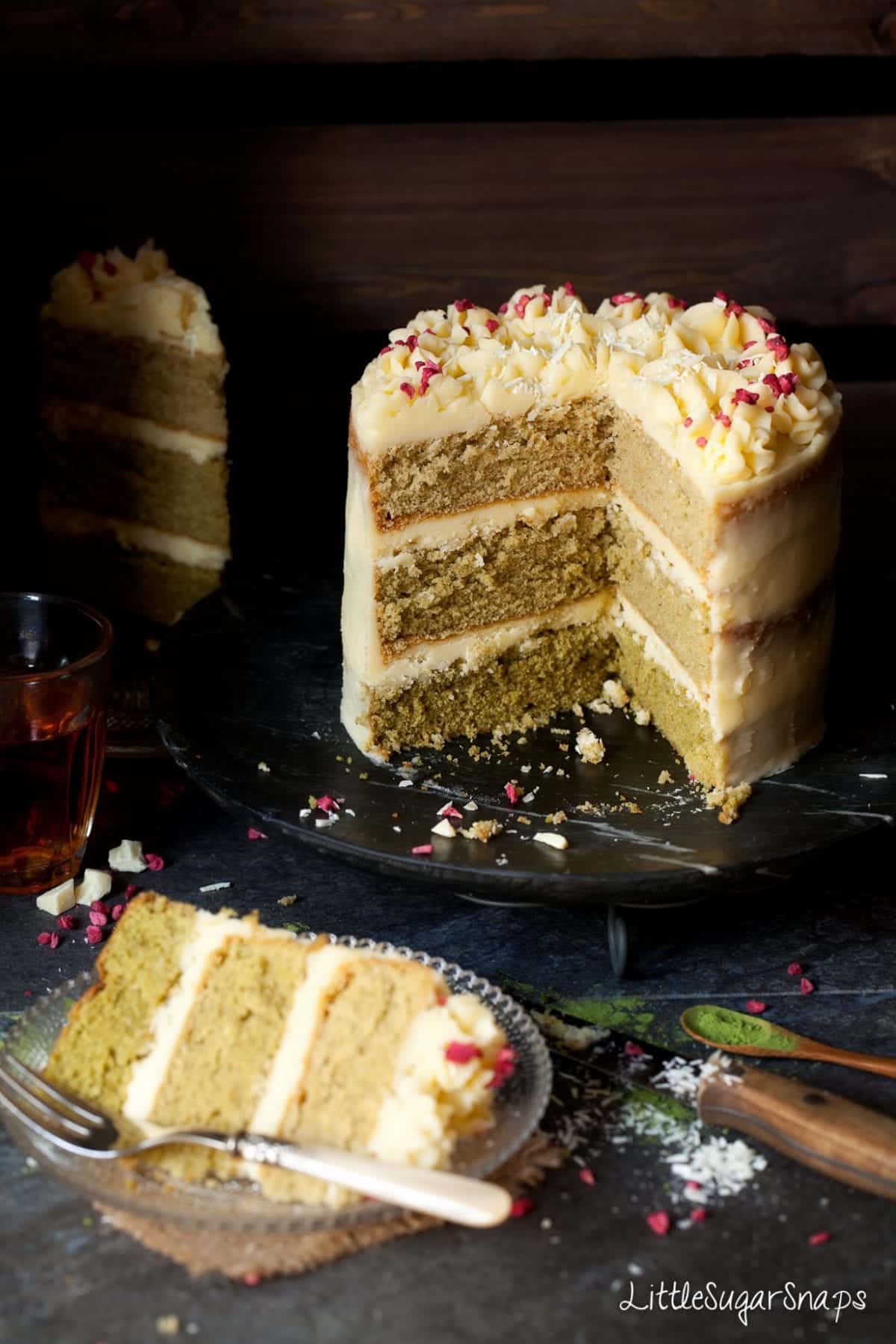 THIS POST HAS BEEN SPONSORED BY ADAGIO TEAS
When I'm not dreaming up new cocktails or healthy smoothies you can usually find me with a cup of tea close to hand. So it's little wonder that I got rather excited when the prospect of working with Adagio Teas came along recently. Over the last few weeks I've been sampling a huge variety of teas I'd never come across before and today I'm pleased to be sharing with you not only a tea inspired bake, alot of tea talk, piles of photos but also… a tea giveaway.
Hooray.
Let's talk about the cake first of all. And given there are 3 layers to this majestic ombre Matcha Cake, there's quite a lot to say. I don't know about you, but when I bake a triple layer cake I like it to look special. If I'm after a quick and rustic cake I'll stick with 2 layers, thankyou very much. But three layers demands a little extra attention. It is, after all, a show-off in cake form.
To give my Matcha Cake a bit of a visual boost I decided to vary the strength of the matcha in each layer to create an ombre effect. The top layer is only mildly infused with the flavour of matcha, but from here, I double the quantity of matcha powder in each layer.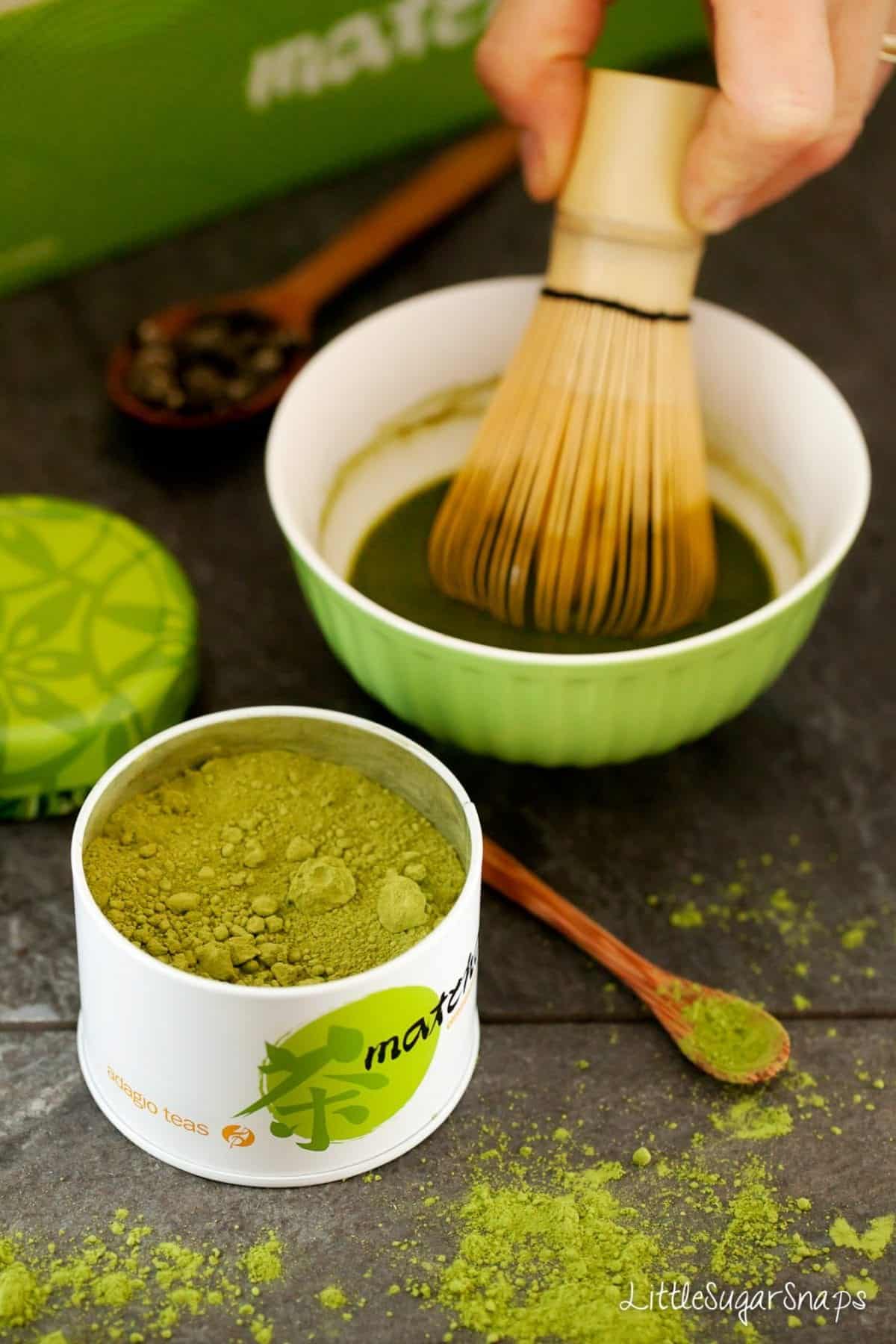 The effect is very pretty on the eye and it notches up the flavour profile of the cake too.
Matcha and white chocolate are classic partners so I've used a white chocolate and mascarpone buttercream to hold my Matcha Cake together. Mascarpone seems to have a way of mellowing the sweetness of regular buttercream, giving it a more grown-up taste and a silky smooth complexion. But since I didn't want the icing to overshadow the matcha flavour, I've resisted the urge to slather the entire cake in a thick layer of icing. I went for the naked look instead. I've also kept the adornments simple with just a light scattering of grated chocolate, along with some freeze dried raspberries to add a pop of colour to the feast.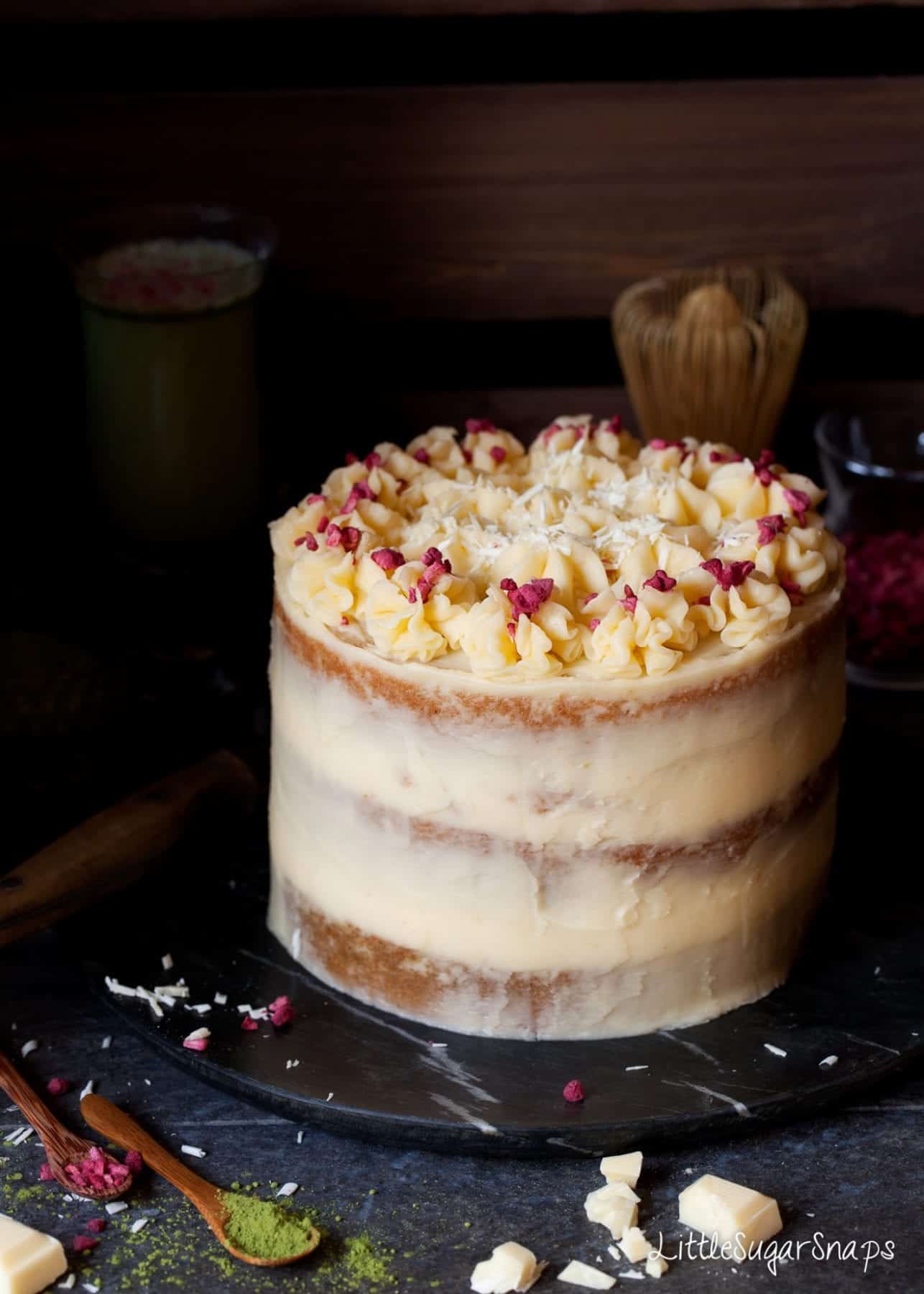 And if you're after a matcha bake that's a little quicker to prepare how about my fudgy matcha brownies? They go well with a mug of hot white chocolate matcha.
But enough about the Matcha Cake, let's turn our attention to tea and the competition.
Adagio Teas are very serious about the teas that they stock. To ensure the best quality and value, their teas are imported directly from the countries in which they are grown, working closely with the farmers who tender them. You can even read up about the tea farmers who grow and harvest the teas. The Adagio guys also want to share their knowledge of tea, so that we, the drinkers, can learn, experience and savour teas at their best. Their website included dedicated pages covering tea varieties, food pairings and tea preparation.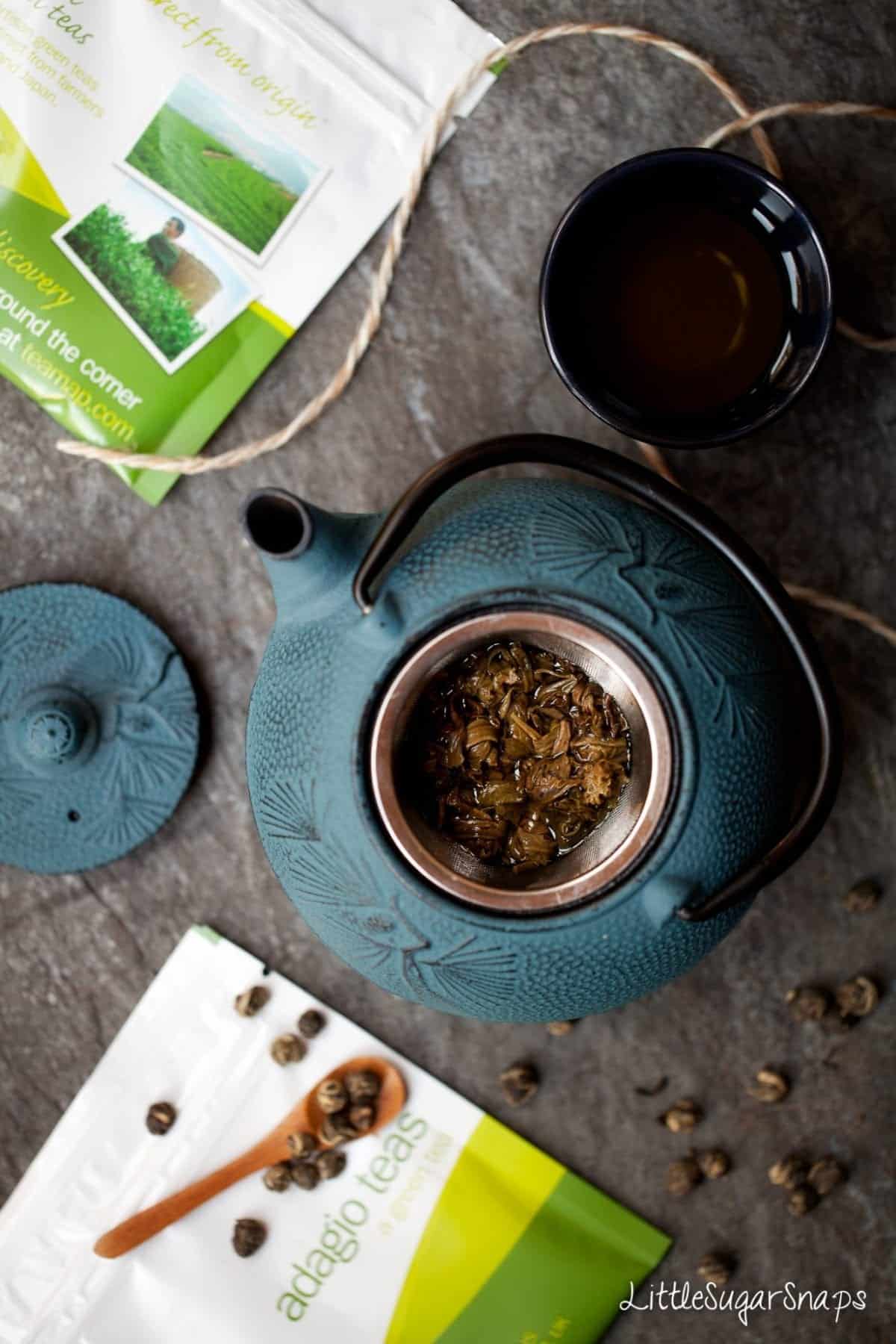 Over the last month, I've been working my way through a stash of teas supplied by Adagio Teas. From matcha and flavoured teas such as almond or chocolate chai, through to Oolong and Pu Erh teas. I have been astounded (and impressed) by the range of teas available. Many of which, I hasten to add, I've never come across before. So it's just as well Adagio offer up a range of sampler selection packs with 4 varieties of tea to help you find your favourites.
It's very hard to pick favourites, since I've been impressed with all of the teas I've tried so far, but for sheer originality, I'd like to draw attention to the Jasmine Phoenix Pearls and the Black Dragon Pearls. When left to steep in water these pearls of tea unfurl to release their aroma and flavour. They are intriguing as pearls and beautiful once brewed. If you are looking to impress a tea lover with a jaded palate this Christmas, I'd recommend seeking some out.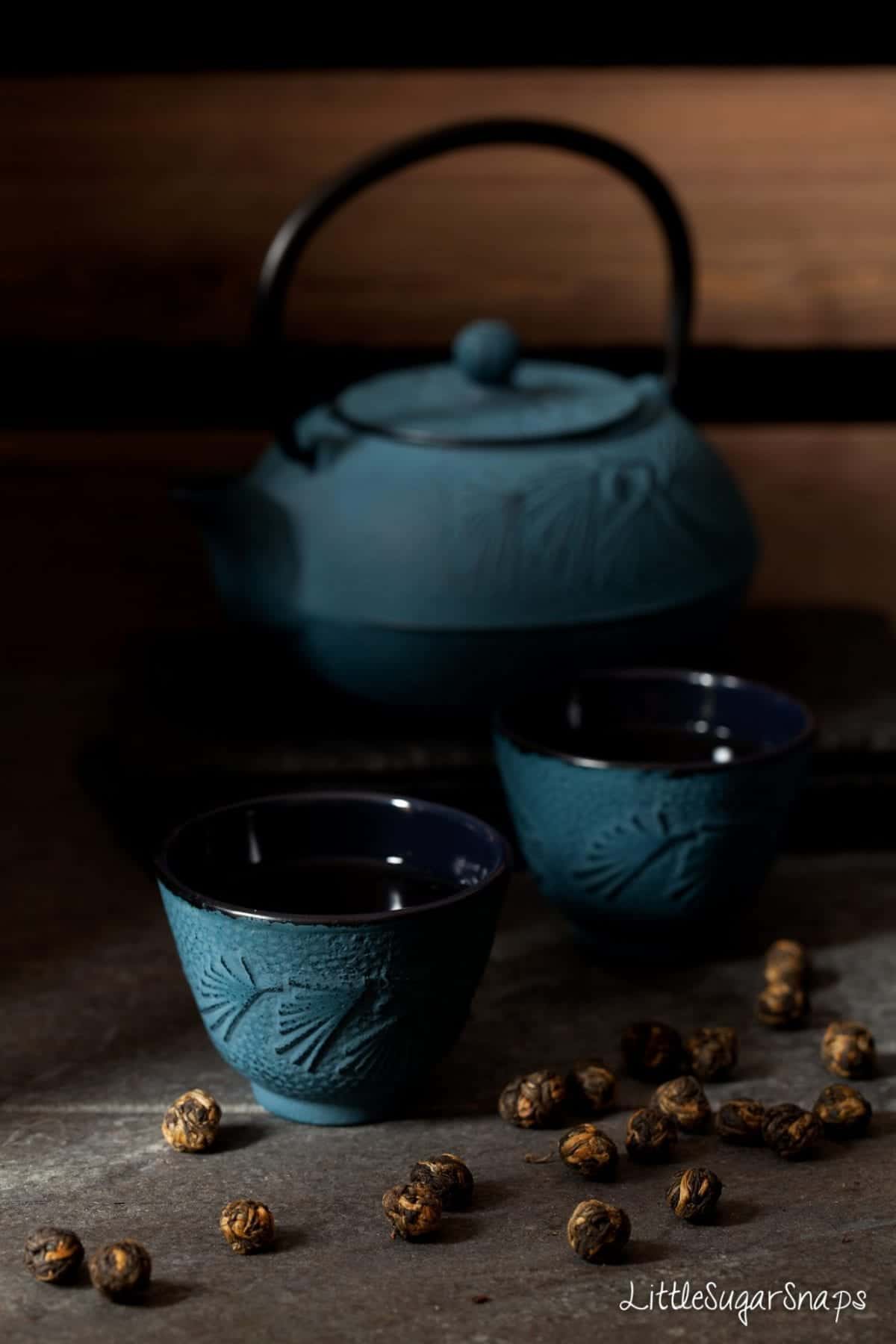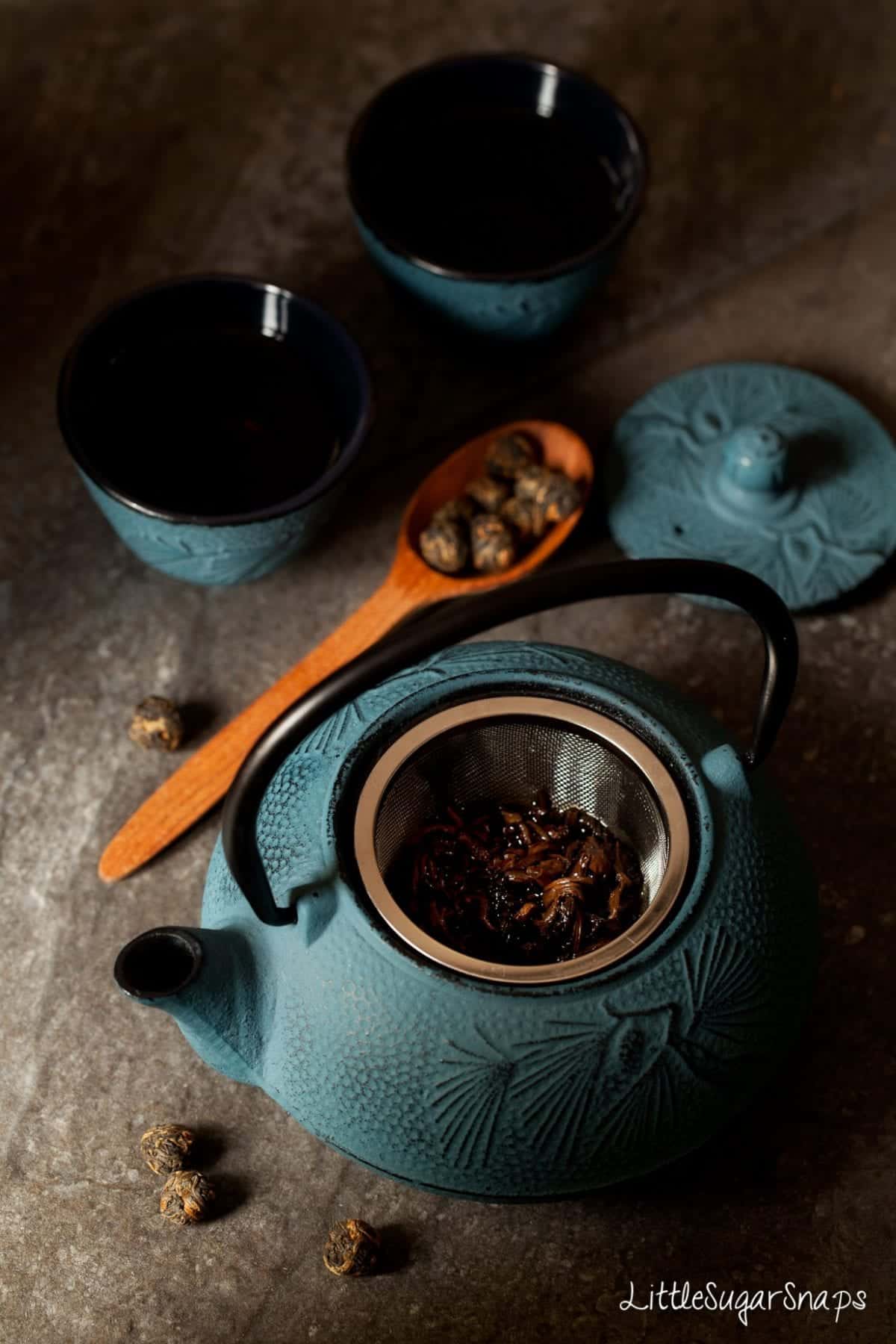 I also have another favourite I'd like to mention. When I was given the option of selecting a few items to try out, I could not resist picking the Fairy Tale Tea Collection. Each tin contains 15 teabags and have been developed specifically with children in mind. They are caffeine free, naturally flavoured and have no added sugar. They are also exceptionally pretty. It's a win all around.
My children do enjoy a few teas, so I was eager to test these teabags out on them. They have enjoyed all 3 varieties and, I'm pleased to tell you that although these teas do contain fruit flavours any sweetness is very subtle. These teas offer a fun and enticing way to get kids into the habit of consuming less sugary drinks. And if your kids are not the princessy kind then there are several alternative, and equally gorgeous, sets of tins to pick from.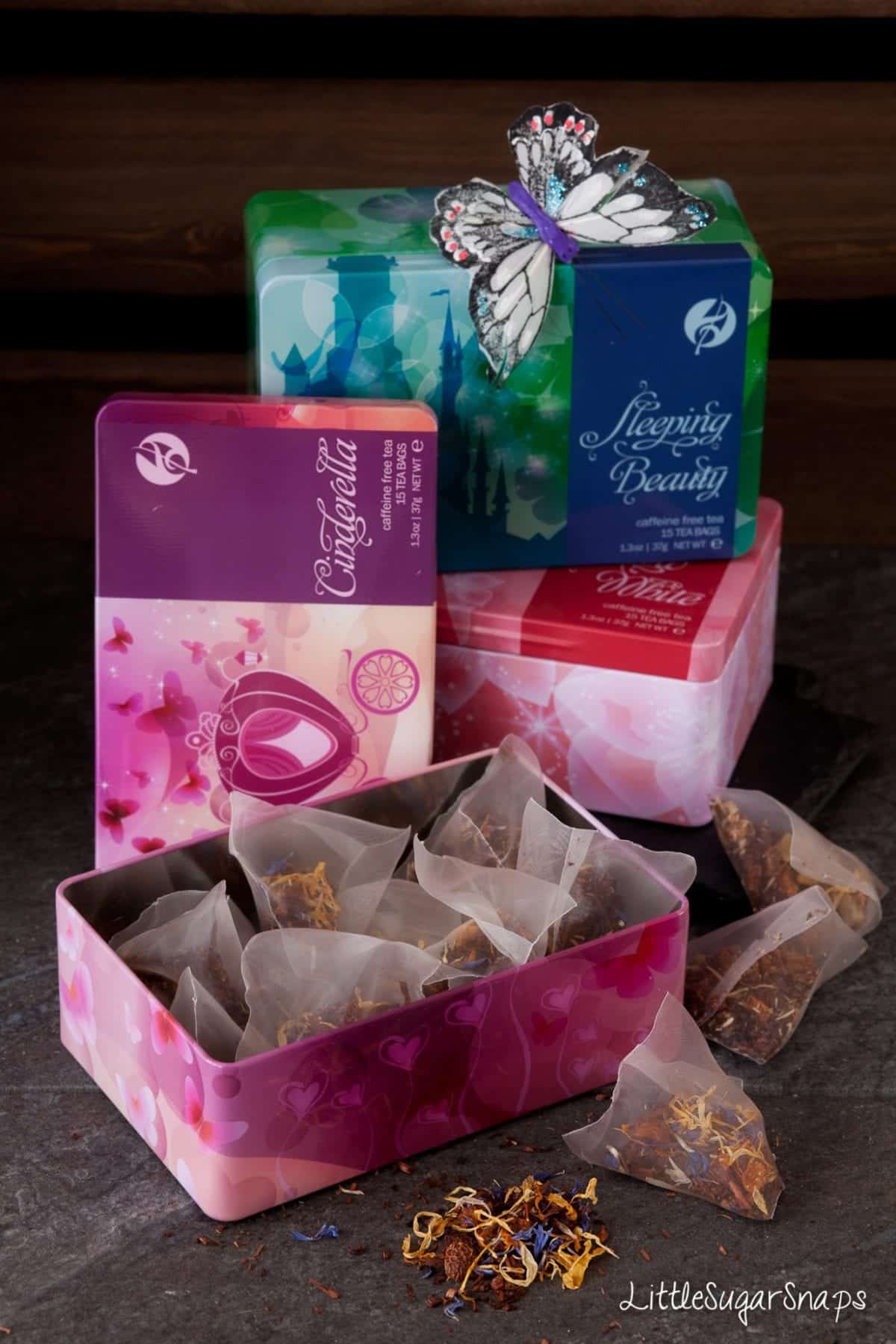 Adagio Teas also have a great range of teaware items – such as the matcha set and the cast iron teapot pictured here. They can ship within the UK and most European destinations. Adagio are also hosting some Black Friday specials so be sure to check them out as soon as possible. You might even snag yourself a bargain Christmas gift or one of two stocking fillers.
And that brings me neatly to the competition. The kind people at Adagio Teas have agreed to send one lucky reader a tea bundle. The winner will receive a sampler set of 4 Chai teas (making 40 cups of tea) along with an IngenuiTEA teapot infuser and a glass teacup & saucer so you can admire the colour of your tea properly. The competition is open to UK residents and anybody living in the European countries Adagio ship to – I recommend you check the list of destinations before you enter.
Phew. I think I've given you enough reading for today. Good luck!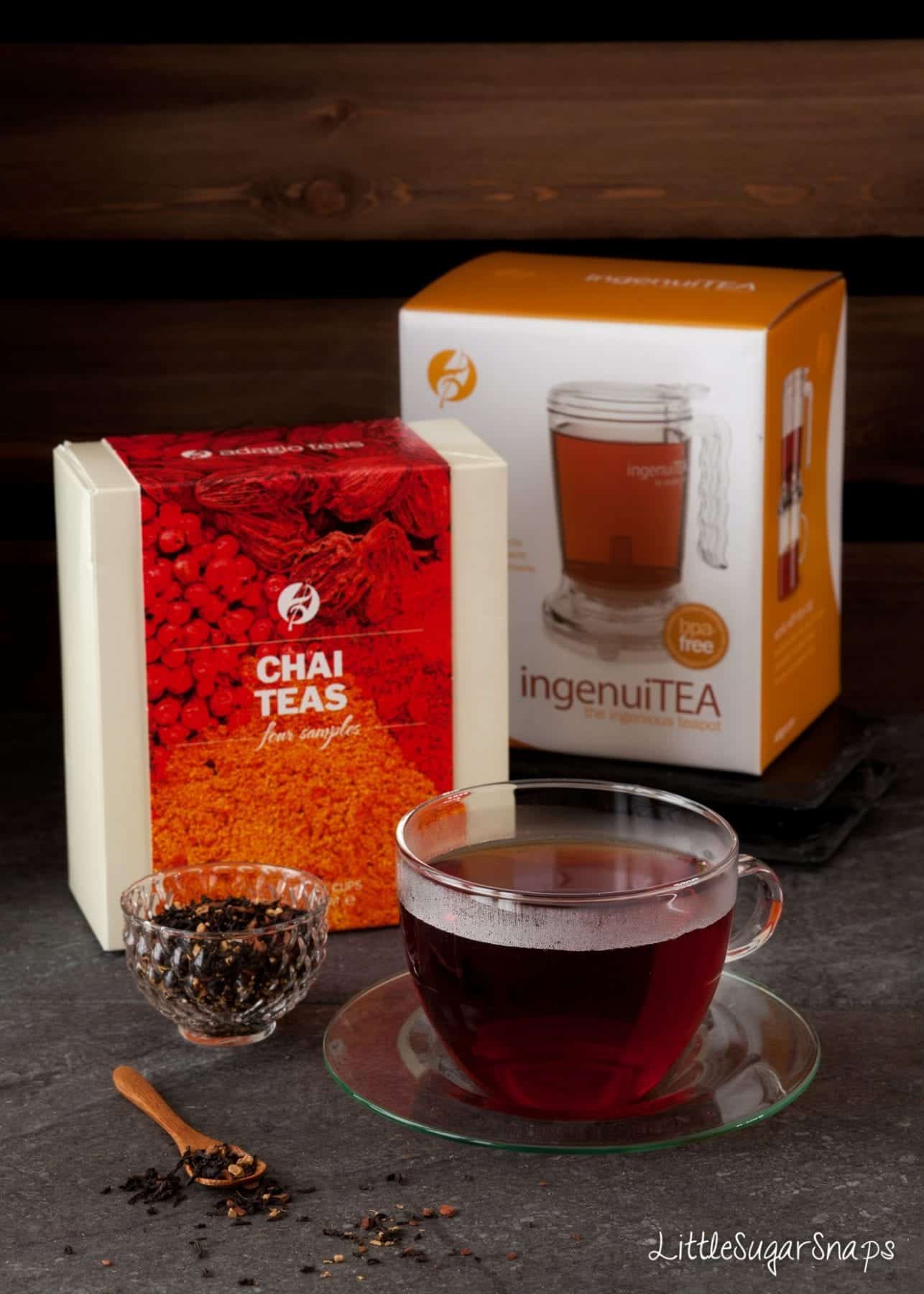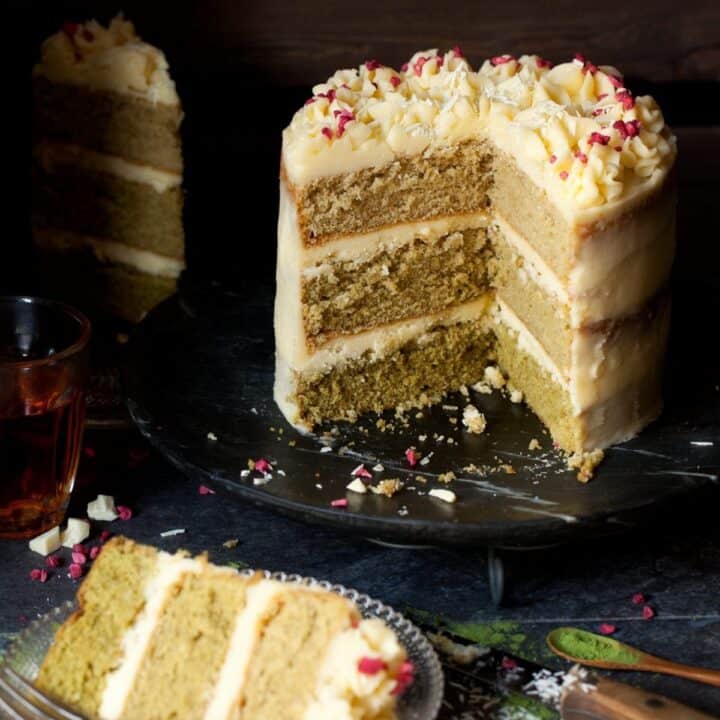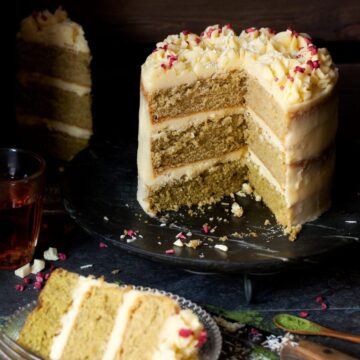 Matcha Cake with White Chocolate Mascarpone Buttercream
This Ombre Matcha Cake stacks up three layers of matcha sponge cake all wrapped up in silky soft white chocolate & mascarpone buttercream. Adorned simply with freeze dried raspberries and grated white chocolate this cake is stylish enough to serve for dessert.
Print
Pin
Rate
Equipment
The recipe is baked in 3 x 6 inch cake tins. Adjust the recipe upwards if you wish to use bigger tins.
Ingredients
For the Matcha Cake
180

g/ 6 ½oz

Butter – softened

180

g/ 6 ½oz

Caster Sugar

180

g/ 6 ½oz

Plain flour

1 ½

teaspoon

Baking powder

3

Eggs (large)

1

tablespoon

Whole Milk

1 ¾

teaspoon

Matcha powder (culinary grade)
For the White Chocolate Mascarpone Buttercream
180

g/ 6 ½oz

White Chocolate

240

g/ 8 ½ oz

Butter – softened

200

g/ 7 oz

Icing (confectioners) sugar

150

g/ 5 ½ oz

Mascarpone cheese
Garnish
1

tablespoon

White chocolate – grated

2

teaspoon

Freeze dried raspberries
Instructions
Preheat the oven 170°/ 325°F/ GM3

Grease and line 3 x 6 inch circular baking tins (note these are smaller than average tins)

Divide the flour equally into 3 small bowls. Add ½ teaspoon baking powder to each bowl. Next add ¼ teaspoon matcha powder to the first bowl, ½ teaspoon matcha powder to the second bowl and 1 teaspoon matcha to the final bowl. Stir the contents of each bowl and put aside

In a bowl beat the butter and sugar until light and fluffy, using electric beaters

Crack the eggs into a bowl and beat, then gradually add a little beaten egg to the creamed butter and sugar, beating well each time (adding a little at a time helps prevent the mix from splitting)

Once all of the egg has been incorporated beat in the milk

Divide the mix equally between 3 small mixing bowls (approx 180g/ 6 ¼ oz per bowl)

Take the first bowl of flour and sieve the contents into one of the bowls of cake batter. Gently fold the flour in, then spoon into a baking tin and spread it out. Repeat with the remaining bowls of flour and cake mix. Take care to keep a mental note of which tin contains which strength of matcha (¼ tsp/ ½ tsp/ 1 tsp)

Bake all three cakes for 20-25 minutes until the cake springs back when lightly pressed or a skewer comes out clean

Let cool in the tins for 2 minutes, then remove from the tins, peal off the baking parchment from the bottom of each sponge cake and let cool completely on a wire rack. Again, keep note of which cake is which in terms of matcha strength
Make the White Chocolate Mascarpone Buttercream
Gently melt the white chocolate (in short bursts in a microwave or using a bain marie). Set aside to cool for 5-10 minutes

Meanwhile beat the butter and gradually add the icing sugar (sieved) until light and smooth

Beat half of the mascarpone cheese into the white chocolate, followed by the rest of the mascarpone

Mix this mixture into the buttercream
Assemble the Cake
Lay the strongest (darkest) matcha cake onto a board and pipe/ spread 150g (5 ¼ oz) of the icing on top, then place the mid strength layer of cake carefully on top of the layer of icing

Pipe or spread a further 150g (5 ¼ oz) onto the top of this layer of cake then place the final (lightest) layer of cake on top of this

Reserve 150g (5 ¼ox) of the icing to decorated the top and use the remaining icing to cover the top and sides of the cake in a thin (naked) layer. Use the reserved icing to pipe rosettes on top of the cake

Scatter the freeze dried raspberries around the outer circle of rosettes and sprinkle the grated white chocolate over the centre of the cake

If not eating within a few hours store in an airtight container in the fridge for up to 3 days. Bring back to room temperature before eating
(Visited 1,106 times, 5 visits today)