Chocolate cake gets an exciting makeover with three distinct chocolate flavours hidden beneath luscious vanilla marshmallow buttercream in this Triple Chocolate Layer Cake. It's a simple but effective concept.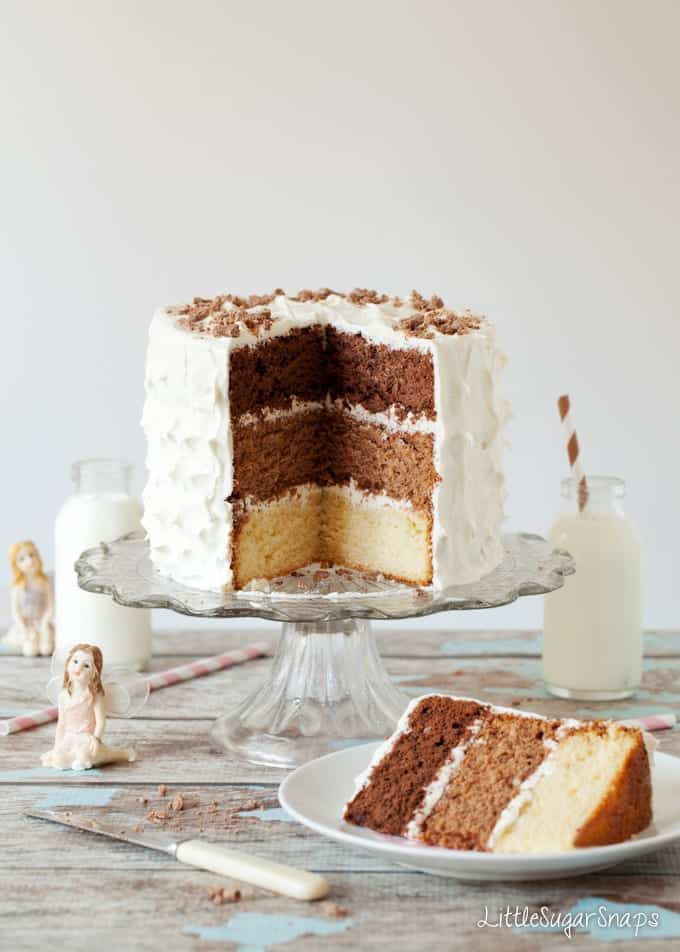 March is my crazy month of birthday cake baking. This year, I think I smashed my record by making 4 cakes in the space of just 10 days. That's a lot of eggs. A lot of icing. A lot of cake. It really is a cake-a-thon. It's now the last day of March and I've been so caught up in birthdays, parties and cakes that I have not yet managed to share with you the highlights of my cake dominated month. It's time to correct that.
First of all, I'll be talking about this wonderfully indulgent Triple Chocolate Layer Cake with Marshmallow Buttercream that was my younger daughter's birthday cake. And just to amuse you, I'm going to share with you my… um… major kitchen catastrophe involving a Piñata cake that I hope anybody about to attempt such a cake will learn from. The rest of you can just sit back and snigger wildly at my expense.
Okay, the Triple Chocolate Layer Cake. We're talking about three distinct layers of light & bouncy chocolate sponge cake:
White chocolate & vanilla – sweet & fresh
Malted milk chocolate – homely, comforting chocolate heaven
Dark Chocolate – satisfyingly intense
What's not to love?
Then there's the topping of almost too good to be true, lusciously light vanilla marshmallow buttercream. It's a regular buttercream with the addition of Marshmallow Fluff & flecked with vanilla seeds. This buttercream is my absolute favourite – you may remember it from my Pumpkin Pie Whoopie Pies. It is everything you could wish for in an icing: sweet, light, fluffy, easy to spread and, without a doubt, a step up from standard buttercream.
THIS POST CONTAINS AFFILIATE LINKS.
AS AN AMAZON ASSOCIATE I EARN FROM QUALIFYING PURCHASES.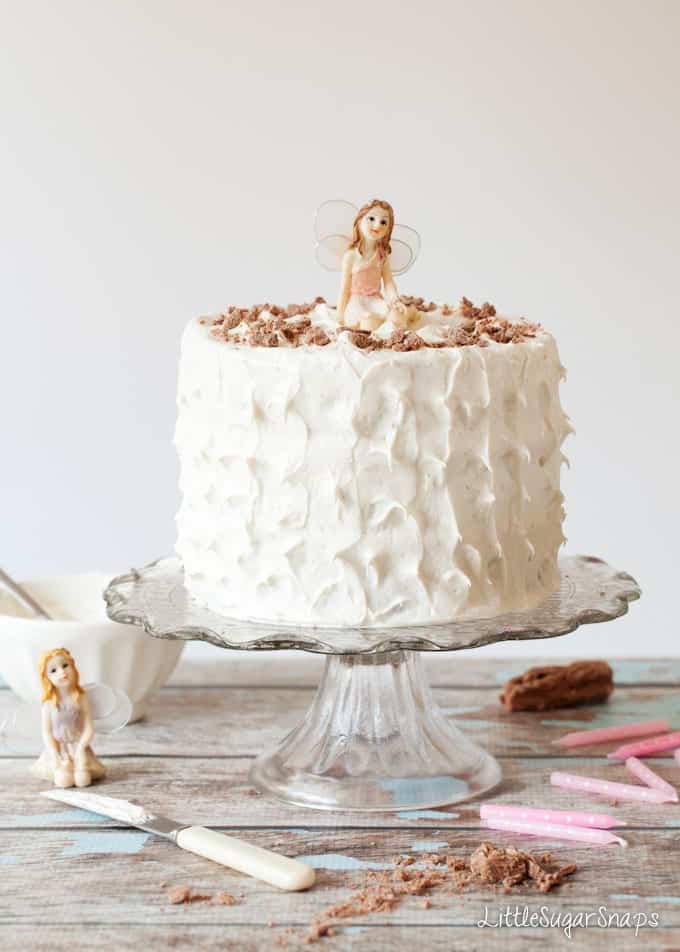 I knew I was onto a winner for my girl with this Triple Chocolate Cake. She adores chocolate & marshmallows so to have a multitude of chocolate all stacked up into a birthday cake and then include marshmallow in the icing was like a dream come true for her.
I try hard to make Hannah & Milly a cake for their actual birthday that I know they will love. Something that ties in with their personality. Something a little different. Yes, this Triple Chocolate Layer Cake is essentially a large chocolate cake. But the different layers that reveal themselves once the cake is cut into takes it over the edge. It is far more exciting than a typical chocolate cake and that's why it was perfect for Milly.
I'd say this Triple Chocolate Cake is ideal for any chocolate lover – child or adult. It was a hit with everybody around our tea-table. One or two people picked out their favourite layers, but most, me included, just fell for the entire bundle.
Please note: the recipe listed is for a three-layer chcolate cake made in six-inch cake pans but I have included some instructions on scaling up to large pans in the recipe notes.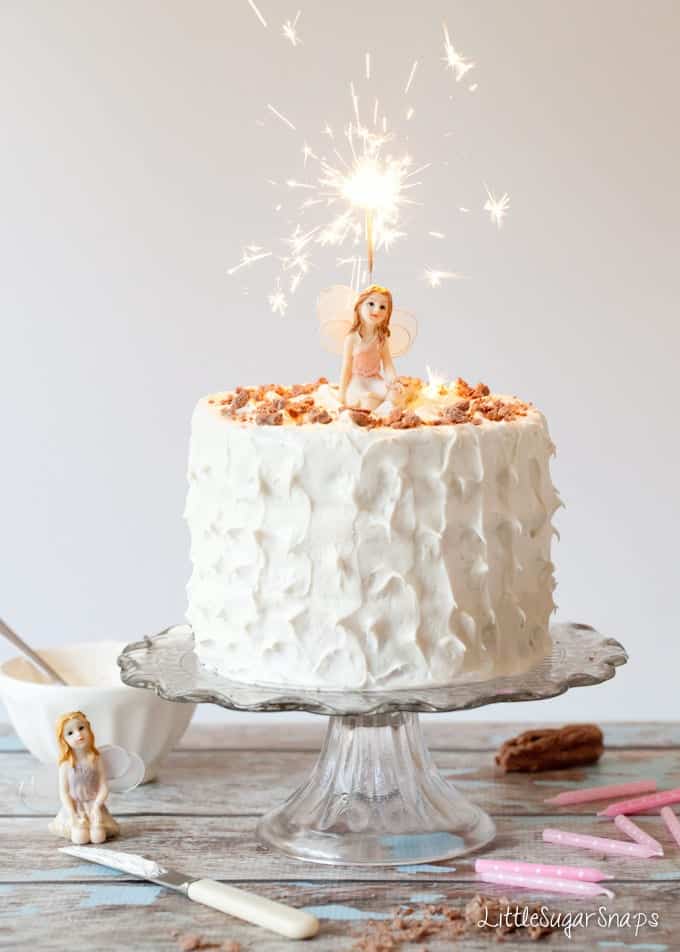 Okay, so time to talk about my other noteworthy cake baking experience of the last month. Now, we all know kids and their birthday cakes – they tend to like something fun. Well, my girls have been slightly obsessed by Piñata cakes over the last few years. There are two versions of Piñata cakes:
There's the version like this one

that has the middle of a cake scooped out and filled with sweets so that when you cut into it the sweets are revealed

(the easy version)
Then there's the version like this one that hides a cake topped with sweets underneath a dome of chocolate. The birthday child gets to smash the dome with a rolling pin to reveal the sweets and cake underneath. (The immensely fun but not so easy to make version)
Guess which one my girls like? Yes. The chocolate dome.
One way to make that dome is to cover a blown up balloon in melted chocolate. Once set the balloon is popped and a perfect dome of chocolate is revealed. Last year I made them both one of these Piñata cakes without a hitch. (Well, almost no problem apart from a slight accident after it was made.).
Confession: this year I got complacent. Just because I managed it last year no problem, it never crossed my mind that anything would go wrong.
Obviously, things went spectacularly wrong.
Picture me covering a large balloon with 400g melted chocolate. Now picture that balloon bursting and flying all around my kitchen. It made a lot of mess. I think I was wearing about 100g of melted chocolate at that point. Are you laughing yet? It gets worse.
Please don't judge me when I tell you that in my chocolate splattered mind, I quickly assumed that the balloon must have been weak. So, not only did I blow up a second balloon but I also switched places in my kitchen to get away from the mess that the.. er…. accident had created.
I set to work covering this second balloon.
BANG.
Yes. It happened again.
And no, I really didn't see it coming.
This time I gave up. Every wall in my kitchen was covered in chocolate. The floor. The ceiling. The Clock. The fruit bowl. Me. Even the inside of the toaster took a hit. It was as if 2 chocolate bombs had exploded.
I resolved that the Piñata cake would not be happening. Those balloons must be really, really weak. (Please, between your guffaws, forgive my feeble mind.)
I threw in the towel, threw my clothes in the wash and threw myself into the shower before starting the clean-up of my chocolate laden kitchen… The clean up that would take in excess of 3 hours.
Thirty minutes into the cleanup operation I came to the bowl that had contained the melted chocolate to find that what remained was still liquid. That's when the truth hit me (like a wet balloon covered in chocolate right between my eyes): those balloons were not weak, the chocolate was far too hot.
What had I been thinking? More to the point, why hadn't I been thinking? The cause of my problem was suddenly so ridiculously obvious to me.
Having lost my mind and 300g chocolate 45 minutes earlier, I found myself confidently blowing up a third balloon and giving it a go with what remained of the now cooled, but still liquid chocolate in the bowl. Success. The chocolate dome was made.
Later that day I collected my girls from school and told them the grim news: the Piñata cake was ready, but it would be the last Piñata cake I ever make. To which Hannah replied that she would do it next year. Nooooooo.
If you're considering making a Piñata cake, take my advice. Don't do it. Go for the Triple Chocolate Layer Cake instead. It's not only far tastier but it's infinitely easier to make. But please, please, do share your kitchen disasters with me – I can not be the only lunatic out there, surely….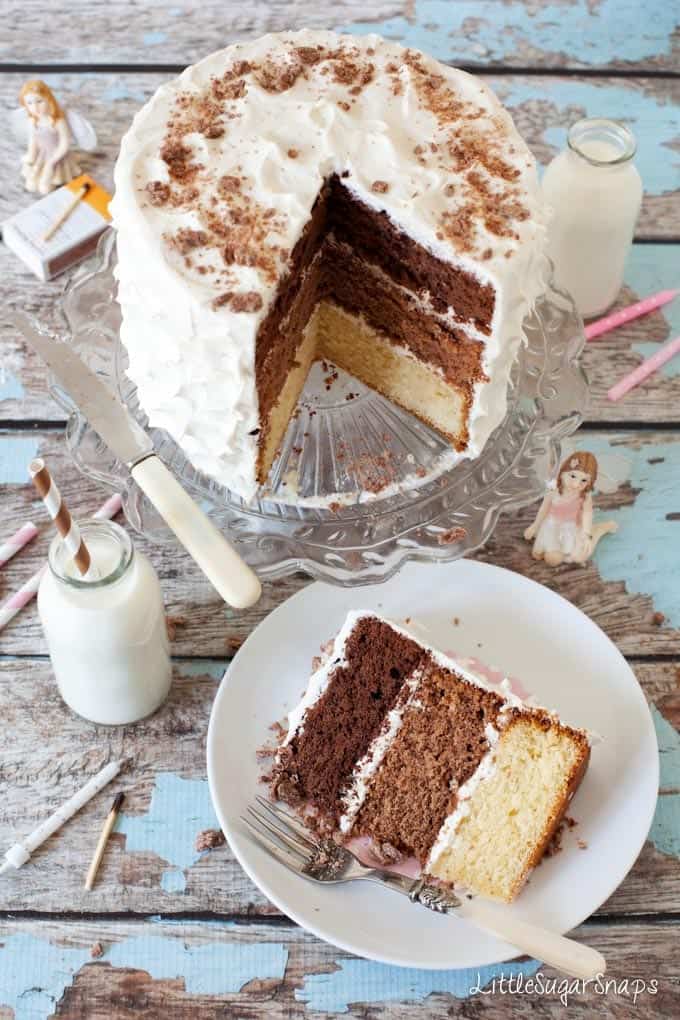 Have you seen my other layer cakes?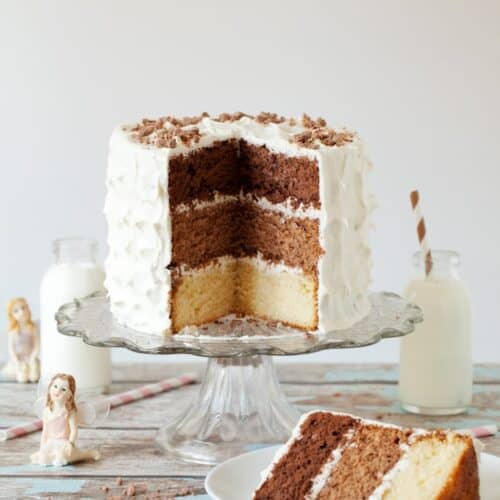 Triple Chocolate Layer Cake
Chocolate cake gets an exciting makeover with three distinct chocolate flavours hidden beneath luscious vanilla marshmallow buttercream. Simple but effective. Please note: this recipe uses 3 x 6 inch circular cake tins. If you are using standard 8.5 inch tins please see my notes below.
Print
Pin
Rate
Total Time:
1
hour
15
minutes
Ingredients
For the Cakes
180

g/ 6 1/2oz softened butter

180

g/ 6 1/2oz caster sugar

3

eggs

5

tbsp

milk

180

g/ 6 1/2oz plain

(all purpose) flour (sifted)

2

tsp

baking powder

50

g/ 2oz white chocolate – finely chopped

50

g/ 2oz milk chocolate – finely chopped

50

g/ 2oz dark chocolate – finely chopped

1/2

tsp

vanilla extract

1 1/2

tbsp

Ovaltine

(chocolate malt powder)

1 1/2

tbsp

cocoa powder
For the buttercream
125

g/ 4 1/2oz softened butter

250

g/ 9oz icing

(confectioner's) sugar

125

g/ 4 1/2oz cream cheese

1

tsp

vanilla bean paste

150

g

vanilla Marshmallow Fluff
Decoration – 1 Cadbury's flake (or 40g chopped/ grated milk chocolate)
Instructions
Bake the cakes
Preheat the oven 170°/ 325°F/ GM3

Grease and line 3 x 6-inch circular baking tins (note these are smaller than average tins – if you are using 8-inch tins see my notes on how to scale up the recipe)

Melt the 3 types of chocolate in separate bowls. Set aside

In a bowl beat the butter and sugar until light and fluffy, using electric beaters. Add the eggs, one at a time, beating well between each addition

Add 3 tbsp of milk and beat again. Sift the flour and baking powder into the bowl and mix well

Divide the cake batter equally into 3 small mixing bowls

For the White Chocolate & Vanilla Sponge: from the first mixing bowl take a tablespoon of the cake batter and stir it quickly into the melted white chocolate. Then gently fold this white chocolate mixture and the vanilla extract back into the bowl containing the rest of the cake batter. This double-action will stop the chocolate from seizing when it is mixed into the cake batter. Gently spoon the batter into one of the baking tins and spread it out with a blunt knife

For the Malted Milk Chocolate Sponge: stir an extra tablespoon of milk and the Ovaltine powder into the second bowl of cake batter. From this bowl, take a tablespoon of the cake batter and stir it quickly into the melted milk chocolate. Then fold this chocolate mixture back into the rest of the cake batter. Spoon the batter into another of the baking tins & spread it out

For the Dark Chocolate Sponge: stir an extra tablespoon of milk and the cocoa powder (sifted) into the remaining bowl of cake batter. Quickly mix a tablespoon of this cake batter into the melted dark chocolate, then fold this chocolate mixture back into the rest of the cake batter. Spread the batter into the last of the baking tins

Bake all three cakes for 20-25 minutes until the cake springs back when lightly pressed or a skewer comes out clean

Let cool in the tins for 2 minutes, then remove from the tins, peal off the baking parchment from the bottom of each sponge cake and let cool completely on a wire rack
Make the Marshmallow buttercream
Put the icing sugar, butter & vanilla paste into a large bowl and beat until smooth

Beat in the cream cheese until smooth, then mix in the marshmallow fluff
Assemble the cake
Lay the white chocolate sponge cake onto a board and spread a heaped tablespoon of the icing on top, then place the malted milk chocolate cake carefully on top of the layer of icing

Top with another spoonful of icing, spread it out and add the dark chocolate layer of cake

Once the final layer of cake has been added, carefully spread a thin layer of icing all over the top and sides of the cake – a palette knife is good for this. I find that coating the cake in a thin layer all over helps to seal in the crumbs. Once you have done this, use the remaining icing to create a thicker layer that covers the cake entirely.

Carefully move your cake onto a serving plate and touch up the icing if necessary. Once you are satisfied, you can add a pattern if you want to. I used the back of a dessert spoon to lift the icing in places to give a rugged appearance

Decorate with crushed or chopped chocolate if desired
Notes
This recipe uses 3 x 6 inch circular cake tins. If you wish to use standard 8.5 inch tins, my suggestion is to simply double the recipe. In an ideal world, you would scale up the recipe to bake it using 5 eggs, but that leads to some fiddly measurements. Making double is far easier – just ensure you do not fill your sandwich tins more than 2/3 full with the batter and use the leftover batter to make a few cupcakes. You perhaps will not need to double the buttercream though – I'd suggest making 1.5 times that stated in the recipe.
Nutritional Information Per Serving (Approximate)
Calories:
654
kcal
|
Carbohydrates:
81
g
|
Protein:
6
g
|
Fat:
36
g
|
Saturated Fat:
22
g
|
Cholesterol:
130
mg
|
Sodium:
289
mg
|
Potassium:
247
mg
|
Fiber:
2
g
|
Sugar:
60
g
|
Vitamin A:
1014
IU
|
Vitamin C:
1
mg
|
Calcium:
101
mg
|
Iron:
2
mg
Pin this Recipe:
(Visited 2,880 times, 13 visits today)