This Mint Choc Chip Layer Cake combines dark, fudgy layers of chocolate cake with a minty, green & chocolate flecked buttercream. Think of Mint Choc Chip ice cream turned into a layer cake.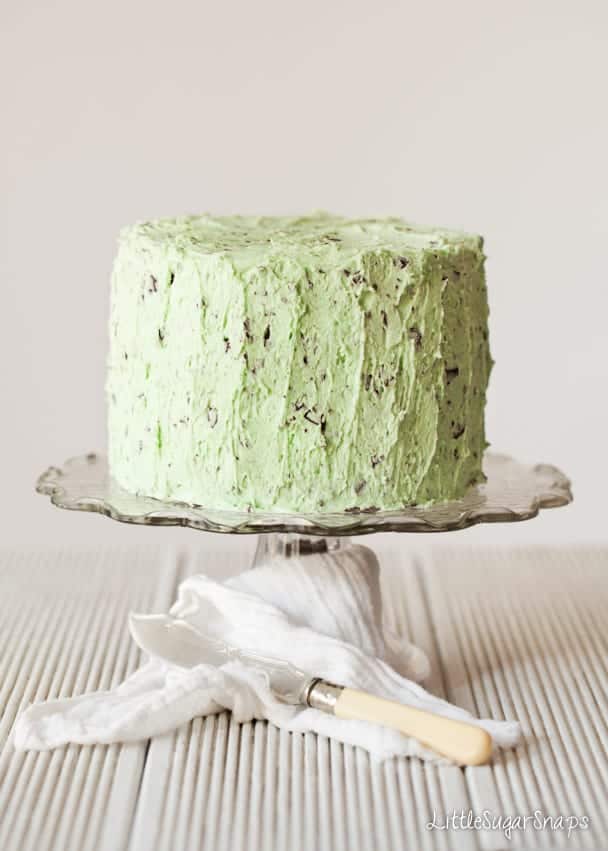 Confession time. Several weeks ago it was my birthday. Though I'm slightly too old to drum-roll the fact these days, I celebrated with this Mint Choc Chip Layer Cake. It is based on my childhood favourite ice cream: mint choc chip. It even comes complete with green coloured icing for that authentic retro look. In this cake I have managed to combine 3 of my all-time favourite ingredients – buttermilk, chocolate and mint. What a birthday cake – there's 3 layers hiding in there – total joy.
And the story of this Mint Choc Chip Cake just keeps getting better and better.
How Big is this Cake?
This is one giant chocolate cake if you want it to be – the recipe is enough for either a 4-layer cake using 6 inch tins or a 3-layer cake using 8 inch tins. All covered in that glorious mint-choc-chip icing that takes you back to seaside holidays as a kid, only without the sand in each mouthful.
I've used dark muscovado sugar in the chocolate cake mix to enhance the deep colour and provide a dense, fudgy texture, which matches perfectly with the minty fresh buttercream.
Talking about the buttercream, those flecks of chocolate in it do make this cake a very forgiving one. Anybody who gets a bit intimidated by the thought of covering a layer cake should give it a go. There's really no need to worry about cake crumbs mixing in with the icing, nobody will notice.
If you are not expecting a small army to visit and help demolish the cake with you, you can do like me and store a layer in the freezer ready for when you need a speedy, indulgent accessory to go with berries & ice cream.
I've been verging on obsessed by the combination of mint and chocolate for as long as I can remember. And the fixation doesn't stop at ice cream – After Eights, Mint Aero bars, Fry's Peppermint creams, Mint Poppets – all the usual suspects. Do you have a childhood favourite you cannot give up? Have you managed to bring those flavours into a grown-up recipe? I'd love to hear from you.
(Visited 427 times, 2 visits today)