This Mint Choc Chip Layer Cake combines dark, fudgy layers of chocolate cake with a minty, green & chocolate flecked buttercream. Think of Mint Choc Chip ice cream turned into a layer cake.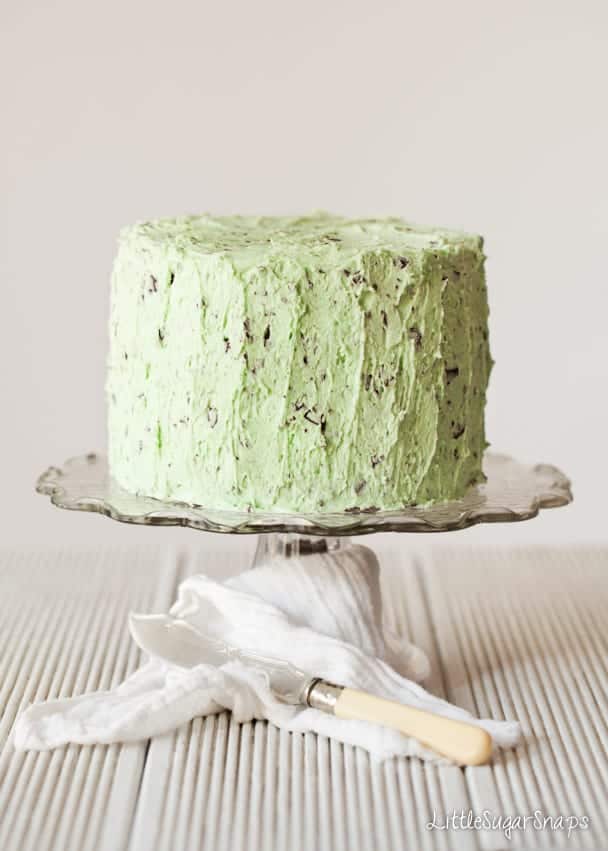 Confession time. Several weeks ago it was my birthday. Though I'm slightly too old to drum-roll the fact these days, I celebrated with this Mint Choc Chip Layer Cake. It is based on my childhood favourite ice cream: mint choc chip. It even comes complete with green coloured icing for that authentic retro look. In this cake I have managed to combine 3 of my all-time favourite ingredients – buttermilk, chocolate and mint. What a birthday cake – there's 3 layers hiding in there – total joy.
And the story of this Mint Choc Chip Cake just keeps getting better and better.
How Big is this Cake?
This is one giant chocolate cake if you want it to be – the recipe is enough for either a 4-layer cake using 6 inch tins or a 3-layer cake using 8 inch tins. All covered in that glorious mint-choc-chip icing that takes you back to seaside holidays as a kid, only without the sand in each mouthful.
I've used dark muscovado sugar in the chocolate cake mix to enhance the deep colour and provide a dense, fudgy texture, which matches perfectly with the minty fresh buttercream.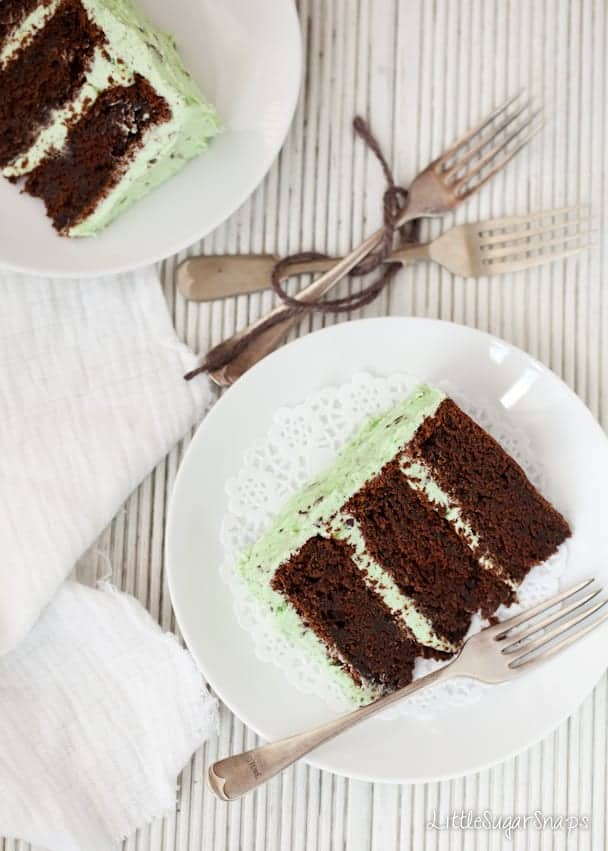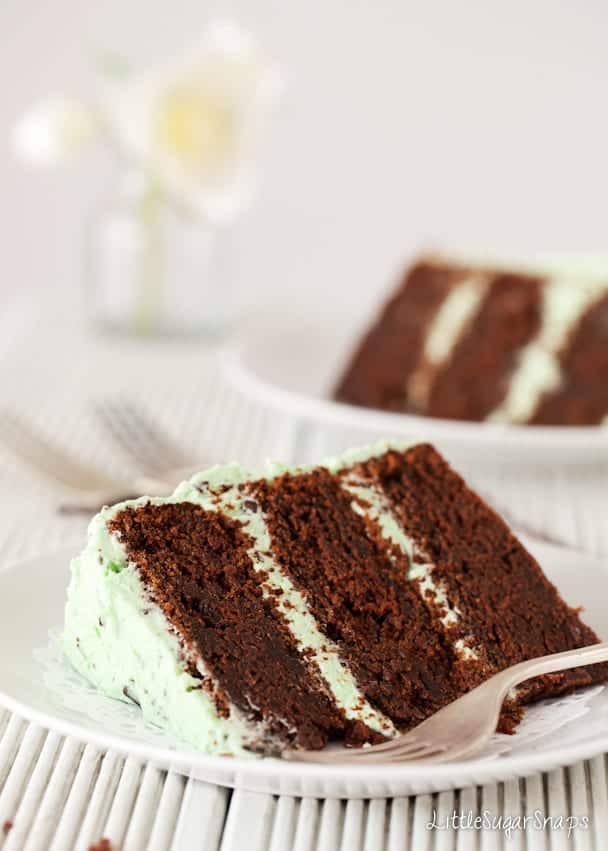 Talking about the buttercream, those flecks of chocolate in it do make this cake a very forgiving one. Anybody who gets a bit intimidated by the thought of covering a layer cake should give it a go. There's really no need to worry about cake crumbs mixing in with the icing, nobody will notice.
If you are not expecting a small army to visit and help demolish the cake with you, you can do like me and store a layer in the freezer ready for when you need a speedy, indulgent accessory to go with berries & ice cream.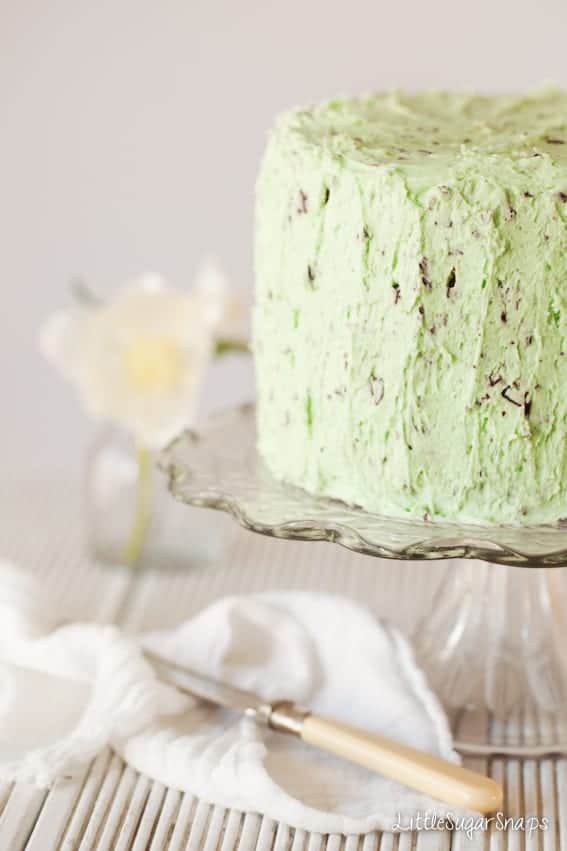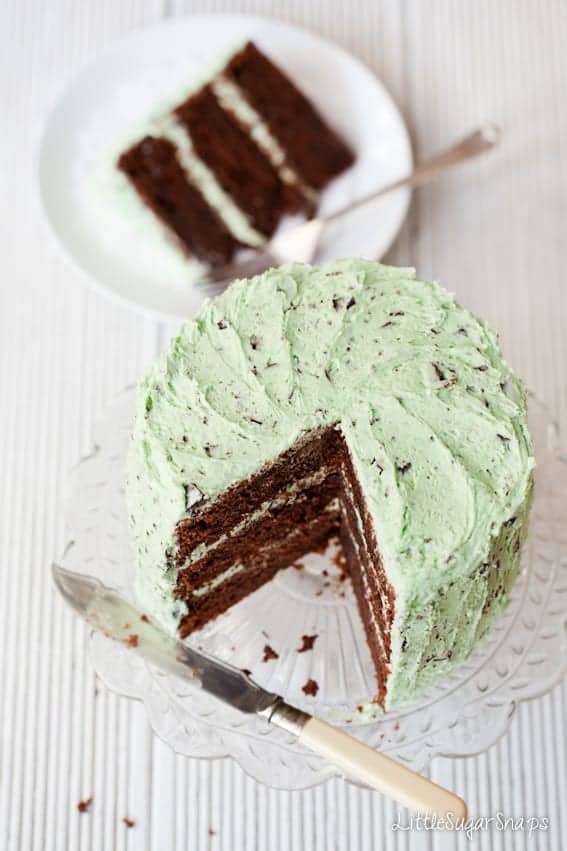 I've been verging on obsessed by the combination of mint and chocolate for as long as I can remember. And the fixation doesn't stop at ice cream – After Eights, Mint Aero bars, Fry's Peppermint creams, Mint Poppets – all the usual suspects. Do you have a childhood favourite you cannot give up? Have you managed to bring those flavours into a grown-up recipe? I'd love to hear from you.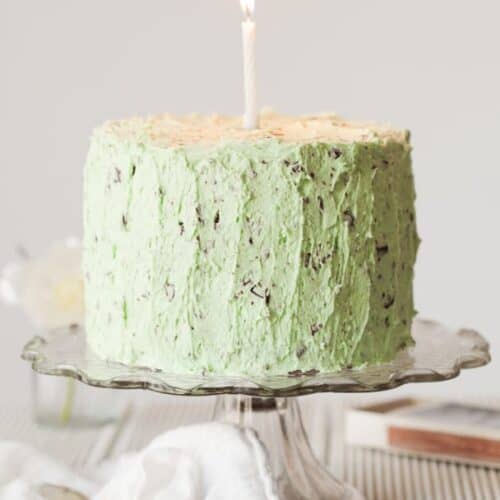 Mint Choc Chip Layer Cake
Dark, fudgy layers of chocolate cake hidden beneath minty, green, chocolate flecked buttercream. Think of Mint Choc Chip ice cream turned into a layer cake.
Print
Pin
Rate
Ingredients
For the Chocolate Cake
225

g/8 oz

Unsalted butter – softened

350

g/ 12 1/2 oz

Dark muscovado sugar

2

Eggs – large, free-range

3

tbsp

Cocoa powder mixed plus 3 tbsp boiling water

75

g/ 3 oz

Dark chocolate – melted

150

ml/ 1/2 cup + 2 tbsp

Buttermilk

350

g/ 12 1/2 oz

Plain (all-purpose) flour

3

tsp

Baking powder

1

tsp

Bicarbonate of soda

275

ml/ 1 cup + 2 tbsp

Just boiled water
For the Mint Choc Chip Buttercream
250

g/ 9 oz

Butter – softened

75

ml/ 5 tbsp

Double (heavy) cream

500

g/ 17 1/2 oz

Icing sugar

Colouring gel – mint green (optional)

Peppermint extract – to taste (I used Star Kay and needed 3 1/2 tsp for a fresh minty taste)

75

g/ 3 oz

Dark chocolate – chopped fine
Instructions
Make the Chocolate Cake
Put some water on to boil in the kettle and preheat the oven to 180°C/ 350°F/ GM 4


Grease and line 4 x 6-inch tins or 3 x 8-inch tins* see notes

In a large bowl, cream the butter and sugar together until well combined, then add the eggs, 1 at a time, beating well between each addition

Mix the cocoa powder and water together to form a smooth paste then add this to the cake batter and beat until well combined. Pour in the melted chocolate and mix again

Sieve the flour, baking powder and bicarbonate of soda into a bowl

Pour half of the buttermilk into the cake batter mix and fold in, using a large metal spoon. Then add half of the flour mixture and fold in. Repeat with the remaining buttermilk and flour

Add 275ml recently boiled water and stir well. Pour equal amounts into the cake tins and put into the over the bake: around 25-30 minutes for the 6-inch cakes and 30-35 minutes for the 8-inch cakes

Check that the cakes are cooked by inserting a metal skewer into the centre – it should come out clean. Once cooked, take the cakes out of the oven and let stand for 2 minutes, before removing from the tins and allowing to cool on a wire rack

Go ahead and bake any remaining cake batter if necessary
Make the Buttercream
Put the icing sugar, cream and butter into a large bowl and beat until smooth

If using colouring, add very small amounts of the gel (using the end of a cocktail stick or small knife) mixing well after each addition until you reach a shade that you are satisfied with

Next, add the peppermint extract. The strength of the peppermint flavour does vary across brands, so do taste as you go. I used 3 1/2 tsp

Finally, fold the chocolate into the icing until evenly distributed
Assemble the Cake
To assemble the cake lay one of the layers of cake onto a board and spread a couple of spoonfuls of the icing on top. then add another layer of cake

Add an equal amount of icing, spread it out and add the third layer of cake. If you are making the 4-layer 6-inch cake, repeat with the final layer of cake

Once the final layer of cake has been added, carefully spread a thin layer of icing all over the top and sides of the cake – a palette knife is good for this

This thin layer gives a good base to add the rest of the icing. I found that adding about half of the remaining icing in the next layer, followed by the rest in a final layer produced a good end result

Move your cake onto a serving plate and let it stand for 5 minutes. Then use your palette knife to put a neat pattern onto the cake – I gently pulled my knife from the bottom to the top of the cake all around the sides to give a subtle line effect all around. On the top, I pulled the knife from the centre to the edge in a wide arch
Notes
The quantities listed are enough to make 4 layers in 6 inch tins or 3 layers in 8 inch tins.
If, like me, you only have cake tins in pairs, the mixture is fine to sit for the time it takes for the first 2 cakes to cook. Once baked, remove the cakes from the tins as soon as possible. Wash, dry, grease & line the tin/s as before and bake the remaining cake/s.
(Visited 405 times, 1 visits today)