Excessively pretty and perfectly suited to Easter, this Speckle Cake contains layers of white chocolate sponge sandwiched together with delicate pastel coloured peppermint buttercream. It's almost too pretty to eat.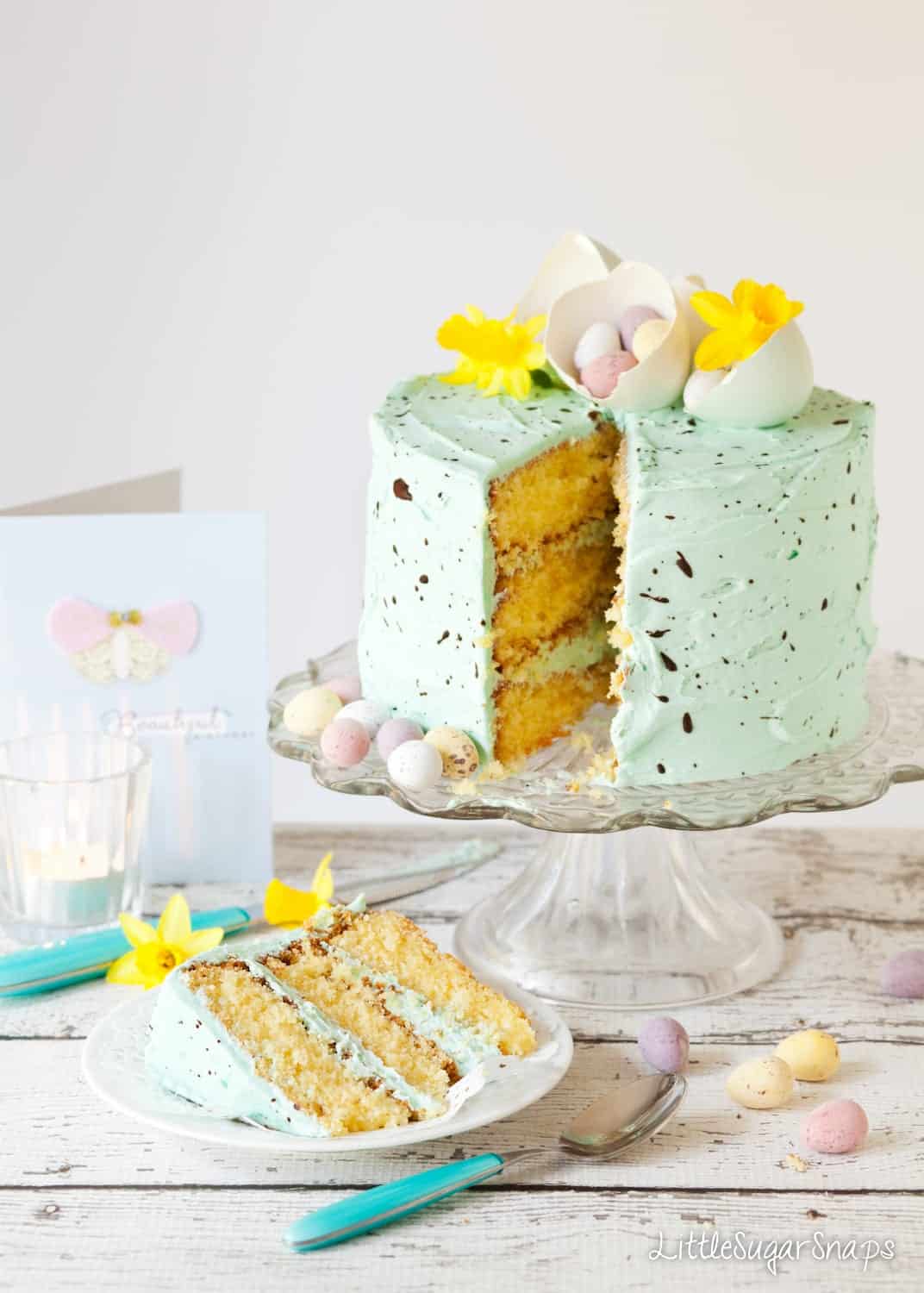 I've nearly made it. Cake-a-thon 2017 is about to end. For those of you not in the know, during the space of 8 days in March both my kids have their birthdays. They also have separate birthday parties, so I end up baking 4 different cakes within about 10 days, That, my friends, is alot of cake. It's a cake-a-thon.
This year my cake-a-thon has been very successful – I've had no kitchen disasters (so far – there's still time) and I've managed to create this White Chocolate Peppermint Speckled Cake for one of my girls.
My mind is such that I generally work by rules – making them and sticking to them. But there are only two rules surrounding this intense period of cake-baking:
When it's party time the kids get to pick what they would like me to produce. This year I lucked out – they both decided on Harry Potter themed cupcakes. Easy, clean, and very popular
But when it comes to the cake I bake for celebrating on their actual birthdays, I get to decide
These are my favourite bakes of the entire year. My girls can hint at what they might like, but I'm under no obligation to listen. I get the final say. What motivates my ultimate choice of cake is usually something personal to each child, matching up favourite flavours or treats, or ingredients with their personalities.
This White Chocolate & Peppermint Speckle Cake came about because my younger daughter loves chocolate, mint and mini eggs. What can I say? Life is simple when you are eight years old. She was born just ahead of Easter and, in those early days eight years ago, as I wheeled her around the village in her pram, the springtime daffodils seemed to be at their peak.
Springtime. Easter. Chocolate. Daffodils. It all just happened on this cake.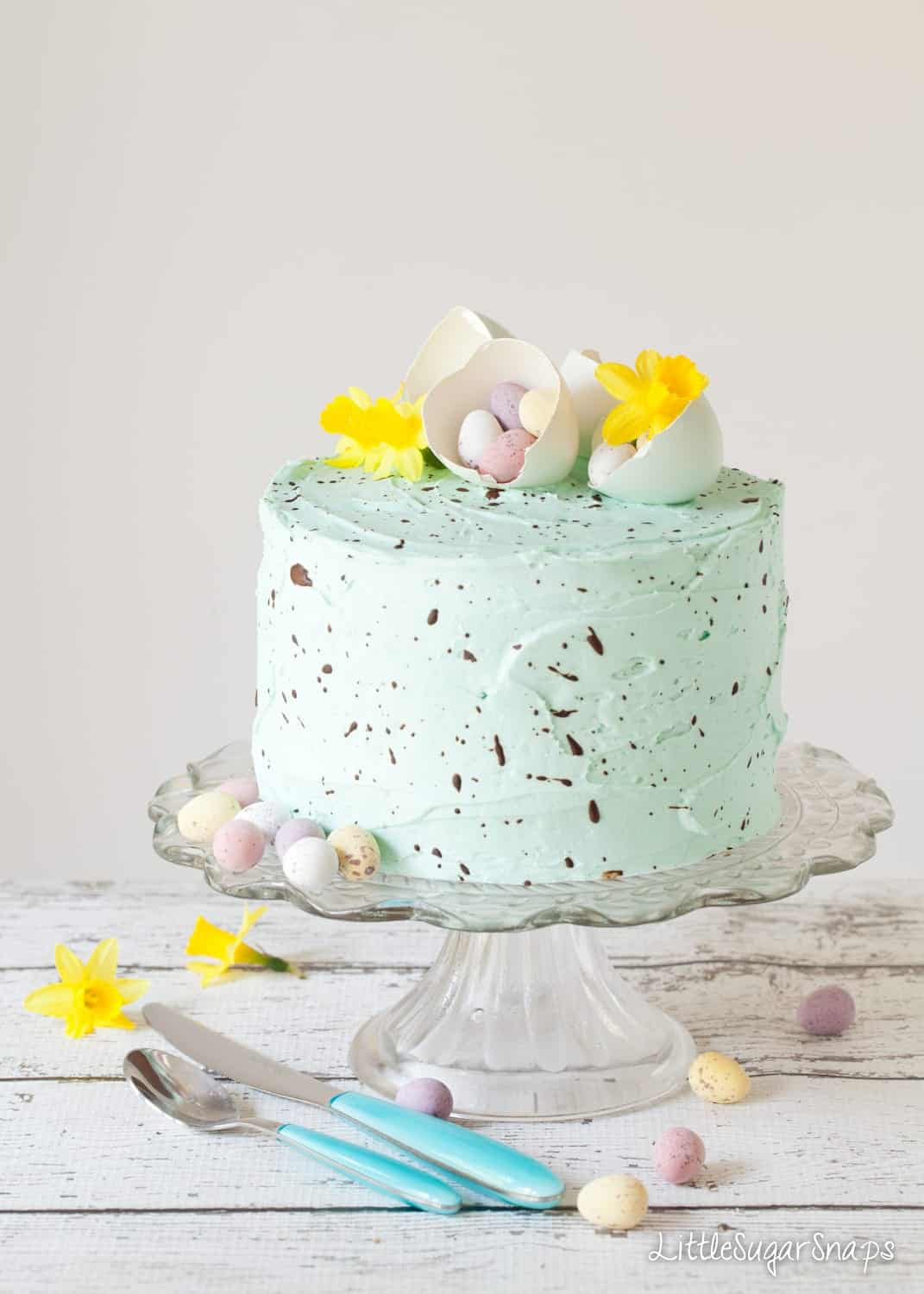 Milly loved it.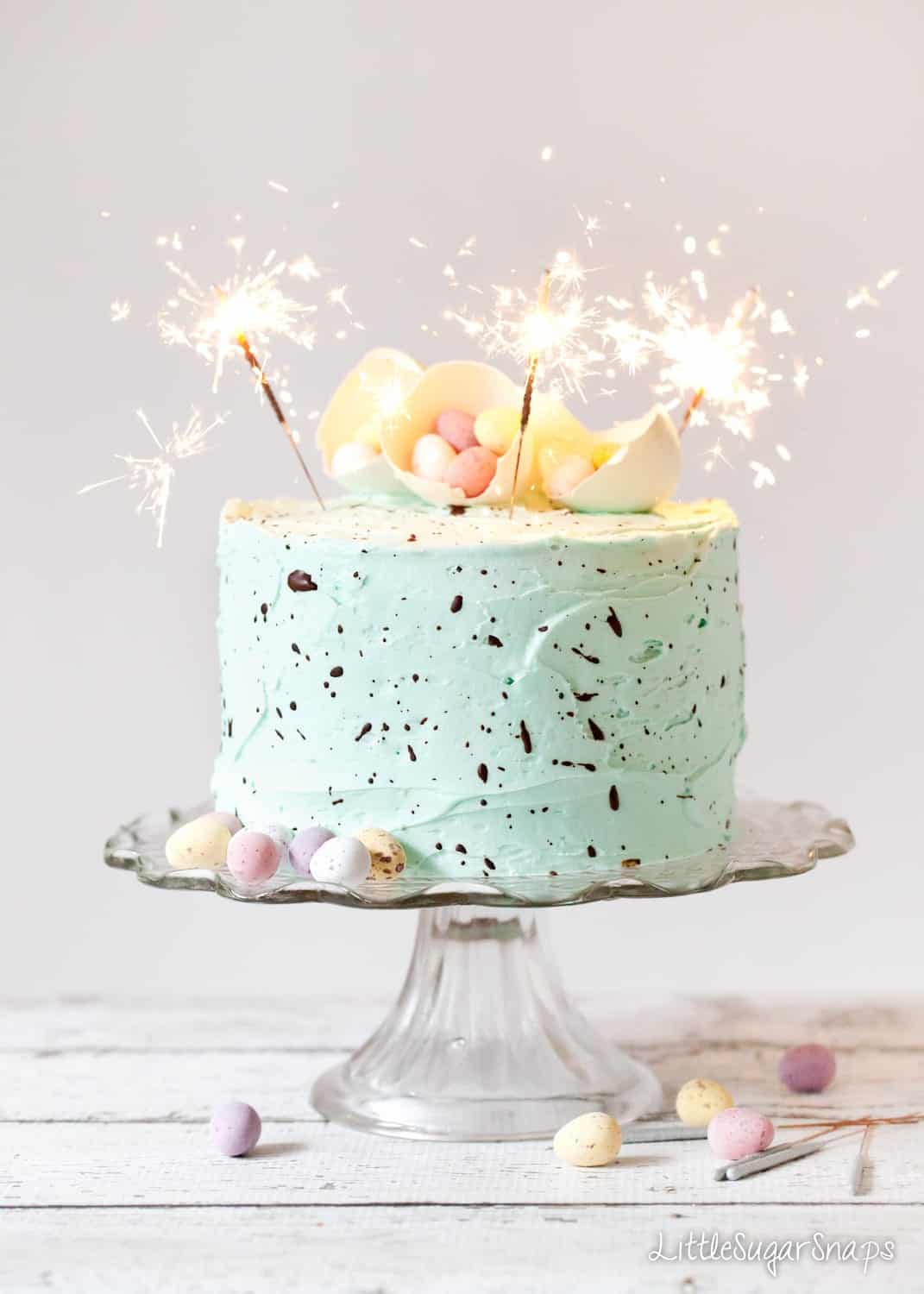 Inside of this Speckle Cake are three layers of white chocolate sponge cake – soft, light and wonderfully flavoured. I've sandwiched each layer together with slim layer of simple buttercream, flavoured with peppermint, which I've also used to cover the outside of the cake. The mint flavour is strong enough to taste but not so strong it overpowers the white chocolate.
I opted for a pastel shade of blue on my cake, but light tones of pink, yellow or purple would also look great.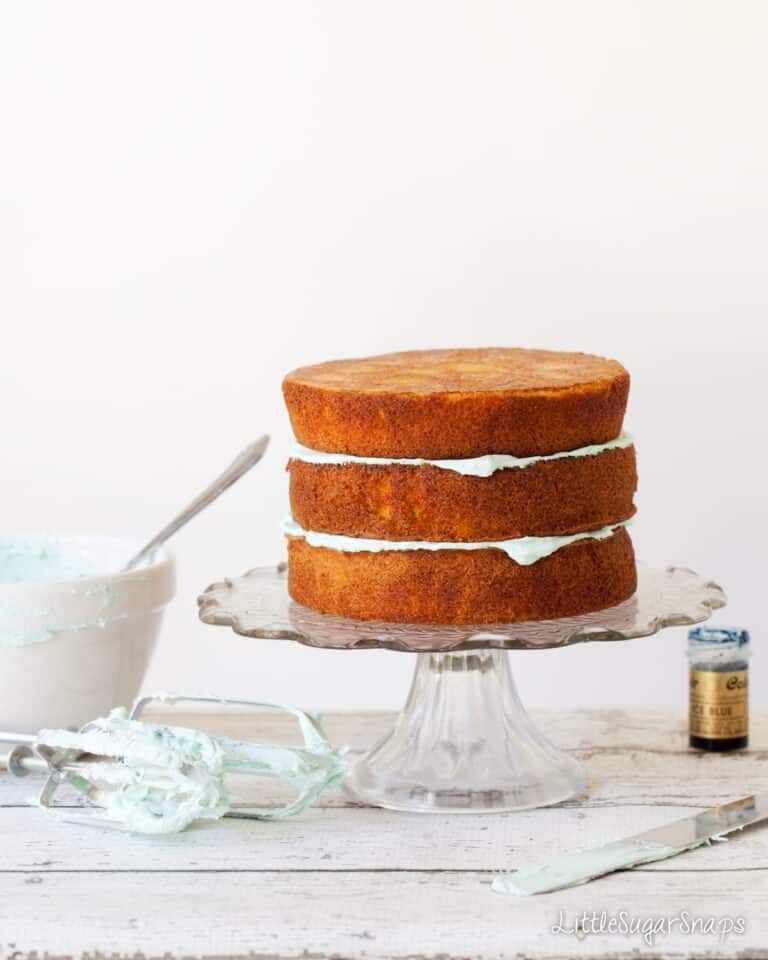 Confession: cake decorating is not one of my strengths. I was hoping to create a perfectly smooth covering of buttercream, but after 15 minutes of trying, it became obvious to me that I wasn't going to achieve that look.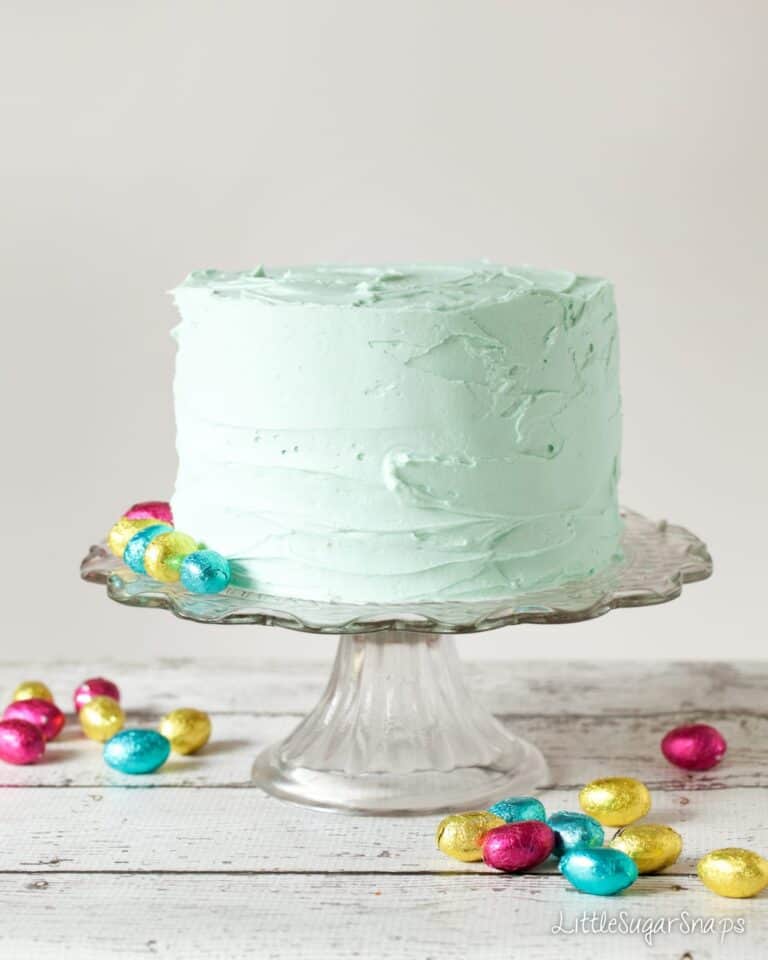 Swerving frustration, I changed tack and opted for a more rustic look, which seems to work just as well with the speckled decor in my opinion.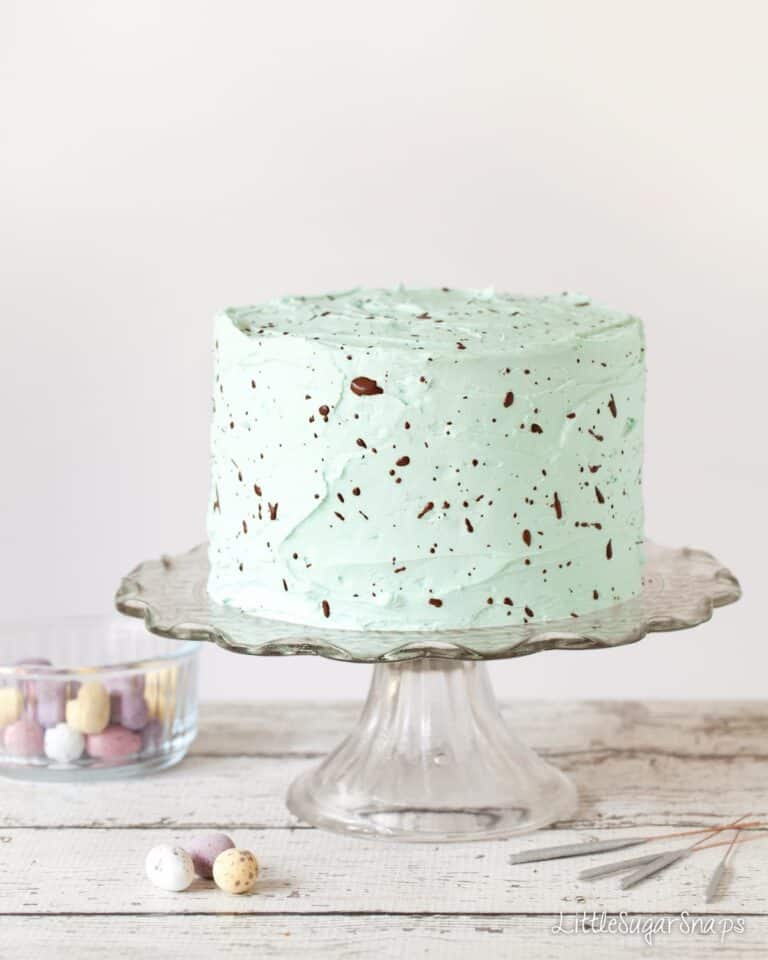 Creating the speckle effect was not as difficult as I thought it would be. It's just a case of mixing a brown "paint" together (cocoa powder, vanilla extract and water) and then flicking this paint at the cake until you're satisfied with the amount of speckling created. Kind of fun… and slightly messy.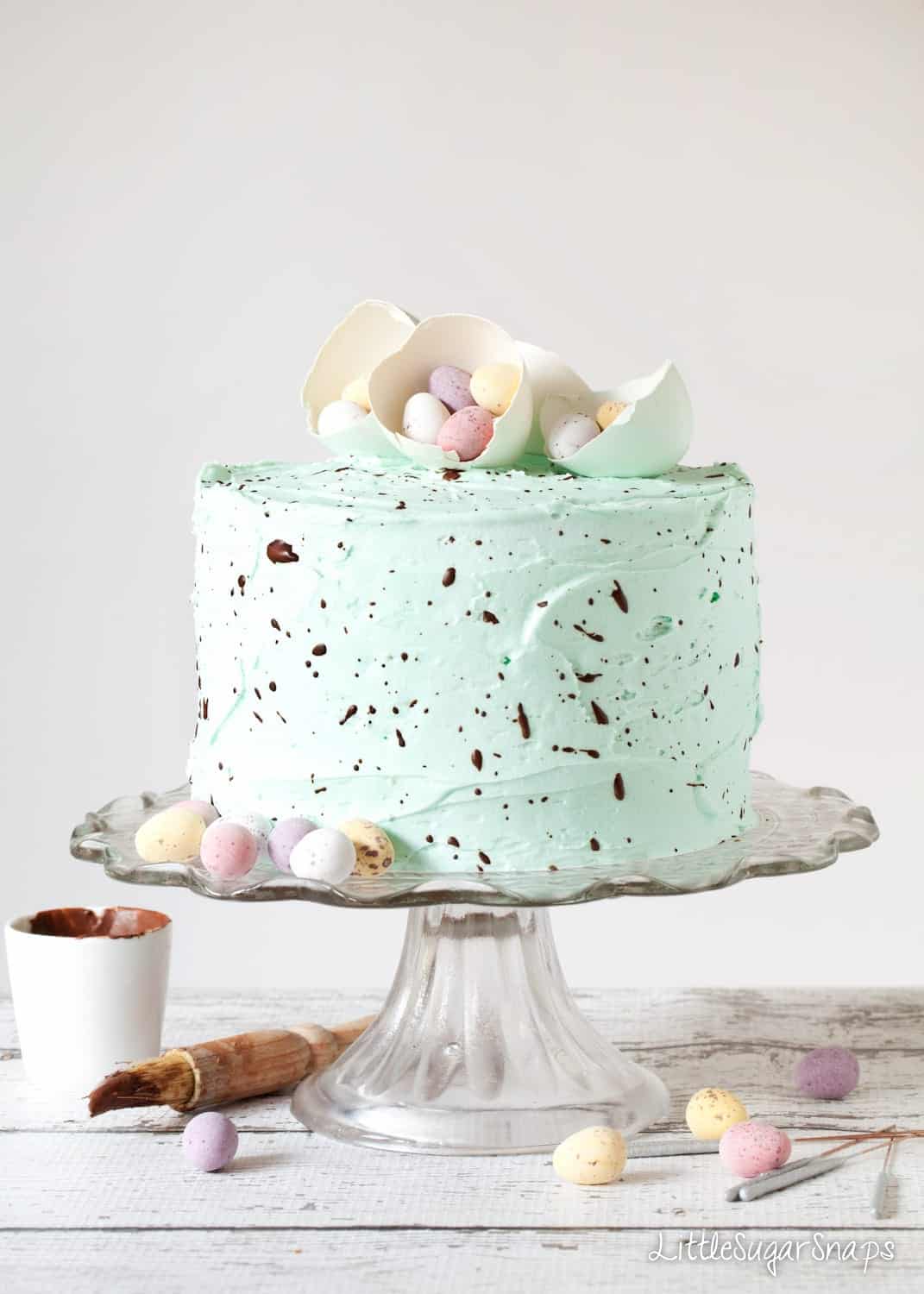 A Speckle Cake does look especially pretty and they are particularly fitting for Easter-time when chocolate eggs are easy to lay your hands on.
If you are decorating with fresh flowers make sure they are edible (check this list). Daffodils are not fit for human consumption, so you'll need to use artificial ones if you want to replicate my decoration.
And now I must fly since I have my final bake of Cake-a-thon 2017 to finish – hopefully without a hitch.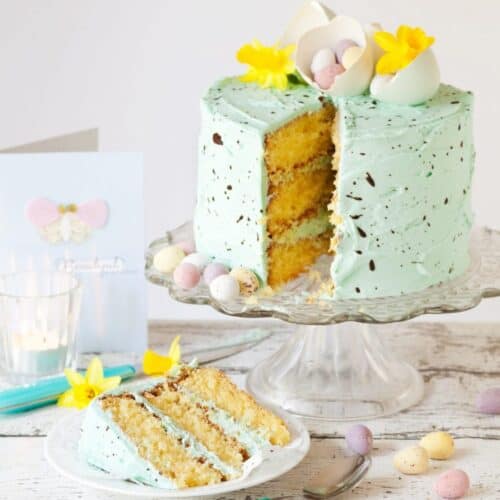 Speckle Cake: White Chocolate Mint Layer Cake – A Great Easter Bake
Perfectly suited to Easter this Speckle Cake contains layers of white chocolate sponge sandwiched together with delicate pastel coloured peppermint buttercream. It's almost too pretty to eat.
The recipes below is sufficient for 3 x 6-inch cake tins - these are smaller than normal. If you would like to use 8-inch tins see measurements in the notes.
Print
Pin
Rate
Total Time:
1
hour
10
minutes
Ingredients
For the Cakes
180

g/ 3/4 cup / 6 1/2oz cups

Softened butter

180

g/ 3/4 cup + 2tbsp /6 1/2oz

Caster sugar

3

Large eggs

3

tbsp

Milk

180

g/ 1 1/2 cups / 6 1/2oz

Plain (all purpose) flour (sifted)

1 1/2

tsp

Baking powder

150

g/ 1 cup / 5 oz

White chocolate - finely chopped
For the buttercream
200

g/ 3/4 cup + 2 tbsp/ 7oz

Softened butter

325/ 3 1/4

cups/ 11 1/2 oz

Icing (confectioner's) sugar

2

tsp

Milk

Peppermint extract - I used 2 tsp but this may vary depending on brand so start with 1 tsp and taste before adding more

Gel food colouring of your choice - I used ice blue
For the Speckle
1

tsp

Cocoa powder

1/2

tsp

Vanilla extract

1/2

tsp

Cold water
Decoration - choose from:
mini chocolate eggs

foil wrapped eggs

edible flowers

artificial flowers

empty egg shells (washed in soapy water and dried thoroughly
Instructions
Bake the Cake
Preheat the oven 170°/ 325°F/ GM3

Grease and line 3 x 6 inch circular baking tins (note these are smaller than average tins - if you are using 8 inch tins see my notes on how to scale up the recipe)

Gently melt the chocolate in a heatproof bowl. Set aside

In a large mixing bowl beat the butter and sugar until light and fluffy, using electric beaters. Add the eggs, one at a time, beating well between each addition

Add 3 tbsp of milk and beat again. Sift the flour and baking powder into the bowl and mix well

Take a tablespoon of the cake batter and stir it quickly into the melted white chocolate. Then gently fold this white chocolate mixture back into the bowl containing the rest of the cake batter. This double-action will stop the chocolate from seizing when it is mixed into the cake batter

Gently spoon the batter into the baking tins and spread out with a blunt knife - it should reach no more than 2/3 of the way up the pan

Bake the cakes for around 25 minutes until the cake springs back when lightly pressed or a skewer comes out clean

Let cool in the tins for 2 minutes, then remove from the tins - this cake is quite fragile when still warm so handle gently. Peal off the baking parchment from the bottom of each sponge cake and let cool completely on a wire rack
Make the buttercream
Put the butter into a large bowl and beat until smooth

Sieve in the icing sugar 1 tbsp at a time and beat well between each addition

Once all of the icing sugar has been mixed in, add the peppermint extract a little at a time - start with 1tsp, beat in and taste. Keep on adding more extract in 1/2 tsp increments until you are happy with the peppermint taste

Add a tiny amount of gel food colouring and beat until the icing is uniform in colour throughout. Keep on adding tiny amounts of colouring until you reach a shade you are happy with
Assemble the cake
Lay one of the sponge cakes onto a board and spread a heaped tablespoon of the icing on top, then place another layer of cake carefully on top of the layer of icing. Top with another spoonful of icing, spread it out and add the final layer of cake

Once the final layer of cake has been added, carefully spread a thin layer of icing all over the top and sides of the cake - a palette knife is good for this. I find that coating the cake in a thin layer all over helps to seal in the crumbs. Once you have done this, use the remaining icing to create a thicker layer that covers the cake entirely. If you have the skill to make a smooth layer of icing then do so, but this is not essential

Mix the cocoa powder, vanilla extract and the water together in a small bowl until smooth. it should be the consistency of single cream (add a tiny splash more water if it's too thick or a little more cocoa powder if it's too loose). Dip the end of a stiff pastry brush or paint brush into the liquid and hold it upright, about 6 inches from the cake. Gently tap the pastry brush with your free hand so that the liquid splatters across the cake. Keep on doing this around the entire cake and across the top until you are happy with the speckle effect achieved

Carefully move your cake onto a serving plate and decorate with the chocolate eggs, egg shells and flowers if using
Notes
To make a 3 layer cake in 8 inch tins use the following measurements - fill your tins 2/3 full. Do not overfill but if there is spare batter make a few cupcakes. You may need to bake these larger sponges for a few more minutes. For the Cake: 300g/ 1 1/3 cups / 10 1/2oz softened butter; 300g/ 1 1/2 cups / 10 1/2oz caster sugar; 5 eggs; 5 tbsp milk; 300g/ 2 1/2 cups / 10 1/2oz plain (all purpose) flour (sifted); 2 1/2 tsp baking powder; 250g/ 1 2/3 cups / 9oz white chocolate - finely chopped. For the buttercream: 300g/ 1 1/3 cups / 10 1/2oz softened butter; 450/ 4 1/2 cups/ 16oz icing (confectioner's) sugar; 1 tbsp milk; Peppermint extract - around 2 1/2tsp but this may vary depending on brand so start with 1 tsp and taste before adding more; Gel food colouring.
Previous Cake-a-thon- gems:
Pin this Speckle Cake for later: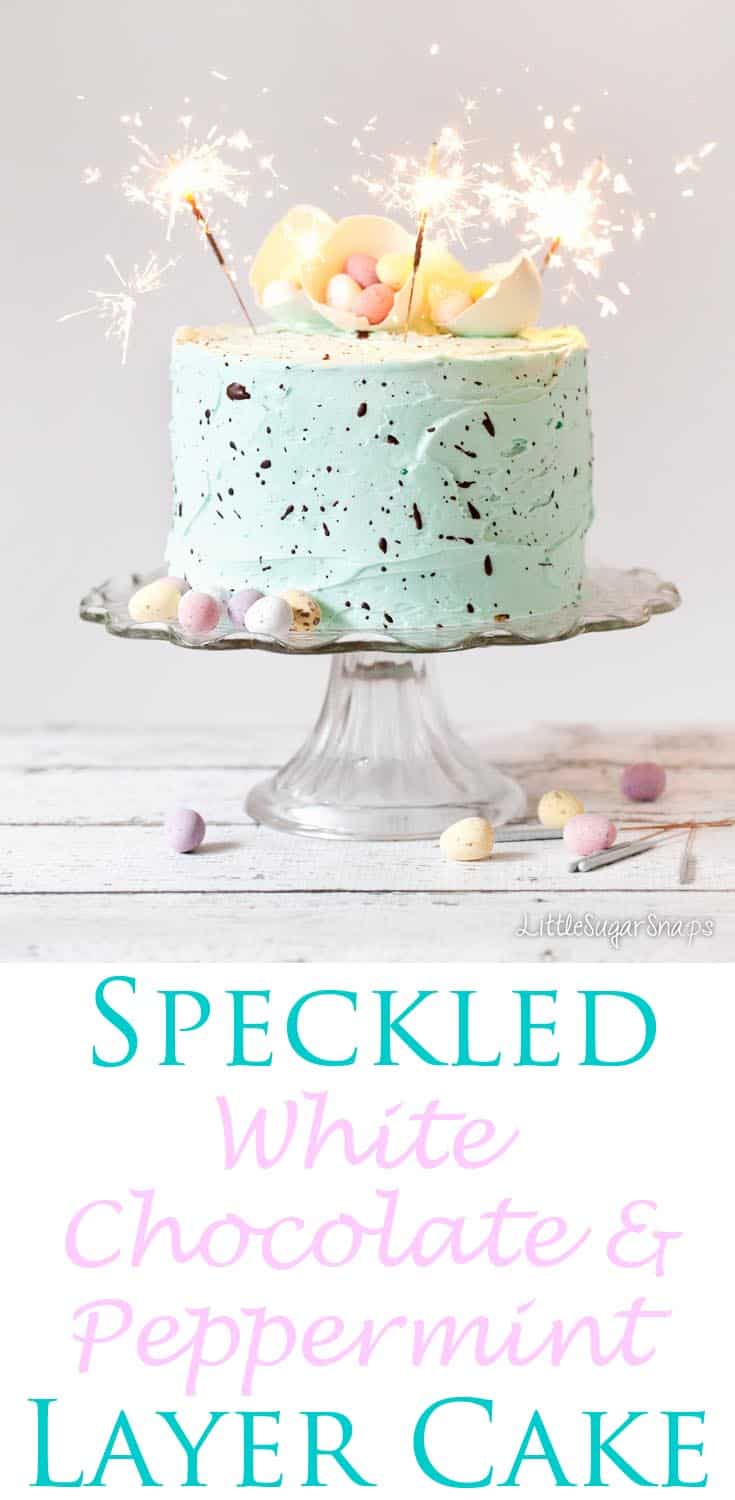 (Visited 91 times, 1 visits today)