Decadently rich, dense and fudgy, these festive Peppermint Candy Cane Brownies embrace the season with easy & fun style. They are sure to please chocolate lovers of all ages.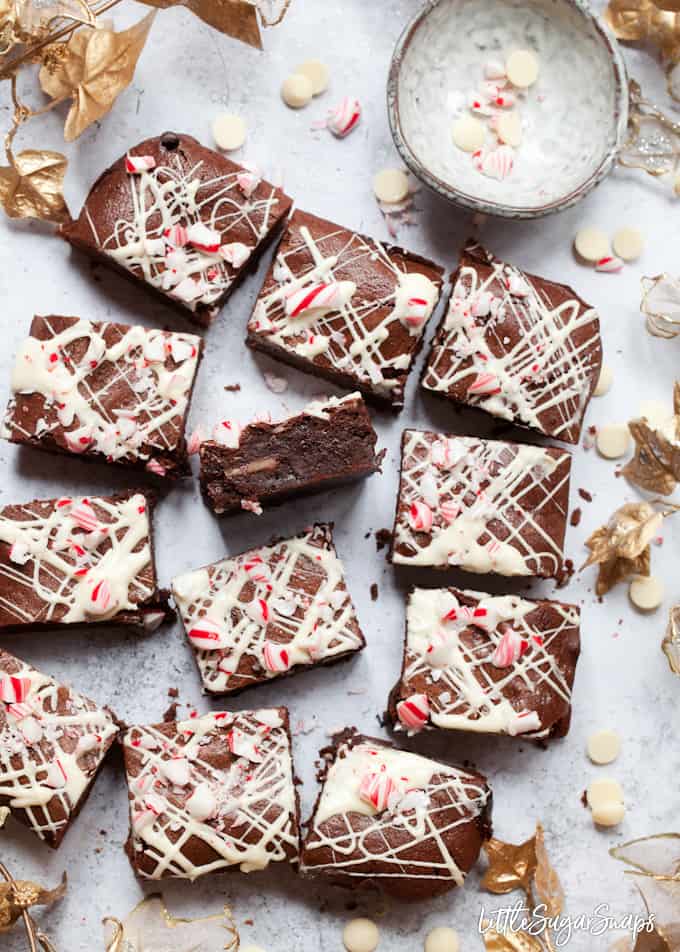 THIS POST CONTAINS AFFILIATE LINKS. AS AN AMAZON ASSOCIATE I EARN FROM QUALIFYING PURCHASES.
It's fair to say that although I was late to the brownie loving game, I'm now 100% onboard. Today I'm delighted to be sharing these peppermint candy cane brownies. They are deliciously fudgy and loaded up with festive flavour, thanks to a triple whammy of minty ingredients:
Peppermint extract in the batter
Creamy after dinner mints baked into the centre
Peppermint candy cane crushed on top
With an undeniable sense of fun, these peppermint brownies will be snatched up in a flash by hungry chocolate lovers.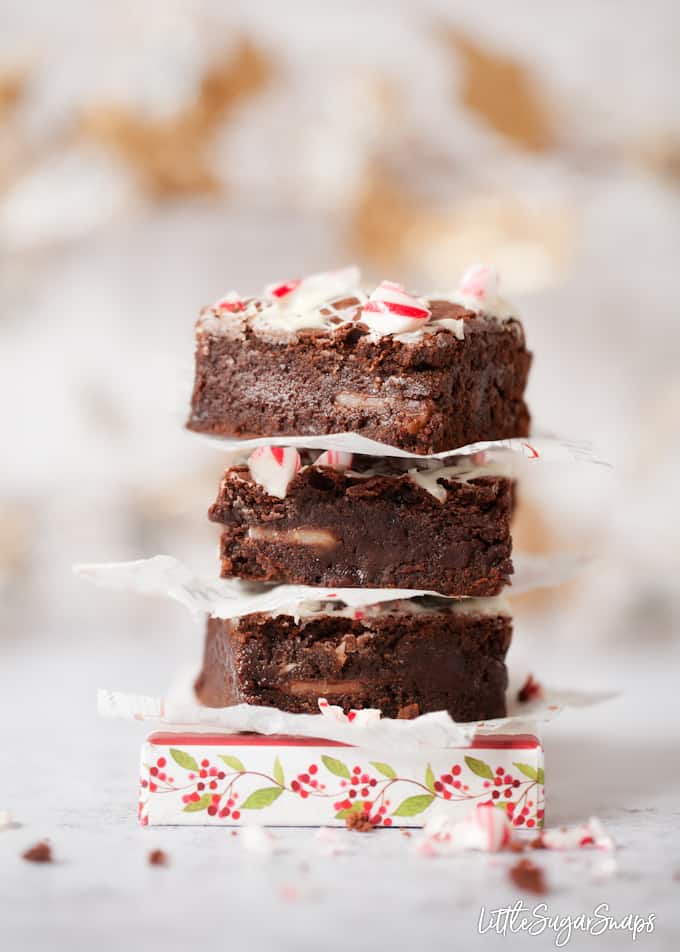 I've always had a soft spot for mint chocolate, so these Candy Cane Brownies are my idea of festive chocolate heaven. I hope you get seduced by them too.
Incidentally, these peppermint brownies partner well with my candy cane hot chocolate. This drink comes topped with popping candy, just to add to the sense of occasion and fun.
Why are Candy Canes A Symbol of Christmas?
Rumour has it that c1670 a German choirmaster, eager to keep the children quiet through a long Christmas nativity service, gave them some candy sticks to occupy their mouths. To be in keeping with the Christmas theme, he bent the sticks into a 'J' shape, to look like a shepherds crook, to remind them of the shepherds that visited baby Jesus at the first Christmas.
Whilst this is a charming tale, there is no conclusive supporting evidence of its validity.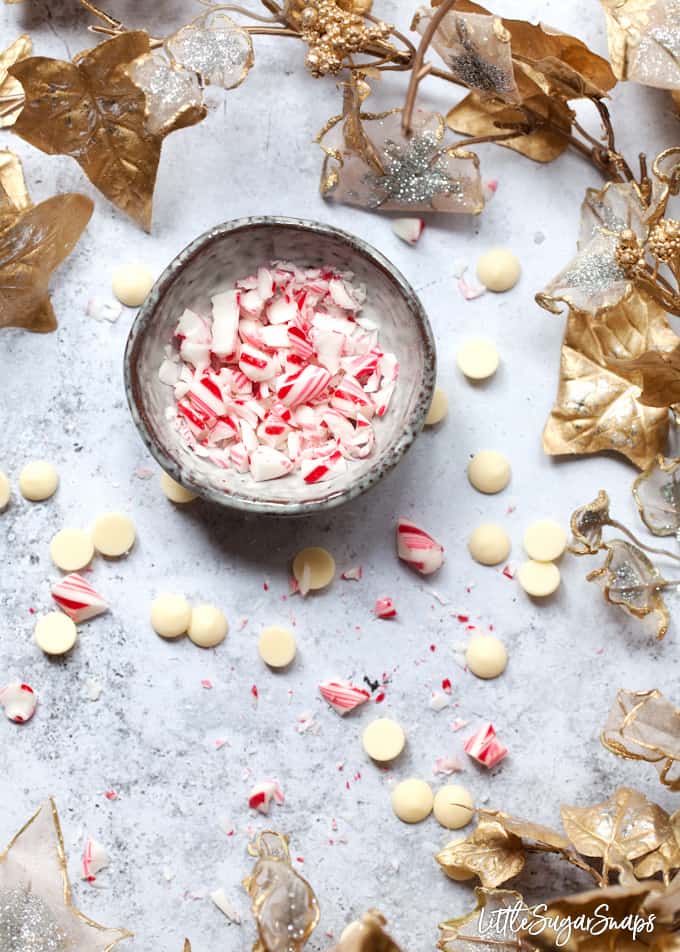 The alternative theory is that our much-loved candy canes emanate from 1837 Massachusettes and they started life as straight, white sugar sticks. Over the years, peppermint flavour, colour and a crook shape were added. It was only in 1874 that they began to be truly recognised as a symbol of Christmas.
And by symbol of Christmas I mean the same way that a gingerbread houses or fairy lights might be. Traditional. Fun. Merry.
Which story do you believe? The romantic in me is all for the tale of the choirmaster.
How to Make Peppermint Candy Cane Brownies
Putting aside the history of candy canes, you'll be pleased to hear that these peppermint brownies are very easy to make. They can be in the oven in around 10 minutes and create minimal washing up:
Melt the butter and chocolate
Stir in the sugars
Add the eggs & yolks and beat to just combine using a handheld balloon whisk
Stir in the peppermint extract, followed by the flour and salt
Pour half of the batter into the tin then lay pieces of After Eight mints across the top. Top with the remaining batter and bake for around 22 minutes
Once cool, drizzle with the white chocolate, scatter the crushed candy cane over the top and cut into 12 squares
So easy. Full recipe details are available in my recipe card further down.
My cooking time creates a soft, squidgy and fudgy brownie. Extending the cooking time for a few more minutes will result in a slightly firmer bake.
For more details on types of brownie (fudgy, cakey or chewy) head over to my post for Mini Egg brownies.
What Can I Use Instead of After Eight Mints?
After Eight mints have been a favourite of mine since before time began. Well, at least 1980 anyway. They are cheap, yet taste fantastic. So it's really little wonder that this deep-rooted love of mine sometimes winds up in my baking.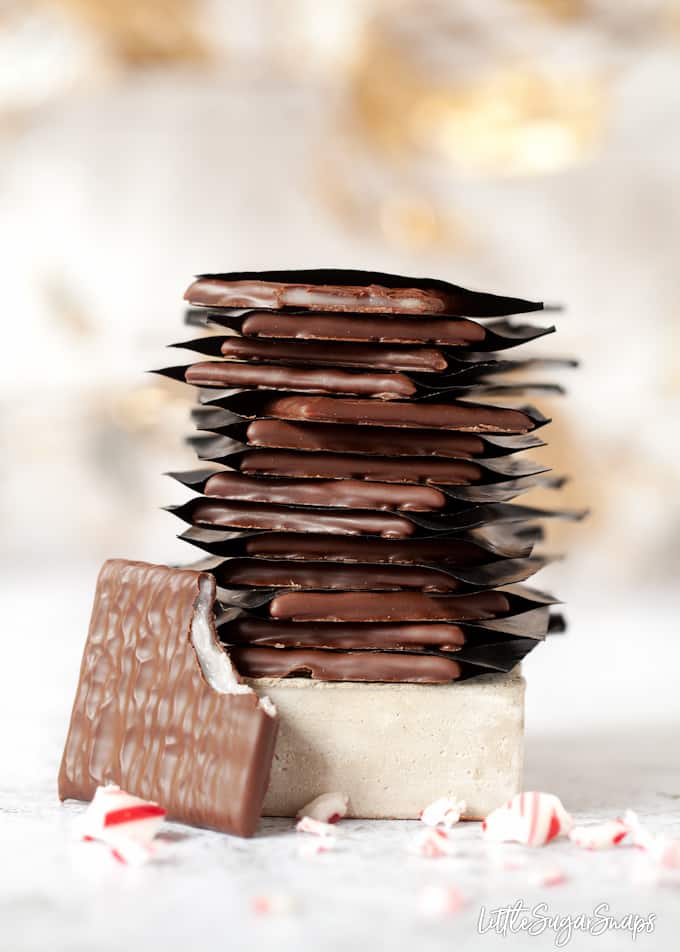 After Eight mints are though, very British, so feel free to substitute an alternative in these peppermint candy cane brownies if necessary. Really, any peppermint cream chocolate – often labelled after-dinner mints – would work.
If in the US good alternatives include Ghiradelli Dark Chocolate Mint Squares or Juniors. Over in Australia, York Peppermint Patties would be fine.
If you struggle to find any suitable alternative to the After Eights, just double the amount of peppermint extract used within the brownie batter. Okay, the dreamy, creamy chunk of peppermint cream won't be there, but an unmistakable buzz of festive mint flavour will ring out loud and clear.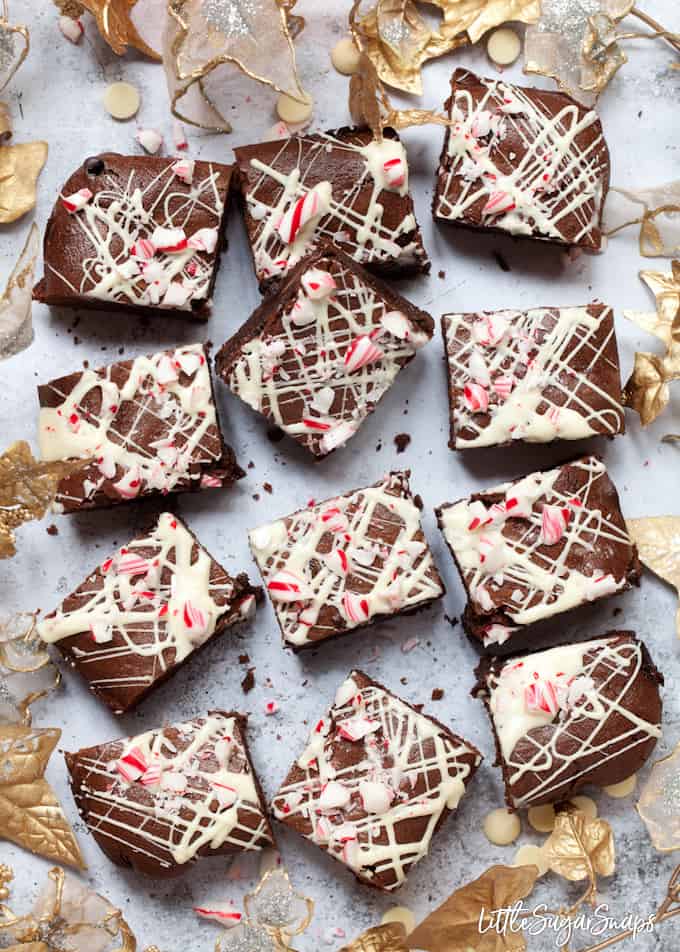 Find More Christmas Baking Recipes: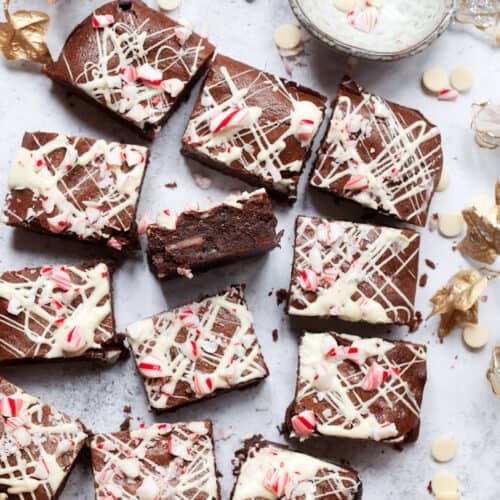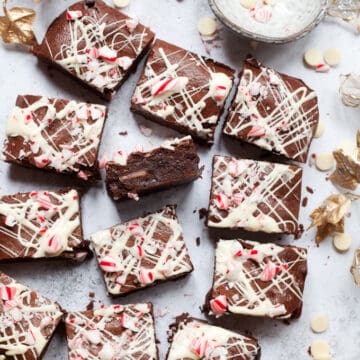 Peppermint Candy Cane Brownies
Decadently rich, dense and fudgy, these festive Peppermint Candy Cane Brownies embrace the season with easy & fun style. They are sure to please chocolate lovers of all ages.
Print
Pin
Rate
Ingredients
120

g

Butter (unsalted)

(½ cup/ 4 ¼ oz)

170

g

Dark chocolate

(1 cup/ 6 oz)

100

g

White sugar

(½ cup / 3 ½ oz)

110 g

g

Dark Muscovado sugar

(½ cup/ 4oz)

2 Eggs (large, free-range)

2 Egg yolks (large, free-range)

½

tsp

Peppermint extract

¼

tsp

Salt

120

g

Plain (all-purpose) flour

(1 cup/ 4 ¼ oz)

6

After Eight mints

or other peppermint fondant chocolates
Decoration
30

g

White chocolate

(1 oz)

30

g

1 peppermint candy cane

(approx 30g/ 1 oz)
Instructions
Make the Brownies
Preheat (fan) oven to 180C/ 350F/ GM4 and line a 7x 7-inch baking tin with butter and parchment

Weigh out the sugar and break down any lumps in the muscovado sugar using your fingers

Melt the butter and chocolate together in a bain marie

Stir in the sugars then add the eggs & yolks and beat to just combine using a handheld balloon whisk

Stir in the peppermint extract

Sieve the flour and salt into the batter and mix until just combined and no streaks of dry ingredients remain

Pour half of the batter into the tin. Cut each After Eight mint in half and lay over the batter (try to visualise how the squares will be cut and aim for a piece in the centre of each cut square)

Cover with the remaining batter and bake for 22 minutes

Test with a toothpick – insert it into the centre of the brownie – if raw batter is evident on the stick continue to back for another 2-3 minutes and test again. Continue until the toothpick comes out with no raw batter clinging to it

Take the tin out of the oven and let the brownie cool completely in the tin
Decorate the Brownies
unwrap the candy cane, snap into pieces and then use either a pestle and mortar or the end of a rolling pin to crush it into small chunks

Melt the white chocolate and drizzle over the brownie – use a small knife to do this (or pipe for a neater finish)

Quicky top with the candy cane chunks – take time to put the colourful side of larger pieces facing upwards and then scatter any smaller chunks over more randomly at the end

Before the chocolate sets, cut into 12 pieces and leave to set

Stores for 2-3 days in an airtight container
Nutrition Per Serving (Approximate)
Calories:
280
kcal
|
Carbohydrates:
28
g
|
Protein:
4
g
|
Fat:
17
g
|
Saturated Fat:
10
g
|
Cholesterol:
83
mg
|
Sodium:
139
mg
|
Potassium:
133
mg
|
Fiber:
2
g
|
Sugar:
16
g
|
Vitamin A:
338
IU
|
Calcium:
32
mg
|
Iron:
2
mg
(Visited 191 times, 1 visits today)