Rich, dense and fudgy, these Chocolate Mini Egg Brownies are a simple and effective way of turning the humble brownie into a pretty Easter treat.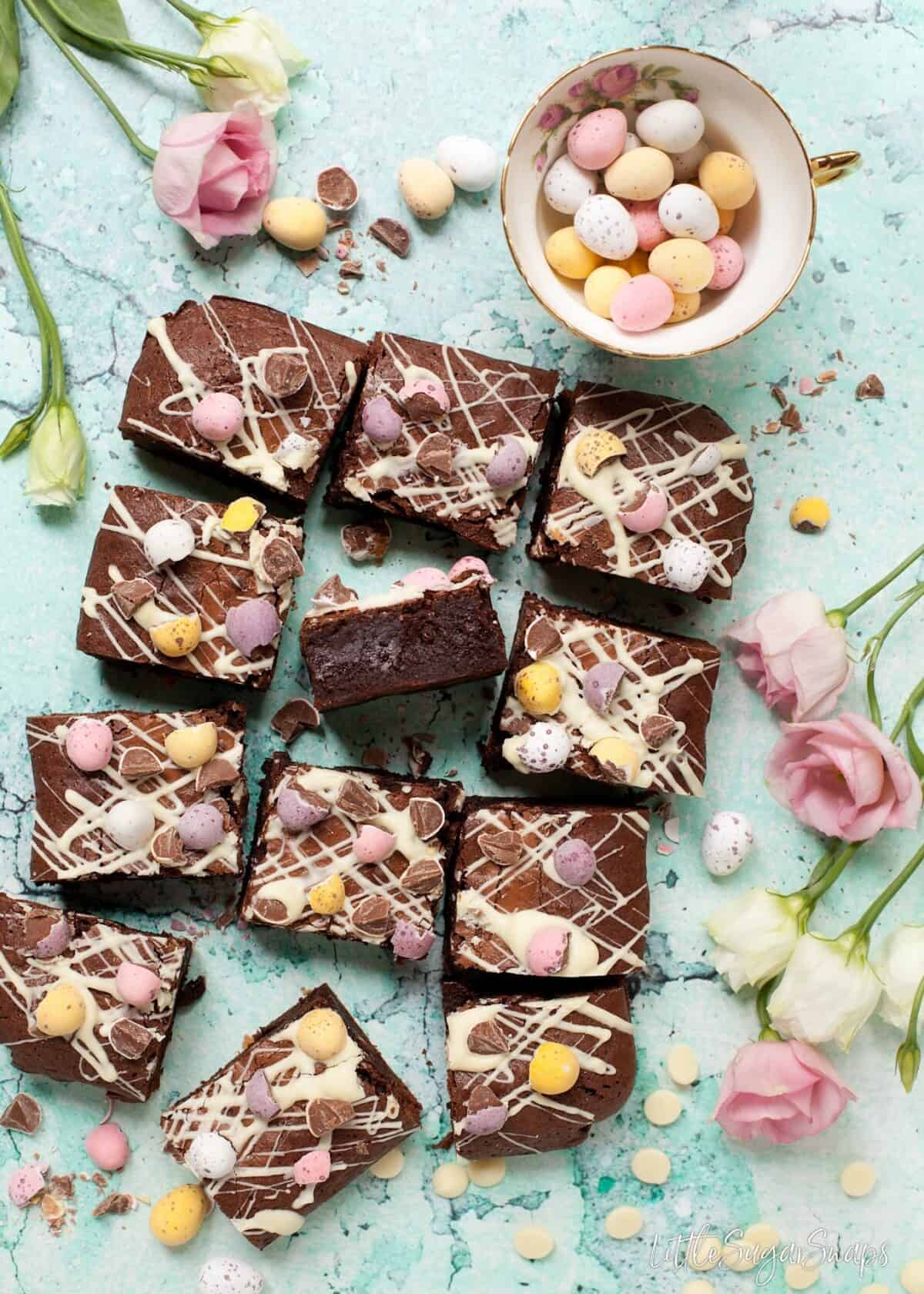 Easter may still be numerous weeks away, but Mini Eggs don't hang around in the shops for long afterwards, so my policy is always to start snapping up bags as soon as they hit the supermarket shelves.
I've heard it said many times that memories are often associated with food. And I have to agree. Mini Eggs remind me of my wonderful Gran. She had a soft spot for them and I seem to have inherited that fondness for these chocolates from her. I cannot seem to eat a single Mini Egg without thinking about her and for that food association, I am so very grateful.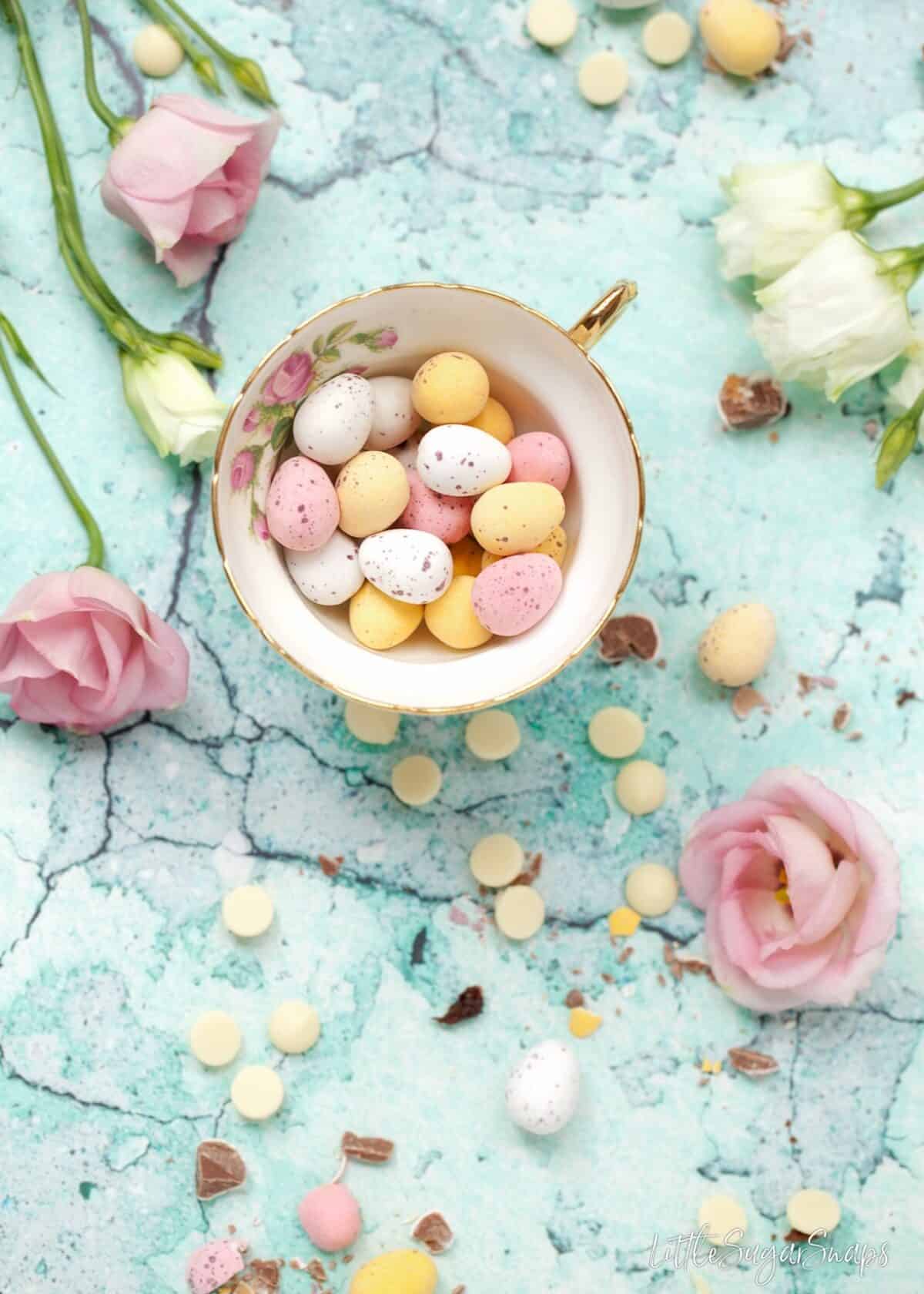 Normally, I'm quite happy to consume my mini eggs straight from the bag, thinking happy thoughts. But for once, I decided to reign in my eagerness to eat them straight away and put them to use in a bake instead.
What I've come up with is a classic recipe, but one that is delightfully colourful. These Mini Egg Brownies manage to deliver a whopping hit of soft, fudgy and irresistible dark chocolate flavour, along with a gentle shimmer of white chocolate drizzle across the top. That drizzle is essential to secure those all-important crisp mini egg chunks. The result is a blend of gooey brownies with bright, colourful & crunchy Mini Egg pieces. These Mini Egg Brownies are a very pretty rendition of the classic. It goes without saying really, but they are ideal for Easter.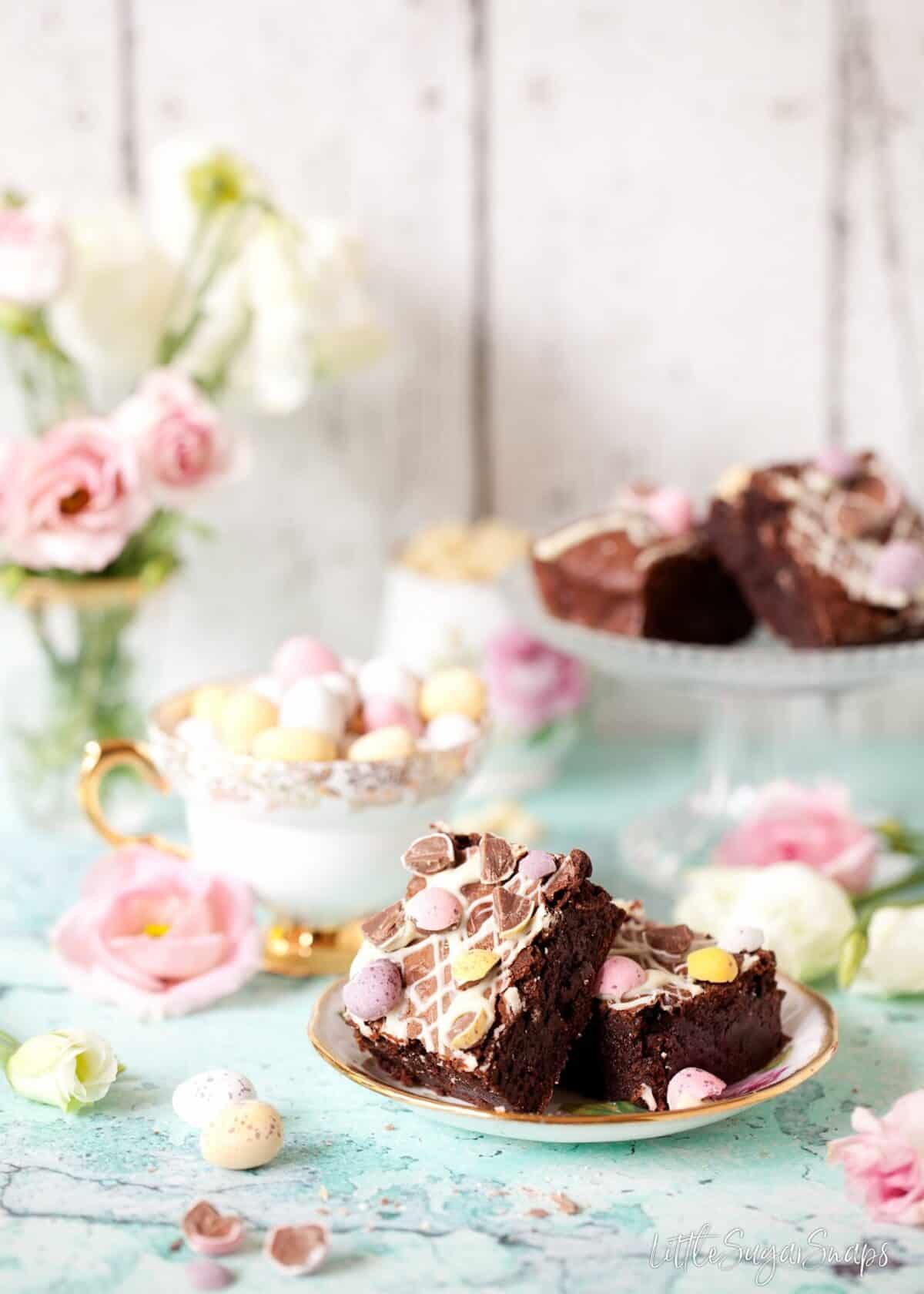 You might be surprised the hear that baking brownies is relatively new to me. I baked some when I was about 20, they came out terribly and I didn't return to baking them until very recently. Obviously, in the interim period, I have savoured all manner of brownie delights in cafes and restaurants. Now older and considerably wiser, I know what I'm looking for in my ideal brownie. Let me explain.
Types of Brownie
At their heart, brownies consist of just a few simple ingredients: butter, sugar, chocolate, eggs, and flour. But depending on the ratios of these ingredients, and how they are combined & baked, very different results can be achieved. In fact, brownies can roughly be divided into 3 main camps:
Do you know which brownie type you are? I am 100% in the fudgy category. And guess what, these Mini Egg Brownies are just that – fudgy and utterly delicious.
The rules of brownie making are not clear cut though. Take a look in cookbooks and online recipes and very few recipes will be the same. Here's a (very) rough guide to help you find your ideal brownie recipes.
Fudgy
These beauties typically use a relatively small amount of flour
To achieve a great fudgy texture, the butter is melted with the chocolate (like in this recipe) rather than creaming the butter and sugar together
Brown sugar is included to improve fudginess
Oh and a little extra egg yolk can make all the difference – egg yolks add richness
Chewy
An additional whole egg really helps here
And combining different types of chocolate – dark chocolate has a high proportion of starches, helping to stiffen the brownie texture. Milk chocolate produces a creamier texture, so when the two combine in a brownie, a satisfyingly chewy result can be expected
Cakey
These contain less butter and more flour than fudgy brownies
The butter is creamed with the sugar rather than melted with the chocolate. (Creaming incorporates air into the mixture, which causes the brownies to rise)
Baking powder is added to make them softer and lighter
Milk is often added to soften the resulting brownie
How to Cook Brownies
Usually the blurb ahead of a recipe will identify the type of brownie you can expect. Of course, it's also important not to over or under bake your brownie. Undercooking fudgy brownies can lead to a gooey (but tasty) mess, whilst overbaking chewy brownies can make them too tough to swallow.
As a general rule, begin testing your brownie with a toothpick at the minimum suggested cooking time the recipe stipulates, if not before – all over temperatures do vary slightly. Insert the toothpick and if any raw batter comes up with the stick, continue to bake for another 2-3 minutes, then retest. The brownie is done when no raw batter is evident on the stick – crumbs are fine though.
Once cooked, always let brownies cool in the pan and never cut them until they are completely cooled. They have a tendancy to split & crumble if cut when still warm.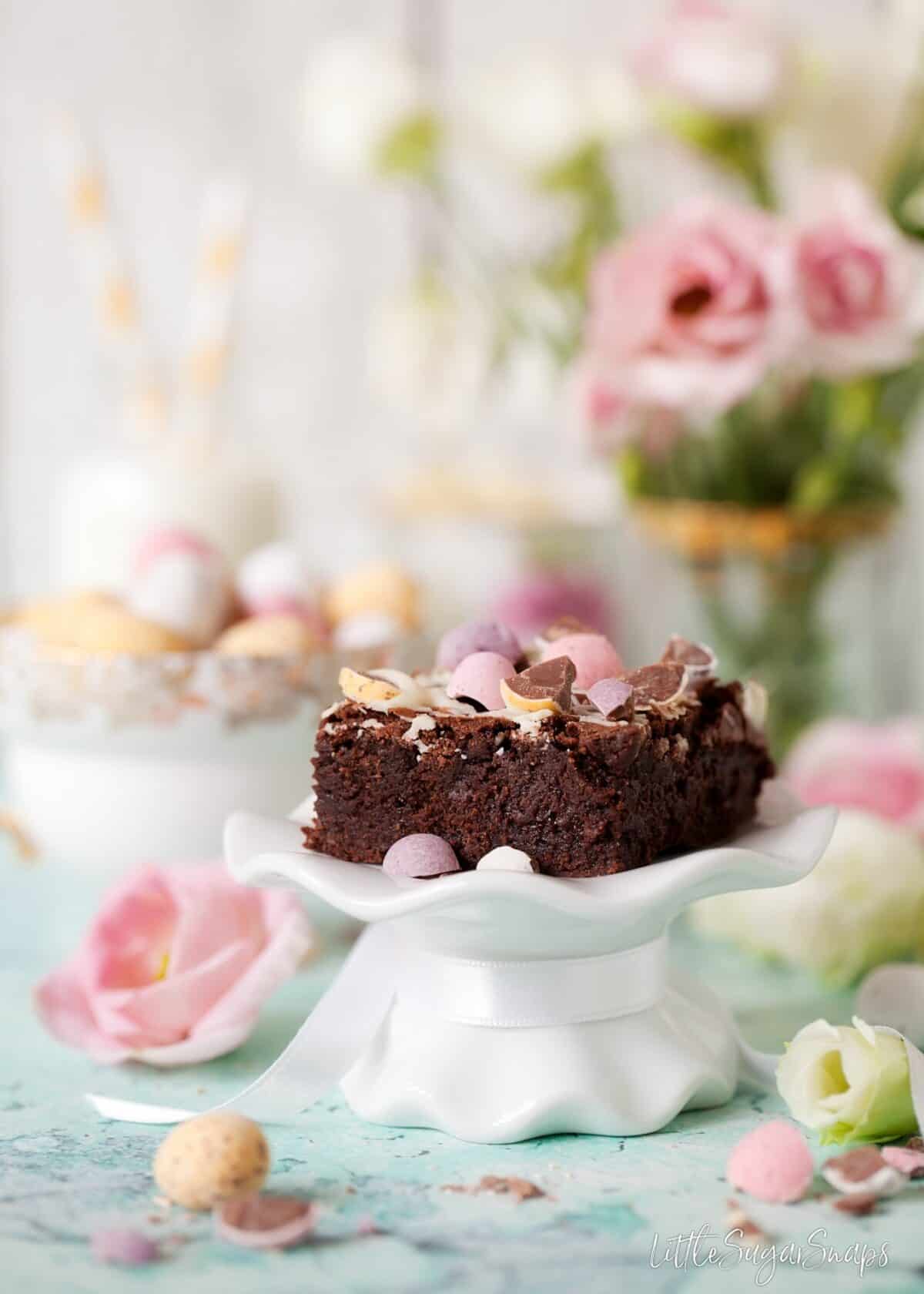 Having made several rounds of brownies in the last few months, I'm clearly over whatever the hold up was for me many moons ago. And you'll be pleased to know that my mind has been busy dreaming up other flavour combinations that simply need to appear on LittleSugarSnaps. For now though, let's enjoy these Mini Egg Brownies whilst stocks of those luscious eggs last.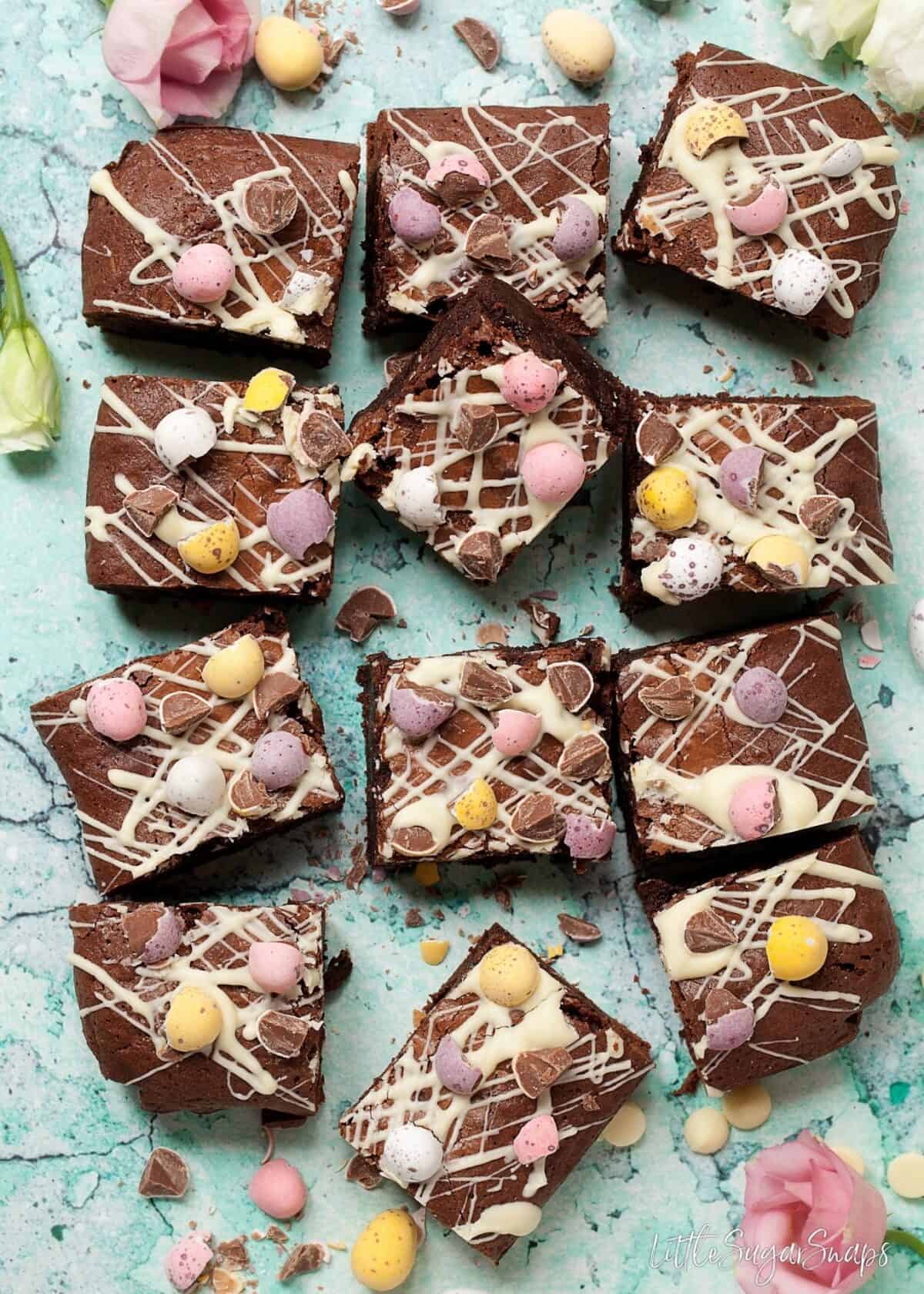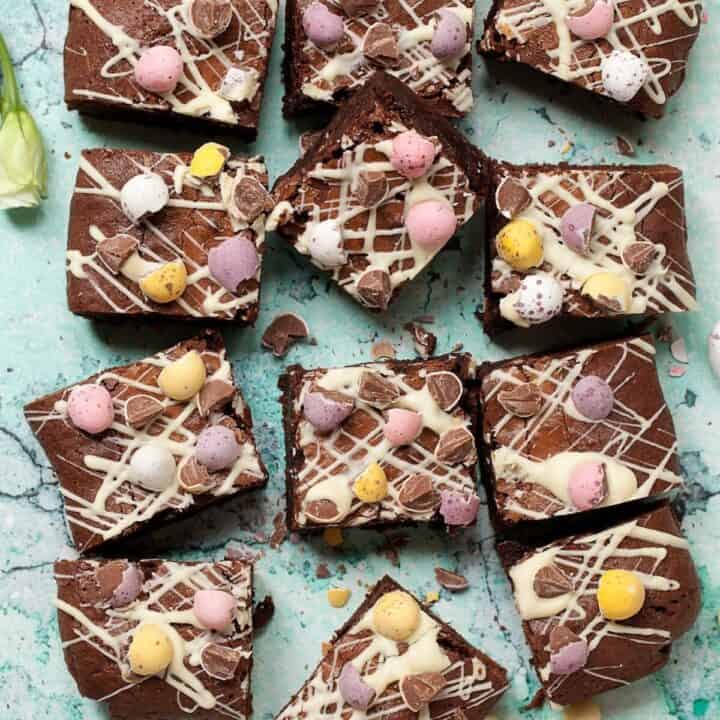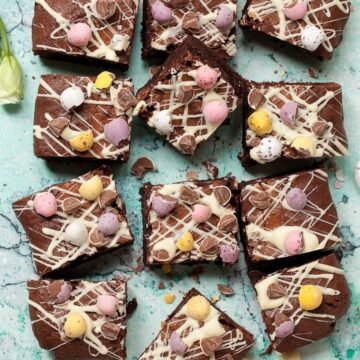 Mini Egg Brownies
Rich, dense and fudgy, these Chocolate Mini Egg Brownies are a simple and effective way of turning the humble brownie into a pretty Easter treat.
Print
Pin
Rate
Ingredients
For the Brownies
120

g/ 1/2 cup/ 4 1/4 oz

Butter (unsalted)

170

g/ 1 cup/ 6 oz

Dark chocolate

100

g/ 1/2 cup / 3 1/2 oz

White sugar

110

g/ 1/2 cup/ 4oz

Dark Muscovado sugar

2

Eggs (large, free range)

2

Egg yolks (large, free range)

2

tsp

Vanilla extract

1/4

tsp

Salt

30

g/ 1 oz

Cocoa powder

85

g/ 2/3 cup/ 3 oz

Plain (all purpose) flour
Decoration
30

g/ 1 oz

White chocolate

60

g/ 2 oz

Mini Eggs
Instructions
Make the Brownies
Preheat (fan) oven to 180C/ 350F/ GM4 and line a 7x 7 inch baking tin with butter and parchment

Weigh out the sugar and break down any lumps in the muscovado sugar using your fingers

Melt the butter and chocolate together in a bain marie

Add the eggs & yolks and beat to just combine using a handheld balloon whisk

Stir in the vanilla extract

Sieve the flour, cocoa and salt into the batter and mix until just combined and no streaks of dry ingredients remain

Pour into the tin and bake for 20 minutes. At this point test with a toothpick – insert it into the centre of the brownie – if raw batter is evident on the stick continue to back for another 2-3 minutes and test again. Continue until the toothpick comes out with no raw batter clinging to it

Take the tin out of the oven and let the brownie cool completely in the tin
Decoration
Carefully chop each mini egg into 3-4 pieces

Melt the white chocolate and drizzle over the brownie – use a small knife to do this (or pipe if you feel like being fancy)

Quicky top with the mini egg chunks – take time to put the larger colourful shells facing upwards and then scatter any smaller chunks over more randomly at the end

Cut into 12 pieces and leave to set

Stores for 2-3 days in an airtight container
Nutrition Per Serving (Approximate)
Calories:
307
kcal
|
Carbohydrates:
36
g
|
Protein:
4
g
|
Fat:
18
g
|
Saturated Fat:
10
g
|
Cholesterol:
82
mg
|
Sodium:
140
mg
|
Potassium:
180
mg
|
Fiber:
3
g
|
Sugar:
25
g
|
Vitamin A:
338
IU
|
Calcium:
38
mg
|
Iron:
3
mg
(Visited 18,668 times, 3 visits today)