Brown butter blondies with coconut are quick & easy to make. Rich & buttery, these bars are crisp on the outside with a soft and chewy centre. Serve as they are, decorate with white chocolate drizzle or turn them into Mini Egg Blondies.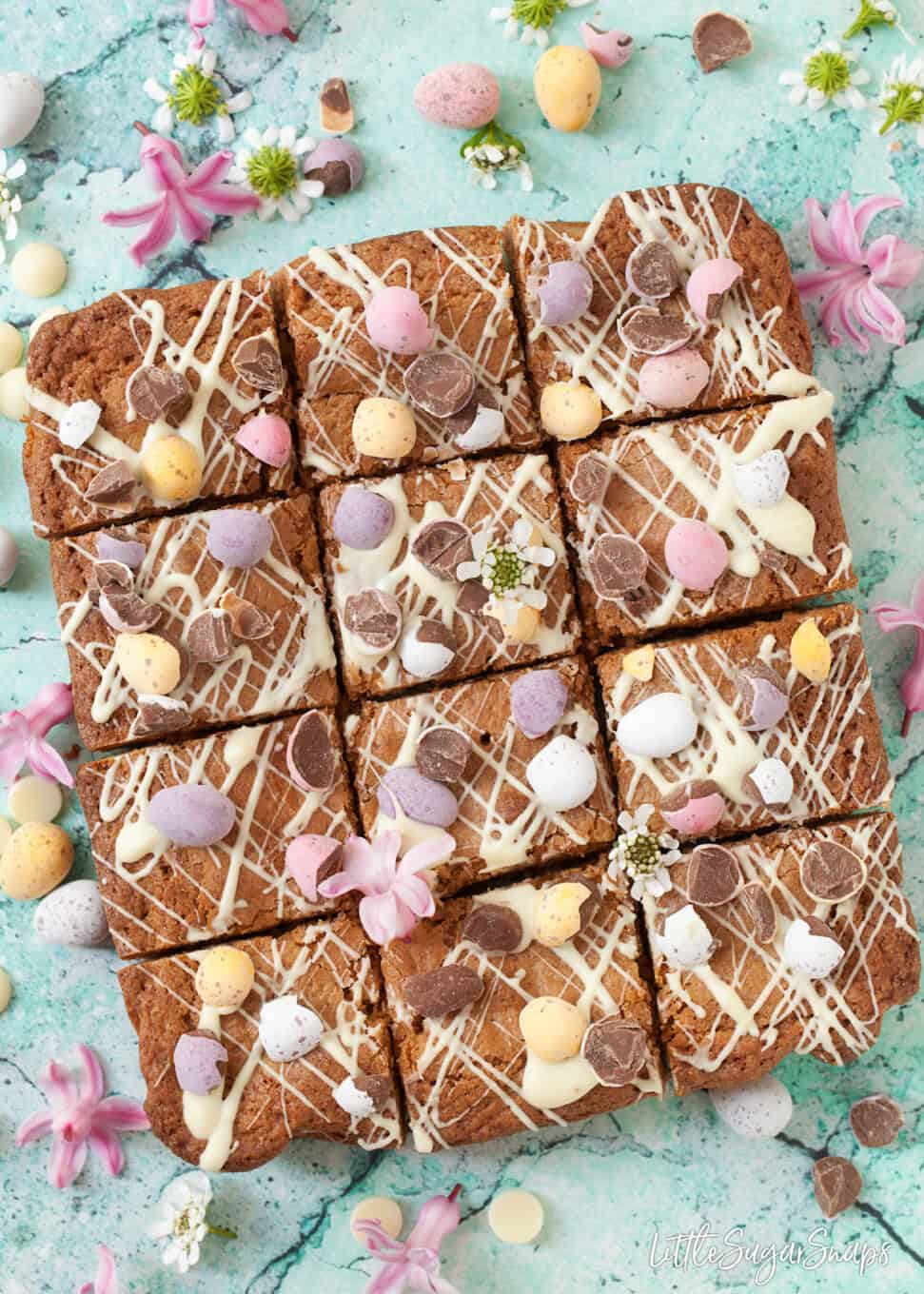 Buttery, crisp on the outside yet soft and chewy in the middle, brown butter blondies with coconut are an ideal springtime treat for anybody looking for an easy to make traybake to please a crowd.
I intentionally developed this recipe to be multifunctional.
On the one hand, I wanted a recipe that could stand up well on its own, without the need for fancy additions and adornments. But on the other hand, I was keen to come up a recipe that could easily be adapted for Easter.
So there are really 3 ways to serve these brown butter blondies:
For the purists or chocolate haters, these brown butter blondies can be served completely naked.
Jazz them up slightly by adding a drizzle of white chocolate for a simple and striking treat suitable all year round
Or go over-the-top and scatter with a few mini eggs along with the chocolate drizzle to turn them into mini egg blondies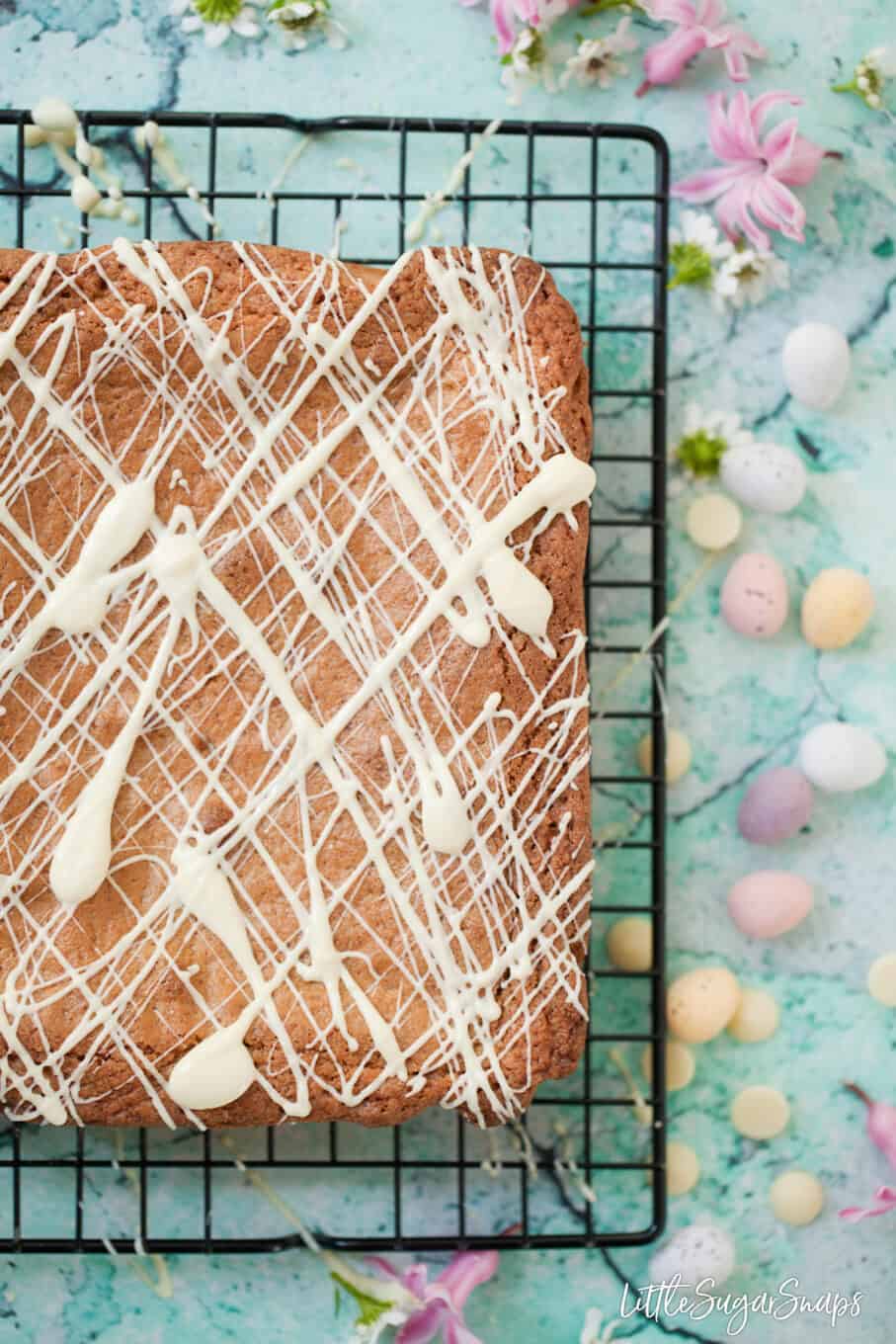 Whichever way you choose to go with them, I'm sure that these brown butter blondies will not hang around for long.
What are Blondies?
I've heard blondies referred to as a brownie without chocolate or the brownie's lesser cousin. Are they either of these things? Probably not.
Yes, the blondie is a traybake. And yes, it is rich, a little dense and can be gooey or fudgy. But that for me is where any similarity with brownies end.
The blondie is a bake in its own right. As their name suggests, they are light in colour. They are also typically very sweet and full of alluring butterscotch flavour.
These baked bars tend to have a crisp top and a chewy, fudgy centre. It's the rich mix of butter, egg, a lot of brown sugar and a light flurry of flour that helps to achieve this soft set texture.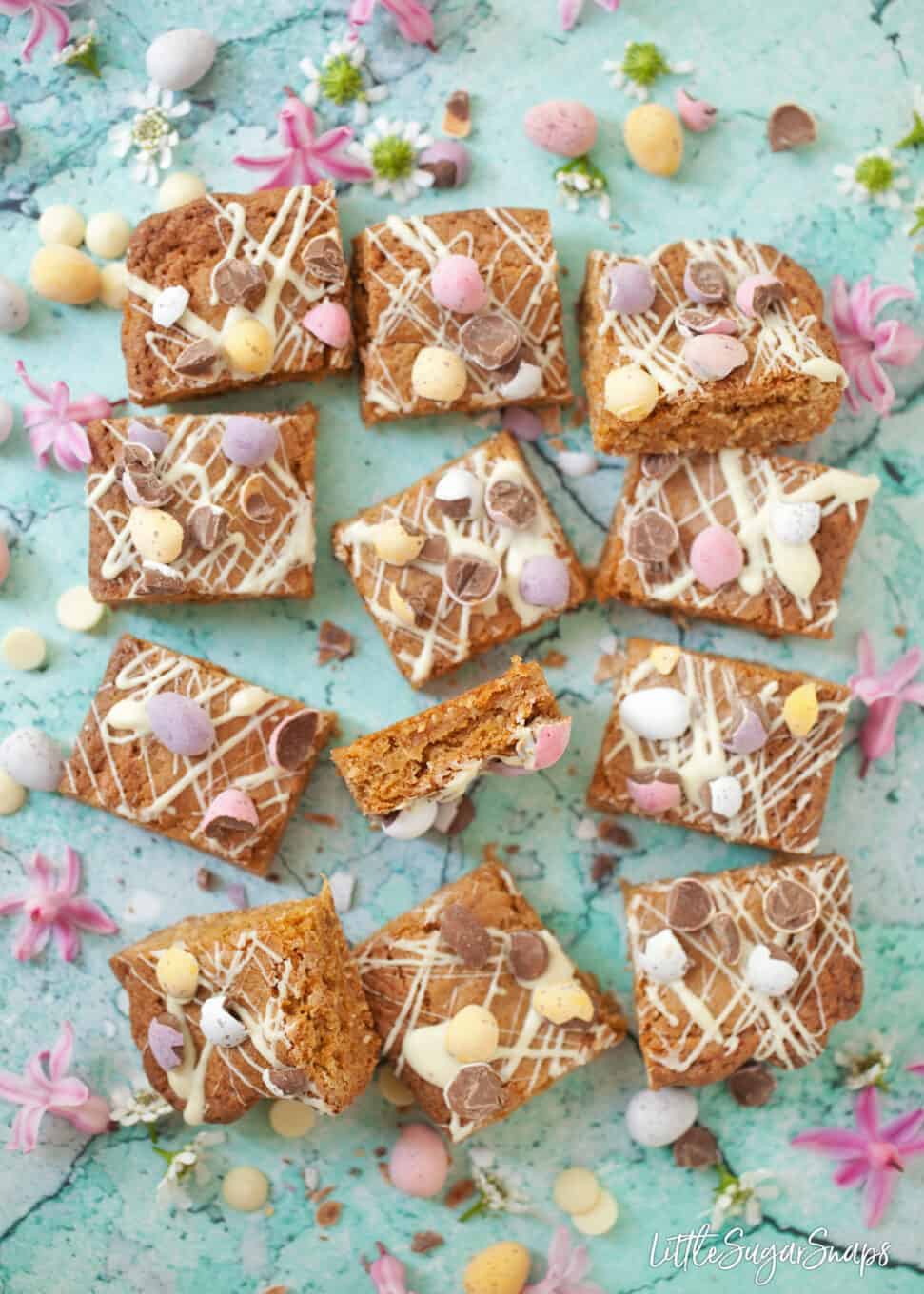 The basic mixture is frequently tampered with by adding chocolate chips and nuts to the batter. Here, I've put browned butter and coconut at the heart of my batter and chosen to top the finished bake with a white chocolate drizzle strewn with seasonal mini egg pieces.
Ingredients List
The ingredients required for this brown butter blondie recipe are basic:
butter
sugar
eggs
vanilla extract
flour
baking powder
salt
desiccated coconut
white chocolate (optional)
mini eggs (optional)
Most of them are probably in your pantry right now. However, there are some important points to note about these simple ingredients and I'd like to explain why I have selected them.
First of all, I have chosen to use browned butter in the batter. The reason for this is simple – browned butter imparts a wonderfully nutty, toasty and rich flavour & aroma to bakes. It's a cheap and simple way to elevate a basic blondie recipe.
Since blondies are all about rich butterscotch type flavours I've used purely brown sugars in this recipe. A mixture of light brown sugar and demerara sugar to be precise:
light brown sugar gives a luscious caramelly-butterscotch flavour and keeps the mixture, for want of a better word… blond. Using dark brown sugar would result in a darker bake and risks intensifying the flavour too much
a touch of demerara adds a little extra crunch to the equation whilst supporting that underlying butterscotch flavour
As far as the raising agent goes, I've kept to small quantities. Blondies are not cakes, and adding too much baking powder would risk too much rise in the batter. Just a hint of lift is all that is required.
You'll note that I've included 1 egg plus an egg yolk. Though fiddly to have an egg white leftover, the reasoning is sound: egg yolk helps make the bake soft and chewy. The result is a deliciously textured bar.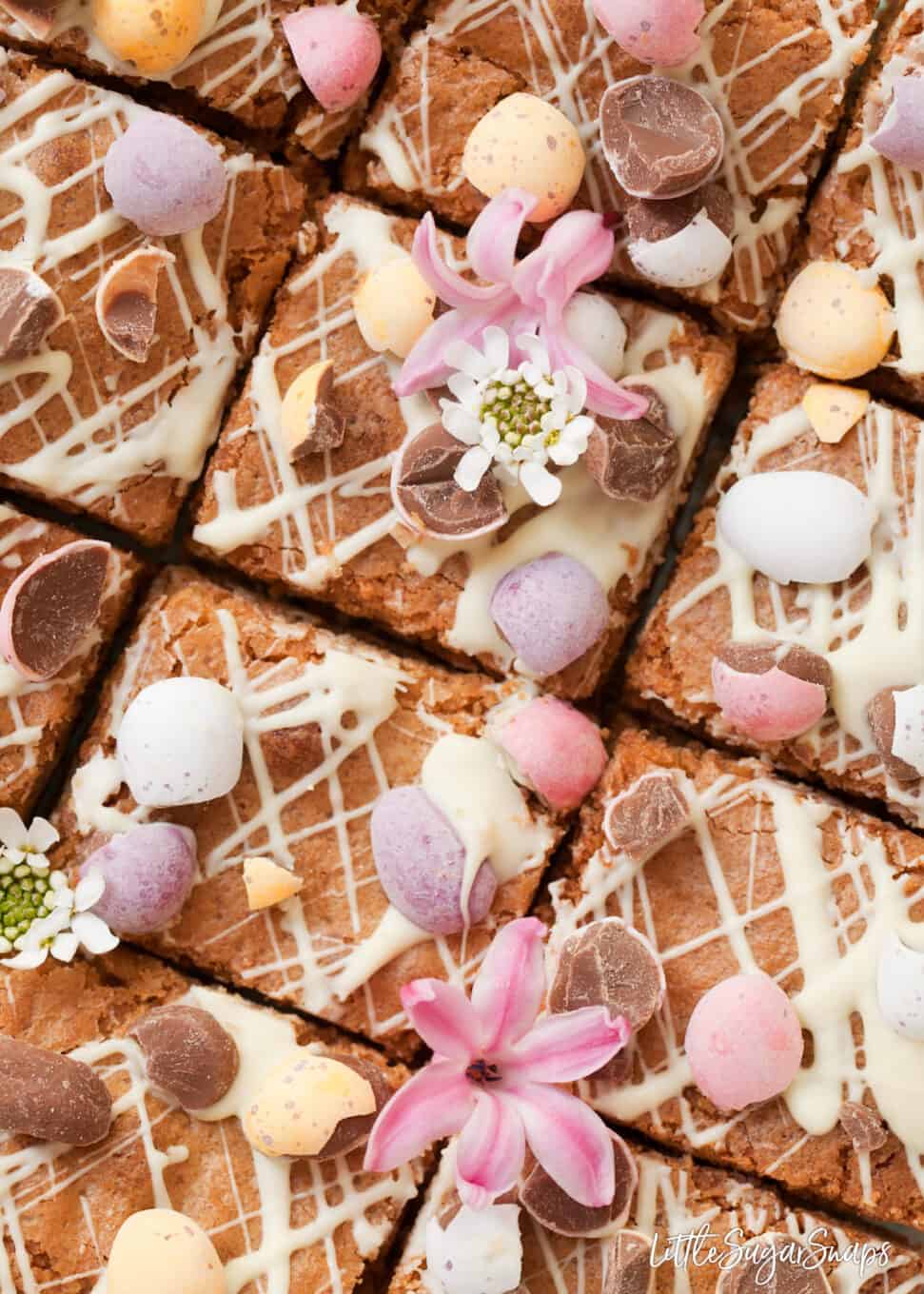 And if you're wondering what to do with that leftover egg white, how about a blueberry gin sour while these blondies are cooking?
Step by Step Instructions
Making these brown butter blondies requires 3 steps:
brown the butter
make the blondie mix and bake
decorate
Step 1: How to Brown Butter
These brown butter blondies do require brown butter. This is not something that can be bought, but it's very easy to make at home. Doing so requires basic kitchen tools and around 5 minutes of your time.
Making browned butter will fill your kitchen with an intensely rich, nutty and toasty aroma. What's not to like about that?
Find a suitable pan – a small light coloured pan is ideal since you can see easily when the butter has browned
Fill a sink with 2 inches cold water
Cube the butter, add to the pan and cook over a medium heat to melt it, stirring frequently with a wooden spoon to ensure it melts evenly
Continue to cook – it will begin to foam. Stir it constantly from this point, keeping a close watch for the colour changing
The butter will turn golden brown after a few minutes and the foam will subside a little. It should be possible to see the base of the pan and the toasted milk solids (bits) floating around in the butter
Plunge the base of the pan into the sink of cold water for 10 seconds to stop the cooking process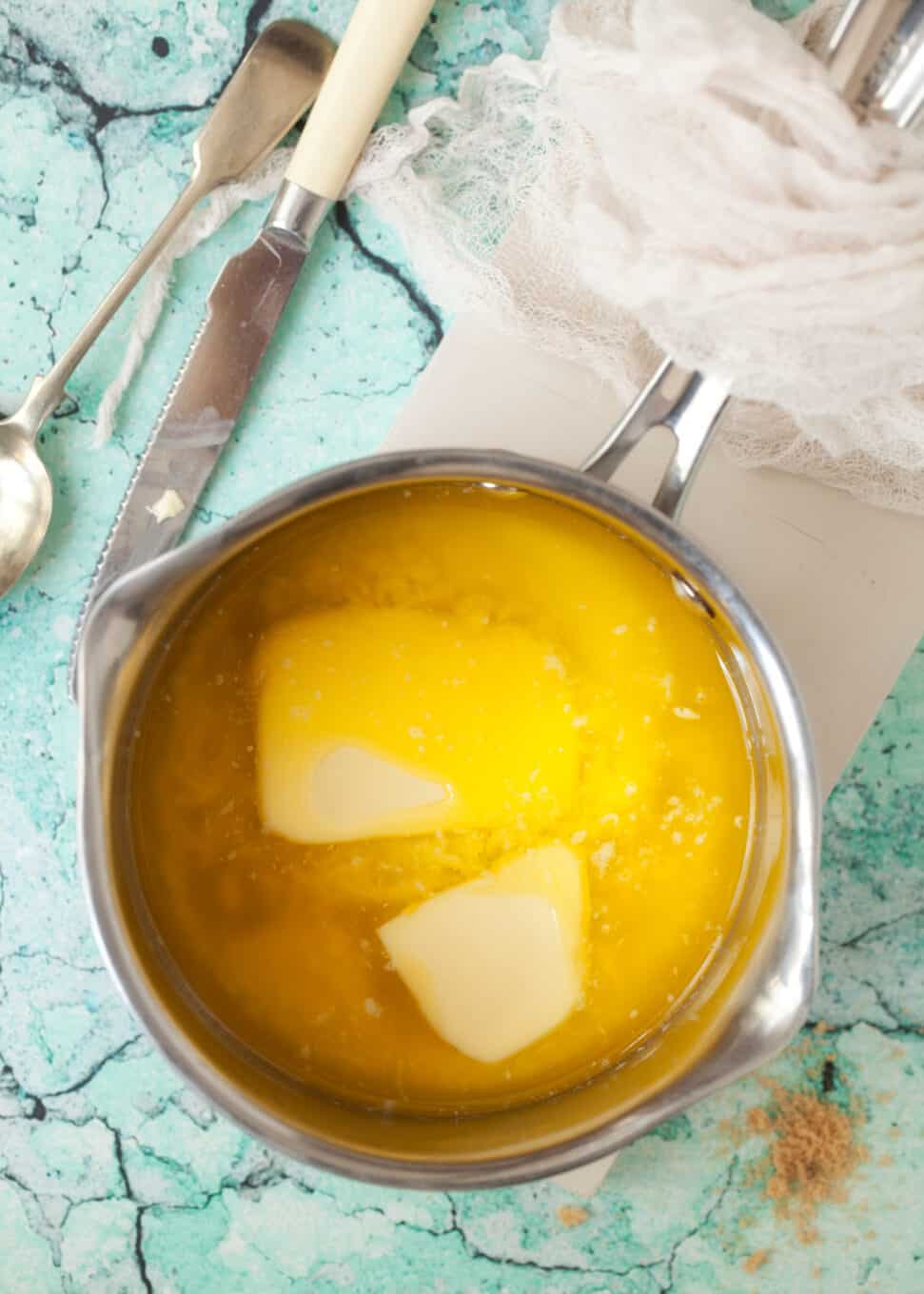 It is very easy to overcook the butter if you do not keep a close eye on it. Don't take your eyes off of the pan even for a few seconds.
Over-cooking the butter will burn the milk solids, turning the batch bitter. Unfortunately, there is no way to rescue burnt browned butter.
Confession: arguably, in the photos here my butter is slightly too brown. I just got away with it though. Aim for golden brown, not dark brown.
Step 2 : Mix and Bake the Blondies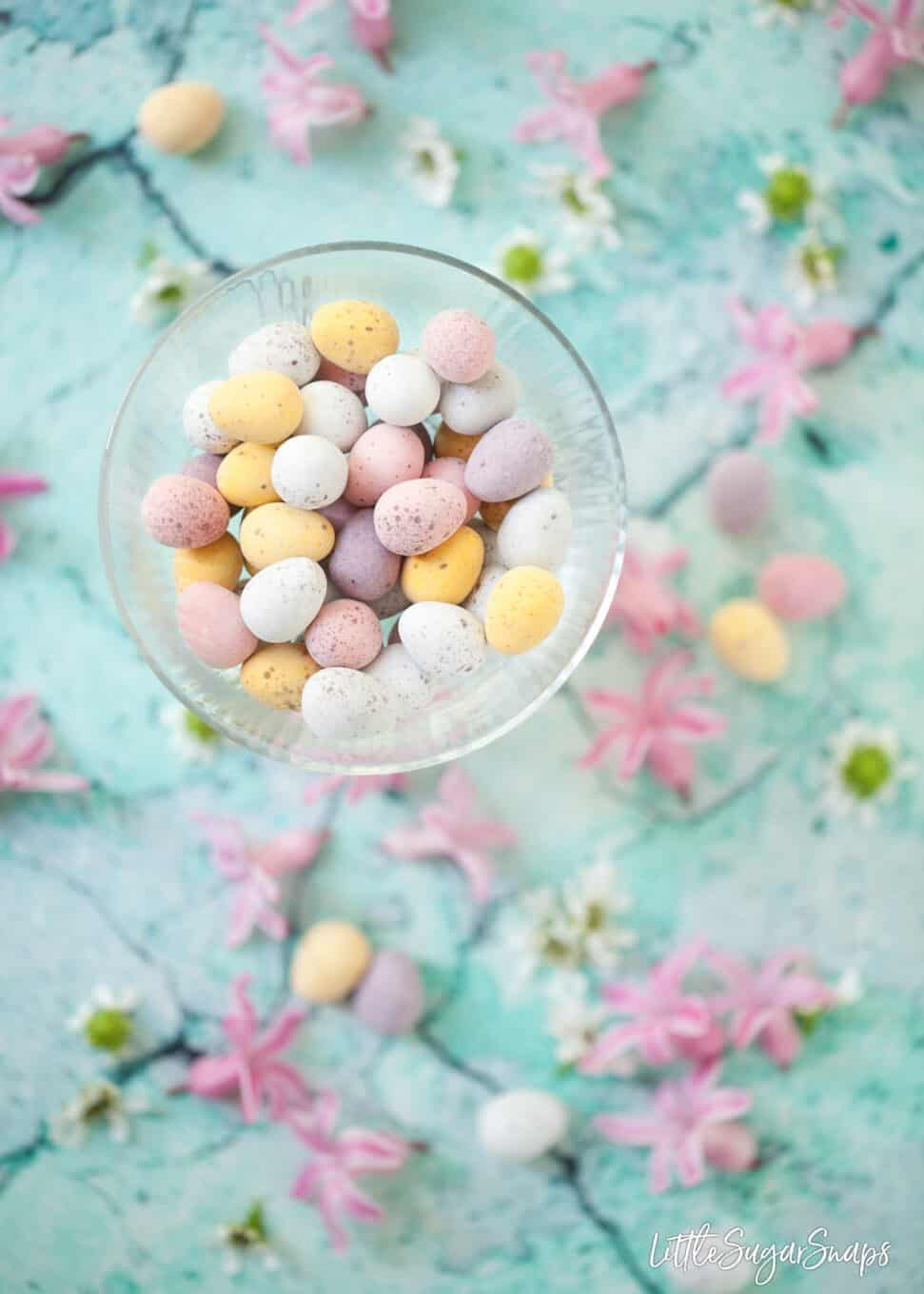 Once the butter is prepared it takes about 5 minutes to make these blondies:
Put the sugars into a medium bowl and pour in the browned butter, scraping all toasted milk solids into the bowl too. Stir with a large metal spoon
Mix in the egg, egg yolk and vanilla extract
Next add the flour, baking powder and salt. Stir until just combined
Finally, fold in the coconut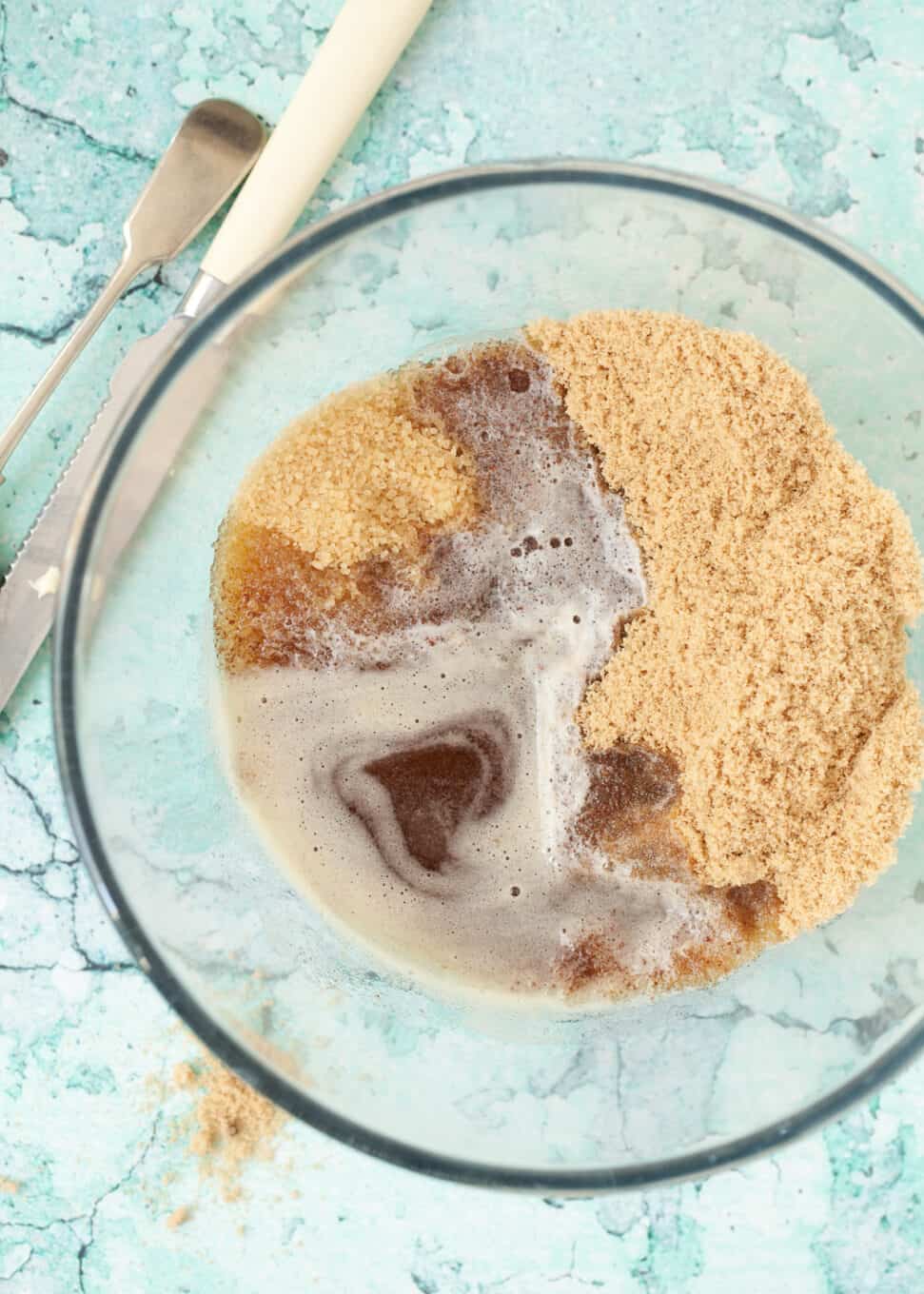 Spoon the batter into a prepared baking tin, spreading it out using a blunt knife
Bake for 25-30 minutes until a skewer poked into the centre comes out just clean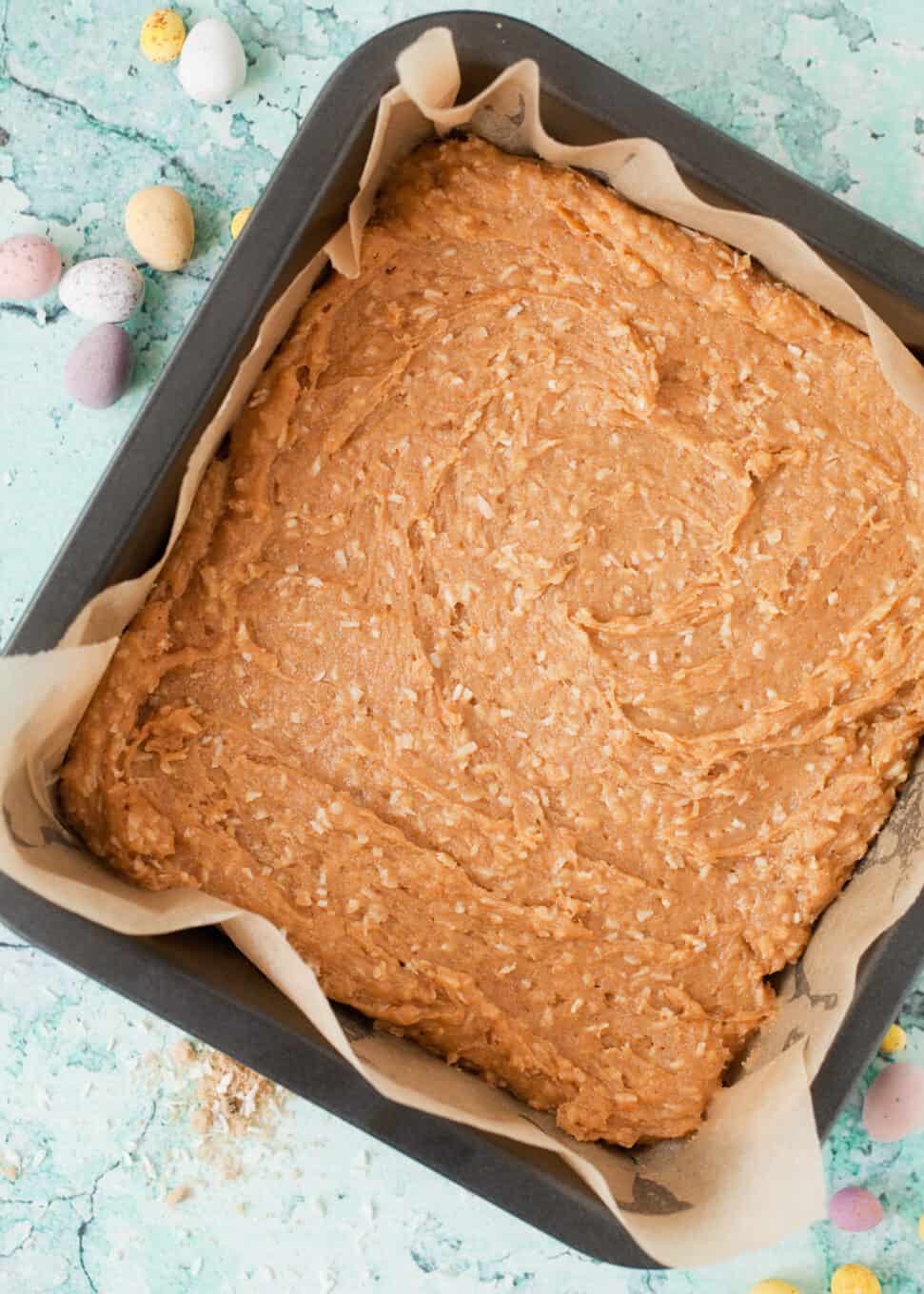 Step 3: Decorate
Once brown butter blondies are cooled, either leave plain, drizzle with melted white chocolate or go the whole hog and also top with candy eggs to turn them into mini egg blondies for the ultimate Easter treat.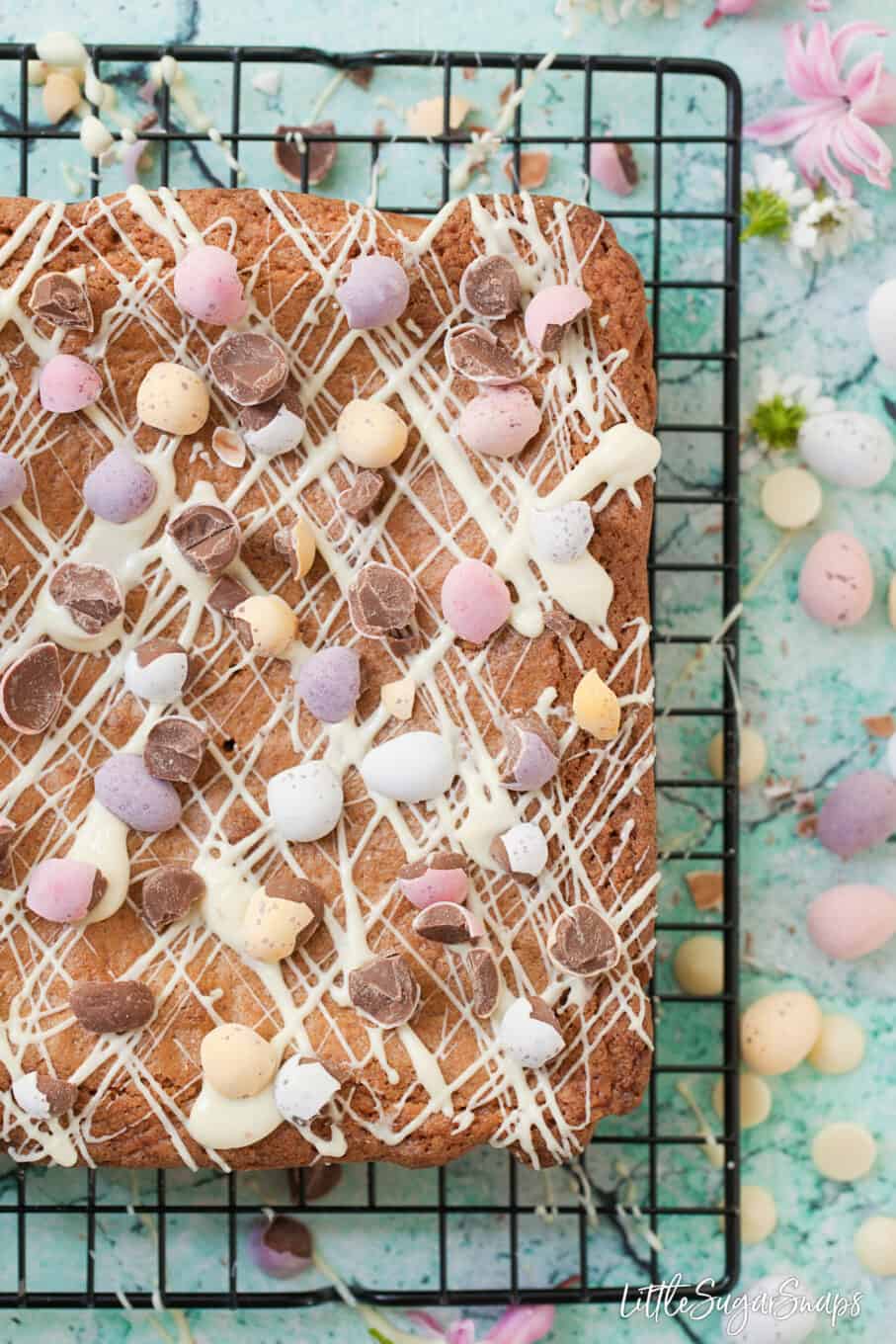 Tips for Making Blondies
Making these brown butter blondies really is as simple as it sounds. I have just a few tips to share with you to help you achieve the best possible bake:
Preheat your oven before browning the butter. Once the butter is ready, it takes very little time to put the batter together
Likewise, select the right sized tin (7 x 7 inches) and prepare it by greasing and lining the base and sides before browning the butter
Some blondie recipes suggest creaming the butter and sugars together, but I do not recommend this. Creaming is a great way to incorporate air into a cake batter. But we are not making a cake. Melted butter and a quick stir is the way to go with this recipe
It is better to undercook rather than overcook a blondie to ensure that soft fudgy centre is achieved. test for doneness after 25 minutes in the oven. They should look a little brown around the edges and a toothpick poked into the centre should come out barely clean
Confession: the blondies pictured here were baked for 5 minutes too long. The filling is firmer set, but still utterly delicious.
How long can I store these for?
My brown butter blondies can be stored at room temperature for 3 days or in the fridge for up to a week. Do allow them to come back to room temperature before eating though.
Always store in an airtight container.
Can I freeze them?
These blondies can also be frozen for up to 3 months. However, I would suggest not decorating them prior to freezing. Instead, either:
let cool completely, wrap the entire traybake, uncut, in foodwrap, label and freeze. Once defrosted, proceed to decorate as desired
or cool, cut into squares, place in a freezer bag and freeze. Individual squares can be pulled from the freezer as required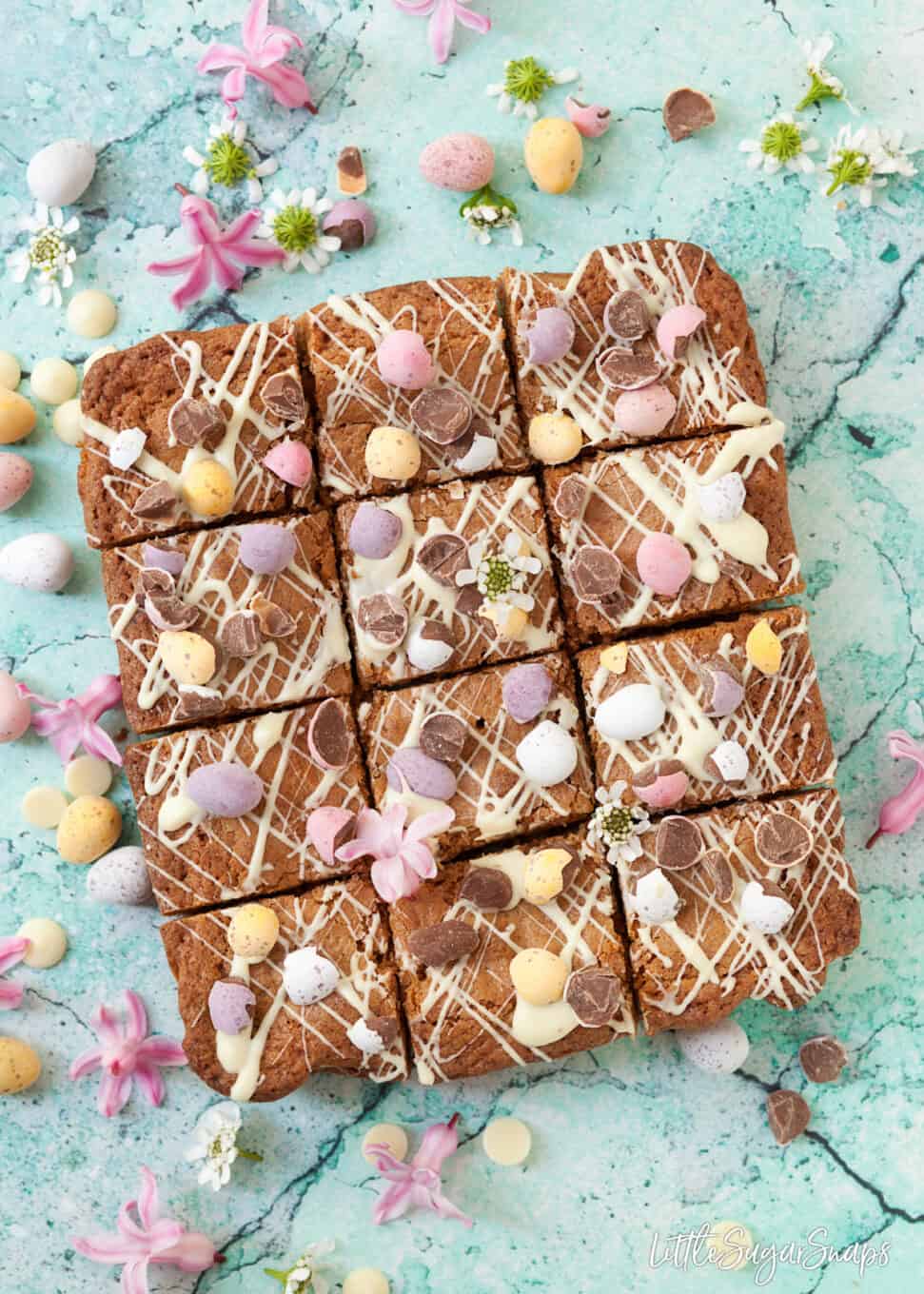 Variations
For a simple treat with already sensational flavours, the recipe for these brown butter blondies with coconut should certainly please. But for anybody wanting to deviate, try the following suggestions:
add 60g/ 2 oz chopped pecan nuts to the batter
or 60g/ 2 oz white or milk chocolate chips
add in 1 teaspoon ground cinnamon
top with milk chocolate
sprinkle a tablespoon of desiccated coconut over the top once the chocolate has been drizzled on
press 12 fresh raspberries into the batter before baking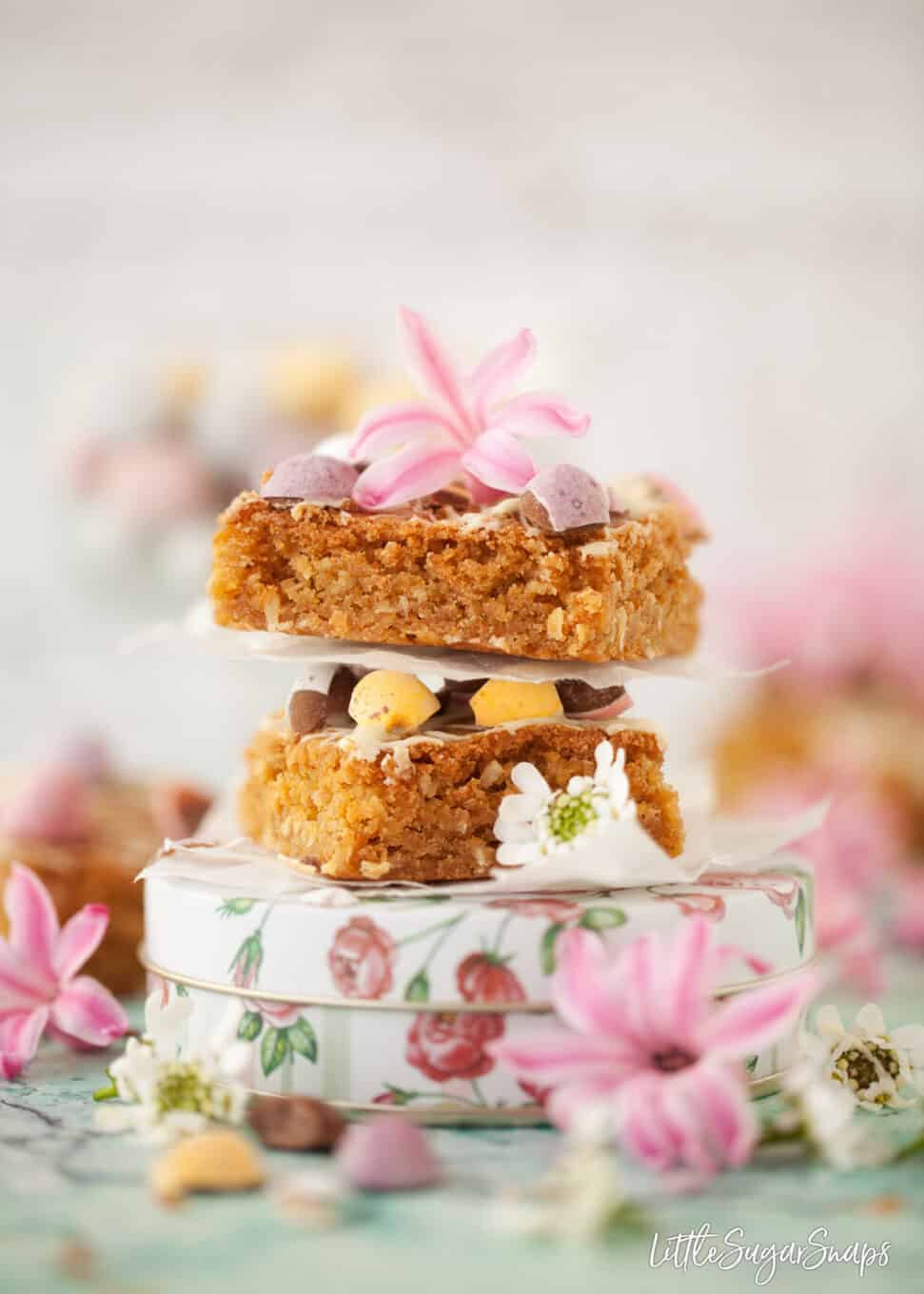 More Traybake Recipes to Try:
Have you made these Brown Butter blondies? I'd love to know how you got along. Leave me a comment, rate the recipe or post your creation on Instagram, tagging me @jane_littlesugarsnaps.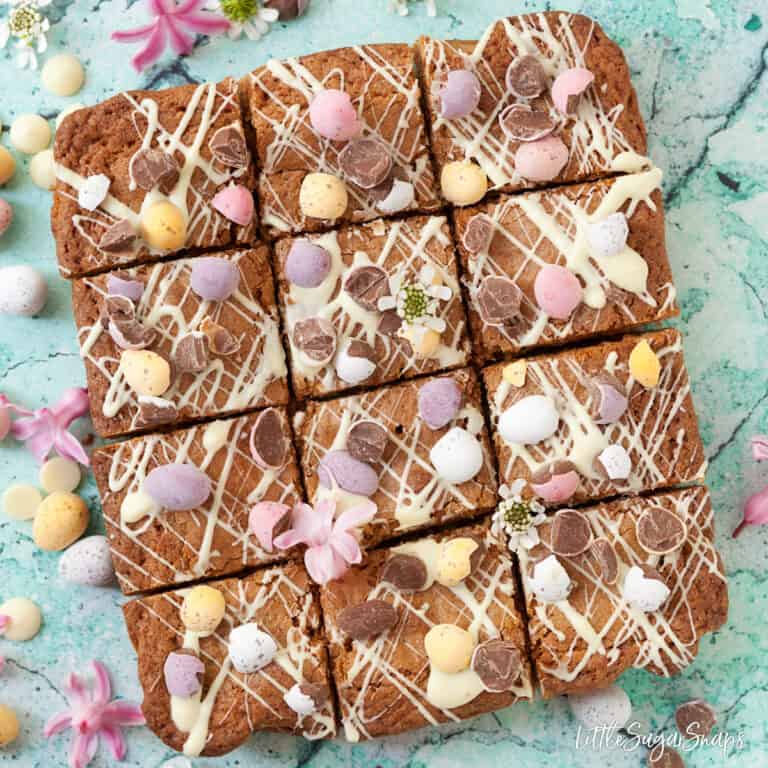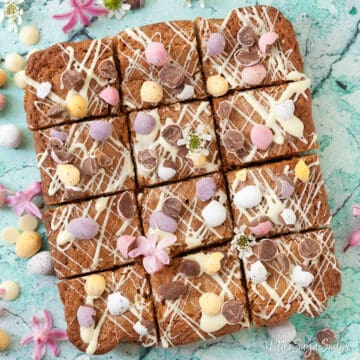 Brown Butter Blondies with Coconut
Rich & buttery, these bars are crisp on the outside with a soft and chewy centre. Serve, as they are, decorate with white chocolate drizzle or turn them into Easter Blondies by topping with mini eggs.
Print
Pin
Rate
Ingredients
For the Blondies
110

g

Butter

175

g

Light Brown Sugar

50

g

Demerara sugar

1

Egg

large, free range

1

Egg yolk

large, free range

1

teaspoon

Vanilla extract

¼

teaspoon

Salt

125

g

Plain (all purpose) flour

½

teaspoon

Baking powder

40

g

Dessicated coconut
Decorations – optional
30

g

White chocolate

60

g

Mini eggs
Instructions
Make the Blondies
Preheat oven to 180C/ 350F/ GM4 and grease & line a 7 x 7 inch baking tin

Brown the butter – begin by running some cold water into the bottom of the sink. Cube the butter and place in a small light coloured pan (easy to keep an eye on the browning process). Cook over a medium heat to first of all melt the butter – stir frequently so it melts evenly. Once melted, the butter will begin to foam – keep stirring and keep watching the butter closely. It will soon turn golden brown. Once browned, the foam will subside a little and you'll be able to see toasted milk solids in the bottom of the pan. Plunge the base of the pan into the cold water in the sink to stop the cooking process

Measure the sugars into a medium mixing bowl. Pour in the browned butter (milk solids and all) and stir with a metal spoon

Add the egg, egg yolk and vanilla extract and mix in

Stir in the flour, baking powder and salt until just combined

Finally, add the coconut, again mixing with a metal spoon until just incorporated

Spoon into the prepared baking tin, spreading it out with a knife and bake for 30 minutes

It is done when a cocktail stick poked into the centre comes out just clean

Set the baking tin on a wire rack and leave to cool completely
Decoration
If not using toppings, go ahead and slice into 12 pieces once cooled

Otherwise, melt the chocolate and use a knife to flick it across the top of the blondie in diagonal streaks (or feel free to pipe it on for a neater effect)

If using mini eggs, chop each egg into 3-4 pieces (carefully) and use to sprinkle over the top of the blondie straight after the white chocolate has been drizzled on

Cut into 12 squares and set aside for the chocolate to set

Store in an airtight tin for up to 3 days
Nutrition Per Serving (Approximate)
Calories:
248
kcal
|
Carbohydrates:
32
g
|
Protein:
3
g
|
Fat:
13
g
|
Saturated Fat:
8
g
|
Cholesterol:
51
mg
|
Sodium:
132
mg
|
Potassium:
82
mg
|
Fiber:
1
g
|
Sugar:
23
g
|
Vitamin A:
283
IU
|
Vitamin C:
1
mg
|
Calcium:
45
mg
|
Iron:
1
mg
(Visited 365 times, 1 visits today)