Made with fresh apple and homemade toffee sauce this Toffee Apple Flapjack is a real crowdpleaser. Serve throughout the year but especially as autumn festivities take hold.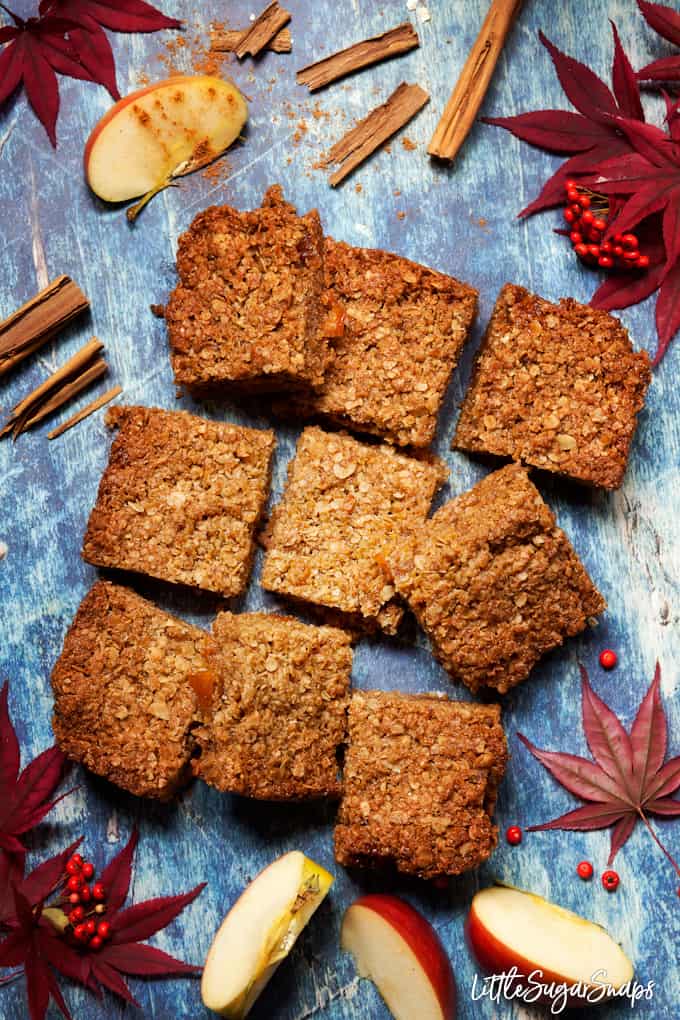 This post contains affiliate links. As a Thermapen associate, I earn from qualifying purchases.
I feel I may have missed the boat for these toffee apple flapjacks this year, since toffee apple is synonymous with Bonfire Night, here in the UK, and I'm a day late. Oh well.
Honestly though, these bars are too good to restrict to just one day a year.
Hidden in the middle of this bake is a layer of ultra-delicious & intensely golden toffee apple sauce. Combined with the firm and syrupy-sweet oat layers, the result is traditional flapjack with a seasonal twist.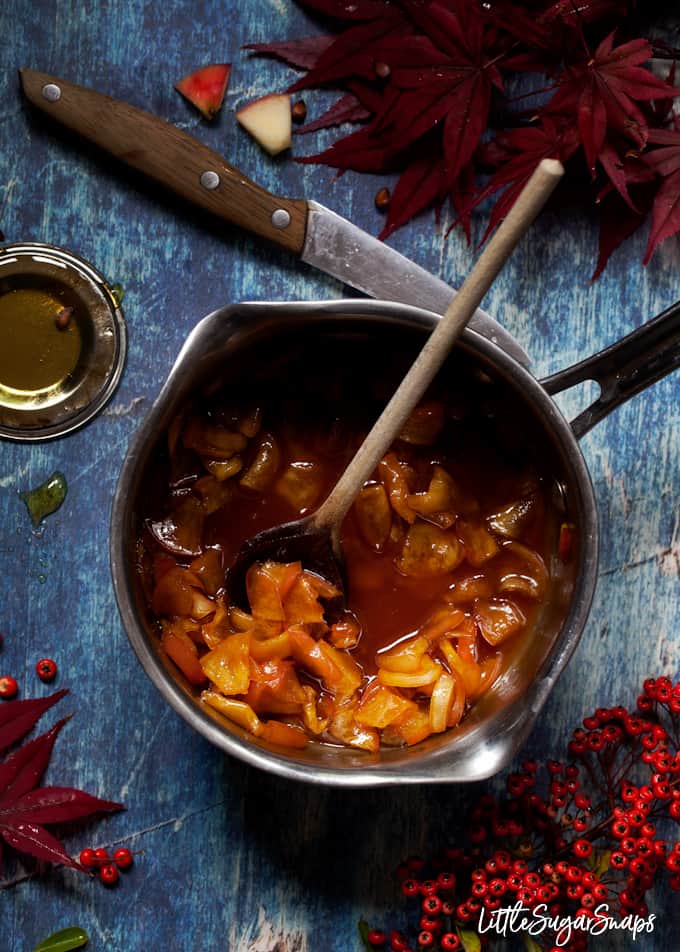 Whilst it would be perfectly acceptable to serve this apple flapjack right through the year, it is particularly suited to autumn days, because a little flurry of cinnamon spice has been injected into the oaty flapjack mix.
Toffee apple flapjack will surprise and delight as they are bitten into.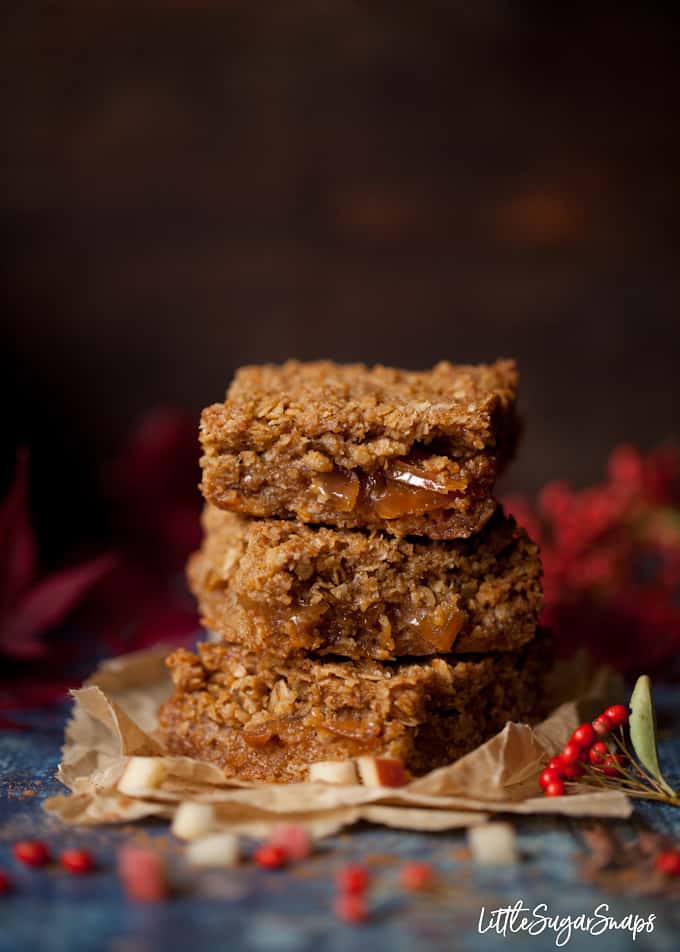 What Does Flapjack Mean?
Flapjack is a word with several meanings depending on location.
An English person talking about flapjack is referring to these sweet & syrupy tray-baked oat bars. In their simplest form, they consist of rolled oats, butter, brown sugar and golden syrup. Yum!
They are alternatively known as muesli bars, cereal bars, granola bars or oat bars.
In Northern America, however, flapjack is another term for pancake.
As my photographs make clear, today I'm talking about toffee apple oat bars, not toffee apple pancakes (though they sound like heaven to me too).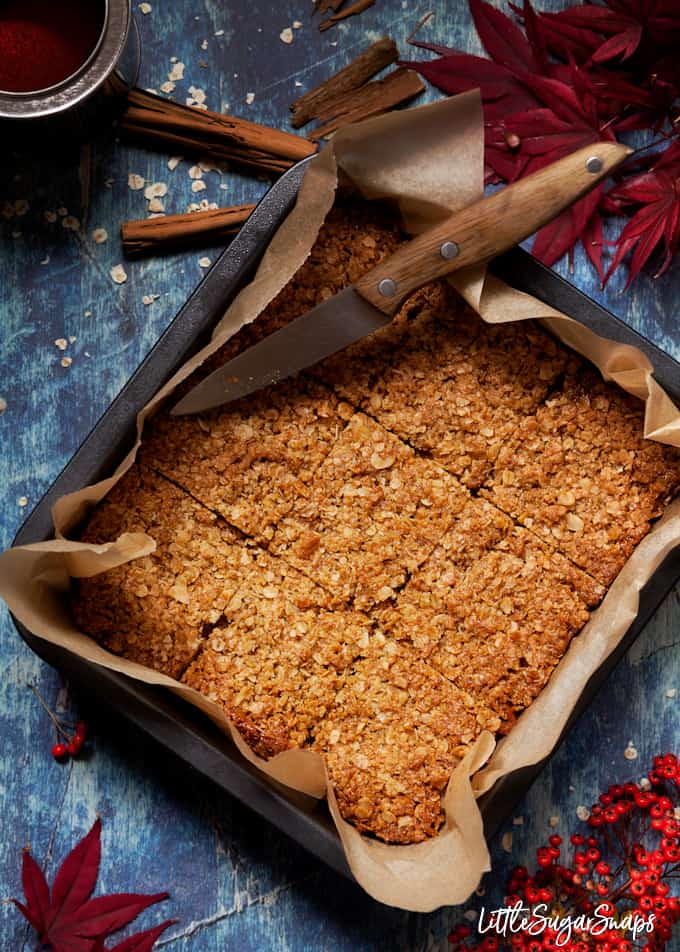 I've always thought that flapjack was a rather quirky word, so I decided to try and find out how the term originated.
The term is first referenced in the 16th century and was a name for a flat tart – in fact, Shakespeare even mentions it in one of his plays. over the years it has also been used to describe an apple flan style dessert and finally, in 1935 the term was first used in reference to our beloved sweet oaty treat.
Rather disappointingly, although I've managed to cobble together a brief timeline of uses for the word flapjack, I'm still none the wiser as to how the term came about. Thinking out loud, flap could easily mean flat – like the flap of an envelope, but I can't see the connection between jack and tart. Sorry. Please fill me in on the details if you know.
How to Make Toffee Apple FlapJack
Making this unconventional twist on the classic is very simple:
Begin by making the toffee apple sauce: combine the butter, sugar, syrup and apple slices in a pan.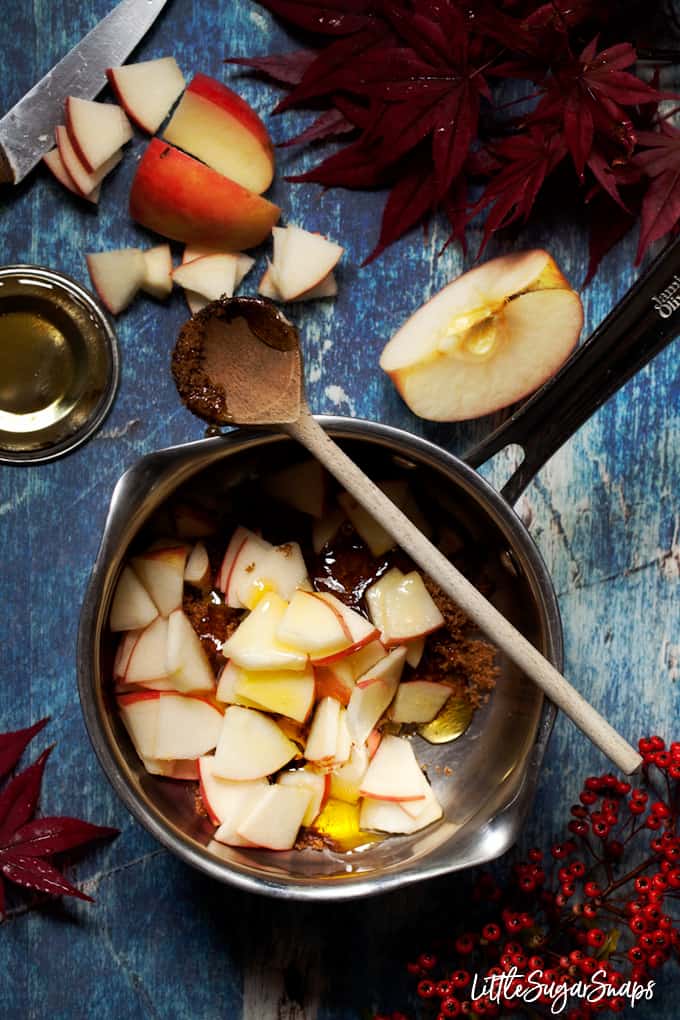 Cook to 108C/ 226F (test using a digital food thermometer such as a Thermapen), then stir in cream and a pinch of salt
Next make the flapjack mix by heating butter, sugar & syrup together to form a liquid sauce and mixing in oats & spices
Spread half of the flapjack mix into a baking tin and bake briefly
Top with the toffee apple sauce and carefully cover with the remaining flapjack mix
Bake for a further 35 minutes and cut into squares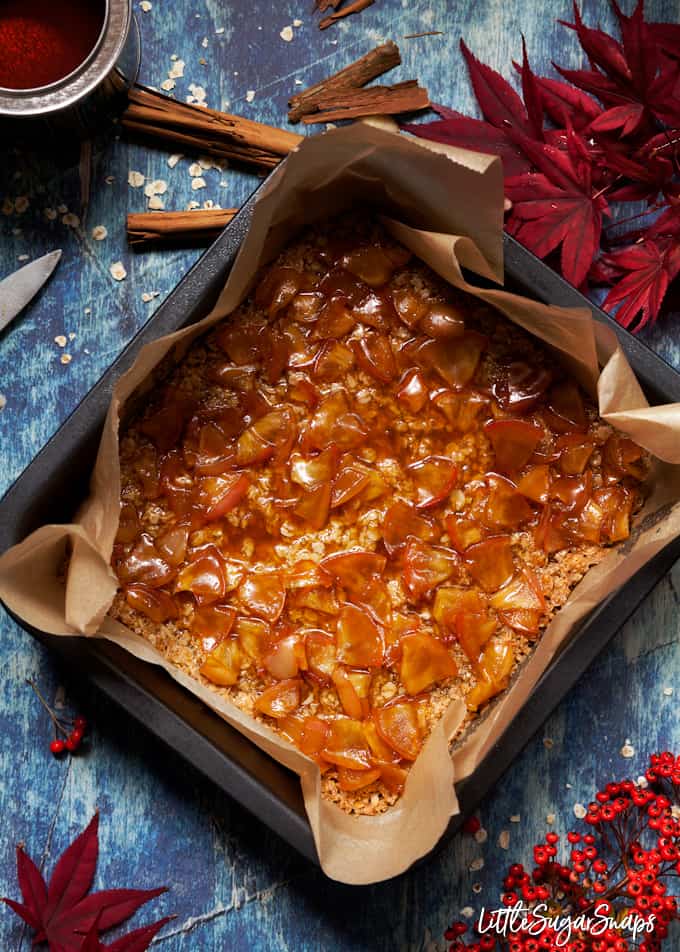 Why do my flapjacks fall apart/ crumble
Confession: I used to hate making flapjack. Why? Because they would always fall apart.
I don't like repeat failures in the kitchen, so of course, I worked hard at solving my problem. It turns out that the answer is really simple.
Flapjack tends to fall apart when the ratio between liquids (ie melted butter, sugar and syrup) and dry ingredients (oats, fruit etc) is not quite right. Too many oats will lead to a drier bake that crumbles and breaks easily.
The result is messy (but still very delicious) bars.
Get the ratio of liquid:dry ingredients right and the problem is solved.
I've also found that I have much more success using regular rolled oats rather than fancy jumbo oats. I guess that the smaller oats just stick together more compactly when pressed into the tin.
My final tip when making these toffee apple oat bars is to cut the bars twice. First of all, let the tin cool for 10 minutes after baking and mark out the squares. once completely cool, cut the bars fully. And always use a very sharp knife. Do this and your oat bars will be neat.
Is Flapjack Gluten-Free?
In a nutshell, most flapjack is gluten-free. Pure oats are gluten-free and safe for most people with gluten intolerance. The other typical ingredients – sugar, syrup and butter – are all typically gluten-free too.
However, there is a caveat to bear in mind. Oats that are produced in the same place as wheat, barley and rye could get contaminated with these other grains that are not gluten free.
Similarly, an unconventional flavoured flapjack might contain certain additional ingredients that inject gluten into the oaty mix.
My advice is to always check the label of your ingredients. It's a simple yet essential step to take if your bake is destined for a gluten-intolerant recipient.
These toffee apple oat bars are gluten-free provided that the oats used have been verified accordingly.
Is Flapjack Healthy?
Sorry to disappoint you, but no, typical flapjack, including these toffee apple oat bars, is not healthy. They contain a lot of butter, a lot of sugar and a copious glug of golden syrup (aka more sugar) to boot.
There is no way these toffee apple bars are remotely wholesome, but they are incredibly tasty and well worth a splurge when a treat is in order.
Make them – soon.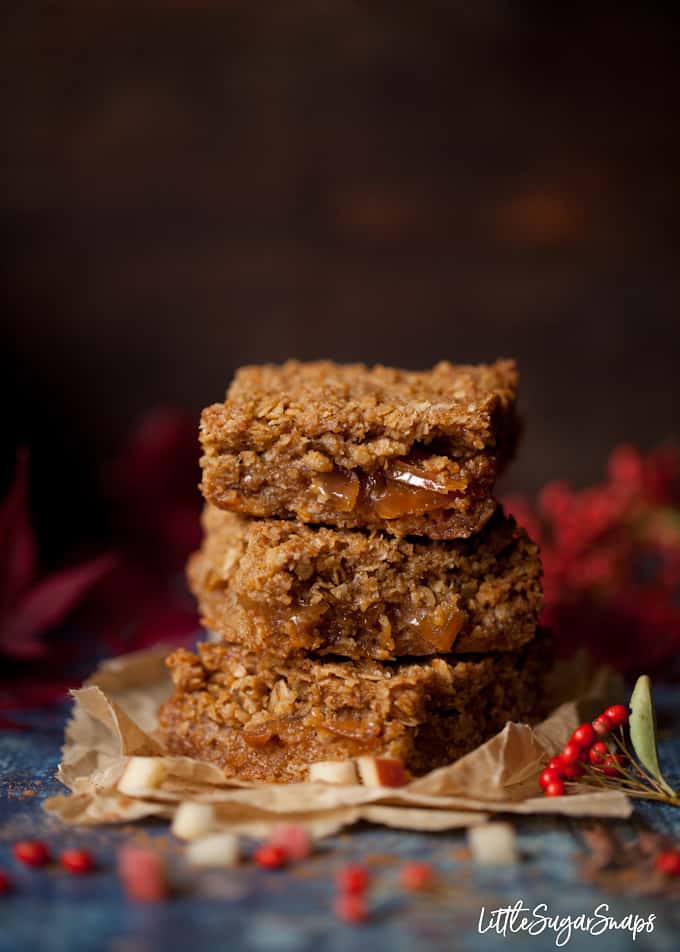 Try my other flapjack recipes:
Try more Bonfire Night Treats: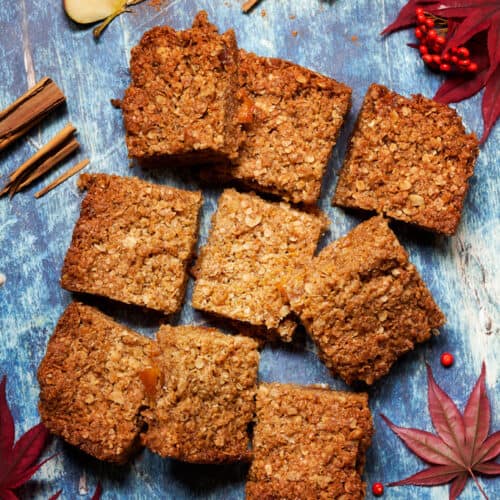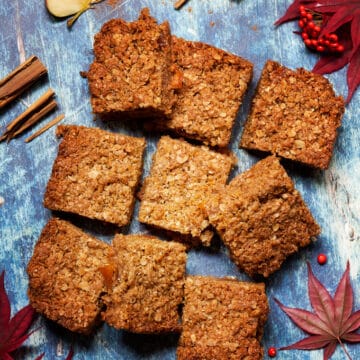 Toffee Apple Flapjack
Made with fresh apple and homemade toffee sauce this Toffee Apple Flapjack is a real crowdpleaser. Serve throughout the year but especially as autumn festivities take hold.
Print
Pin
Rate
Ingredients
For the Toffee Apple Layer
15

g

Butter

30

g

Dark brown sugar

2

tablespoon

Golden syrup

(corn syrup)

1

tablespoon

Double cream

(heavy cream)

1

Apple

(firm and tart – e.g. Pink Lady)
For the Flapjack
225

g

Butter

225

g

Demerara sugar

5

tablespoon

Golden syrup

(corn syrup)

300

g

Rolled oats

(regular not jumbo)

1

teaspoon

Ground cinnamon

¼

teaspoon

Ground nutmeg
Instructions
Make the Toffee Apple Sauce
Put the butter, sugar and syrup into a small heavy-based saucepan

Quarter the apple and remove the core. Chop each quarter in half lengthways and then cut the wedge of into thin slices (cutting widthwise rather than lengthwise)

Toss in the pan and cook everything over a medium heat, stirring frequently, until the butter, sugar and syrup have formed a sauce and the apple is soft, Bring to the boil and heat to 108C/ 226F on a food thermometer

Take off the heat, stir in the cream and a pinch of salt and set aside
Make the Flapjack
Begin by greasing and lining your baking 7×7 inch baking tin with parchment and pre-heating the oven to 160°C/ 310°F/ GM 2 ½

Weigh out the oats and the spices into a medium bowl – stir

Tip the butter, syrup and sugar into a heavy-based saucepan and put it over a medium heat to melt, stirring often. When the butter has melted and the sugar has dissolved use a balloon whisk to gentle bring the ingredients together until you have a thick, brown, evenly mixed liquid

Add the oats to the pan and stir until thoroughly combined

Spoon half of the flapjack mixture into the prepared tin and spread it out. Use the back of a metal spoon to push the mixture into the edges and corners of the tin and to press the flapjack down so that it is nicely compact

Bake in the oven for 10 minutes then remove and spread the toffee apple sauce evenly over the top. Gently spread the rest of the flapjack mix over the top and bake for a further 30 minutes until the flapjack is golden

Allow to cool in the tin for 10 minutes, then use a sharp knife to mark the flapjack into 9 bars then let cool completely in the tin

Once cool, cut into the marked portions and remove from the tin

Store in an airtight container for up to 5 days
Nutrition Per Serving (Approximate)
Calories:
502
kcal
|
Carbohydrates:
67
g
|
Protein:
5
g
|
Fat:
24
g
|
Saturated Fat:
14
g
|
Cholesterol:
60
mg
|
Sodium:
195
mg
|
Potassium:
160
mg
|
Fiber:
4
g
|
Sugar:
44
g
|
Vitamin A:
702
IU
|
Vitamin C:
1
mg
|
Calcium:
33
mg
|
Iron:
2
mg
Pin Toffee Apple Flapjack:
(Visited 1,316 times, 1 visits today)