Biscoff flapjack looks just like classic flapjack. It's golden and alluring but, with the inclusion of cookie butter in the mix the flavour is quite a change from the classic. These Biscoff oat bars are quick and simple to make but so delicious they won't last long.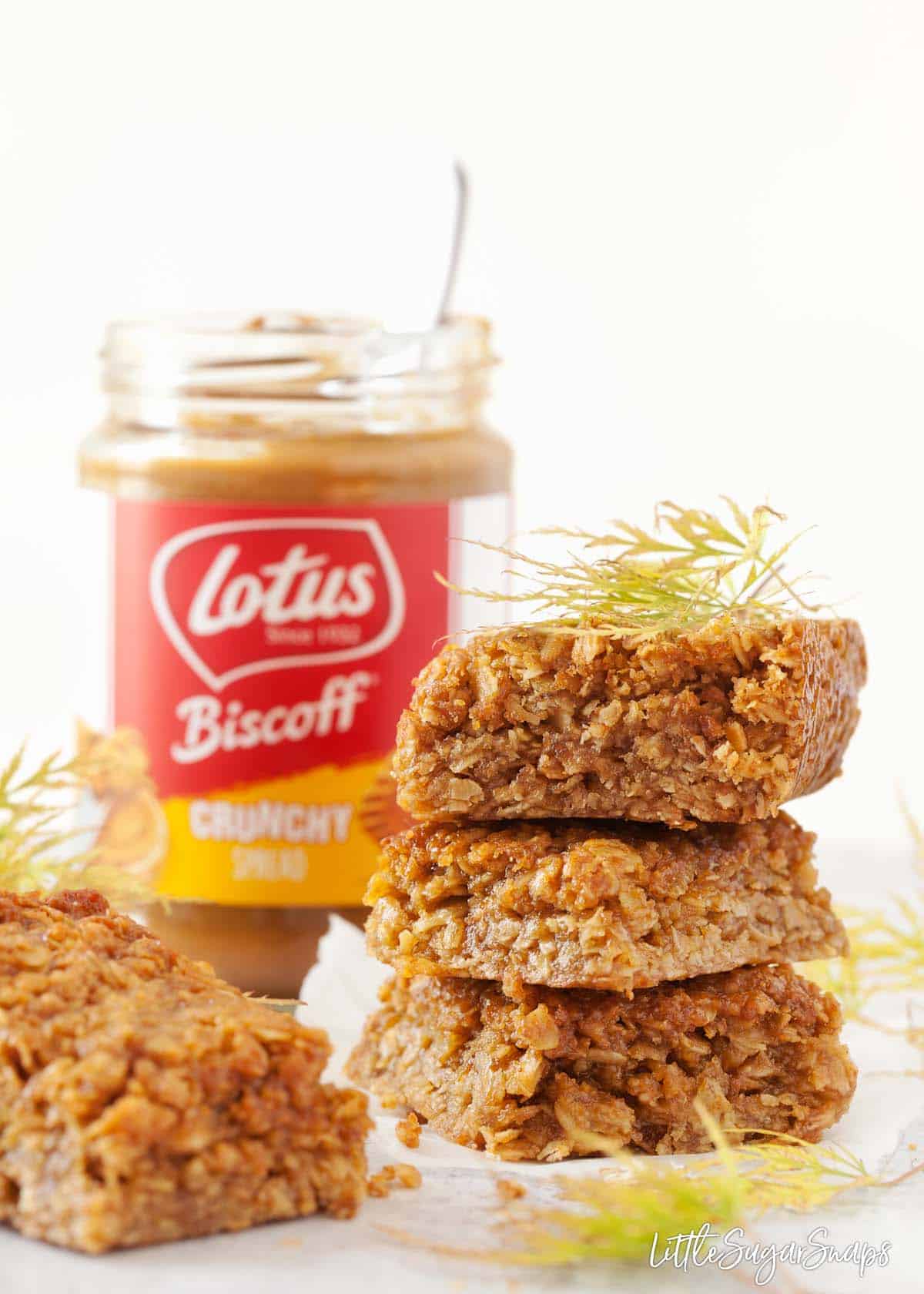 If you are a big fan of Biscoff cookies and Biscoff spread then you are going to love today's recipe. I made Biscoff flapjack and it's amazing.
Seriously, there is everything to love about these crisp and chewy bars that are flavoured with Biscoff cookie butter.
This cosy, simple and satisfying bake is humble in appearance but delivers one heck of a delicious, sweet & buttery treat. No adornments are necessary here.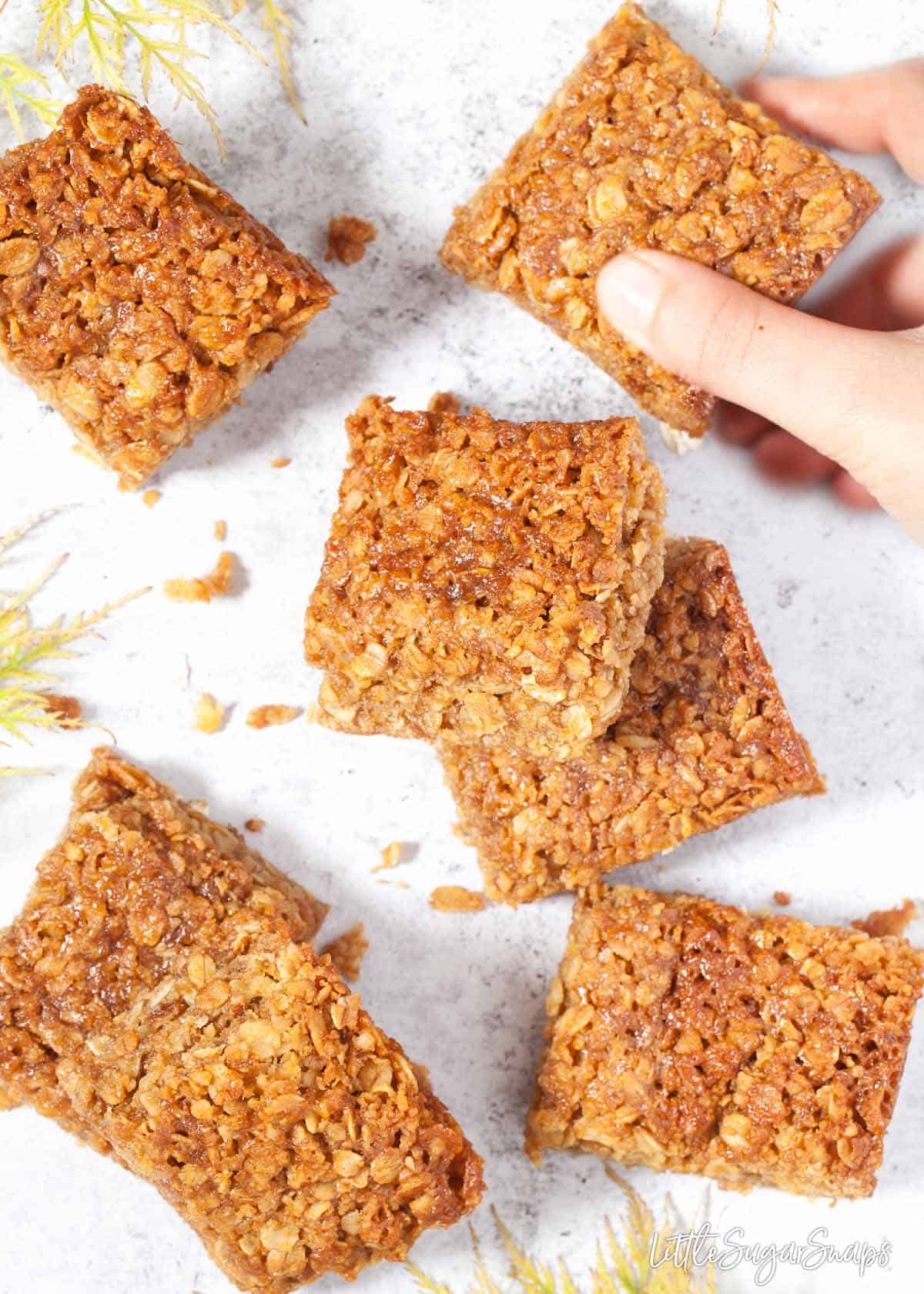 There's a craze in my house for anything Biscoff right now, so along with this Biscoff flapjack I've also come up with a Biscoff cheesecake, a Biscoff cake and Biscoff rocky road They are all pretty amazing recipes and have caused my family sighs of joy.
What is Flapjack?
Flapjack (aka oat bars) is one of the easiest classic bakes around. It is a bake that is seemingly loved by everybody and it really doesn't care what the season is.
Flapjack is a year round delight, just as easy to succumb to on a summertime picnic or hike as it is when huddled up with a warm cup of tea and a fluffy blanket on a chilly day.
Traditional flapjack contains very few ingredients:
Butter – baking margarine will not do here. Use proper butter for a full and rich flavour
Sugar – demerara gives a caramelised flavour with a hint of crunch
Golden syrup – lusciously thick, gorgeously golden and brazenly sweet, no other syrup is quite the same
Oats – the core ingredients that binds all of the other goodies together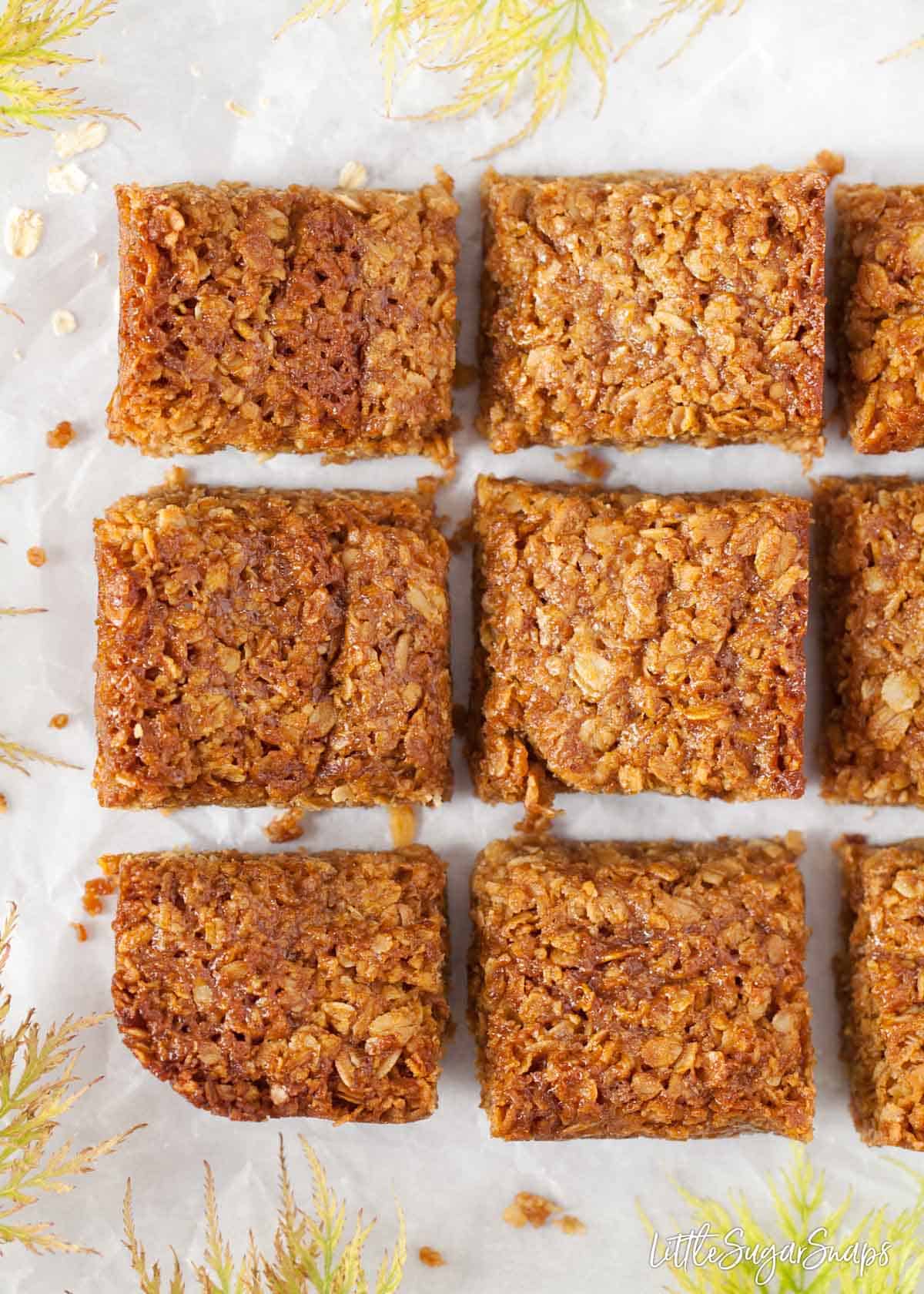 Some recipes call for honey or maple syrup in place of golden syrup. I have always had far better results with golden syrup. It is an important element of the taste of classic flapjack and its impressively sticky thickness is hard to beat.
Yes, golden syrup is refined sugar whereas honey and maple syrup are unrefined sugars. But I don't like to pretend that flapjacks are in anyway healthy just because they contain oats. They contain both butter and sugar in large volumes, so any trade-off between refined and unrefined sugar syrup is really not a big one.
Ingredients for Biscoff Flapjack
My recipe for Biscoff flapjack contains all four of the above ingredients plus just one more – Biscoff spread, or cookie butter, as it is alternatively known.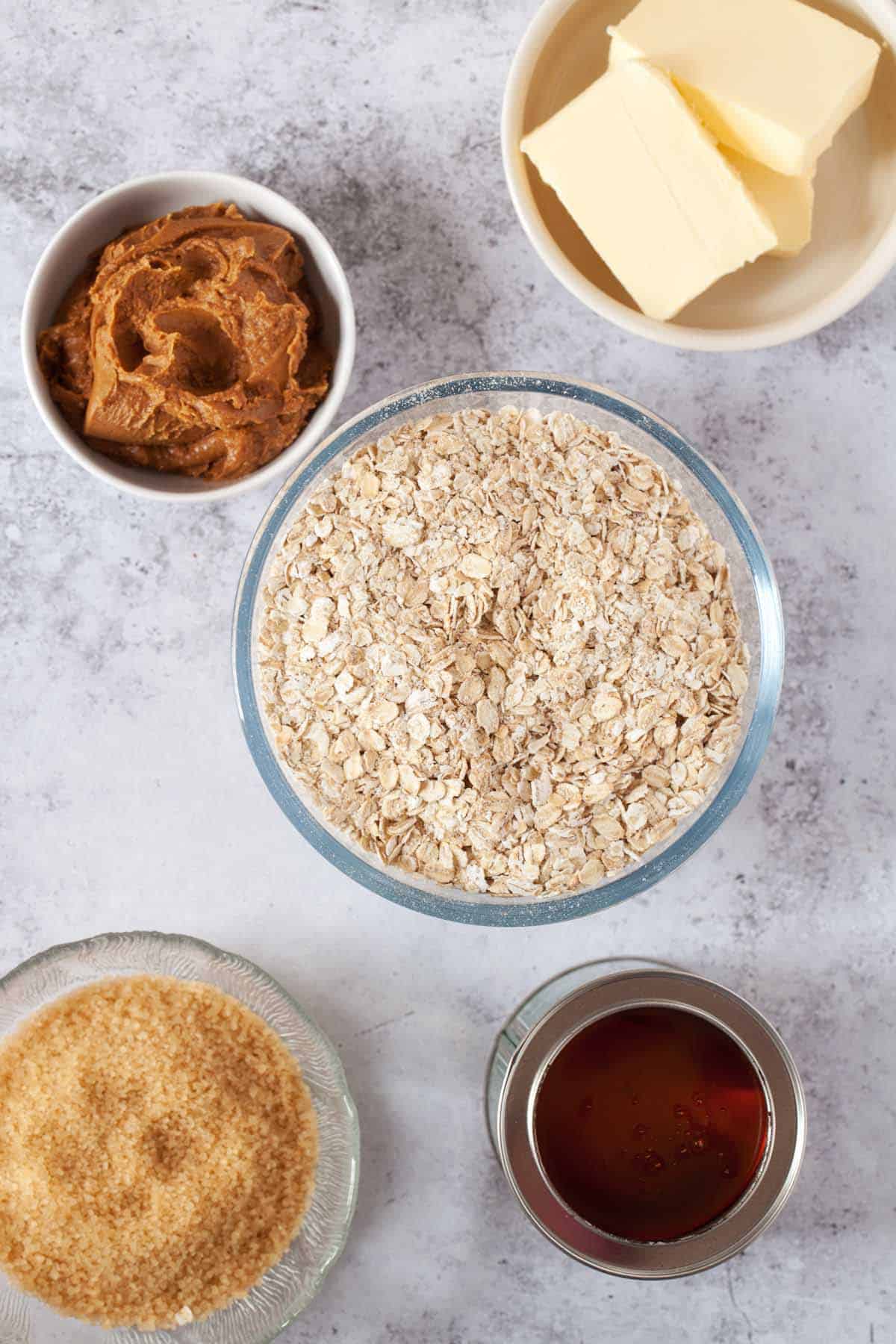 But making Biscoff flapjack is not as simple as taking a classic flapjack recipe and mixing in a few spoonfuls of the cookie butter.
Biscoff spread is both loose and sweet, so it alters the amount of butter and sugar required to achieve a bake that holds together well and delivers the right level of sweetness.
It took four attempts to get this balance right – I'm sure you'll appreciate my efforts when you taste this Biscoff flapjack. And I'm sure you will relish the buttery notes, the vaguely syrupy sweetness and the hints of cookie butter (happy sigh).
Step-by-Step Instructions
Begin by preheating the oven to 160C/ 310/ GM 2 ½ and line a 7x 7 inch baking tin with butter and parchment
Next measure the butter, sugar, Biscoff spread and syrup into a medium saucepan
Cook over a moderate heat, stirring frequently until the butter has melted and the sugar has dissolved
Use a small balloon whisk to beat the ingredients in the pan until they blend together
Take off the heat, tip in the oats and mix well
Spoon into the prepared tin, pushing it into the corners and edges. Press the mixture down firmly with the back of a metal spoon
Bake for around 30 minutes until the edges are golden, then remove from the oven
Allow to cool in the tin for 10 minutes, then use a sharp knife to mark the flapjack into 9 bars then let cool completely in the tin
Once cool, cut into the marked portions and remove from the tin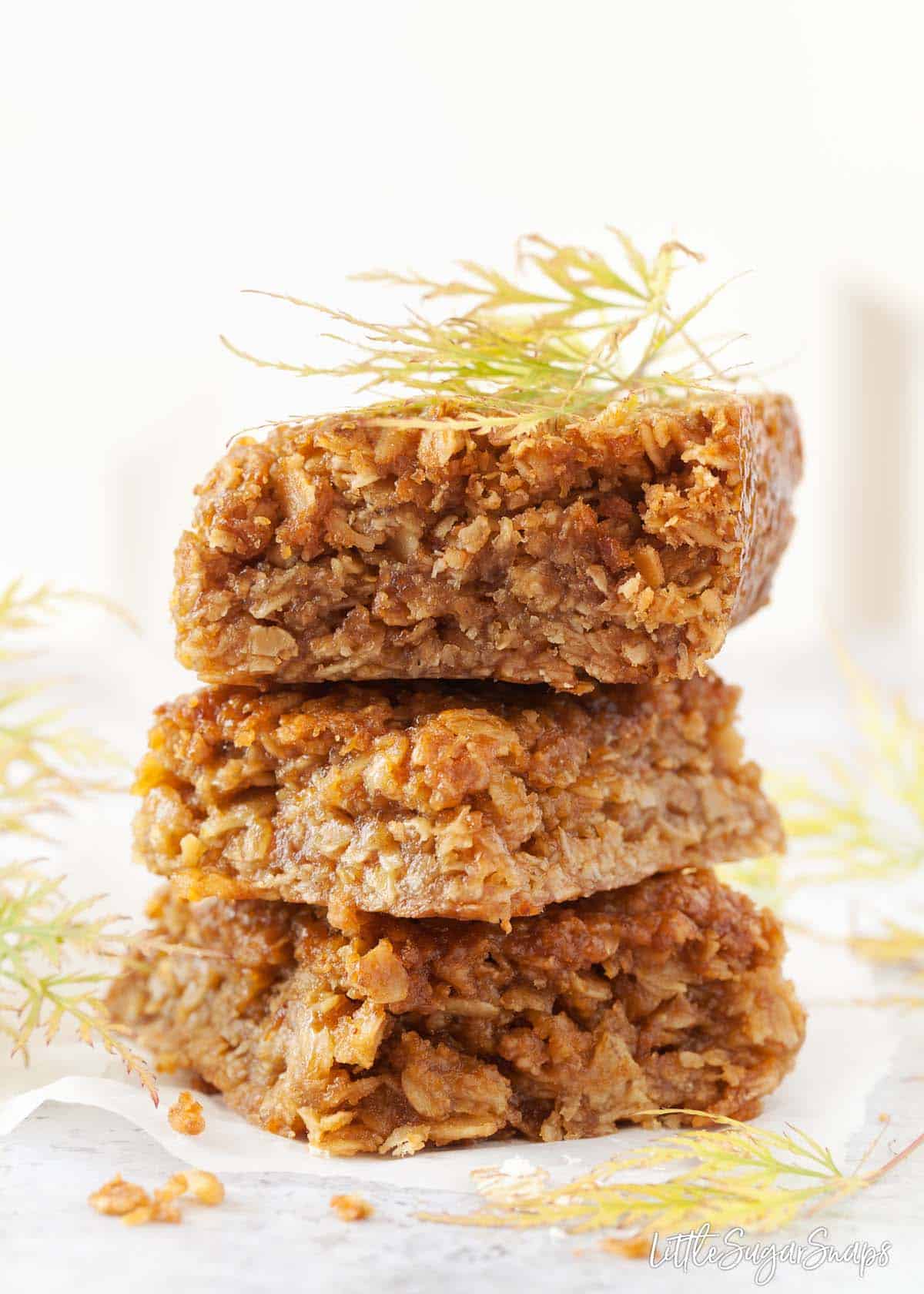 Storing and Freezing
This flapjack will keep for up to 5 days if stored in an airtight container at room temperature. For optimum freshness, wrap in foil before putting into the container.
Technically, flapjack can also be frozen. However, since it stores so well for a good 5 days at room temperature, it should rarely be necessary to do so.
Flapjack is also one of those recipes that can be easily scaled up or down to suit your requirements. If you have a suitable tin for making a half batch of the recipe in hand I would always recommend making the smaller batch over freezing part of a larger one.
Tips for Making Flapjack
Confession: Despite flapjack having a reputation for being one of the easiest bakes around, I used to really struggle with it.
Over time, I've learned a few tips and tricks for flapjack baking and I'd like to share them with you to ensure that you make the best Biscoff flapjack you are able to:
Always use regular rolled oats (porridge) rather than jumbo oats . Jumbo oats increase the chance that the flapjack will crumble as larger flakes are harder to compress in the tin than regular ones
Never use instant oats – these oats produce a mushy texture when cooked which is not ideal in this recipe
Whisk the melted ingredients together before mixing in the oats. Once the ingredients in the pan have melted and dissolved they do not automatically mix into each other – the melted butter will likely sit on top of the melted sugars. Use a small handheld balloon whisk to bind the ingredients together before mixing in the oats. This way the ingredients blend with the oats in a more uniform manner and result in a better bake
Pick a baking tin of appropriate size to ensure the mixture is not too thick or too thin. My Biscoff flapjack recipe is suitable for a 7×7-inch baking tin, and when cooked at the temperature specified for 30 minutes will produce hearty squares of flapjack around 2cm deep that are crisp around the edges with a chewier centre. Spreading too thin or too thick in alternative tins will affect the texture and cooking time
Bake for an extra 5 minutes if you prefer rock-hard flapjack. Alternatively, if you like soft and chewy, bake for 5 minutes less
Don't raise the oven temperature to cook the flapjack quickly. A slow even bake is best to avoid a soggy middle
Keep an eye on the flapjack as it bakes. Ten minutes before the recommended cooking time is up, check to ensure your flapjack is not cooking too quickly. And rotate the tin if your oven is browning one side more than the other. Take out of the oven when the flapjack is golden at the edges
Don't over-bake it accidentally. When golden around the edges the centre of the tin will likely look quite loose. This is normal. As the flapjack cools in the tin it will firm up
Firmly score the portions when hot but cut fully when cold – this is the best way to avoid the flapjack breaking up into irregularly shaped pieces and crumbling as it is cut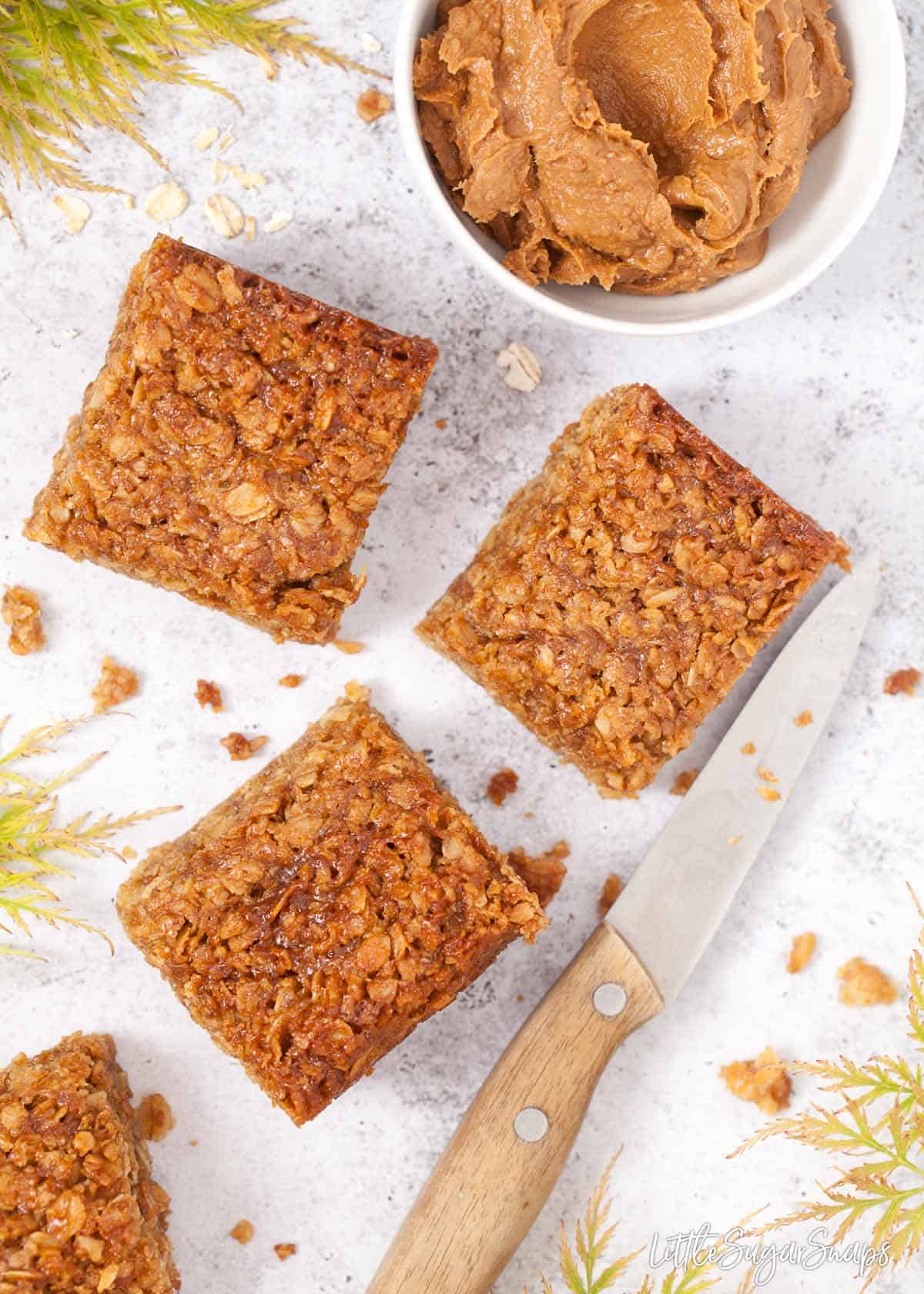 More Flapjack recipes to try: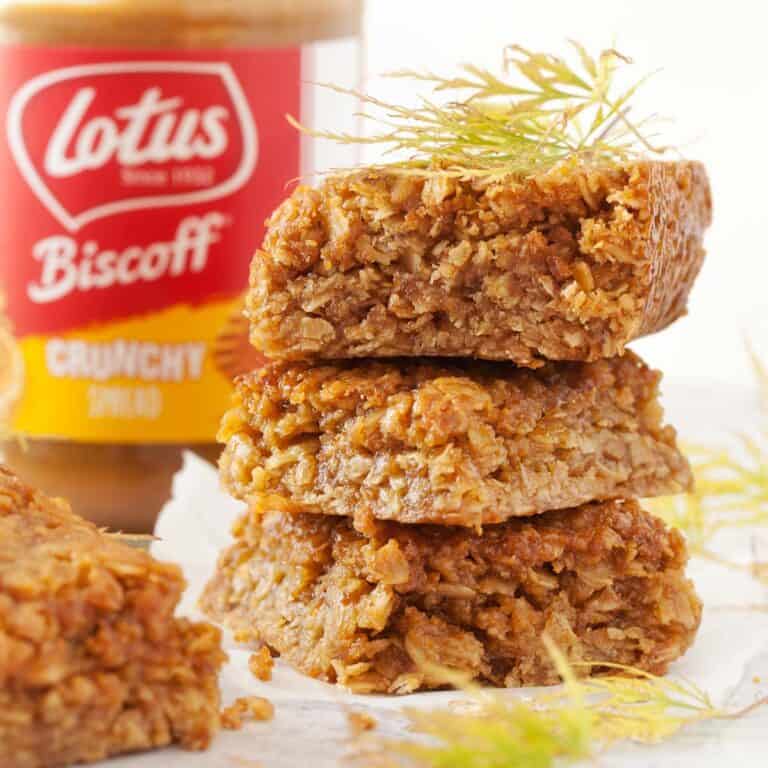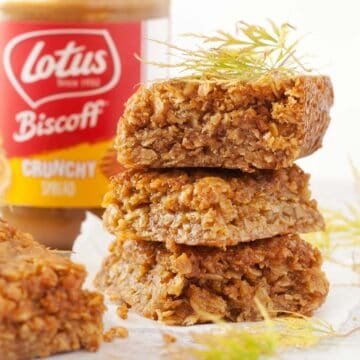 Biscoff Flapjack
Biscoff flapjack looks just like classic flapjack. It's golden and alluring but, with the inclusion of cookie butter in the mix the flavour is quite a change from the classic. These Biscoff oat bars are quick and simple to make but so delicious they won't last long.
Print
Pin
Rate
Ingredients
240

g

Butter

120

g

Demerara sugar

150

g

Biscoff spread

(smooth or crunchy work fine)

5

tablespoon

Golden syrup

(corn syrup)

300

g

Rolled oats

(not jumbo – see notes)
Instructions
Begin by preheating the oven to 160C/ 310/ GM 2 ½ and and line a 7x 7 inch baking tin with butter and parchment

Next measure the butter, sugar, Biscoff spread and syrup into a medium saucepan

Cook over a moderate heat, stirring frequently until the butter has melted and the sugar has dissolved

Use a small balloon whisk to beat the ingredients in the pan until they blend together

Take off the heat, tip in the oats and mix well

Spoon into the prepared tin, pushing it into the corners and edges. Press the mixture down firmly with the back of a metal spoon

Bake for around 30 minutes until the edges are golden, then remove from the oven

Allow to cool in the tin for 10 minutes, then use a sharp knife to mark the flapjack into 9 bars then let cool completely in the tin

Once cool, cut into the marked portions and remove from the tin

Store in an airtight container for up to 5 days
Notes
TIPS FOR MAKING THE BEST FLAPJACK
Always use regular rolled oats (porridge) rather than jumbo oats . Jumbo oats increase the chance that the flapjack will crumble as larger flakes are harder to compress in the tin than regular ones
Never use instant oats – these oats produce a mushy texture when cooked which is not ideal in this recipe
Pick a baking tin of appropriate size to ensure the mixture is not too thick or too thin. My Biscoff flapjack recipe is suitable for a 7×7-inch baking tin, and when cooked at the temperature specified for 30 minutes will produce hearty squares of flapjack around 2cm deep that are crisp around the edges with a chewier centre. Spreading too thin or too thick in alternative tins will affect the texture and cooking time
Bake for an extra 5 minutes if you prefer rock-hard flapjack. Alternatively, if you like soft and chewy, bake for 5 minutes less
Don't raise the oven temperature to cook the flapjack quickly. A slow even bake is best to avoid a soggy middle
Keep an eye on the flapjack as it bakes. Ten minutes before the recommended cooking time is up, check to ensure your flapjack is not cooking too quickly. And rotate the tin if your oven is browning one side more than the other. Take out of the oven when the flapjack is golden at the edges
Don't over-bake it accidentally. When golden around the edges the centre of the tin will likely look quite loose. This is normal. As the flapjack cools in the tin it will firm up
Firmly score the portions when hot but cut fully when cold – this is the best way to avoid the flapjack breaking up into irregularly shaped pieces and crumbling as it is cut
Nutrition Per Serving (Approximate)
Calories:
510
kcal
|
Carbohydrates:
54
g
|
Protein:
6
g
|
Fat:
30
g
|
Saturated Fat:
16
g
|
Cholesterol:
57
mg
|
Sodium:
193
mg
|
Potassium:
127
mg
|
Fiber:
3
g
|
Sugar:
29
g
|
Vitamin A:
666
IU
|
Calcium:
25
mg
|
Iron:
1
mg
(Visited 13,517 times, 6 visits today)