Sticky Toffee Cupcakes are as soft, squidgy and irresistible as the classic pudding they are mimicking. Each cupcake is full of tender dates and comes topped with gloriously rich and buttery toffee sauce along with a little buttercream. They are bound to be a hit with family and friends.
I'm not one for making big decisions. Or even small ones come to think of it. My case in point is the recipe for today's treat of sticky toffee pudding in cake form. It has been ready for quite some time but I just couldn't decide whether I should present it to you as sticky toffee cupcakes or sticky toffee layer cake. Honestly, both work just as well as each other, but in the end, cupcakes won out. Just this once – not many desserts get me as excited as a pretty layer cake.
My decision to go with Sticky Toffee Pudding Cupcakes was really based on the time of year and that really, these morsels would be ideally suited to attend a bonfire party. And… if you've got a sparkler in one hand, that leaves the other hand free for a cupcake. Yes? But not for layer cake, plate and fork. Noooo? See, even when cake is involved I think sensibly and safely.
So cupcakes won out… for now at least. I may be tempted to pull together the layer cake version at a later point too, since Sticky Toffee Pudding anything is a really good idea.
Okay, back to the cupcakes. First, let me tell you about them. Just like the dessert, these sticky toffee cupcakes contain soft and squidgy chunks of dates inside of the sponge. I go with tradition and soften my dates with hot water and Bicarbonate of Soda before adding them to my cake batter.
Confession: I was hoping to wow you with an exact explanation of why this is a necessary step. However, all I've discovered is a seemingly made-up explanation than it tottifies the dates. I'd suggest putting that nugget of potential mis-information aside and instead be assured that the water and bicarb do plump up the dates and soften them very nicely indeed. It's almost as if they have been stewed.
Once the cakes are made, it's on with the laborious task of dousing them in plenty of toffee sauce. My life is so hard sometimes. (If you like toffee or caramel on your cupcakes you should also check out my coffee caramel cupcakes.)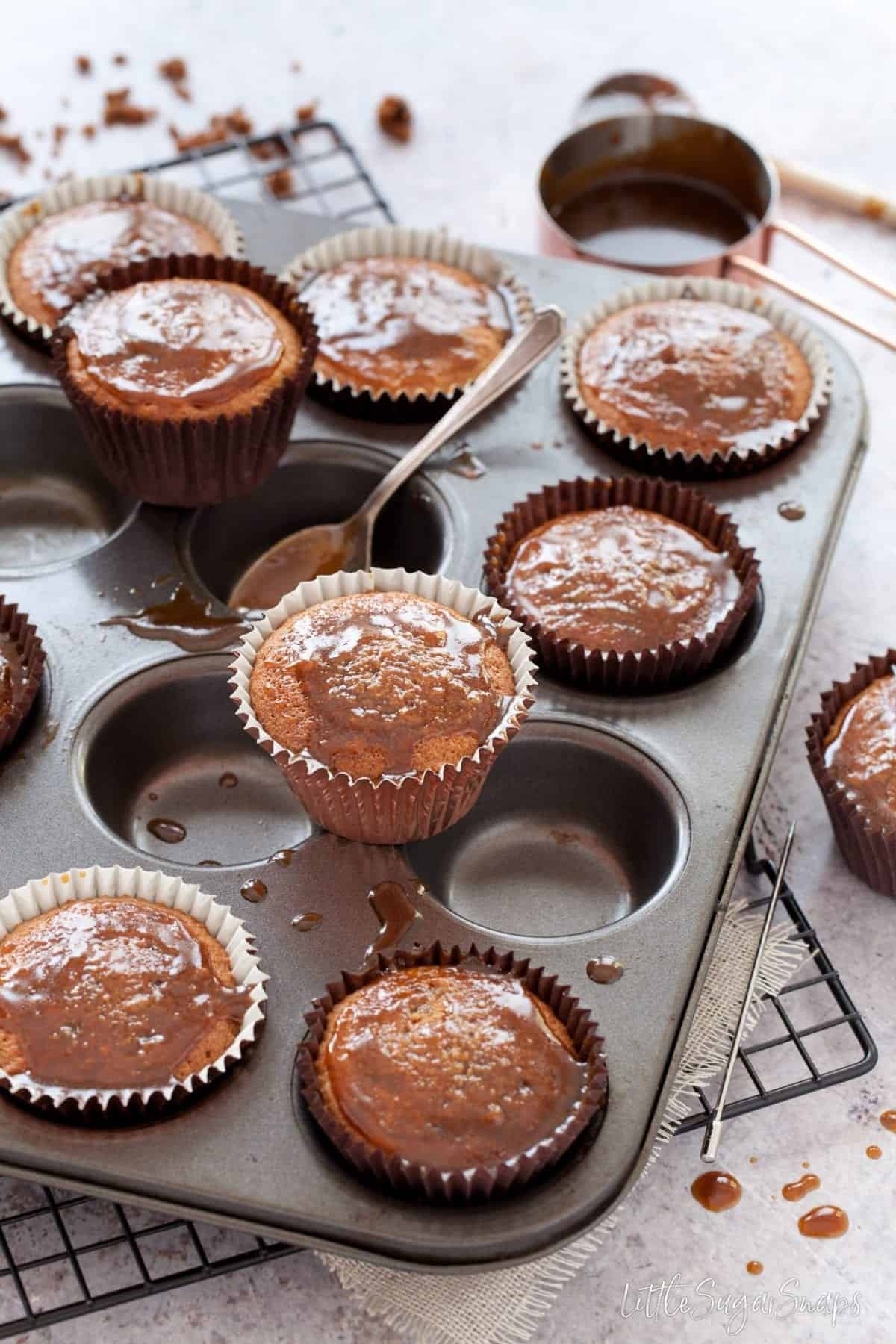 When the cakes have cooled, a little piping action is required to ensure a pool of sauce can be added along with the buttercream. Incidentally, did I mention that the buttercream has a little of the toffee sauce blended in? Yup. I thought that might go down well.
Anyway, the piping is not as scary as it looks. I am terrible at piping, so I tend to muddle through the best I can. But I'm quite proud of what I came up with for these Sticky Toffee Pudding Cupcakes.
After hunting around in my set of nozzles, donated to me by my Mum who is an excellent cake decorator (Hi Mum), I soon realised that a puddle of sauce in the middle could not be attained if I relied on my usual wide nozzle and employed my gigantic splodge of icing technique. Something much more delicate was needed. So I picked up a Wilton 30 closed star nozzle and started to experiment.
How to Decorate Sticky Toffee Cupcakes
I've made some step-by-step images, to show the less capable pipers amongst us (me) what needs to happen to replicate my piping:
Begin by piping a thin line of buttercream around the edge of each cupcake in a circle – around ½ cm in from the edge
Next pipe lines from the edge of the cupcake, over the circular line previously piped and finish ⅓ of the way into the cupcake. By the time you have gone around the cupcake, an un-iced hole will have appeared in the middle (My tip is to pipe lines at 12 o'clock, 3 o'clock, 6 o'clock & 9 o'clock and then fill in the gaps with more lines)
Pour sufficient toffee sauce into the centre of each cupcake. Enough to fill the hole generously, but not enough to cause the sauce to overflow and run over your beautiful piping
Finally, neaten up the cupcake by piping tiny stars around the edge of the toffee sauce in a tidy circle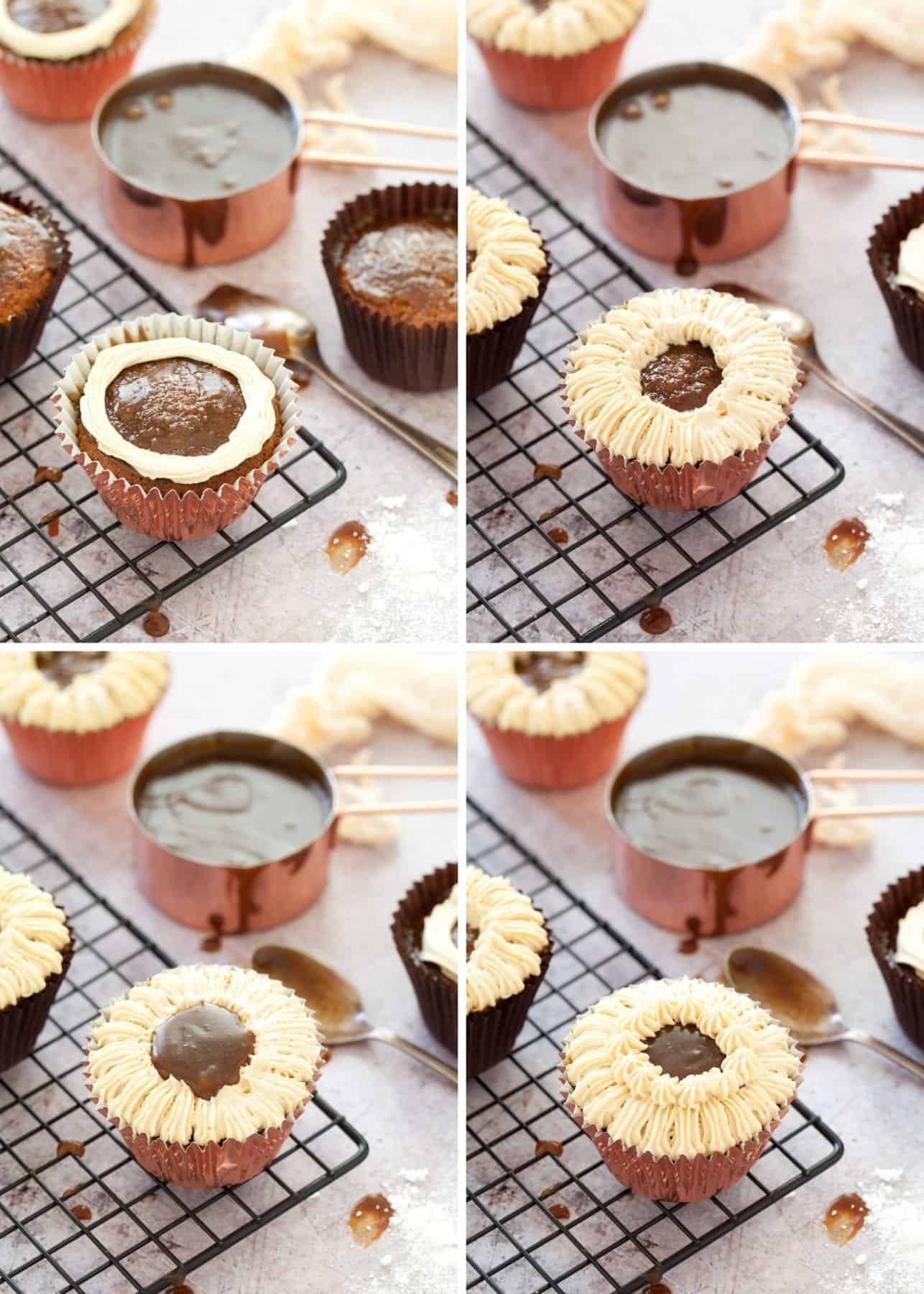 And that's it. These sticky toffee pudding cupcakes are ready to serve. Really, those little stars can hide a multitude of piping sins.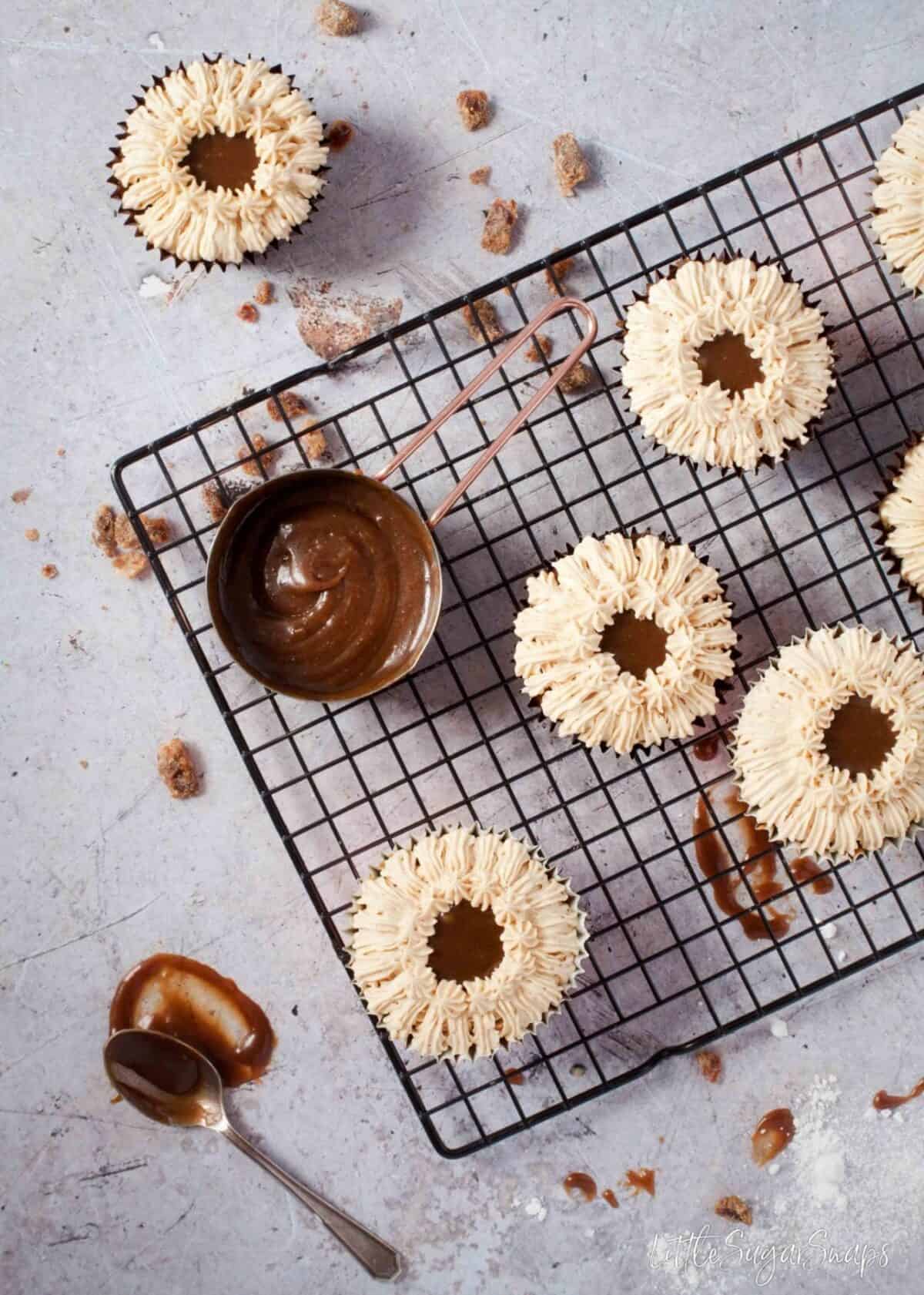 These cakes are deliciously squidgy, with a deep and comforting flavour. The muscovado sugar & those delicately tender dates in the cake batter along with the rich & buttery toffee sauce work together in cupcake form just as harmoniously as they do as a satisfyingly filling winter pudding.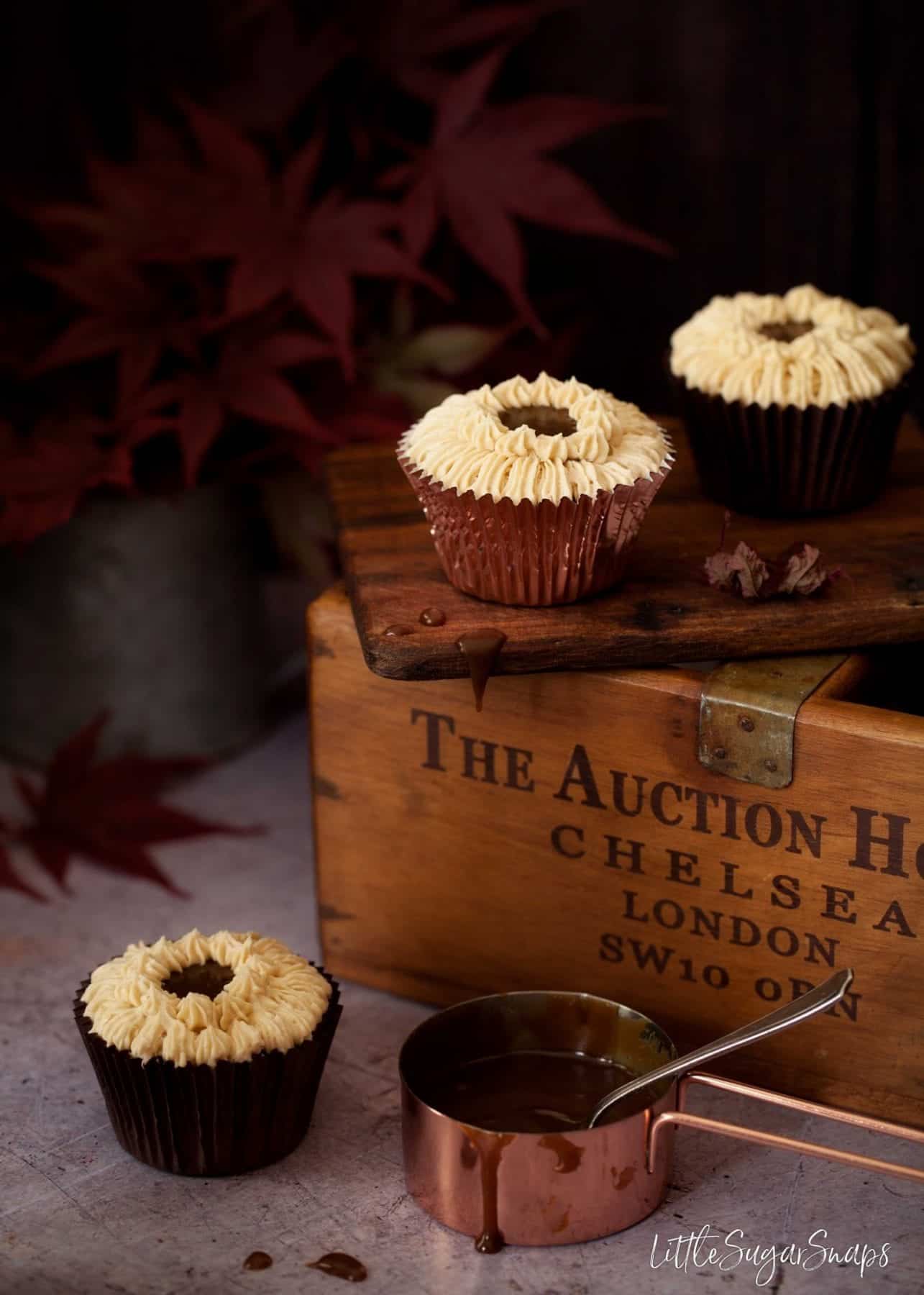 PS. If you can explain the science behind the dates + hot water + bicarb step, or even tell me that tottify is a legitimate word and what it means, I'm all ears.
(Update: my lovely friend Sarah has informed me that the bicarb serves to neutralise the acidic components of any tannic acid in the dates. This makes them less astringent and much more pleasant to eat. She has not, however, been able to clear up the matter of whether tottifies is a bona fide word though.)
Looking for more Bonfire Party Recipes? Try these: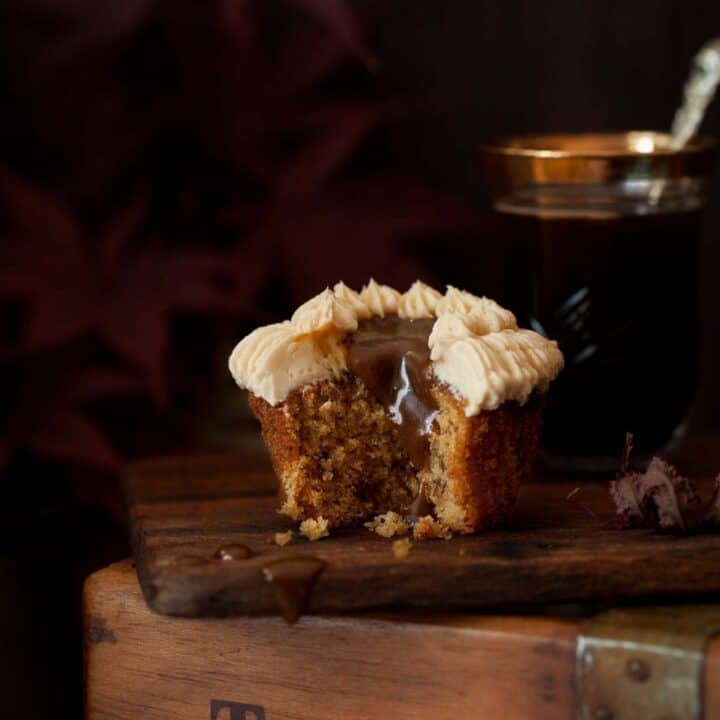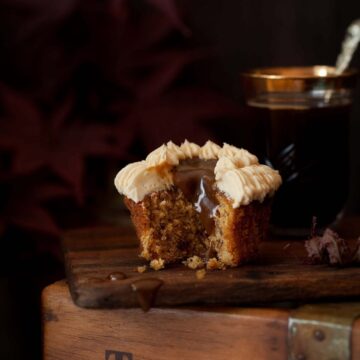 Sticky Toffee Pudding Cupcakes
The recipe makes more than enough sticky toffee sauce for the cupcakes. Any extra can be used to top ice cream.
Print
Pin
Rate
Ingredients
For the Cakes
90

g/ 4 ½ oz

Chopped dates (pitted)

½ teaspoon

Bicarbonate of soda

125

g/ 4 ½ oz

Plain (all purpose) flour

1

teaspoon

Baking powder

125

g/ 4 ½ oz

Light muscovado sugar

125

g/ 4 ½ oz

Butter – softened

2

Eggs – large, free range
For the Sticky Toffee Sauce
90

g/ 3 oz

Butter

90

g/ 3 oz

Dark muscovado sugar

2

tablespoon

Golden syrup (or corn syrup)

¾

teaspoon

Vanilla extract

Pinch of salt
For the buttercream
150

g/ 5 oz

Butter

200

g/ 7 ½ oz

Icing (confectionary) sugar

2

tablespoon

Sticky Toffee Sauce (see above)
Instructions
Make the Cupcakes
Begin by putting the dates and bicarbonate of soda into a small bowl and pouring boiling water over to just cover the fruit. Set aside

Preheat the oven 170C/ 325F/ GM3 and line a cupcake tray with paper cake cases

Using electric beater, cream the butter and sugar together until light & fluffy

Add the eggs, one at a time, beating well

Sift the flour and baking powder into the bowl and gently stir in, using a large metal spoon until thoroughly combined. Take care not to overwork the batter though

Drain the dates through a sieve – give it a good shake to remove the liquid. Quickly fold the dates into the cake batter

Divide between the cupcake cases – filling each case around ⅔ full – and bake for approximately 20 minutes

Test that the cupcakes are baked through: poke a cocktail stick into one of the cakes – if it comes out clean then the cakes are ready. If not, return to the oven for a couple more minutes, then test again
Make the Sticky Toffee Sauce
While the cupcakes are baking measure all of the sauce ingredients (except the vanilla extract) into a saucepan

When the cupcakes have around 10 minutes of baking time left, put the pan on a moderate heat and all the ingredients to fully melt, stirring with a wooden spoon frequently

When everything has dissolved, turn up the heat and bring to a boil for 1 minute

Reduce the heat to low, stir in the vanilla extract and keep the pan on the heat to keep warm

As soon as the cupcakes come out of the oven drizzle 1 teaspoon of sauce over each cupcake, spreading it out a little (but it does not need to cover the top of the entire cake – see my picture)

Let the rest of the sauce cool to room temperature
Make the Buttercream
Put the butter into a medium bowl and beat until smooth and soft

Sieve in the icing sugar 1 tablespoon at a time and beat well between each addition

Once all of the icing sugar has been mixed in, beat in the cooled sticky toffee sauce
Assembling the Cupcakes
Once the cupcakes and sauce have cooled completely, pipe a thin line of buttercream around the edge of each cupcake (½ cm in)

Using a Wilton 30 star nozzle pipe lines from the edge of the cupcake, over the circular line previously piped and finish ⅓ of the way into the cupcake (see my step by step images for a little more guidance.

(My tip is to pipe lines at 12 o'clock, 3 o'clock, 6 o'clock and 9 o'clock and then fill in the gaps with more lines)

Once the full circle of lines has been piped, pour 1-2 tsp sauce into the centre of each cupcake – enough to fill the space left, but not enough to make it pour over the top

Neaten the cupcake up by piping small stars (using the same nozzle) all the way around the edge of the pool of sauce.

(Again, my step-by-step images will help clarify this action)

Store in an airtight container for up to 3 days
Nutrition Per Serving (Approximate)
Calories:
432
kcal
|
Carbohydrates:
51
g
|
Protein:
2
g
|
Fat:
26
g
|
Saturated Fat:
16
g
|
Cholesterol:
93
mg
|
Sodium:
247
mg
|
Potassium:
139
mg
|
Fiber:
1
g
|
Sugar:
41
g
|
Vitamin A:
800
IU
|
Calcium:
49
mg
|
Iron:
1
mg
(Visited 9,458 times, 28 visits today)