Sorting Hat Cupcakes are immense fun for Harry Potter fans. Each brown sugar cupcake is filled with a stash of red, green, blue or yellow candy drops, (representing each of the 4 Hogwarts houses) which remain hidden under a swirl of butterbeer flavoured buttercream until bitten into. It's a fun way for fans to find out their house.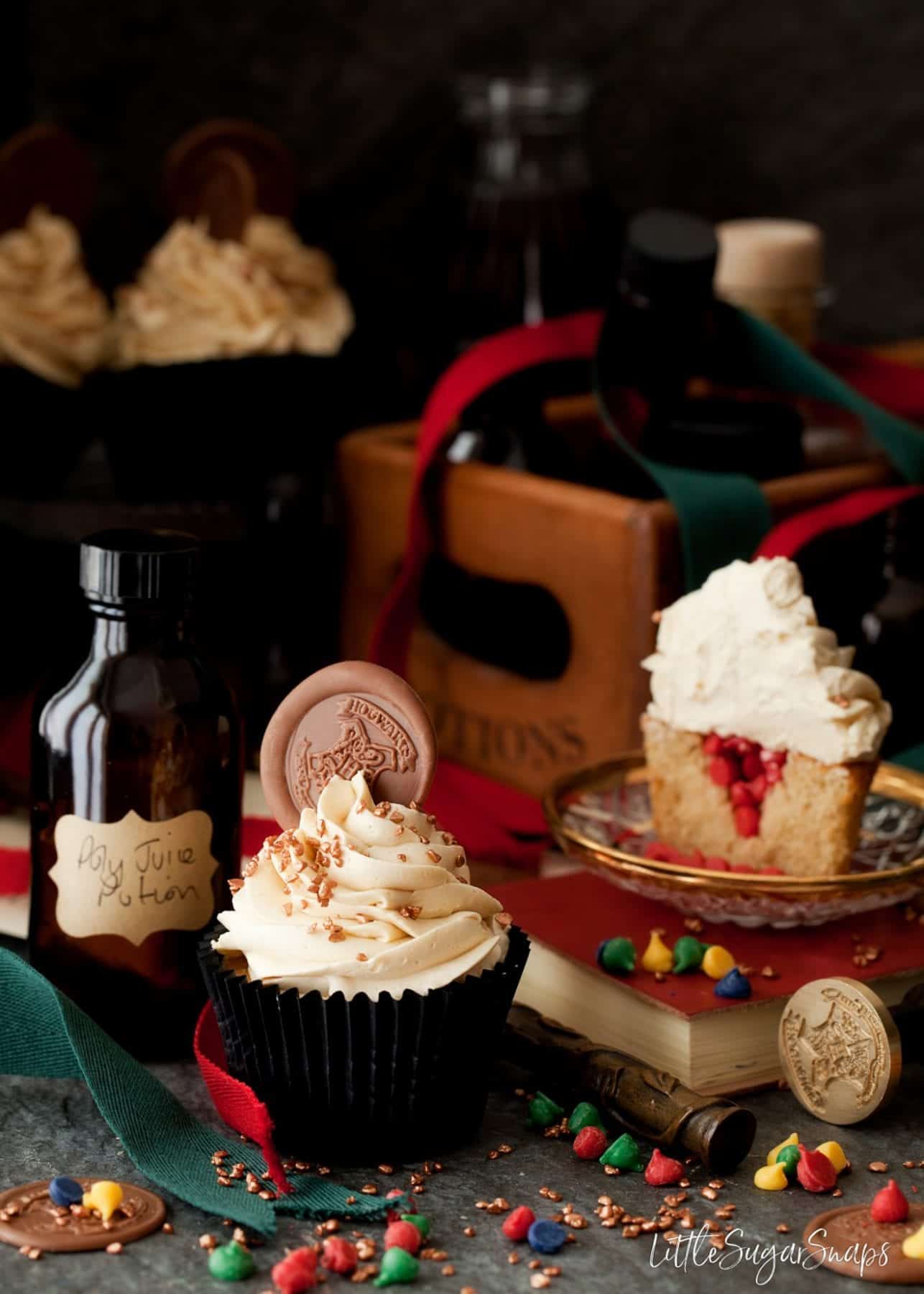 THIS POST CONTAINS AFFILIATE LINKS. AS AN AMAZON ASSOCIATE I EARN FROM QUALIFYING PURCHASES.
One thing I never thought I'd find myself writing about on my blog is a themed cake. Believe me, I have had to rise to the challenge of baking plenty of whacky party cakes over the years. But I never expected one to make it onto LittleSugarSnaps. It's just not what I normally like to write about. But here I am, laden with a large stash of photographs for some cupcakes that remain eternally popular with my children and their friends: Harry Potter Sorting Hat Cupcakes.
Let me get straight to the point. These cupcakes are the epitome of edible fun. They are guaranteed to get excitement levels up for any Harry Potter fan (even adults).
What could be more fun than biting into your Harry Potter themed cake, discovering you have been placed in your favourite house (or not) and then comparing how your friends have fared. These Sorting Hat Cupcakes are a brilliant choice for serving up at a Harry Potter themed party.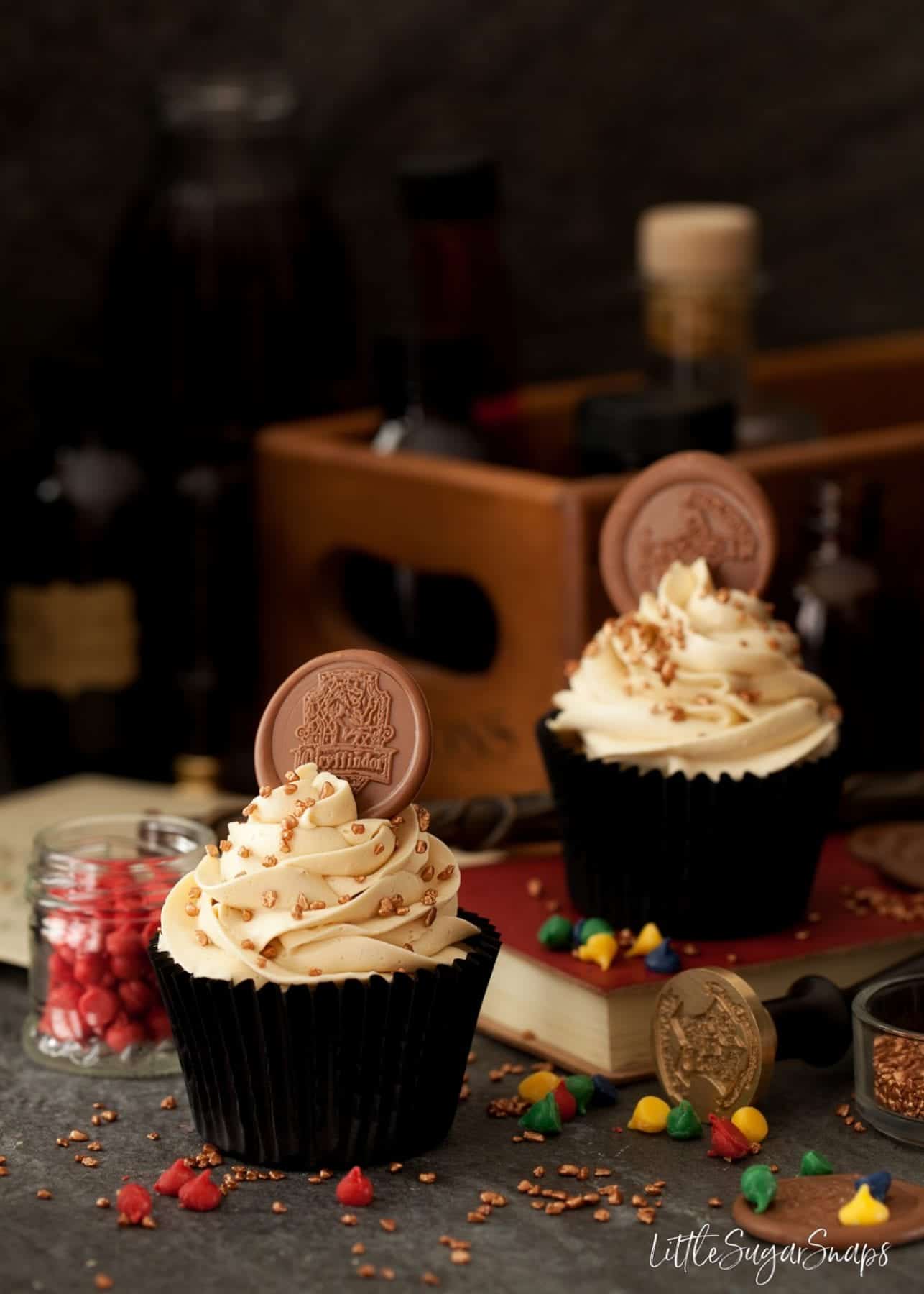 The recipe for these Sorting Hat Cupcakes is certainly one that has evolved since the first time I made a batch.
My original bake was inspired by those created by Sugar Bean Bakers. I used my standard chocolate sponge recipe and regular vanilla buttercream. But since my children have a penchant for piñata cakes, I did switch out the sweet cream filling and used M&Ms in its place. However, after sitting for a while, the colouring from the sugar shell on the sweets began to bleed.
The kids don't seem to mind, but this kind of messiness really niggles away at me.
Two more large batches of Sorting Hat Cupcakes followed a few months later for birthday parties. This time I opted for candy melts in place of M&Ms. I melted the candy down and piped tiny drops ready to fill the cakes. Bingo. No leaking colours this time around - the colour remained consistently punchy & vibrant.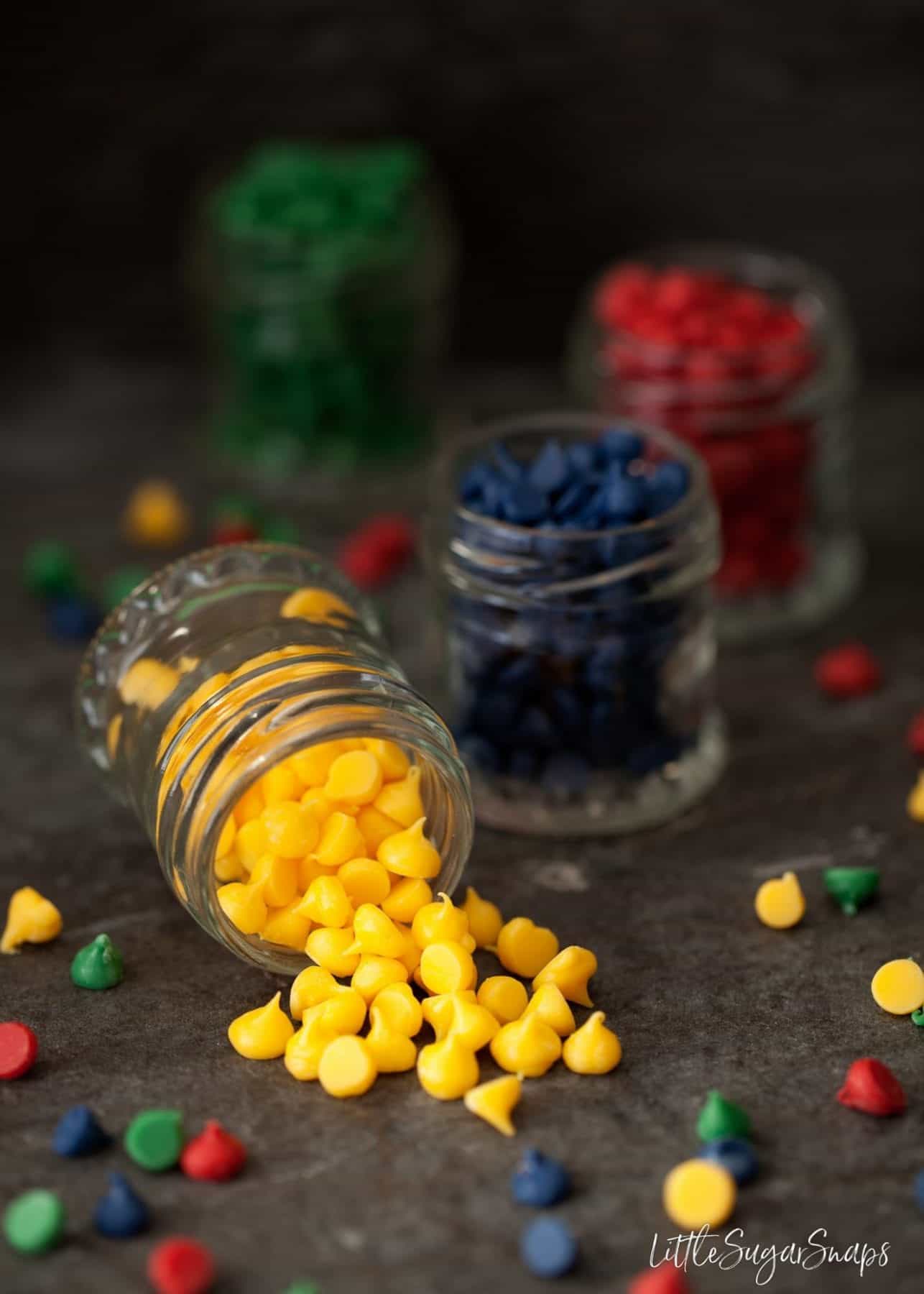 More recently, I decided to rethink the cake and the buttercream to give them both a flavour Harry Potter would approve of - so butterbeer cupcakes emerged.
What is a Butterbeer Cupcake?
Butterbeer is a drink served in the Leaky Cauldron in the Harry Potter series. It is described as tasting of butterscotch and cream soda.
I used this description to turn my sorting hat cupcakes into the ultimate treat for Harry Potter fans - butterbeer cupcakes. To do this I did 2 things:
I used brown sugar - one of the main ingredients in butterscotch - in place of regular caster sugar in the cupcake batter to impart some of the butterscotch flavour into the actual cake. There's also some vanilla in the mix and I definitely recommend sticking with butter rather than using baking margarine as a substitute to ramp up that buttery flavour profile
I added some butterscotch sauce to my vanilla buttercream. When added to vanilla buttercream, the smooth and lusciously buttery sauce renders the buttercream not only sweet but deliciously creamy and buttery too
These butterbeer cupcakes are sure to stand out in terms of flavour and looks.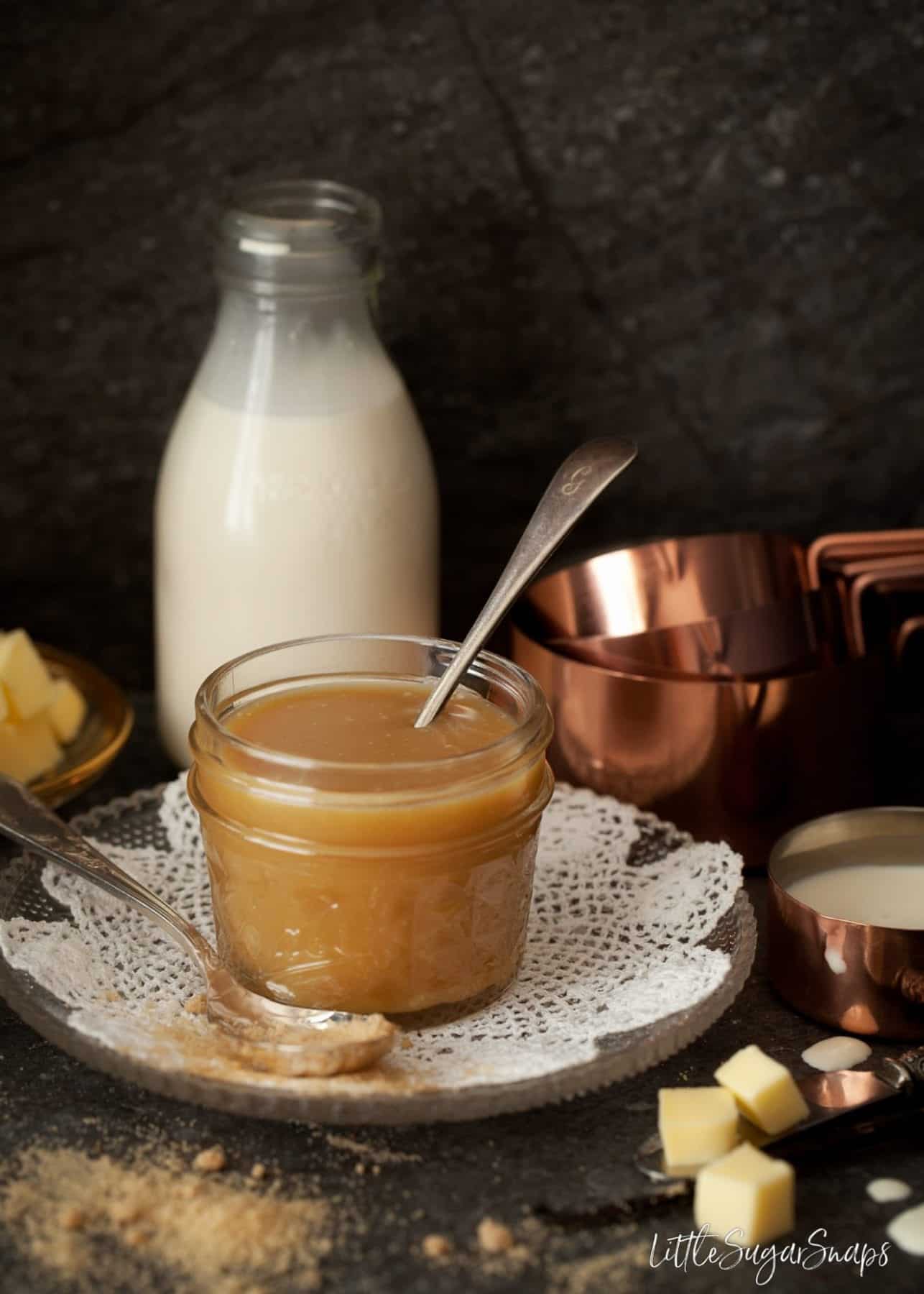 How to Make Harry Potter Cakes
The base cake recipe is really an open book. I have presented a recipe for brown sugar cupcakes, since this adds a delicious caramel edge to the actual cake, tying in well with the butterbeer frosting. However, your favourite vanilla or chocolate cupcake would work well too. Once baked there are 4 easy steps to success:
scoop out the centre of each cake
fill each cavity with either red, yellow, green or blue candy melts drops
cover with a generous swirl of butterbeer flavoured buttercream
decorate as desired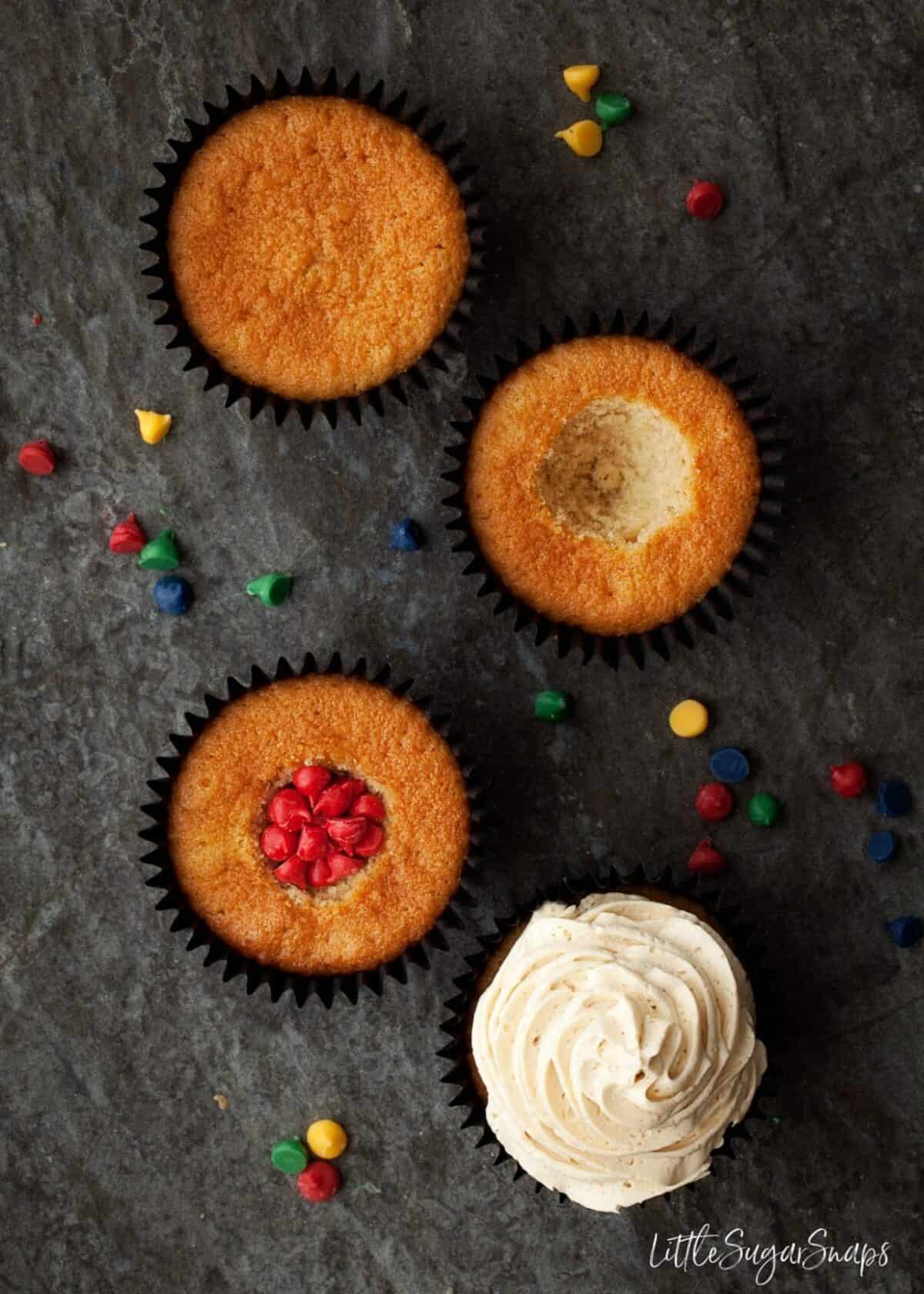 How to Decorate Sorting Hat Cupcakes
I had always intended to pipe some sorting hats from chocolate and stand them up in the buttercream. However, in the final hour I came across a tutorial for making chocolate coins from wax seal stamps. And oh, sweet joy, Milly had a pair of Harry Potter wax seals bought her for Christmas. One for Hogwarts and one for Gryffindor. These cakes were just meant to be.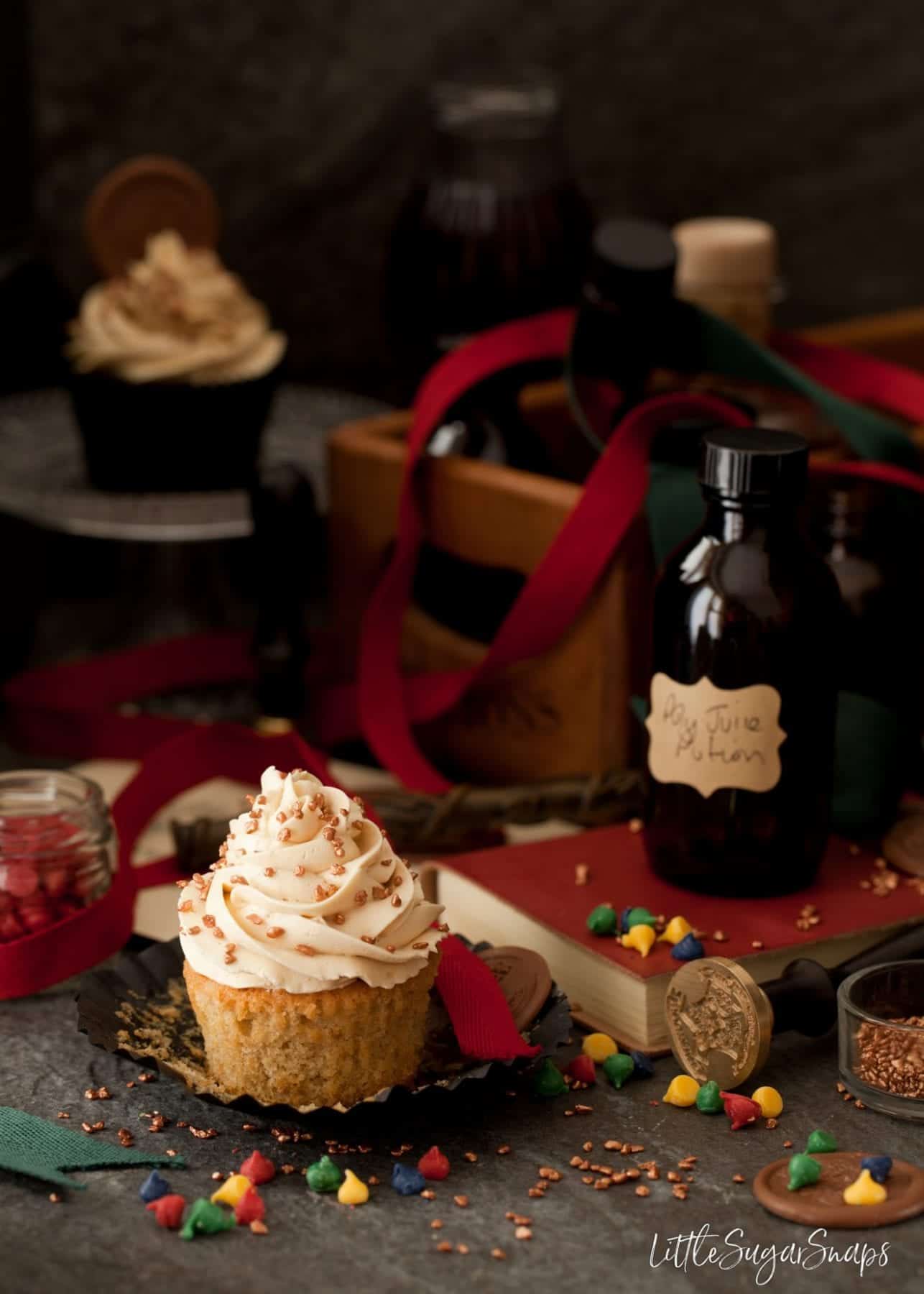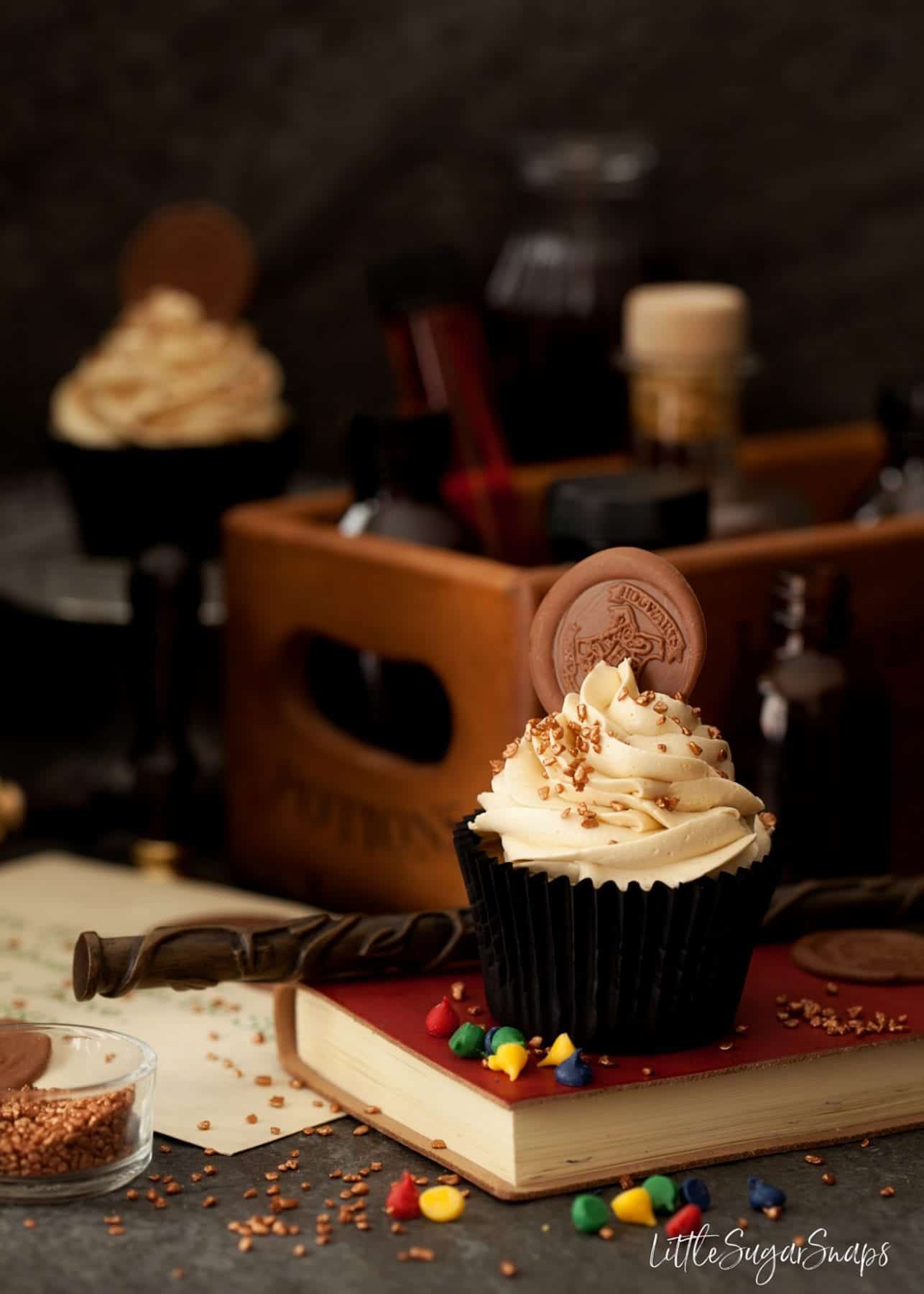 Similar stamps are available to purchase on Amazon, but of course, these Sorting Hat Cupcakes can be decorated in various other ways:
And that's the evolution of these Harry Potter Sorting Hat Cupcakes in a nutshell.
My children have been served these cakes numerous times now, but the thrill of biting into one and finding their Hogwarts House does not seem to diminish. These Harry Potter cupcakes remain hugely popular. Naturally, they both always want to get red for Gryffindor. And, predictably, each child guffaws at their sibling should they end up with a Slytherin cake.
They can just about cope with being labelled Ravenclaw or Hufflepuff.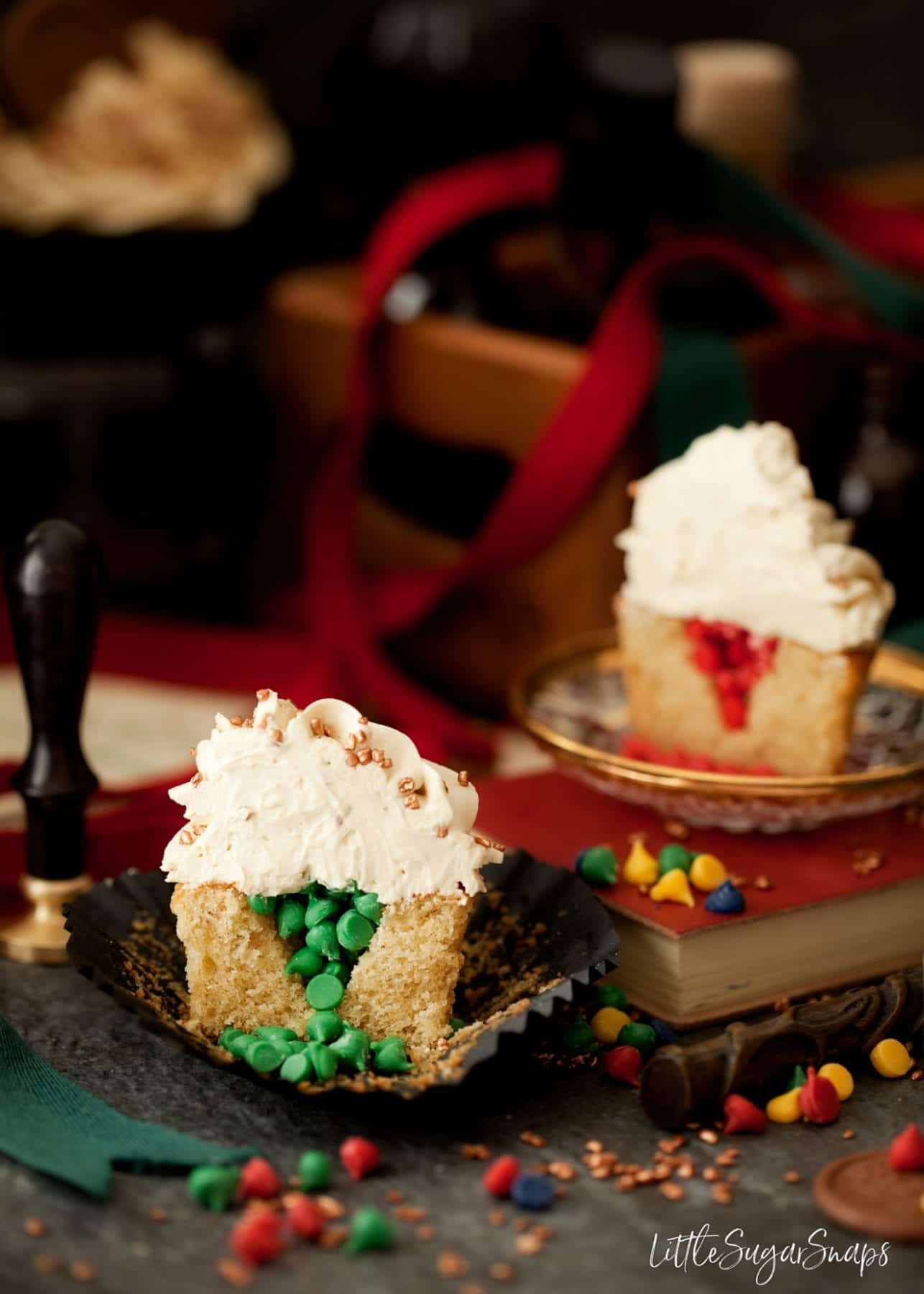 More Cupcake Recipes to try: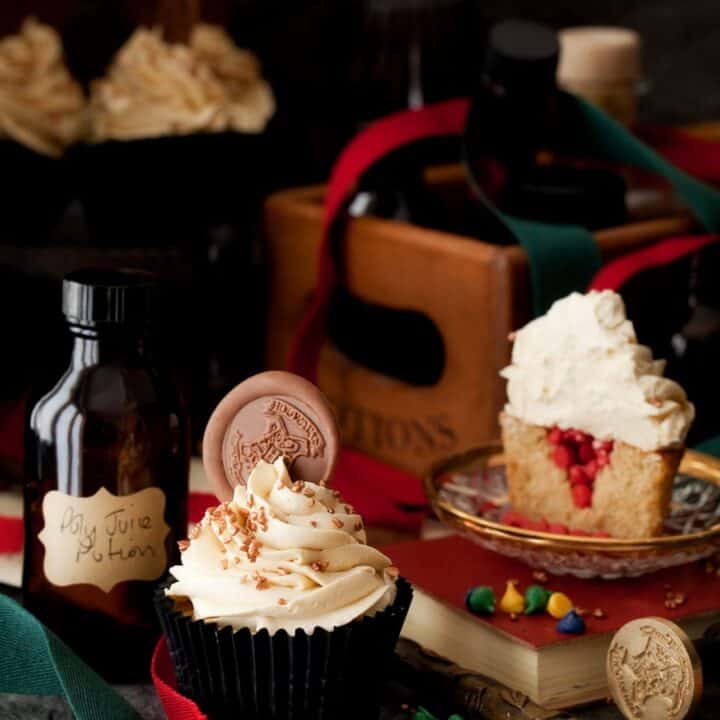 Harry Potter Sorting Hat Cupcakes with Butterbeer Buttercream
Sorting Hat Cupcakes are immense fun for Harry Potter fans. Each brown sugar cupcake is filled with a stash of red, green, blue or yellow candy drops, (representing each of the 4 Hogwarts houses) which remain hidden under a swirl of butterbeer flavoured buttercream until bitten into.

Do make the butterscotch sauce well ahead of time since it does need to cool and chill prior to being added to the buttercream.
Print
Pin
Rate
Ingredients
For the Brown Sugar Cupcakes
125

g/ 4 ½ oz

Butter (unsalted) - softened

125

g/ 4 ½ oz

Light brown sugar

2

Eggs (large, free range)

2

tbsp

Whole (full fat) milk

1

tsp

Vanilla extract

125

g/ 4 ½ oz

Plain (all purpose) flour

¾

tsp

Baking powder
For the Butterscotch Sauce
60

ml/ ¼ cup

Double (heavy) cream

50

g/ ¼ cup/ 1 ¾ oz

Light brown sugar

30

g/ ⅛ cup/ 1 oz

Unsalted butter

1

tbsp

Golden syrup (light corn syrup)

1

tsp

Vanilla extract

Salt - a large pinch
For the Butterbeer Buttercream
300

g/ 1 ⅓ cup/ 10 ½ oz

Unsalted butter - softened

200

g/ 1 ⅔ cup/ 7 oz

Icing (confectionary) sugar

1

tsp

Vanilla extract

1

Batch

Butterscotch sauce (listed above)
For the Coloured Drops
25

g/ 1 oz

Red candy melts

25

g/ 1 oz

Green candy melts

25

g/ 1 oz

Blue candy melts

25

g/ 1 oz

Yellow candy melts
Decoration - your choice of sprinkles, chocolate coins, molded caramel hats or paper flags
Instructions
Make the Butterscotch Sauce
Put all ingredients except the vanilla extract into a small, heavy based pan, and cook over a low-medium heat until the sugar has dissolved (stirring frequently

Bring to a rolling boil and cook for 2 minutes

Remove from the heat, stir in the vanilla extract and set aside to cool completely, then refrigerate for several hours
Make the House Drops
Melt the red candy melts, put into a piping bag fitted with a small circular nozzle and pipe small drops (3-5mm) onto baking parchment. Leave to set

Repeat for the remaining colours (ensure you wash and dry your piping bag and nozzle very well to avoid colour contamination).
Make the Cupcakes
Preheat the oven 170C/ 325F/ GM3 and line a cupcake tray with paper cake cases

Using electric beaters, beat the butter and sugar together until light and fluffy

Briefly mix the eggs in a jug and gradually add a tsp at a time into the creamed butter & sugar, beating well in between each addition (adding the egg really slowly reduces the risk of the mix splitting)

Add the vanilla extract and milk, then beat again

Sift the flour and baking powder into the bowl and gently & briefly fold in half using a large metal spoon (about 8 turns of the spoon). Add the rest of the flour and continue to fold in until all ingredients are throughly combined. Take care not to overwork the batter though

Divide between the cupcake cases - filling each case around ⅔ full - and bake for approximately 20 minutes

Test that the cupcakes are baked through: poke a cocktail stick into one of the cakes - if it comes out clean then the cakes are ready. If not, return to the oven for a couple more minutes, then test again

Once out of the oven remove from the baking tin and allow to cool completely on a wire rack
For the Butterbeer Buttercream
Put the butter into a medium bowl and beat until smooth and soft

Sieve in the icing sugar 1 tbsp at a time and beat well between each addition

Once all of the icing sugar has been mixed in, beat in the vanilla extract




Spoon the butterscotch sauce into the buttercream and beat in (use less butterscotch for a subtler flavour and leave a little sauce aside if you intend to drizzle some over the cakes as decoration)
Assemble the cakes
When ready to assemble cut a small cone from the middle of each cake (see my image)

Fill 3 cakes with red candy drops, 3 with green and so on

Put the buttercream into a piping bag fitted with a suitable nozzle (I used Wilton C4) and pipe the buttercream onto the cakes, ensuring that the coloured drops are completely covered up

Add your choice of decoration
These cakes keep for up to 3 days in an airtight container
Nutrition Per Serving (Approximate)
Calories:
487
kcal
|
Carbohydrates:
43
g
|
Protein:
3
g
|
Fat:
35
g
|
Saturated Fat:
22
g
|
Cholesterol:
116
mg
|
Sodium:
275
mg
|
Potassium:
79
mg
|
Fiber:
1
g
|
Sugar:
35
g
|
Vitamin A:
1061
IU
|
Calcium:
43
mg
|
Iron:
1
mg
(Visited 1,632 times, 13 visits today)