The Bourbon Caramel Steamer is a luscious blend of milk and caramel with just a hint of Bourbon. Sweet. Mellow. Toasty. Cosy. Indulgent. Comfort in a mug.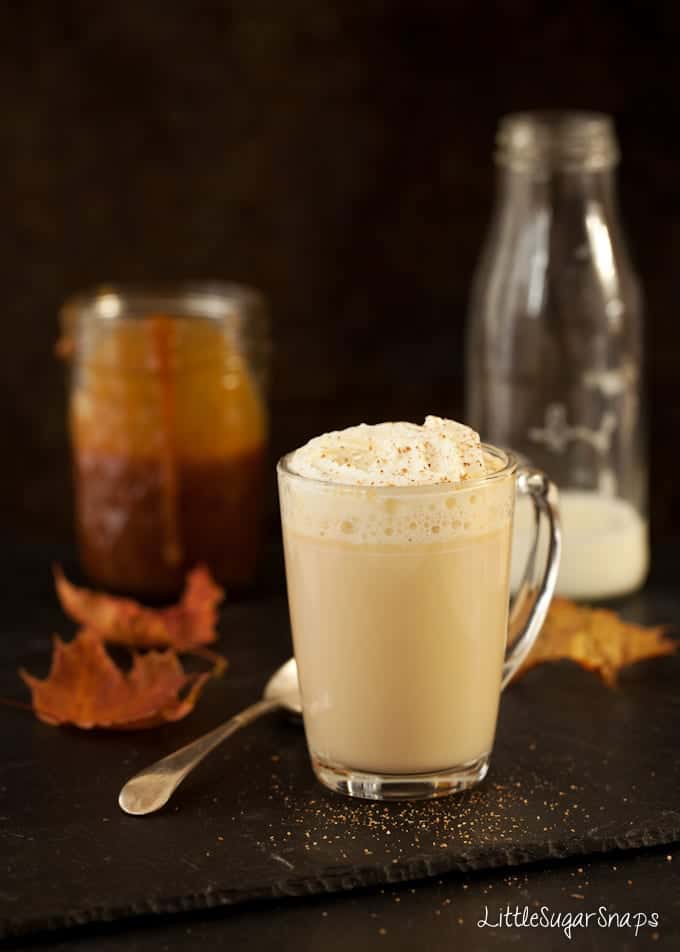 It's here. The second installment of my caramel bender is ready and waiting for you to enjoy. This time the caramel is cleverly transformed into a flavoured milk steamer with just a hint of Bourbon: the Bourbon Caramel Steamer.
Question: do you like caramel sauce?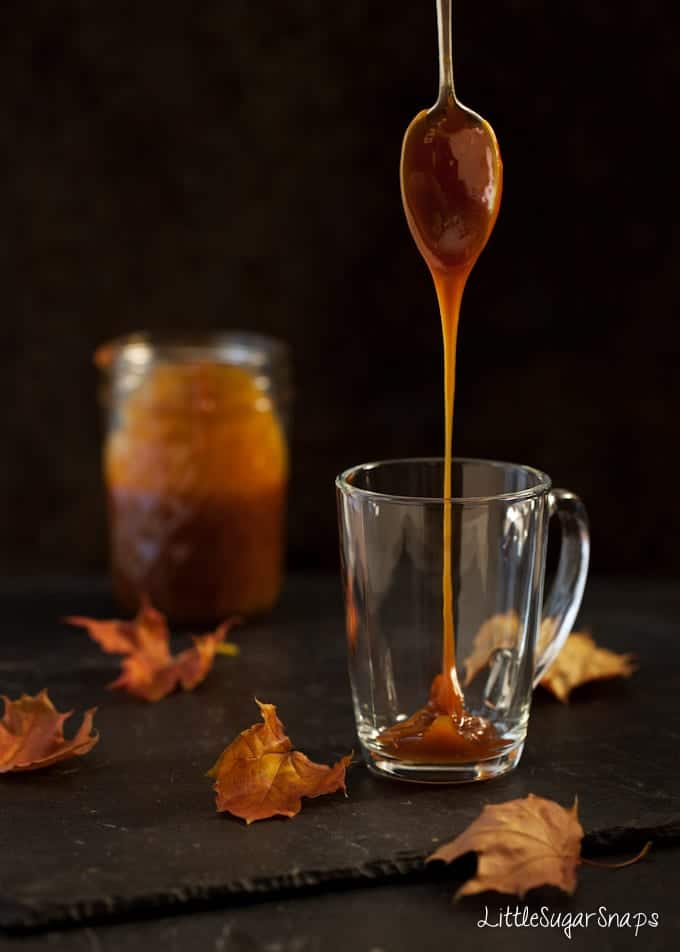 Me too. Dripping caramel always looks enticing.
But I bet you're wondering why I didn't just create a caramel steamer, add a stiff (aka large) shot of Bourbon and be done with it.
Don't get me wrong, the Bourbon loaded drink does sound lush. However, for once (and only once) I didn't particularly want to create an intensely alcoholic drink that would knock your socks off and… hic… render you useless for the rest of the day or night.
I wanted to devise a more subtle drink that was indulgent, warming and comforting. I wanted sweet, mellow, toasty notes that make you feel cosy as you sip it. In addition, I wanted to make a drink that could be enjoyed at pretty much any time of day including breakfast.
Too much Bourbon would have upset this mix. Only a small measure is needed to keep that balance of flavours. Adding the Bourbon to the caramel means that there's no measuring out piddly amounts of alcohol each time you want to enjoy this drink. Once made, the sauce can be stored in the fridge ready to blend with the milk. Easy.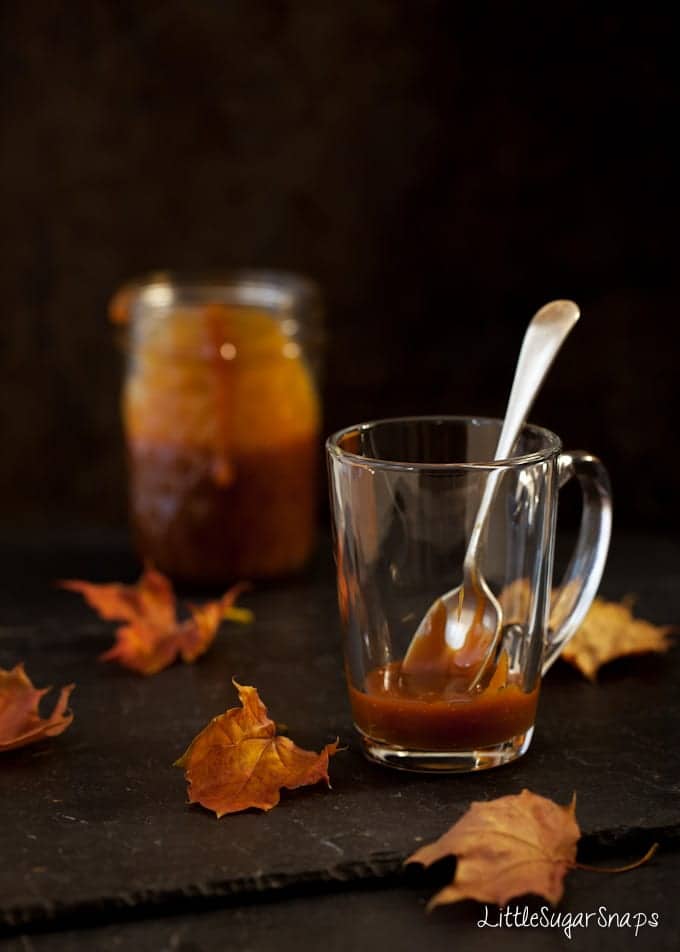 I don't like Bourbon. What else could I use?
Dark rum (or even spiced rum) makes a wonderful addition to this drink in place of the bourbon. Likewise, you could also try a splash either brandy or straight whisky as alternatives.
Of course, you can leave out the alcohol completely and enjoy a T-Total version. That's exactly what I do if I'm planning on treating my girls to this drink.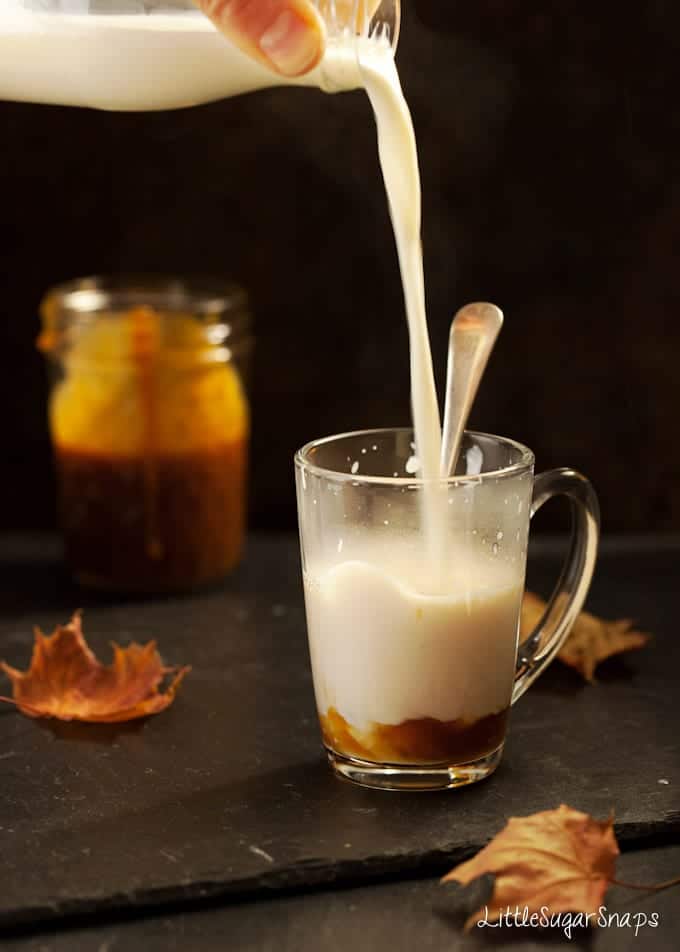 That said, my advice is not to ditch the Bourbon unless you really have to since Bourbon and caramel are naturals together. The Bourbon imparts warmth & toastiness to the sweet vanilla notes of the caramel. This luscious blend of flavours makes the Bourbon Caramel Steamer immensely pleasurable to slurp now the chilly winds of autumn and the long, dark nights of winter are about to fall around us. Just don't blame me if you form a new addiction.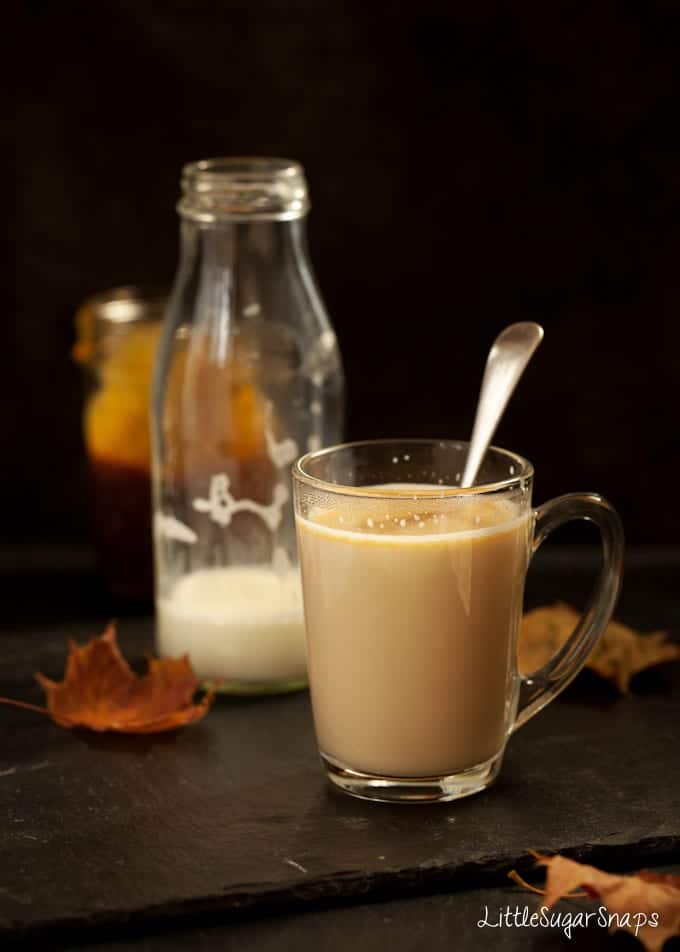 PS: Stay tuned for the final part of my caramel bender trilogy. Half term break and my girls deciding that I was superfluous to their game yesterday morning left me with time to get creative in the kitchen. The recipe is imminent…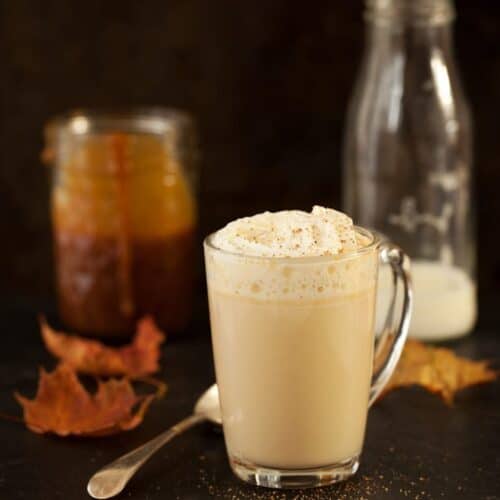 Bourbon Caramel Steamer
The Bourbon Caramel Steamer is a luscious blend of milk and caramel with just a hint of Bourbon. Sweet. Mellow. Toasty. Cosy. Indulgent. Comfort in a mug.
This recipe makes enough bourbon caramel for 6 drinks.
Print
Pin
Rate
Ingredients
For the Caramel Sauce
2

tbsp

water

125g/ 2/3 cup

caster sugar

120ml/ 1/2 cup

double (heavy) cream

1/4

tsp

vanilla extract

(optional)

1/4

tsp

sea salt flakes

3

tbsp

Bourbon
For the Bourbon Caramel Steamer (per serving)
200ml/ 3/4 cup

whole (full fat) milk

40ml /

2 tbsp + 2 tsp

caramel sauce

whipped cream

freshly grated nutmeg
Instructions
Make the Caramel Sauce
Put the water into a heavy based saucepan. Spread the sugar on top in an even layer

Set the pan over a medium heat and allow the sugar to gradually melt. As it melts you can gently swirl the pan a couple of times to ensure the caramel cooks evenly, but do not stir it

Once the sugar has melted, the caramel will begin to darken. Continue to let it cook until it reaches a lovely amber colour (but keep a close eye on the caramel as it can burn easily)

Add the cream and the salt, taking care as it can bubble up and is extremely hot. Mix with a small handheld whisk until fully incorporated

Stir in the Bourbon. Set aside
Make the Bourbon Caramel Steamers
Put the milk in a pan and warm until steaming hot and just beginning to bubble at the edges

Meanwhile, warm the serving glass and spoon in the caramel sauce

Pour the steaming milk over the caramel and stir until completely melted

Top with whipped cream and a dusting of freshly grated nutmeg

Enjoy immediately
Notes
1. Any left over Bourbon Caramel Sauce can be stored in a screwcap jar in the fridge for up to 2 weeks. 2. Each serving prepared according to the above instructions contains approximately 1 1/2 tsp Bourbon.
Pin this Recipe: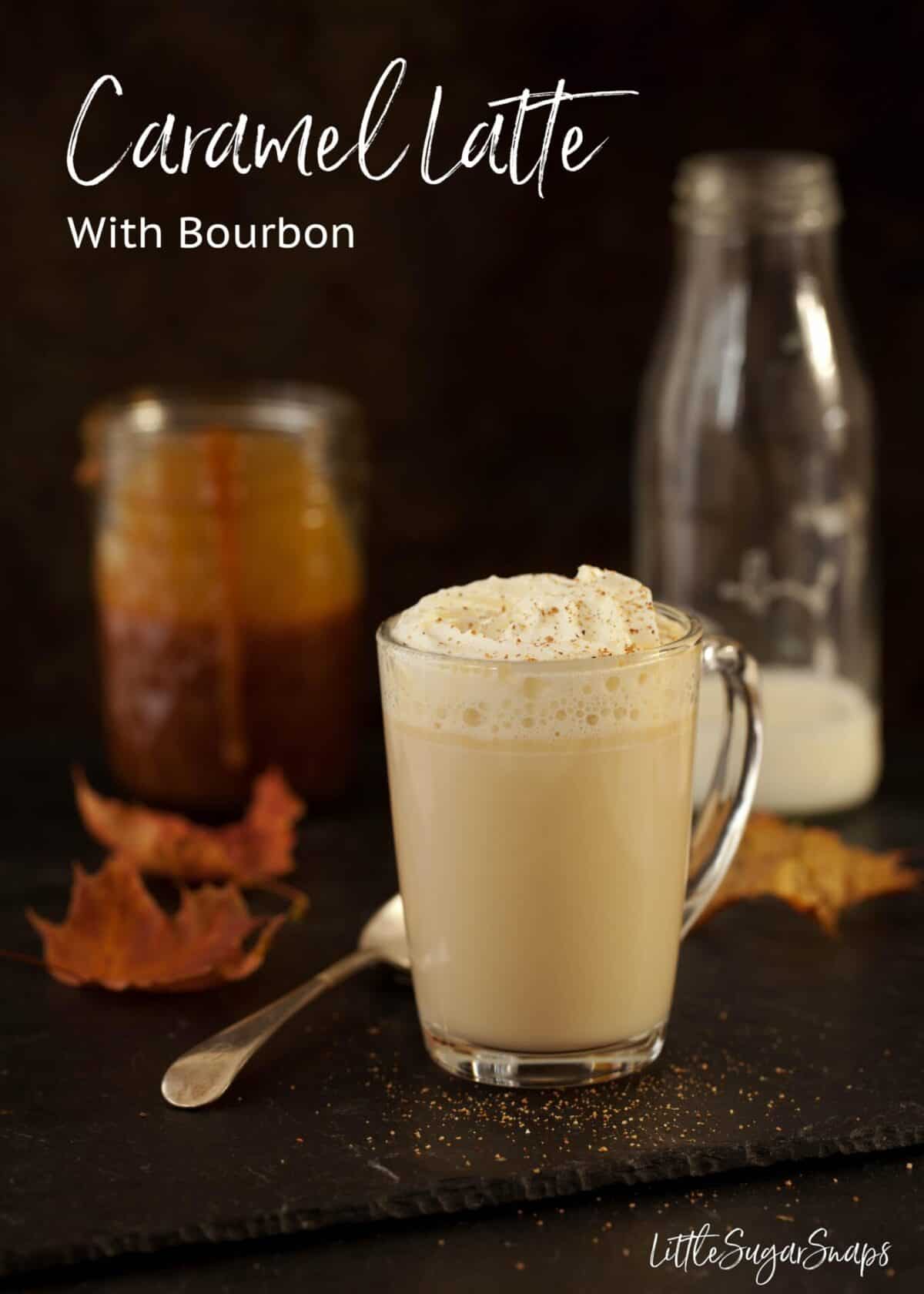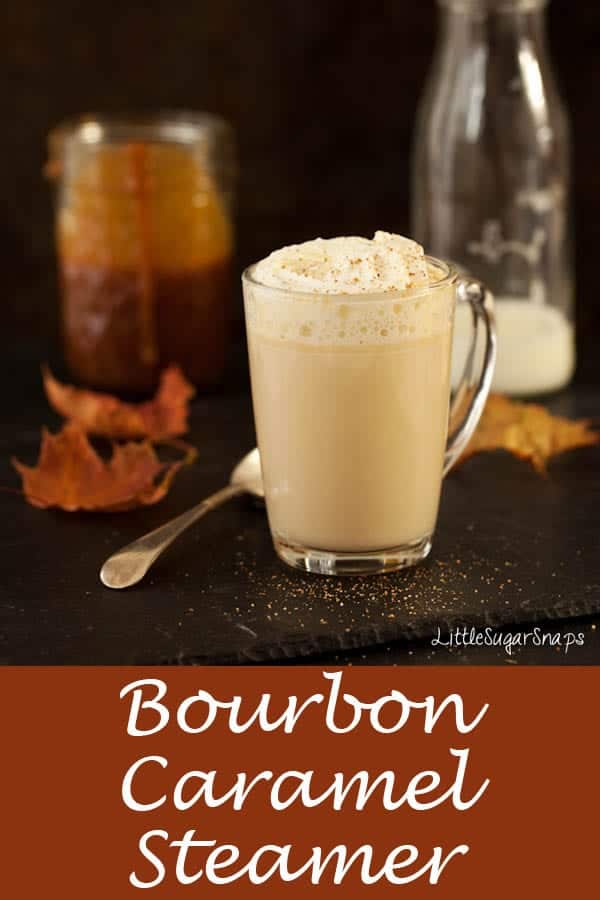 (Visited 233 times, 3 visits today)