These easy no-bake salted caramel krispie treats treats combine sweet, salty caramel with mellow pecan nuts and classic vanilla marshmallow rice krispie treats. They are seriously gooey and dangerously addictive.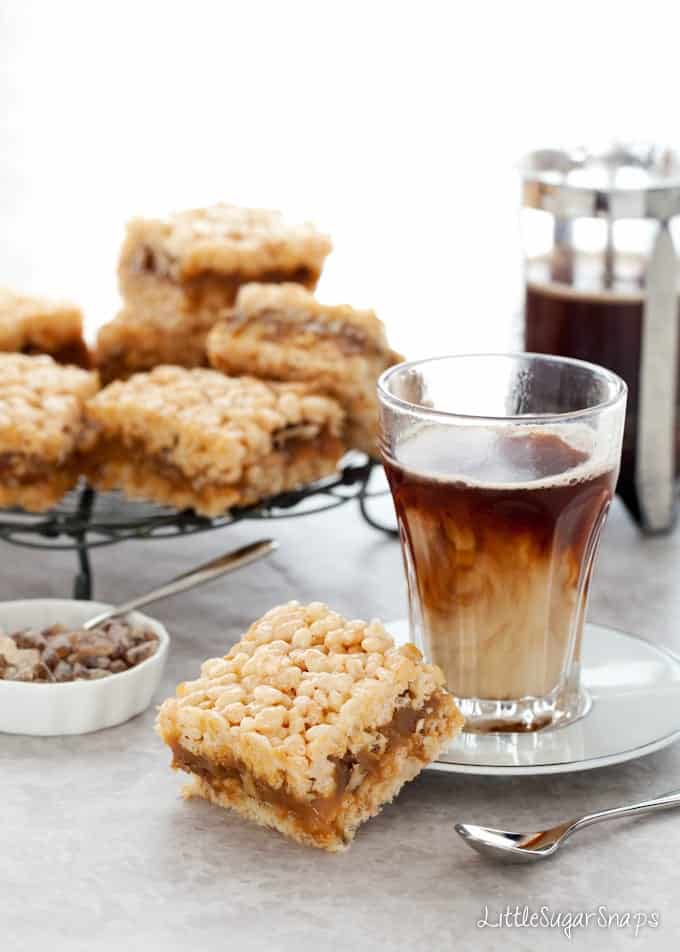 Am I right in thinking that salted caramel is taking over the world? It appear in anything and everything from cupcakes to cocktails. I, for one, am all in favour of this current food fashion since I'm crazy about the combination of sweet, silky caramel with a savoury hit of sea salt. I'm a self-confessed caramel obsessive, so it should come as no surprise that I can think of endless ways to sneak this sweet nectar into my baking. This time I've decided to pair it with pecan nuts, marshmallows and Rice Krispies to create these Salted Caramel Krispie Treats.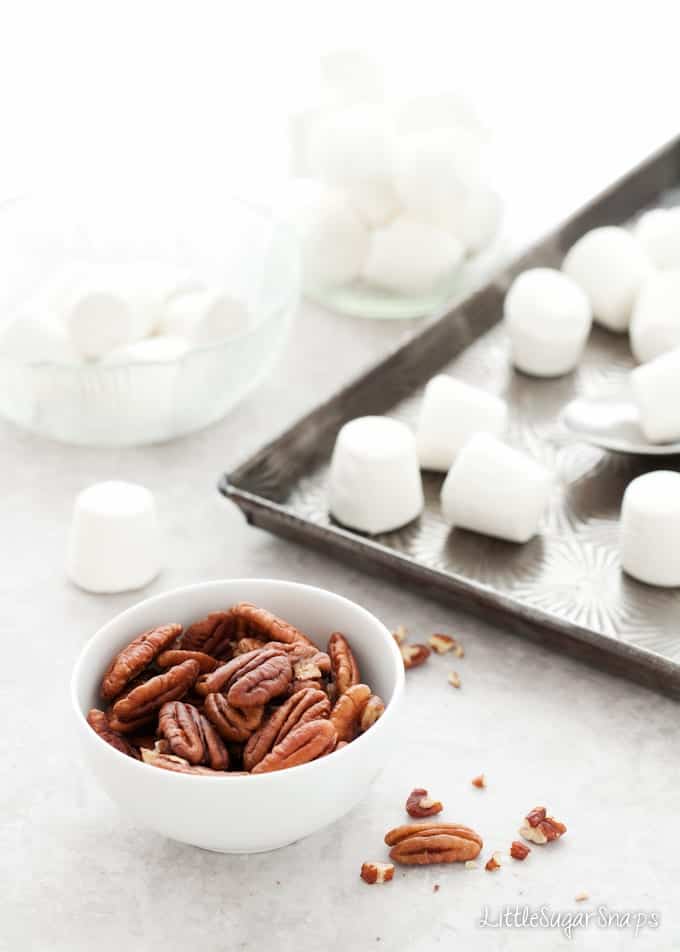 Yup, it's as good as it sounds – a princely layer of soft, creamy, salty caramel & pecan nuts wedged between layers of sweet vanilla scented Rice Krispie marshmallow treats. Decadently sweet. Utterly gooey. Totally tempting.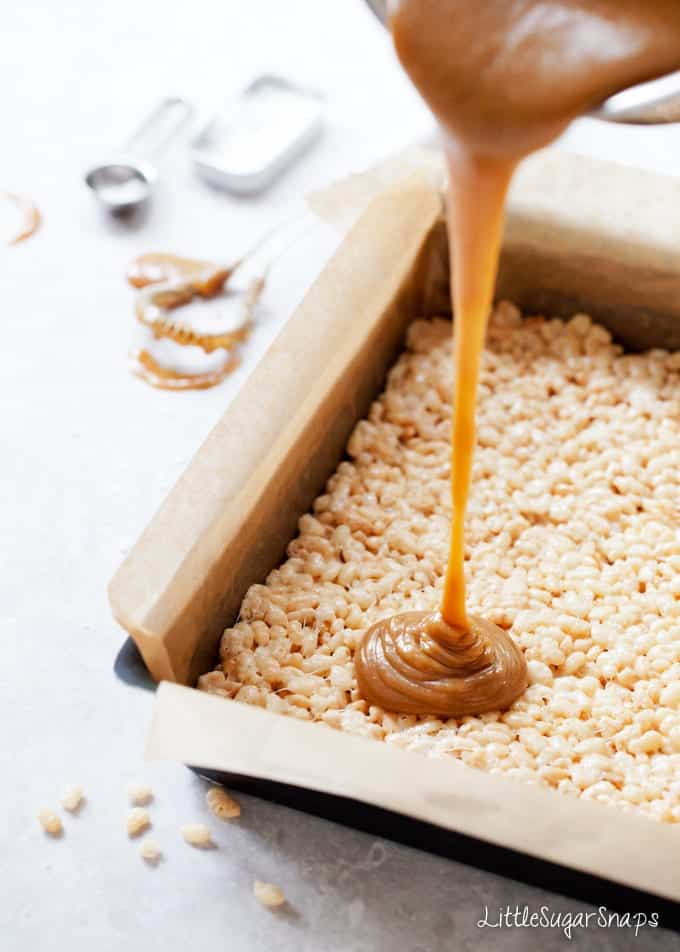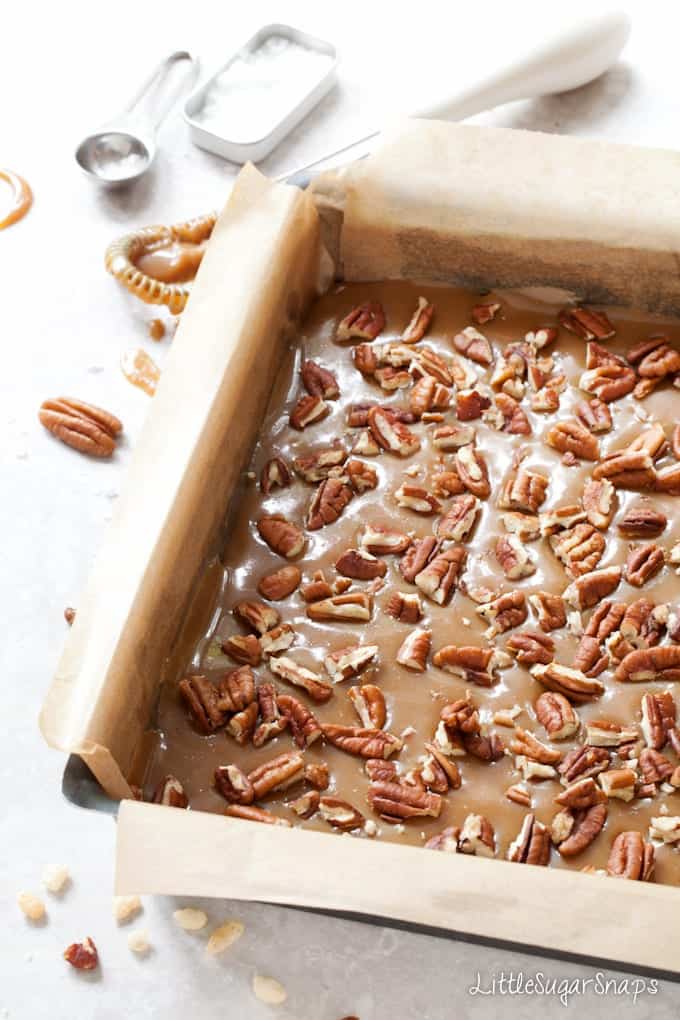 I took a tray of these Salted Caramel Krispie Treats to my unsuspecting in-laws last weekend to see what other people thought of them. My lovely Father-in-Law (Hi Ron) is not a greedy man. He does have a sweet tooth, but he also has far more self-restraint than me. A lot more. He took just half a square (half a square???). I think he thought I'd been ambitious in my serving size given the inherent sweetness of the caramel and the marshmallow Rice Krispies. However, those pecan nuts and the sea salt just seem to temper that sweetness in just the right way. Even my non-greedy Father-in-Law told me that half a square was not enough.
My greedy self had already eaten a large slab so already knew that.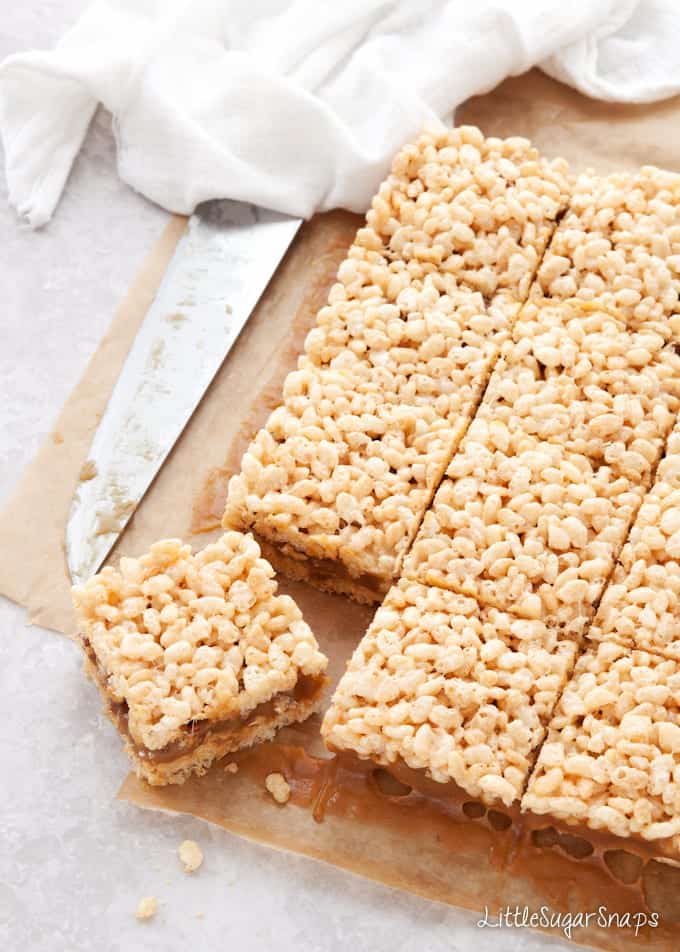 How to Make Salted Caramel Krispie Treats
These Salted Caramel Krispie Treats are a breeze to make. There's no baking involved. The caramel is fool-proof. And you can cut small or large squares depending how gluttonous you feel like being.
Begin by making the caramel: melt the condensed milk, butter, sugar and syrup over a medium heat, then boil for 2-3 minutes. Take off the heat, stir in some sea salt and set aside
Heat half of the butter in a pan until melted and then stir in half of the marshmallows. Once they have also melted, add half of the rice krispies and stir in. Press into the base of a lined baking tin

Give the caramel a stir and pour over the krispie base. Scatter the chopped pecan nuts over the top and place in the fridge for 1-2 hours to set

Use the remaining butter, marshmallows and rice cereal to make another batch of marshmallow krispies and spoon it over the caramel layer. Again, using a spread the krispies out and press down gently, but firmly

Leave to set
And bonus – I have a tip for making Rice Krispie Treats. I'm bursting to tell you this tip. But I'm also a little nervous… in case you all know this already and I'm last to the party. Here goes…
One of the things I've always found frustrating about making Rice Krispie Treats is just how sticky the stuff is and how quickly it starts to set. I always end up in a very sticky mess. That was until out of sheer desperation – midway through getting the mixture stuck to metal spoons, wooden spoons and my hands – I reached for the cellophane wrapper from the marshmallows. It didn't stick. Not one bit. I could gently ease the cereal into the corners of my baking tin and level the top without difficulty. No more cursing. No more mess. I have to say, I'll be storing up clean cellophane wrappers for this purpose from now on.
You knew this already, didn't you? Party over?
I'll be honest, when I first thought of making these Salted Caramel Pecan Krispie Treats I was thinking that they would be a grown-up version of my Millionaire's Caramel Krispie Squares. After all, they do contain nuts and don't contain chocolate (I never like to stereotype). However, really, the flavours blend so well together that I defy any child not to like them simply because they contain nuts. I'll also bet they can eat an entire square in one sitting.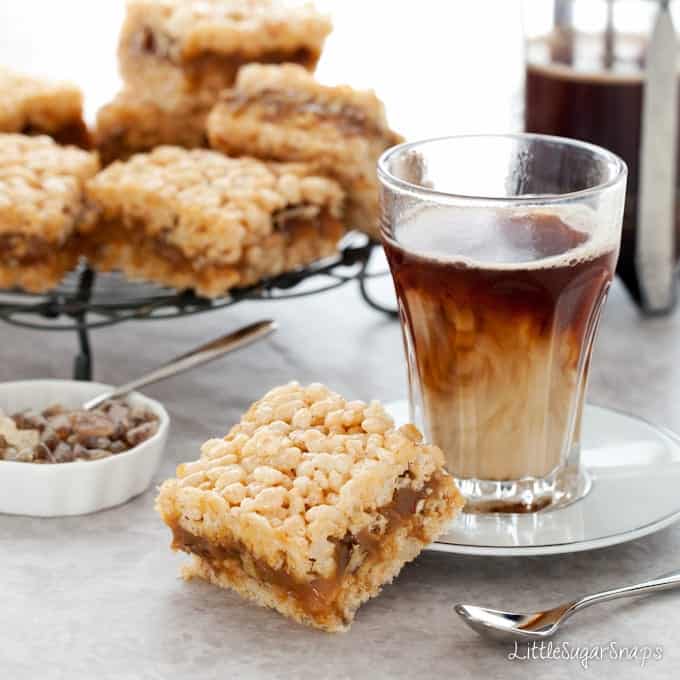 Salted Caramel Pecan Krispie Treats
These easy no-bake squares combine sweet, salty caramel with mellow pecan nuts and classic vanilla marshmallow Rice Krispie Treats. They are seriously gooey and dangerously addictive.
Print
Pin
Rate
Ingredients
SEE THE NOTES SECTION FOR CONVERSION INTO CUPS
For the Krispie Treats
40

g/ 3 tbsp butter

220

g/ 8 oz vanilla marshmallows

130

g/ 4 1/2 oz rice krispies
For the Salted Caramel
300

g/ 10 1/2oz condensed milk

75

g/ 3oz butter

75

g/ 3oz dark brown sugar

3

tbsp

golden syrup

1/2 - 3/4

tsp

sea salt

(depending on taste)

100

g/ 4oz pecan nuts - roughly chopped
Instructions
Grease and line a deep 20cm x 20cm tin with baking parchment

Make the caramel: put the condensed milk, butter, sugar and syrup into a heavy based pan and melt, over a medium heat, stirring frequently,until the sugar has dissolved, then bring up to boiling

Allow the mixture to gentle boil for 2-3 minutes. Take off the heat, stir in the sea salt and set aside

Put 20g butter into a small, heavy based saucepan. Heat on low-medium, until melted. Add 110g marshmallows and stir with a wooden spoon, until the marshmallows have melted and are thoroughly blended with the butter. Quickly mix in half of the rice krispies

Spoon the marshmallow krispies into the tin, and spread out evenly. Ensure the mixture is pressed down gently but firmly to create a solid layer. The mixture will be very sticky but using a piece of cellophane makes this task much easier.

Give the caramel a stir and pour over the krispie base. Scatter the chopped pecan nuts over the top and place in the fridge for 1-2 hours to set

Using the remaining butter, marshmallows and rice cereal, make another batch of marshmallow krispies and spoon it over the caramel layer. Again, using a piece of cellophane, spread the krispies out and press down gently, but firmly

Leave to firm up for an hour before slicing into squares

Store in an airtight tin. Best eaten within 2 days
Notes
Several readers have requested conversions into American cups. At the time of publishing, I was not confident I had the cup measures right and only go ahead and publish cup measures when I am confident. I hope this doesn't bother you too much. Please remember that I'm offering up my recipes for free. I do not get paid. Please also remember that I am a UK blogger, where grams and ounces are normal measures - not cups. It's just one of our many little differences. I do my best to convert as many recipes as possible for my readers, but sometimes this just isn't possible (blame the butter & marshmallows in this instance). Below is my best attempt at converting this recipe. I'd love to know how you get along if you use these measures. 40g/ 3 tbsp/ 1/6 cup butter 220g/ 8 oz/ 3 cups/ 25 regular vanilla marshmallows -not mini and not jumbo 130g/ 4 1/2 oz/ 5 cups rice krispies !For the Salted Caramel 300g/ 10 1/2oz / 1 cup condensed milk 75g/ 3oz / 1/3 cup butter 75g/ 3oz / 1/3 cup dark brown sugar 3 tbsp golden syrup 1/2 - 3/4 tsp sea salt (depending on taste) 100g/ 4oz/ 1 cup pecan nuts - roughly chopped
Nutritional Information Per Serving (Approximate)
Calories:
540
kcal
|
Carbohydrates:
104
g
|
Protein:
5
g
|
Fat:
14
g
|
Saturated Fat:
5
g
|
Cholesterol:
22
mg
|
Sodium:
378
mg
|
Potassium:
127
mg
|
Fiber:
1
g
|
Sugar:
75
g
|
Vitamin A:
775
IU
|
Vitamin C:
6
mg
|
Calcium:
67
mg
|
Iron:
3
mg
Pin this recipe
(Visited 200 times, 1 visits today)