Oh so simple Vanilla Malt Cupcakes with vanilla malt frosting. They're basically a milkshake in cake form. Just add malt balls for an extra splash of fun.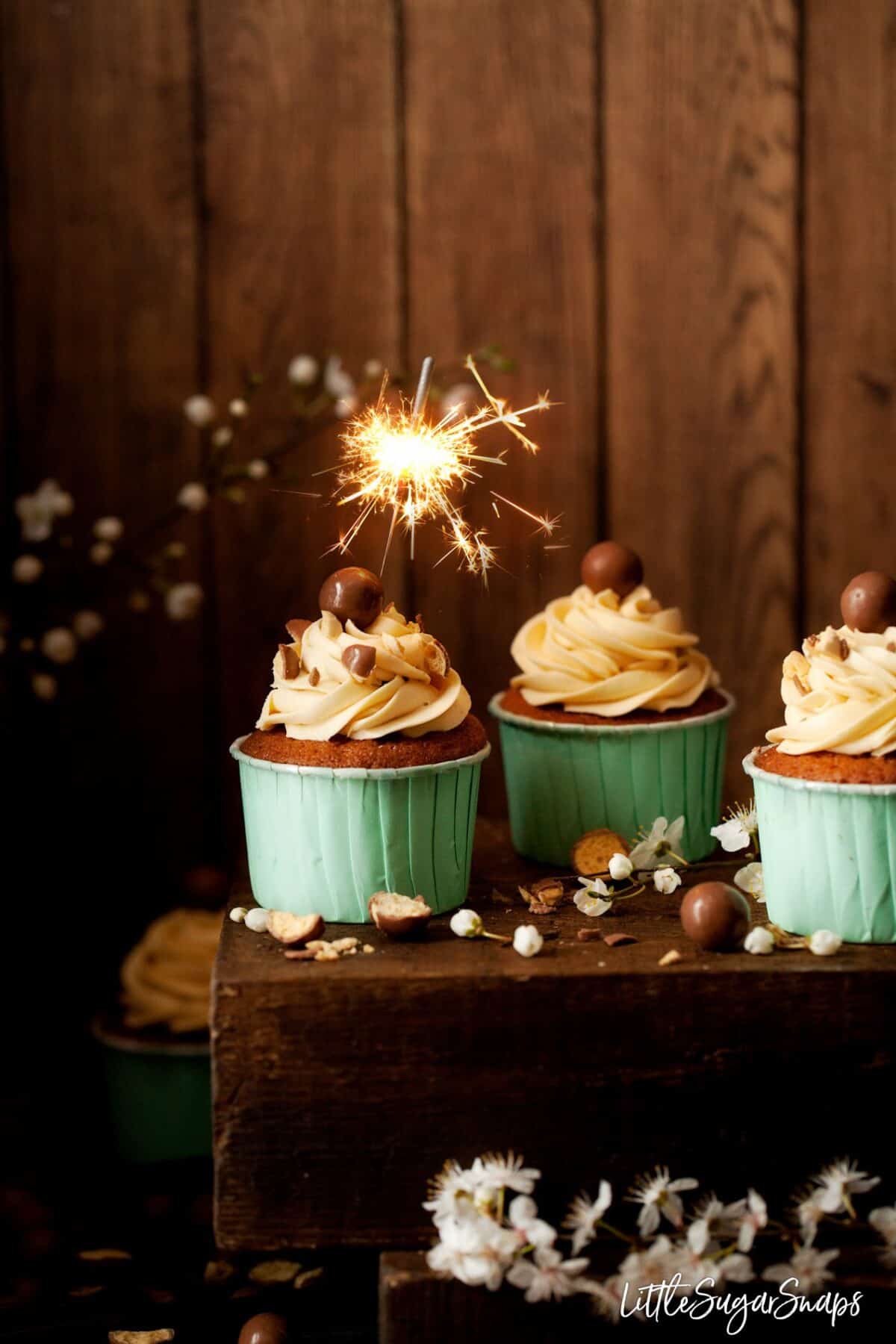 THIS POST CONTAINS AFFILIATE LINKS. AS AN AMAZON ASSOCIATE I EARN FROM QUALIFYING PURCHASES.
A few weeks back I shared a recipe for a rather disarming layer cake based on classic vanilla and chocolate malt shakes. It's a work of delicious edible art, but the truth is that life does not always grant us the time or the excuses to make a fancy layer cake every week.
Cupcakes, however, are another matter entirely.
So I'm running with the malt shake theme one more time to bring you the recipe for these Vanilla Malt Cupcakes. There's nothing complicated about them. They deliver a classic and popular flavour in a reliably moist sponge cake recipe. Topped with classic buttercream (flavoured too with vanilla and malt) these goodies are as straight-forward as a bake can get. And, bonus, they come topped with crisp & crunchy Maltesers.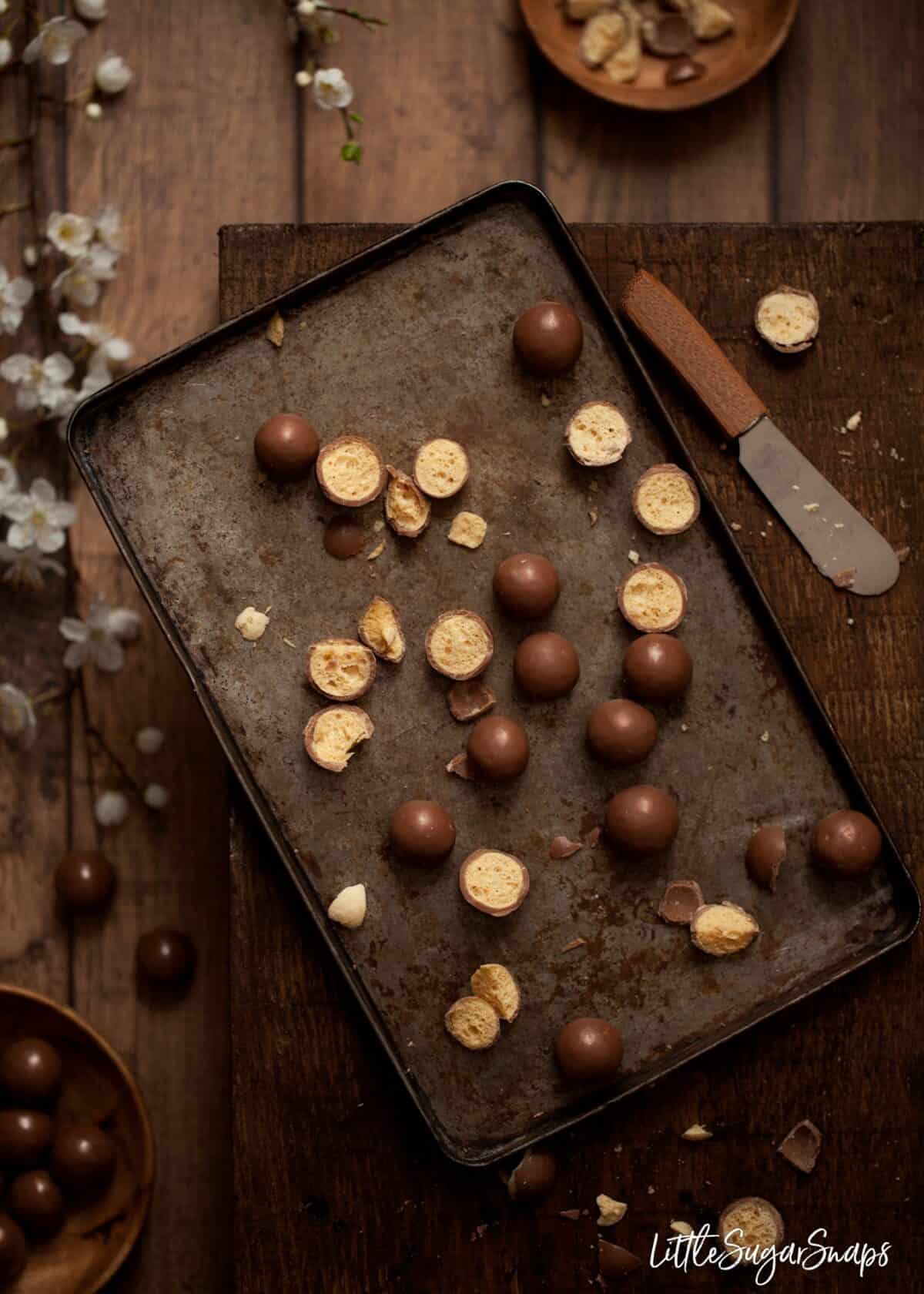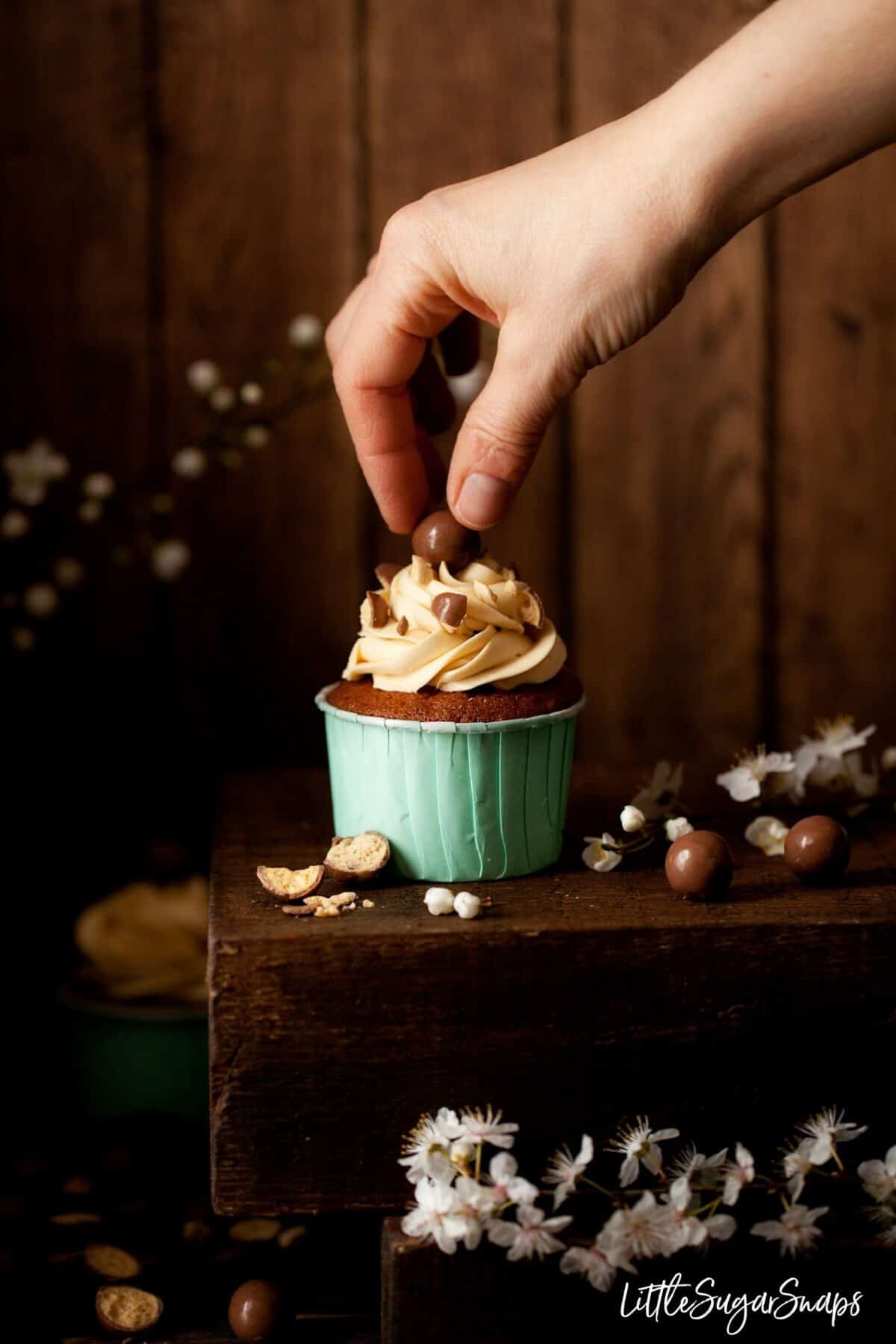 To ring the changes, I opted to make some supersized cupcakes using baking cups rather than classic cupcake liners. Not only do these cups give the cupcake a neat facelift they also make for larger cakes (oh sweet joy). I'd say that each cup is equivalent to 1.5 standard sized cupcakes. Of course, regular sized cupcakes can also be made – see the recipe details for how many of each size you can expect to make from the ingredient quantities listed.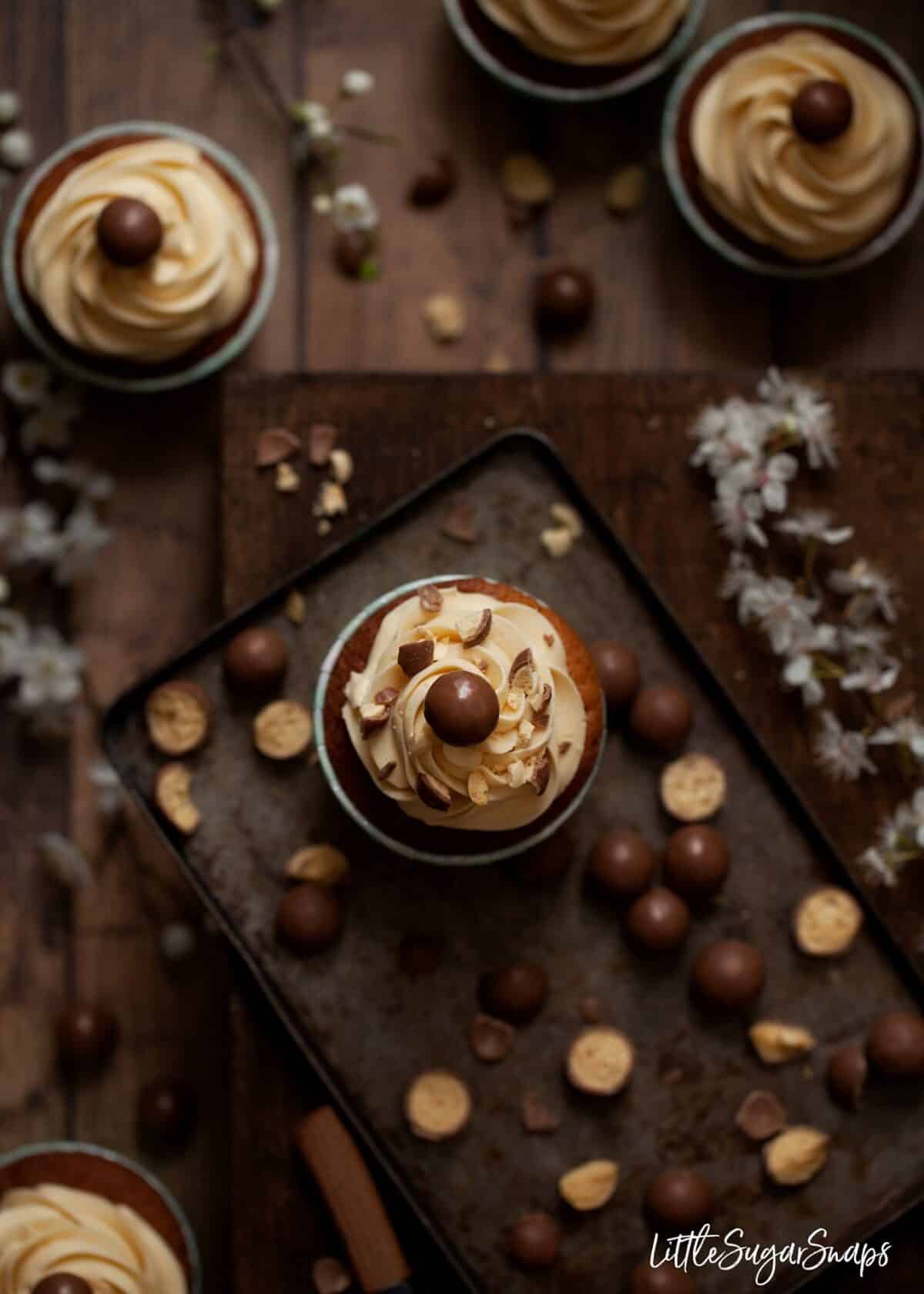 Since this recipe is pretty easy, I only really have two tips to give you for these Vanilla Malted Cupcakes:
First up, if you intend to scatter Malteser crumbs over the cakes as I have, do this just before serving. Once split open, that malted milk centre soon loses its crispness.
Secondly, do ensure you use malted milk powder or regular Horlicks. Avoid completely any 'light' versions of malted milk powder and do not use chocolate variations, including Ovaltine. Though a hint of chocolate won't harm, it's not the purpose of these Vanilla Malt Cupcakes. If that disappoints you, just let me know – I'd be more than happy to sling a chocolate malt cupcake recipe your way in the future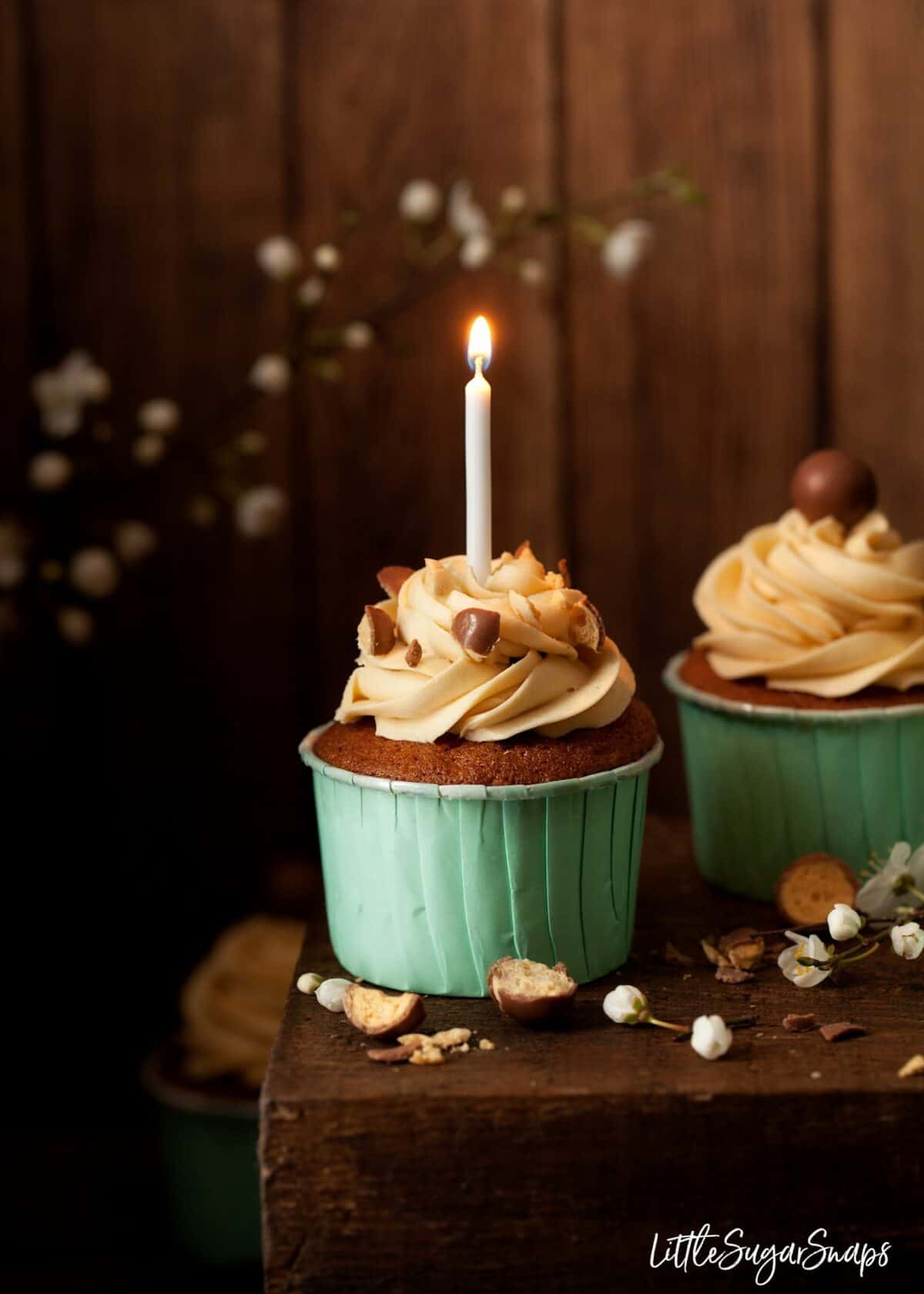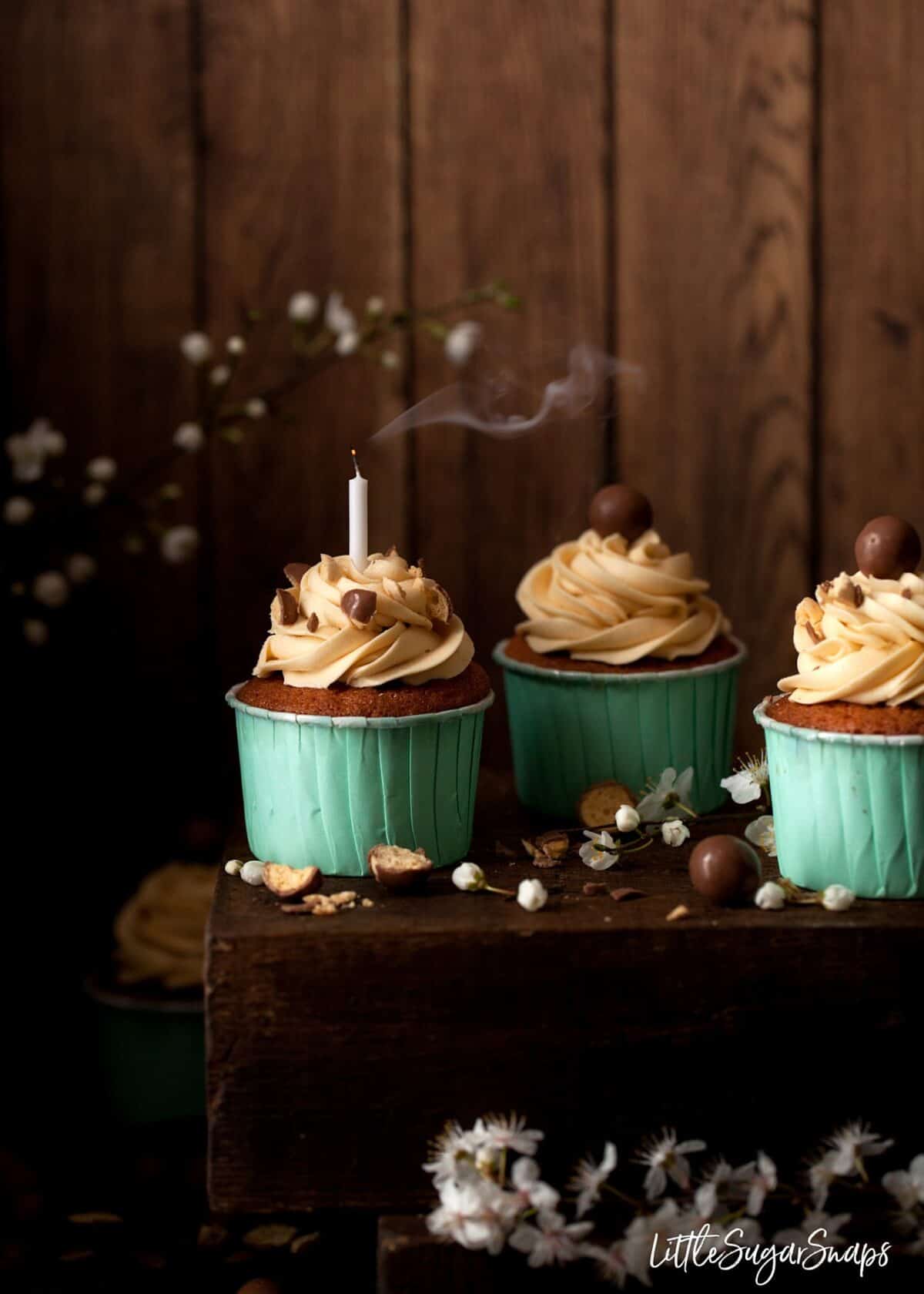 That's it for now though. Did you catch my Malted Milk Biscuits and my Chocolate & Vanilla Malted Milkshake Cake? I can't guarantee there won't be more malted milk magic in the future… I do tend to excessively brainstorm a theme once I'm on the case (thinking specifically of chai spice recipes here).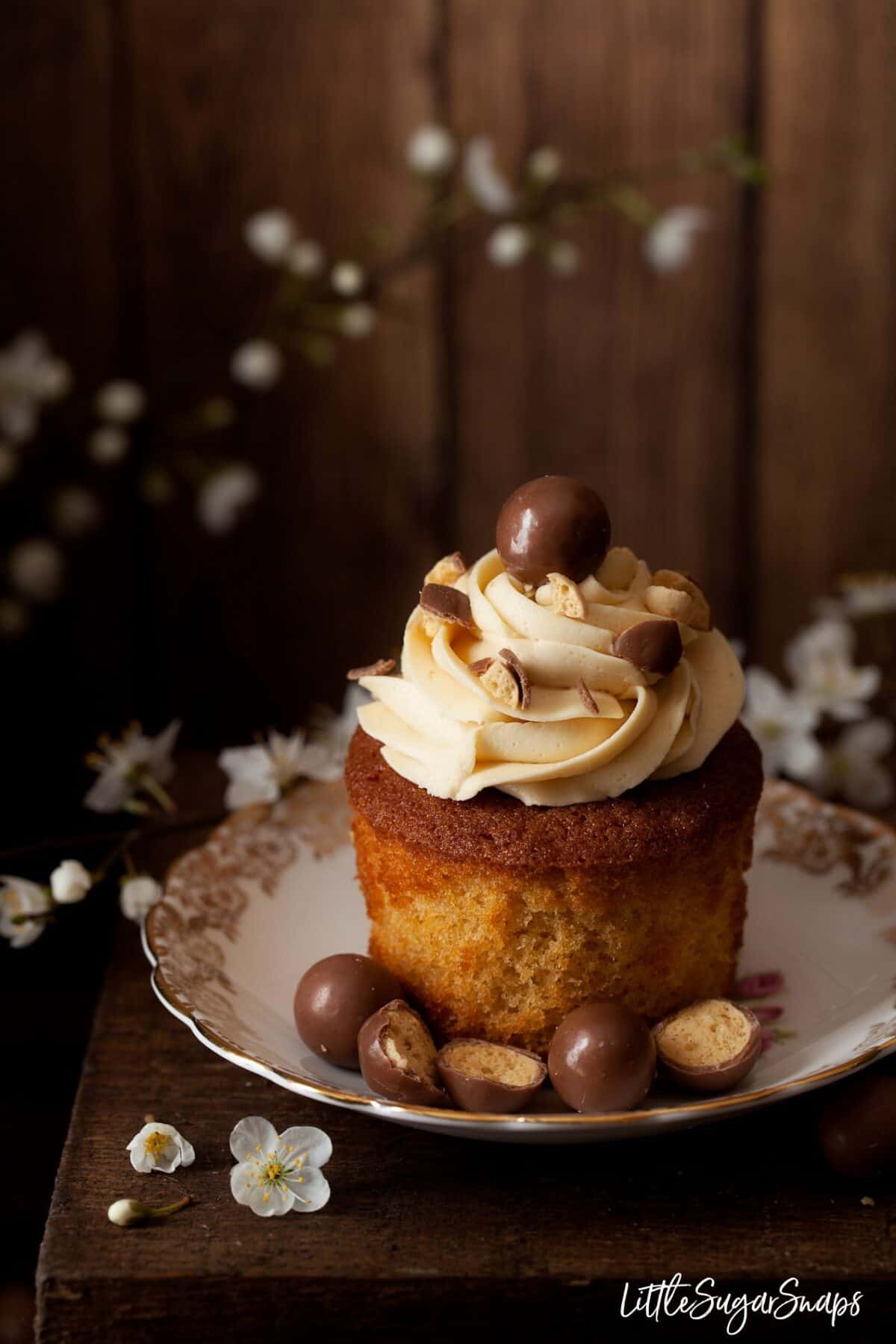 Have you made these cupcakes? How about sharing your gorgeous creation on Instagram – don't forget to tag #littlesugarsnaps so I can see it too.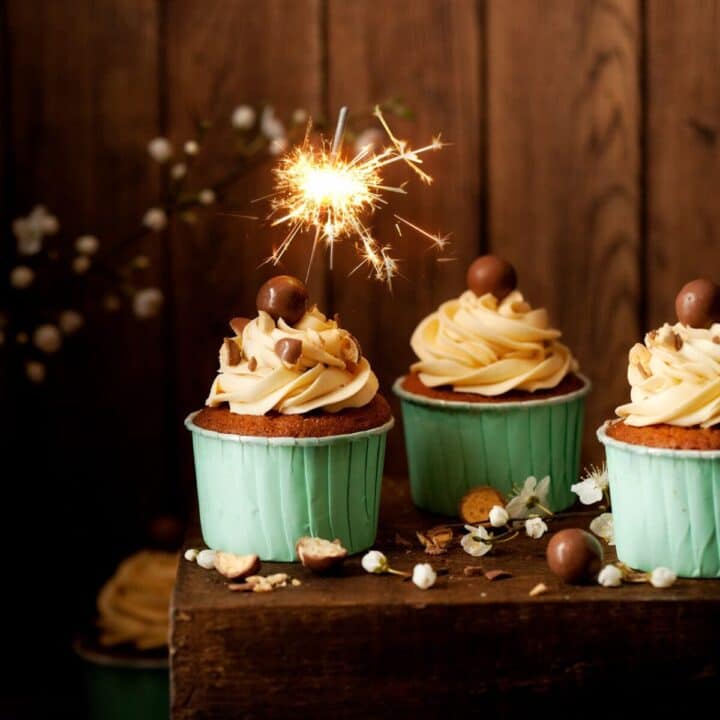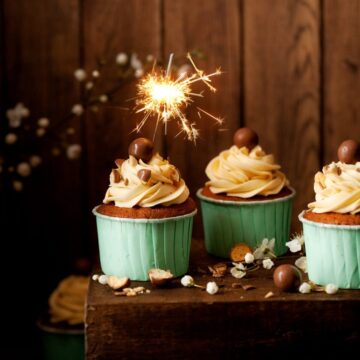 Vanilla Malt Cupcakes
Oh so simple Vanilla Malt Cupcakes with vanilla malt frosting. They're basically a milkshake in cake form. Just add malt balls for an extra splash of fun.
Print
Pin
Rate
Ingredients
For the Cupcakes (makes 10 regular sized cupcakes – see notes)
120

g/ 4 ½ oz

Butter (unsalted) – softened

30

g/ 1 oz

Light brown sugar

90

g/ 3 oz

Golden caster sugar

120

g/ 4 ½ oz

Plain (all purpose) flour

1

teaspoon

Baking powder

2

tablespoon

Malted milk powder (I used Horlicks)

Do not use light or chocolate varieties

2

Eggs (large, free range)

2

tablespoon

Whole (full fat) milk

1

teaspoon

Vanilla extract
For the Buttercream (makes enough to cover 10 regular sized cupcakes – see notes)
250

g/ 9oz

Butter (unsalted) – softened

300

g/ 2 ⅓ cup

icing (confectionary) sugar

4 tbsp

Malted milk powder

Do not use light or chocolate varieties

3

tablespoon

Whole (full fat) milk

½

teaspoon

Vanilla extract
Instructions
Make the Cupcakes
Preheat the oven 170C/ 325F/ GM3 and line a cupcake tray with 10 paper cake cases (or use 6 supersized cupcake cases on a baking sheet)

Using electric beaters, beat the butter and sugars together until light and fluffy

Briefly mix the eggs in a jug and gradually add a teaspoon at a time into the creamed butter & sugar, beating well in between each addition (adding the egg really slowly reduces the risk of the mix splitting)

Add the vanilla extract and milk, then beat again

Sift the flour, baking powder and malted milk powder into the bowl and gently & briefly fold in half using a large metal spoon (about 8 turns of the spoon). Add the rest of the flour and continue to fold in until all ingredients are thoroughly combined. Take care not to overwork the batter though

Divide between the cupcake cases – filling each case around ⅔ full – and bake for approximately 20 minutes (23 minutes for the larger cupcakes)

Test that the cupcakes are baked through: poke a cocktail stick into one of the cakes – if it comes out clean then the cakes are ready. If not, return to the oven for a couple more minutes, then test again

Once out of the oven remove from the baking tin and allow to cool completely on a wire rack
Make the Buttercream
Put the butter into a medium bowl and beat until smooth and soft

Add the malted milk powder and beat again then add the milk and vanilla extract. Beat until smooth

Sieve in the icing sugar 1 tablespoon at a time and beat well between each addition

Once the cakes have cooled completely pipe the buttercream on them and garnish with a Malteser. Store in an airtight container at room temperature for up to 2 days

Just before serving break up a few additional Maltesers and scatter over the cakes (don't be tempted to do this too early, since the honeycomb goes soft quickly)
Notes
I have used standard Horlicks (malted milk powder) in this recipe. Ensure you do not pick a light version. Also ensure you do not use Ovaltine or a chocolate flavoured Horlicks.
The cupcake cases shown in the photographs are larger than standard cupcake liners. They make cakes that are approximately 1.5 x the size of a standard cupcake.
The cake mix as listed will make either 10 regular cupcakes or 6 supersized cupcakes buttercream measure.
When it comes to the buttercream, there is sufficient to frost 10 regular cupcakes but you will need less if making 6 supersized cupcakes. Try making ⅔ of the listed buttercream recipe.
Maltesers do go soft and stale quickly once cut open. For this reason, scatter Malteser fragments over the cakes just before serving to ensure the fresh crunch is retained.
(Visited 1,231 times, 1 visits today)