This Chocolate & Vanilla Malted Milkshake Cake contains 3 delicious layers of malted sponge cake all wrapped up in smooth and silky vanilla malted Italian buttercream. Top with malted chocolate balls or mini eggs for the ultimate milkshake inspired cake.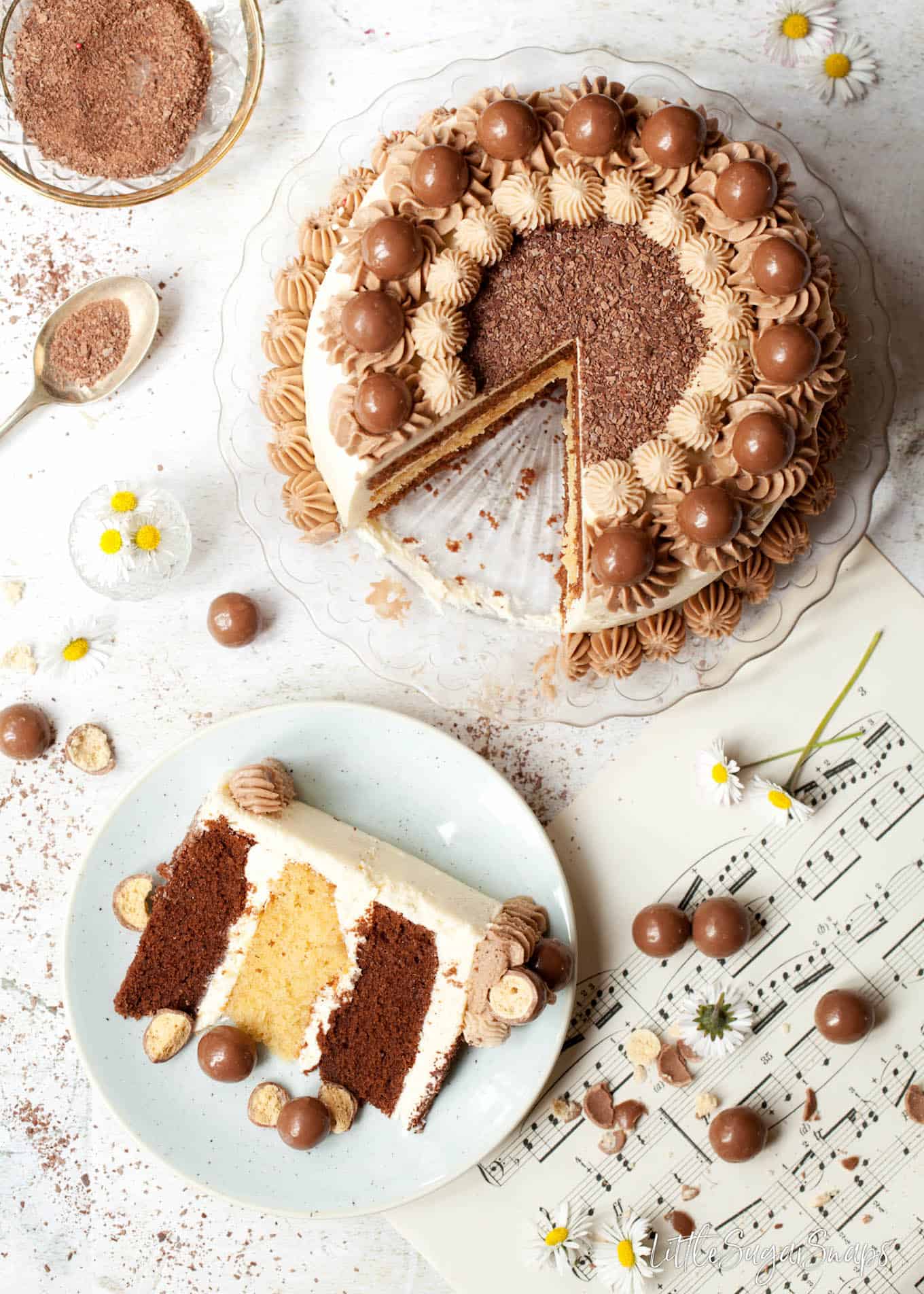 THIS POST CONTAINS AFFILIATE LINKS. AS AN AMAZON ASSOCIATE I EARN FROM QUALIFYING PURCHASES.
After giving cake recipes a swerve for much of 2018 I'm back in the saddle with plenty for 2019. I have to confess, it does feel good. As satisfying as it is to present fancy desserts to you, my loyal heart will always belong to cake. My first sweet love.
It's recently been birthday season in my house – 2 kids with birthdays just 8 days apart makes March a busy month. A month full of celebrating, socialising and eating copious amounts of cake. Joy. Everything was going swingingly until my youngest came home from school with a nasty virus the day before her party.
We had to cancel, so party season extends through to late April this year when the re-scheduled celebration takes place. Honestly, party season might feel never ending to me this year, but this girl didn't grumble or moan about the derailment. She just lay there, too tired to be upset… looking sad… So she thoroughly deserves to get the chance to party hard in a few weeks time.
The good news is that my girl was feeling fine on her actual birthday. And she was delighted with this Chocolate and Vanilla Malted Milkshake Cake that I came up with for her. She dropped a not very subtle hint beforehand that she hoped Mini Eggs might feature on her cake, so naturally, I obliged in that department.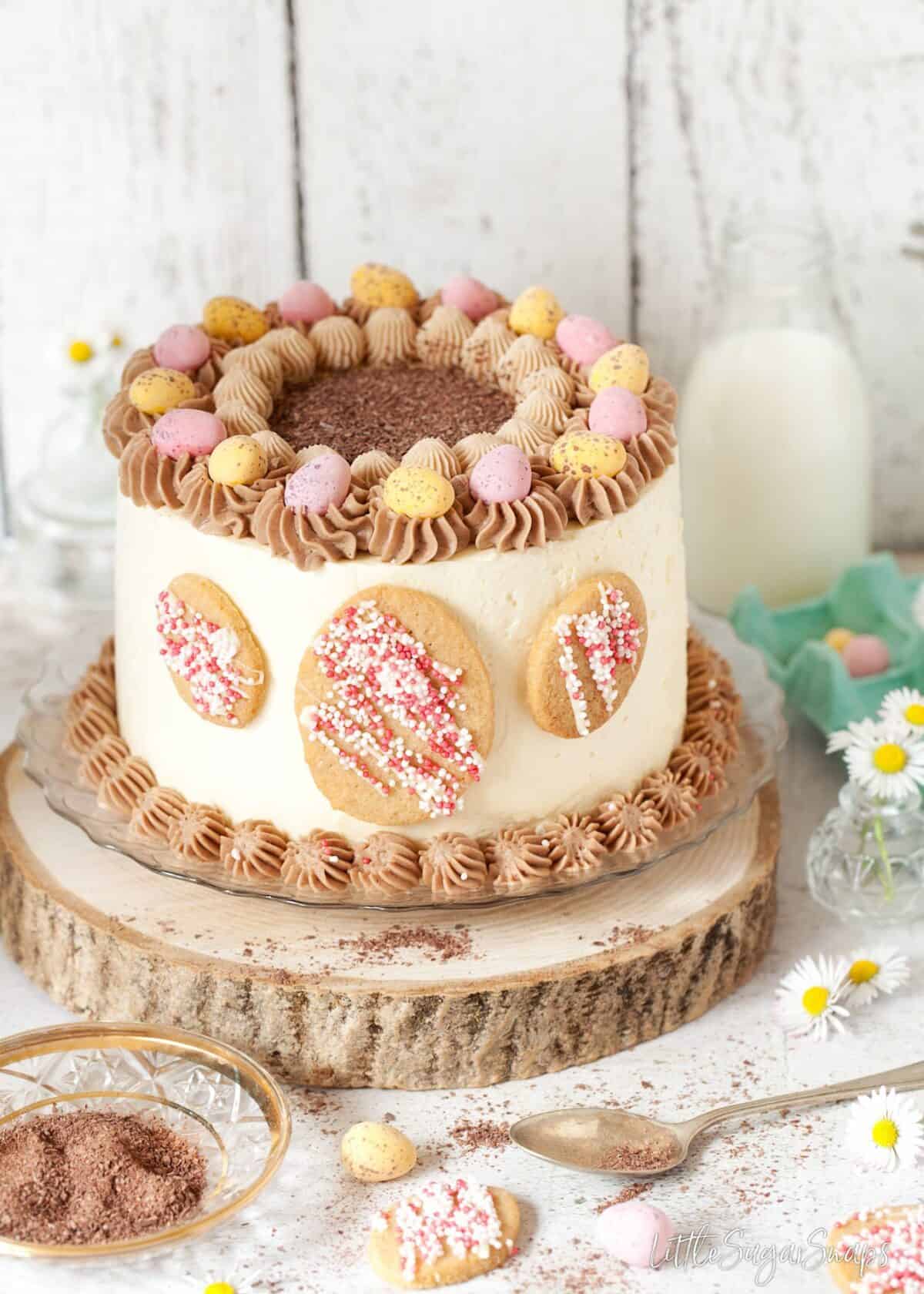 In fact, I thought I would tie in my recently published Malted Milk Biscuits with this malty bake and give the Mini Egg version a full Easter theme. I'm not convinced I executed my idea as expertly as I was hoping for. In hindsight, I think that, aesthetically, lots of smaller biscuit eggs placed randomly around the cake would have worked better. Regardless, there were no complaints from the birthday girl.
What is a Malted Milkshake Cake?
This kind of bake is based on those diner favourites – malted milkshakes. That's a milkshake with the addition of malt to add an extra flavour boost.
A malted milkshake cake works on the same principle – to the base flavour a hit of malted milk powder is incorporated. The result is delightfully delicious.
Really, any flavour could be used for the cake, but strawberry, chocolate and vanilla are amongst the most popular malkshakes around, so it's little surprise that these flavours often sneak into malty bakes too.
I went with our family favourites of chocolate and vanilla and then wrapped the layer cake up in some delectable Malted Vanilla Italian Buttercream. Bliss.
Confession: I was almost willing to fight a family member for the last slice. Almost…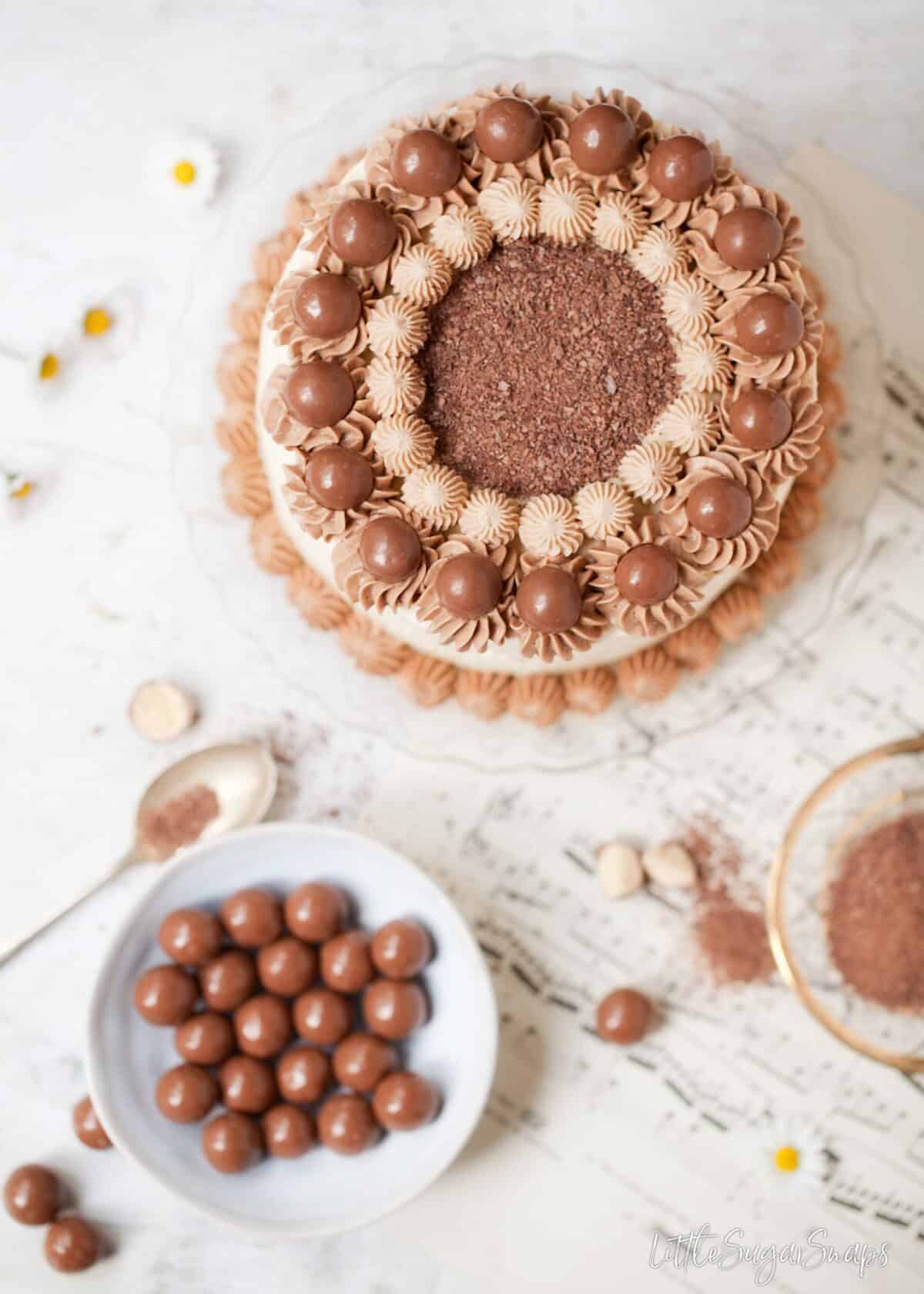 I went with 2 layers of chocolate and 1 layer of vanilla milkshake cake but this could easily be swapped over depending on your personal preferences.
Having recently acquired a stand mixer, I'm currently eager to try out lots of exquisite recipes that were previously too time-consuming to make by hand. Spurred on by the beautiful Swiss Buttercream in my recent Triple Layer Coffee Cake, I plumped for Italian buttercream.
What's the difference Between Swiss and Italian buttercream.
Honestly, in terms of texture, it is hard to tell the difference. They are both wonderfully buttery and silky smooth. Tastewise, Italian buttercream is slightly sweeter than Swiss, but neither are too sweet and they are both much more pleasant to eat than regular buttercream – especially for adults.
Swiss Meringue Buttercream is made by heating egg whites and sugar together to 71C/ 168F prior to whisking to stiff peaks. When the stiff peak stage is reached and the meringue has cooled, butter is added to produce a spectacular buttercream.
To make Italian buttercream, a hot sugar syrup (115C/ 240F) is trickled slowly over stiff egg whites whilst they are being whipped. The mixture is continuously whipped until cool and then a lavish amount of butter is added, chunk by glorious chunk.
Neither should be confused with French buttercream, which is another joy entirely.
Both buttercreams require extensive whipping and, from personal experience, I would not recommend attempting either unless you have a stand mixer… or a burning desire to stand around holding electric beaters for a solid 45 minutes… thought not.
For more information on Swiss Meringue Buttercream hop over here or keep reading for the low down on Italian Buttercream.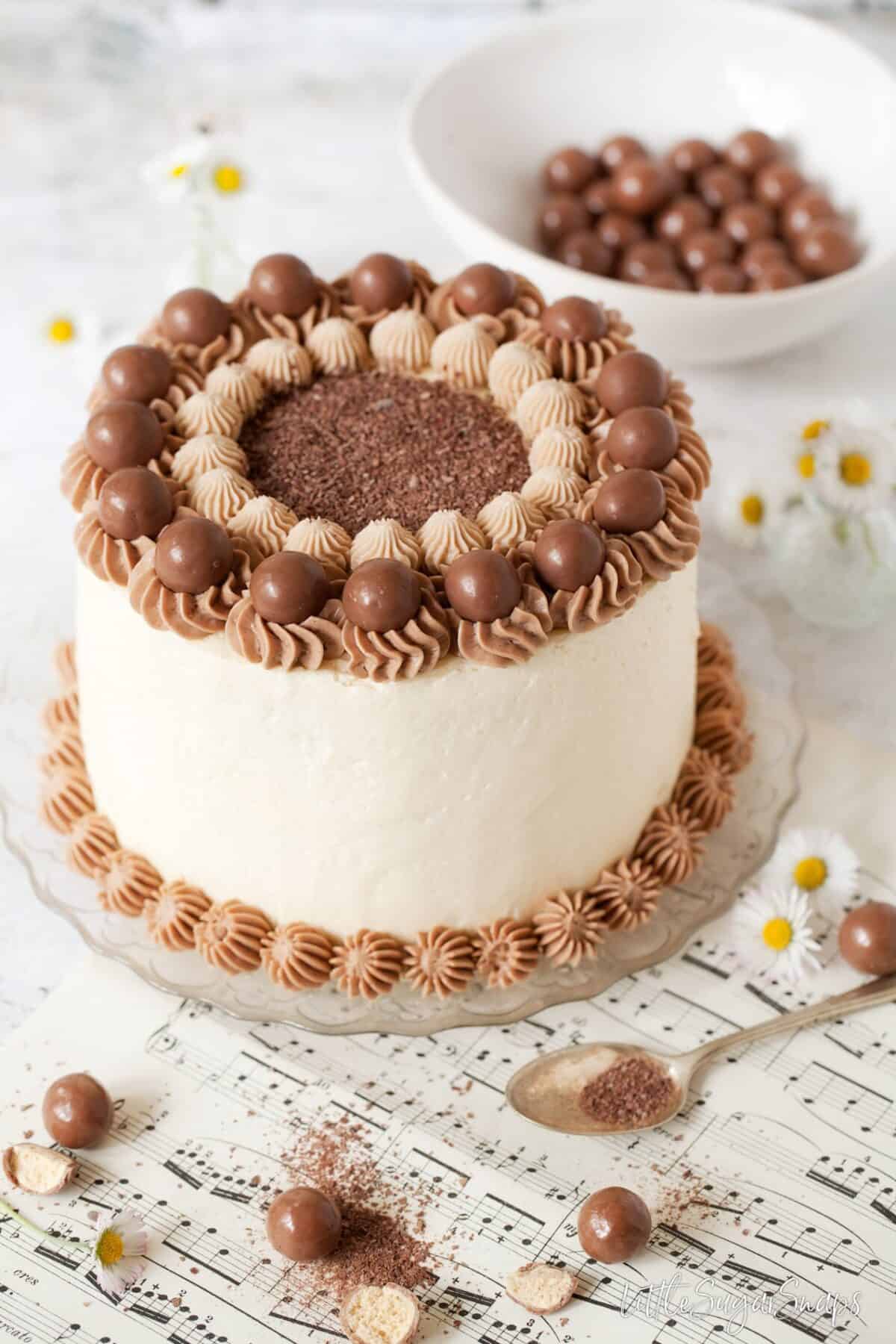 Essential Facts About Italian Meringue Buttercream
Italian buttercream is made by whipping egg whites to stiff peaks while simultaneously cooking sugar to the soft ball stage. The syrup is then slowly poured into the egg whites, which are still being whipped. Then finally, the butter is added, bit by bit
It does take time but it is straightforward and simple if done in a stand mixer
The buttercream is easy to flavour – do so at the very end, after the butter has been fulling incorporated. I flavoured my buttercream with malted milk powder dissolved in hot milk (cooled).
There are plenty of tutorials and videos available to help guide you – I like the video by Baking Sense and the information packed guide by Honest Cooking
Once made Italian Buttercream stores well in the fridge for up to 1 week. Allow to come to room temperature and re-whip before using (it may split at first, but keep on whipping for a few minutes and it will return to its smooth form
The buttercream went onto my cake relatively smoothly (for me) and then I used my trusty Wilton Open Star 8b and the slightly smaller Wilton Open Star 4b to decorate it simply. The Maltesers/ Mini Eggs sit nicely on top of the larger piped shapes, adding the final touch of edible fun to this Chocolate and Vanilla Milkshake Cake.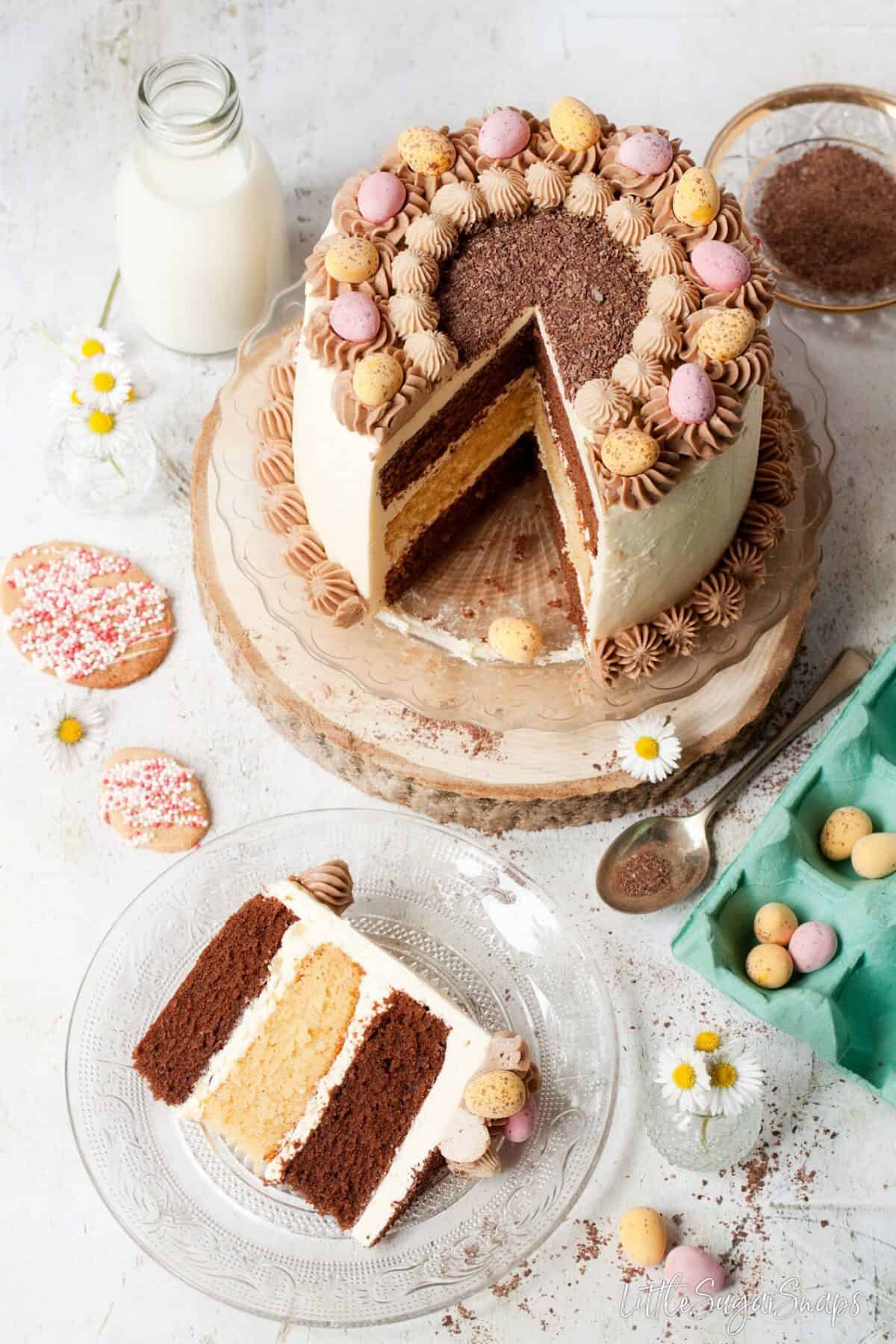 Take a look at my other fancy layer cakes:
Have you made this cake? How about sharing your gorgeous creation on Instagram – don't forget to tag #littlesugarsnaps so I can see it too.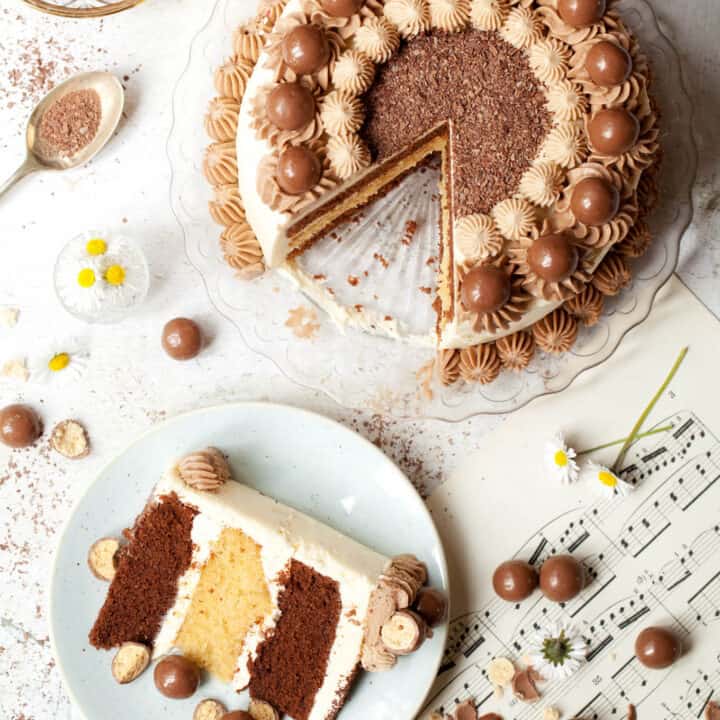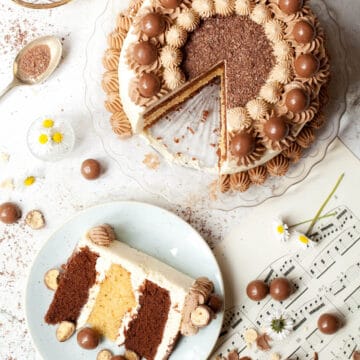 Chocolate & Vanilla malted Milkshake Cake with Italian Buttercream
This Chocolate & Vanilla Malted Milkshake Cake contains 3 delicious layers of malted sponge cake all wrapped up in smooth and silky vanilla malted Italian buttercream. Top with malted chocolate balls or mini eggs for the ultimate milkshake inspired cake.
Print
Pin
Rate
Equipment
This recipe uses 3 x 6 inch baking tins – please see notes for scaling up the recipe for large tins
Ingredients
For the Vanilla Malt Layer
60

g/ 2 oz

Butter – soft

60

g/ 2 oz

Caster sugar

60

g/ 2oz

Plain (all purpose) flour

1

tablespoon

Malted Milk Powder (I used Horlicks original)

Do not use light/ chocolate variants

½

teaspoon

Baking powder

½

teaspoon

Vanilla extract

1

Egg – large, free range

1

tablespoon

Whole (full fat) milk
For the Chocolate Malt Layers
120

g/ 4 oz

Butter – soft

120

g/ 4 oz

Caster sugar

90

g/ 3 oz

Plain (all purpose) flour

30

g/ 1 oz

Cocoa Powder

2

tablespoon

Malted Milk Powder (I used Horlicks original)

Do not use light/ chocolate variants

1

teaspoon

Baking powder

2

Eggs – large, free range

2

tablespoon

Whole (full fat) milk

t

teaspoon

Vanilla extract
For the Malted Milk Italian Buttercream
400

g / 14 oz 2 cups

White sugar

120

ml/ ½ cup

Water

5

Egg whites (from large eggs)

¼

teaspoon

Cream of tartar

500

g/ 17 ½ oz/ 2 ¼ cups

Butter – soft

3

tablespoon

Whole (full fat) milk – hot

2

tablespoon

Malted milk powder (e.g Horlicks)

½

teaspoon

Vanilla extract

Cocoa powder (optional)
Decoration – optional extras
Malted chocolate balls or mini eggs

chocolate flakes
Instructions
Make the Cakes – do the following for each flavour cake in separate bowls (you can make them simultaneously)
Preheat the oven to 180C/ 350F/ GM4 and grease & line 3 x 6-inch cake tins

Cream the butter and sugar(s) together using electric beaters until light and fluffy

Beat in the malted milk powder

Add the egg(s) and beat in, then add the milk & vanilla extract & briefly beat to combine

For the vanilla cake – sieve the flour and baking powder together and stir into the cake batterFor the chocolate cake – sieve the flour, cocoa and baking powder together and stir into the cake batter

Put the vanilla flavoured batter into 1 cake tin and divide the chocolate cake batter between the remaining 2 tins then bake all of the cakes for approximately 20 minutes

When fully baked the cakes should be well risen and a cocktail stick poked into the centre of the cake should come out clean.

Remove from the oven when sufficiently baked. Let cool in the tin for 2 minutes, before unmolding. Remove the parchment and allow the cakes to cool completely on a wire rack
Make the Italian Meringue Buttercream
Dissolve the malted milk powder in the hot milk and leave aside to cool completely

Put 325g/ 11 ½ oz sugar and the water into a medium saucepan then place on medium-low heat and cook until the sugar dissolves. Keep on a low heat while you prepare the egg whites, then, when the meringue reaches the soft peak stage, raise the heat and cook until the syrup reaches a temperature of 115C (240F)

Beat the egg whites and cream of tartar in the bowl of a stand mixer. Add 75g/ 3 oz of sugar spoonful by spoonful and then keep beating until soft peaks form. When the temperature of the sugar syrup reaches 110C (230F) beat the meringue on high until the stiff peak stage

Once the syrup reaches 115C (240F) drizzle it slowly into the stiff egg whites whilst the mixer is still running. Take care to pour the syrup into the side of the bowl directly onto the meringue and not onto the metal whisk (to avoid the risk of the incredibly hot syrup splattering you)

Continue to whip the meringue until it is lukewarm


Switch to a paddle attachment. Add room temperature butter into the running mixer one tablespoon piece at a time, then add the vanilla extract and the cooled malted milk.

Beat until everything is combined and the mixture has reached a silky consistency

Use approximately ⅔ to sandwich and cover the cake and flavour the remaining ⅓ with cocoa powder (sieved) – I added 1 ½ teaspoons, removed half of the buttercream and added another 1 ½ tsp to the remaining. This added a little colour variation and flavour intensity to the piped buttercream
Assemble the Cake
Place 1 layer of chocolate cake on a plate/ stand and spread with a heaped tabpsoon of vanilla malted buttercream

Place the layer of vanilla sponge on top and spread with another heaped tablespoon of buttercream

Top with the remaining layer of chocolate cake and cover the cake in buttercream

Add a handful of chocolate flakes and some malted chocolate balls or mini eggs to complete the look

Best eaten on the day it is made. Eat within 3 days
Notes
This recipe uses 3 x 6-inch baking tins. Do not stretch the recipe as listed to fit larger tins – it will end up being a flat cake.
For 8 inch tins double the recipe. The chocolate cake batter will be sufficient to fill 2 x 8-inch tins perfectly. However, there will likely be a little too much vanilla cake batter – fill the tin ⅔ full and use any excess batter to make a few cupcakes. Bake the 8-inch cakes for 23-25 minutes.
I have not made this cake in large tins, but my guess is that slightly more buttercream would be needed to frost the cake as pictured. Either increase the recipe – maybe scaling up to use 7 egg whites – or make the buttercream in the proportions given and opt for a lighter thickness of buttercream around the edge giving the cake a naked style appearance.
Nutrition Per Serving (Approximate)
Calories:
1024
kcal
|
Carbohydrates:
93
g
|
Protein:
8
g
|
Fat:
72
g
|
Saturated Fat:
45
g
|
Cholesterol:
246
mg
|
Sodium:
684
mg
|
Potassium:
294
mg
|
Fiber:
2
g
|
Sugar:
75
g
|
Vitamin A:
2222
IU
|
Calcium:
101
mg
|
Iron:
2
mg
(Visited 1,430 times, 1 visits today)