Three degrees of coffee make up the layers in this eye-catching Triple Layer Coffee Cake. Based around the Latte, Mocha and Americano drinks and topped with smooth and silky Swiss Meringue Buttercream, this cake is sure to please lovers of coffee.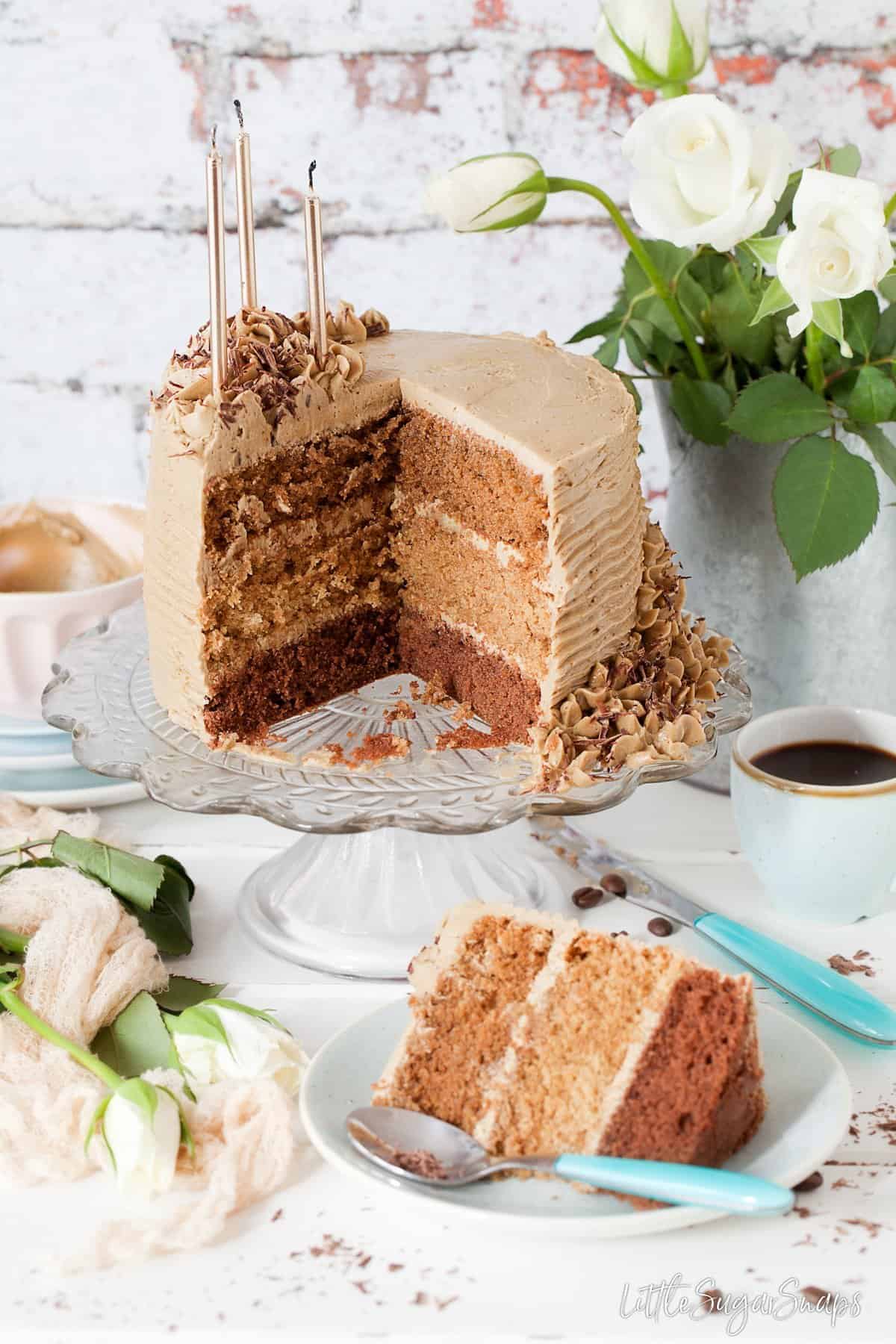 Disclaimer: I was sent the Berg Innovations 8 Speed 1000W stand mixer featured in this post to review. I was not paid to write this post and all opinions are my own. This post contains affiliate links.
Regular readers will have come across my Cake-a-thons before. If you are new here, in the spring both of my daughters have their birthdays, and associated parties, very close to each other. The result is me spending around a 2 week period knee-deep in cake batter and buttercream. By the end of the period, I begin to feel as if I'm completing a marathon in baking cakes - hence my adoption of the term Cake-a-thon.
Last year I made this spectacular Triple Layer Coffee Cake for one daughter's birthday. But things didn't quite go to plan.
You see, the crowning glory of this cake is the smooth, silky and gloriously buttery Swiss Meringue Buttercream. A year ago I did not own a stand mixer, but having read how to make Swiss Meringue Buttercream, I saw no reason why my trusty hand-held beaters would not be up to the task. Granted, an hour later I ended up with a bowlful of beautiful buttercream. But let's remember, hand-held mixers need a person to hold them... for that entire hour. It was not enjoyable baking.
To make matters worse, when I came back to icing the cake the following morning, the buttercream had split and I could not get it back to looking good. I'm not sure what I did wrong, but I decided to cut my losses and whip up some regular buttercream instead. It was still a delicious cake, but not the surprise I'd had in mind for my daughter. Lesson learnt, I vowed not to attempt Swiss Meringue Buttercream again until I owned a stand mixer.
Fast-forwarding to my recent birthday, and guess what? Now the proud owner of a rather gorgeous Berg Innovations Stand Mixer, I decided it was time to revisit this Triple Coffee Layer Cake. Complete with Swiss Meringue Buttercream. Hurrah.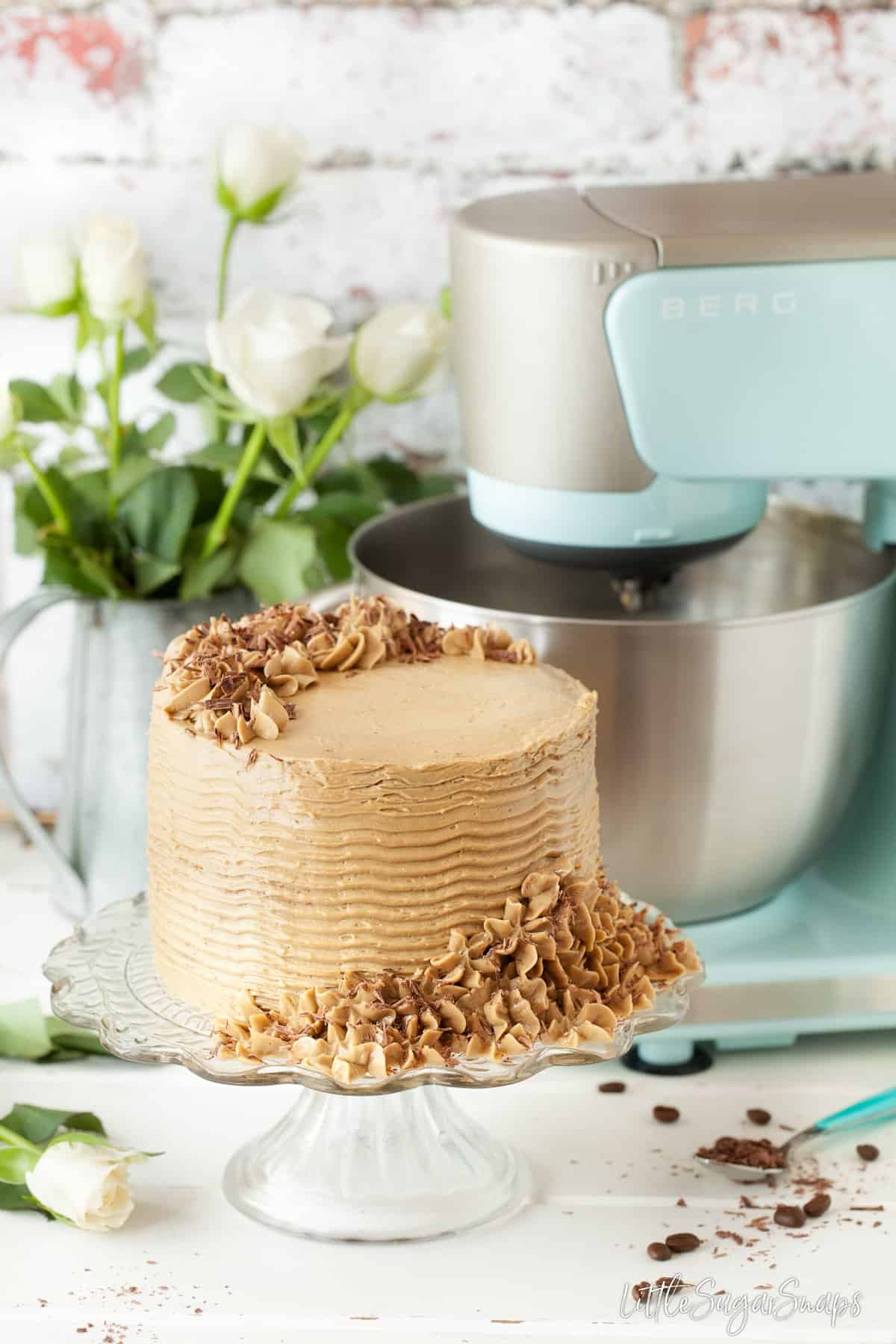 Let me tell you, it still took a good 45 minutes to make the buttercream. However, the beauty was that my stand mixer did all the hard work. I was free to merrily potter around my kitchen getting on with other tasks.
Decisions, decisions. Should I tell you more about the Stand Mixer or the coffee cake? Well, you need to know about both, obviously. I'll begin by taking a detour towards the stand mixer and finish up with more details about this scrumptious Triple Coffee Layer Cake. I hope that's okay.
The Berg Innovations Stand Mixer Review
There are a lot of stand mixers on the market, and a lot of familiar names with significant price tags. Berg Innovations, however, was new to me. I came across them whilst day-dreaming about owning a stand mixer (I have been saving for one for quite a while). In amongst all the stainless steel and black mixers I was perusing, I saw the pastel blue model I am featuring today. My interest level immediately picked up - especially since they get very good reviews.
So it was with great excitement that I unpacked my Berg Innovations Stand Mixer a few weeks ago. At its very basic level, this 8 Speed, 1000W motor Stand Mixer operates with a whisk, beater and dough hook. That's not bad in itself, but this machine also features the following attachments:
a citrus juicer

meat grinder


grinding mill - for grinding coffee beans, herbs & spices etc (with blades for coarse and fine)

blender (able to cope with frozen fruits and ice)

food processor (with a chopping blade and grater/slicer)
Each attachment fits onto the top of the stand mixer and locks firmly into place, with a reassuring click. I road-tested all attachments and was highly delighted. I never expected to be able to grind my own meat (and with such ease). And as for the grater on the food processor, let's just say my ability to make a noteworthy, crispy, crunchy coleslaw has gone up a level. I may just have to retire my previous food processor.
All attachments are easy to clean - even by hand, although many items can withstand the dishwasher treatment.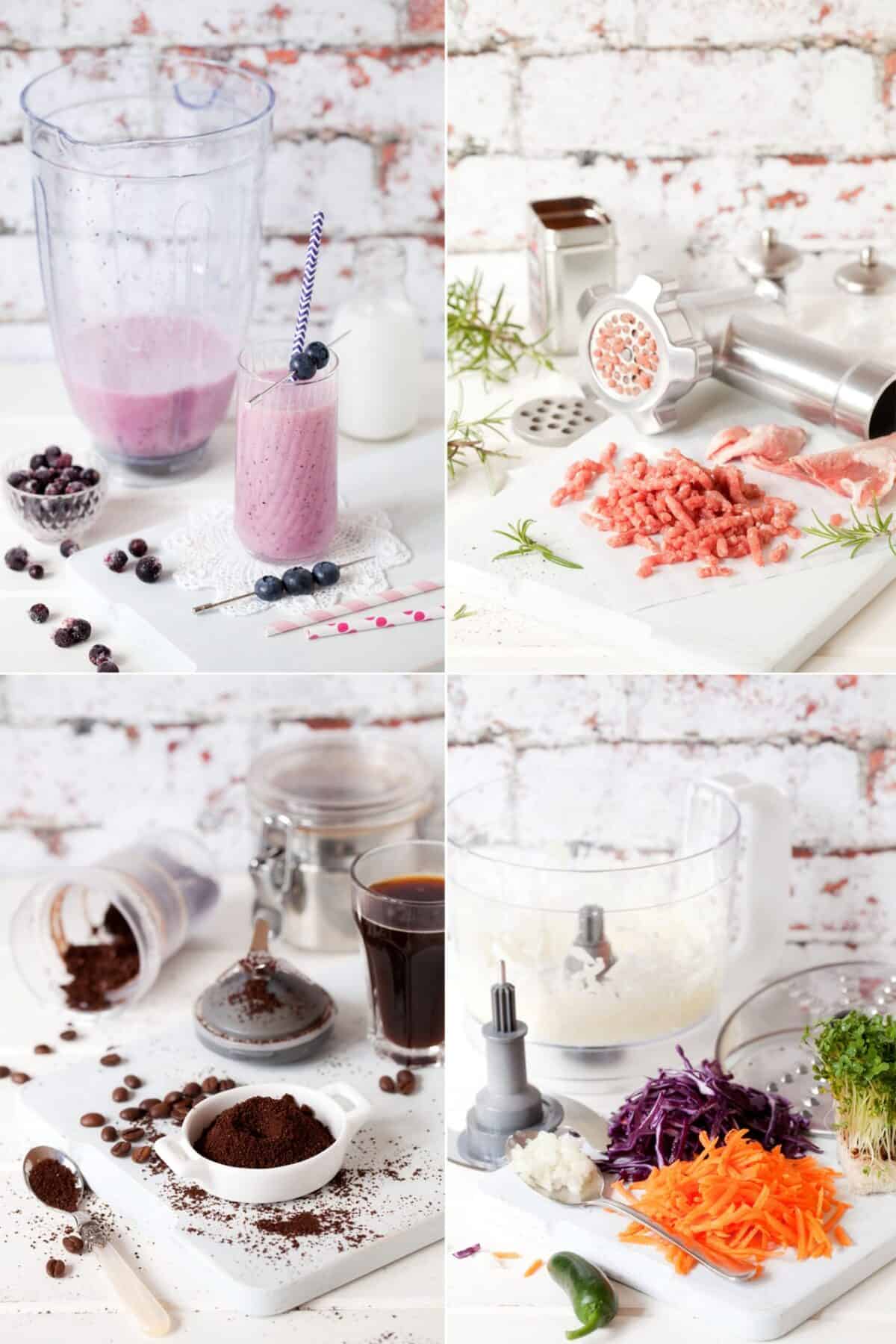 After testing out the basic stand mixer attachments on sponge cakes and sticky bread doughs, I felt that making a long-winded recipe would really stretch the machine's legs. I settled on Swiss Meringue Buttercream since it takes a lot of whipping and would, therefore, be a great test of the machine's durability. Now, having previously stated that I did once attempt this buttercream using a hand mixer, it will come as no surprise that my hand mixer got quite warm. And I got quite worried. The Berg Innovations Stand Mixer, however, took 45 minutes constant use in its stride.
My results - whether baking, grinding, blending or chopping - have been consistently excellent and I have no problem in recommending this product to you, my valued readers. Incidentally, quality and professional service lay at the heart of Berg Innovation's values. They offer the following promise:
We believe in our products, and offer a minimum 12 month warranty with all our products. We also believe that our quality of customer service should match that of our products. Therefore should you ever need to call upon your warranty we will repair / exchange your product within 72 hours. This is our promise to you.
This machine is available in 3 colours (blue, cream and metallic champagne) and is available directly from Berg Innovations (or through Amazon).
Triple Coffee Layer Cake in Detail
Switching attention back to my Triple Layer Coffee Cake, the Swiss Meringue Buttercream was an utter delight. I'm tempted to say it was worth my 11-month wait, but I'm also keen to stay grounded.
Swiss Meringue Buttercream is vastly different from regular buttercream. Although it is undeniably sweet, it is a much more opulent and elegant sensation of sweetness than regular buttercream delivers. The texture is beautifully creamy & velvet-soft with a rich, buttery mouthfeel. In other words: downright luscious.
When paired with three different layers of coffee cake, it made a beautiful celebration cake. Those layers comprised:
Latte coffee cake (a milky coffee sponge)
Mocha cake (a stronger coffee & chocolate sponge)
dark coffee cake (an Americano coffee sponge)
I flavoured my buttercream with coffee too, just to complete the package.
Just before you go, and I know I've kept you a while already, there are a few points for you to bear in mind regarding the buttercream when making this Triple Coffee Layer Cake.
Essential Facts about Swiss Meringue Buttercream
Swiss meringue buttercream is made by heating egg whites and sugar together to 71C/ 168F prior to whisking to stiff peaks. When the stiff peak stage is reached and the meringue has cooled, butter is added, chunk by chunk, to produce a spectacular buttercream
It is easy to flavour the buttercream
There are plenty of step by step tutorials and videos available to help guide you - I like the video by Handle the Heat and the step by step guide by Sugar Hero
I flavoured my buttercream with instant coffee granules dissolved in water. Once made, my coffee swiss meringue buttercream should be stored in the fridge until ready for use. If left at room temperature it may discolour (this seems to depend on the brand of instant coffee being used). Allow to come to room temperature and re-whip before using (it may split at first, but keep on whipping for 5 minutes and it will return to its smooth form)
Since this Coffee Swiss Meringue Buttercream may discolour if stored at room temperature either:

ice the cake within a few hours of serving
or refrigerate the cake and bring back to room temperature (approx 2 hours) before serving if decorating in advance

If you are not able to keep your cake refrigerated once iced/ served within 2-3 hours, consider using an alternative frosting such as Coffee Caramel from The Flavor Bender or Latte Buttercream from Coffee With Us 3
And that's it for today. I am now the proud owner of a beautiful stand mixer... I did consume rather a lot of this Triple Layer Coffee Cake recently... and Cake-a-thon 2019 is looming. This was just the warm-up.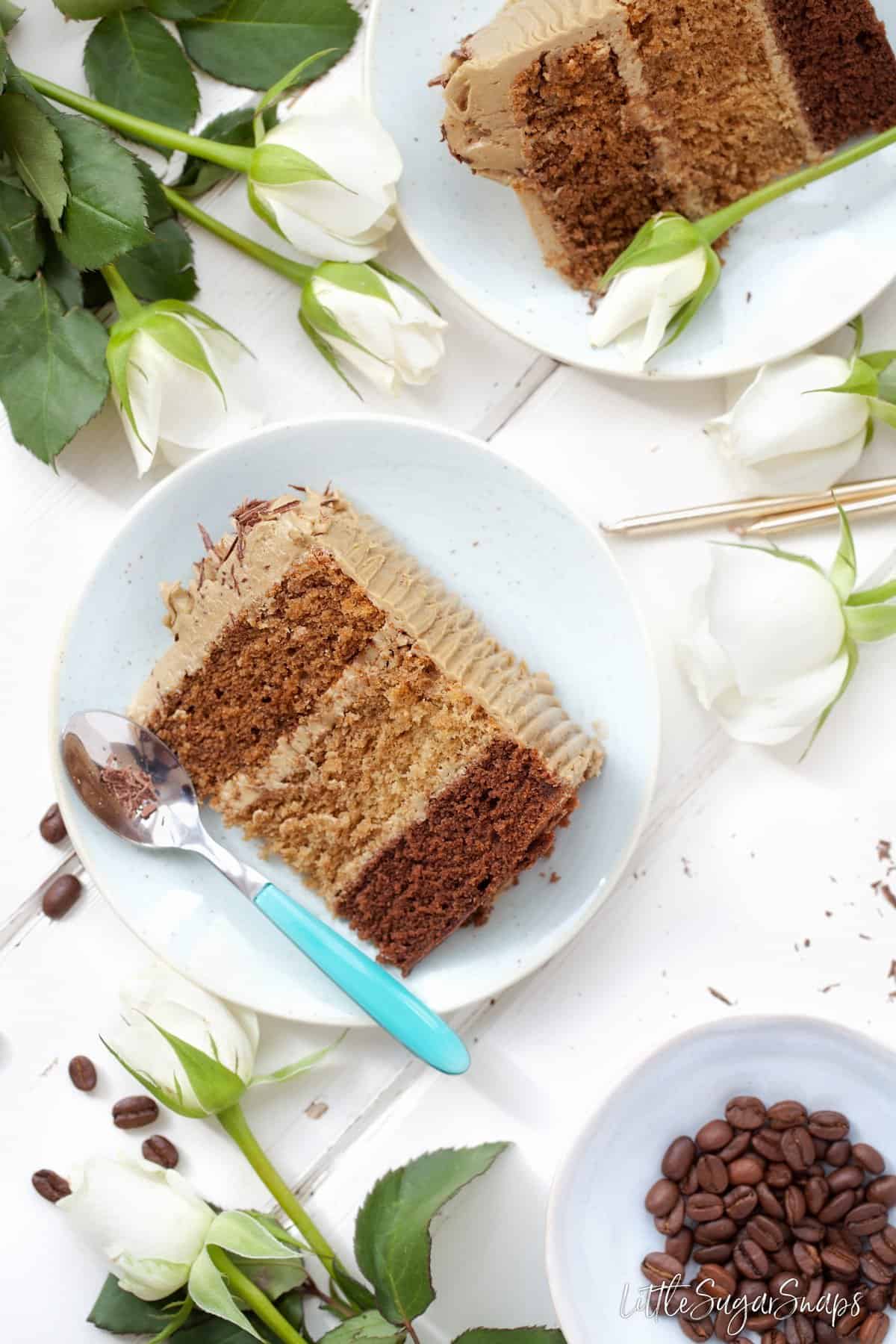 If you love triple layer cakes, take a look at these recipes too: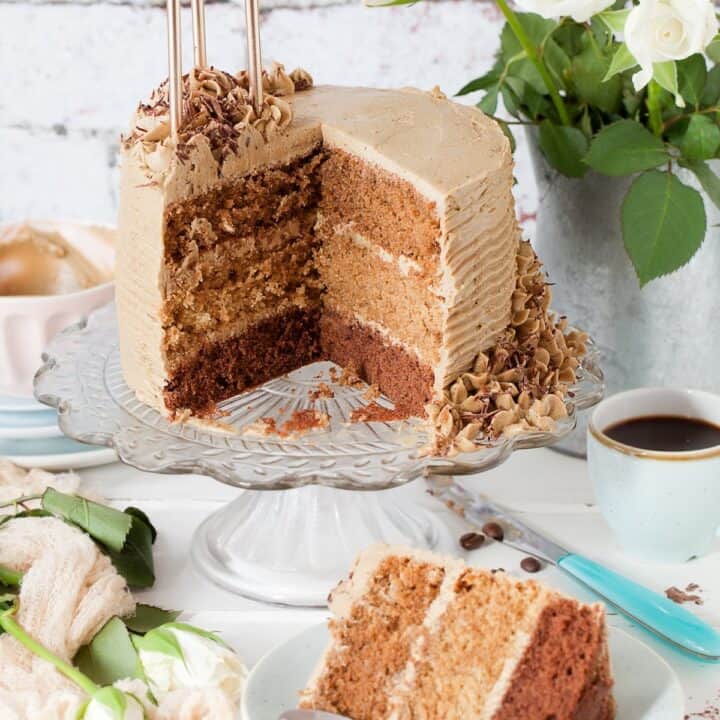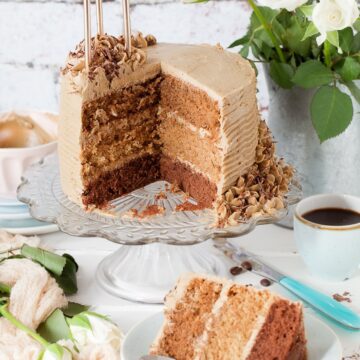 Triple Layer Coffee Cake with Swiss Meringue Buttercream
Three degrees of coffee make up the layers in this eye-catching Triple Coffee Layer Cake. Based around the Latte, Mocha and Americano drinks and topped with smooth and silky Swiss Meringue Buttercream, this cake is sure to please lovers of coffee.
Print
Pin
Rate
Ingredients
Use 3 x 6-inch cake pans for this recipe - see notes on how to scale up for 8-inch pans
For the Coffee Cake
180

g/ 6 ½oz

Butter - softened

180

g/ 6 ½oz

Caster sugar

3

Eggs - large, free range

180

g/ 6 ½oz

Plain (all purpose) flour

1 ½

tsp

Baking powder

3

tbsp

Instant coffee granules dissolved in 3 tbsp just boiled water - cooled

(I used Gold Blend)

1

tbsp

Cocoa powder

½

tsp

Vanilla extract
For the Swiss Meringue Buttercream
6

Egg whites (large, free range)

400

g/ 2 cups

White sugar (caster or granulated)

450

g/ 2 cups

Butter - softened
Instructions
Make the Coffee Cake Layers
Preheat the (fan) oven to 170°/ 325°F/ GM3

Grease and line 3 x 6-inch circular baking tins (note these are smaller than average tins - if you are using 8-inch tins see my notes on how to scale up the recipe)

In a bowl beat the butter and sugar until light and fluffy, using electric beaters.

Crack the eggs into a small jug and beat. Add to the creamed butter and sugar, a little at a time, beating well between each addition (this helps reduce the risk of the batter splitting)

Stir the flour and baking powder together in a bowl and sieve over the cake batter. Mix in

Divide the cake batter equally into 3 small mixing bowls (digital scales help here)

To the first bowl stir in 1 ½ tsp of the cooled coffee and the vanilla extract

To the next bowl add the cocoa powder (sieved) and 2 tsp of the cooled coffee. Stir until just mixed in

To the final bowl add 1 tbsp cooled coffee and mix in

Store the leftover coffee for the buttercream

Pour the cake batters into the prepared tins and bake for 20-23 minutes until the cake springs back when lightly pressed or a skewer comes out clean

Let cool in the tins for 2 minutes, then remove from the tins, peel off the baking parchment from the bottom of each sponge cake and let cool completely on a wire rack
Make the Swiss Meringue Buttercream
Put the egg whites and sugar into a heatproof bowl and whisk until combined

Put the bowl over a pot with an inch of simmering water - do not let the water touch the bottom of the bowl. Whisk constantly until the mixture reaches 71C/ 160F on a food thermometer

Pour the egg mixture into the bowl of a stand-mixer and whisk on med-high until the meringue is stiff and cooled - it should no longer feel warm to the touch - aim for around 25C/ 77F

Cube the butter. Continue to whisk the meringue whilst slowly adding the butter cubes one at a time. Mix until smooth

Add the remaining coffee, a tsp at a time until you are happy with the colour and flavour of the buttercream

If not assembling the cake straight away, store the buttercream in the fridge (covered) until ready to use. Bring back to room temperature and re-whip. At first, the buttercream will split but after a few minutes, the silky smooth texture will return
Assembling the Cake
There is no right or wrong for the order of the layers. Pick the one you want to be on the bottom and lay it on a cake stand or serving plate

Spread a generous tablespoon of buttercream over the top of the cake then lay another layer of cake neatly on top

Again, spread a generous tablespoon of buttercream over the top of this layer and then lay the final cake on top

Reserve ⅓ of the remaining buttercream for piping decorations on top then smooth the rest of the buttercream over the top and sides of the cake

Pipe a few pretty shapes on the top and sides of the cake as you see fit. Scatter a little grated chocolate over the cake if desired

Serve within a few hours or store in the fridge, returning to room temperature before serving (approx 2 hours)
Notes
This recipe is sufficient for 3 sponge cakes baked in 6-inch tins. Do not try stretching the recipe to fill 8-inch tins - the layers will be too thin.
Ideally, scaling up to a 5 egg recipe is required for 3 layers of 8-inch cakes. However, that gives some fiddly measurements, so I suggest simply doubling the recipe, filling your cake tins ⅔ full and using any surplus cake batter to make a few cupcakes.
As for the buttercream, you will not need to double this. Instead, go for 9 egg whites/ 600g sugar / 675g butter
There is a risk that the buttercream will darken and/ or discolour if left at room temperature. Either frost your cake just 2-3 hours prior to serving or store in the fridge and bring back to room temperature before serving. Alternatively, use a different frosting completely (see my suggestions in my blog post).
Nutrition Per Serving (Approximate)
Calories:
783
kcal
|
Carbohydrates:
77
g
|
Protein:
6
g
|
Fat:
53
g
|
Saturated Fat:
33
g
|
Cholesterol:
185
mg
|
Sodium:
506
mg
|
Potassium:
800
mg
|
Fiber:
1
g
|
Sugar:
58
g
|
Vitamin A:
1646
IU
|
Calcium:
310
mg
|
Iron:
2
mg
(Visited 1,190 times, 3 visits today)