Layers of lemon and rose cake, a subtle rose buttercream & chunks of Turkish Delight and rose petals to garnish. This Turkish Delight Cake is a beautiful celebration cake.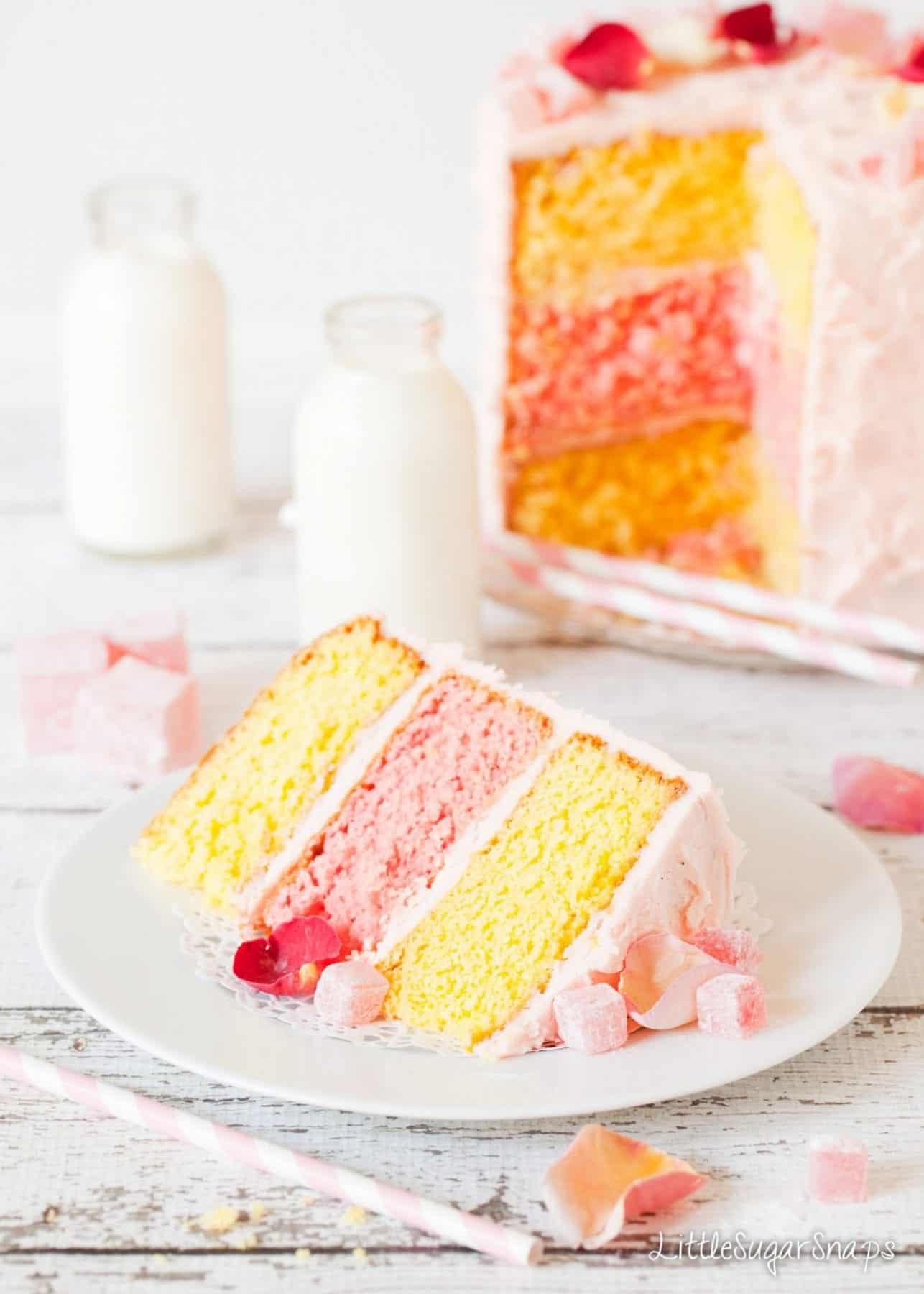 Today's post is all about cake. I've baked a lot of cake in the last month and can confirm that this Turkish Delight Cake was my favourite. It has the flavours of rose and lemon in the layers of cake, a subtle rose icing and is topped with small chunks of Turkish Delight & edible rose petals. It's enough to satisfy the sweet tooth of a child but not so sweet it would offend more mature taste-buds.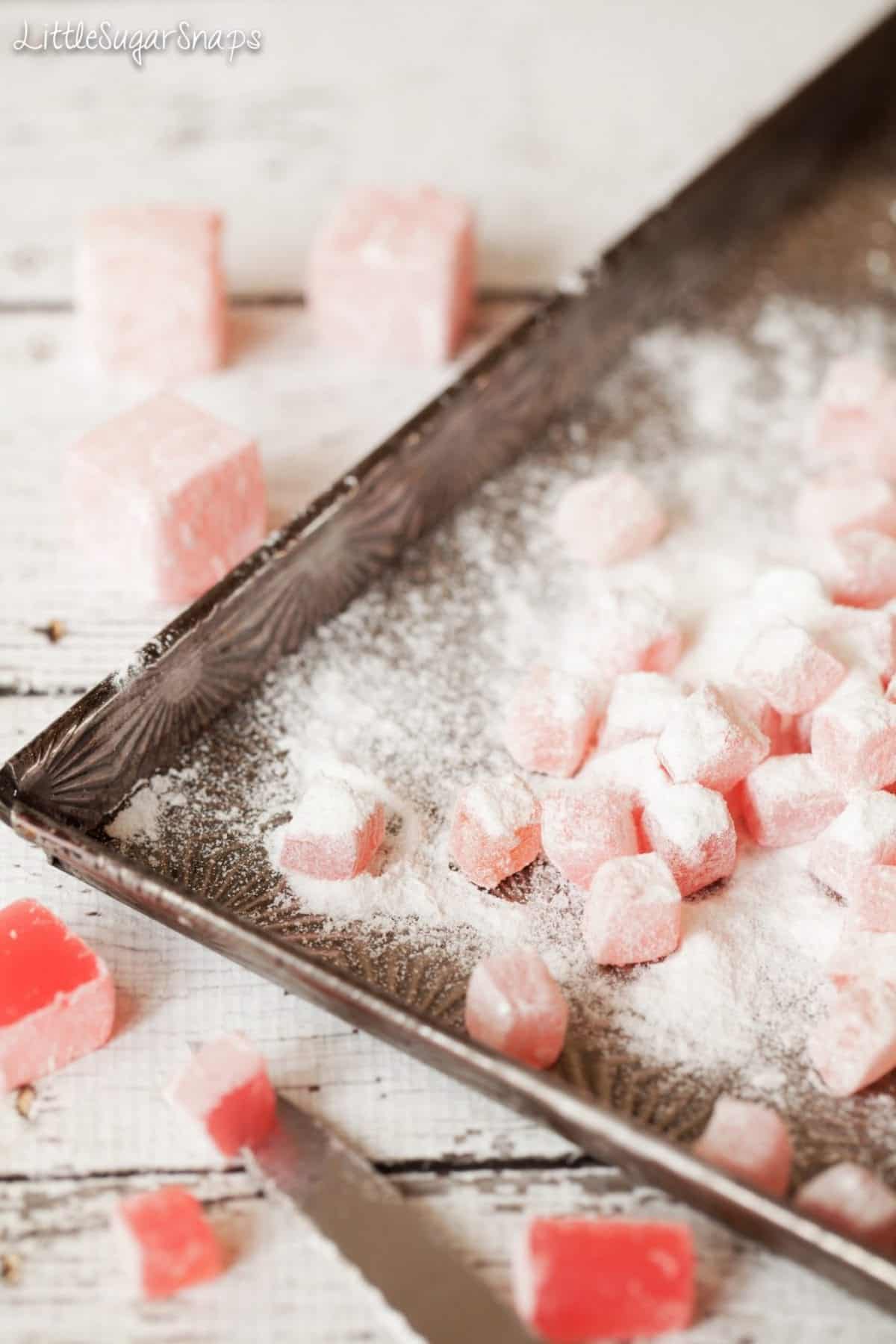 March is my busy month for baking celebration cakes. My girls have their birthdays just 8 days apart and both usually end up having their party on a day that is not their birthday. That's 2 cakes each: one for their party, one for their actual birthday. That makes me either a total sucker (√) or a big softie who cannot bear the thought of not baking a cake for them on their actual birthdays (√√).
Either way, by the time the candles on that 4th cake have been blown out, you can guarantee that I'm normally looking slightly green at the thought of putting another pile of themed birthday cake (usually covered in garish coloured icing) onto my plate.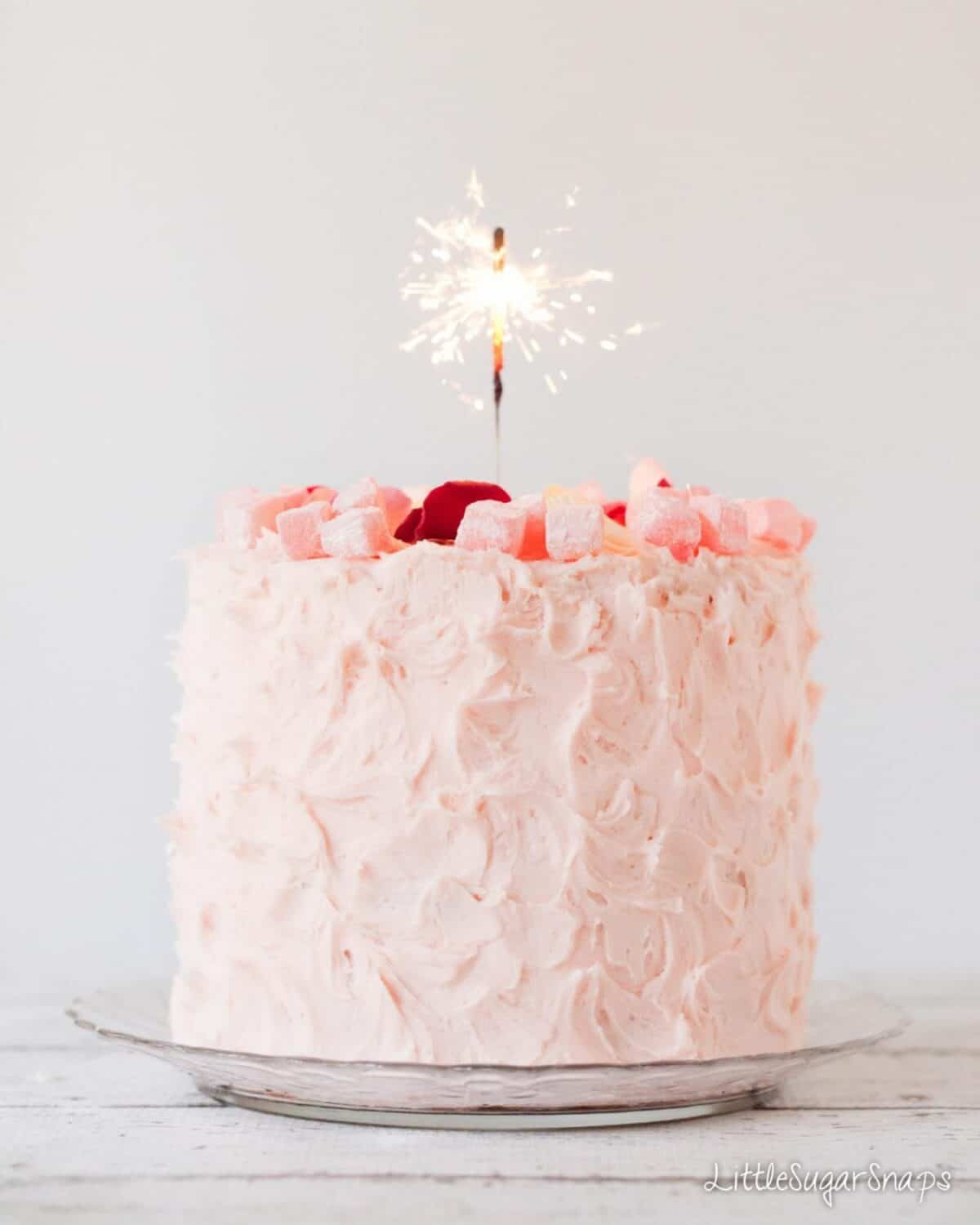 To appreciate where I'm coming from, imagine the following cakes – all of which I have baked for my daughters over the last few years:
a teddy bear (cute, but get in quick to secure a Rolo eye)
a treasure island (complete with hidden treasure)
a train (full of sweets)
a fairy house (slightly wonky roof)
a roller skate (yes, really)
numbers 5, 6 and 7 (easy, I'm telling you)
This year both girls decided on a piñata cake for one of their cakes. Yes, those cakes that you top with piles of sweets, then cover with a perfectly molded chocolate dome for your child to thwack with something heavy. I do sometimes wonder if they just like to challenge me. However, I agreed (sighing inwardly at the task that lay ahead).
Milly got her cake exactly as specified. A week later, feeling confident, I decided to stash the cake and dome for Hannah's party safely in the lounge, planning to decorate the dome with M&Ms later on. I gave the girls strict instructions not to bounce that jetball they were playing with anywhere near them. I think you can guess the rest… A few minutes later, one very sorry little sister confessed that she'd had a 'slight accident' with the chocolate dome and a certain ball…. Laugh? Cry?
This tale does have a happy ending, I promise.
Expecting to find the entire dome shattered, I took a look. By some miracle the ball had gone straight through, leaving a large – as in 5cm diameter – hole. But the dome was still standing. Hoorah. What luck. Erm….
After getting Hannah to see the funny side, which took all of 5 seconds, I set about hiding that hole with the aid of a Tunnocks snowball (nose), two mini Jammie Dodgers (eyes) and some decidedly dubious red gel icing (mouth). Han was more than thrilled – M&Ms and a cheeky face.
Anyway, back to today's cake. Fortunately for me, Hannah – who the 4th & final cake of my annual cake-athon is destined for – has, for the last 2 years let me surprise her with proper cakes for her actual birthday. Last year I made the most enormous caramel apple layer cake imaginable. It contained not one scrap of icing, just caramel on the scale of a volcanic eruption. It was marvellous.
This year I made something much more personal, based on her middle name, Rose, and the fact that she's still young, so therefore likes sweets, pink and all things pretty. The Turkish Delight Cake (aka Lemon and Rose Layer Cake).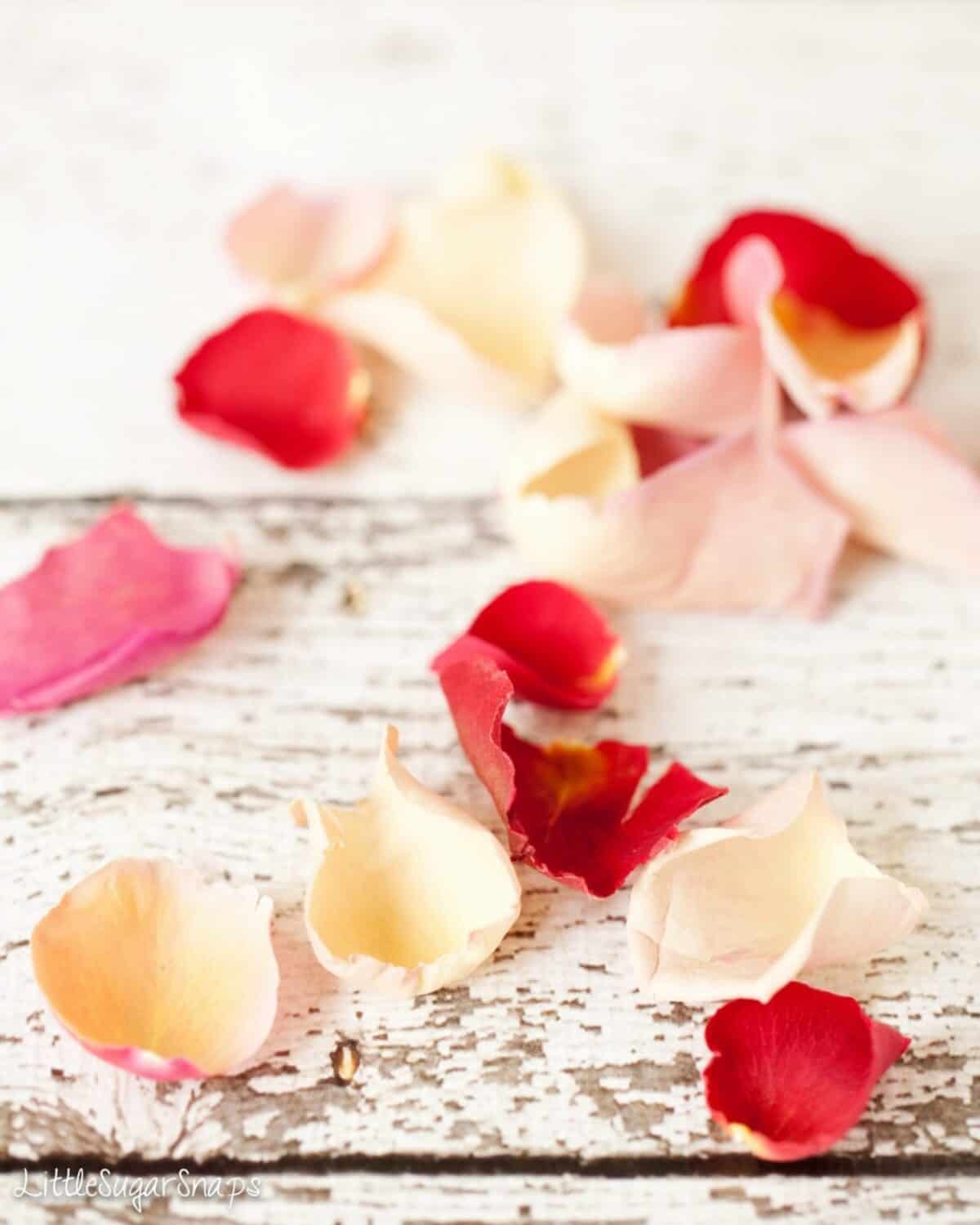 I was going to give you a recipe for making your own Turkish Delight, but truth be told, it went horribly wrong. Not even a snowball could fix it. I did, however, learn that Turkish Delight is veggie friendly. It's made using starch and sugar, not gelatin as I had always assumed. However, I do heartily recommend popping down to the supermarket to buy some. Unless, of course, you have Turkish Delight making down to a fine art.
Browse my entire collection of cake recipes for more enchanting layer cakes. Want a few ideas? How about a Chocolate & Vanilla Malted Milkshake Cake or a Mint Choc Chip Cake? Both are quite magical.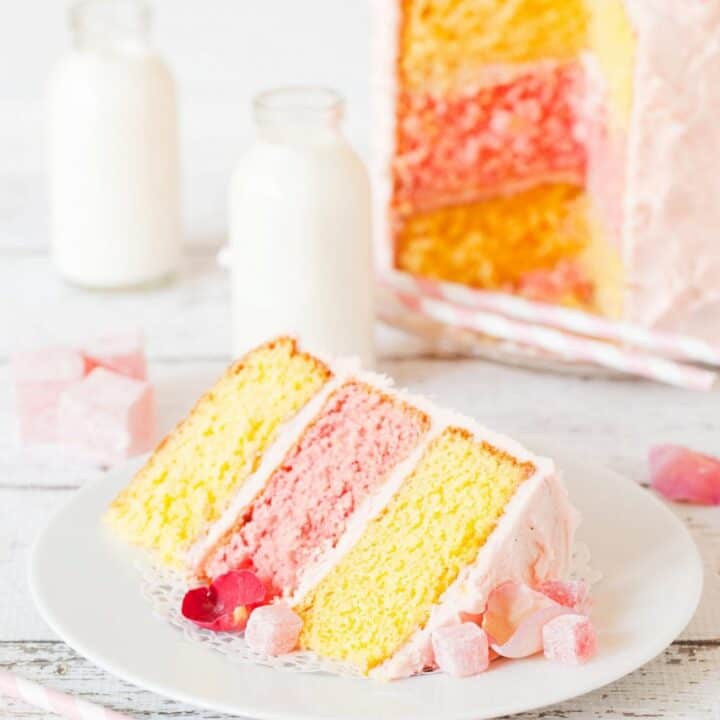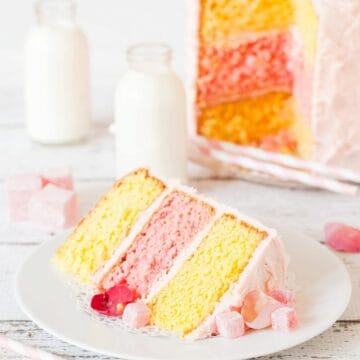 Turkish Delight Cake
Layers of lemon and rose cake, a subtle rose buttercream & chunks of turkish delight and rose petals to garnish. This is a beautiful celebration cake.
Print
Pin
Rate
Ingredients
For the cakes:
280

g/ 11/4cups

Butter – very soft

375

g/ 12/3cups

Caster sugar

5

tablespoon

Milk

5

large eggs

375

g/ 3 cups

Plain (all-purpose) flour

3

teaspoon

Baking powder

¾

teaspoon

Rosewater

(see notes)

Yellow & pink food colouring gels

Zest of 1 lemon plus 1 tablespoon juice
For the icing:
225

g/ 1cup

butter – very soft

150

g/ ⅔cup

Mascarpone cheese

600

g/ 4 ¾ cups

icing (confectioners) sugar

1 – 1 ½

teaspoon

Rosewater

(add to taste)

Pink food colouring gel
To decorate (optional):
Edible rose petals

Turkish delight
Instructions
For the cakes:
Preheat the oven to 170°C/ 325°F/ GM3. Grease and line three 20.5cm (8 inch) sandwich tins with baking paper

In a large bowl cream the butter and sugar together with electric beaters until pale and fluffy

Add the milk and 1 egg. Beat well. Add the rest of the eggs one at a time, beating well between each addition

Sift together the flour and baking powder, then fold it into the cake mixture using a large metal spoon

Take ⅓ of the mixture out and place it in a separate, smaller bowl. To this add the rosewater and a small dab of the pink colouring gel – you are after a subtle pink, not cerise, so go slow and steady. Gently mix to combine thoroughly, then spoon into one of the baking tins, gently spreading it out to the sides

To the remaining ⅔ of the cake batter, add the lemon juice & zest and a bit of yellow colouring gel. Again, fold these ingredients through to incorporate evenly. Divide this mixture between the 2 remaining tins

Bake for around 30-35 minutes until the cakes are springy and beginning to come away from the sides of the tins. Allow the cakes to cool for 2 minutes, then carefully take them out of the tins and cool completely on a wire rack
Decorating the cake:
If you are using Turkish Delight to top your cake, you will need to chop the large chunks into smaller ones using a sharp knife – those pictured here are approximately ¾cm cubed. Dust the chopped pieces in the powder from the box (or an equal mix of icing sugar and cornflour)

Make the icing by beating together all of the ingredients for the icing. Aim for a very delicate pink (this is definitely a time you should be patient and add the colouring gel in small dabs until you attain a colour you are happy with)

Starting with a layer of lemon cake, add a large scoop of icing and spread out to create a slim layer across the cake. Top with the rose cake and add a similar about of icing. Finally, add the top layer of lemon cake

Use the remaining icing to cover the outside of the cake. I find that coating the cake in a thin layer all over helps to seal in the crumbs. Once you have done this, add an extra layer of icing to create a thicker layer that covers the cake entirely. Once you are satisfied, you can add a pattern if you want to. This time I used the back of a dessert spoon to lift the icing in places to give a rugged appearance

If you are eating the cake immediately, you can add the Turkish Delight and rose petals straight away. However, if you will be eating it later, store the iced cake in the fridge. Do not add the decorations at this stage. Take the cake out of the fridge 2-3 hours before eating to come back up to room temperature. Add the decorations just before serving
Notes
1.Rosewater strength does vary. Please do adjust the quantities used in my recipe if you know your brand is particularly week or strong 2. If you have only 2 baking tins, you can get away with leaving the rose layer in the bowl until a tin comes free – just get it in the oven asap once the lemon layers are cooked.
Nutrition Per Serving (Approximate)
Calories:
706
kcal
|
Carbohydrates:
92
g
|
Protein:
6
g
|
Fat:
36
g
|
Saturated Fat:
22
g
|
Cholesterol:
147
mg
|
Sodium:
291
mg
|
Potassium:
185
mg
|
Fiber:
1
g
|
Sugar:
70
g
|
Vitamin A:
1145
IU
|
Vitamin C:
4
mg
|
Calcium:
91
mg
|
Iron:
2
mg
(Visited 2,559 times, 1 visits today)