Vanilla French Buttercream has a texture as smooth as silk and a sumptuous flavour reminiscent of classic custard. It is rich, dreamy and decadent, making it an exemplary choice of topping to turn a simple cupcake into something really rather special.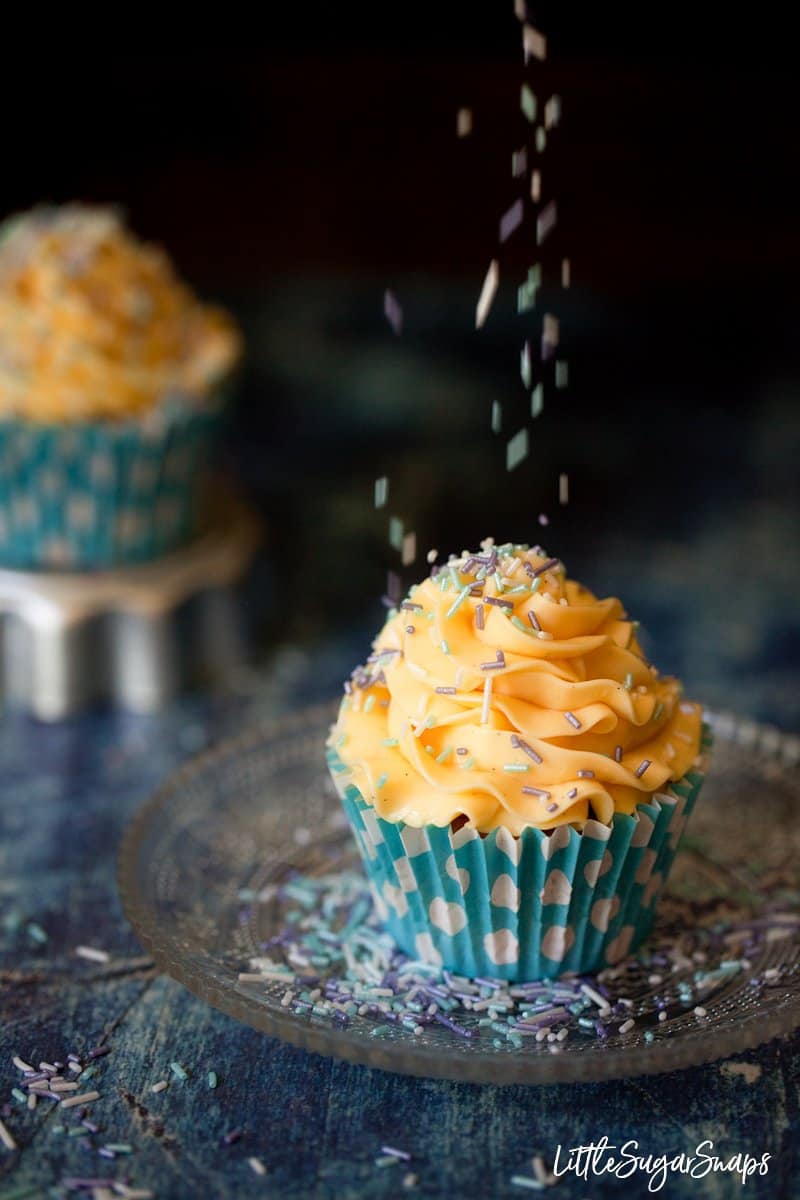 My buttercream repertoire has expanded massively since I got a stand mixer earlier this year and I've fallen headlong in love with Swiss, Italian and now French buttercream.
I came across a recipe for French buttercream by chance a few months back and I knew I had to try it. To begin with, my mind started flitting between all sorts of fancy creations that I could pair it with. Then, when I made my first batch, I quickly realised that where French buttercream is concerned, less is most definitely more.
Classic French buttercream is the richest, most decadent of all of the buttercreams I've worked with. The flavour is striking and the colour is magnificent. When enhanced by a touch of vanilla, this buttercream, in its simplicity, manages to deliver a massive wow factor. Think creamy, silky & smooth with the delicate and downright delicious flavour of classic custard.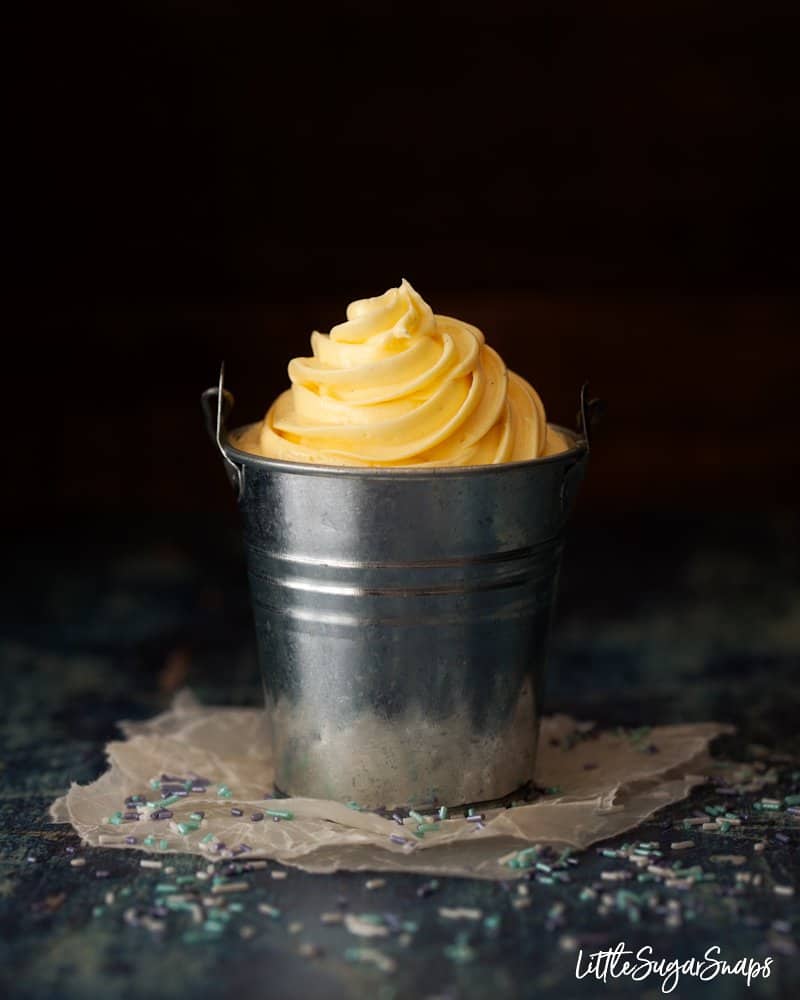 I toyed with the idea of creating a trifle inspired cupcake, but in the end, I decided to scale back my ideas completely. Paired with a classic vanilla cupcake this impressive buttercream hogs the entire spotlight. This combination is nothing short of:
Of course, chocolate or coffee cupcakes would be other worthy partners for this vanilla French buttercream.
I have presented this vanilla French buttercream piled quite high on cupcakes and it covers approximately 6 cakes like this. However, not everybody likes so much topping on their cakes, so it's worth noting that my recipe could easily stretch to cover 9-10 cakes if a pretty rose design is piped on each cake instead.
What is the difference between, French, Swiss and Italian Buttercream?
Swiss and Italian buttercreams are both meringue based frostings:
Swiss Meringue Buttercream is made by heating egg whites and sugar together to 71C/ 168F prior to whisking to stiff peaks. When the stiff peak stage is reached and the meringue has cooled, butter is added to produce a spectacular buttercream.
To make Italian buttercream, a hot sugar syrup (115C/ 240F) is trickled slowly over stiff egg whites whilst they are being whipped. The mixture is continuously whipped until cool and then a lavish amount of butter is added, chunk by glorious chunk.
They are both wonderfully buttery and silky smooth. Tastewise, Italian buttercream is slightly sweeter than Swiss, but neither are too sweet
French buttercream, however, is made using egg yolks. These yolks add depth of flavour and a soft yellow colour to the buttercream.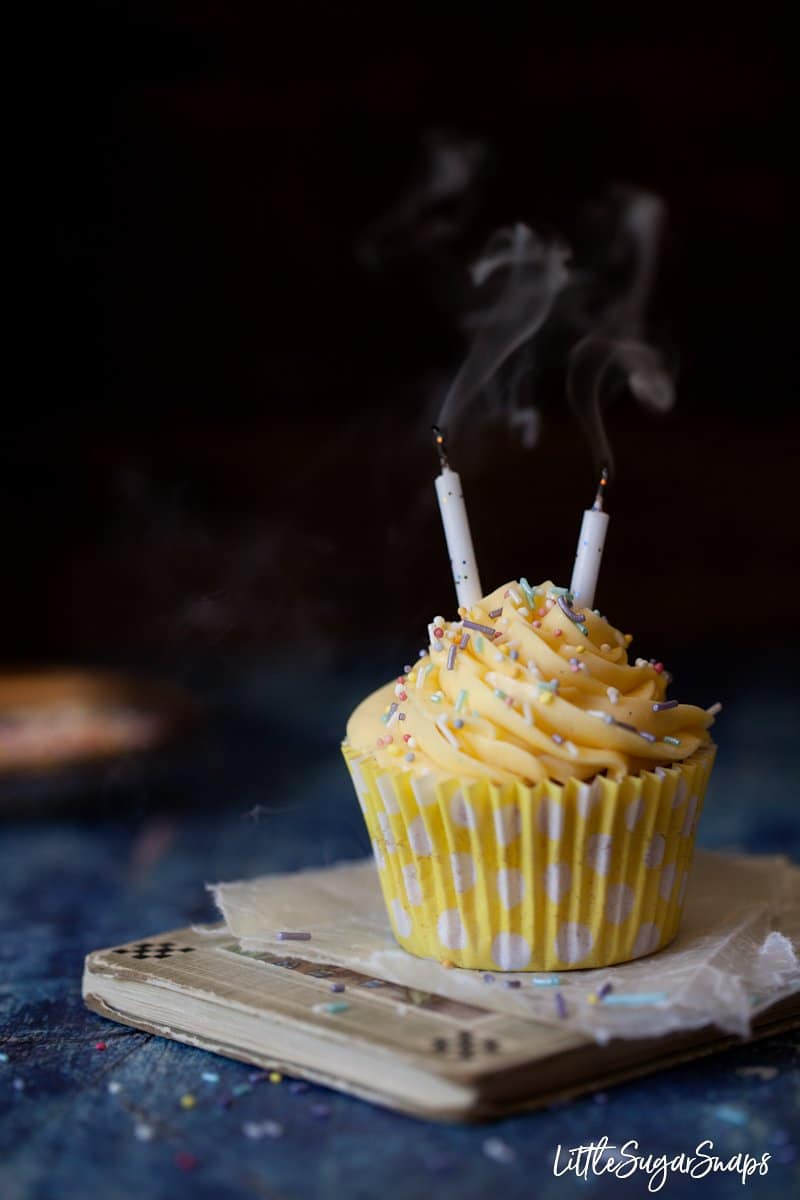 A Few Tips
French buttercream is the richest and least sweet of the three, but it can be harder to work with since it does not remain stable in warmer temperatures:
I would not recommend trying to use this buttercream in the summer months
From experience, I can also confirm that it is tricky to pipe with since the heat from hands around the piping bag does cause this buttercream to melt quickly. My tip is to run your hands under the cold tap before picking up the piping bag and to work extremely quickly. Keep cooling down your hands as necessary
The egg yolks in this recipe are not cooked sufficiently to ensure pasteurisation. If this worries you, I would recommend seeking out a source of pasteurised eggs to use in this recipe or to pasteurise your own. If you are in the UK, look for the Lion mark on eggs – this mark ensures that the eggs you buy come from hens vaccinated against salmonella.
Can I Flavour French Buttercream?
Of course! If you are in the market for alternative flavourings try these:
Replace the vanilla bean paste with quality flavour extracts to taste – almond sounds particularly delicious
After adding all of the butter, try drizzling in some melted (but cooled to room temperature) chocolate
Dissolve some coffee in hot water, let cool and add after the butter
How to Store French Buttercream
Vanilla French Buttercream can be used straight away to decorate cakes and cupcakes. Once iced, the cake should be stored in the fridge and allowed to come to room temperature before serving.
However, this buttercream can also be kept in the fridge for up to 2 weeks or in the freezer for up to 3 months. In both cases, store in an airtight container or bag and let come to room temperature before using. It will be necessary to beat the buttercream again to restore the silky smooth consistency. Beat for around 5 minutes. The buttercream may initially split, but keep on beating until the mixture reblends.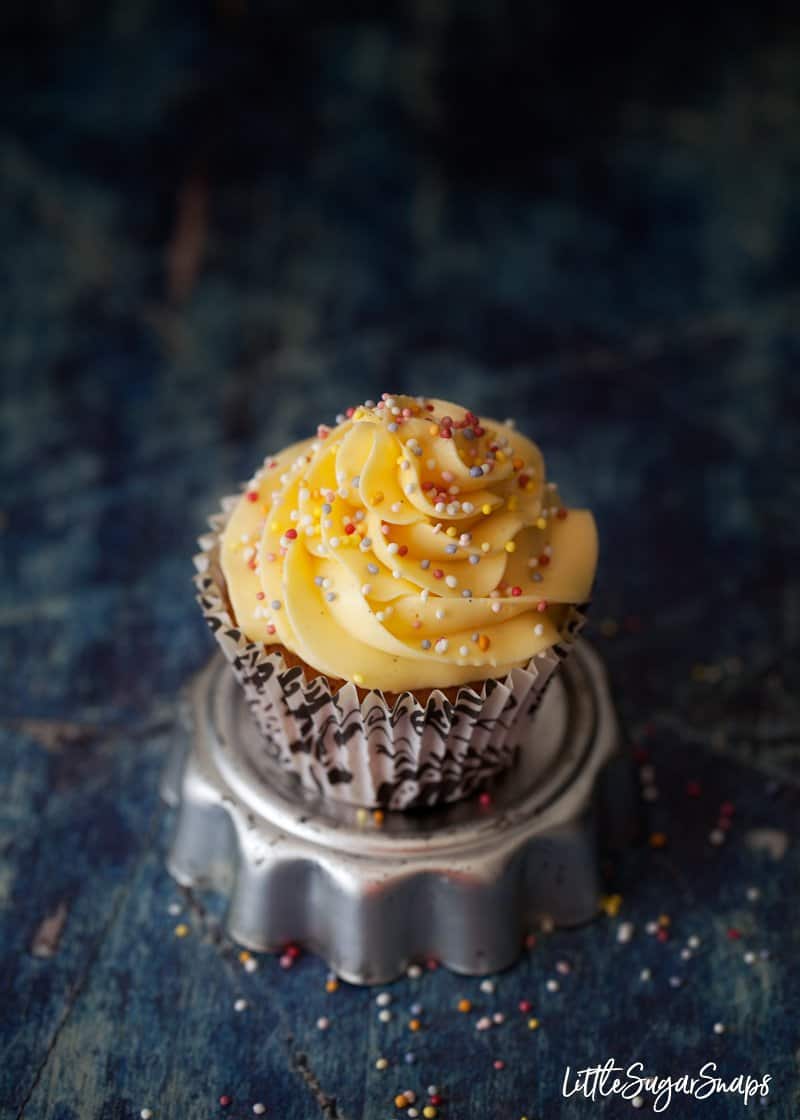 Find my recipes for Swiss and Italian Buttercreams:
Malted Milkshake Cake with Vanilla Italian Buttercream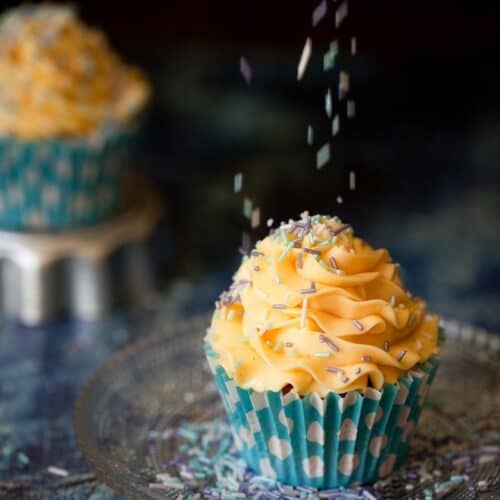 Ingredients
4

Egg yolks

from large, free-range eggs

40

ml/ 8 tsp

Water

100

g/ 1/2 cup

Sugar

Caster

180

g/ 3/4 cup

Butter

Unsalted, softened

Pinch of salt

1

tsp

Vanilla bean paste

or vanilla extract
Instructions
Begin by heating the water and sugar in a small saucepan over a low heat, stirring often, until the sugar dissolves

Next, place the egg yolks in the bowl of a stand mixer and beat until thick and foamy

Once the yolks are beginning to thicken, turn up the heat on the sugar and water and allow to boil and cook until the syrup reaches 115C/ 240F then remove from the heat

With the mixer running, slowly pour the hot syrup into the bowl in a long thin stream. Be careful not to let the syrup hit the beater. Continue mixing until the bottom of the bowl is cool to the touch and the yolk mixture has cooled to room temperature

Start adding the butter, a cube at a time, beating well before the next chunk is added

Add a pinch of salt and the vanilla extract. Continue to beat until the buttercream is smooth and silky. Don't panic if it splits, just keep on beating and it will come together after approx 5 minutes

Use immediately or store in an airtight container in the fridge for up to two weeks or in the freezer for up to 3 months.

Cakes or cupcakes decorated with French buttercream should be stored in the fridge. Allow to come to room temperature before serving.
Notes
To use french buttercream that has been stored in the fridge or freezer, first allow it to come to room temperature then beat it with a mixer until its smooth, silky consistency returns. It may split at first, this is completely normal. Just keep on beating until the consistency is restored. 
This buttercream is quite heat sensitive and does not hold up well in hot/ humid environments. Please keep this in mind when deciding whether or not French buttercream will suit your needs.
Nutritional Information Per Serving (Approximate)
Calories:
322
kcal
|
Carbohydrates:
18
g
|
Protein:
2
g
|
Fat:
28
g
|
Saturated Fat:
17
g
|
Cholesterol:
195
mg
|
Sodium:
220
mg
|
Potassium:
20
mg
|
Sugar:
17
g
|
Vitamin A:
923
IU
|
Calcium:
23
mg
|
Iron:
1
mg
Pin this recipe: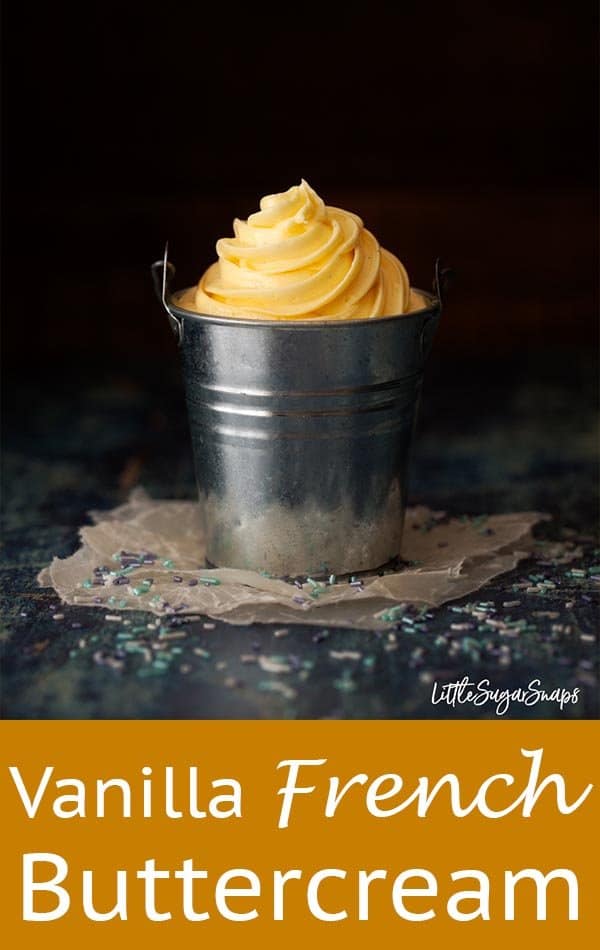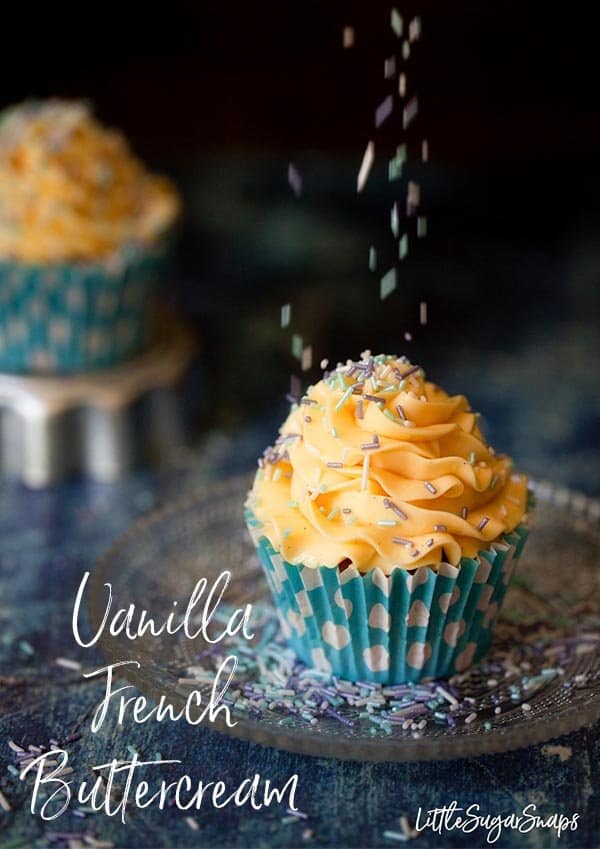 (Visited 231 times, 4 visits today)