Make the most of the greengage season by making a batch of spiced greengage jam. Dipping into a jar of this sweetly spiced conserve will be a wonderful treat as the cooler days of autumn set it.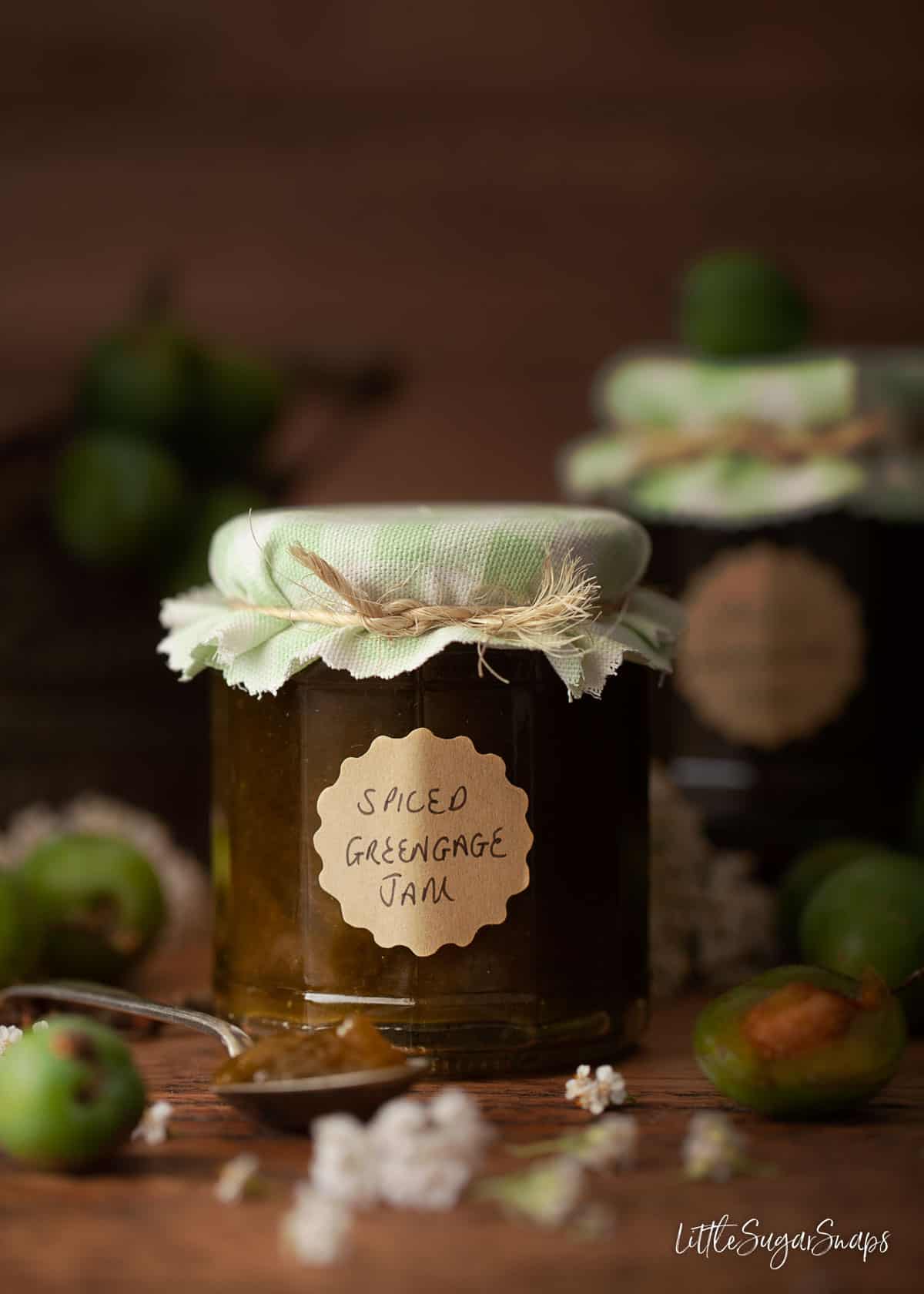 This post contains affiliate links. As a Thermapen associate, I earn from qualifying purchases.
I unexpectedly found myself making this spiced greengage jam recently after a lovely friend delivered a large stash of greengages that she had harvested from her garden. I've rarely come across this fruit in the supermarket or even in local farmshops, so I was really quite delighted with my gift.
My friend warned me that they had started falling early this year for some reason, and they were still quite tart. One bite confirmed my suspicions – they would make some fabulous greengage jam.
Adding a gentle buzz of sweet spices, including cinnamon, nutmeg, ginger, star anise, cardamom and some sweet, floral vanilla seemed like a great way to take the base recipe. So I went with the meanderings of my mind and created this spiced greengage jam.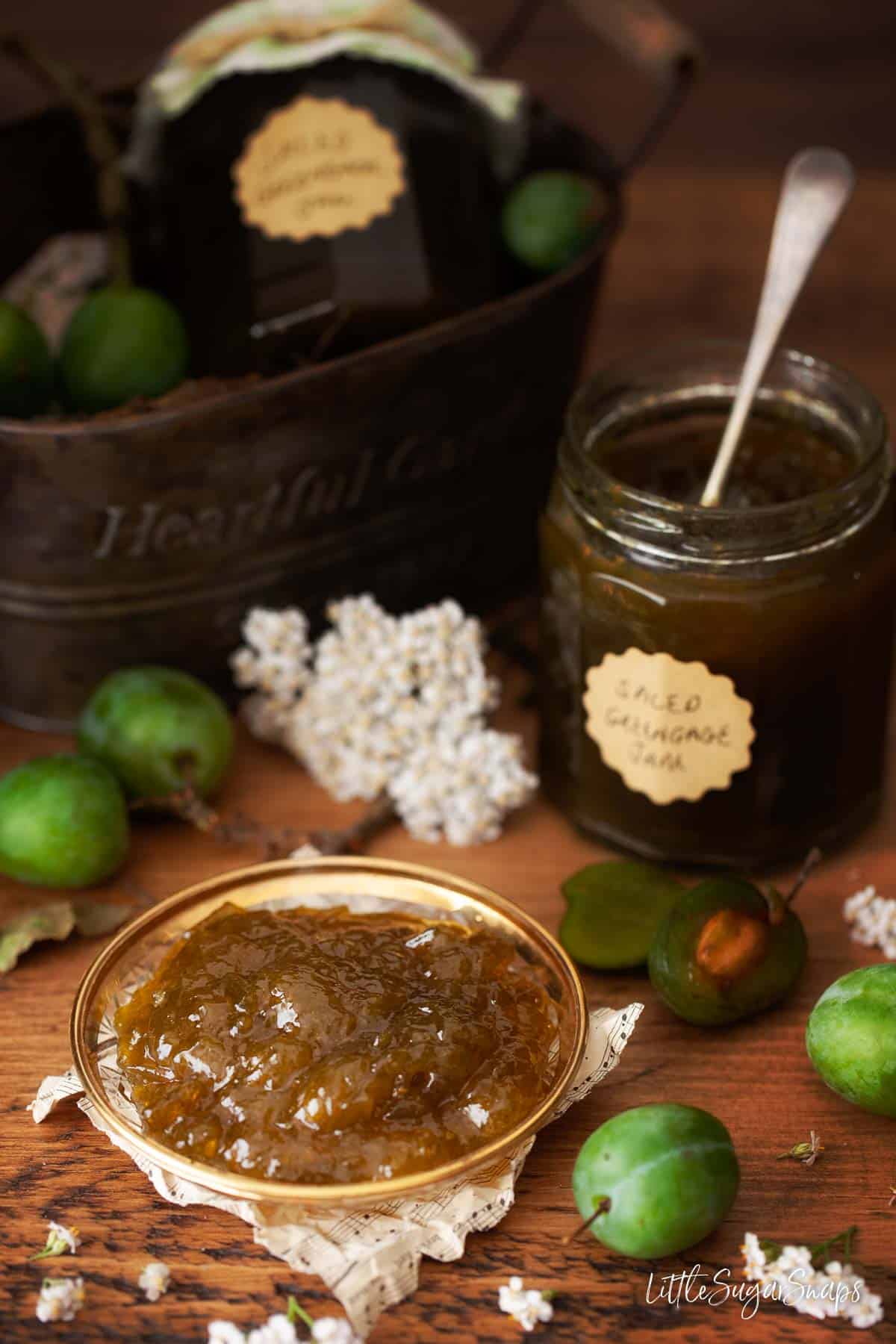 What are Greengages?
Greengages are sweet dessert plums that are green in colour.
They first appeared in Britain in 1724, and although not as common as other plum varieties, they are without a doubt regarded as one of our national culinary treasures.
They typically start to ripen around mid-August, but picking just ahead of this time is a good move if you intend to make jam with your greengage harvest. Under-ripe greengages are tart in flavour, just like gooseberries, and they contain higher levels of pectin, which is essential for helping achieve a good jam set.
If you enjoy jam with a little tartness about it, try my damson jam too.
Ingredients
The ingredients for this greengage jam recipe are simple:
Greengages – use slightly under-ripe fruit if possible, as this contains more natural pectin than ripe fruit
Sugar – regular granulated white sugar works a treat here – there's no need for jam or preserving sugar
Spices – a mix of spices you are likely to have in your pantry if you enjoy cooking and baking
Butter – just a small knob of butter stirred in can help disperse any scum that may arise during cooking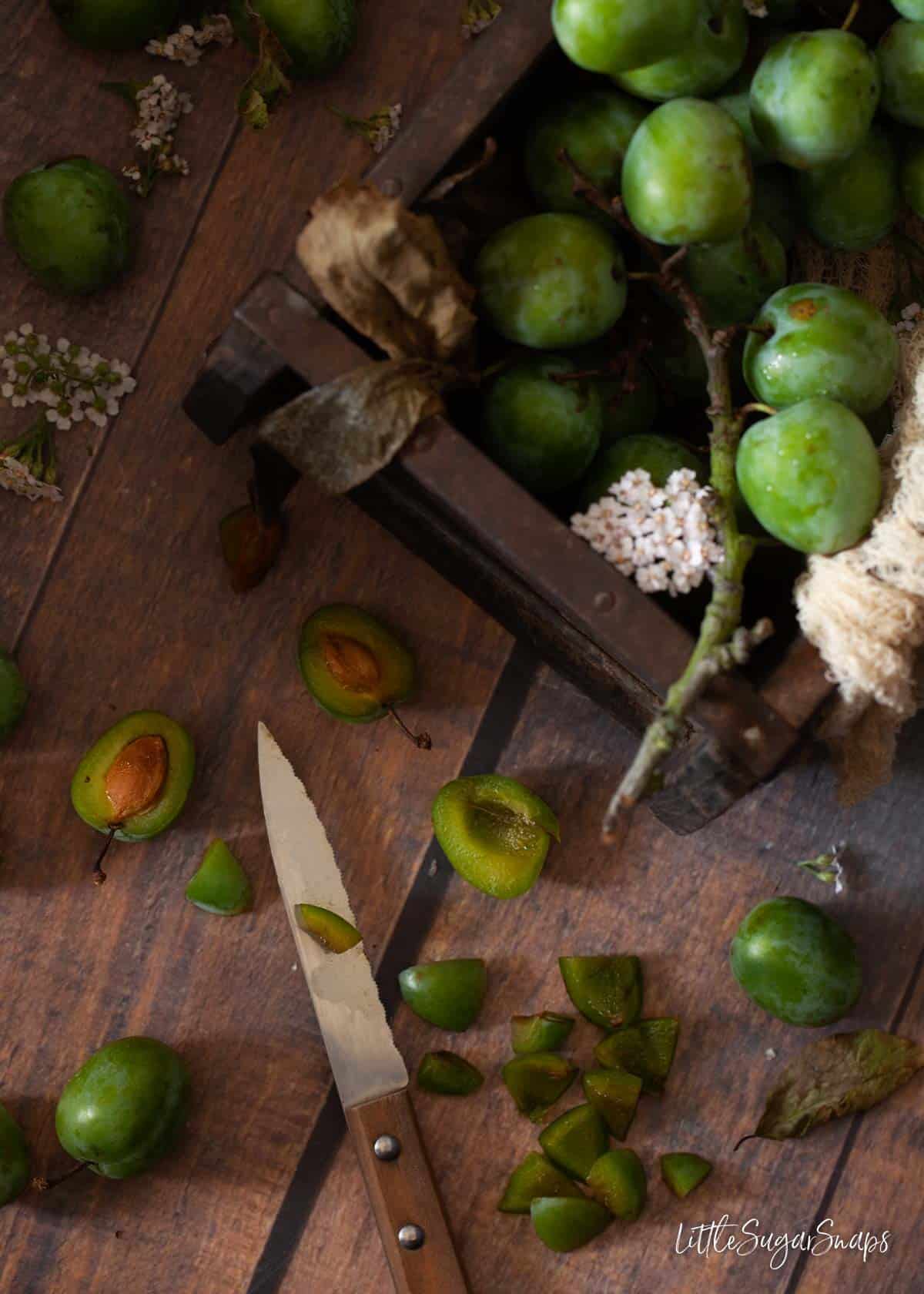 You will notice that I do not list either pectin, specialist jam making sugars or lemon juice in this recipe. That's because slightly under-ripe greengages have sufficient pectin in them naturally to achieve a good set when making jam.
During my testing for this recipe, I made a batch using a little lemon juice (evident in the images) to see if including a small amount would help retain the vibrant green of the raw fruit. As it made no difference whatsoever, I have not included it in the final recipe for this spiced greengage jam.
Step by Step Instructions
Jam making is a relatively simple process. It's really a series of steps and if you follow them to the letter, very little can go wrong.
My top tip for you is to ensure you cook the jam to setting point, which is 105C/ 112F. Under-cooked jam will be too runny and overcooked jam can be incredibly firm.
Halve the greengages, remove the stones and chop roughly – I chopped each half into 4 or 6 pieces, but you can leave chunkier if you would like larger pieces in your jam
Put the fruit into a large saucepan along with the sugar and water. Remember that jam will bubble and boil as it cooks, so it is better to choose a pan where the contents leave plenty of room for this to occur without the risk of it boiling over
Press down firmly on the cardamom pods using the back of a blunt knife until they crack open. Scoop the pods and seeds into the pan
Slit the vanilla pod lengthways with a sharp knife. Scrape the seeds into the saucepan then drop in the pod
Add the cinnamon, star anise, ginger and nutmeg to the pan
Stir everything together, then cook over a gentle heat for around 20 minutes until the sugar has dissolved and the fruit is soft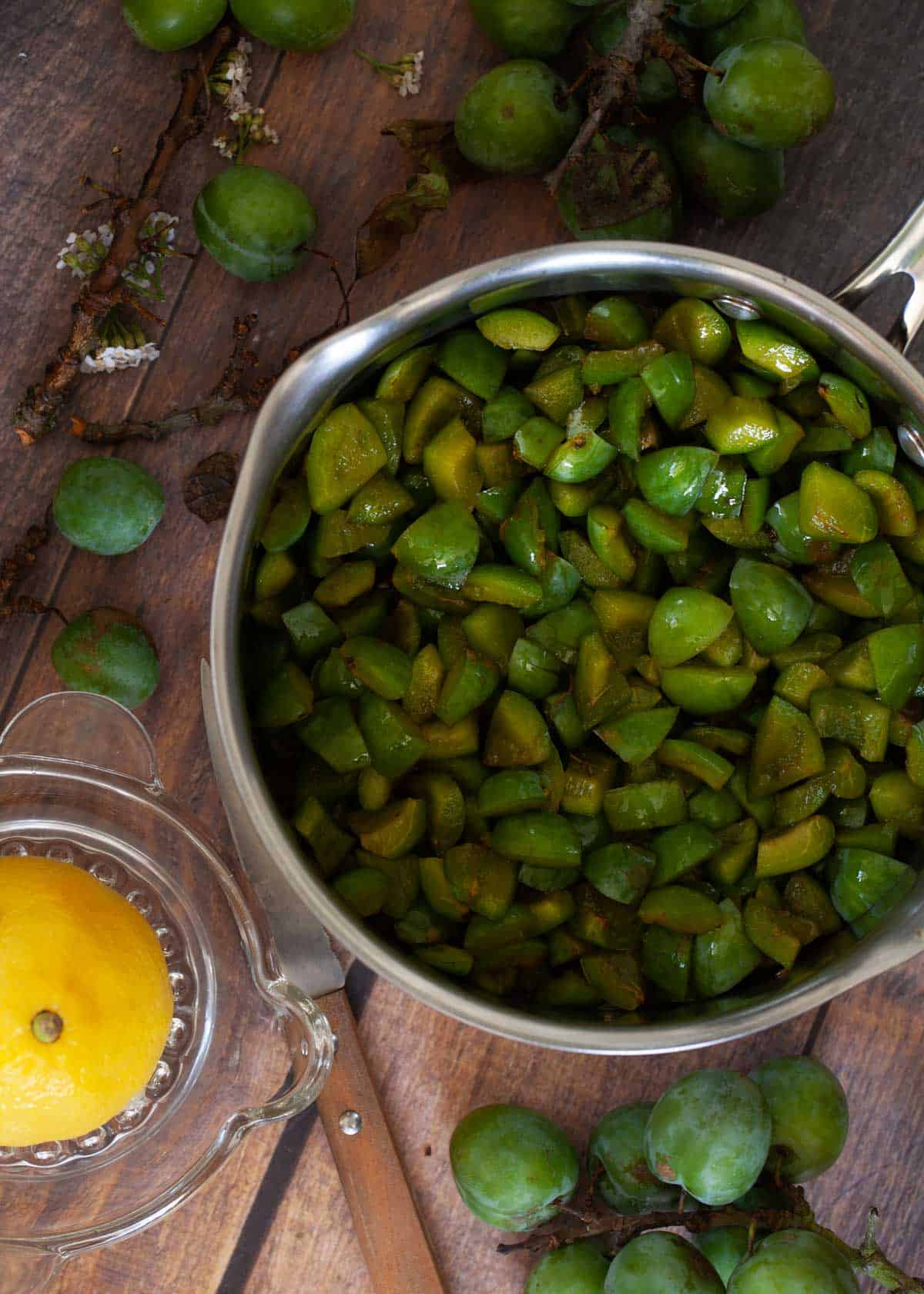 Take off the heat and leave the jam to infuse for 30 minutes
Remove all of the spices – count them out to ensure none are left behind
Optional step: use a stick blender to perform 3 x 1 second pulses of the jam. This breaks some of the fruit pieces down whilst still leaving plenty of fruity chunks behind
Prepare 2 sterilised jam jars: wash in soapy water, rinse and then put into an oven heated to 140C/ 284F for 15 minutes
While the jars are sterilising, cook the jam over a medium-high heat, stirring frequently to avoid burning, until it reaches 105C/ 221F on a digital food thermometer (I used my Thermapen)
Once this temperature has been reached turn off the heat, stir the butter through the jam and leave to cool for 10 minutes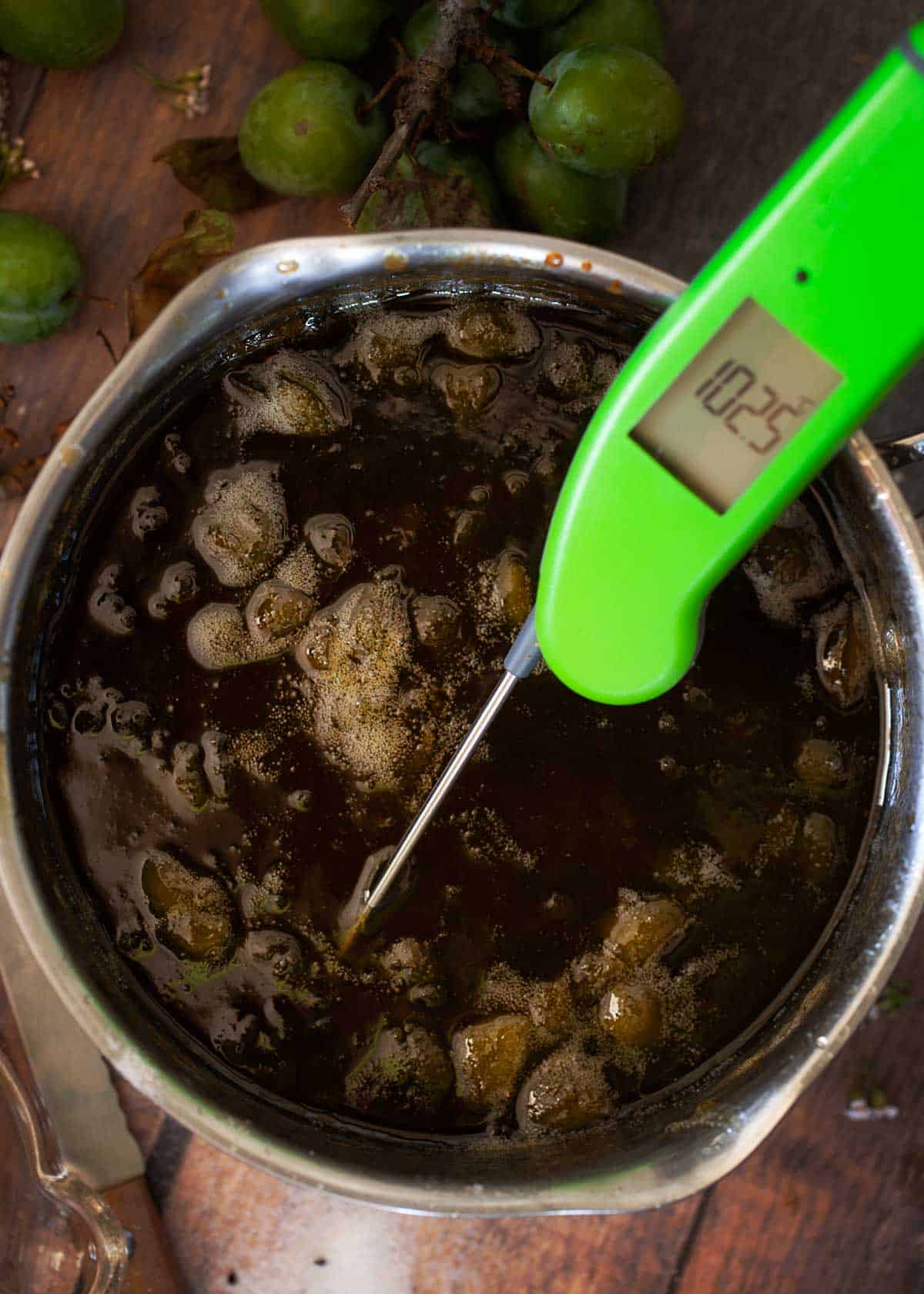 Stir before decanting into the prepared jars. Cover each jar with a circle of wax paper and secure the lid tightly. Invert the jars then leave to cool completely before labelling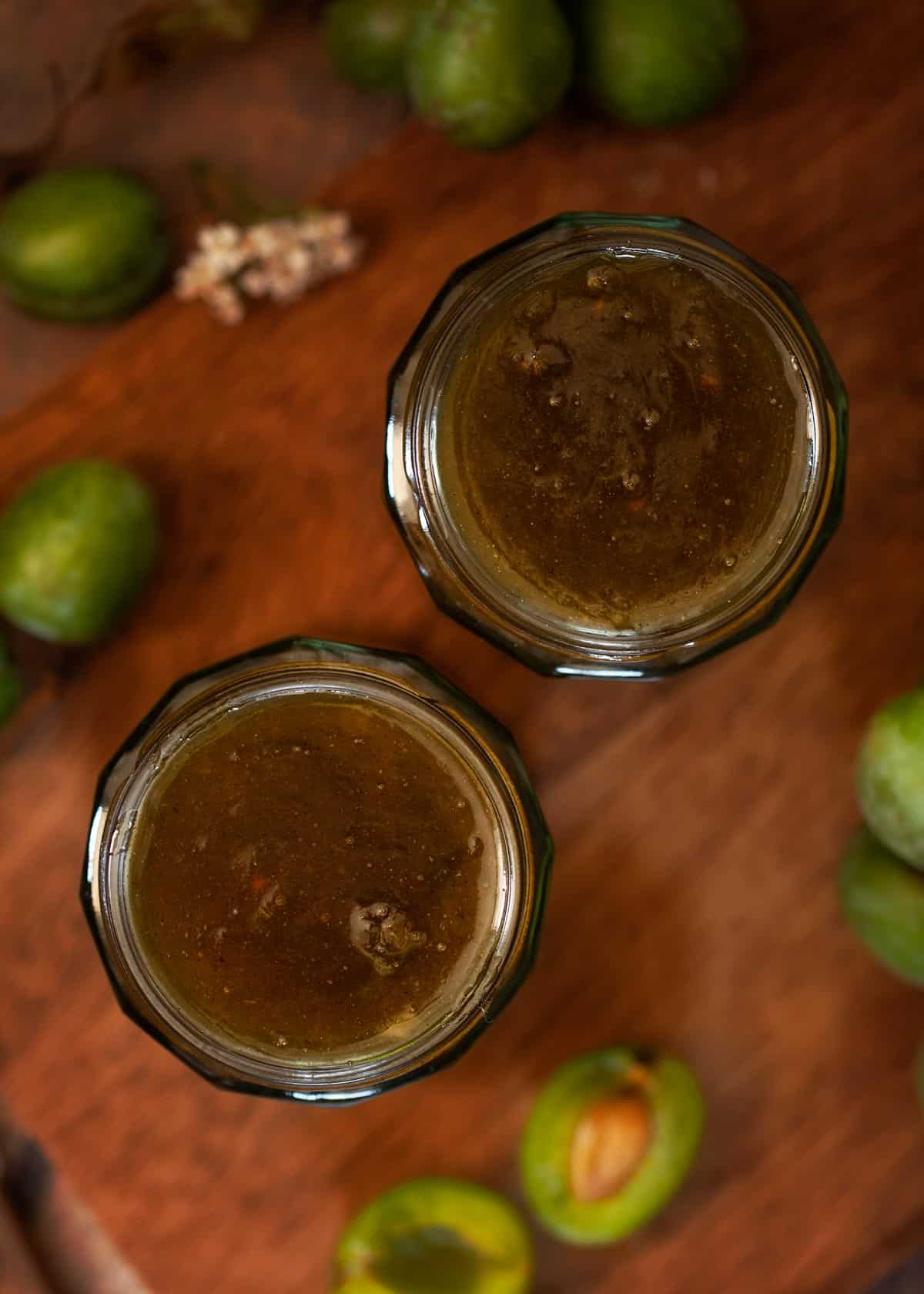 Can I Double this Recipe?
The ingredients listed produce 2 jars of approximately 340g each, so it is a small batch recipe.
However, you can easily scale up the base recipe to make 4, 6 or more jars of jam. Just increase all ingredients by the same proportions (double, triple etc) each time.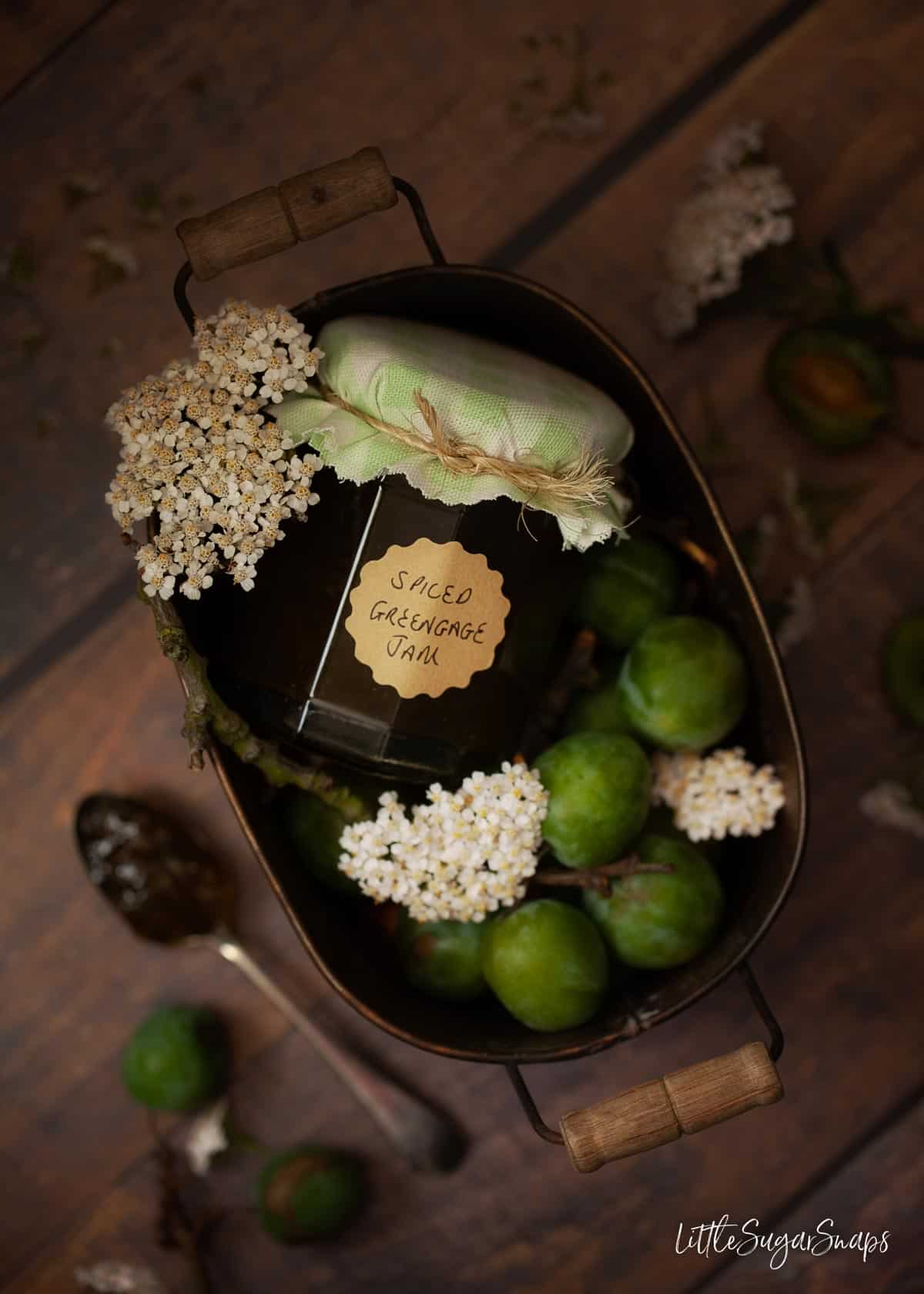 Recipe FAQs
Do I have to Use Sterilised Jars?
If you are intending on storing the jam for any length of time then it is imperative to use sterilised jars to reduce the risk of mold forming over time.

If, however, you know that the entire batch of this greengage jam is destined to be used within 2-3 weeks, it is fine to store in any sealable container, provided you then store it in the fridge. I highly recommend letting the jam come to room temperature before serving to allow the full flavour to shine.
Can I leave out the spices?
The spices can by all means be left out, turning this into a straight greengage jam recipe.

In this case, there is no need to take the cooked fruit off the heat to infuse for 30 minutes. Once the fruit has softened in the pan, go straight to the stage of raising the cooking temperature and boiling to setting point.

Don't forget to prepare the sterilised jars at a suitable point though. Getting this stage done at the start of the jam making process is no bad thing.
Is this Vegan?
I have included a small knob of butter in this recipe for greengage jam. However, it can easily be left out to suit a vegan diet.
Ways to Eat this jam
Hands down, my favourite way to eat this spiced greengage jam is on toast.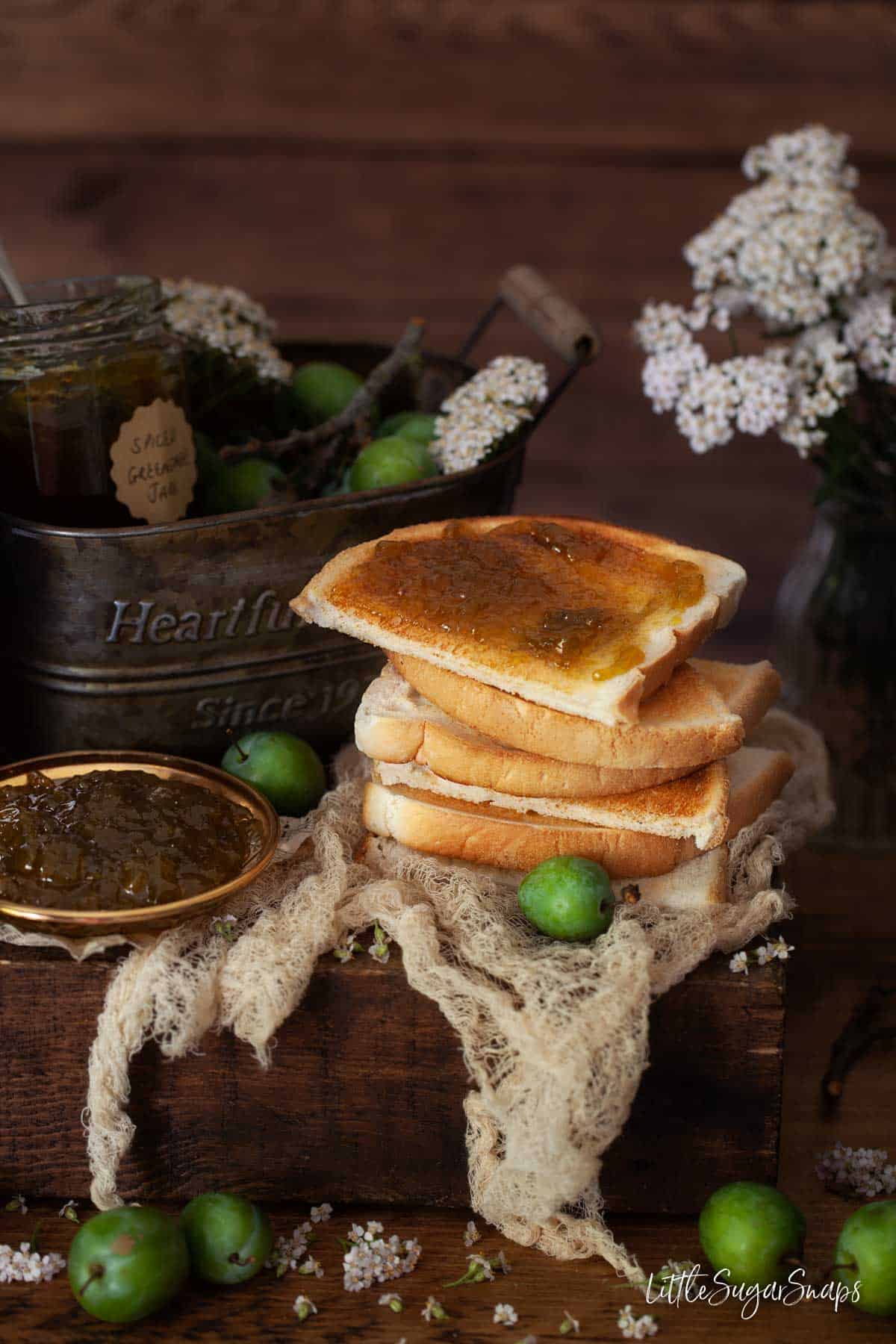 It can, however, be used to top all manor of goodies such as:
English muffins
Croissants
Brioche
Scones
Alternatively, use it to whip up an unusual cocktail (trying this ASAP) or use to fill a Gâteau Breton.
Wait, you haven't come across Gâteau Breton before? It's a very rich & buttery delicacy made using egg yolks and butter that has a jammy centre. It's well worth considering as a dessert option.
More Jam, Preserve & Spread Recipes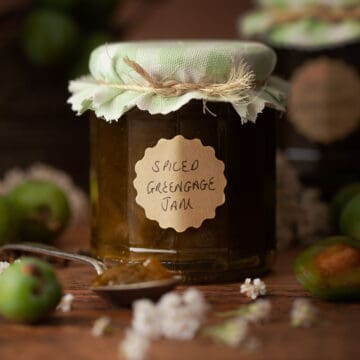 Spiced Greengage Jam
Make the most of the greengage season by making a batch of spiced greengage jam. Dipping into a jar of this sweetly spiced conserve will be a wonderful treat as the cooler days of autumn set it.
Makes 2 x 340g Jars (approx 34 servings of 20g)
Print
Pin
Rate
Servings:
34
20g servings
Ingredients
500

g/ 17 ½ oz

Greengages

450

g/ 16 oz

Granulated sugar

125

ml/ ½ cup

Water

1

Cinnamon stick

10cm

1

Star anise

¼

teaspoon

Ground nutmeg

5

g

Ginger

Approx 3 x 1mm thick slices

2

Green cardamom pods

1

Vanilla pod
Instructions
Halve the greengages, remove the stones and chop roughly – I chopped each half into 4 or 6 pieces, but you can leave chunkier if you would like larger pieces in your jam

Put the fruit into a large saucepan along with the sugar and water. Remember that jam will bubble and boil as it cooks, so it is better to choose a pan where the contents leave plenty of room for this to occur without the risk of it boiling over

Press down firmly on the cardamom pods using the back of a blunt knife until they crack open. Scoop the pods and seeds into the pan

Slit the vanilla pod lengthways with a sgharpknife. Scrape the seeds into the saucepan then drop in the pod

Add the cinnamon, star anise, ginger and nutmeg to the pan

Stir everything together, then cook over a gentle heat for around 20 minutes until the sugar has dissolved and the fruit is soft

Take off the heat and leave the jam to infuse for 30 minutes

Remove all of the spices – count them out to ensure none are left behind

Optional step: use a stick blender to perform 3 x 1second pulses of the jam. This breaks some of the fruit pieces down and helps create lovely greengage flavour in each spoonful, whilst still leaving plenty of fruity chunks behind

Prepare 2 sterilised jam jars: wash in soapy water, rinse and then put into an oven heated to 140C/ 284F for 15 minutes

While the jars are sterilising, cook the jam over a medium-high heat, stirrringfrequently to avoid burning, until it reaches 105C/ 221F on a digital food thermometer

Once this temperture has been reached turn off the heat, stir the butter through the jam and leave to cool for 10 minutes

Stir before decanting into the prepared jars. Cover each jar with a circle of wax paper and secure the lid tightly. Invert the jars then leave to cool completely before labelling
Nutrition Per Serving (Approximate)
Calories:
59
kcal
|
Carbohydrates:
15
g
|
Protein:
1
g
|
Fat:
1
g
|
Saturated Fat:
1
g
|
Sodium:
1
mg
|
Potassium:
24
mg
|
Fiber:
1
g
|
Sugar:
15
g
|
Vitamin A:
51
IU
|
Vitamin C:
1
mg
|
Calcium:
2
mg
|
Iron:
1
mg
(Visited 2,902 times, 3 visits today)