Full of summer colour and flavour with a kick of sweet spice, this Spiced Peach Jam tastes good all year round. Make a batch up and enjoy it through all of the seasons.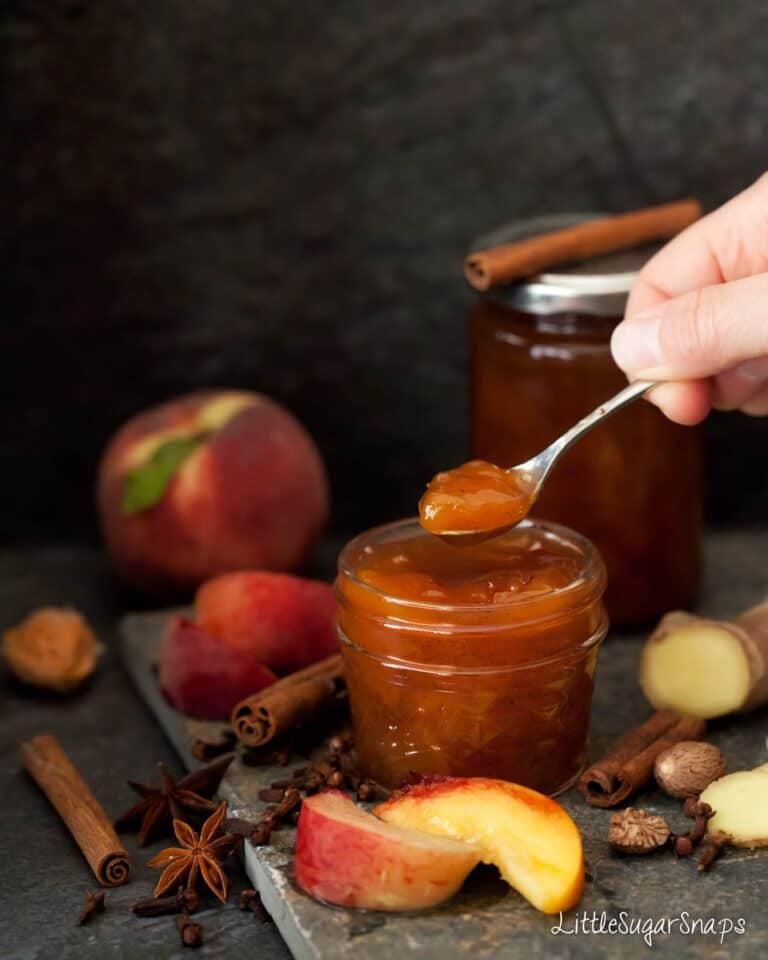 THIS POST CONTAINS AFFILIATE LINKS. AS AN AMAZON ASSOCIATE I EARN FROM QUALIFYING PURCHASES.
I'm excited. You see, now that summer is here it's time for me to start thinking about the jams I'll be making to stash away in my pantry for the year ahead. I count myself as lucky since I live just 5 minutes away from a Pick Your Own farm and I have 2 very willing helpers to assist with gathering the fruit.
Our firm favourites are always blackcurrant and cherry jam. We always end up with a few random flavours added to the variety, reflecting the whim that takes our fancy that summer. But the bounty of sweet, fruity jars that will land on my shelves this year is set to be the best so far since we are growing our own blackcurrants. Being honest, I'm expecting to get just one jar of completely homegrown, homemade blackcurrant jam. I'm expecting it to last a whole two days before we, as a family, have devoured the entire pot and and scraped it clean. But it will be oh so good. And homegrown.
Completely ours.
Excuse my sidetrack, today is meant to be all about Spiced Peach Jam – my flight of fancy from summer 2016.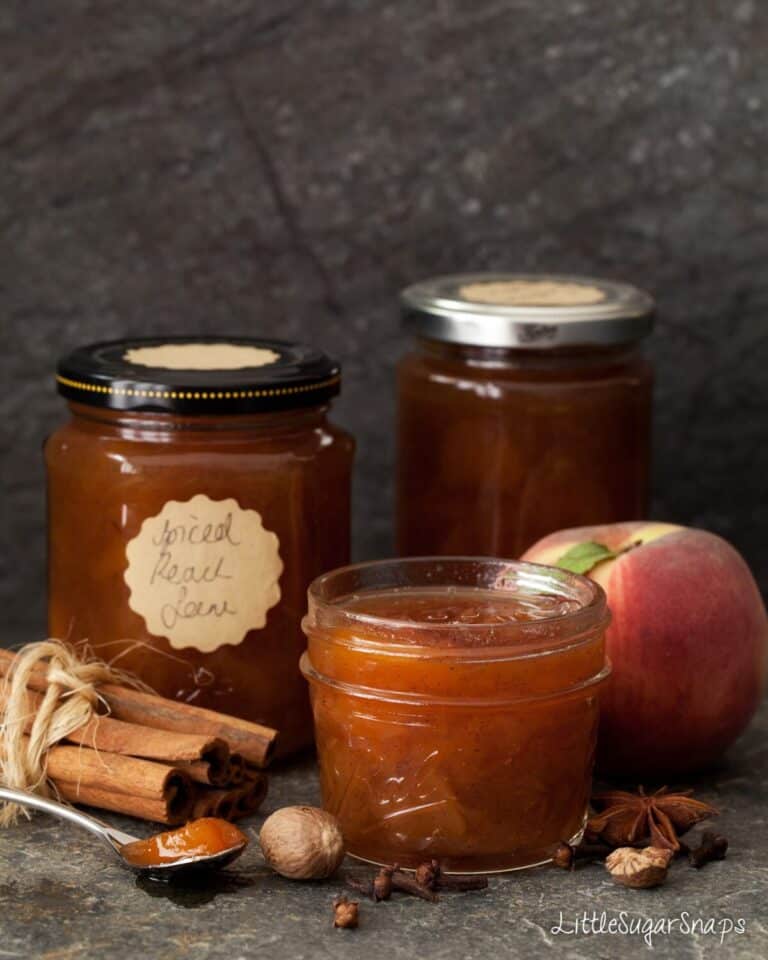 Jam making, as you can probably tell, is a summer ritual I am slightly addicted to. I just love creating a seemingly endless supply of homemade summer flavour for my family to enjoy all year long. Having got a handle on the basics of jam making over a number of years, last year I got experimental. What evolved was this deeply colourful, sweet and gently spiced, pot of peachiness.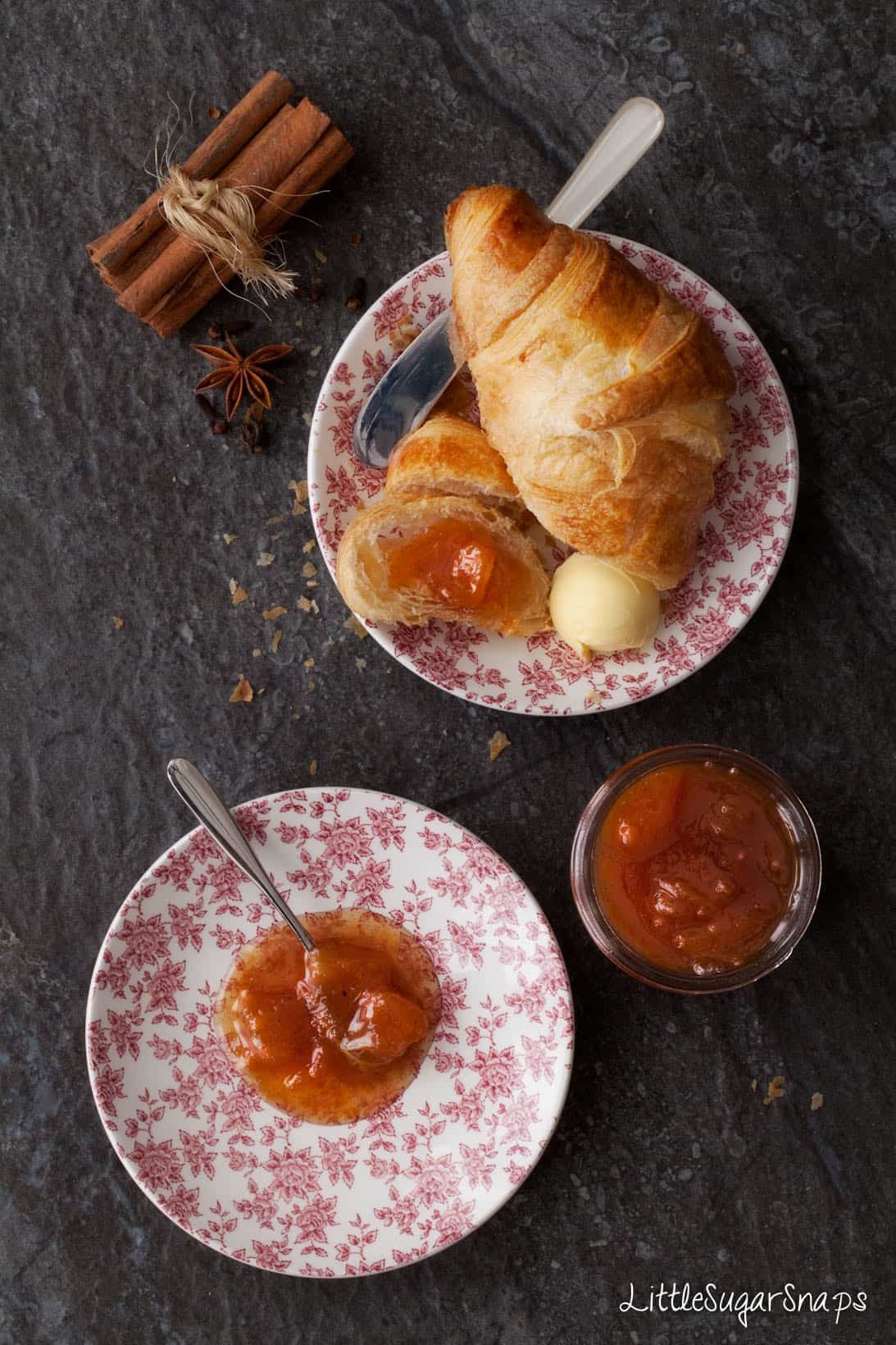 Spread this Spiced Peach Jam onto your morning toast. Dollop it on your flaky croissants. Spread it between layers of Victoria Sponge Cake. I don't need to tell you how to use jam.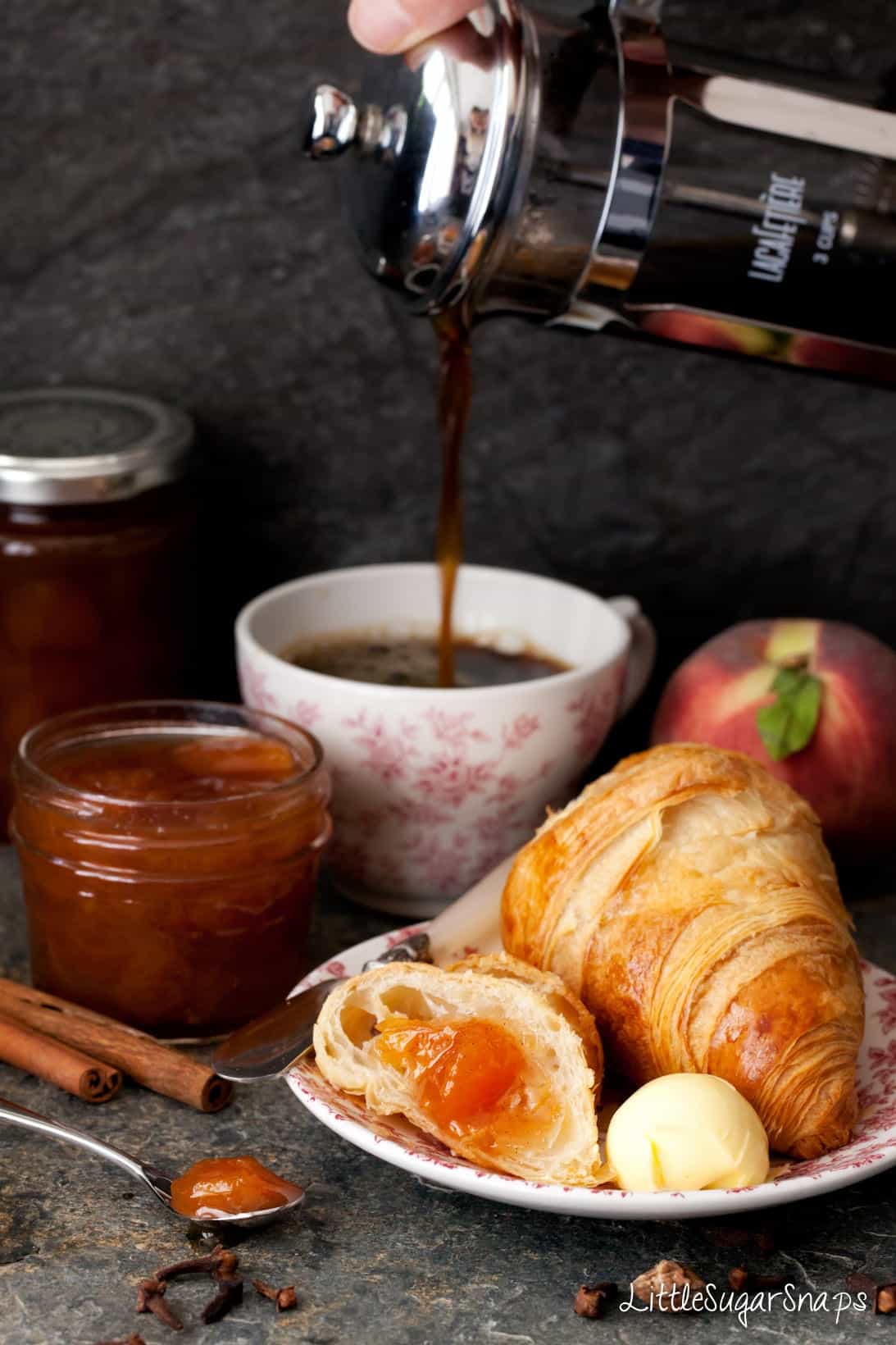 But if you're in the market for jam making and, like me, frequently wonder:
do I need jam sugar?
or should I be using preserving sugar?
and when, exactly, do I need to add pectin?
then head over to Serious Eats for a low down on the science behind fruit, acid, sugar, water and pectin.
And if you're new to jam making and are wondering how to sterilise jars, here's a quick run down:
wash your jars in hot, soapy water
rinse them with clean water
dry them in the oven at 140C/ 275F until… dry
If using kilner jars remove & boil the rubber seals – dry heat damages them
when the jam is ready fill each jar to around 1 centimetre below the surface
top with a waxed paper disc on the surface (to prevent any water condensation on the jam)
seal the jar firmly
So here's to my ongoing consumption of Spiced Peach Jam 2016 and the 2017 batch of jam about to emerge.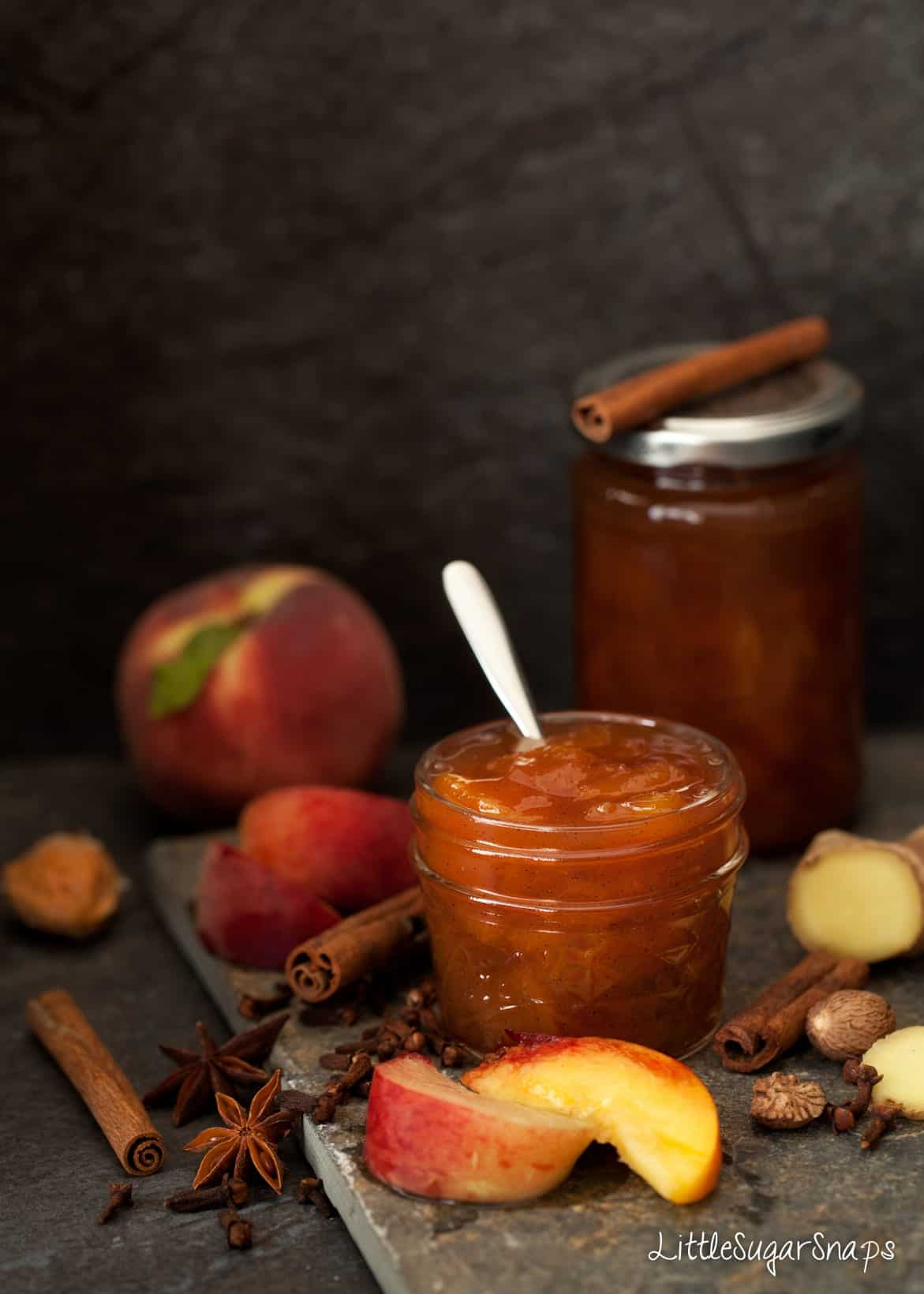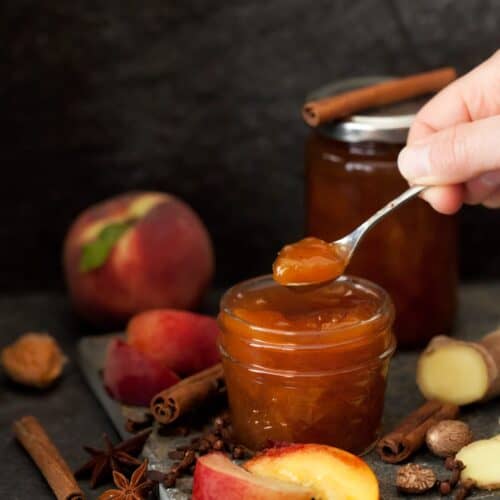 Spiced Peach Jam
Full of summer colour and flavour with a kick of sweet spice, this Spiced Peach Jam tastes good all year round. Make a batch up and enjoy it through all of the seasons.
Print
Pin
Rate
Ingredients
600g (21oz)

Peaches

(about 3) – it's up to you whether to remove the skin – I did not

400g (2 cups)

Granulated sugar

Juice 1 lemon

4 tbsp

tbsp

Water

1

Star anise

4

Cloves

1/4 tsp

Ground nutmeg

1 x 15cm

Cinnamon stick

5g

Fresh ginger

(approx 4 x 1mm rounds)

1

Vanilla pod
Instructions
Remove the peaches from their stone and dice the flesh (size of chunks is up to you)

Put water, lemon juice, peaches and sugar into a medium, heavy based pan

Snap the cinnamon stick in half and add to the pan

Slit the vanilla pod open and scape the seeds into the pan. Toss in the pod too

Add the remaining ingredients (star anise, cloves, ginger & nutmeg) to the pan

Simmer gently, stirring frequently, for 30 minutes then bring to a rapid boil to reach the setting point (see below)

Take off the heat and remove the whole spices and the vanilla pod

Let cool for 10 minutes before pouring into sterilised jars. Cover with a wax disc and seal

Store for at least 4 weeks (and up to 1 year) before opening to allow the flavours to develop

Once open store in the fridge and bring to room temperature before serving – eat within 2 weeks
Notes
The setting point for jam is 105c (220F) – use a sugar thermometer or a Thermapen to check the temperature. You can also check for the setting point using the "wrinkle" test. Before you start making the jam put a couple of small heatproof plates in the freezer. Once your jam has boiled for several minutes, take the pan off the heat and spoon a blob of jam onto one of the cold plates. Let it stand for a minute then push the jam with your finger. If the surface wrinkles then it has set. If it is still quite liquid then put the pan back on the heat and boil the jam for another 3 to 5 minutes before testing again.
(Visited 348 times, 2 visits today)