Damson gin is the taste of autumn in a bottle. If you like sloe gin then you'll love this easy to make liqueur. The rich and fruity flavour is enhanced with a subtle touch of spice and orange peel.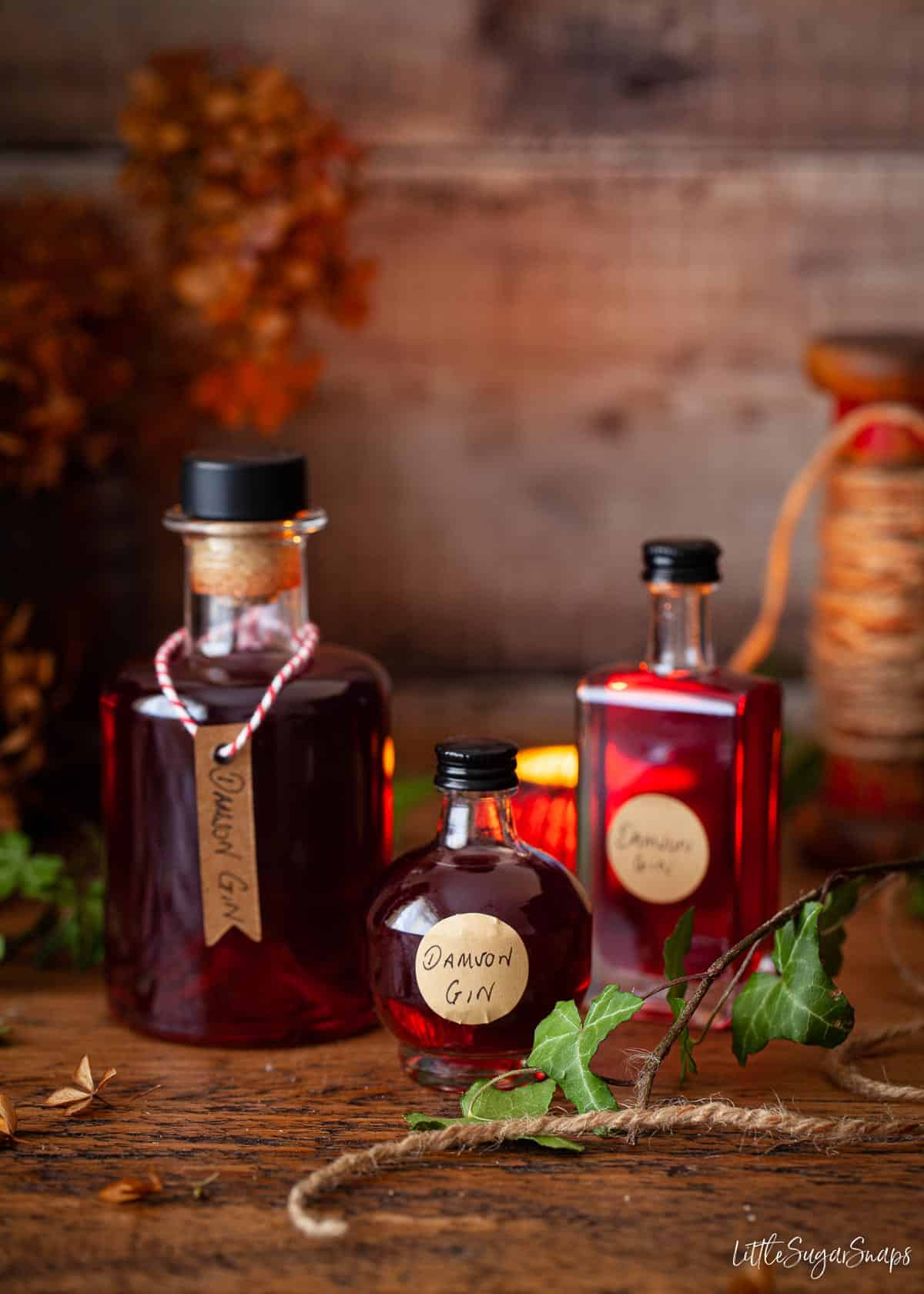 This post contains affiliate links. As an Amazon Associate, I earn from qualifying purchases.
Making damson gin liqueur at home is a great way to utilise a glut of damsons as we slip into autumn. It's an easy recipe that takes mere minutes to assemble, but it does need patience as the fruit and gin must infuse for several months before it is ready to consume.
The deep, rich and fruity flavour of this homemade liqueur is a real treat. Don't rush the infusion time. Enjoy it in late autumn and as we step into the festive season.
Why not make a double batch of this damson gin recipe so there's plenty to gift to family and friends too.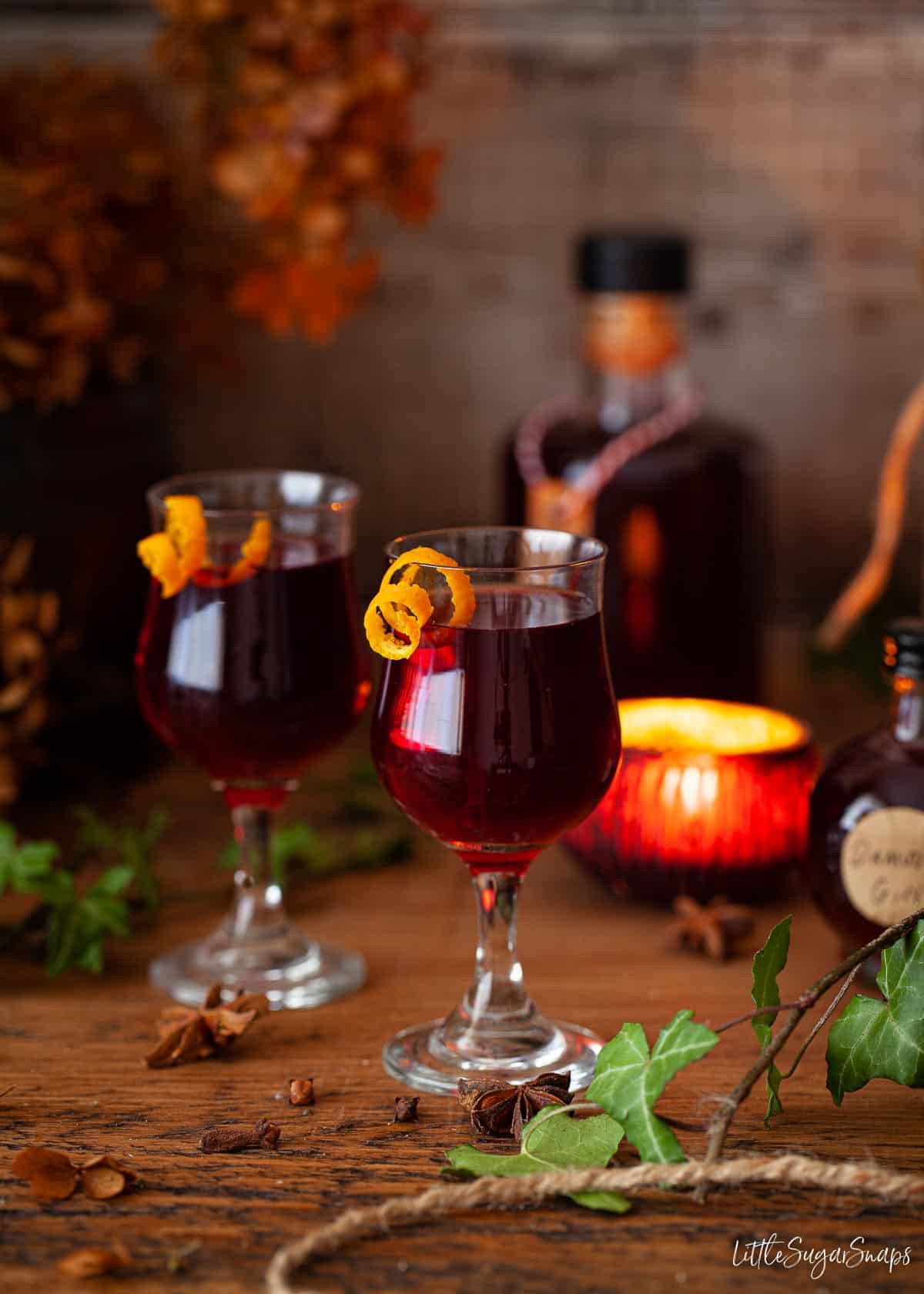 And if you've got oodles of damsons to use up how about making some damson jam too?
What are Damsons?
Damsons (or damson plums) are stone fruit that look like tiny plums. They are small fruits with vibrant dark purple-blue skin often covered with a whitish bloom. They grow in hedgerows throughout the UK and are ready to harvest around late August through to October.
Damsons have a distinctive sourness to them, making them generally unsuitable for eating raw. They are far better either cooked with plenty of sugar in crumble or jam recipes or steeped in alcohol for several months to make damson gin.
Damsons can frequently be mistaken for sloes. If you are not sure if you have found damsons or sloes, take a look at the branches they are growing on. Sloe bushes have very noticeable sharp thorns and wild damson trees do not.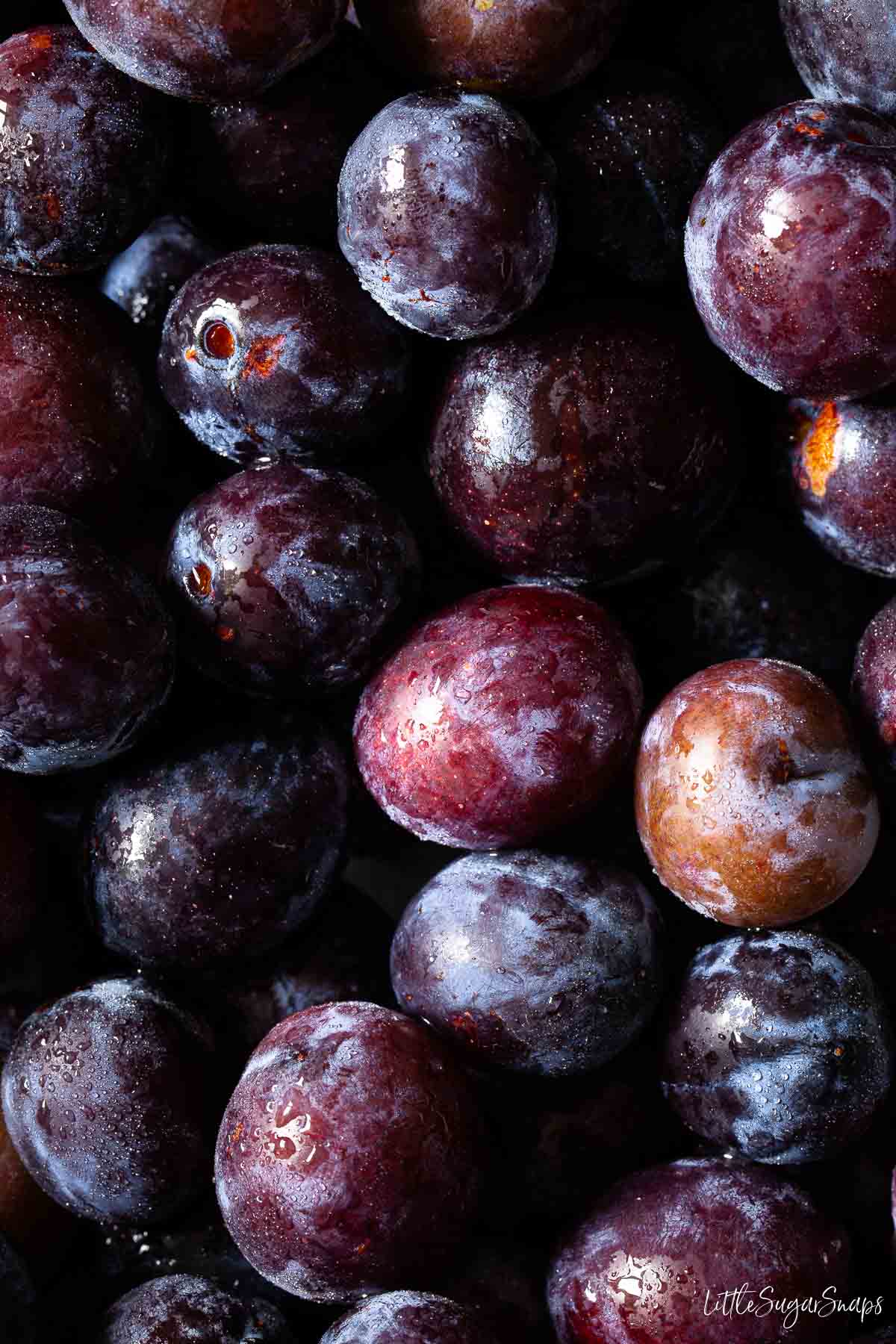 Always do your research before foraging to ensure you have permission to pick the fruit and that the fruit you are harvesting is safe to eat. If you're new to foraging, take a look at this guide for more details.
Why Make This Liqueur?
This damson gin liqueur is well worth the effort for many reasons:
It makes use of a fruit that we otherwise rarely eat
And the recipe is very easy
The juicy fruit flavour of this liqueur is well suited to the cooler months of the year
It's a deeply colourful drink that looks great served just as it is or mixed with other drinks to liven up a G&T or make a cocktail
Although it's sweeter than gin itself, damson gin is not too sweet
When decanted into pretty bottles it makes a wonderful gift
Ingredients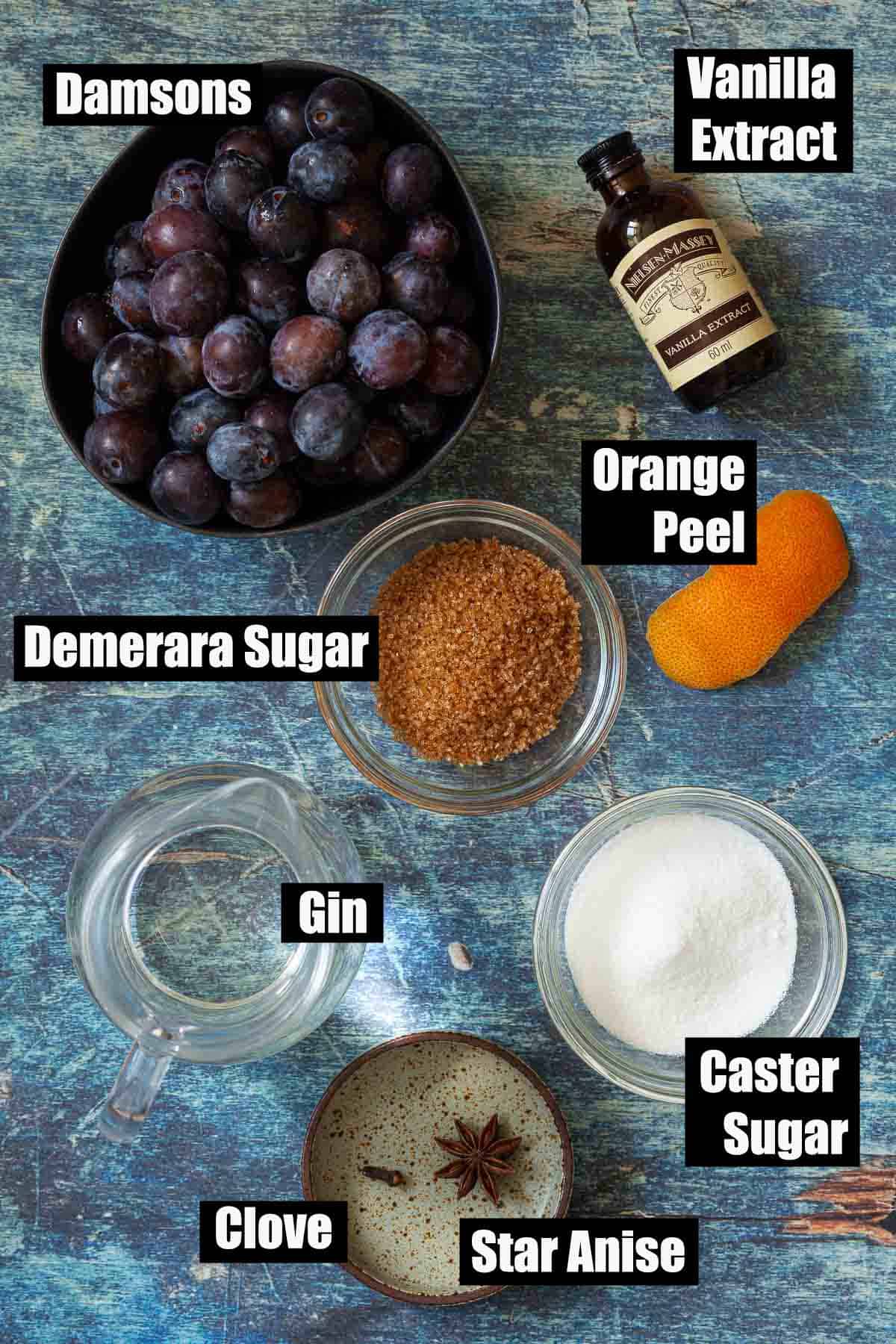 Most damson gin recipes require just 3 ingredients – fruit, sugar and gin. All of these components are present in this recipe too but there are a couple of additions:
Spice: I've chosen to amplify the cosy autumnal flavour this liqueur delivers by including a hint of spice using clove, star anise and vanilla. It's a very subtle addition and purists can leave these ingredients out if preferred
Orange peel: this helps add a livey freshness to the beverage that wholly tallies with the other ingredients. Again, it's not traditional and can be left out
I've used a mix of white and demerara sugar to add depth and complexity to the overall flavour.
Quite clearly, the fruit is the star of the show in this liqueur recipe. Ideally use freshly picked ripe damsons. Failing that, frozen fruit can be substituted.
Step by Step Instructions
Full instructions and measurements are given in the printable recipe card at the end of this post.
Begin by washing the fruit and pricking all over using a sharp knife
Put all ingredients (except the vanilla) into a large jar and secure the lid
Shake the jar gently several times a day for the next 3-4 days until the sugar has fully dissolved then store for around 12 weeks in a cool dark place
Add the vanilla, shake well, then strain through a sieve (optional: strain a second time through muslin or a nutbag to ensure a really clear liqueur)
Decant into bottles and gift/ use over the year ahead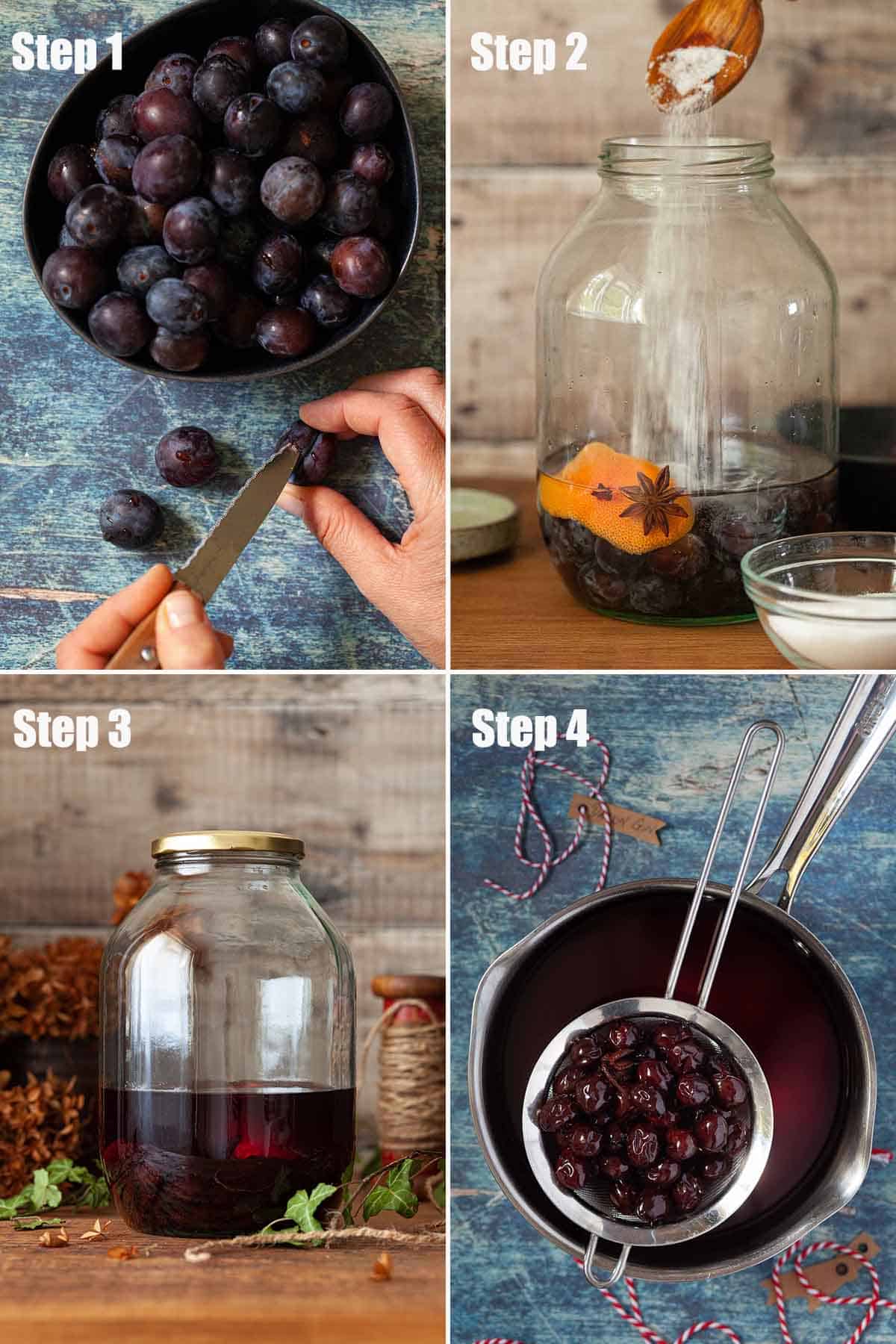 Expert Tips
The star anise and the orange peel can be omitted if desired
Frozen damsons can be used in this recipe. Simply remove them from the freezer and look to see if the skins have split open already. If they have not, bash with a rolling pin to split the skin and proceed with the instructions
Label the jar, including the date it was made so you can easily gauge when 12 weeks are up
As the gin infuses over several weeks the colour intensifies significantly
Once the 12 weeks are up taste the liqueur – if you would like it sweeter, now is the time to add a little more sugar (shake it every few hours until dissolved)
Although the liqueur can be consumed as soon as it has been prepared, the flavour keeps on developing in the bottle. Try putting some aside to age for up to a year, it becomes particularly smooth
Frequently Asked Questions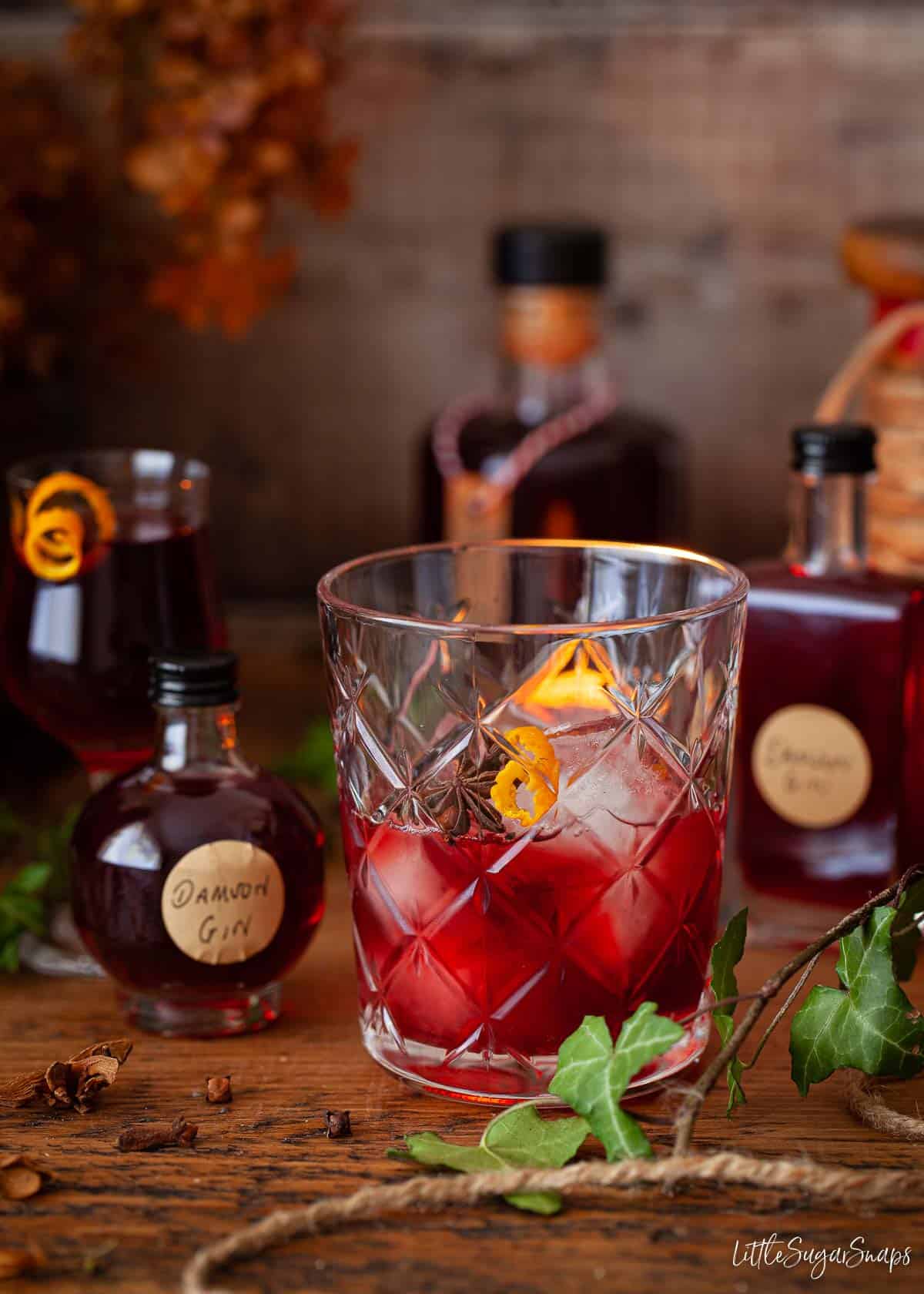 More Homemade Liqueurs to Try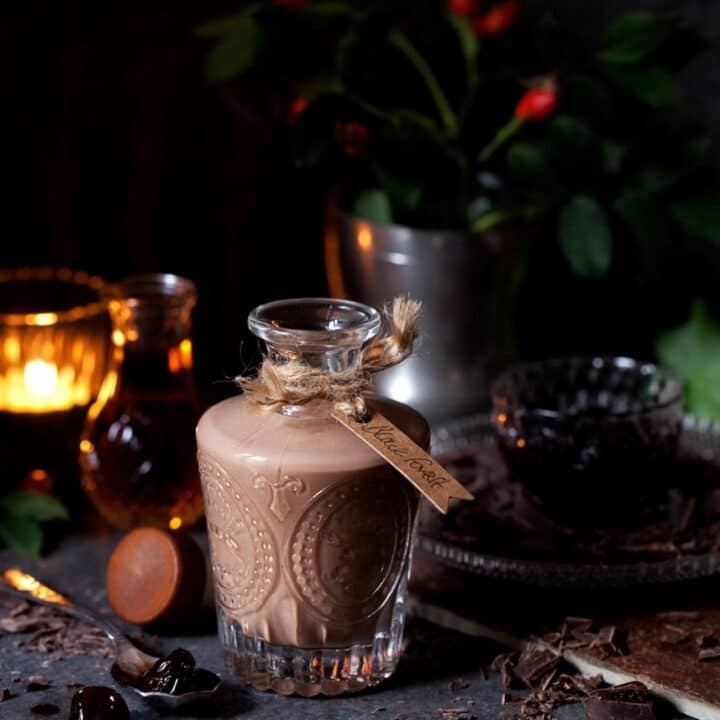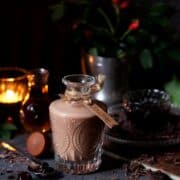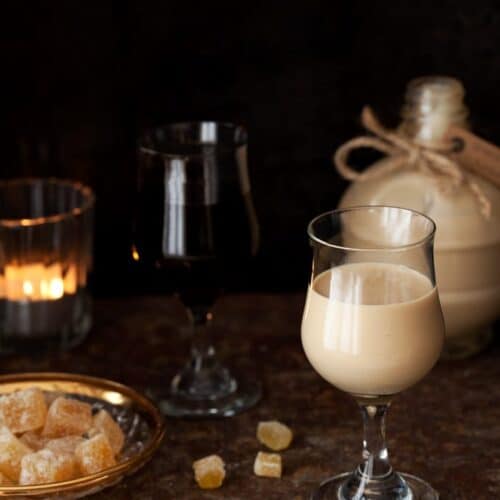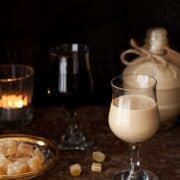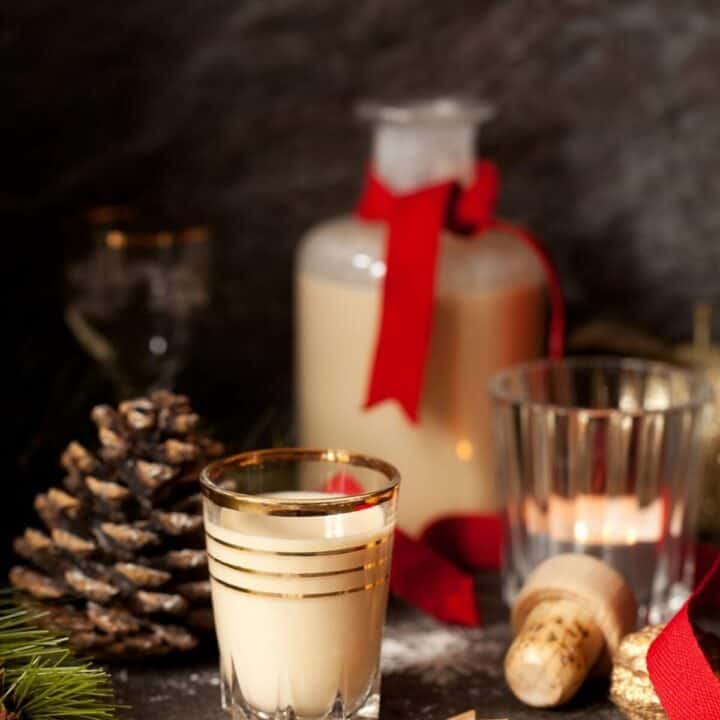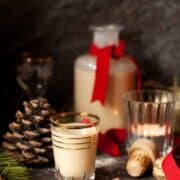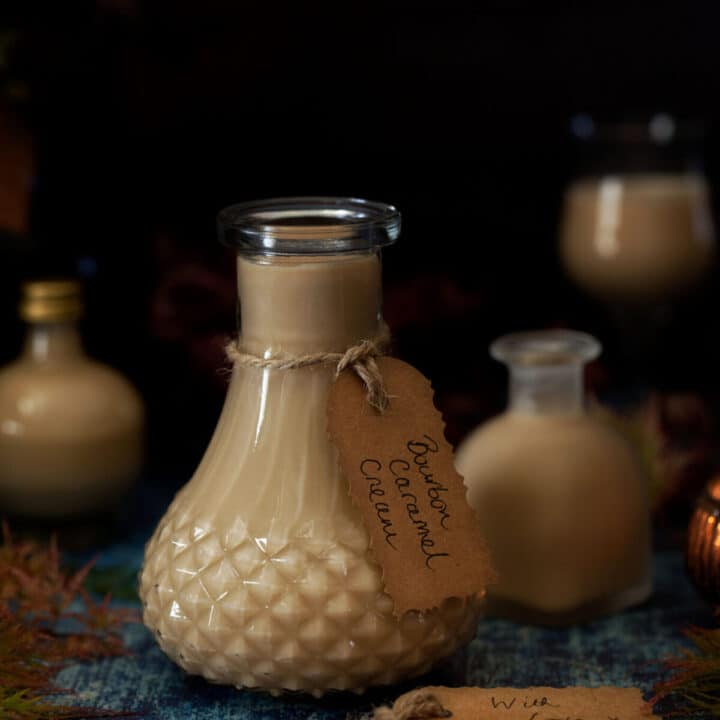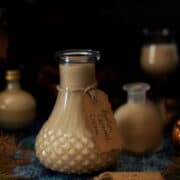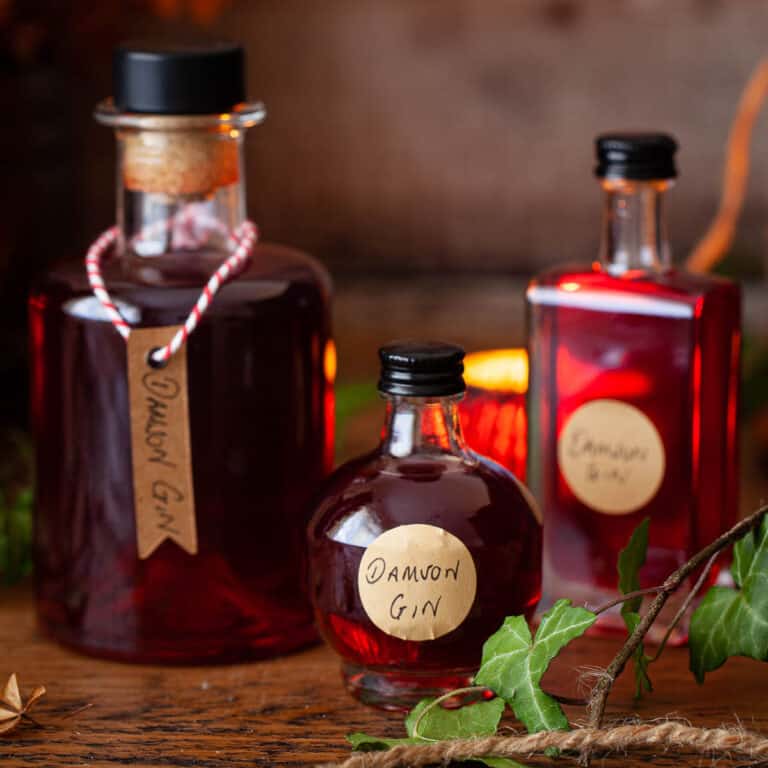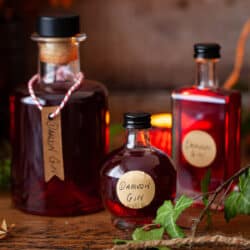 Damson Gin Liqueur
Damson gin is the taste of autumn in a bottle. If you like sloe gin then you'll love this easy to make damson gin liqueur. The rich and fruity flavour is enhanced with a subtle touch of spice and orange peel.
Print
Pin
Rate
Servings:
1
x 650ml bottle
Ingredients
600

ml

Gin

London Dry Gin

300

g

Damsons

Fresh or frozen

75

g

White sugar

75

g

Demerara sugar

1

Strip

Orange peel

optional

1

Star anise

optional

1

Clove

optional

½

teaspoon

Vanilla extract

optional
Instructions
Begin by washing the fruit and pricking each damson 6 times using a sharp knife

Put all ingredients (except the vanilla) into a large jar and secure the lid

Shake the jar gently several times a day for the next 3-4 days until the sugar has fully dissolved then store for around 12 weeks in a cool dark place, shaking occasionally

Add the vanilla, mix well, then strain the liquid through a sieve

Optional: strain a second time through muslin or a nutbag to ensure a really clear liqueur

Decant into bottles and gift/ use over the year ahead
Notes
Frozen damsons can be used in this recipe. Simply remove them from the freezer and look to see if the skins have split open already. If they have not, bash with a rolling pin to split the skin and proceed with the instructions
Since you're adding to the gin significantly with this recipe, there's no need to use expensive gin. Any decent quality London Dry Gin works well, but I do enjoy using Opihr gin, because it has a subtle spice profile that pairs well with the autumn fruit in this recipe
For a classic damson gin leave out the star anise, clove, vanilla and orange peel
Once the 12 weeks are up taste the damson gin – if you would like it sweeter, now is the time to add a little more sugar (shake it every few hours until dissolved)
Although the liqueur can be consumed as soon as it has been prepared, the flavour keeps on developing in the bottle. Try putting some aside to age for up to a year, it becomes particularly smooth
Use sloes instead of damsons to make a sloe gin liqueur
Nutrition Per Serving (Approximate)
Serving:
25
ml
|
Calories:
79
kcal
|
Carbohydrates:
6
g
|
Protein:
1
g
|
Fat:
1
g
|
Saturated Fat:
1
g
|
Polyunsaturated Fat:
1
g
|
Monounsaturated Fat:
1
g
|
Sodium:
1
mg
|
Potassium:
2
mg
|
Fiber:
1
g
|
Sugar:
6
g
|
Vitamin A:
1
IU
|
Vitamin C:
1
mg
|
Calcium:
1
mg
|
Iron:
1
mg
(Visited 2,221 times, 5 visits today)