Gingerbread Cream Liqueur is deeply warming and comforting. This smart winter tipple blends spice-infused rum and fresh cream in a way that is hard to resist. Treat yourself, or a loved one, to a bottle this winter.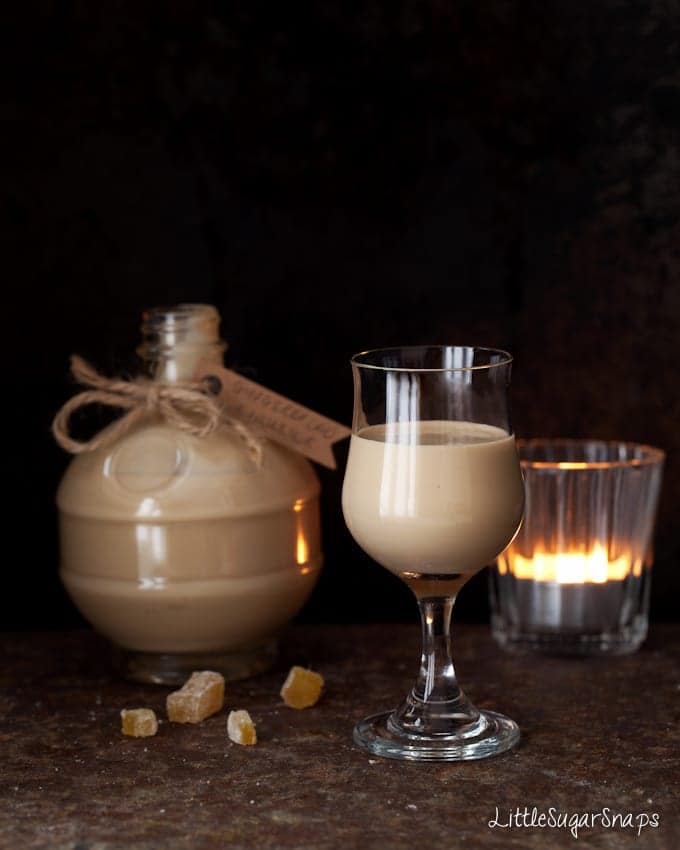 This post contains affiliate links. As an Amazon Associate, I earn from qualifying purchases.
All of my adult life I've been partial to a glass of Baileys. I think my heart was won over early on because I'd occasionally find a Maraschino cherry floating in my glass. So it's really little wonder that I've finally got around to developing a recipe inspired by this well-loved drink. Today I'm talking about this nifty little mutant drink of mine – Gingerbread Cream Liqueur.
This liqueur is made using dark rum which I've spiked with a hefty whack of ginger, sweetened with dark muscovado sugar and made ultra indulgent by finally blending with a splash of cream. The result is a sweet, spicy, warming and creamy little nip of alcohol that will most likely leave you feeling warm and fuzzy inside. It's straight-up alcoholic cuddle time.
At the heart of this liqueur is an infusion of rum with plenty of ginger and a few other select ingredients. After 5 days, the rum will have picked up plenty of ginger spice flavour and will be ready to be magically transformed into this smooth and spicy Gingerbread Cream Liqueur.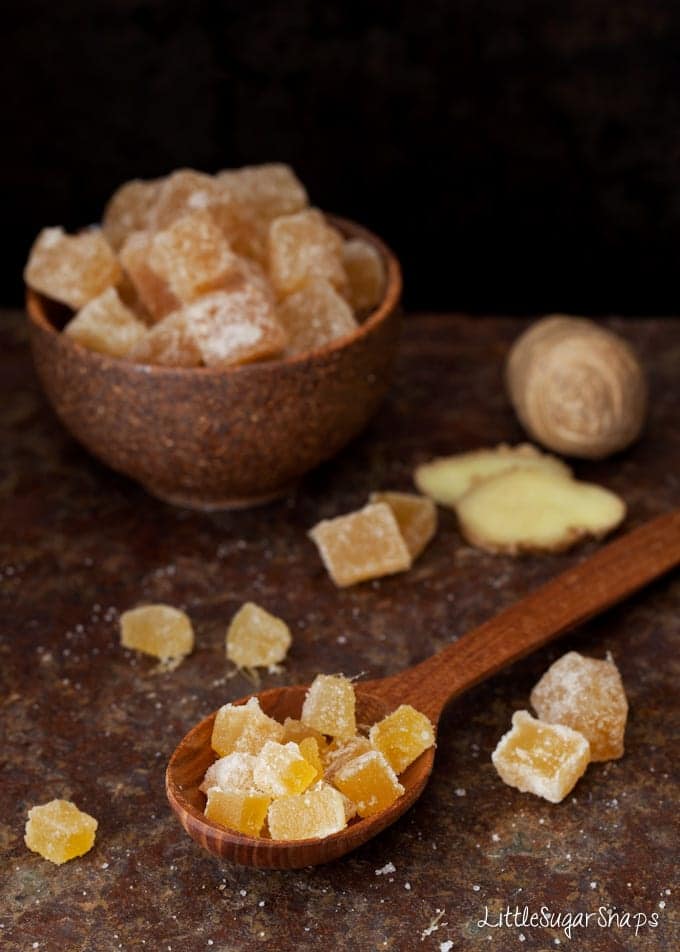 Since the liqueur must be kept refrigerated once mixed with the cream, it can be served just as it is: chilled. Or over ice. The choice is yours. If there just happens to be a log fire blazing in front of you when you're drinking it then I am eternally jealous all the better. oh and it goes nicely with a slice of chocolate salami.
Bonus: anybody not into creamy liqueurs may well enjoy a small tot of the ginger-infused rum by itself. It is slightly sweet with a pleasant burst of spice and is perfect served at room temperature or slightly chilled. Sip it slowly though, since it serves up a punchy hit of alcohol.
Alternatively, get yourself organised in the early autumn and set a batch of my damson gin to infuse. It'll be ready just in time for December.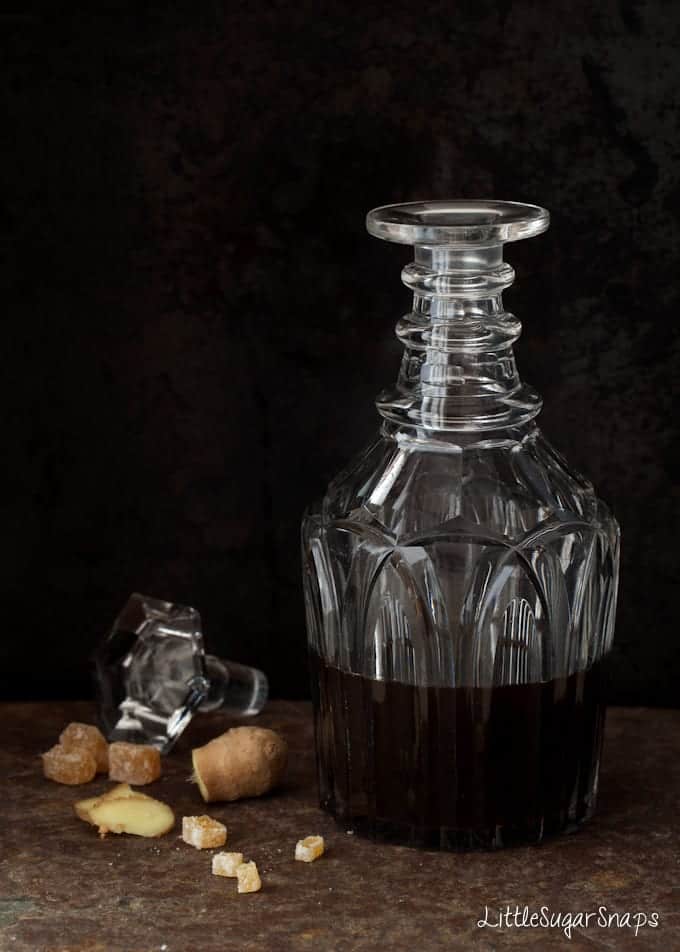 I tend to make up a large amount of the infused rum in one go. Then I can mix small bottles of the Gingerbread Cream Liqueur when I'm in the mood for it. This way it's always fresh. And lucky me, it's getting around to that time of year when creamy little numbers like this take centre stage on cold, frosty evenings.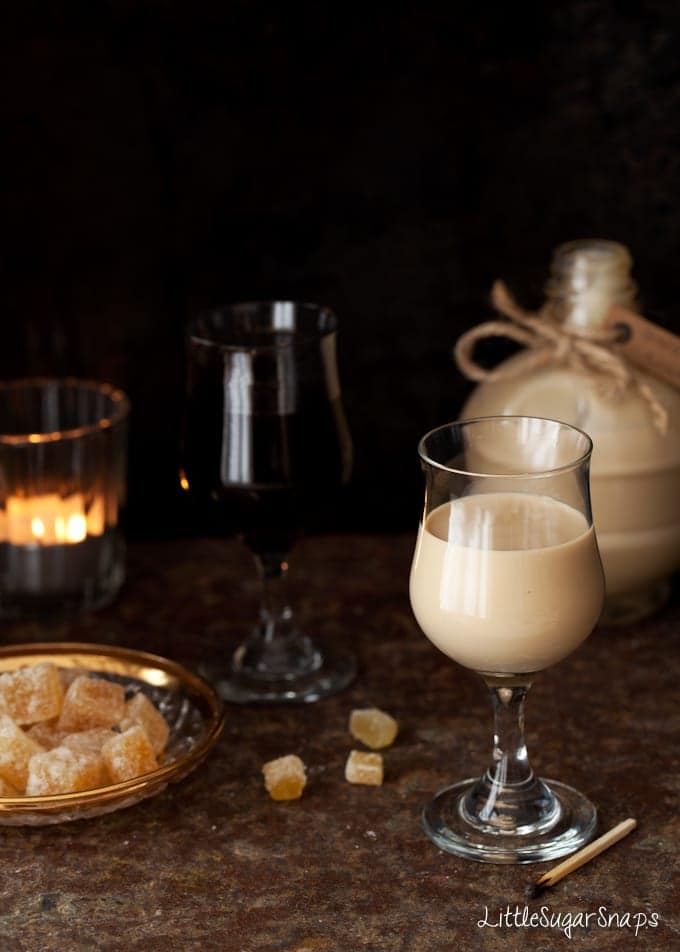 For anybody feeling particularly generous, a little bottle of Gingerbread Cream Liqueur makes a lovely gift for your hardworking Thanksgiving or (gasp) Christmas host. Just grab yourself some small gift bottles and attach a pretty label.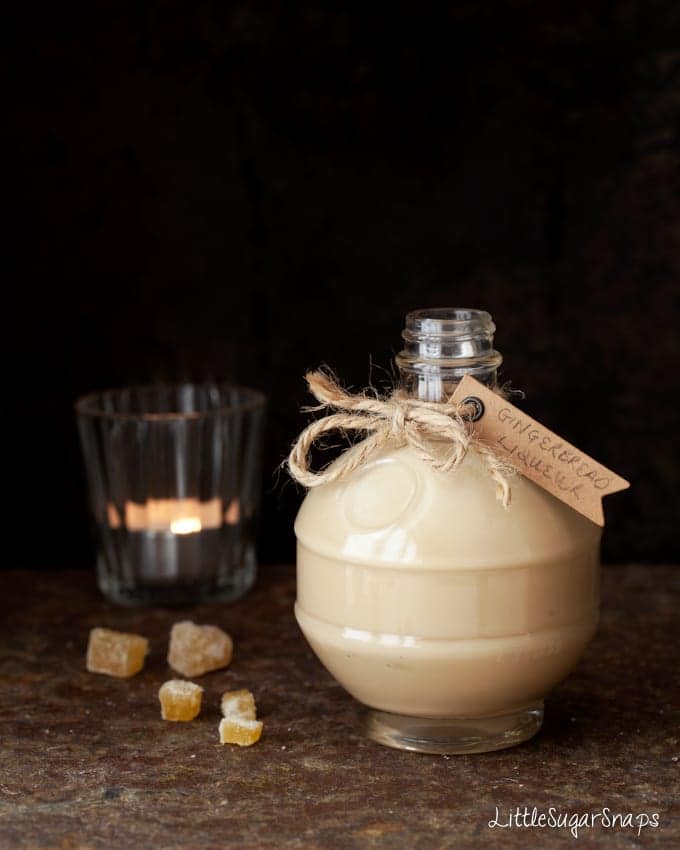 There. I said it. That C word. Sorry, but I need to ensure you're prepared. And you won't be fully prepared unless you've got your rum infused and ready to blend into this regretfully good Gingerbread Cream Liqueur. So now you've been warned to get you infusion going. Go on…
More ideas for Food Gifts: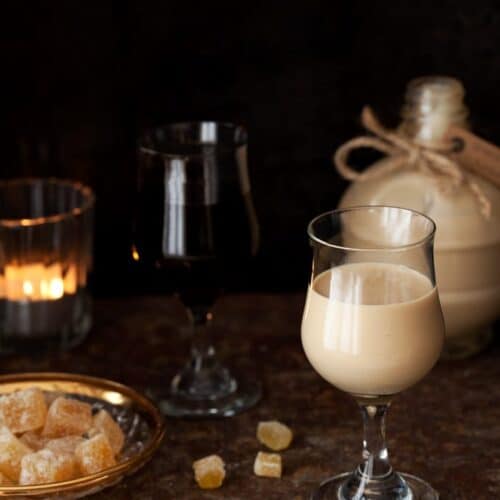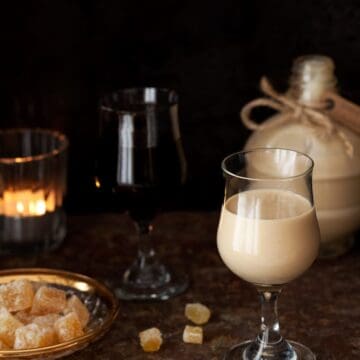 Homemade Gingerbread Cream Liqueur
Gingerbread Cream Liqueur is deeply warming and comforting. This smart winter tipple blends spice-infused rum and fresh cream in a way that is hard to resist. Treat yourself, or a loved one, to a bottle this winter.
Print
Pin
Rate
Servings:
1
litre Cream liqueur
Ingredients
For the Ginger Infused Rum
500

ml/ 2 cup dark rum

20

g/ ⅜ cup fresh ginger

30

g

(about eight 1cm cubes) crystallised ginger

100

g/ ½ cup dark muscovado sugar

10

cloves

4

inch

stick cinnamon

½

teaspoon

vanilla extract
For the Gingerbread Cream Liqueur
125

ml/ ½ cup ginger infused rum

125

ml

double

(heavy) cream – see notes

60

ml

condensed milk

(sweetened)
Instructions
Make the Ginger Infused Rum
Roughly chop the fresh and crystallised ginger and give the cinnamon & cloves a quick bash with the end of a rolling pin to break them up a little

Tip the spices into a sealable large jar able to take 750ml/ 3 cups liquid. A screw top jar is ideal

Add the vanilla extract and the sugar then pour the rum into the jar

Tighten the lid and swirl the jar a few times

Leave in a cool dark place for 5 days, giving the jar a quick swirl for the first few days to encourage the sugar to dissolve

Strain through a piece of muslin/ cheesecloth and store in a sealed jar until you wish to make the cream liqueur
Make the Cream liqueur
Pour the rum, cream and condensed milk into a clean jug and stir until blended

Pour into a bottle, seal and store in the fridge until required

Give the bottle a gentle shake before serving in small glasses either chilled or over ice

Keeps for between 2-3 weeks, depending on the freshness of the cream used
Notes
A couple of readers have experienced the liqueur splitting either once the cream has been added or once decanted into bottles. Ther is nothing in the recipe ingredients that would cause this drink to split, it is likely that something acidic has inadvertently come into contact with the liquid.
To avoid your liqueur splitting, I recommend that you use scrupulously clean equipment – chopping board, knives, bowls, jugs, bottles…. anything that you use to make/ store this drink needs to be cleaned to the highest level. The slightest trace of acid – perhaps from lemons, vinegar, salad dressing etc is enough for the drink to split.
Because of this, it's a sensible step to re-wash equipment even if you think it is clean, just to be on the safe side.
As split liqueur is not fun (and an expensive whoops) I also suggest that you test it by mixing a small amount of the alcohol and cream before committing the whole lot. if there is an issue, it will show within a few minutes of the alcohol and cream being combined. Similarly, if all looks well after it is mixed, pour a small amount into the bottle you intend to store it in and swirl it around. If it doesn't split, fill the bottle.
And if you suspect that a touch of acid has accidentally ended up in the rum itself, though it will not be possible to introduce cream successfully, the gingerbread rum infusion is delicious served in small glasses just as it is.
Extra Information
1. The ginger-infused rum will keep for up to a year
2. Once mixed with the cream the shelf-life is reduced to 2-3 weeks. For this reason, I prefer to make up small batches of the cream liqueur so I can enjoy it fresh
3. In total, there is enough ginger infused rum to make 1.25 litres of cream liqueur
4. I used double cream, which makes the drink thick (like advocat). If you prefer a thinner drink substitute single cream (US: half and half)
(Visited 237 times, 3 visits today)