Caramelized White Chocolate Liqueur is an elegant, creamy white chocolate & vodka liqueur with undertones of caramel. It makes a wonderful addition to festive gatherings or a thoughtful gift.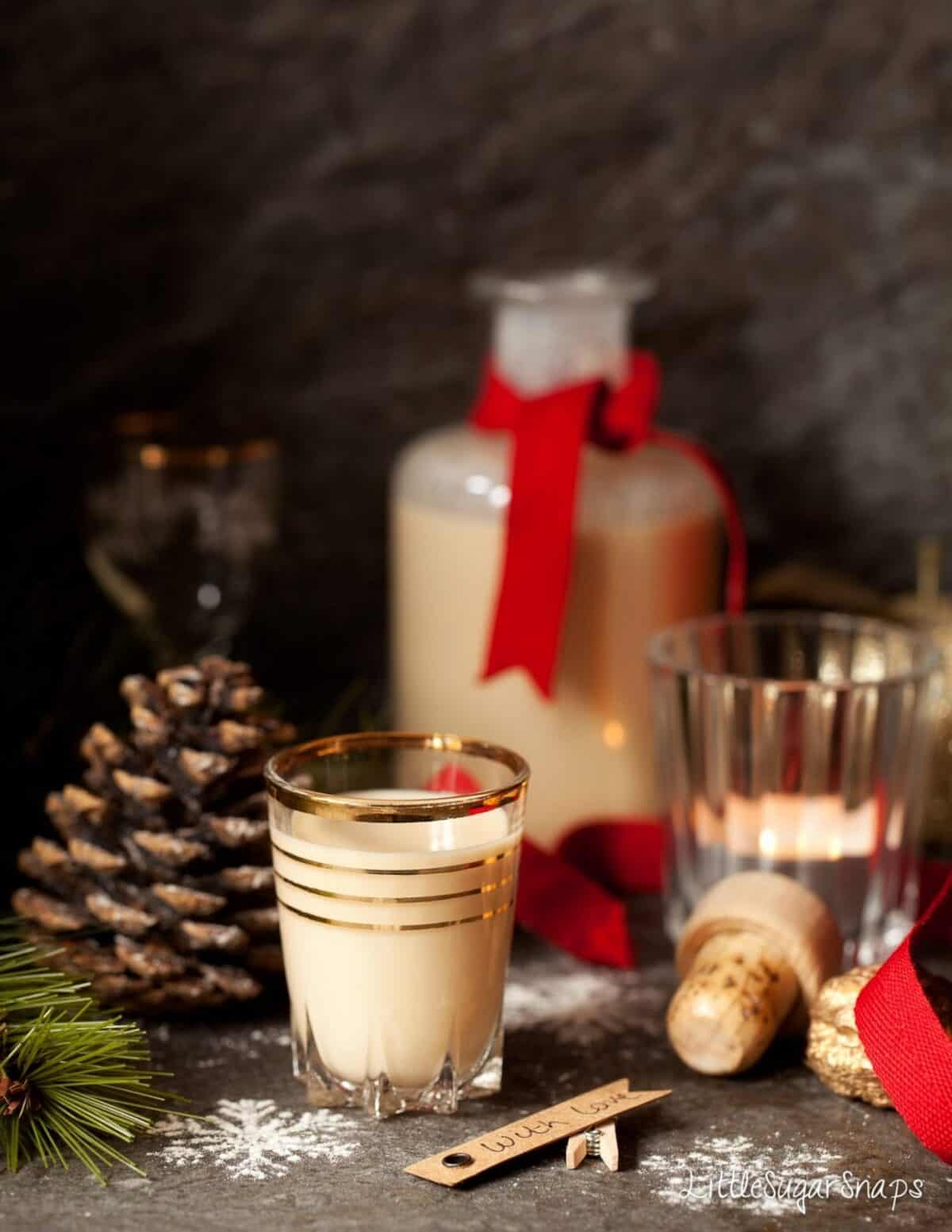 This post was first published on LittleSugarSnaps in November 2017 and was updated in September 2019.
I've got your next winter squeeze lined up: caramelized white chocolate in creamy liqueur form.
A few months back I published some scary pictures of caramelized white chocolate in-the-making, along with some prettier pictures of the final result and a caramelized hot white chocolate drink. At that time I promised you more recipes. Today's Caramelized White Chocolate Liqueur is the first of them.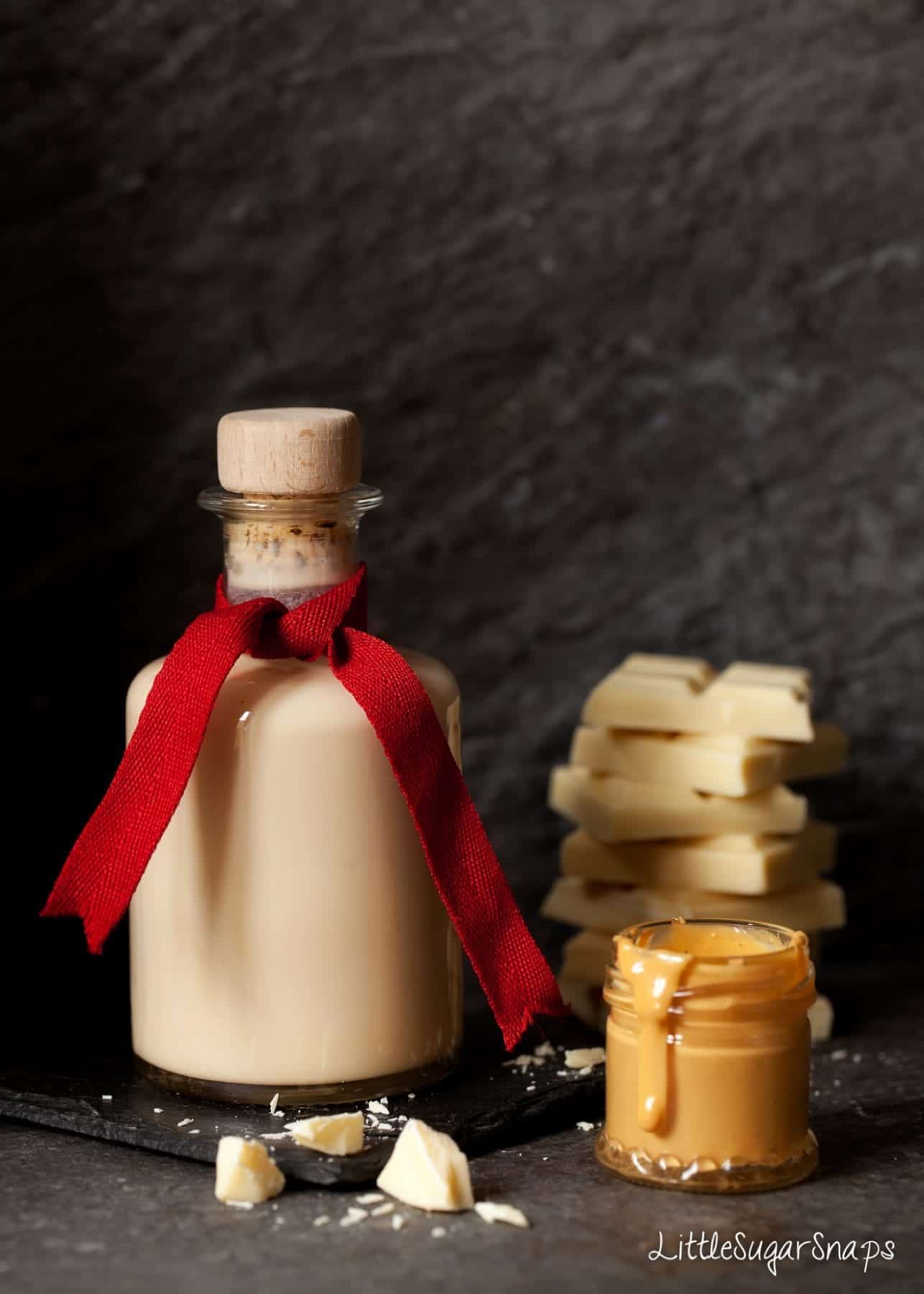 Creamy & deliciously velvety, this drink has playful notes of caramel running through it. And it's alcoholic.
Bliss.
A small bottle of Caramelized White Chocolate Liqueur is the ideal drink to stash away in your fridge ready for cosy nights by the fire or for gifting over the up-coming festive period. And I say festive period rather than Christmas because I'm thinking this drink would be a great addition to a Thanksgiving celebration if you're in the right circle of family & friends to be celebrating that little number. As long as there's a table groaning under the weight of party food then a beautiful bottle of this homemade cream liqueur should be gracing that precariously wobbly table.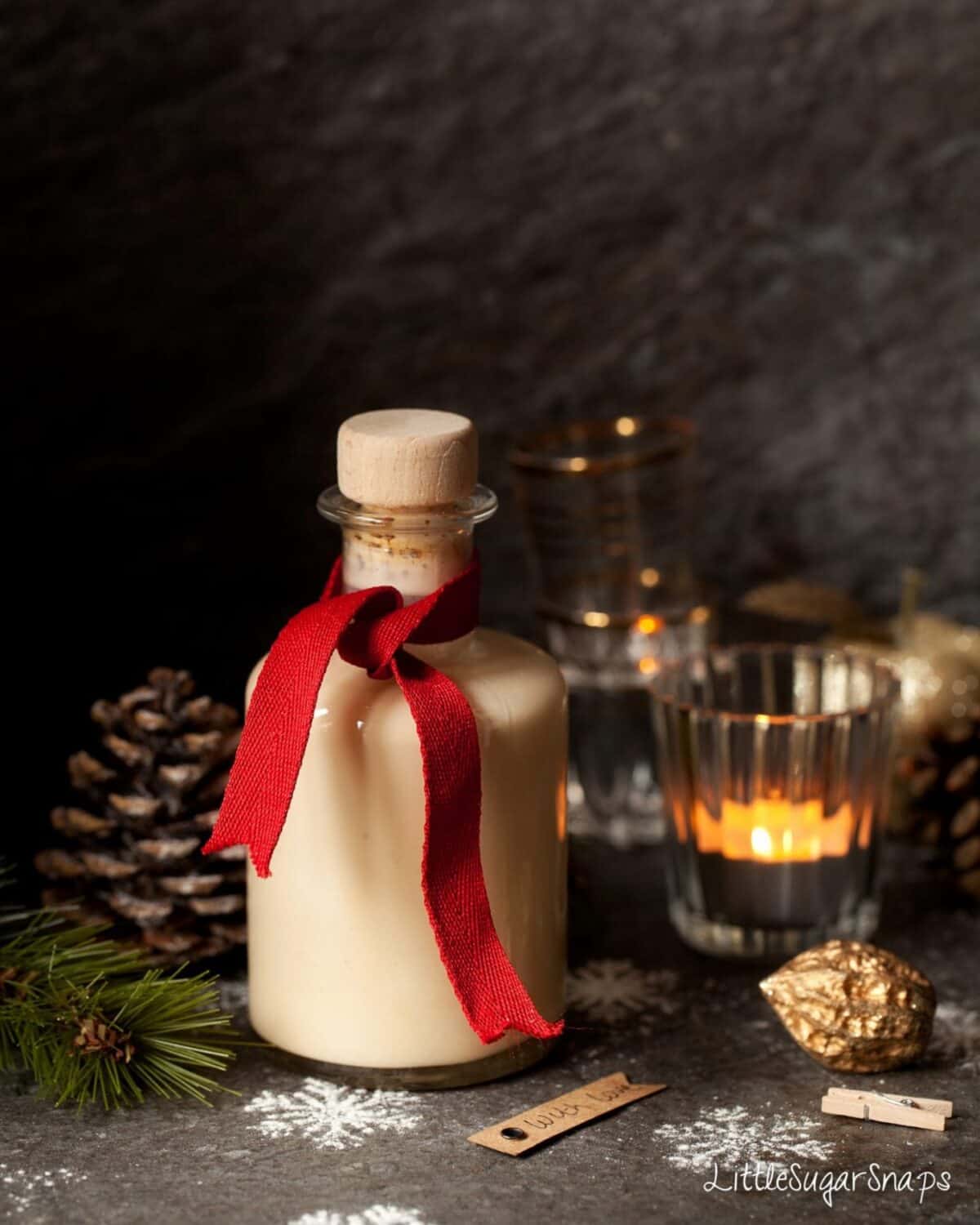 How to Make Caramelized White Chocolate
The first step in creating this homemade cream liqueur is to caramelize the chocolate – the following 2 tips should not be ignored:
Use quality white chocolate with at least 30% cocoa butter
Do not rush the cooking process – keep the temperature low, stir frequently and keep on cooking for as long as necessary (typically around 60 minutes)
Adhere to these tips and half the battle in creating that caramelized white chocolate is over. Next, complete the following steps – the caramelization process is easy but slightly time-consuming:
Roughly chop the chocolate, lay on a lined baking sheet and cook at a low temperature in the oven for 10 minutes

Give it a good stir

Continue to cook, stirring at 10-minute intervals, until the chocolate turns a lovely deep, golden brown

It will soften as it is stirred and later in the cooking process it will begin to feel more fluid

Cooking times will vary depending on the chocolate used. Anything between 40 minutes and 70 minutes is typical – judge by the colour – aim for a runny chocolate the colour of peanut butter

Once the cooking is complete, if the chocolate is still a little lumpy, push through a metal sieve to break down the lumps

Either use immediately or scrape into a sealable jar, let cool to room temperature and seal

During the cooking, the chocolate will not look appealing. But bear with it and you will be rewarded with a batch of sweet, creamy & complex caramelized white chocolate in the end.

Because making caramelized white chocolate is a labour of love, I recommend making a big batch of it ( maybe… oh… um… 300g) and storing it away to dip into when you feel the urge to create something with it.

How to Make Caramelized White Chocolate Liqueur

Once the chocolate is ready, this homemade caramelized white chocolate liqueur can be made in a matter of minutes. It's a simple task of remelting the caramelized white chocolate with some of the cream and then adding in the rest of the cream, condensed milk and alcohol.

Initially, I couldn't decide whether I should be using vodka or rum as the base alcohol for this drink so I made a small batch of both. The good news is that both drinks were delicious. Hoorah. But I've gone with vodka as my final judgement. Though I found it shocking, I did feel that the vodka created a slightly mellower liqueur than the rum. But if you are not a vodka drinker just switch out the vodka for dark rum.

And now I'm thinking about bourbon. Should I try it? Race you…

The recipe I'm giving today uses just 50 grams of the caramelised chocolate, which is enough to make approximately 300ml of this alcoholic liquid bliss. Of course, you can scale up (or down) the recipe depending on your requirements. Please keep in mind, though, that this homemade cream liqueur contains fresh cream and no preservatives, so its shelf life is naturally short.

More Homemade Cream Liqueurs:

Caramelized White Chocolate Liqueur

Caramelised White Chocolate Liqueur is an elegant, creamy white chocolate & vodka liqueur with undertones of caramel. It makes a wonderful addition to festive gatherings or a thoughtful gift.
Makes approx 300ml

Print Pin Rate

Ingredients

50

g/ 2oz

Caramelised White Chocolate

150

ml/ ⅔ cup

Single cream

50

ml/ 2oz

Condensed Milk

(sweetened)

100

ml/ 3.5 fl oz

Vodka or Vanilla Vodka

Instructions

Heat half of the cream through to warm-hot, but not boiling. Pour over the caramelised chocolate, allow to sit for a minute and then stir until the chocolate has fully melted (reheat gently if a few lumps remain)

Pour the remaining cream, condensed milk and vodka into the jug and stir until fully combined

Pass the liquid through a fine meshed sieve to ensure the drink is smooth

Decant into a bottle, seal and store in the fridge for up to 2 weeks. Give the bottle a vigorous 30 second shake prior to serving as the caramelised chocolate does settle slightly over time

Notes

I used Green & Blacks White Chocolate with Vanilla. It melted really well and because the chocolate already imparted tones of vanilla into the drink I went with standard vodka. If you have regular chocolate try using vanilla vodka

Also works well with dark rum in place of the vodka

Nutrition Per Serving (Approximate)

Calories:

183

kcal

|

Carbohydrates:

10

g

|

Protein:

2

g

|

Fat:

11

g

|

Saturated Fat:

7

g

|

Cholesterol:

32

mg

|

Sodium:

27

mg

|

Potassium:

79

mg

|

Sugar:

9

g

|

Vitamin A:

276

IU

|

Vitamin C:

1

mg

|

Calcium:

58

mg

(Visited 616 times, 2 visits today)