Homemade Black Forest Chocolate Liqueur is the ultimate winter tipple. It is very easy to make and tastes decadent, rich, creamy & chocolatey, with a hint of cherries to boot. This chocolate liqueur recipe makes a great edible gift for the holidays!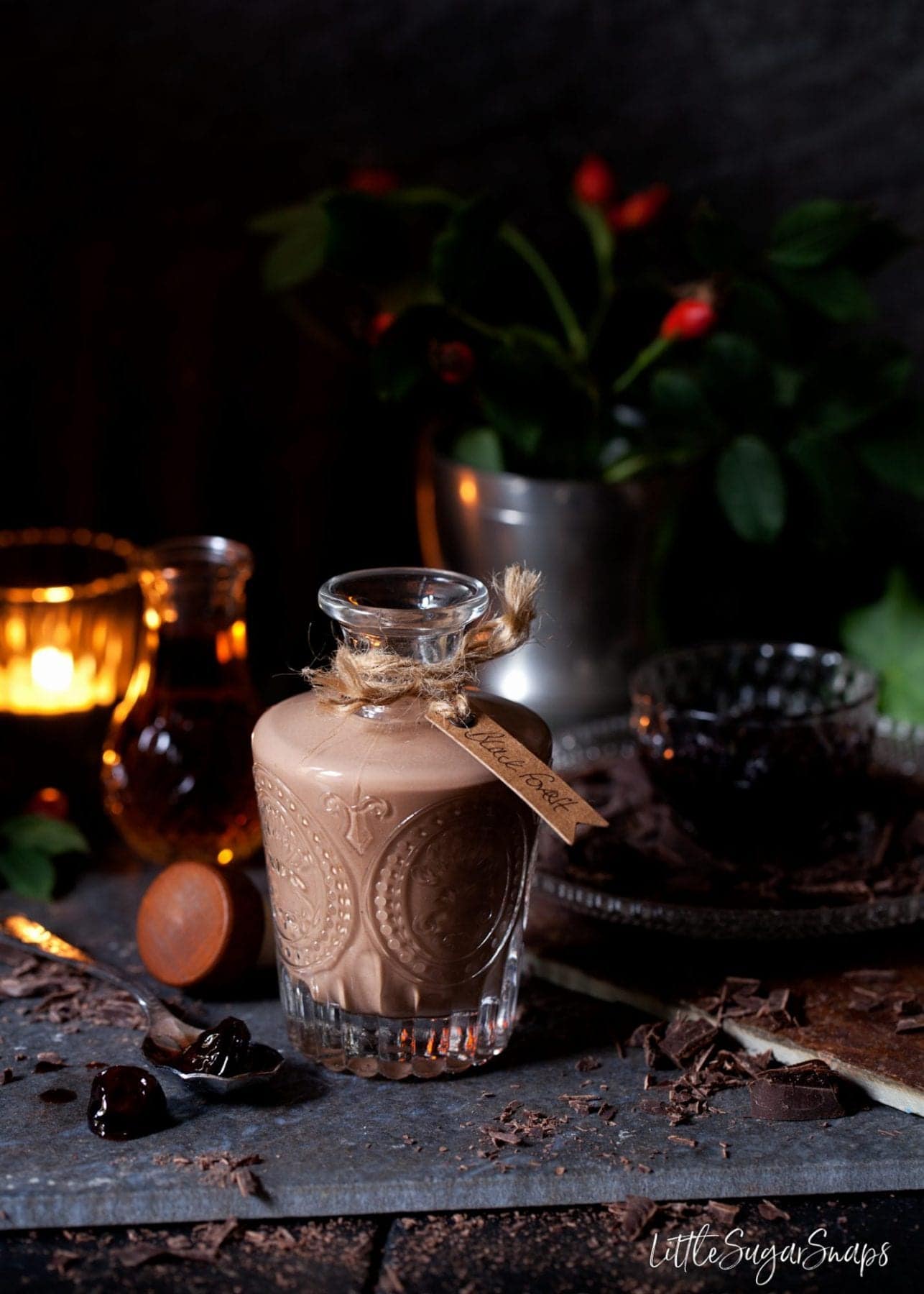 THIS POST CONTAINS AFFILIATE LINKS. AS AN AMAZON ASSOCIATE I EARN FROM QUALIFYING PURCHASES.
Today I've got a sneaky little libation that plays on the classic chocolate cherry flavour pairing. Please say a big friendly hello to my homemade Black Forest Chocolate Liqueur.
Where to start. Well, it's certainly cold outside. Suddenly cold. And its Bonfire Night in just a few days time. These things combined tell me that it's time to dig out the gloves and forego any notion that winter is far away. It really is not. In this scenario, there's only one way to go for me: embrace the upcoming chilly season and all the glitz it has to offer and go full-throttle on the comfort food. Or in today's case, comfort drink.
I am partial to a glass of cream liqueur around this time of year through to around, oh um… February 28th. It's a classic winter treat for me. I blame my Dad, he got me into it (thanks Dad).
Within each sip of this homemade chocolate cream liqueur, you'll find that deeply satisfying chocolate flavour enhanced by a hint of cherry.
If you fancy knocking up a cream-free tipple too then have a go at my damson gin liqueur. It's delicious.
Ingredients Notes for Black Forest Liqueur
The base alcohols in this chocolate liqueur recipe are brandy and cherry brandy, so expect a mellow, well rounded, but decidedly boozy hit.
I recommend seeking out a quality brandy rather than the cheapest one the supermarket has to offer. Your efforts really will make a noticeable difference and the result will be a much more pleasant, well-rounded drink.
Dark chocolate, condensed milk and cream also feature alongside these punchy alcohols.
I've used single cream, which is an 18% fat cream available here in the UK. Elsewhere in the world, look out for a suitable alternative with a similar level of fat content – half and half would be ideal.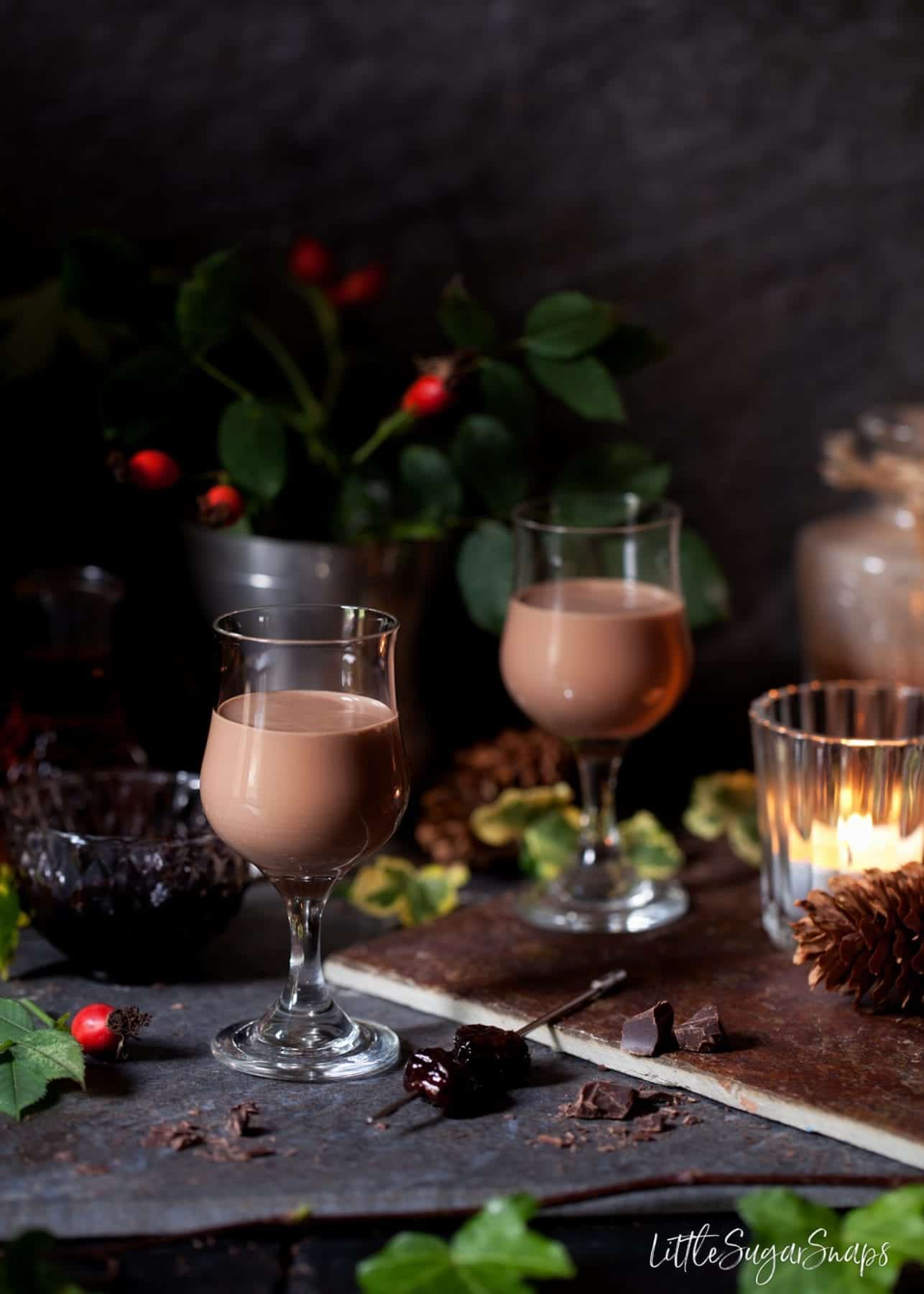 I've incorporated a small amount of milk into the recipe to thin the drink slightly too. However, if you prefer a thicker liqueur you can omit the milk and keep it ultra-thick – you'll need a spoon (or a long finger) to scrape the glass if you do.
How to Make Homemade Chocolate Liqueur
My top tip for making any creamy drink is to ensure that all pans and storage bottles are scrupulously clean. There's nothing worse than having a batch of expensive, cream-based ingredients curdle because they have come into contact with a drop of lemon juice or vinegar residue. If in doubt, give the equipment a thorough wash again just before using.
Once your equipment is ready, making this chocolate cherry liqueur recipe is very straightforward:
Warm half of the cream in a saucepan until hot but not boiling
Place the finely chopped chocolate into a heatproof jug and pour the hot cream over the chocolate, let sit for 30 seconds to allow it to melt, then beat with a mini balloon whisk until smooth
Mix in the condensed milk, followed by the remaining cream
Add the alcohols (and milk if using) and stir well
Strain through a piece of muslin or a nut bag to ensure the final drink is smooth
Decant into a sealable bottle and store in the fridge for up to 1 month
Shake the bottle vigorously before pouring to re-blend any chocolate that has settled back into the drink
How long will this keep for?
If stored in the fridge this chocolate cherry drink will keep for at least a month.
That said, I do recommend using the freshest cream and milk you can rather than leftovers already near their use by date.
Expect to give the bottle a good hard shake before serving to ensure all ingredients amalgamate again after settling in the fridge.
Can I freeze chocolate cream liqueur?
Sadly, this recipe is not suitable for freezing. While the alcohol will not freeze, the cream can freeze and the texture will change significantly after thawing.
What does this Chocolate Cream Liqueur taste Like?
This chocolate cherry libation is all of the following:
rich
chocolatey
sweet
boozy
decadent
addictive
comforting
It is also rather disarming on the looks front. Packaged into pretty bottles this homemade chocolate cream liqueur makes a charming foodie gift. That's if you can bear to part with it. My recipe makes around 450ml, but if you do intend to gift it, or serve it in miniature bottles as favours for dinner guests, it's easy to scale up the recipe.
All good drinks require a garnish and this liqueur is no exception. Grab a nostalgic red and juicy cocktail cherry or go all suave and sophisticated with a Luxardo Maraschino Cherry or two. They are alluringly dark & sticky, making them the perfect partner for a glass of Black Forest Chocolate Liqueur.
Talking of perfect partners, try a slice of chocolate salami with this lovely drink for the ultimate chocolate indulgence.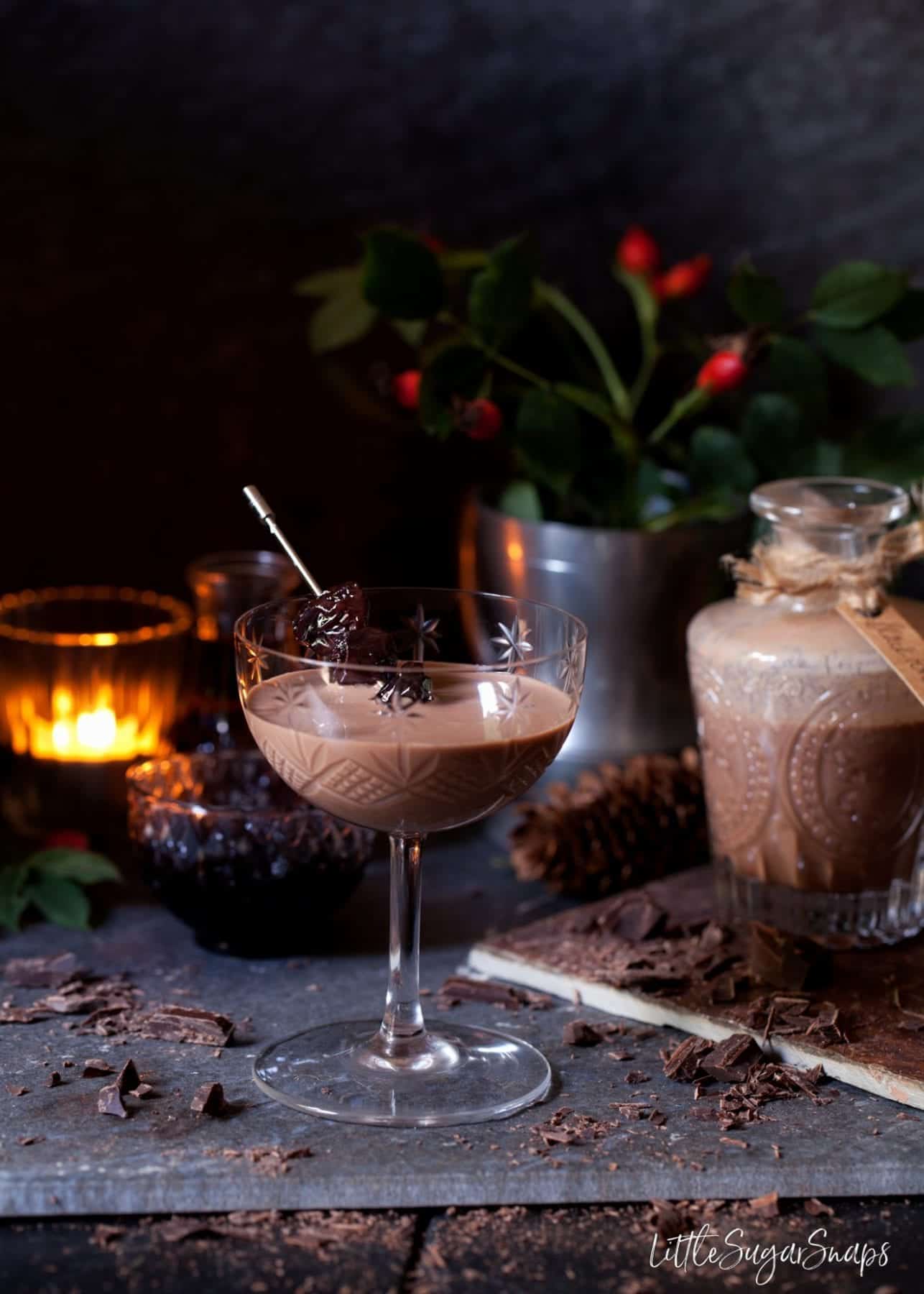 In the mood for more creamy liqueurs? Try these: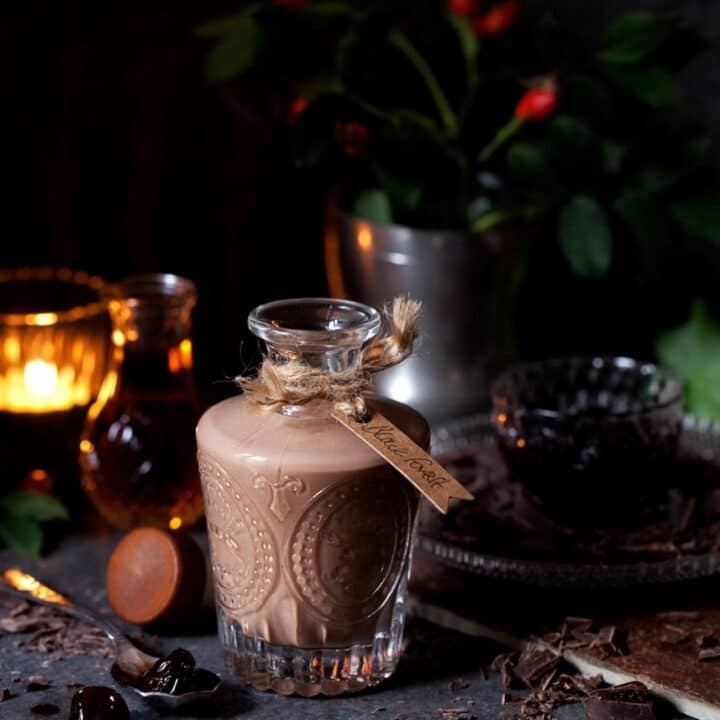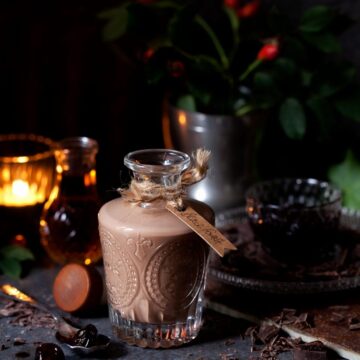 Black Forest Chocolate Liqueur
Homemade Black Forest Chocolate Liqueur is the ultimate winter tipple. It is very easy to make and tastes decadent, rich, creamy & chocolatey, with a hint of cherries to boot. It makes a great edible gift for the holidays!
Makes approx 450ml
Print
Pin
Rate
Ingredients
50

g/ ⅓ cup

Dark chocolate (finely chopped)

3

tablespoon

Condensed Milk (sweetened)

175

ml/ ¾ cup

Single cream (US equivalent: light cream)

75

ml/ ⅓ cup

Cherry Brandy

100

ml/ ⅓ cup + 5 tsp

Brandy

1

tablespoon

Whole (full fat) milk

optional
Instructions
Warm half of the cream in a saucepan until hot but not boiling

Meanwhile, place the finely chopped chocolate into a heatproof jug

Pour the hot cream over the chocolate, let sit for 30 seconds to allow it to melt, then beat with a mini balloon whisk until smooth

Mix in the condensed milk, followed by the remaining cream

Add the cherry brandy and brandy, stir well

Optional step: to thin the drink stir in the milk

Strain through a piece of muslin or a nut bag to ensure the final drink is smooth

Decant into a sealable bottle and store in the fridge for up to 1 month

Shake the bottle vigorously before pouring to re-blend any chocolate that has settled back into the drink
Nutrition Per Serving (Approximate)
Calories:
246
kcal
|
Carbohydrates:
14
g
|
Protein:
2
g
|
Fat:
14
g
|
Saturated Fat:
8
g
|
Cholesterol:
36
mg
|
Sodium:
27
mg
|
Potassium:
125
mg
|
Fiber:
1
g
|
Sugar:
12
g
|
Vitamin A:
322
IU
|
Vitamin C:
1
mg
|
Calcium:
57
mg
|
Iron:
1
mg
(Visited 4,366 times, 13 visits today)